Have you ever wanted to see how a website change is affecting your site's performance? How about seeing if a promotion caused an uptick in traffic or being able to easily document marketing and publishing milestones, like adding a new blog post or redesigning your landing page?
With ExactMetrics' new Site Notes, now you can! Easily write notes to yourself or your team to keep track of activity and see how that activity is impacting your website. Site Notes displays right on your traffic graph, so you can visually see the effect of events and changes on your website. With the ability to create and store notes right inside WordPress, you can keep track of activities related to site traffic and analytics, marketing, your editorial calendar, and more.
For example, go ahead and make a note when you launch a big sale, make a design change to your site, or add new content. Then, you can easily see how these events are affecting traffic and site performance.
Track Website Activity and Measure Its Impact
Site Notes is a huge help for website tracking and team communications. With Site Notes, you don't have to try to remember the website changes you made months ago, search through old emails, or scour project calendars to find out what's been happening on your website.
Instead, team members can create their own site notes and quickly find previous notes. You'll be able to easily see major site activities and their impact on things like conversion rates, purchases, or traffic, and keep everyone on the same page.
You'll find Site Notes in several locations to make it convenient to add notes where you'll most likely need them.
Use Site Notes to Better Understand and Monitor Your Analytics
First, you'll see the Site Notes icon in the ExactMetrics analytics dashboard overview screen. Click it and you'll be able to add, edit, and view site notes right in the Overview report.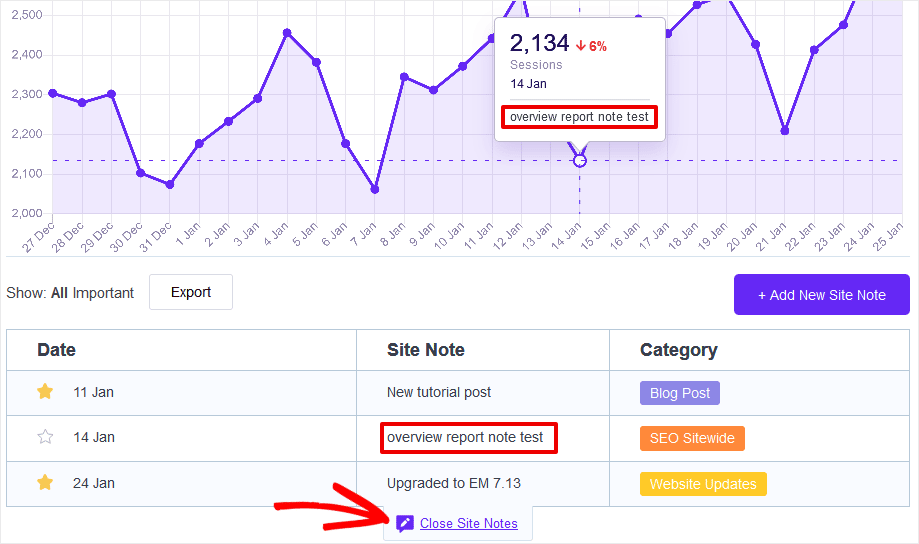 You can see your notes in a chronological list and in the traffic graph when you scroll over the date when a note was recorded. Being able to see at-a-glance how your updates and activities are impacting your traffic and performance shows you exactly what worked and what didn't. It helps you keep your team in sync and focus on the right changes to further optimize your site.
Automatically Make Site Notes When Publishing
In addition, you'll find a Site Notes section in the sidebar of your WordPress editor. Site Notes will automatically make a new note when you publish any new post, product, or page. You can easily customize what the site note says or choose not to add one without ever leaving the editor.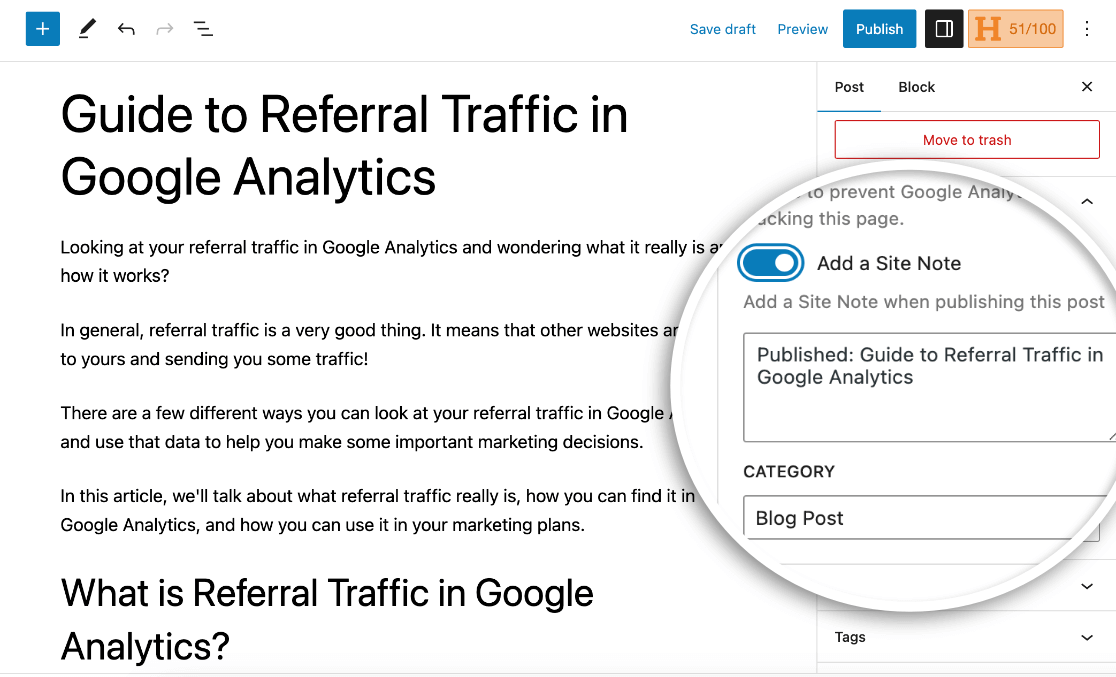 When you open your Overview report, you'll see any notes you made on your content. Use Site Notes to add editorial comments, SEO ideas, ratings, competitor URLs, and more.
Create, Edit, and Organize All Your Site Notes
Finally, you can also find Site Notes in your ExactMetrics navigation bar. Just click on Site Notes under ExactMetrics to see your entire history of notes. Here, you can easily create notes, edit them, and assign/customize categories.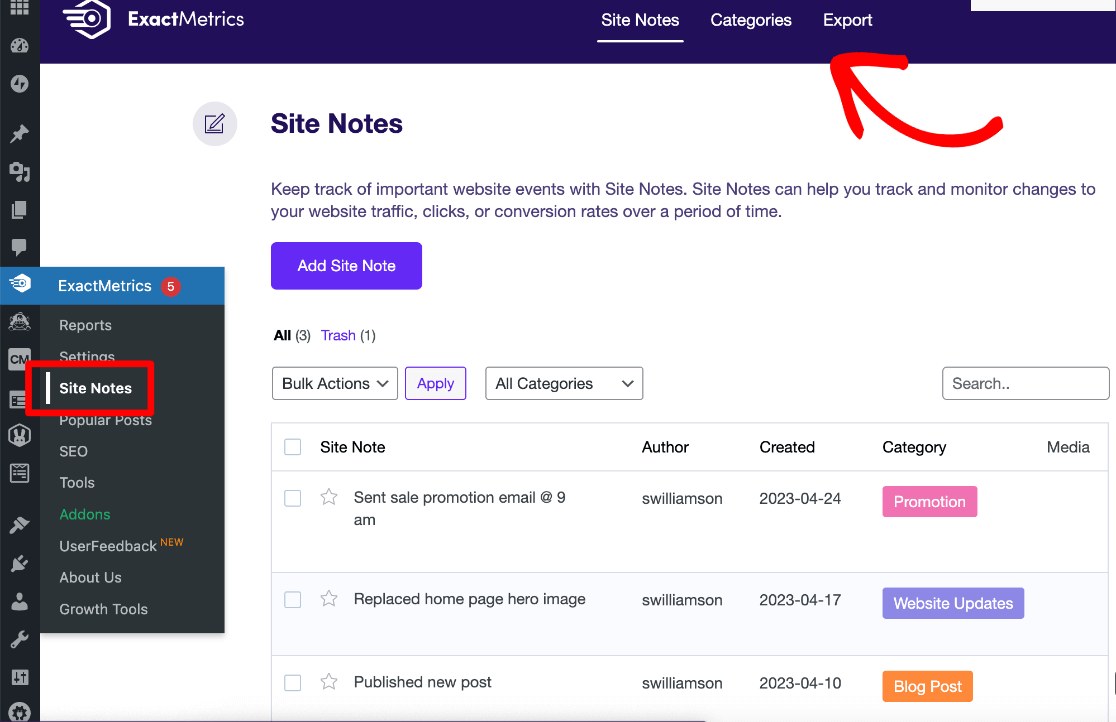 Site Notes Featured Highlights
With Site Notes, you can keep a log of important website events to analyze in the future. Easily see why your sales dipped, how last year's holiday promotion caused an uptick, or what sale is coming up on your site. Make comments, record notes, add messages for other team members, and more.
Lets you create and save unlimited notes, related to anything you want to document on your website
Records a time stamp when notes are created, which you can edit to post notes in the past or future
Categories help you organize and manage notes. Add as many custom categories as you like with ExactMetrics Pro
Attach a screenshot image or other file to your note for even more context
For a step-by-step tutorial on using Site Notes check out our Guide to Google Analytics Annotations (GA4)
Site Notes keeps your team informed and updated on what's happening behind the scenes of your WordPress site. You don't have to wonder when your latest marketing email was sent or when a blog post was updated. Site Notes will keep you on track!
How will you use Site Notes to improve the efficiency of your website marketing and analytics? Try it out now and find out!
Still not using ExactMetrics? What are you waiting for?
And don't forget to follow us on Twitter and Facebook for more Google Analytics tips and tutorials!