Do you want to learn how to add notes to your website metrics? Google Analytics annotations are a way to add extra information about your site data, which can help you understand how changes to your site affect its performance.
By using annotations in GA4, you can keep track of changes made to your website, marketing campaigns, publishing milestones, and more. Then, you can easily evaluate how these activities influence the traffic and overall performance of your website.
Annotations are important for gathering contextual data, making informed decisions, and growing your business. In this article, we'll show a simple, free way to start using annotations in Google Analytics 4 today.
How Do You Use Google Annotations?
Use Google Analytics annotations to effortlessly jot down notes for yourself or your team and keep track of the activity happening on your site.
Whether you launch a new email campaign, modify your website design, introduce fresh content, run a promotion, incorporate new affiliate links, or need to document real-world events and offline advertising efforts, annotations provide a convenient way to track and analyze how these events impact your website performance.
Can You Annotate in Google Analytics 4?
Unfortunately, Google Analytics doesn't include a built-in annotations feature. But, having the ability to add brief notes to specific dates in your GA reports and share these annotations with other team members who have access to the account is extremely valuable.
Luckily, there's a really easy way to use Google Analytics annotations for WordPress users. Plus, it's totally free, and you don't have to leave your WordPress dashboard or even log in to your Google Analytics account!
Ready to learn how?
Note: The previous version of Google Analytics, Universal Analytics, included annotations within its Google Analytics view features, but this is no longer available since the transition to GA4.
How to Add Annotations to Google Analytics
Step 1: Install ExactMetrics
Step 2: Add Google Analytics Annotations (3 Methods)

Annotations in Your Site Notes Section
Dashboard Annotations
Annotations in the WordPress Editor

Step 3: Optimize Your Site with GA4 Annotations
Install ExactMetrics
ExactMetrics is the best premium WordPress Analytics plugin, allowing you to easily set up Google Analytics without editing any code or needing a complicated tool like Google Tag Manager.
You get advanced tracking right out of the box with an extremely user-friendly interface and Google Analytics reports right inside your WordPress dashboard.
You can easily add notes to your website's Google Analytics data using ExactMetrics' Site Notes feature.
Plus, you can gain access to tons of additional Google Analytics features and advanced tracking capabilities with just a few simple clicks.
Elevate your tracking game and get sophisticated analytics like custom dimension tracking, event tracking, form tracking, outbound link tracking, eCommerce tracking and integrations, and much more, without any complicated configuration or code.
Site Notes is included in every ExactMetrics download, even if you're using the free version. You can add unlimited notes and involve your entire team without any user restrictions.
That said, upgrading to ExactMetrics Pro unlocks additional Google Analytics features and Site Notes enhancements, such as the ability to:
Attach files and images to your notes
Create unlimited custom categories for organizing and managing your notes
Color code categories for efficient sorting and tracking
Export any or all of your notes
To add GA4 annotations in WordPress, head to the ExactMetrics pricing page to download and install the plugin.
For a step-by-step tutorial on setting up ExactMetrics, head to How to Add Google Analytics to Your WordPress Site. Want to try it out first? Check out our instructions for the Lite version.
Once you've successfully set up the plugin on your site, move on to the next step.
Add Google Analytics Annotations
Next, we'll show you 3 different ways of adding Google Analytics annotations using Site Notes.
Regardless of the method you use, you can always find the annotations you created on your traffic graph, under ExactMetrics » Reports, or in the ExactMetrics » Site Notes section.
Now, let's see the 3 convenient locations where we can create new annotations in WordPress.
1. Add GA4 Annotations in Your Site Notes Section
To add a new note to your website data and manage your annotations, you can use the Site Notes section in ExactMetrics. Go to your WordPress admin dashboard and click on ExactMetrics » Site Notes.
Press the Add Site Note button to create a new annotation: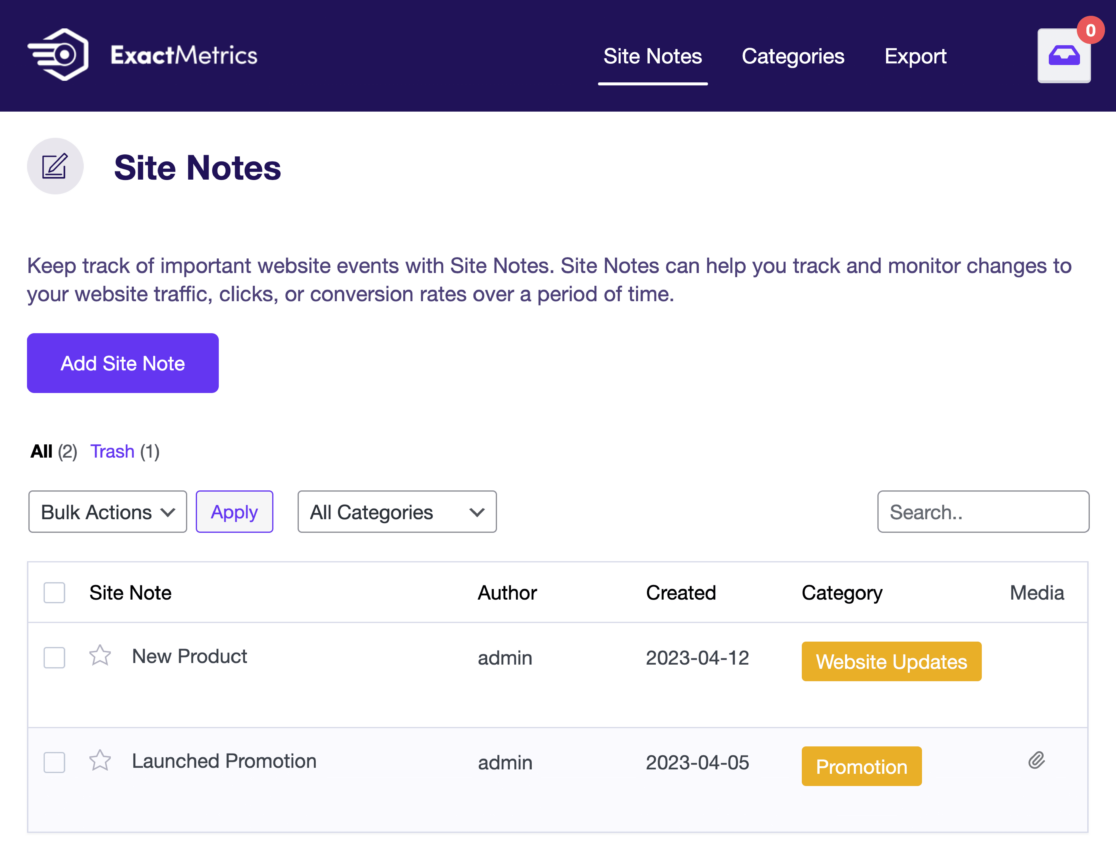 Enter a title for your note and choose a date for the annotation (it can be any time in the past or future). You can also select a category and add media to your note if you're using ExactMetrics Pro.
If you'd like to flag an annotation as important, just click the star next to the title.
Make sure to click Add Site Note at the bottom to save your new Google Analytics annotation.
With ExactMetrics Pro, you can use Categories to create custom, color-coded categories and manage existing ones. To make a new category, just click the tab at the top, use the Add New Category button, and assign a color.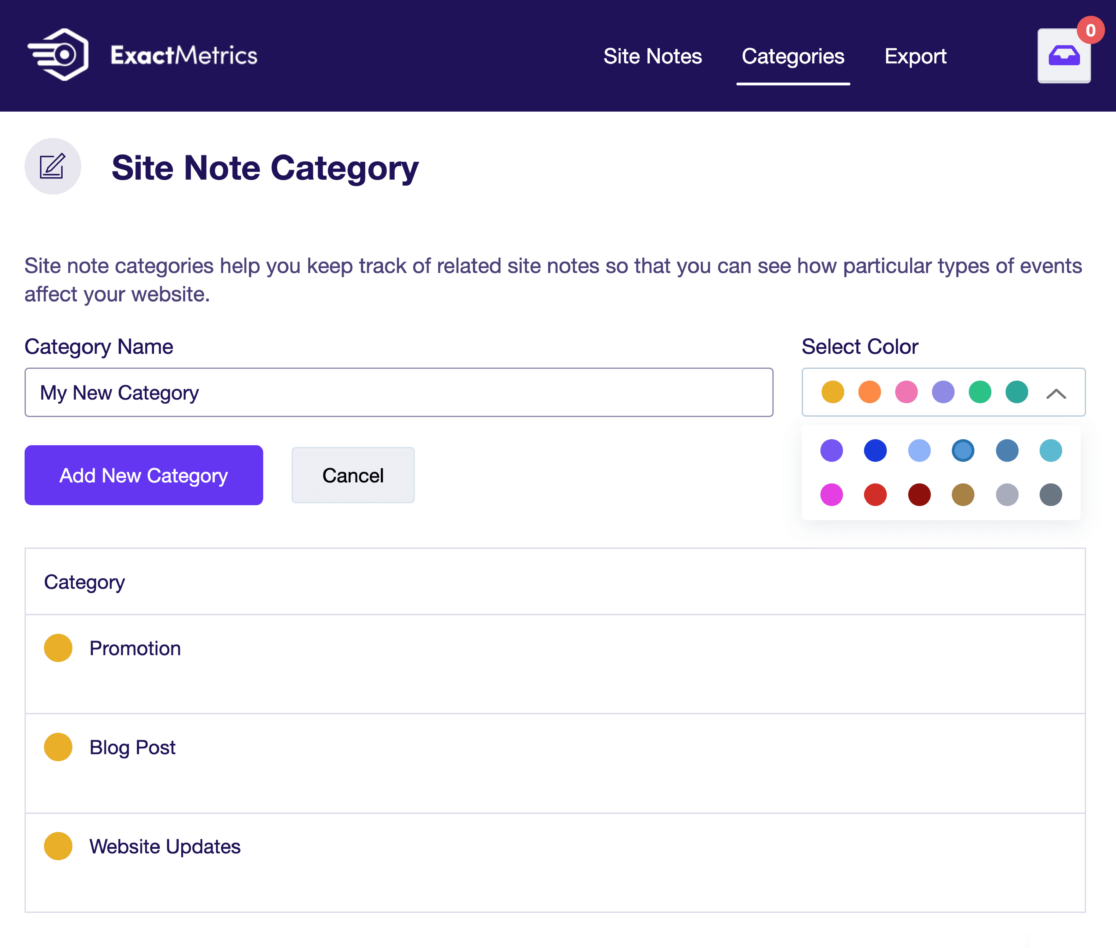 Another Pro feature is the Export tab which you can click to download a CSV file containing all of your notes. It's a really handy tool if you want to import your Google Analytics annotations into other platforms that support CSV data, like Google Data Studio.
Ready for the next method? We'll show you how to add GA4 annotations directly to your Google Analytics traffic report.
2. Add Google Analytics Dashboard Annotations
Another way to add Google Analytics annotations is through the dashboard page of ExactMetrics.
In your WordPress admin menu, go to ExactMetrics » Reports. From here, click on the Site Notes option located below your traffic graph to view your annotations and add new ones.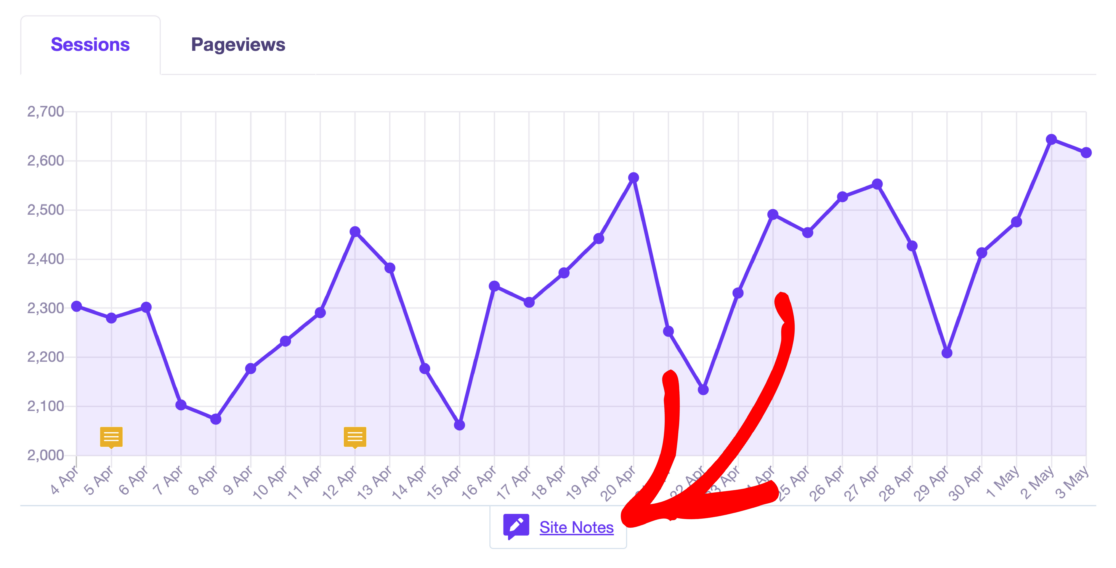 To add a new annotation, click +Add New Site Note. Fill in the details of your GA annotation, such as the title, category, and additional media. When you're finished, press +Add New Site Note again to save it.

Your new Site Note will immediately appear on the traffic graph above, giving you an easy visualization of how important events impact your site traffic. Just hover over any note icon in the date range on your graph to quickly view individual annotations.
You can also always find your new annotations in the Site Notes section from the previous step. Next, we'll show you how to add Google Analytics annotations for a new post or page right inside your WordPress editor.
3. Add Google Analytics Annotations in the WordPress Editor
One of the most helpful and time-saving features of Site Notes is its ability to automatically add a new annotation when you publish a post, page, or product, ensuring that you can easily track how new content impacts your web analytics.
To conveniently manage and edit the details of your annotation for a new post or page, look to the right-hand side menu in the WordPress editor. Under the Post section, you'll notice the ExactMetrics section.
Toggle on the option to Add a Site Note. It will automatically use the page or post title as the annotation label. You can quickly add a description and assign it to a category.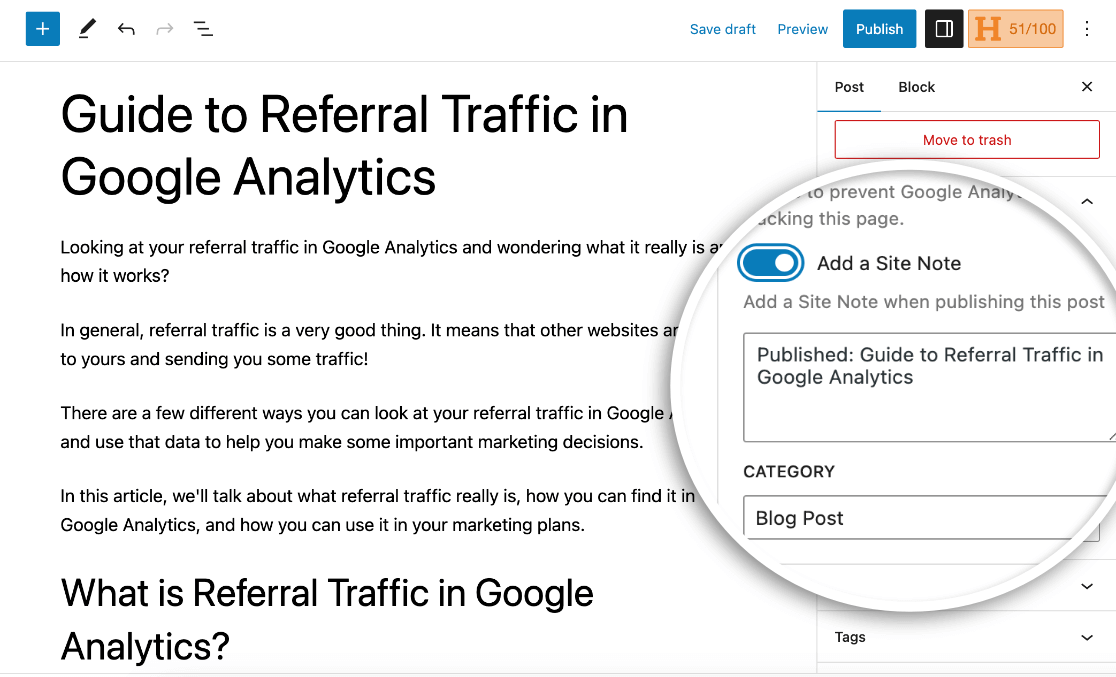 If you ever need to adjust the date or edit annotations created within the WP editor, easily do so within the Site Notes section of ExactMetrics.
Using Site Notes' automatic feature for new posts and pages is an excellent tool for optimizing your content and SEO. For instance, if you're using ExactMetrics Pro, you can create separate categories for different types of posts, such as Tutorials, Reviews, Announcements, and more.
When you publish a new post, simply assign it to the appropriate category. Then, you can identify popular post types that generate higher traffic in only a few seconds by looking at your traffic report. Use that information to optimize your current content and create more top-performing post types.
Optimize Your Site with GA4 Annotations
Congrats! You've successfully learned how to utilize Google Analytics annotations with GA4 and WordPress.
Now, take advantage of annotations to observe the impact of changes on your website, such as the number of purchases or website visits, and keep your entire team aligned with shared annotations.
Gone are the days of searching through old emails and project calendars to find and remember what happened on your site. Track publishing events, monitor campaigns, gauge your digital marketing efforts or design changes, and much more, all within WordPress.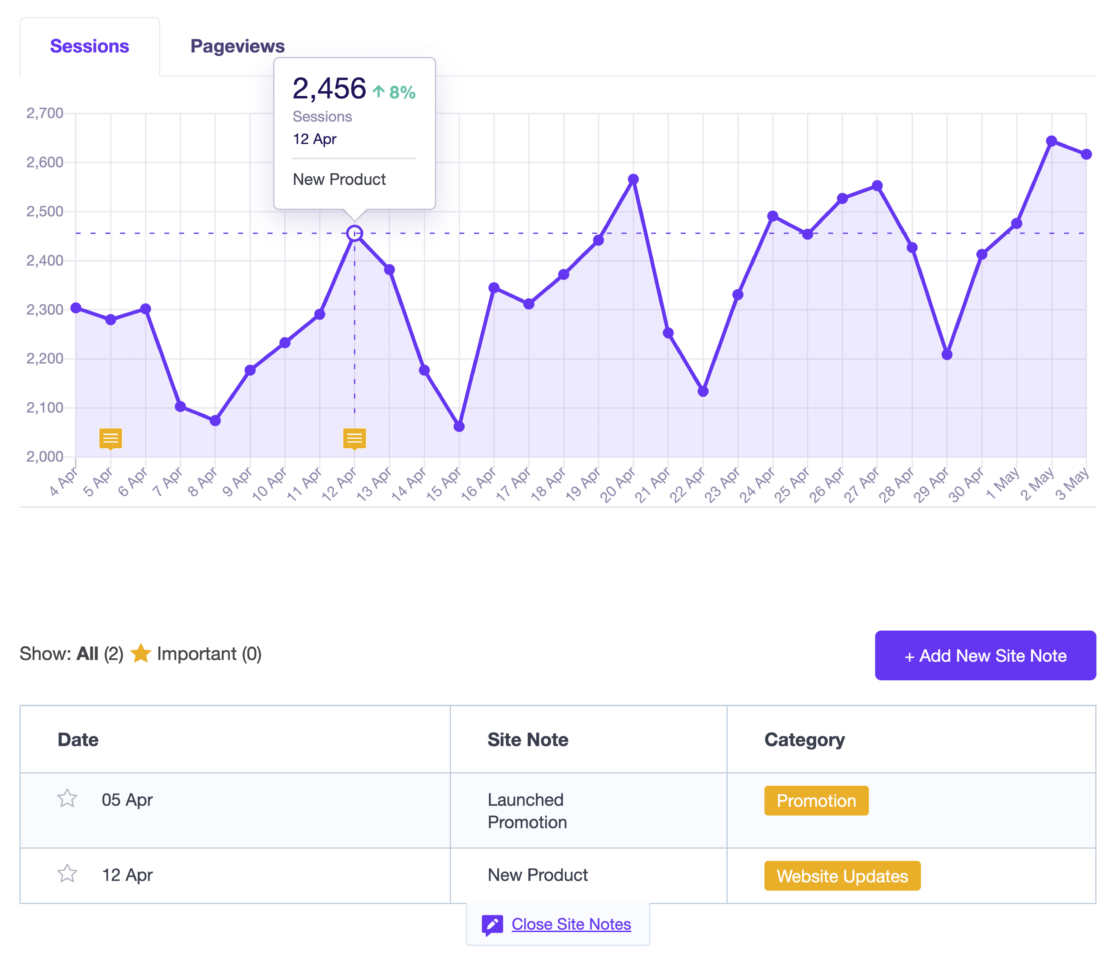 The visibility of the annotations and user access to Site Notes is dependent on the overall permissions granted within ExactMetrics, but there's no limit to how many notes or users you can have. Manage permissions and user roles by navigating to ExactMetrics » Settings » Advanced.
Quickly look back at the traffic during a promotion – did it perform well enough to replicate? How did a new landing page or design change affect conversions? Did a new Google Ads campaign increase traffic? Does your traffic spike when you publish more Tutorial posts?
Plus, add annotations to future dates to easily see deadlines and upcoming campaigns. As you can see, there are countless ways to use Site Notes to improve your website!
If you enjoyed learning how to add Google Analytics annotations to your WordPress site using ExactMetrics, you may be interested to learn How to Turn On WordPress Maintenance Mode (Step-by-Step).
Not using ExactMetrics yet? What are you waiting for?
Don't forget to follow us on Twitter and Facebook to see all the latest reviews, tips, and Google Analytics tutorials.