Want to learn how to write a headline that's not only going to compel people to click, but also follows SEO best practices?
When learning how to write a good headline, it's super important to take SEO into account. If your headline doesn't help people find your content online, it doesn't matter how good it sounds.
So, in this post, we'll take a look at how to write a headline that's both compelling AND optimized. Plus, we'll give you some examples of really good headlines that made us want to click.
How to Write a Headline: Top Tips
There are a few top tips you'll want to know when learning how to write a good headline. Let's take a look.
Tip 1: Keyword Research
The first thing you absolutely must do every time you're going to write a headline is perform keyword research, if you haven't already. Keyword research will not only tell you what your headline should say, but also what keywords your whole article should be optimized for. Your targeted keywords should appear in your headline, meta description, introduction, headings, image alt text, and throughout the article.
If you're not very familiar with keyword research, now's the time to learn! Type your topic into a free keyword research tool and see what happens. A few we recommend are AnswerThePublic, WordStream, and Ahrefs. Once you have your keyword list and focus keyphrase for your post, you'll be able to write a headline that follows SEO best practices.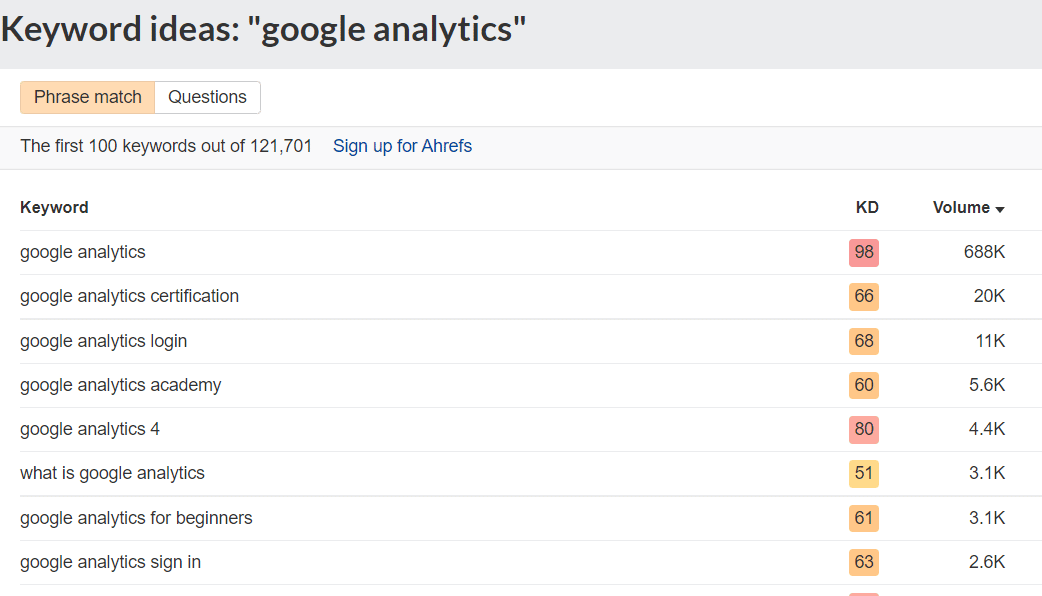 Tip 2: Research Search Intent
Matching search intent is all about meeting the expectations of online searchers. What are people expecting to find when they type in and search for your focus keyphrase? Whether they're looking for a listicle to compare products, a simple tutorial, or something else, you need to try to match that expectation.
There are a couple ways to research search intent, but the very first thing you should do is run a Google search in incognito mode for your focus keyphrase. Looking at the results that rank in the top spots, what insights can you gather about the top ranking content?
Do most of the top results fit one of these categories?:
Listicles
Longform tutorials
Quick FAQ answers
Videos
Usually, if results are dominated by a particular type of content, then you should create the same type of content to meet searchers' needs. Not only can you apply this research to match content type, but pay attention to your competitors' headlines. Try to make your content stand out with a unique headline, but match the intent revealed by search results.
For instance, let's say you're writing an article on the top paint colors of 2023. Articles in the top spots include "10 Best Paint Colors for 2023" and "The Best 13 Paint Colors of 2023." You want to create a list-type article with a number in the title, but make it different than 10 or 13 so it stands out from the other titles.
Tip 3: Write Several Versions
Try out a couple different versions of your title. If you spend a little more time thinking about it, you're likely to come up with a few more ways to make your headline the best one out of all the top ranking content. A good rule of thumb is to come up with three separate headlines, then combine the best parts.
Tip 4: Use Power Words
According to OptinMonster:
Power words are words that smart copywriters use to trigger a psychological or emotional response. They're called "power words" because they are so persuasive that people simply can't resist being influenced by them!
Using power words is one of the best ways to make your headline stand out among the rest. Here are just a few examples:
Epic
Exclusive
Ultimate
Instantly
Massive
Ridiculous
Supersecret
Fail-proof
In addition to power words, you can also use emotion words and uncommon words, which you'll find in the ExactMetrics Headline Analyzer: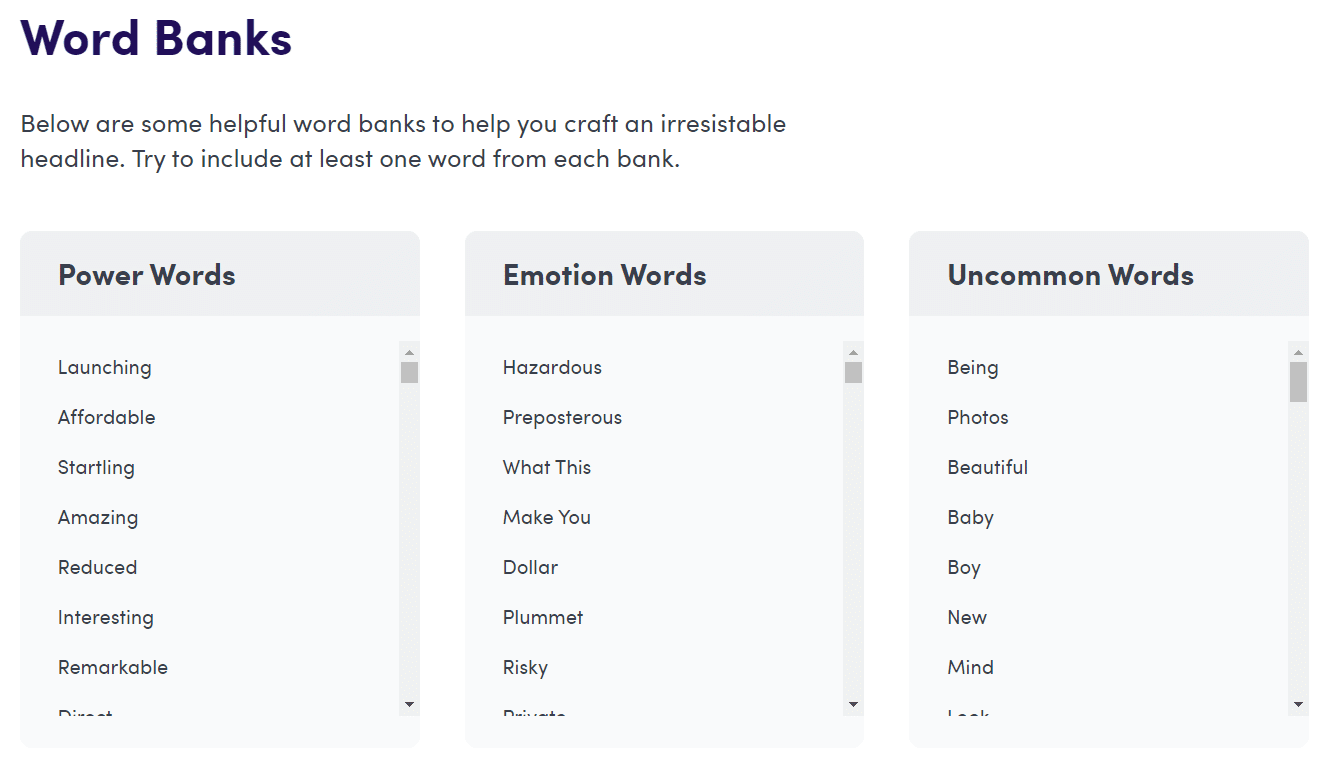 Want more power words? Check out 700+ Power Words That Will Boost Your Conversions via OptinMonster.
Tip 5: Keep Length in Mind
If you want your headline to fit in the title spot in Google's search results, it should be approximately 60 characters or less. If it's longer than that, Google will cut off your perfectly crafted headline, so it won't even matter that you made it awesome!
Once you've created your headline and your content has been indexed, search for it on Google to check how your headline looks.

Tip 6: Use a Headline Analyzer Tool
Now that you've done your keyword research, used power words, paid attention to the length of your headline, and written several possibilities, it's time to use the ExactMetrics Headline Analyzer tool to turn your ideas into the best possible headline. Just copy and paste your headline into the tool to get tips on word balance, length, sentiment, headline type, character count, word count, and more.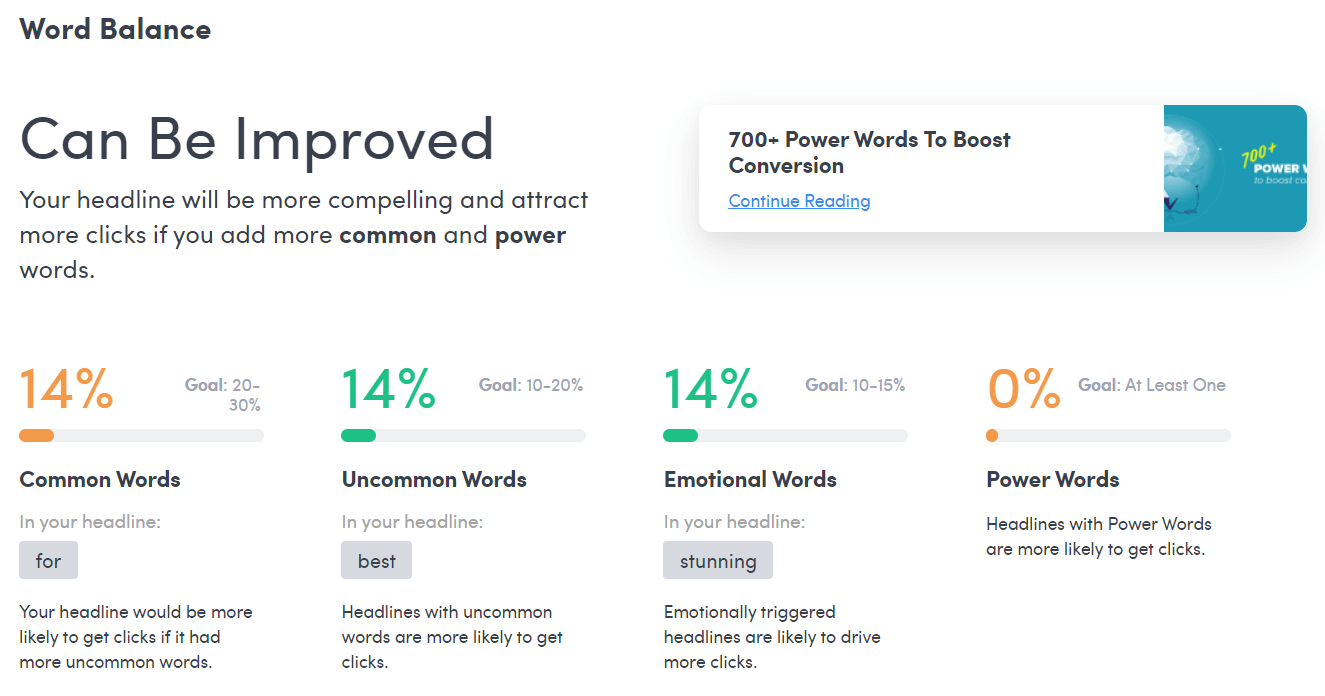 Is your website on WordPress? If it is, you can take the power of the ExactMetrics Headline Analyzer and bring it right into your WordPress admin while you're writing your posts: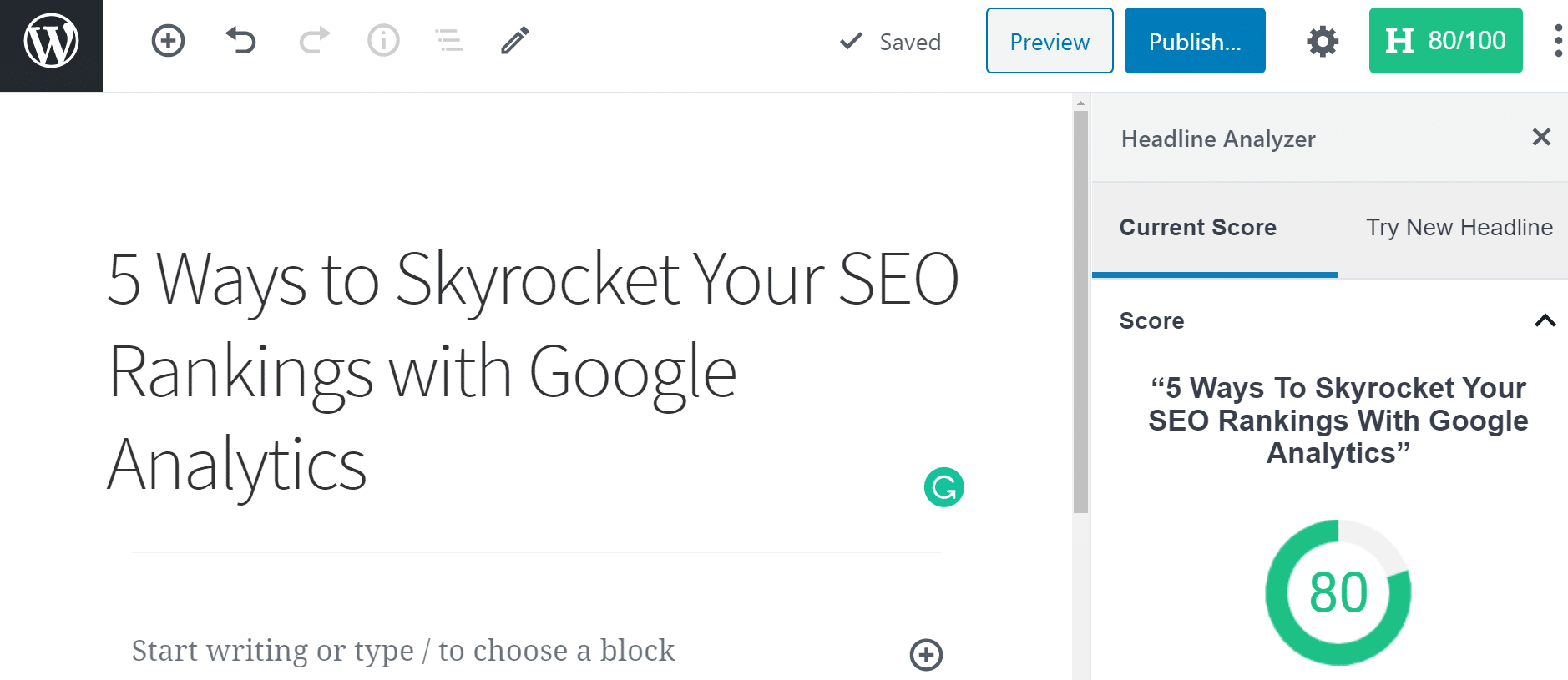 Don't write another hum-drum headline! Get started with ExactMetrics at the Plus level or above now to take advantage of our Headline Analyzer right inside your WordPress posts and pages.
Tip 7: Craft a Meta Description to Match
Once you have your headline locked in, it's time to write a meta description that's just as keyword-rich and compelling. Google does often change your meta description to show the searcher exactly what they're looking for is on your page, but it's still important to write an awesome, optimized description that matches your title.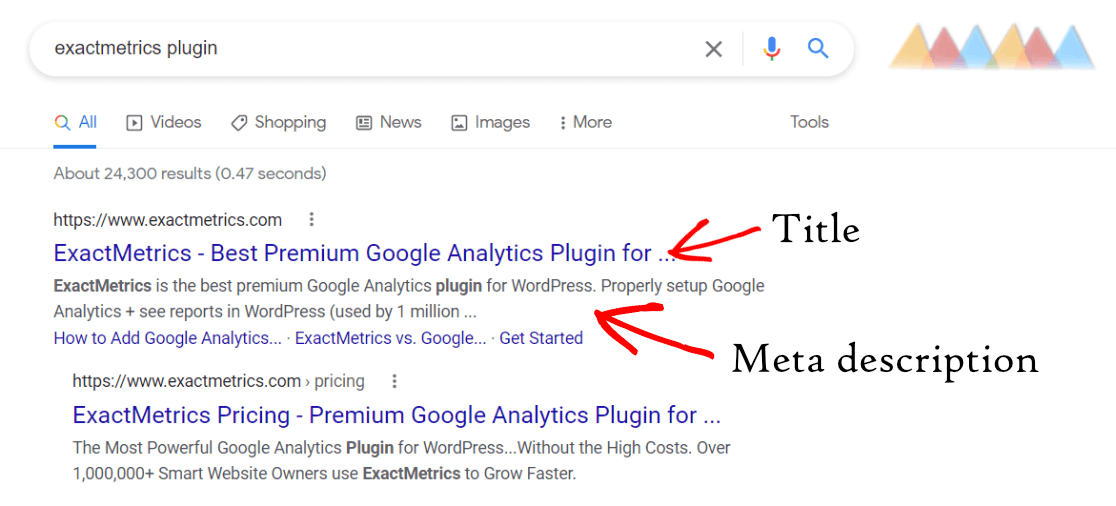 Your meta description should include your focus keyphrase and be 160 characters or less. For more tips on writing the best possible meta description, check out How to Write Meta Descriptions for SEO (Boost CTR & Rankings).
Tip 8: Monitor & Improve
Once you've published your content with your optimized, compelling headline and meta description, it's time to monitor how it does. Keep an eye on your analytics to see if your content is ranking, and if your headline is working to draw visitors in. One report you can use for this is your Search Console report. If there's a term that's bringing up your page in search, you can see the clicks, impressions, click-through rate, and average position.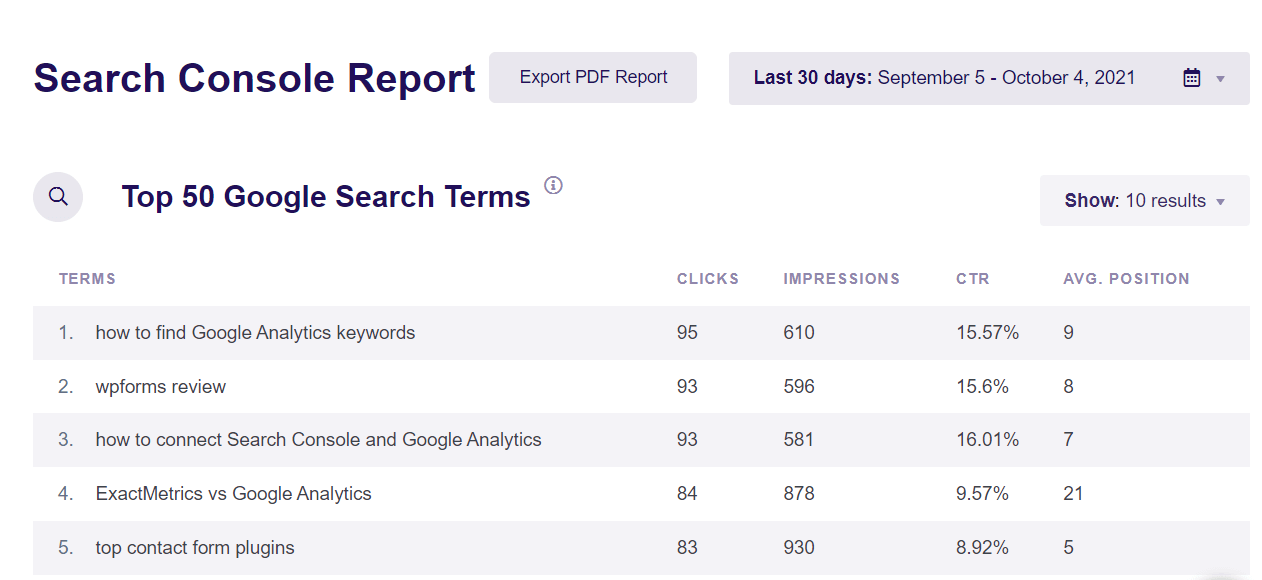 WordPress users, you can get your Search Console report right in your WordPress admin with ExactMetrics!
If you notice that your click-through rate isn't as high as you were hoping, you might want to tweak your headline to see if you can improve it.
Examples of Awesome, Clickable Headlines
Here are a few examples of headlines that rank in the top spots in Google and are super compelling.
30 Books Everyone Should Read At Least Once In Their Lives
Email Marketing: The #1 Ridiculously Easy Way To Grow Your Business
12 SEO Best Practices That Everyone Should Follow
How Not to Write a Meta Description
What Is Meta Description and How to Write One (+examples)
Best Credit Cards Of July 2023: Reviews, Rewards & Offers
Affiliate Marketing 101: What It Is and How to Get Started
That's it!
We hope you learned some new strategies for writing top-notch headlines. You might also like to check out How to Track Google Analytics Keywords (Step-by-Step).
Not using ExactMetrics yet? What are you waiting for?
Don't forget to follow us on Twitter and Facebook to see all the latest Google Analytics tutorials.