Many people often ask us, can we see organic keywords in Google Analytics? Keywords are different search terms your site ranks on search engines like Google.
And using Google Analytics, you can track them and see where each search query is ranking, their conversions, impressions, and click-through-rate (CTR).
But there's a catch!
Google Analytics no longer shows keyword data by default. If you try to view the report, you'll probably see not provided under the keyword column.
So, is there a way to see keywords without this error?
In this article, we'll show you how to track keywords in Google Analytics step by step. Let's start…
Why Does Google Analytics Show Keyword Not Provided?
But before we dive into the tutorial, it's important to understand why Analytics shows you (not provided) error message when you try to view your site's report.
Not to long ago, Google Analytics showed different search terms your website ranked on. But in 2011, Google stopped showing this data to make its search more secure.
It started to encrypt the keywords in order to protect user's privacy and prevent companies from viewing the personalized search results of their visitors.
That's why when you go to Google Analytics and try to view your keywords under organic source/medium, you'll see (not provided) instead of actual search terms.

But what if we told you there's another way of tracking keywords in Google Analytics? Let's find out…
How to Set Up Keyword Tracking in Google Analytics
A simple solution to avoid the not provided error is to use Google Search Console. It's a free tool by Google that lets you see how your website is performing on the search engine. And it shows which keywords you're currently ranking on.
Not only that, but you can fix a lot of errors of your website using Search Console, like get Google to index your pages or resolve security issues.
So, without further ado, just follow these steps to track keywords in Google Analytics.
Step 1: Verify Your Website in Google Search Console
The first step is to add your website to Google Search Console and verify it. To do that, go to your Google Search Console account.
Once you're logged in, click on Search Property to open the drop-down menu, and then select Add Property.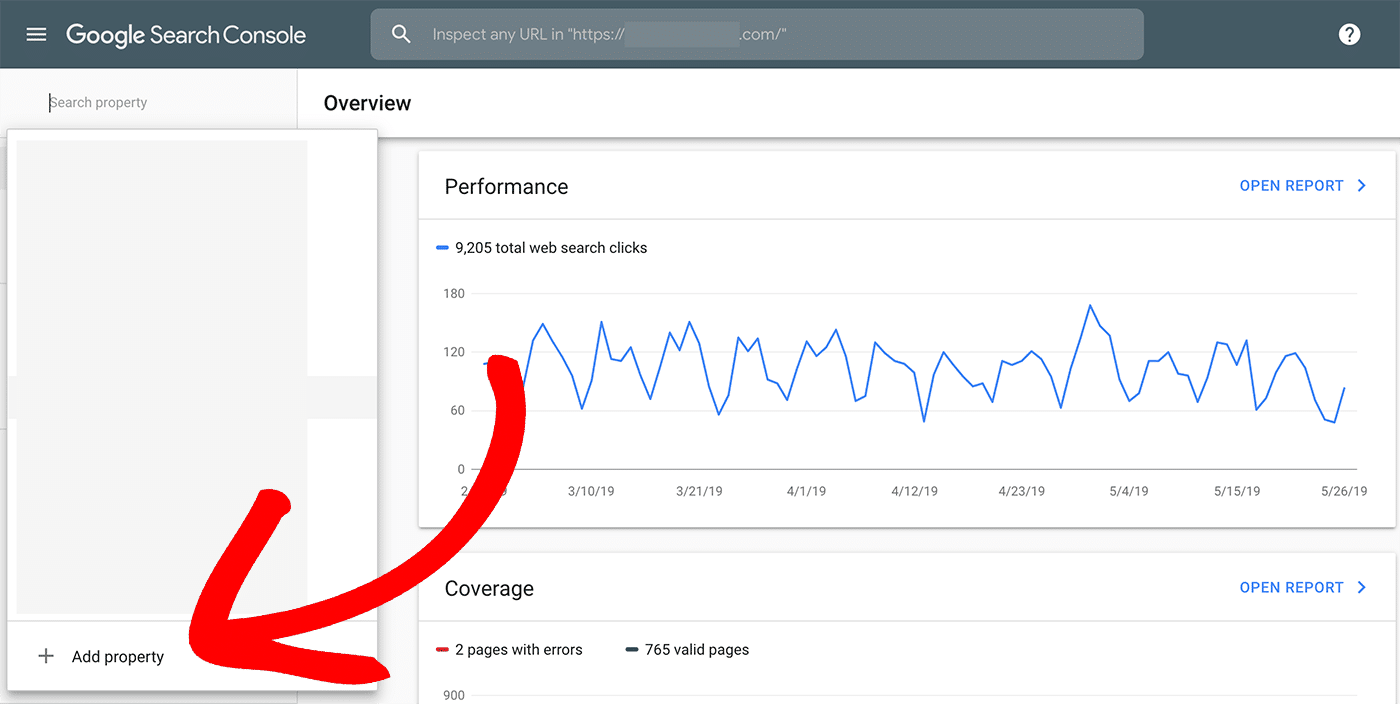 Next, you'll see a popup window with 2 options. Select the URL prefix option and then enter your site's URL. Click Continue once you're done.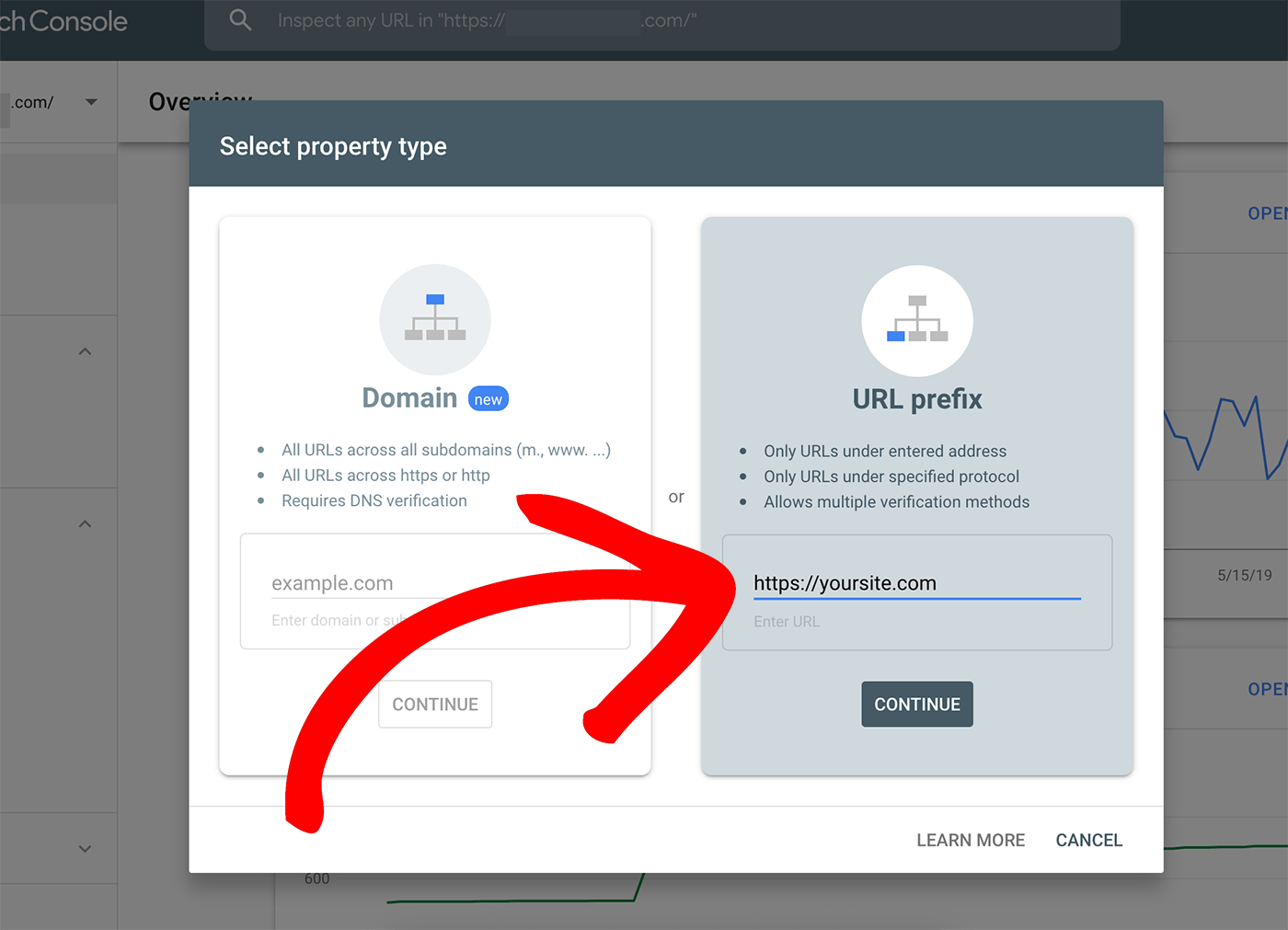 Google Analytics will take a few minutes and once your ownership is verified, you'll see the following message.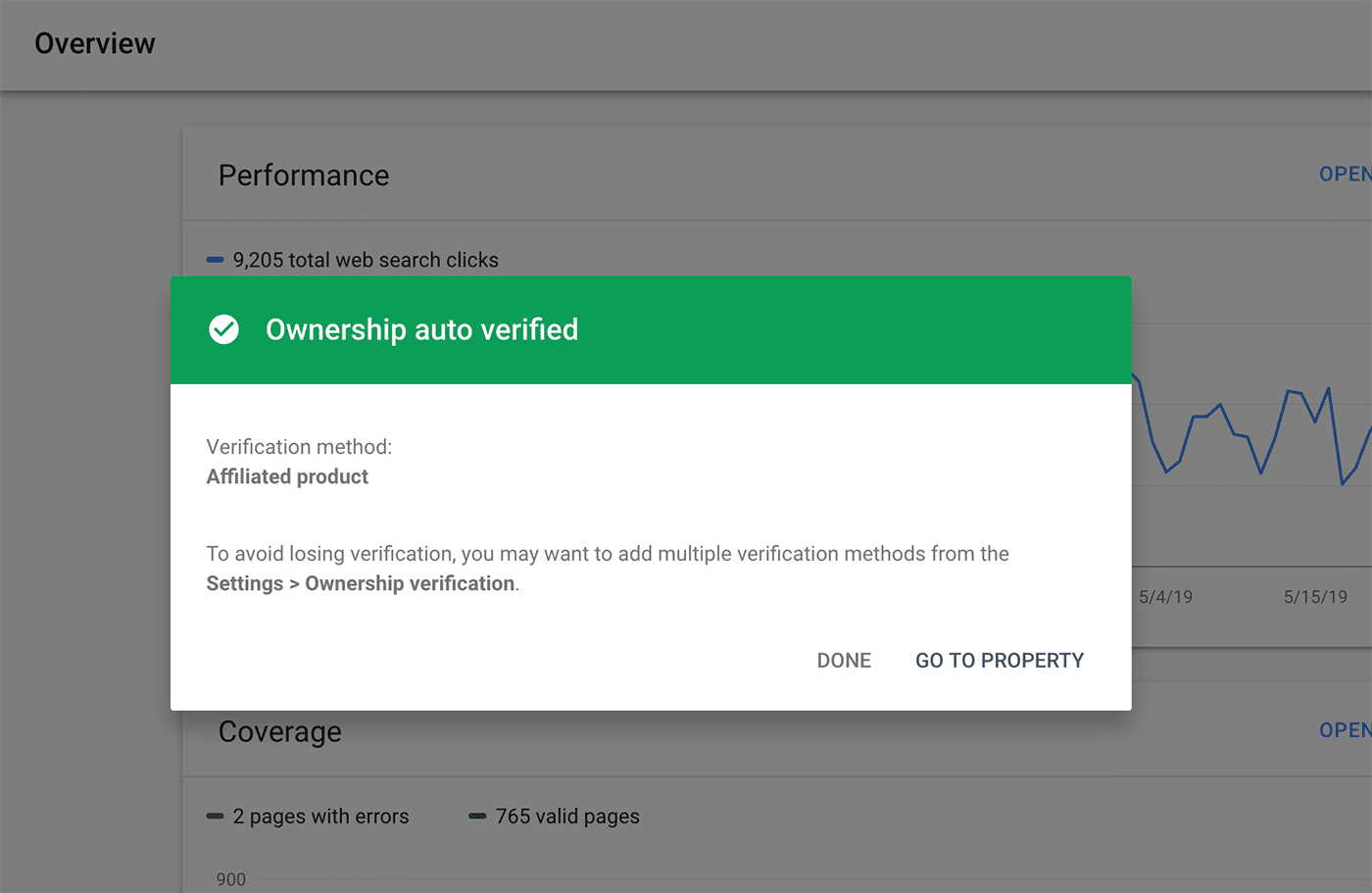 You can then click on Go to Property to finish the verification process and view your search console homepage.
Step 2: Connect Google Analytics with Search Console
Once you've verified your website with Google Search Console, you'll have to connect it with your Google Analytics.
So, go to your Analytics account and select the property (website) that you verified in the first step. Then go to Admin settings.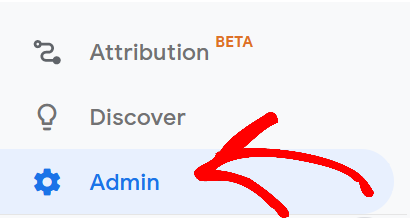 Now, under the Property column, click on All Products.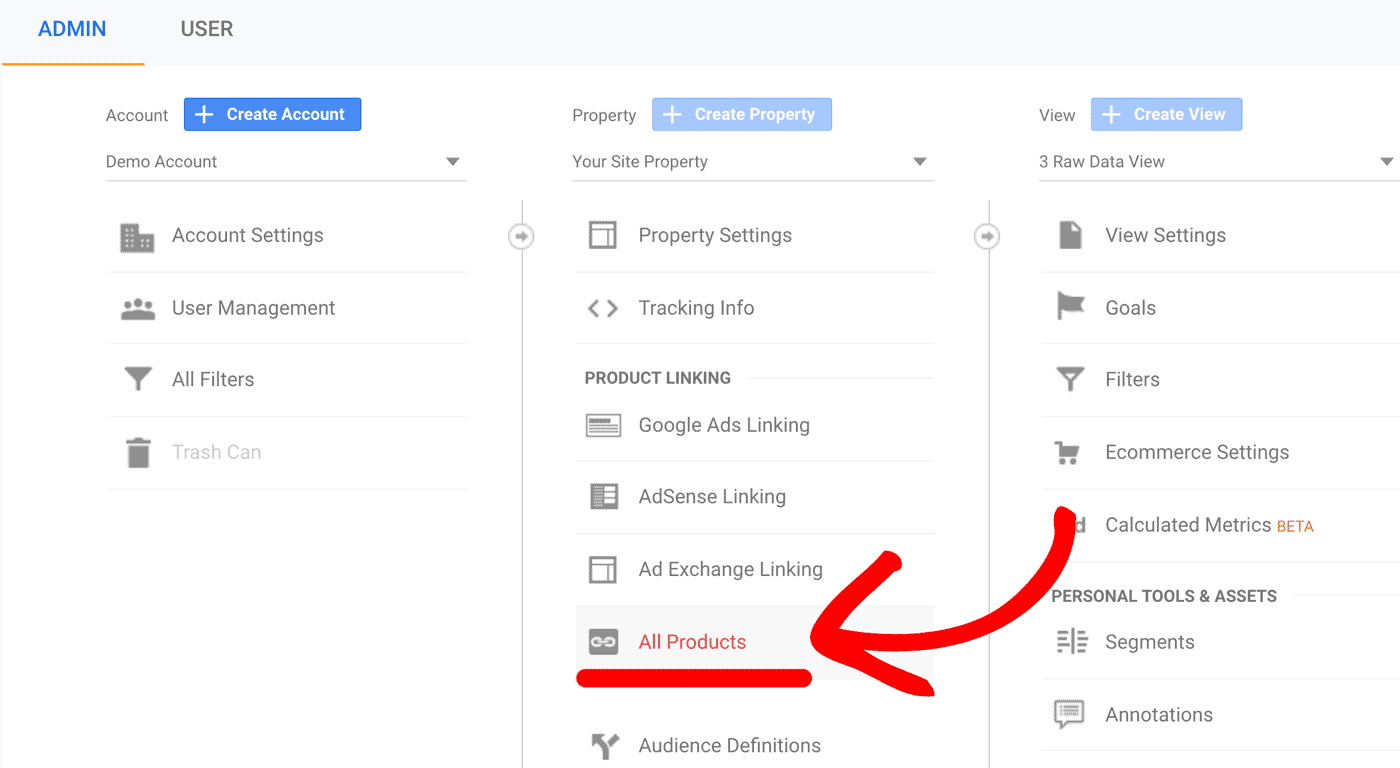 In the next window, scroll down and then hit the button that says Link Search Console.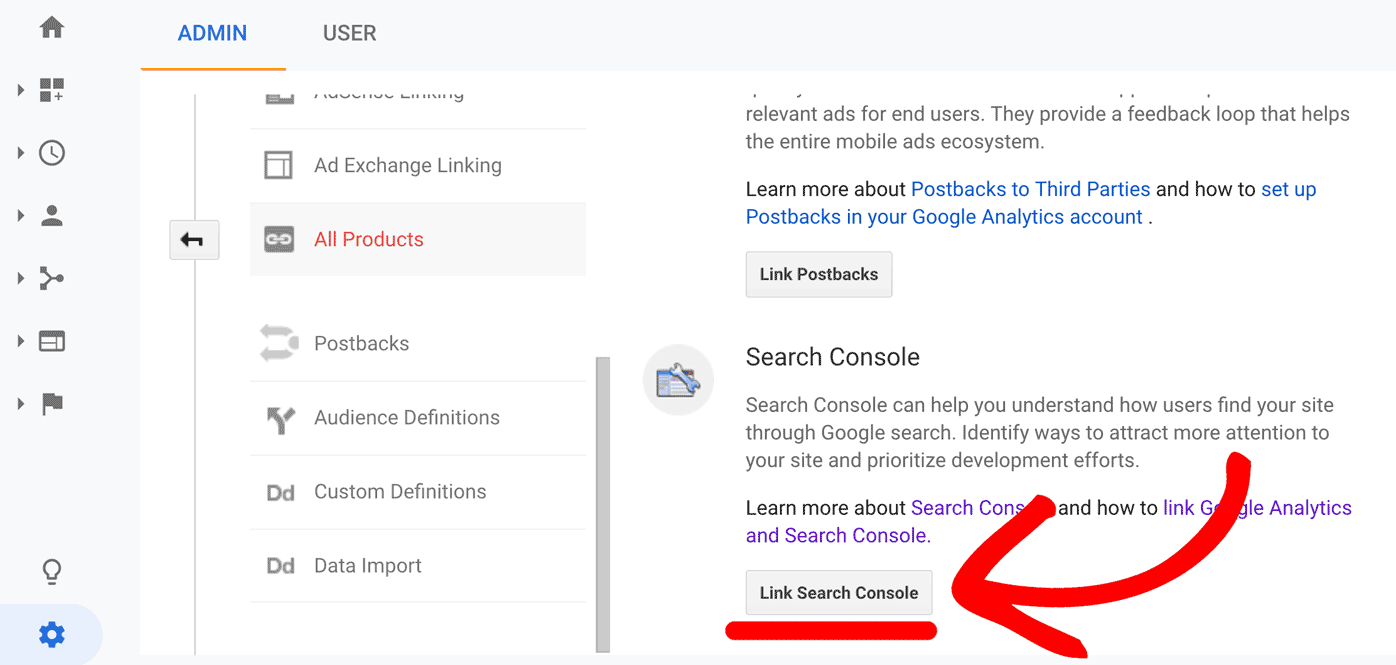 Then click on Add.

You'll then have to select your website URL to connect with Search Console. This URL has to be exactly the same as you entered in the first step. Or you might face issues in connecting Analytics with Search Console.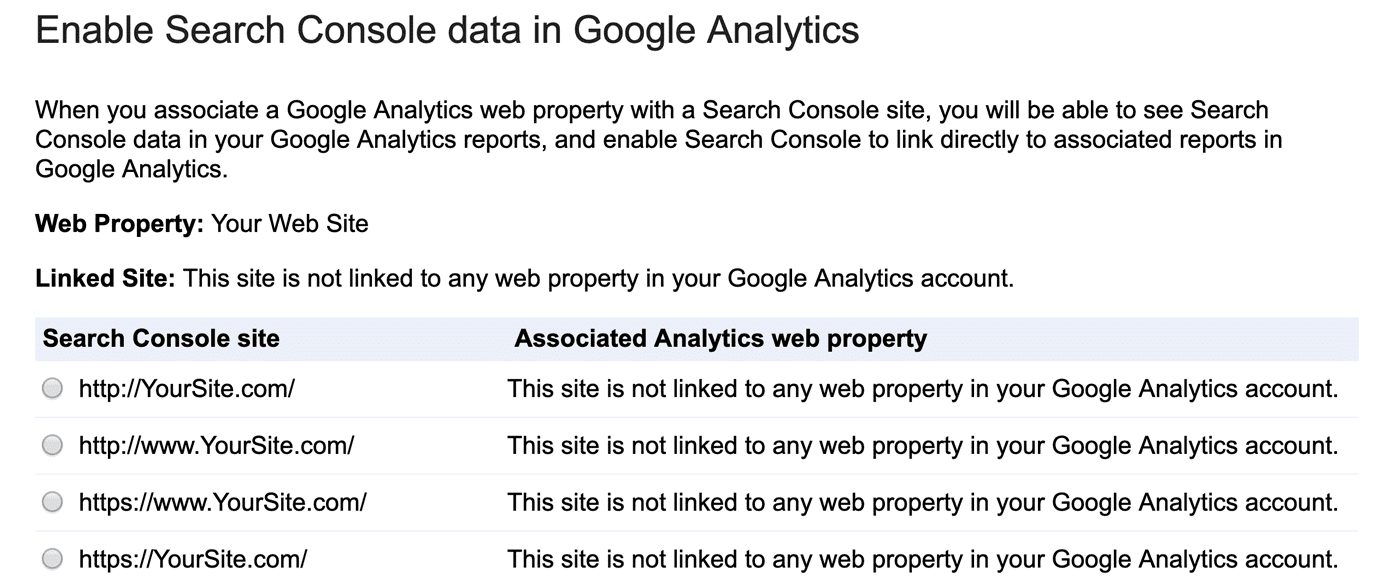 After selecting your website web address, click OK.
You've successfully connected Analytics and Search Console!
Step 3: Install ExactMetrics WordPress Plugin
The next step is to track your keywords in Google Analytics. And the best way to do that is through ExactMetrics.
It's the best premium WordPress Analytics plugin that makes it super easy to use Google Analytics, set up advanced tracking in just a few clicks, and give you all your important website statistics inside your dashboard.
Simply install the WordPress plugin on your website to view your keywords. Make sure you've selected a Plus license or higher.
Step 4: See Keywords in the Search Console Report
ExactMetrics will then automatically detect Google Search Console and show you detailed reports right in your WordPress dashboard.
To view the report, login to your WordPress site. Then go to ExactMetrics » Reports. Now, select Search Console from the top menu.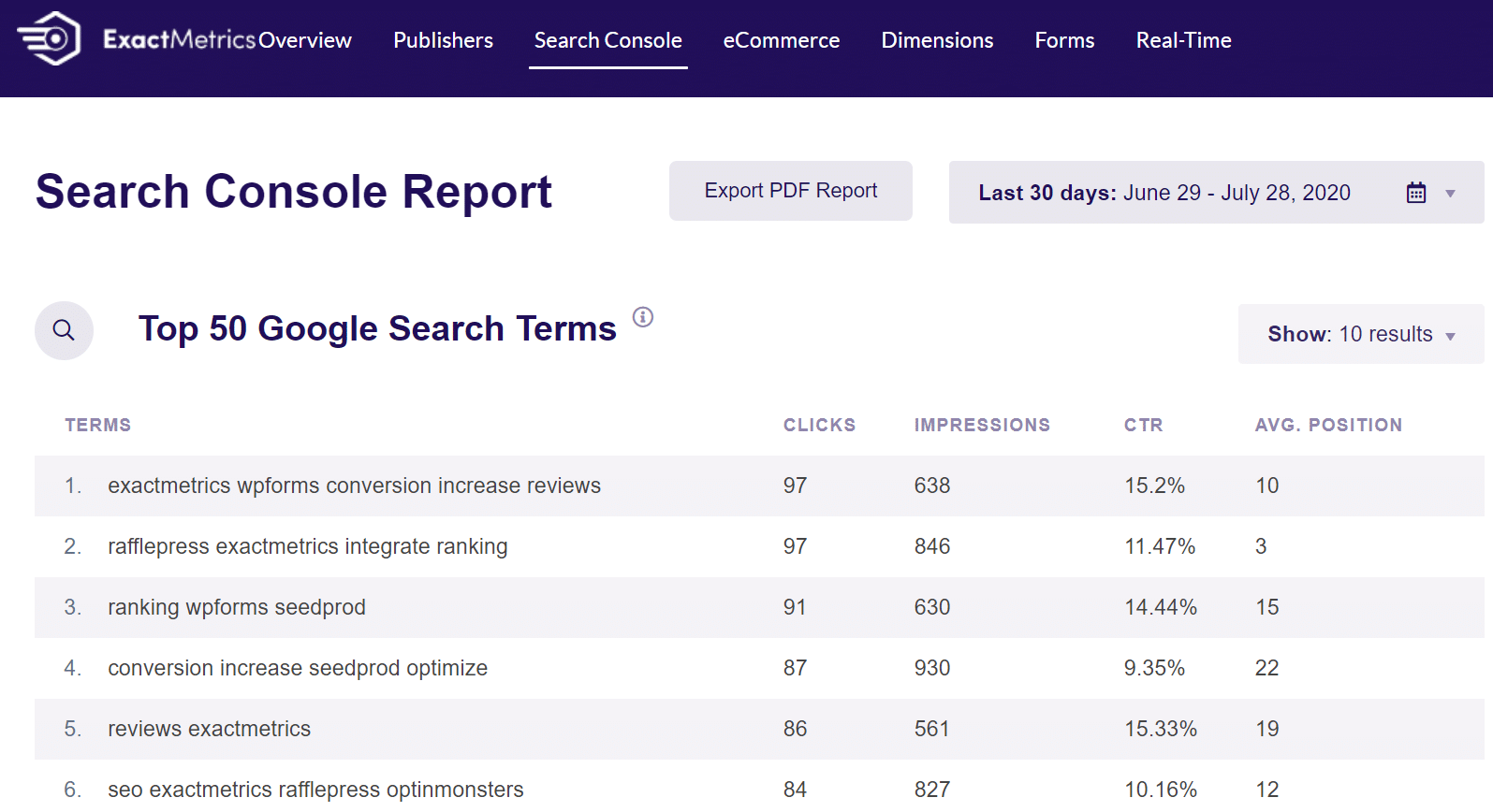 The report shows you the top 50 Google search terms your website is ranking on. And for each search term, you can view its clicks, impressions, CTR, and average position.
Using the data from the report, you can clearly see which keywords are ranking high and generating organic traffic. Besides that, you can also see which keywords require more optimization if they're not ranking on the first page.
You can also find new keyword ideas and content ideas from this report. For instance, if you see a search term that's on the first page, then you can look more keywords like it and cover them on your website.
And that's it!
We hope you liked our article on how to track keywords in Google Analytics. You can also go through our post on 5 ways to skyrocket your SEO rankings with Google Analytics.
Don't forget to follow us on Twitter and Facebook to get to know the latest tutorials on Analytics.