Did you know that focus keywords are one of the most important aspects of SEO? Without a focus keyword and keyphrase, your content won't be optimized correctly, and it'll be less likely to rank in search results.
To give your website the best chance of ranking and bringing in your targeted traffic, you need to use a focus keyword or phrase for each piece of content.
The question is, how do you find and use a focus keyword for SEO awesomeness?
In this article, we'll go over:
Here we go.
What is a Focus Keyword?
A focus keyword is a keyword or keyphrase that you choose for a piece of content (blog post, article, or page for example) to focus on in order to rank in search results.
Focusing a piece of content on one keyword or phrase is the best way to get it to rank in search results. Of course, there are other aspects of SEO that matter a lot too, but using a focus keyword sets your content up for initial success.
Do I Need a Focus Keyword for SEO?
When Google's crawler looks at your page or post, you want it to see that your content supports one topic (or keyword phrase). Don't confuse Google by writing about more than one topic in one piece of content! Using a focus keyword can help you keep this from happening.
You'll have the best chance of ranking for your keyword phrase in Google search if you follow all of the best practices for using focus keywords. Keep reading to find out what those are!
How to Choose the Right Focus Keyword
In order to choose the best focus keyword for your content, you need to perform keyword research. Without keyword research, you can only guess at what your target audience is searching for. After research, you know what they're searching for.
Here's how to find the perfect focus keyword for your next article.
Use a Keyword Research Tool
Before you start writing, you need to find out what your audience is typing into search. To do that, use your keyword research tool of choice. There are a lot to choose from! We recommend Semrush (free or paid), Ahrefs Keyword Generator, Ubersuggest, or WordStream.
For this example, let's say you sell used musical instruments. A big part of your audience is parents looking for a used instrument for their child, who's just starting out. You want to write an article targeting those parents about the best instruments for kids.
When we use Semrush to explore this topic, we find a few potential keyword phrases to target with a solid monthly search volume:
best instruments for kids – volume 210
best instrument for kids to learn – volume 90
easiest instrument to learn for a child – volume 320
best musical instrument for 4 year old – volume 140
musical instruments for young children – volume 90
musical instruments for 5 year olds – volume 170
Now, our research shows that "easiest instrument to learn for a child" has a volume of 320, but "best" and "easiest" aren't the same thing. So, we'll save that one for another blog post.
For this post, we'll choose "best instruments for kids" as our focus keyphrase, with a few headings breaking down the article by age.
More Focus Keyword Examples
For this example, let's say you blog about travel and you want to write a post about the best mountain hikes. When you search "best mountain hikes" in your keyword research tool, you see something like this: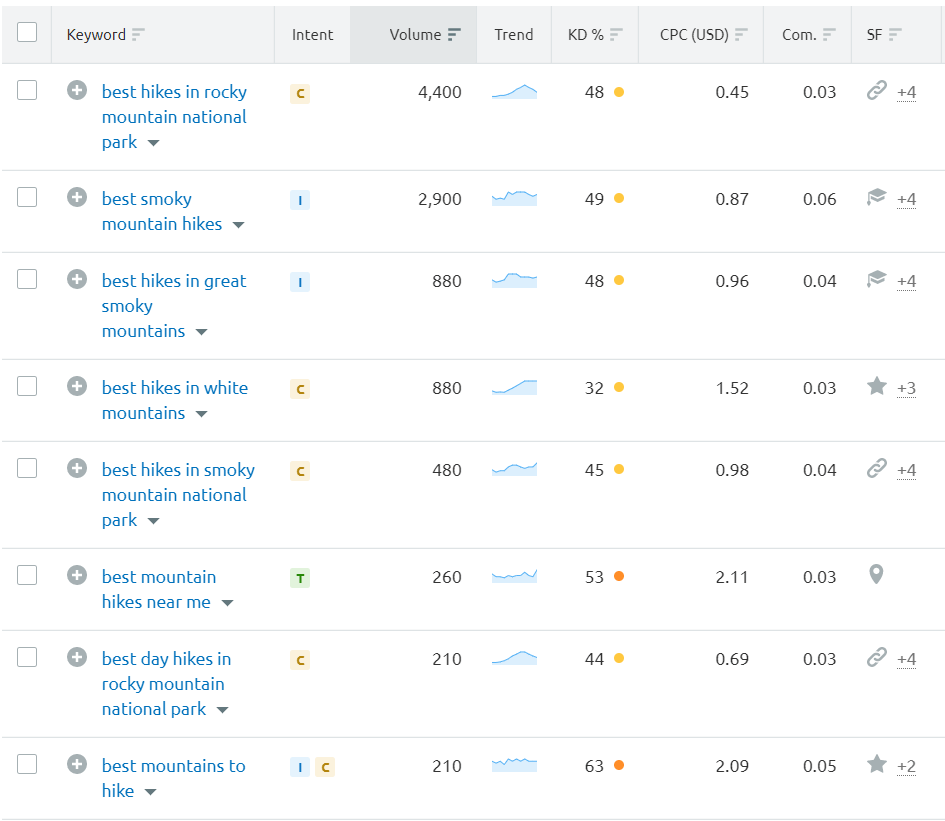 From this research, it's clear that more people search for hikes in specific mountain ranges or parks rather than the general "mountain hikes" term. This is awesome inspiration for further blog posts!
There's still a volume of 210 monthly searches for "best mountains to hike," so let's say you decide to shoot for that one. Let's go ahead and search it to see what we find. Here are the titles of the top 5 Google search results when we plug in "best mountains to hike":
15 Best Places to Hike in North America | U.S. News Travel
The 25 Best Hikes in the World Right Now – Outside Online
The Best Hike in Every State – Outside Online
The 15 Best Places to Go Hiking – Wildland Trekking Blog
18 Best Hikes in the U.S. | Travel + Leisure
Wow, good thing we searched that term before deciding to use it! Google pretty much ignores "mountains" and just shows you the best hikes overall.
Based on this research, you should scrap your idea altogether and either focus on the best hikes in general or hikes in specific mountain ranges or parks. Any of the other search terms from our keyword search above would make a great focus keyword.
How to Use SEO Keywords in WordPress
Now that you have your focus keyword or keyphrase, it's time to write your post using it. The best way to use SEO keywords in WordPress is with the best WordPress SEO plugin: All in One SEO.
All in One SEO (AIOSEO) is an awesome plugin that can help you dial in your on-page SEO tactics and bring in more traffic.
The plugin has powerful features that not only let you easily manipulate your title, meta description, schema, and more, but it also scans your content and gives you specific, actionable tips to improve it to set you up for SEO success.
How to Set a Focus Keyphrase in WordPress?
After writing your article and filling in your title and meta description, you can set your focus keyphrase in WordPress. In the General tab of the All in One SEO section at the bottom of your page or post, you'll see an area to enter a Focus Keyphrase.

How to Add Multiple Focus Keywords in WordPress?
You can use the section right below this to add multiple keywords. Although you should only be focusing on one keyword per page or post, it can be helpful if you're using a keyword with variations or a long-tail keyword where the phrasing has variations.
For example, "what is a focus keyword" might be our chosen keyword for this article, but we also know that "what is a focus keyphrase" and "what are focus keywords" are also good options. They're too similar to warrant a separate post, but ideally, we'd still like to rank for them. In that case, we might add them as additional keyphrases here.
After adding your focus keyphrase(s), the All in One SEO plugin then scans your article content, title, meta description, and more to determine if it's well optimized.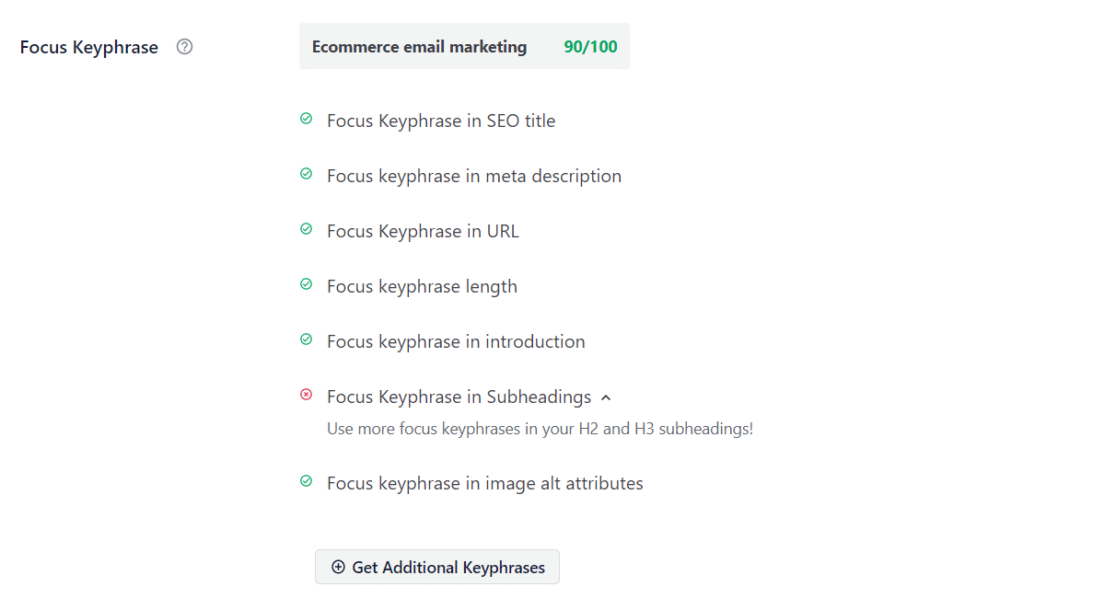 Then, you can scroll down further for even more on-page SEO suggestions in the Page Analysis section. Use the tabs on the top to see all of the suggestions: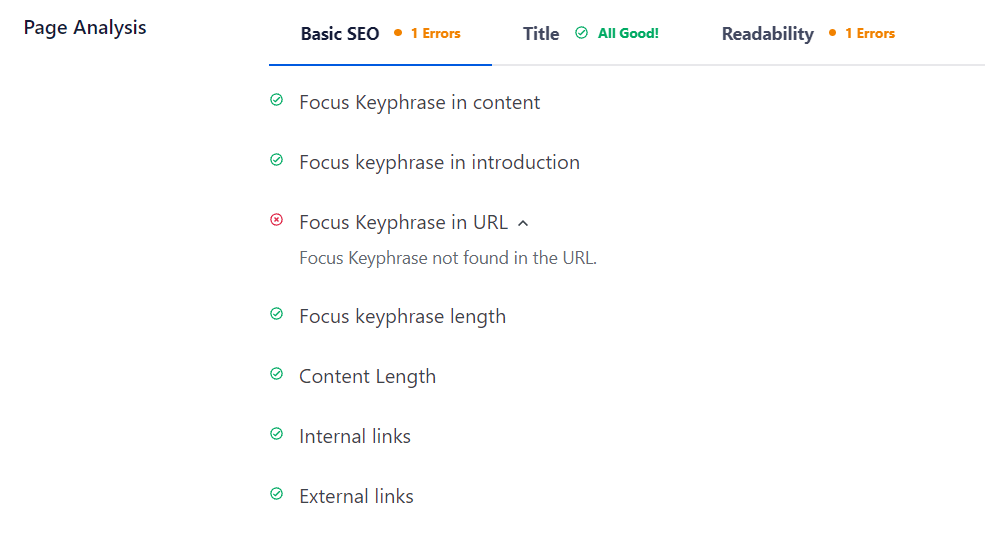 How Do I Know if My Keywords Are Working?
Alright, so you've used the focus keyphrase box in All in One SEO for all your posts, and you've optimized your articles according to those suggestions. Now, how do you know which keywords are working, and which articles need more SEO efforts to rank in search?
Using analytics to track focus keywords is your answer. The best news is that you don't have to be a Google Analytics expert to track focus keyphrases – just use ExactMetrics!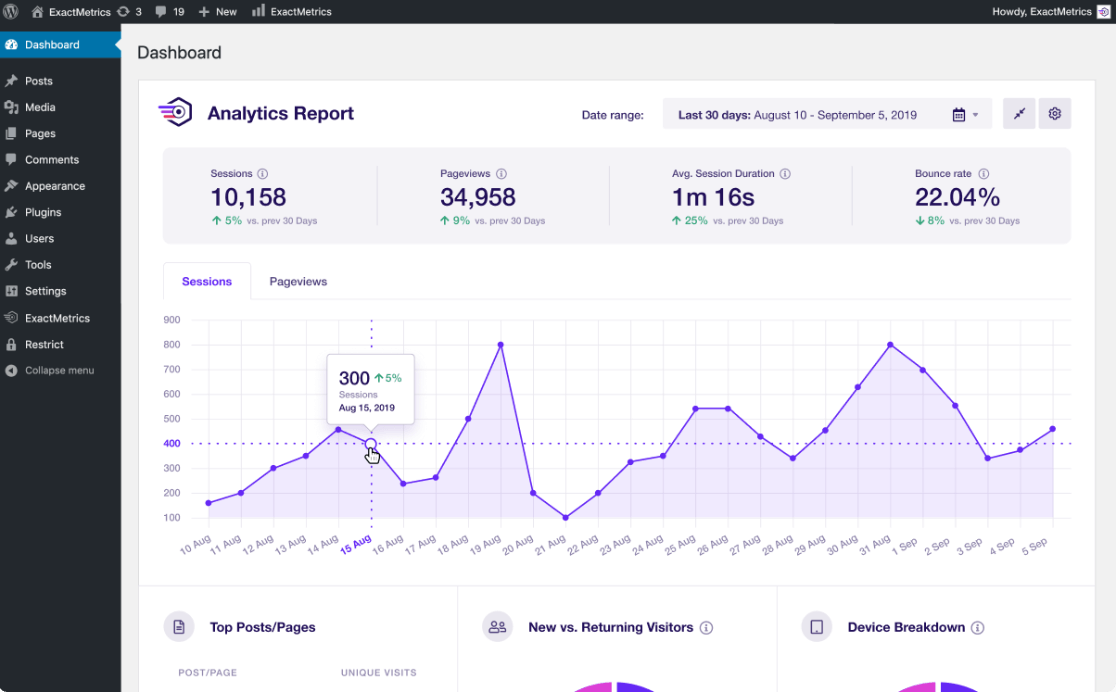 With ExactMetrics, you can really easily track which of your posts, pages and focus keyphrases are performing the best right in your WordPress dashboard.
ExactMetrics includes a whole list of things you can set up and monitor in Google Analytics and your WordPress dashboard. Our most popular features include:
With ExactMetrics, all your most important metrics are right there in your WordPress dashboard.
How to Track Focus Keyphrases
Now, back to focus keyphrase tracking. Not only can you see which posts and pages are performing the best at any time, but you can also set up ExactMetrics to track your AIOSEO Focus Keyphrases. You'll be able to see at-a-glance which focus keyphrases are doing the best: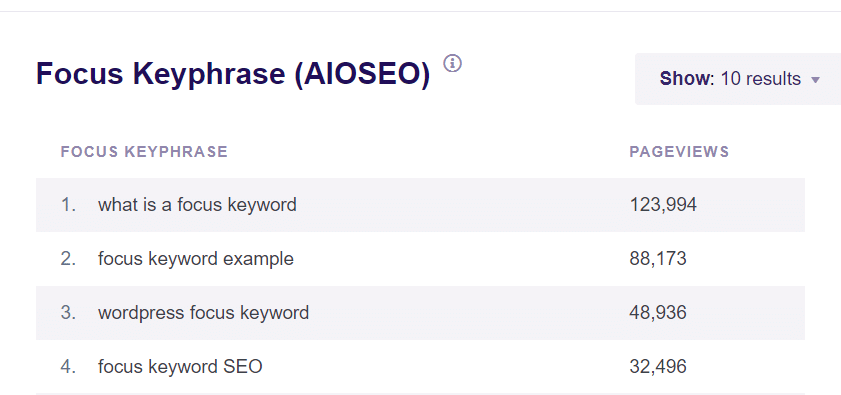 With this data, you can make decisions on what topics you might want to expand upon to bring in even more traffic, or which ones maybe aren't bringing in the traffic you hoped.
To set up Focus Keyphrase tracking, you'll need ExactMetrics at the Pro level. Then, follow our tutorial for How to Track Focus Keywords in WordPress for Better SEO.
That's it!
We hope you loved our guide for using focus keywords to improve your site's overall SEO. Did you know that ExactMetrics can also pull your AIOSEO TruSEO Score into Google Analytics and WordPress? Check out the Essential On-Page SEO Guide for WordPress to learn more about tracking your TruSEO Score.
Ready to grow your website? Check out 30 Epic Marketing Hacks for Explosive Traffic Growth.
Don't forget to follow us on Twitter and Facebook to see all the latest Google Analytics tutorials.