Are you looking for an awesome Google Analytics WordPress plugin to use as an alternative to Google Site Kit?
While Google Site Kit can do a few helpful things, it really doesn't compare to some of the other plugins out there in terms of features and added tools.
In this article, we'll first take a quick look at what Google Site Kit can do, then explore some other options to compare it to.
What is Google Site Kit?
Google Site Kit is Google's official WordPress plugin. It first and foremost is a plugin that helps you connect multiple Google services to your website, including:
Google Analytics
Google Tag Manager
Adsense
Search Console
PageSpeed Insights
After connecting however many of those services you use, you'll see some of their data in the Google Site Kit dashboard, except for Google Tag Manager. With that, the plugin just helps you connect it to your site. The rest of the services will provide some sort of reporting.
For instance, in the Google Analytics report, you'll find basic traffic numbers. In the Search Console reports, you'll see impressions and clicks for your search terms and pages, with the ability to search for the numbers for a specific page. The AdSense report will tell you how much you've made over the past 30 days, and the PageSpeed Insights report will give you a real-time look at how fast your website is. All of these reports are in one dashboard and look pretty clean and simplistic: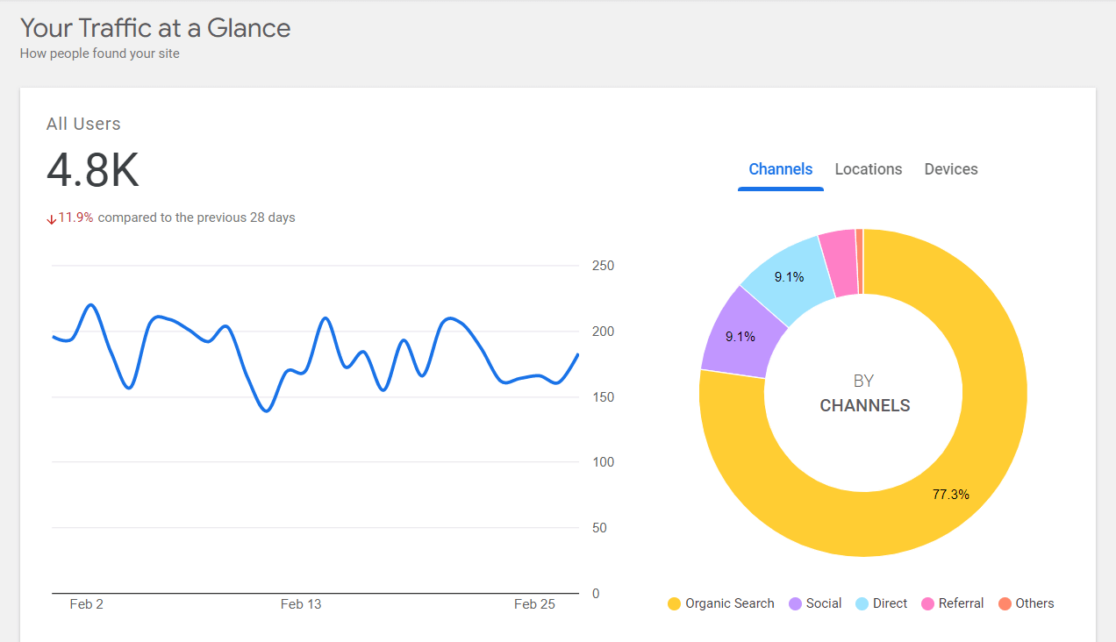 So, while the plugin is helpful in connecting all 6 of those services to your site and showing you basic numbers, it doesn't do much else.
If you're looking for more features, here are the analytics plugins we suggest.
5 Great Google Site Kit Alternatives
ExactMetrics is the best premium WordPress Google Analytics plugin. With ExactMetrics, there's a whole list of things you can set up and monitor in Google Analytics and your WordPress dashboard.
ExactMetrics can connect your site to Google Analytics and Google Search Console and give you an up-to-the-minute site speed report. Not only does the plugin connect those services, but it also brings tons of data (a lot more data than Site Kit) from both Google Analytics and Google Search Console into your WordPress dashboard.
PLUS, ExactMetrics takes multiple steps out of manually setting up your Google Analytics. With just a few clicks, the plugin can:
Easily and quickly set up enhanced ecommerce tracking and reporting
Track top outbound and top affiliate link clicks
Help you with your site's GDPR compliance
Set up scroll tracking
Set up author tracking
Track form impressions and submissions
Set up a popular posts or popular products widget on your site
Show you how many people are clicking on your videos with media tracking
And more!
While there is a free version of ExactMetrics, you'll want to grab a license to take advantage of all the features.
Get started with ExactMetrics today!
Conversios.io is a Google Analytics plugin that's made for sites that are using WooCommerce. It focuses heavily on eCommerce reports, and helps integrate your site with your Google Shopping campaigns.
Key features:
Ecommerce conversions report
Product placement performance report
View-to-cart and view-to-conversion ratios
Abandoned cart tracking
Audience and behavior reports
Connect and run Google Shopping campaigns
Conversios.io is free, but more advanced reports are available in the Pro version starting at $19 per month.
Get started with Conversios.io today!
MonsterInsights has many similar features to ExactMetrics. It installs your tracking code and brings a bunch of data into your WordPress dashboard.
With MonsterInsights, in addition to monitoring your most important traffic data within your WordPress dashboard, you can set up:
Form conversion tracking
Enhanced eCommerce
Affiliate link tracking
Outbound link click tracking
Author tracking
Media tracking
Search Console report
Site speed report
And more
MonsterInsights can also help make your website GDPR compliant by updating your Google Analytics usage for you, and/or by integrating with cookie consent plugins.
MonsterInsights does have a free version, or you can buy a license for more of their advanced features.
Get started with MonsterInsights today!
GA Google Analytics is another plugin that can help you install Google Analytics on your WordPress site. That's its main function, but it does have a few added features beyond inserting your tracking code.
Key features:
Supports Global Site Tag
Supports enhanced link attribution
Very simple and easy to use
Includes an option to add your own custom markup
Option to disable tracking of admin-level users
Get started with GA Google Analytics today!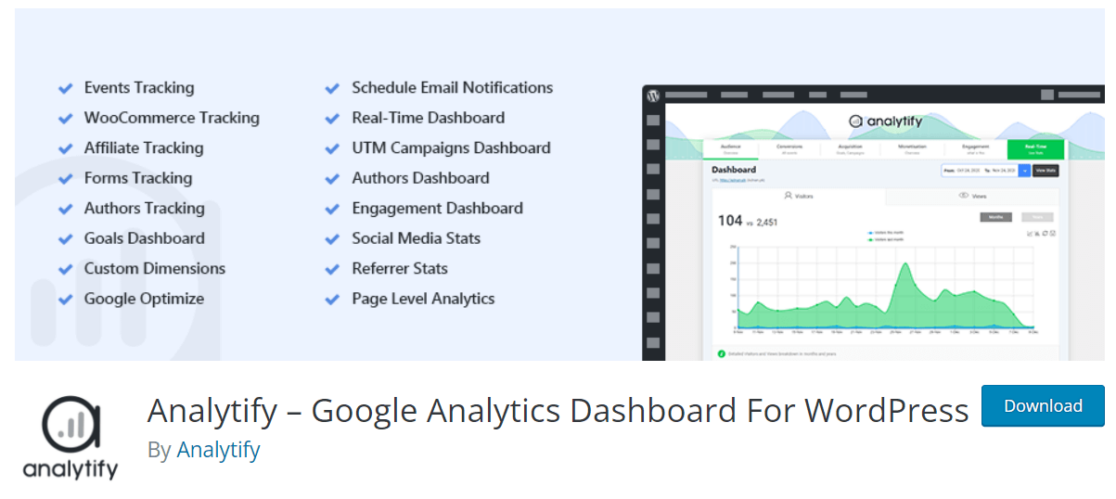 Analytify is another popular Google Analytics plugin for WordPress. Like ExactMetrics, it can install Google Analytics on your site, plus provide some reports beyond what's included in Google Site Kit.
Key features:
Social media stats
Enhanced Ecommerce
Campaign tracking
Forms tracking
Author tracking
Get started with Analytify today!
Those are our picks for the top Google Site Kit alternatives. ExactMetrics is definitely the best pick, but we hope you found a plugin that aligns with your goals.
Looking for some inspiration to grow your business? Check out 30 Epic Marketing Hacks for Explosive Traffic Growth.
Don't forget to follow us on Twitter and Facebook to see all the latest Google Analytics tutorials.