Looking for good alternatives to MonsterInsights to manage your website stats and analytics?
Whether you need a Google Analytics plugin for WordPress or just an analytics platform of some kind, we've got a great list of MonsterInsights alternatives for you to check out.
First, let's take a quick look at what MonsterInsights does.
What Is MonsterInsights?
MonsterInsights is a Google Analytics plugin for WordPress. So, it essentially connects your Google Analytics property to WordPress, and provides reporting inside your WordPress dashboard.
In addition to auto-installing your Google Analytics tracking code and providing reports in your dashboard, MonsterInsights has many extras that provide more data about your site.
You'll be able to see which outgoing links are getting clicked, which forms are being seen and submitted, how much revenue your online store is making, which videos are getting watched, and more. Most of these extra tracking features are available in the paid versions of MonsterInsights.
Best MonsterInsights Alternatives
Whatever your reason is for seeking a MonsterInsights alternative, we have some great options for you to consider. Let's dive in!
ExactMetrics is the best premium WordPress analytics plugin. With ExactMetrics, there's a whole list of things you can set up and monitor in Google Analytics and your WordPress dashboard, plus an easy-to-set-up automated reporting feature. ExactMetrics includes many of the features that MonsterInsights has, so it's a great MonsterInsights alternative.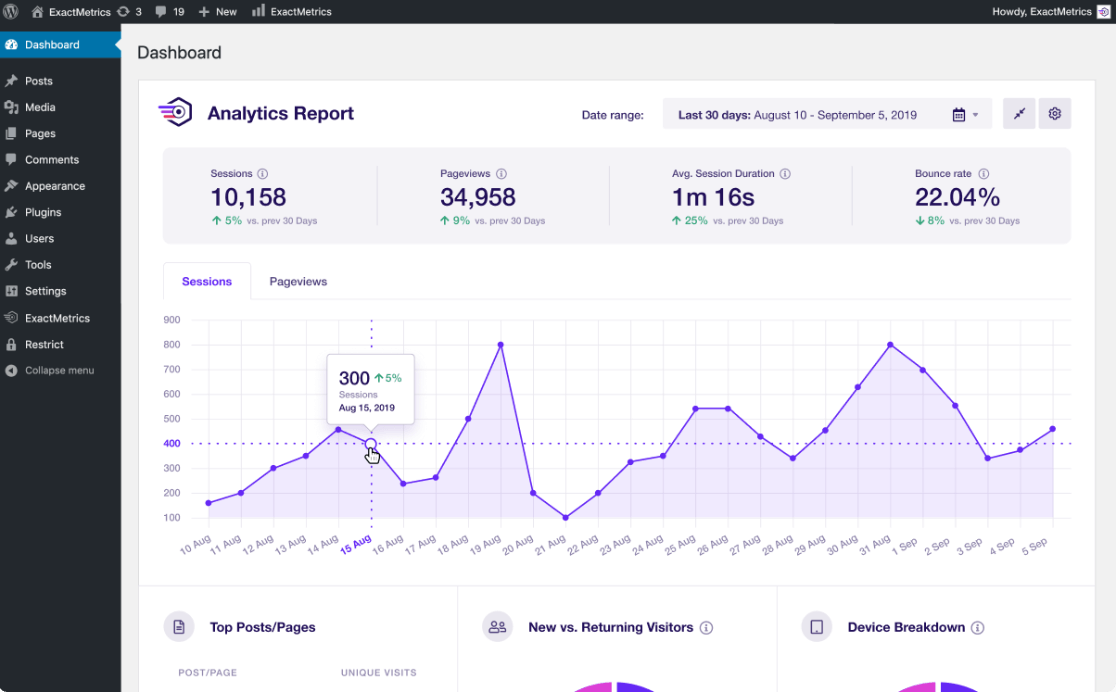 Some of our most popular features include:
With ExactMetrics, you can find all your most important metrics right inside your WordPress dashboard. Google Analytics can get really confusing. Let ExactMetrics simplify both setup and reporting for you!
ExactMetrics has multiple plans depending on your business size and needs. There's a Lite version, a Plus version for $99.50 per year, and a Pro version for $199.50 per year. There is also an Agency version and plans for over 100 sites.
With Plus, you'll get a Search Console report, site speed report, scroll tracking, the EU Compliance addon, media tracking, and lots more. The Pro version adds eCommerce tracking, forms tracking, author tracking, other custom dimensions, and more.
Get started with ExactMetrics today!
You don't necessarily have to use an analytics plugin to get Google's data — you could just use Google Analytics. Google Analytics is the leading free analytics tool for the web. Install it to get tons of insights about your traffic. How long are visitors spending on your site? What pages are they looking at? What events are they completing?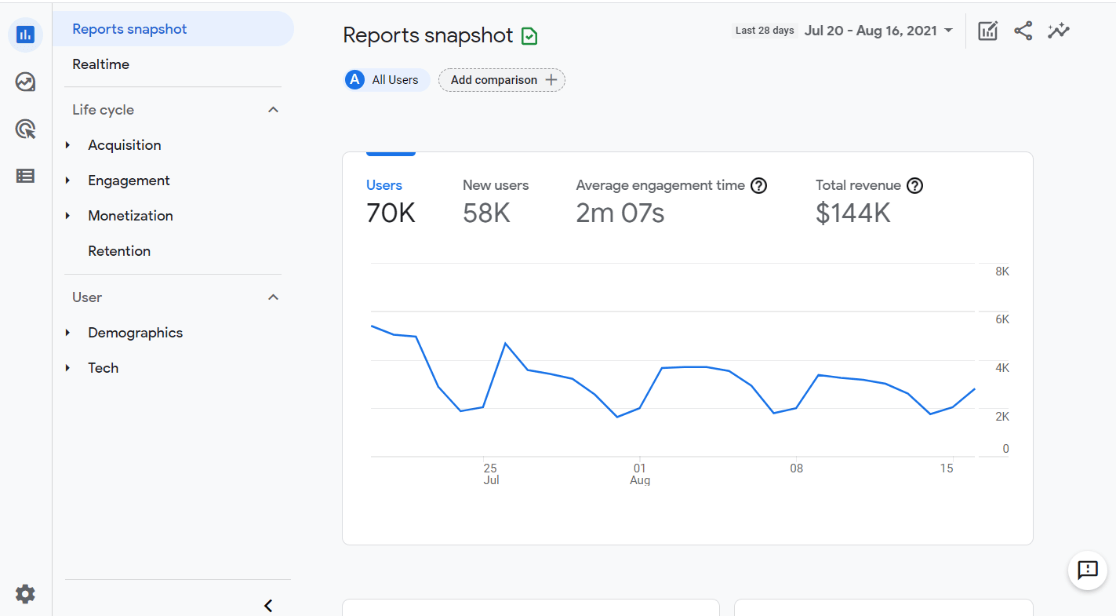 Of course, the drawback of using Google Analytics without a plugin is the time it takes you to learn it. Google Analytics really has quite a learning curve, and you'll probably need to learn how to build custom reports in order to get at the data you need to grow your business. That's why Google Analytics plugins like ExactMetrics are so popular. They take a very complicated tool and make it much easier to use and understand.
Get started with Google Analytics today!
Google Site Kit is Google's official WordPress plugin. It connects many of their tools and services with your WordPress website and provides a limited report on your traffic.
The plugin connects the following tools and services with your site:
Google Analytics
Search Console
Google Ads
Google Tag Manager
PageSpeed Insights
While this free plugin is great if you just want to connect Google's tools to your site, the reporting is pretty basic. If you need a plugin with more in-depth reporting, we'd skip this one.
Get started with Site Kit today!
All-in-one Google Analytics by Conversios.io is a WordPress plugin specifically for WooCommerce online stores. It integrates with both Google Analytics and Google Shopping, making your shopping feed easy to manage. eCommerce store owners can access metrics in this plugin like conversion rate, product placement performance, view-to-cart and view-to-conversion ratios, abandoned cart tracking, and basic audience and behavior reports.
Besides reports, the plugin also connects your site with Google Shopping, Google Ads, and Google Merchant Center to make advertising on Google easy. It can also help with your retargeting campaigns by using dynamic remarketing tags.
Conversios offers a free version with limited features, and paid plans starting at $89 per year. If you're looking for a dedicated WooCommerce analytics solution, All-in-one Google Analytics is worth a look.
Get started with All-in-one Google Analytics for WooCommerce today!
Analytify is another Google Analytics plugin for WordPress. It also shows a Google Analytics report within your WordPress dashboard, similar to MonsterInsights and ExactMetrics. You can access basic analytics reports with their free version but will need to purchase a license if you want their other reports.
Some of the additional reports you get with an Analytify license are:
Forms tracking
WooCommerce tracking
Author tracking
Custom dimensions
Social media referral traffic stats
Campaign tracking
Event tracking
Analytify Pro is $59, and includes custom dimensions and events tracking. With Analytify Conversion for $99, you get event tracking, WooCommerce tracking, form tracking, and author tracking. With a developer license for $299 per year, you get access to everything and up to 50 sites.
Get started with Analytify today!
That's it! We hope you found the MonsterInsights alternative that will work for your site.
If you enjoyed this article, we think you'd also like How to Track Link Clicks in Google Analytics and WordPress.
Don't forget to follow us on Twitter and Facebook to see all the latest Google Analytics tutorials.