If you want to collect and analyze data that Analytics doesn't automatically track, you can create custom dimensions.
Custom dimensions are like default Analytics dimensions. They allow you to attribute additional information to hit, session, user, and product data.
To properly set up and enable custom dimensions, you'll need to make adjustments in your WordPress site and within your Google Analytics account:
Follow this guide to learn how to set up custom dimensions.
Step 1: Add Custom Dimensions in ExactMetrics
Go to ExactMetrics » Settings » Conversions and find the Custom Dimensions area: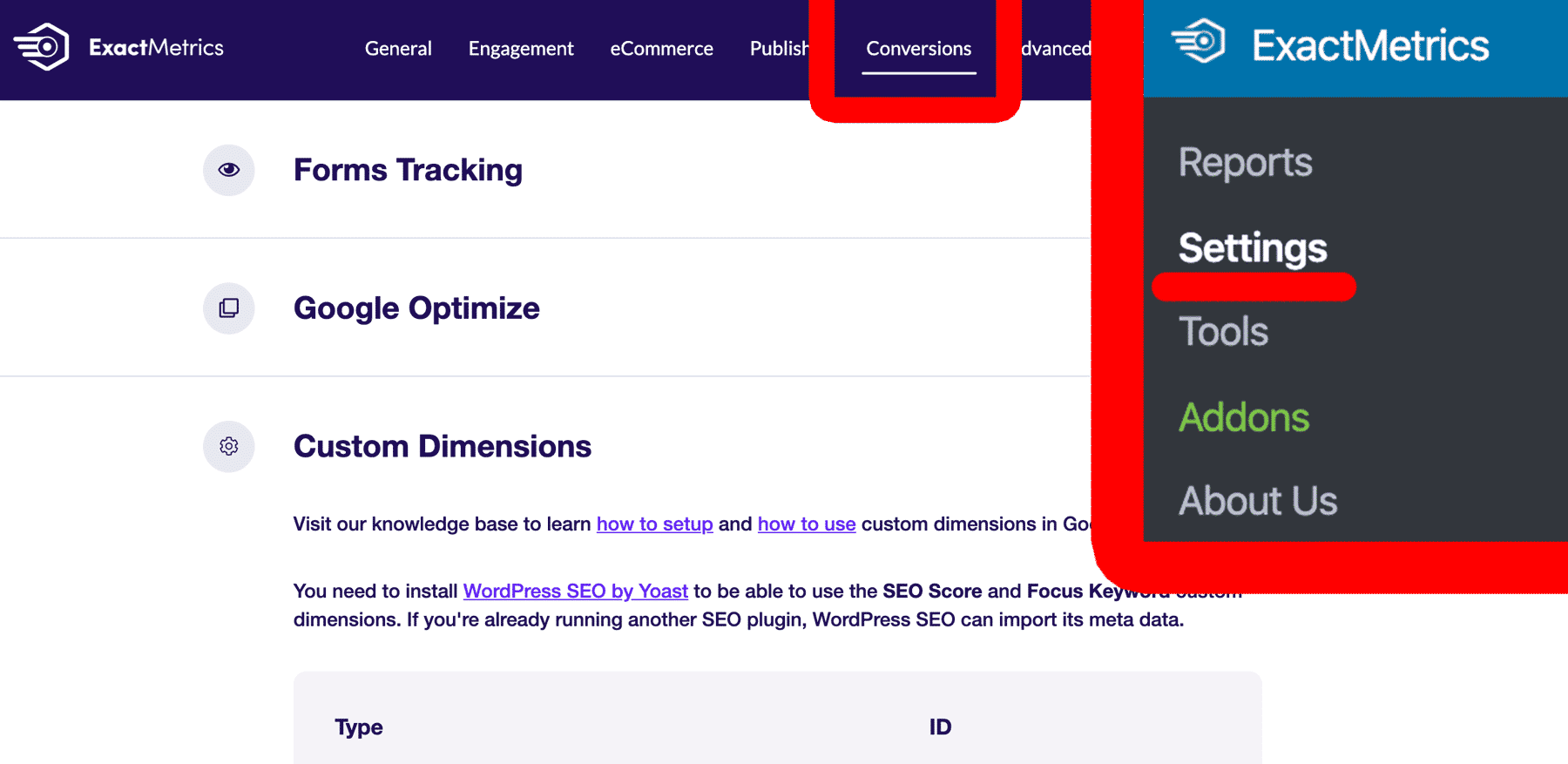 Click on + Add new custom dimension and choose the dimension type from the dropdown: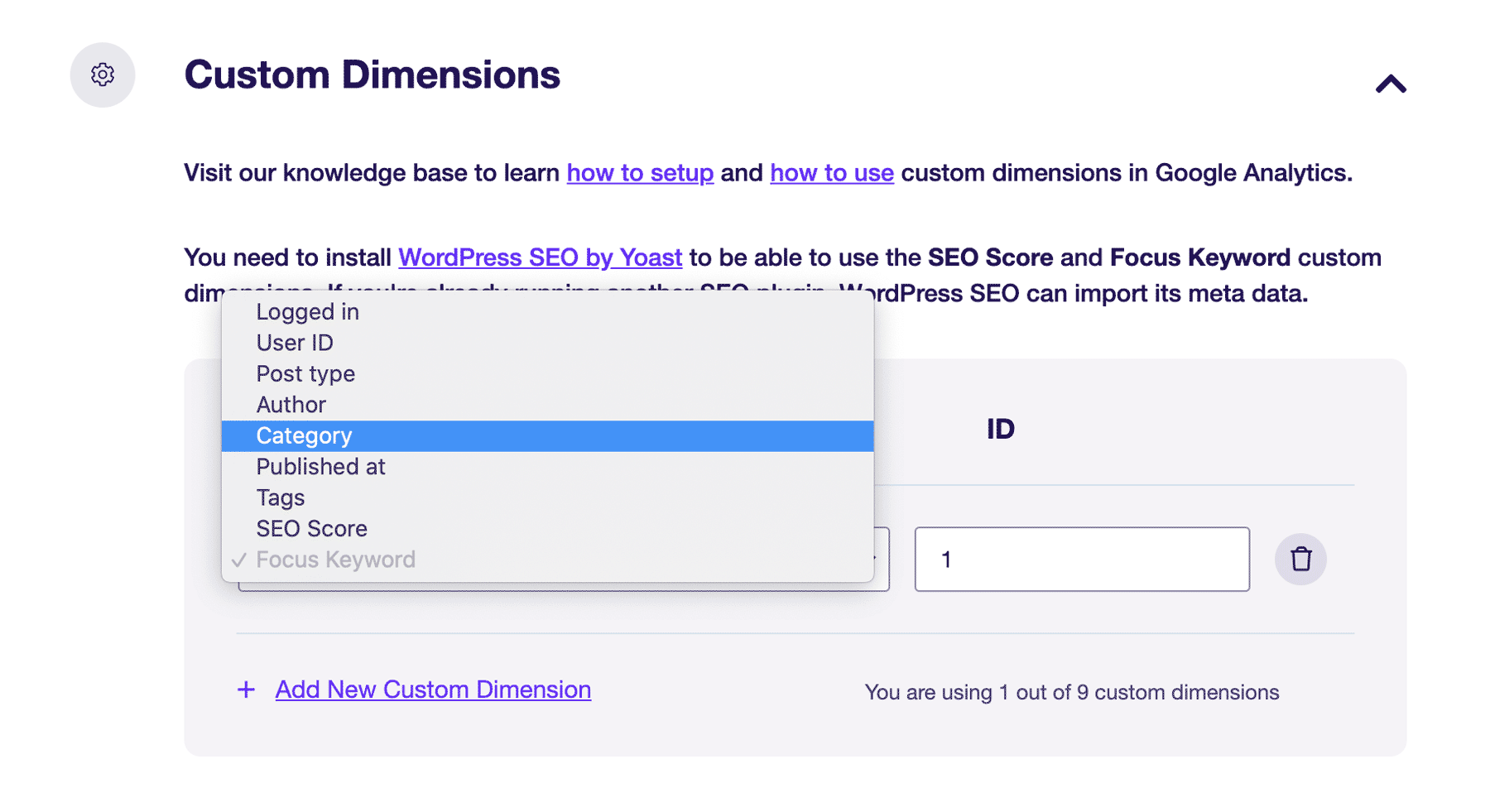 Add all the custom dimensions you'll need: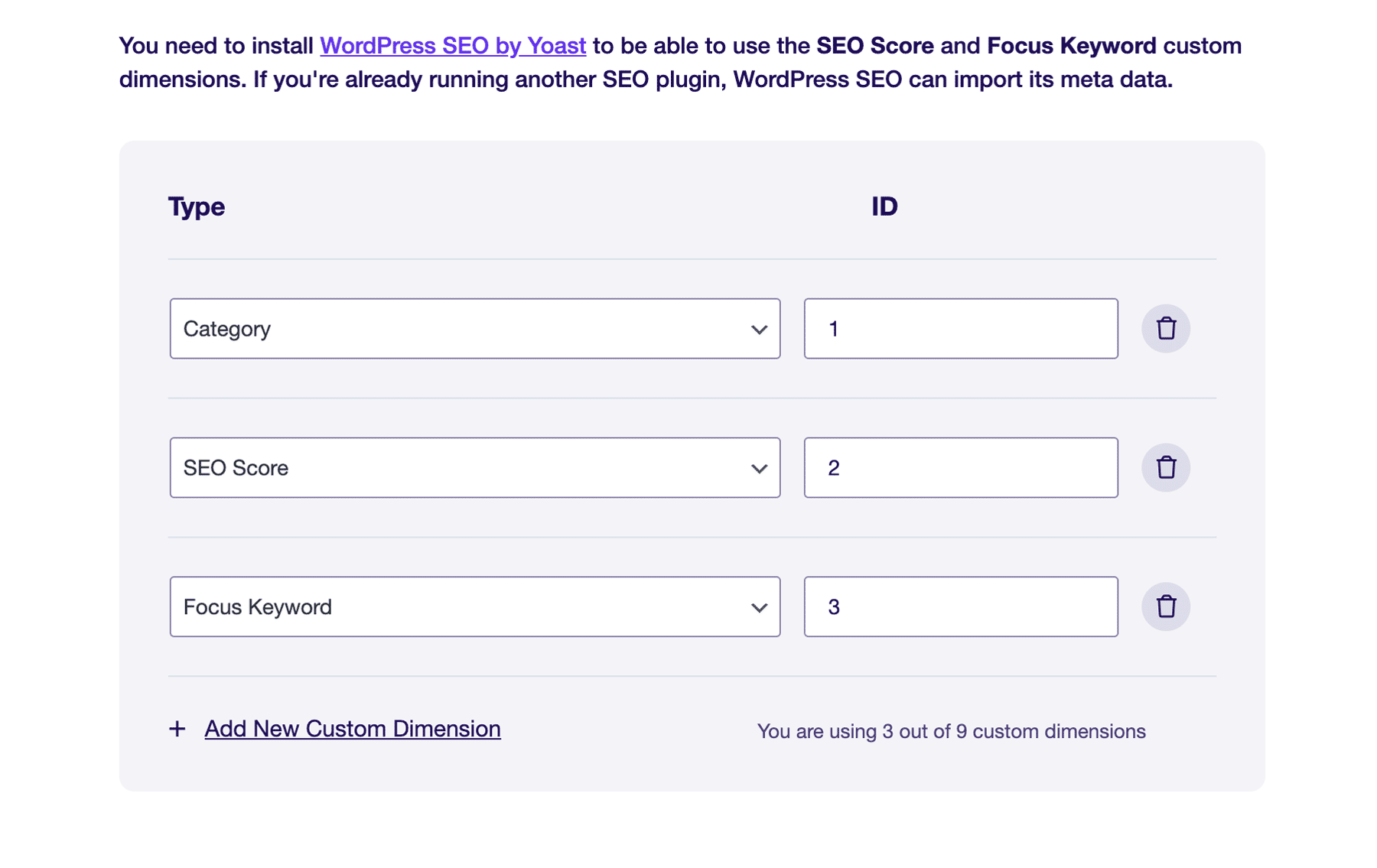 ExactMetrics provides several custom dimension types to choose from:
Logged in
User ID
Post Type
Author
Category
Published at
Tags
SEO Score
Focus Keyword
1. Logged In 
Track whether your visitors are logged in or not.
2. User ID
Track each individual logged-in user's activity. Recommend for eCommerce or membership sites use.
3. Post Type
Track performance of each custom post type.
4. Author
Track authors and their content performance on your blog.
5. Category
Track the performance of your categories, see which topics are the most popular amongst your visitors.
6. Published at
Track your post performance according to when your post was published on your site.
7. Tags
Tags give you more detailed metrics about what specific topics work best on your site.
8. SEO Score
Analyze the SEO score of your posts and pages if you're using the Yoast plugin for SEO.
9. Focus Keyword
Analyze the Focus Keywords of your posts and pages if you're using the Yoast plugin for SEO.
Create the custom dimensions you want to track and Save Changes to finish.
Step 2: Set Up Custom Dimensions in Google Analytics
Once you've added custom dimensions within your WordPress site, you'll need to configure your Google Analytics in the same way.
Log in at analytics.google.com and make sure the correct property is selected: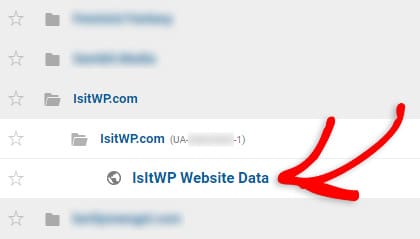 Then click Admin: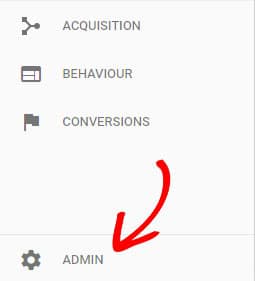 Under the Property column, click Custom Definitions » Custom Dimensions: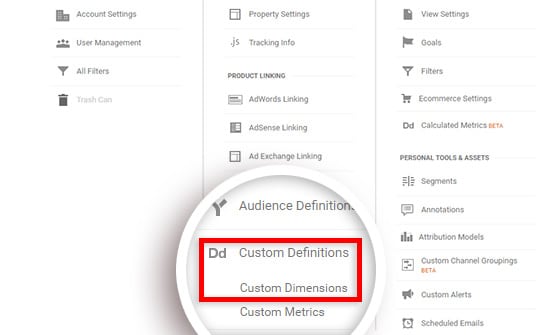 Now you'll be able to click + New Custom Dimension:

You will be prompted to give your custom dimension a name. During this step, you'll need to manually type in the custom dimensions you set in within WordPress: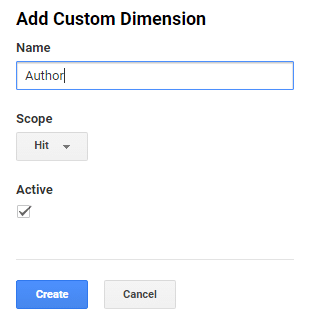 For example, if you set up a custom dimension of "Author" in your WordPress site, go ahead and type in "Author" as the name.
Once you've entered the name exactly, click Create. The next page will display code snippets, but you can ignore them and click Done.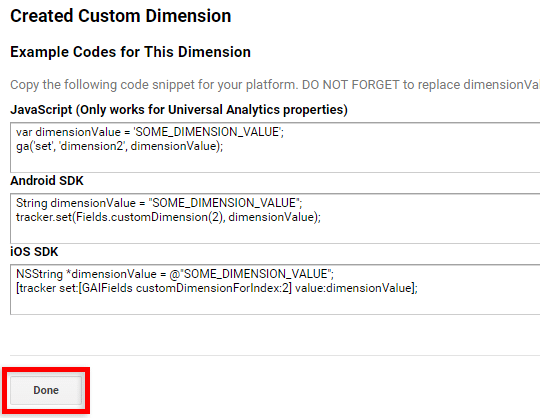 Continue this process until you've added all of the custom dimensions to Google Analytics that were added to your WordPress site. For easier configuration, create your custom dimensions in the same order as you did in ExactMetrics settings.
Important: Once custom dimensions are created in Google Analytics, you will not be able to delete it, you'll only be able to temporarily disable them.
Step 3: Match Custom Dimension IDs
The last step is to verify that the index number in Google Analytics matches with the custom dimension ID in the ExactMetrics settings.
See the index column in Google Analytics:

Then within ExactMetrics » Settings » Conversions » Custom Dimensions, input the index number as the custom dimension ID in ExactMetrics. Once done, click Save Changes: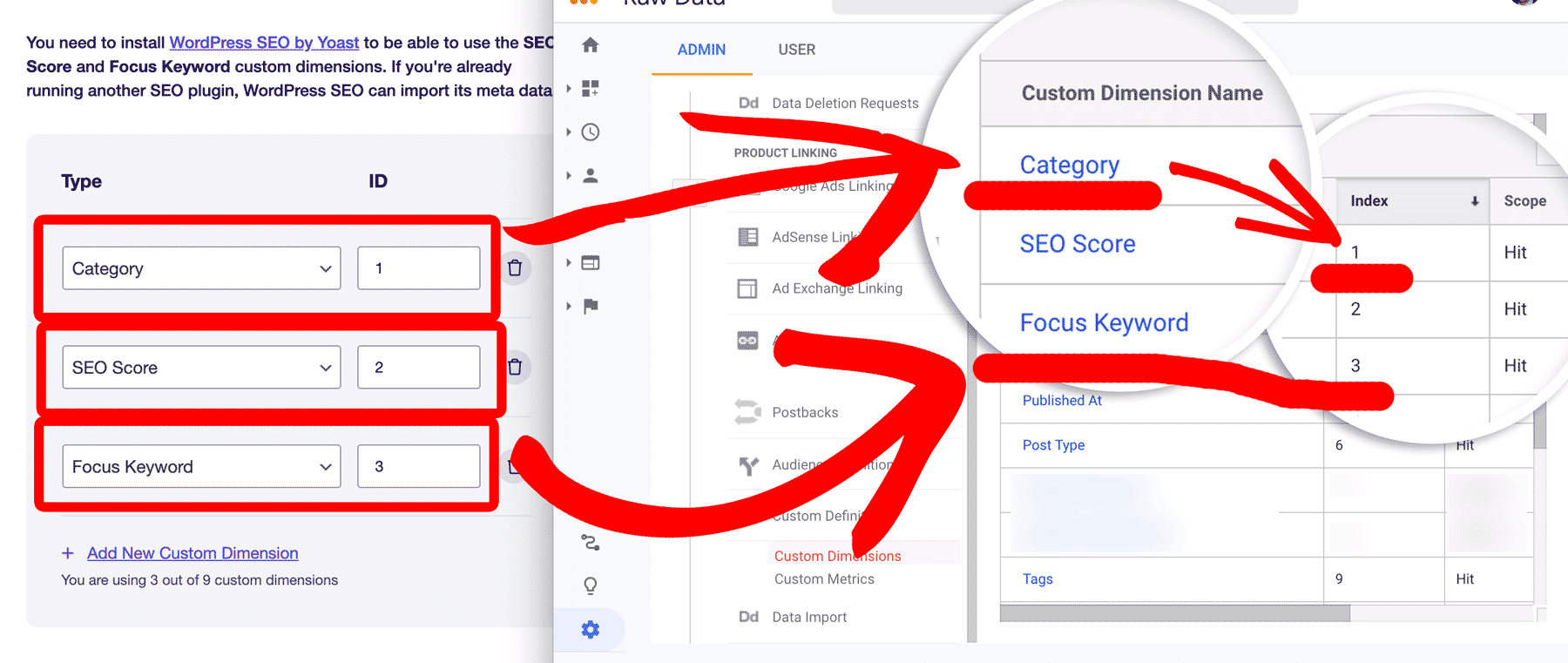 Once your custom dimensions are set up you'll be able to view your reports within WordPress at ExactMetrics » Reports » Dimensions: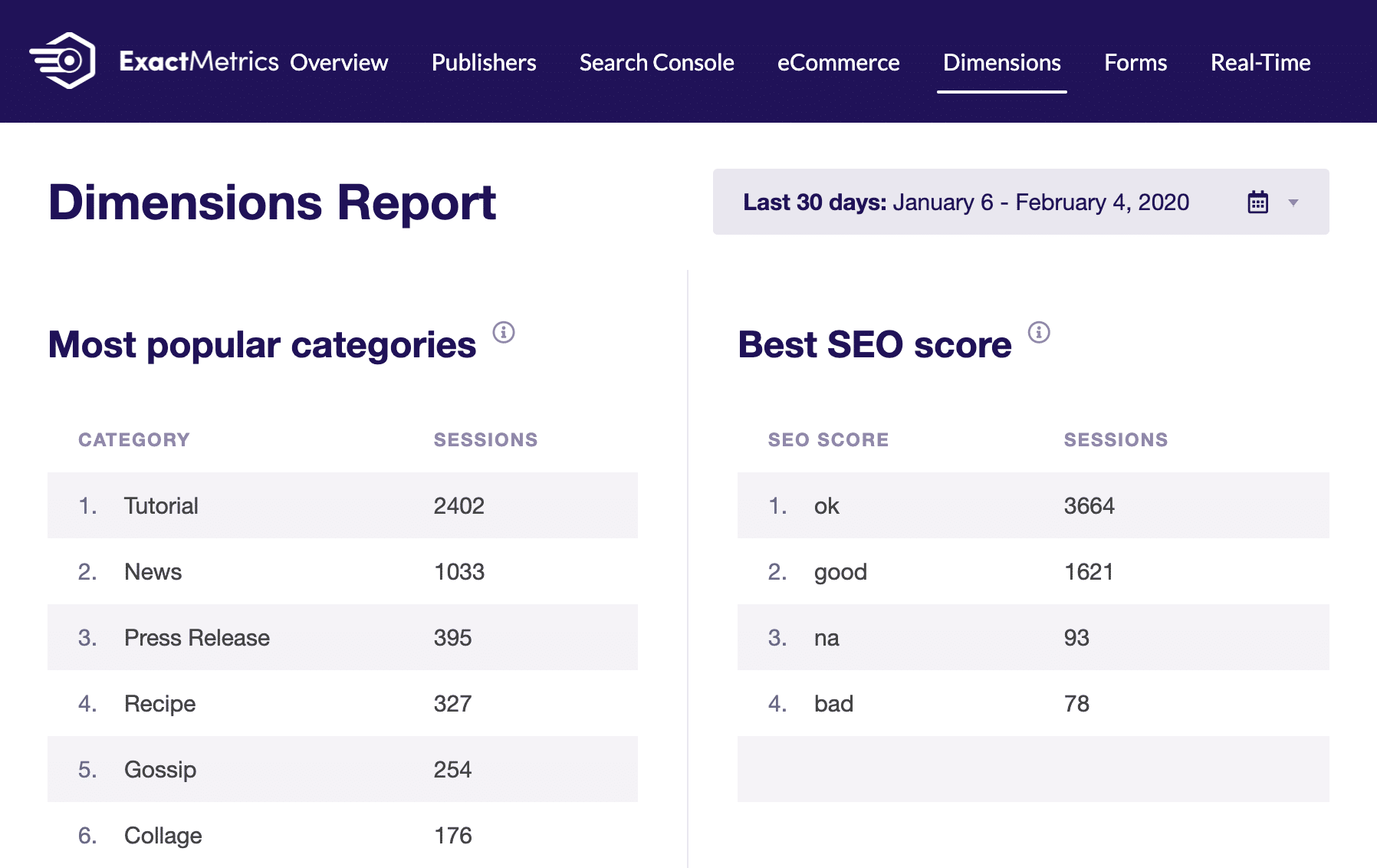 You did it! You learned how to set up custom dimensions on your WordPress site.
What's next? Learn how to track sales on your site the easy way: Google Analytics eCommerce Tracking plugin.