Wondering how to find average order value in Google Analytics? If you know the average amount people spend in your eCommerce store, you can find more ways to increase your revenue.
The simplest way of finding your average order value is by using Google Analytics. But if you're a beginner and have never used Analytics before or are learning Google Analytics 4, then it can be tricky.
So, in this article, we'll show you how to find average order value in Google Analytics.
What is Average Order Value?
Average order value (AOV), or Average purchase revenue in Google Analytics 4, is the average amount spent by customers on your online store. It's an important metric that you should track along with other key performance indicators (KPIs) like conversion rate and shopping cart abandonment.
With AOV, you get a clear picture of how much people are willing to spend on your website. You can then find new ways to increase your revenue.
To make the most of this metric, make sure you're keeping track of it regularly. This will help you see if the changes you've made are improving the average order value or not.
But, how is average order value calculated? Let's find out.
How Does Google Analytics Calculate Average Order Value?
Google Analytics measures the average order value by dividing the total dollar value of sales by the total number of orders for a given time period.
For instance, let's say your sales for last month were $1,000 and you sold a total of 25 products that month. In this case, the average order value would be $40.
How to View Average Order Value in Google Analytics 4
First of all, if you're using WordPress, you can go ahead and skip to our instructions on adding AOV to your WordPress reports dashboard.
To find average order value in Google Analytics 4, there are a couple different things you can do. Average order value isn't a metric that's included in the standard reports, but you can access Average purchase revenue per user, which is a similar metric.
To find it, go to the Reports tab, then Monetization » Overview. Then, you can scroll down to the graph that shows Average purchase revenue per user.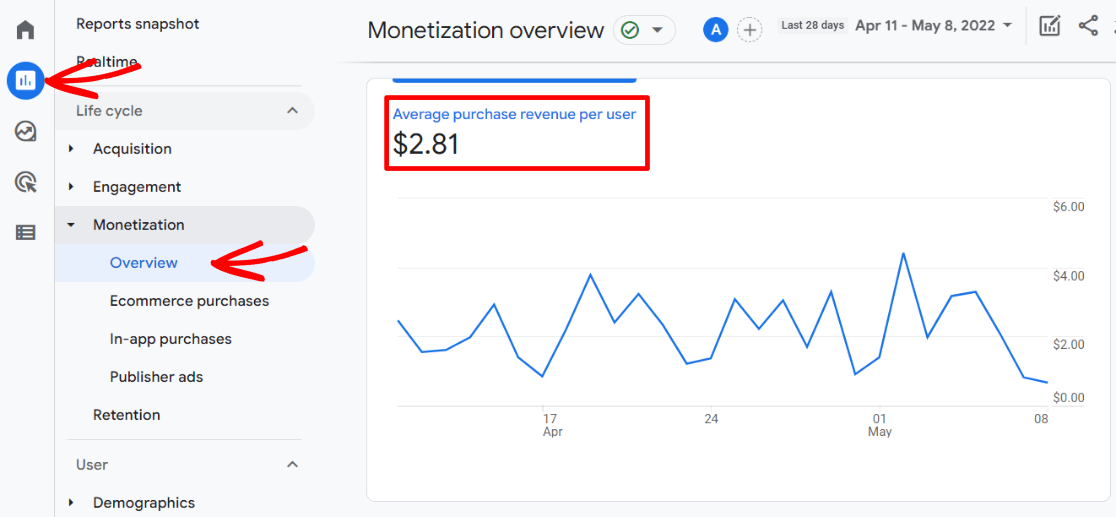 To see your average order value (which is now called "Average purchase revenue" in GA4), you'll need to create a custom Exploration report.
To start, head to the Explorations tab and create a Blank report:

Now, you can name your report something like Average Purchase Revenue. Then, click the plus icon next to Dimensions and import Device category, Session source/medium, City, and Session campaign to your report.
The easiest way to find each item is to use the search bar:

Click the plus icon next to Metrics and import Average purchase revenue to your report.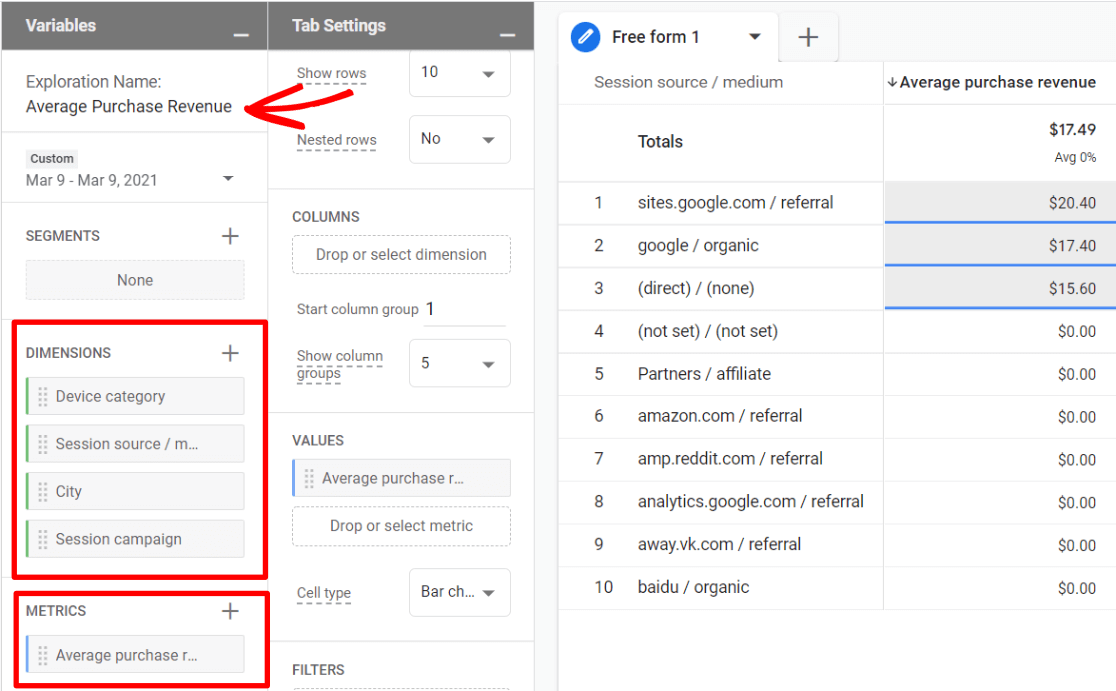 Now, choose a Dimension to start with and click and drag it over to the Rows section. In our example, we used Session source/medium: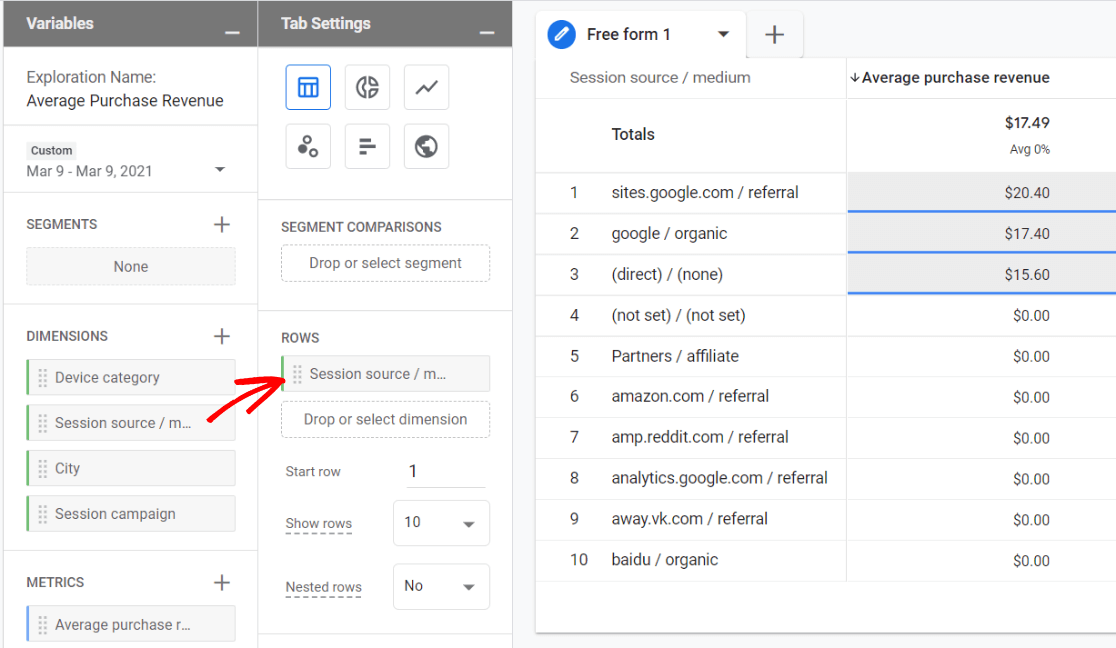 Then, click and drag Average purchase revenue from your Metrics over to the Values spot: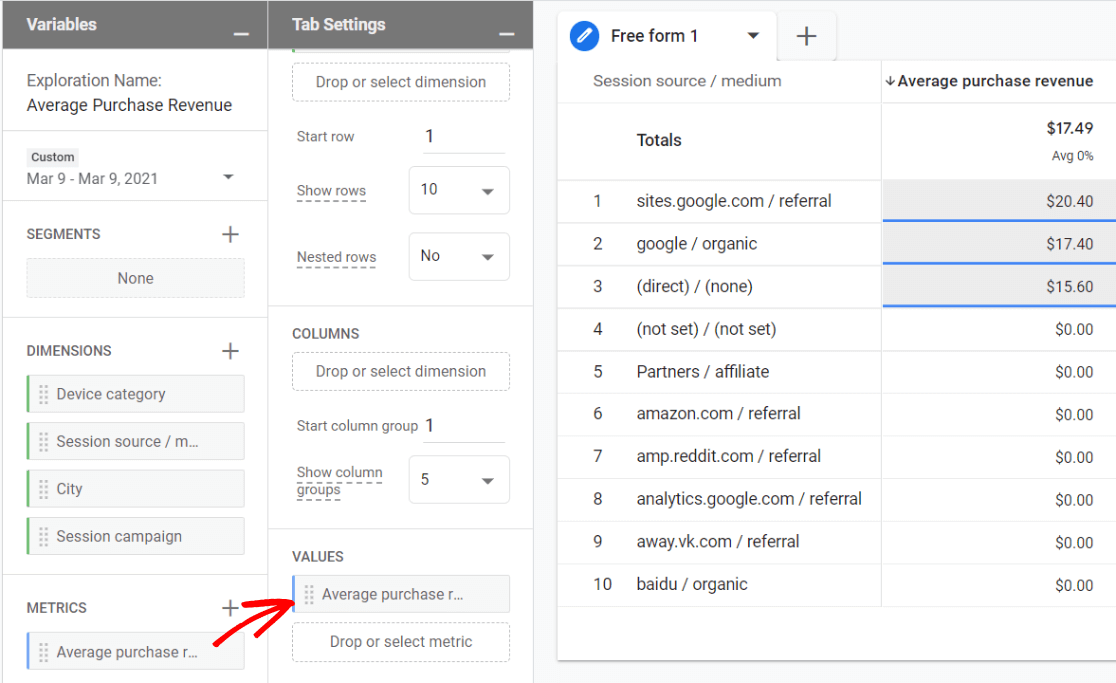 Now, your report will look like our example, so you can see the average purchase revenue for each session campaign. Go ahead and play around with the other dimensions you added by removing session campaign and adding those instead, one by one. Leave it set to whichever one means the most to you, and you can come back to it in your Explorations report tab any time!
How to Find Average Order Value in WordPress
When it comes to finding the average order value of your online store, the simplest way (if you're using WordPress) is through ExactMetrics. You can view your site's AOV quickly and easily inside your WordPress dashboard. No need to even open Google Analytics!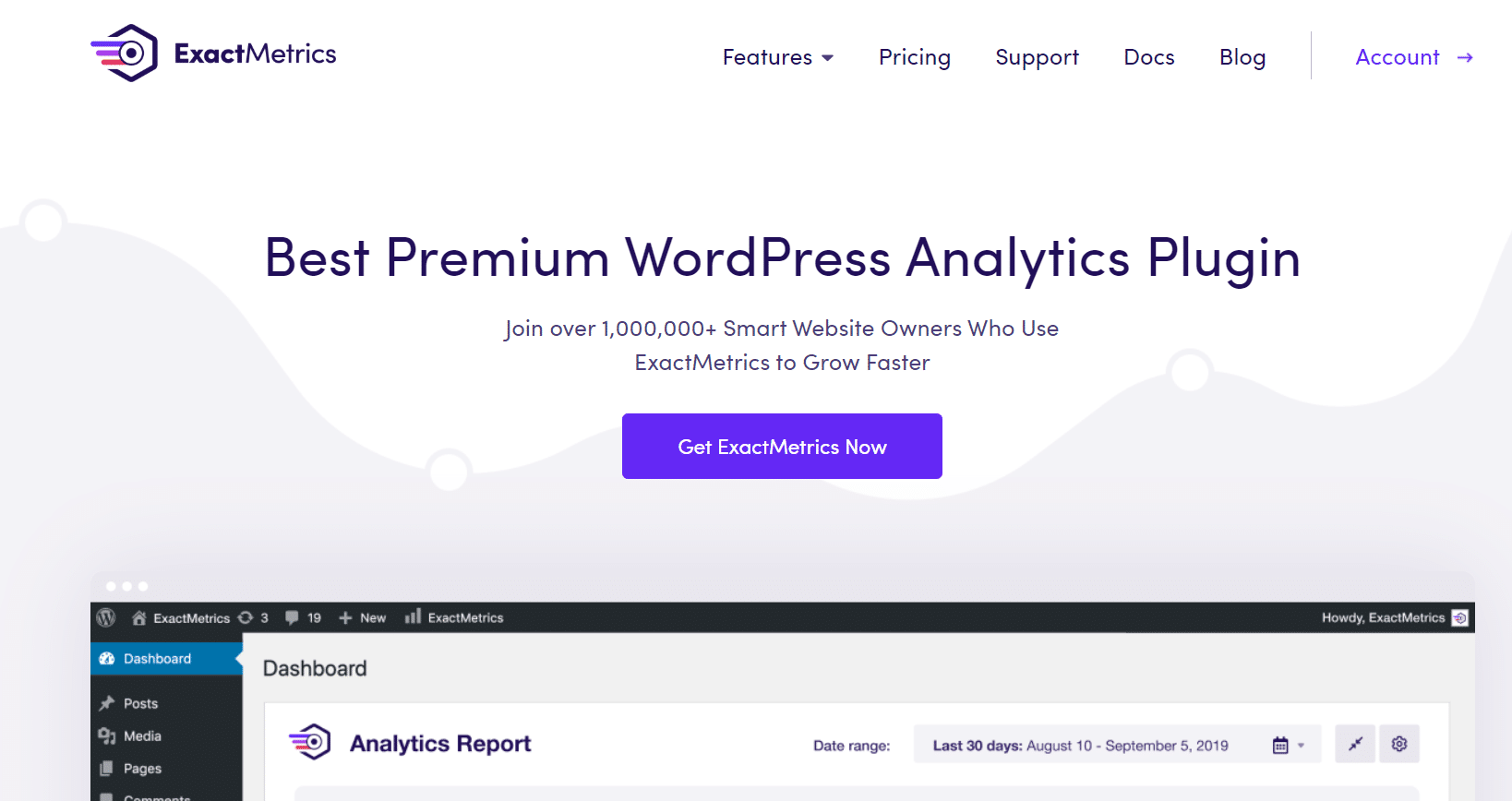 ExactMetrics is the best premium WordPress Analytics plugin. It allows you to track your online store's performance with a click of a button. And it makes using Google Analytics simple by setting up advanced tracking for you, like eCommerce tracking, form tracking, media tracking, and more. No need to do any coding or confusing setup in Google Tag Manager!
To start, just follow these steps.
Step 1: Install ExactMetrics WordPress Plugin
The first step is to sign up for an ExactMetrics account and install the plugin on your website. Just make sure that you subscribe to a Pro plan to use the eCommerce addon.
After you've signed up, download and install ExactMetrics on your online store.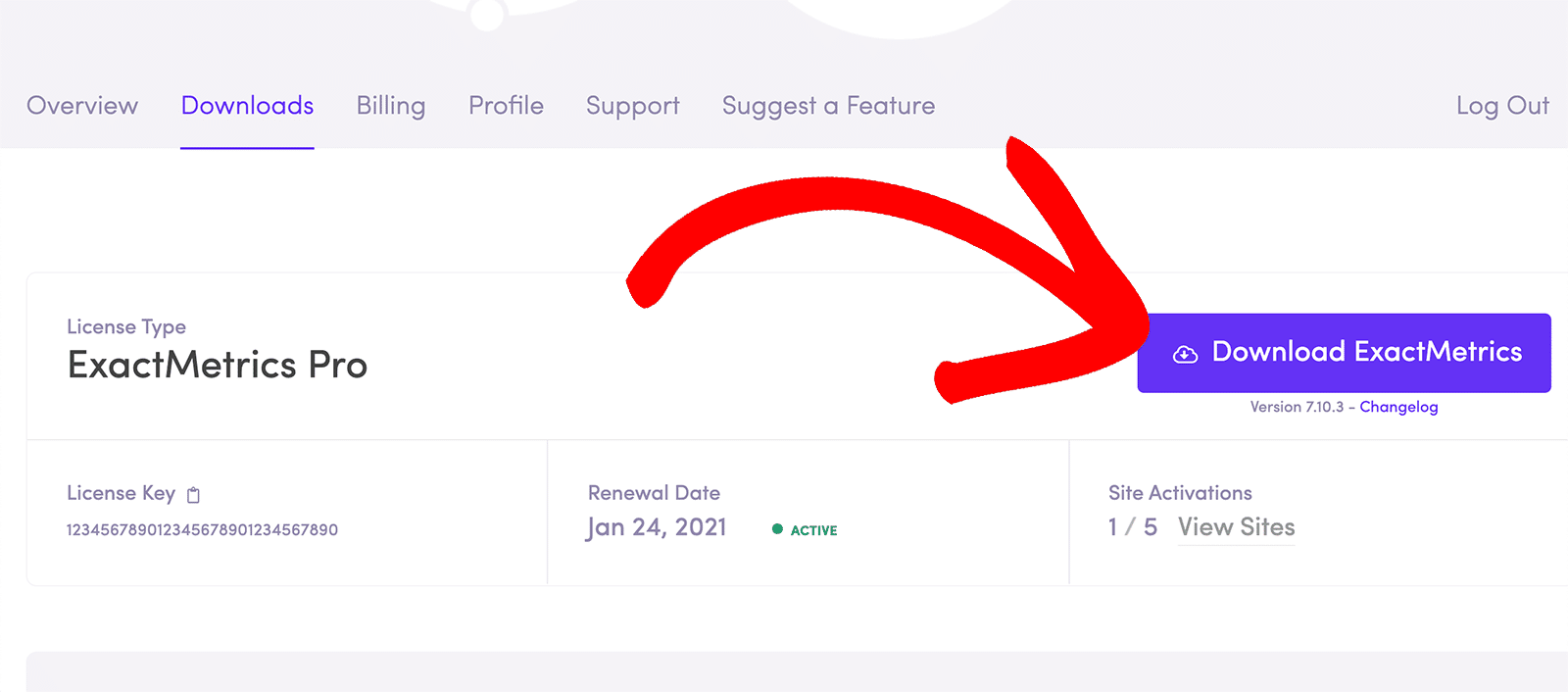 Then connect Google Analytics with your WordPress website by following the setup wizard. For more detail, check out our guide on Adding Google Analytics 4 to WordPress: Step-by-Step Guide.
Step 2: Install and Activate eCommerce Addon
Next, you'll have to install ExactMetrics eCommerce addon.
To do that, simply go to your WordPress dashboard and then navigate to ExactMetrics » Addons. Now go to eCommerce and click Install.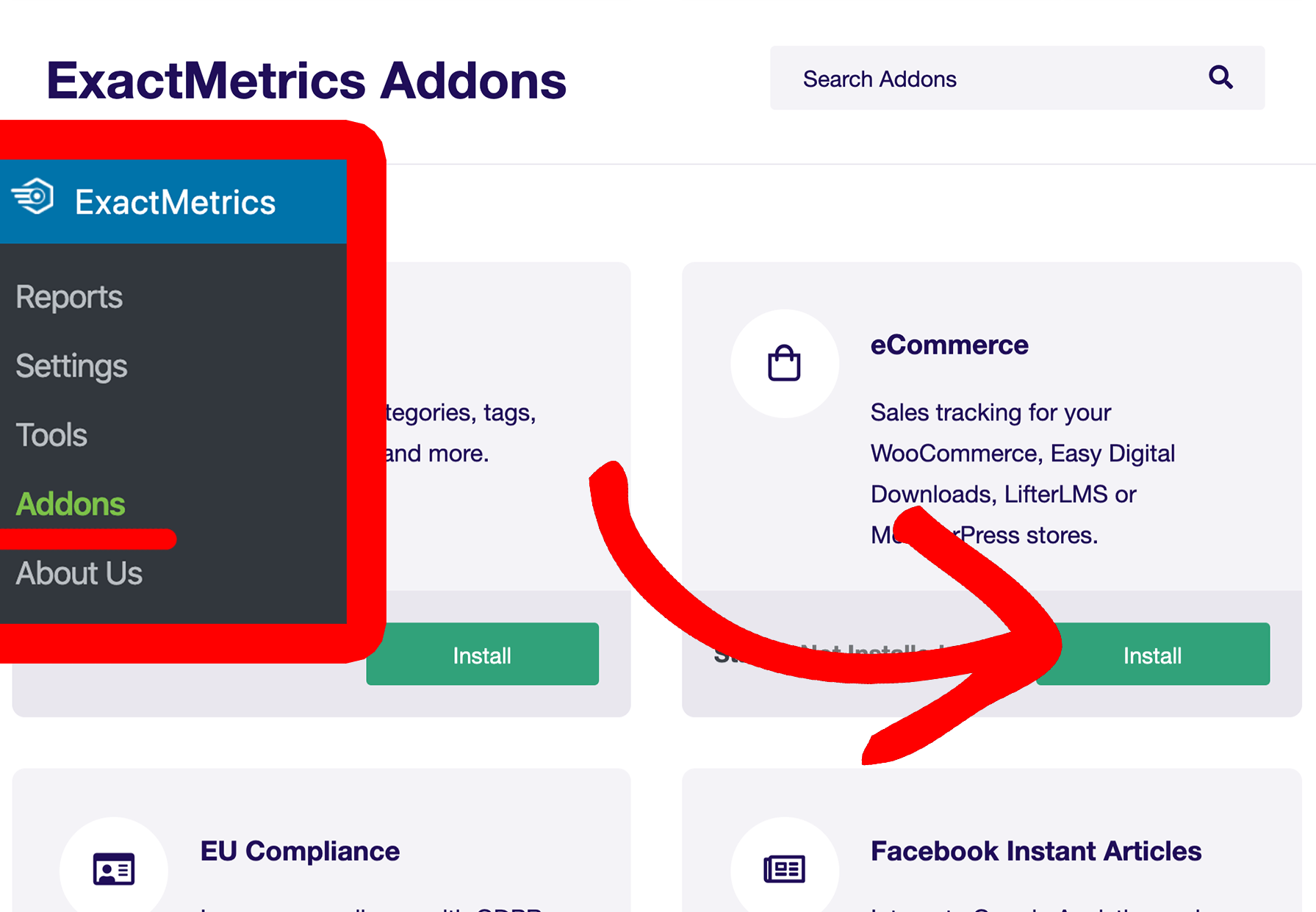 Wait for a few seconds and the addon will automatically install and activate on your website.
Step 3: View Average Order Value in WordPress Dashboard
Now that you've successfully set up eCommerce tracking, you can view your store's average order value in your WordPress dashboard.
Just go to ExactMetrics » Reports and click on eCommerce. Right on the top, you can see the average order value of your eCommerce store.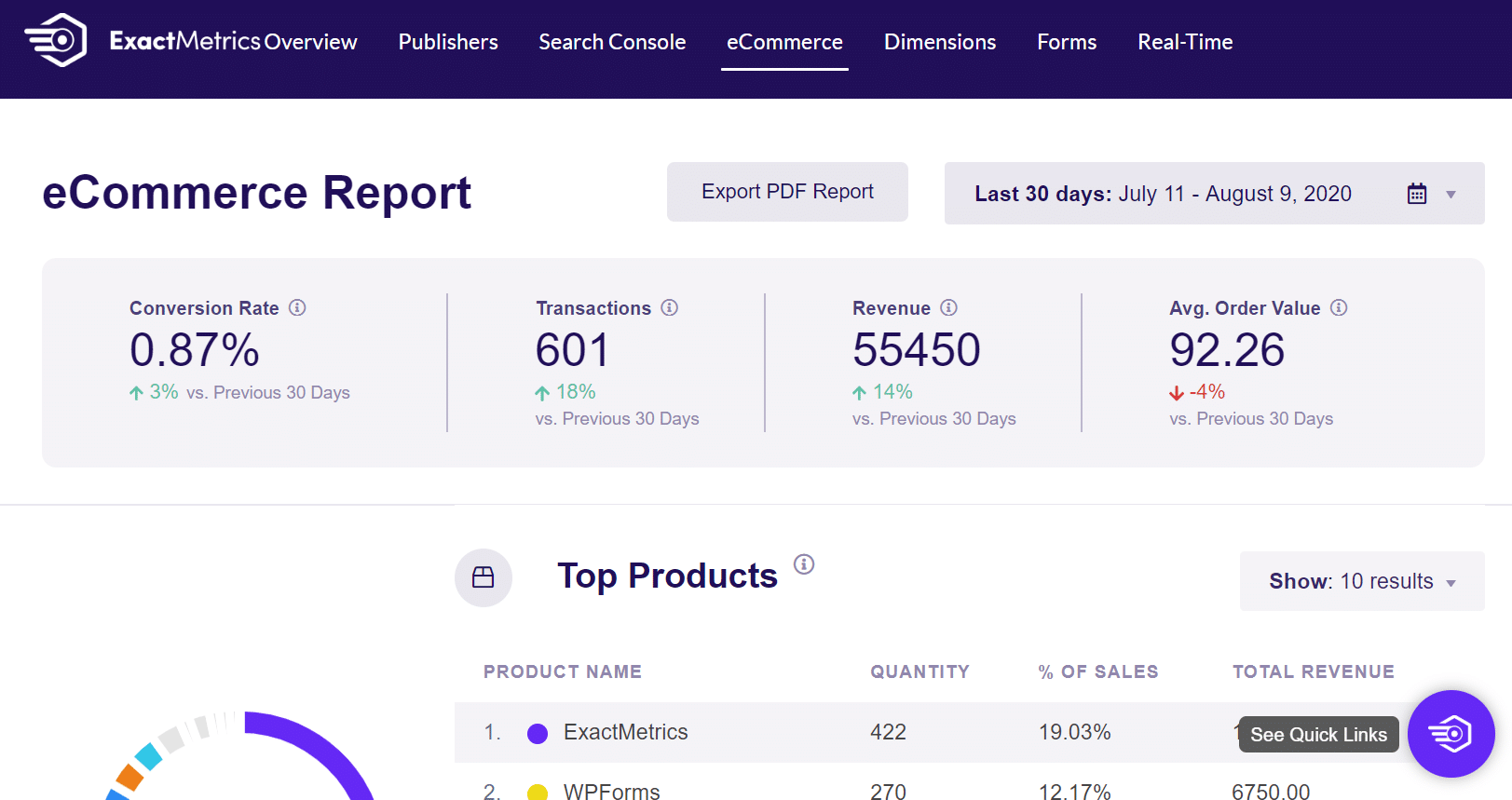 Congratulations! You can now easily find out the average amount people are spending on your site.
How to Improve Average Order Value
After you've found the average order value of your store, here are a few tips on how you can boost it so people spend more money:
Provide Product Recommendations – You can display product recommendations across your site to help customers make decisions and increase your average order value
Cross-Sell Products – When people visit a product page, you can cross-sell by offering similar products and perhaps bundling them together
Upsell at Checkout – Upsell allows you to boost your AOV by offering products that customers might also want to buy, and you can push these items on your checkout page
Offer Free Shipping – You can get visitors to buy more products by offering free shipping if they spend a certain amount on your eCommerce store
That's it!
We hope you liked our article on how to find average order value using Google Analytics. You can also check out our post on how to track keywords in Google Analytics (step by step).
And don't forget to follow us on Twitter and Facebook to get to know the latest tutorials on Analytics.