Want to get simple yet informative Google Analytics email reports in your inbox each week?
Setting up automated Google Analytics reports can save you some valuable time, while keeping you up to date on how your business is doing online. Plus, not only will you then have those stats to review, but you'll also be able to easily send them to your colleagues.
Let's dive into how to set up automated Google Analytics reports!
How to Set Up Google Analytics Email Reports
When it comes to getting Google Analytics reports, you have 2 options:
We'll go over both of these methods.
How to Set up Google Analytics Email Summaries with ExactMetrics
ExactMetrics is the best premium WordPress analytics plugin. With ExactMetrics, there's a whole list of things you can set up and monitor in Google Analytics and your WordPress dashboard, plus an easy-to-set-up automated reporting feature.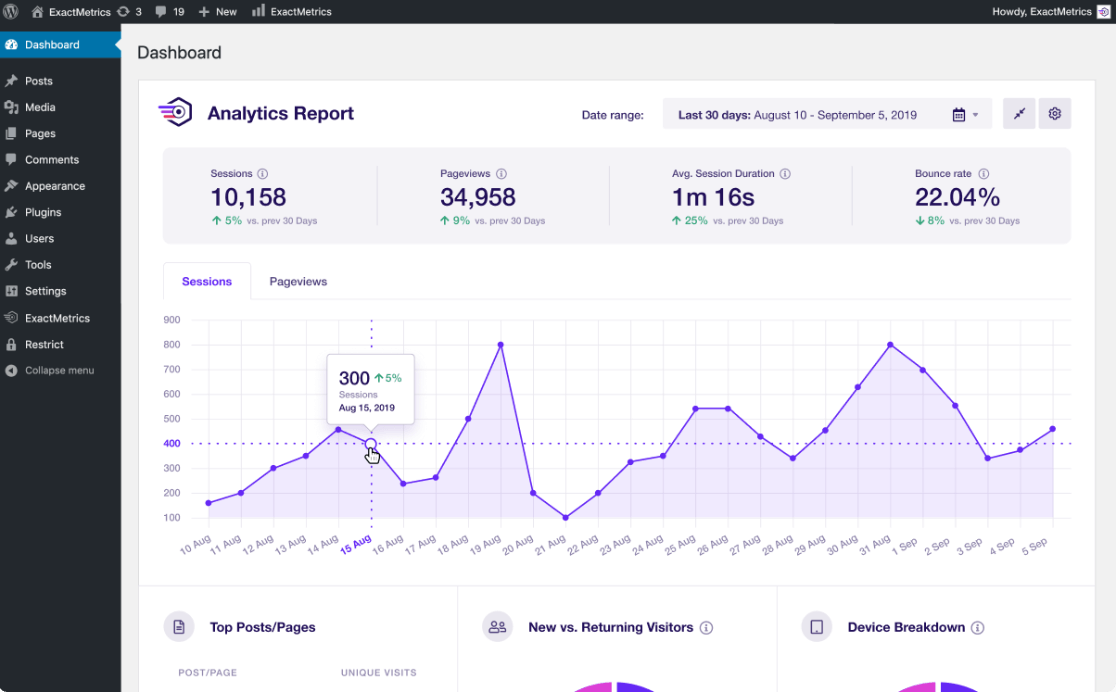 Our most popular features include:
With ExactMetrics, all your most important metrics are right there in your WordPress dashboard. Plus, you can easily set up an automated report!
To set up your emailed Google Analytics report, the first thing you need to do is install ExactMetrics.
Step 1: Install ExactMetrics
Already have the plugin? Skip to step 3.
To start, head to the Pricing page and get started with ExactMetrics. Once you complete checkout, download the plugin.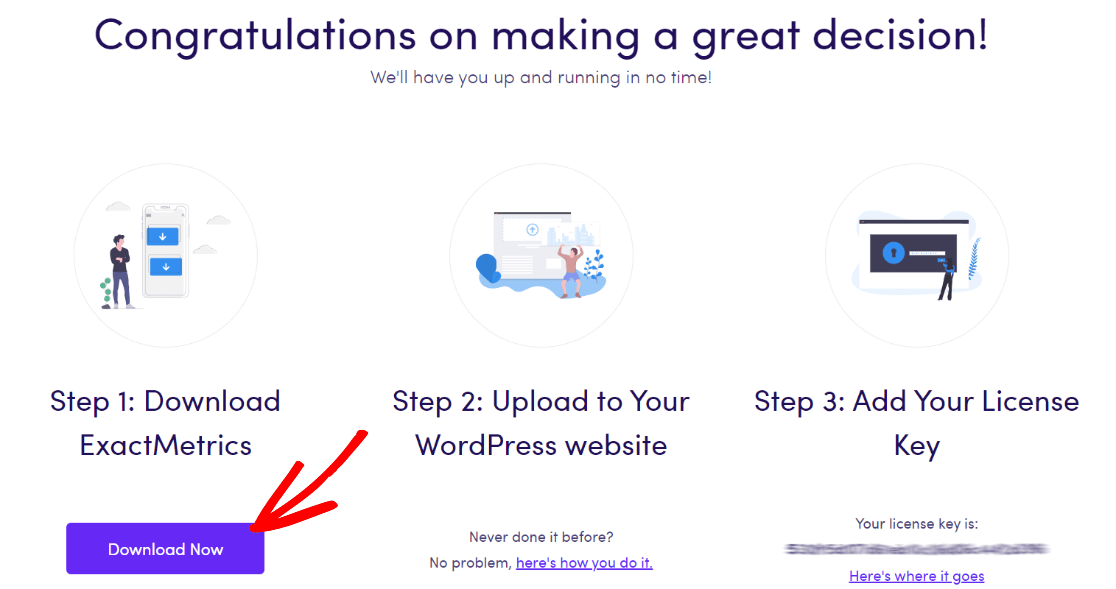 Next, upload it to your website.

Step 2: Add Your License Key and Connect to Google Analytics
Now that you have ExactMetrics installed, you can add your license key and connect your Google Analytics account. To get set up, click on ExactMetrics under your WordPress Dashboard and click the big green "Launch the wizard!" button.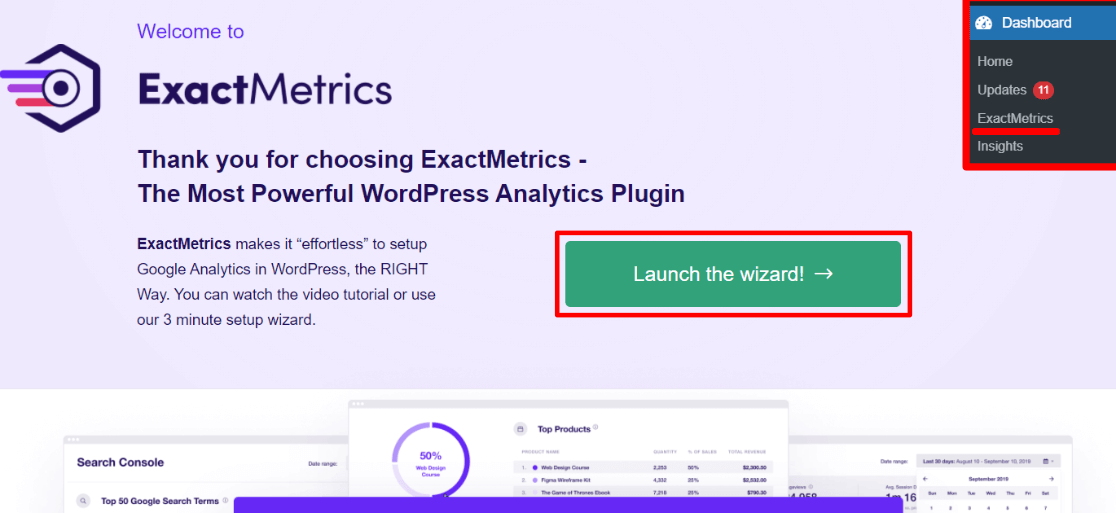 Once you're in the wizard, you'll get to this page where you can add your license key and connect with Google Analytics: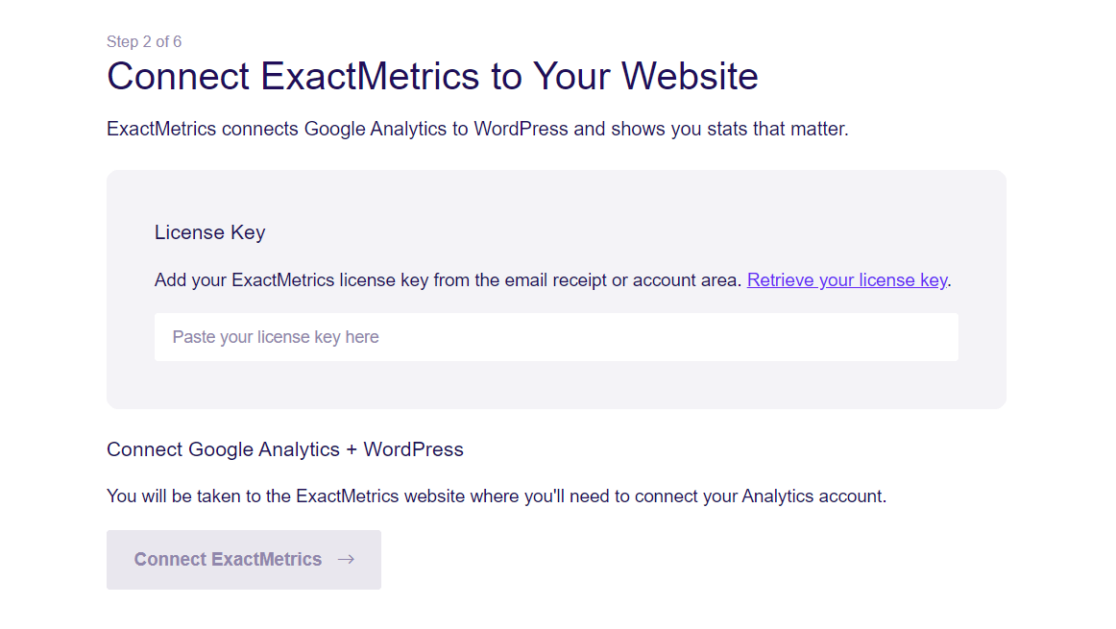 For more details on this step, check out our guide on how to properly add Google Analytics to your WordPress website.
Step 3: Turn on Automated Reports
Head to ExactMetrics » Settings. Then, click on Advanced in the top navigation menu. Scroll down to Email Summaries and toggle Enable Email Summaries to turn on this option.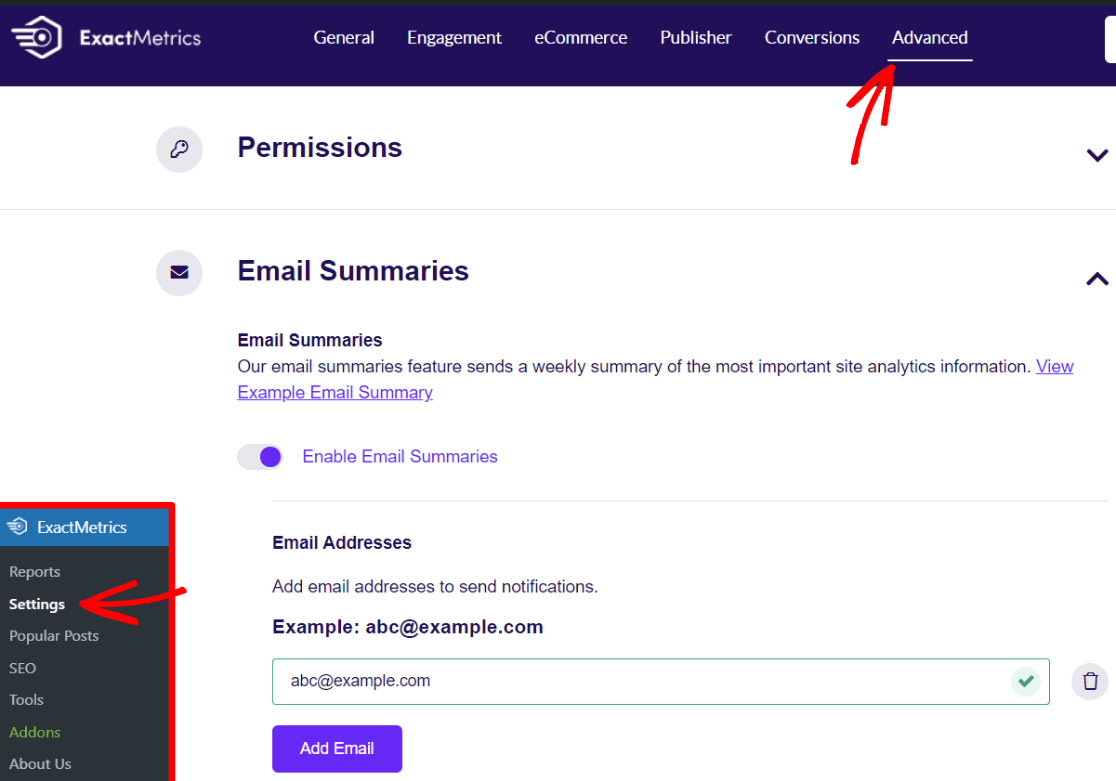 Step 4: Set up Email Summary Settings
Go ahead and add the email address(es) you want to send weekly Google Analytics summaries to. These do not need to be WordPress users. Virtually any email address will work. Just enter an email address and click the Add Email button. You can choose up to 5 email addresses.
Then, you can add a custom header if you'd like. This is a great option if you'd like to add your logo to your reports. Note that the image you upload (or select from the media library) should be 300 px by 100 px or smaller.

Step 5: Send a Test Email
Make sure your email will go through by clicking Send Test Email. If the email doesn't come through now or you have issues in the future with email deliverability, we suggest using WP Mail SMTP to ensure users get emails from your WordPress website.
That's it! You'll now get a summary of your website's traffic every week.
Method 2: Manually Set Up Email Reports in Google Analytics
If you'd like some specific Google Analytics reports delivered weekly (or more or less often), you can set them up manually within Google Analytics.
Please note that this feature is currently available in Universal Analytics only. The ability to set up emailed reports is not yet available in Google Analytics 4.
There are a few steps you'll need to take to get these set up, so let's dive in.
First, log into the Google Analytics property you'd like to send your reports from.
Then, go to any report you want to share.
For this example, we'll use the Channels report. So, navigate to Acquisition » All Traffic » Channels.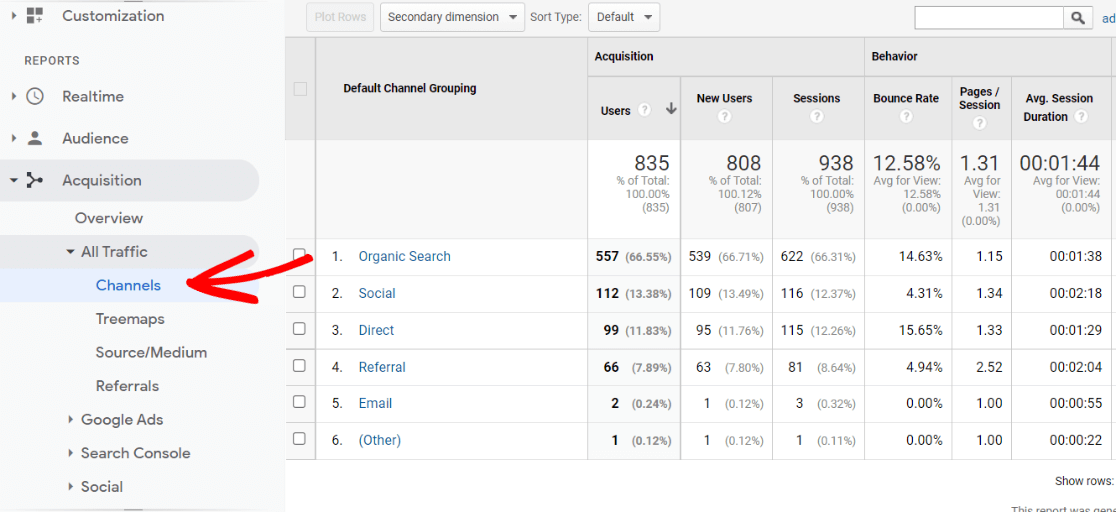 Now, choose the date range that you want in each report. Do you want to see the previous week? The previous month? Do you want it to be compared to the previous period or previous year? Here's where you can choose those dates. Click Apply.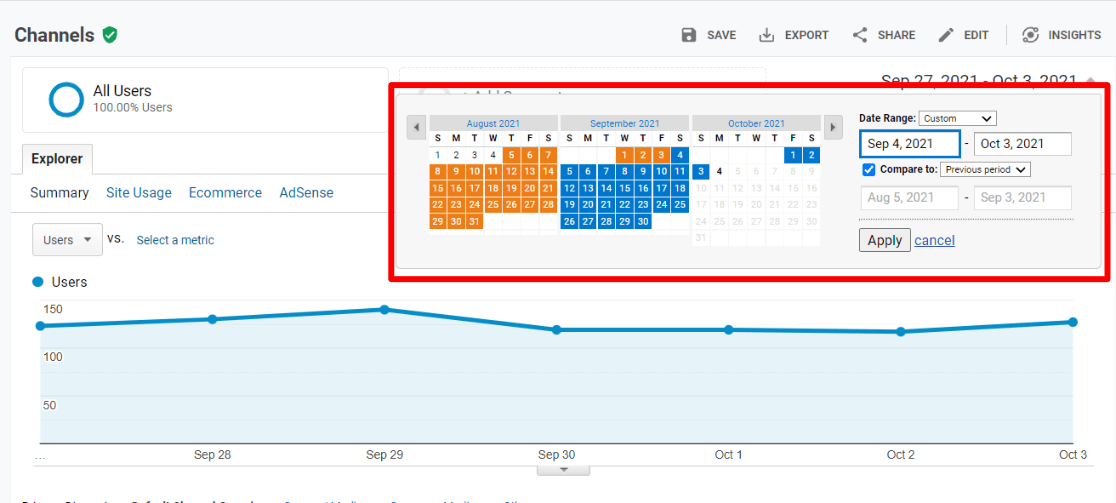 Next, click the Share option above the date picker.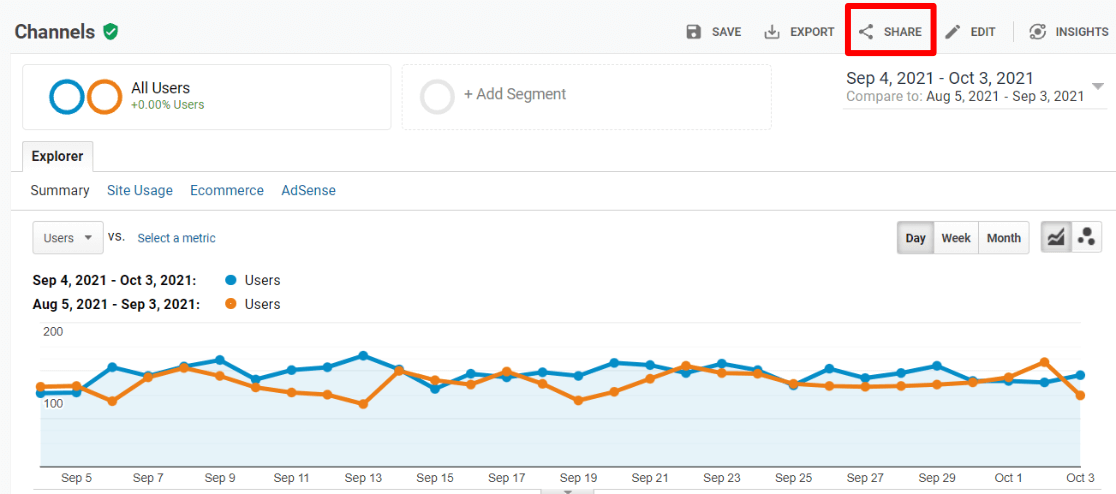 Now, a small window will open where you can enter the email addresses to send your reports to. Make sure to separate each email with a comma if you're sending the report to more than 1 recipient.
Google Analytics also lets you select the type of attachment. Choose from PDF, Excel, or CSV files.
Also, you'll want to pick the frequency of your report, and the day of the week it sends on.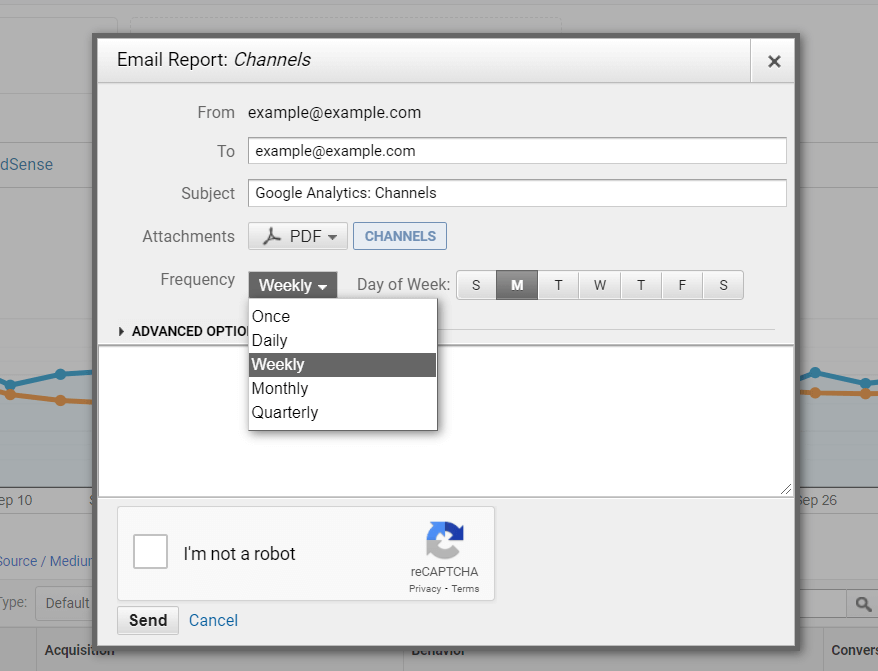 Be sure to add text to the message box so that there's no error in sending and receiving the email.
Now click the reCAPTCHA box to indicate you're not a robot and then hit Send. Repeat those steps for any other reports you'd like to automate and share.
And that's it!
Now you know both the methods of getting automatic Google Analytics reports by email.
Want more Google Analytics tips? We think you might be interested in How to Track Keywords in Google Analytics (Step -by-Step).
Don't forget to follow us on Twitter and Facebook to see all the latest Google Analytics tutorials.