Are you looking for a way to send automated email reports about your website performance? Or, do you want to share Google Analytics reports with your clients and team members?
If you want to share all of your Google Analytics data with others, you have to give them access to your account. Since the data is private and confidential, you need to be extra careful about who you trust with this information.
Fortunately, there are some simple ways you can share analytics reports without giving access to your Google account. In this article, we'll show you how to share Google Analytics reports with others using a few quick and easy methods.
Let's dive right in…
1. Share a Weekly Email Summary of Your Analytics Report
Have you ever wanted a quick view of website traffic stats without having to log in to Google Analytics? Do you want to show site analytics to others without granting access to your Google account?
If yes, then ExactMetrics Email Summaries is the perfect solution for you. This WordPress plugin shows you stats from Google Analytics right in the WordPress dashboard.
And, ExactMetrics' email summaries provide weekly analytics reports delivered straight to your inbox. They help you stay on top of your marketing efforts and make important business decisions.
ExactMetrics lets you send a weekly site analytics summary to as many 5 email addresses. So, you can share critical data with multiple stakeholders, either internally or externally. Plus, you can customize reports by adding a company logo in the header.
To enable email summaries and set up the recipients of your analytics reports, go to ExactMetrics » Settings » Advanced and then navigate to Email Summaries.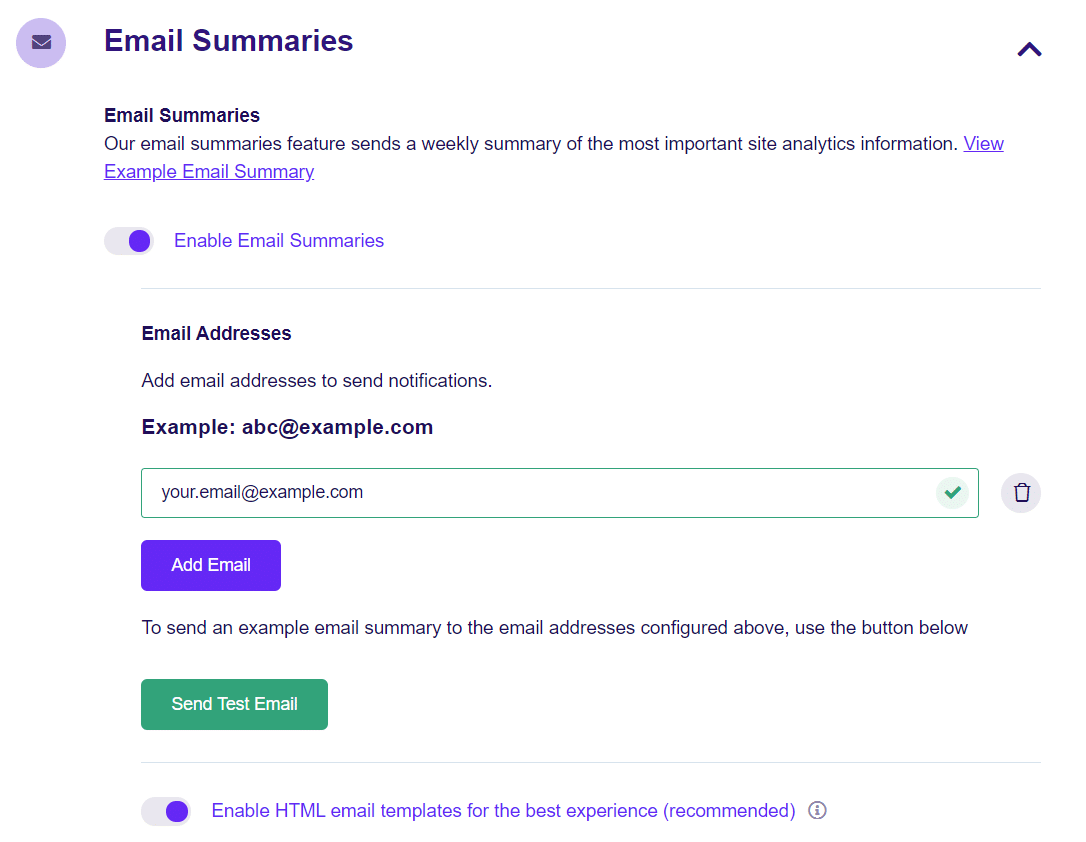 Sending email summaries of traffic metrics keeps your clients up to date about their website's progress. And, it's automatic, so you don't have to remember anything.
ExactMetrics' email reports include metrics like total visitors and pageviews, top pages, and top referral sources for that week.
Here's a partial example of an email summary report from ExactMetrics.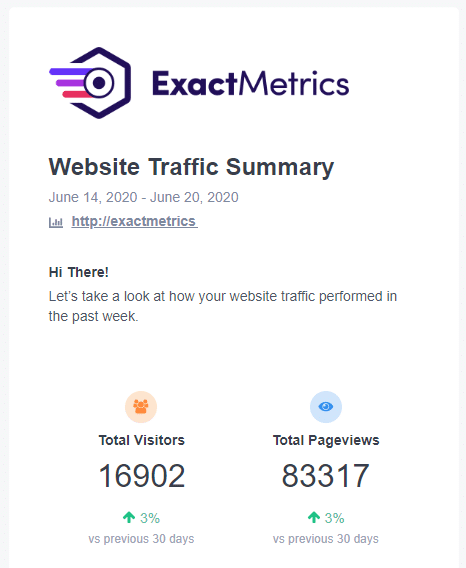 Unfortunately, there's no "share by email" function in Google Analytics, so you can't send saved reports or summaries from your analytics account, which makes ExactMetrics' email summary tool extremely useful. That being said, you can still download reports from Google Analytics to email them as an attachment, which we'll show you how to do in our next method.
2. Share Google Analytics Reports with Others as Export Files
Our next method for sharing Google Analytics reports is by downloading them as PDF or CSV files. These reports will show more detailed metrics than the email summaries we described above.
If you're using ExactMetrics, then you can download any report as a PDF with a click of a button (with the exception of Real-Time reports).
You can save and print reports, share reports with team members or clients through email, or save them to a shared drive or folder where others can view them.
To download any report in ExactMetrics, just click on the Export PDF Report button at the top of the report screen, and you'll get neatly formatted reports.

If you're logged into your Google Analytics account, then you can easily export reports as PDFs or CSV files in a similar fashion.
In Google Analytics (GA4), click the Share this report icon at the top of any report screen. Then, select Download File and choose whether you would like to Download PDF or Download CSV.


Now, you can share your Google Analytics reports with anyone you choose, whether that person has a Google Analytics account or not. As we mentioned before, this is the only way to share saved reports from Google Analytics since there is no way to email reports or download different file types like Google Sheets or Excel (XLSX). You'll have to download and manually convert a CSV file if you would like a different format for your Google Analytics reports.
Great, now you've learned how to share reports from Google Analytics! Let's go on to our final method for sharing Google Analytics reports.
3. Allow Other User Roles to View Google Analytics Reports
So far we've seen two simple ways of sharing your Google Analytics reports with others by sending and exporting reports.
In our third method, we'll show you how you can also set up user roles and permissions that allow users to view Google Analytics reports. When you do this, you can limit users from viewing all of your site's data or editing any settings.
Unfortunately, adding and configuring user roles is a bit tricky in Google Analytics. But with ExactMetrics, the process is very simple.
First, go to ExactMetrics » Settings » Advanced. Under the Permissions section, you can choose which user roles are allowed to see reports when logged into your WordPress site. For instance, in our example below, Administrators and Editors can view reports, but only Administrators can make changes and save settings.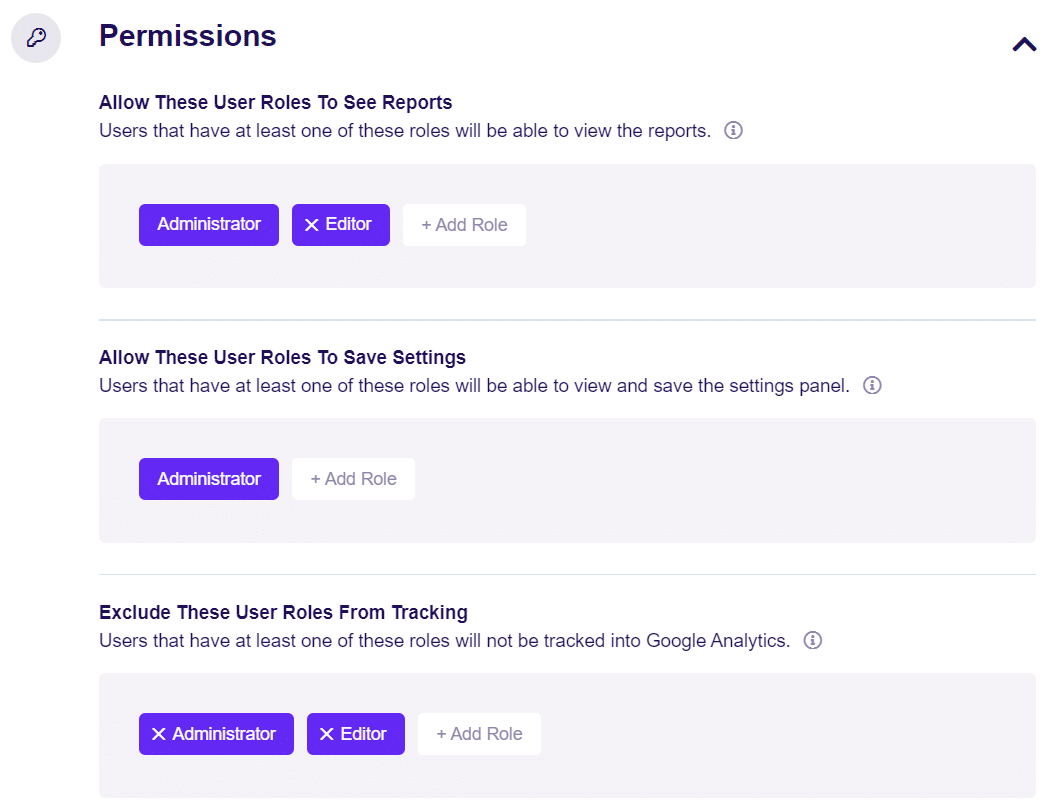 Besides that, you can also control which users you want to exclude from tracking in Google Analytics. This prevents your team members' activity from showing up in traffic reports and helps to keep your data accurate.
To learn how to add users to your Google Analytics account, check out How to Share Google Analytics Access (Step by Step).
And that's it!
You can now easily share traffic reports with your clients and team members without providing access to your Google Analytics account.
We hope that you liked our article on how to share Google Analytics reports. You may also want to read our guide on how to track link clicks on your website with Google Analytics.
Not using ExactMetrics yet? What are you waiting for?
And don't forget to follow us on Twitter and Facebook for the latest tutorials and tips on Google Analytics.