Are you looking for a way to get regular updates about your website? Or do you want to share your Analytics reports with your clients and team members?
If you want to show data from Google Analytics to others, you'd have to give them access to your account. Since the data is private and confidential, allowing everyone to view it isn't safe for your business.
But there are some simple ways you can share reports without having to give access to your Google account. In this article, we'll show you how to share your Google Analytics reports with others.
Let's dive right in…
1. View Weekly Email Summaries of Your Analytics
Have you ever wished for a way to get a quick view of how your website is performing without having to login to Google Analytics? Or are you looking for a way to show select numbers to others without granting access to your Google account?
If yes, then ExactMetrics Email Summaries are for you.
With email summaries, you can get weekly reports delivered straight to your inbox. It helps you keep on top of your marketing efforts and get important to make business decisions.
You can add 5 email addresses to send the summaries. Plus, you can also customize your reports by adding a company logo in the header.
And you can change these settings by going to ExactMetrics » Settings » Advanced and then navigate to Email Summaries.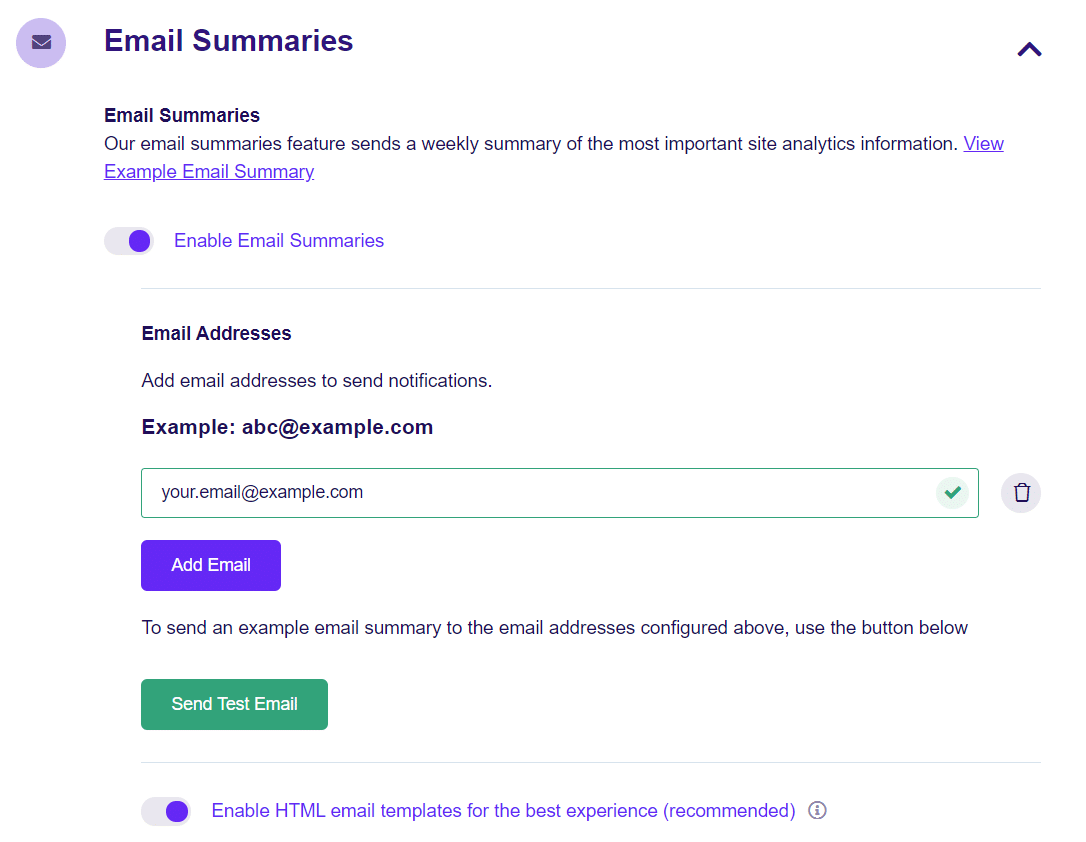 Another benefit of email summary is that you can keep your clients constantly informed about their website's progress.
By delivering them weekly reports, they can see the total visitors and pageviews their website got, top pages, and top referral sources for that week.
Here's a preview of what email summaries would look like.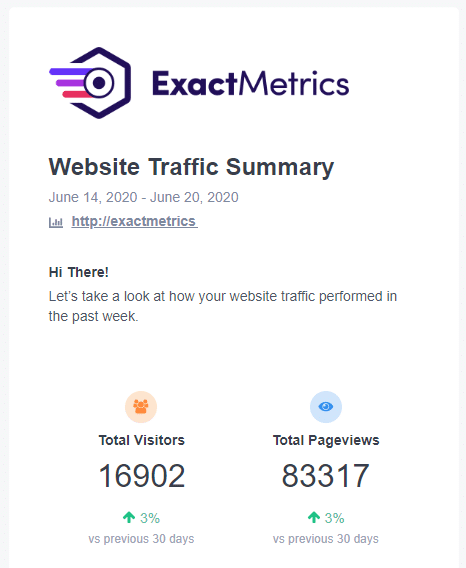 2. Share Google Analytics Reports with Others as PDF Files
The next way you can share your Google Analytics reports with others is by downloading them as a PDF file. And if you're using ExactMetrics, then you can download any report as a PDF with a click of a button (except real-time reports).
But you might be wondering, how is this useful?
Well, you can save any report for further analysis and use them later. Or maybe you would like to share a particular report with another team member or a client.
To download any report in ExactMetrics, just click on the Export PDF Report button and you'll get neatly formatted reports.

And if you're logged into your Google Analytics account, then you can easily export any report as PDF as well.
Just navigate to the report you want to download and click the Export option at the top. Then select PDF and save your Google Analytics report.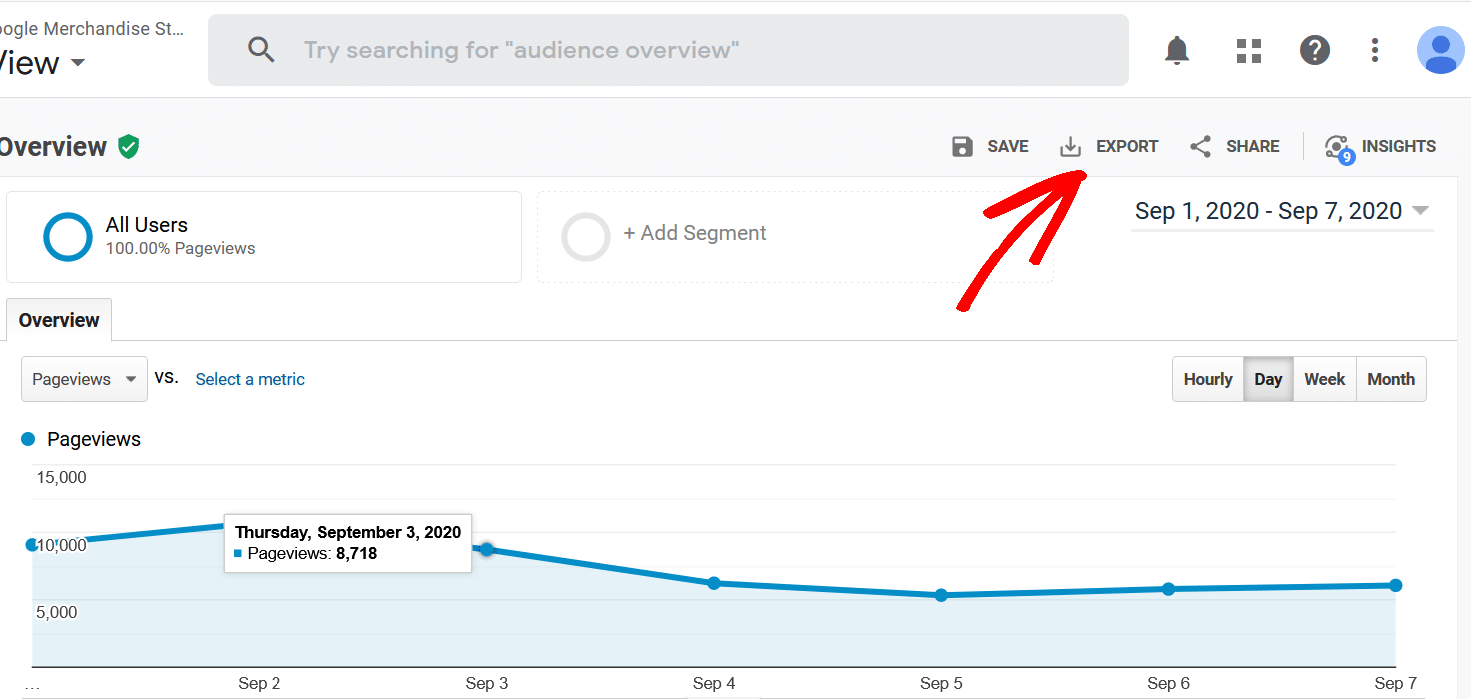 3. Allow Other User Roles to View Google Analytics Reports
So far we've seen 2 simple ways of sharing your Google Analytics reports with others by sending and exporting reports.
But you can also give permission to view Google Analytics reports by controlling which user roles can see the data. That's right, you can limit users from viewing all your site's data.
Now, adding and removing user roles is a bit tricky in Google Analytics. But with ExactMetrics, the process is very simple.
Just go to ExactMetrics » Settings » Advanced and under Permissions, you can add different user roles who can see the reports. For instance, Administrators and Editors can view the reports, but only Administrators can make changes and save settings.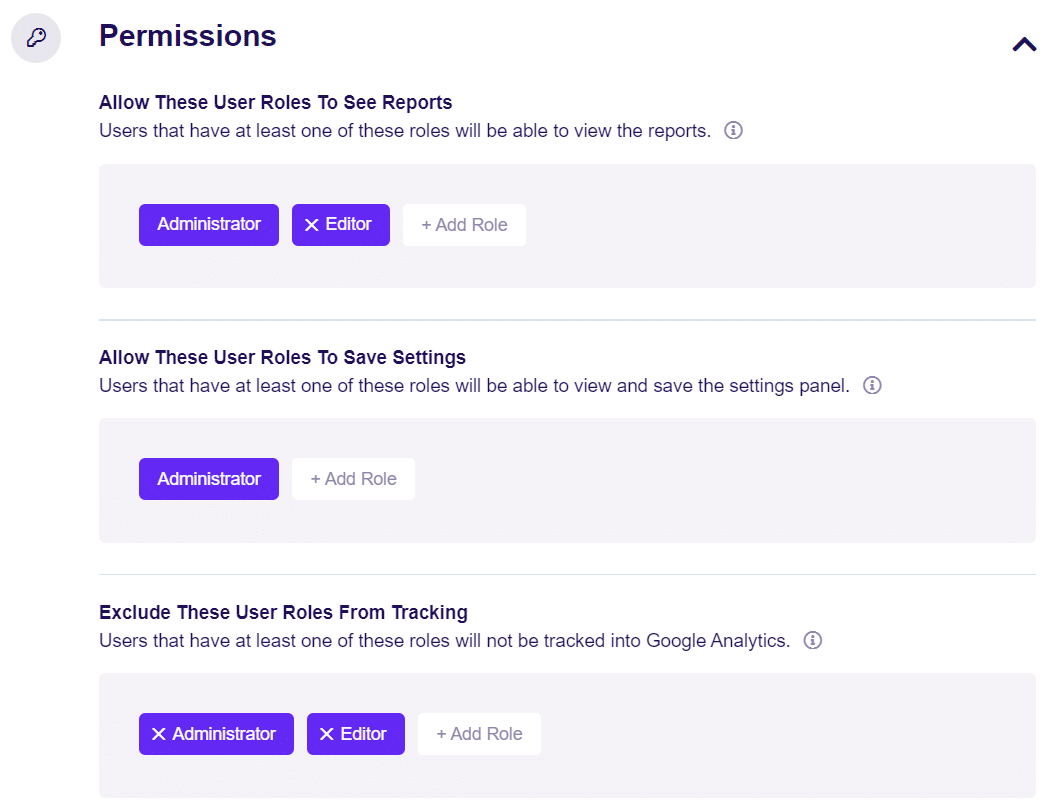 Besides that, you can also control which users you want to exclude from tracking in Google Analytics. This helps in keeping your data accurate.
For more detail, check out our guide on how to allow user roles to access ExactMetrics reports and settings.
4. Share Saved Reports in Google Analytics
Now, are you wondering, how to share saved reports in Google Analytics?
Saved reports are reports on which you apply different settings, like adding a segment or a filter. When you save a report, Google Analytics remembers your settings and you don't have to apply them every time.
And to share a saved report, go to Customization » Saved Reports and then select the report you want to share. Next, click the Share option on the top right corner.

A new window will popup on your screen. Here you can enter the details for sharing your saved reports.
For instance, enter an email address, select the format of your report (PDF, Excel, etc.), check the frequency of sharing the report, and configure any advanced options you want.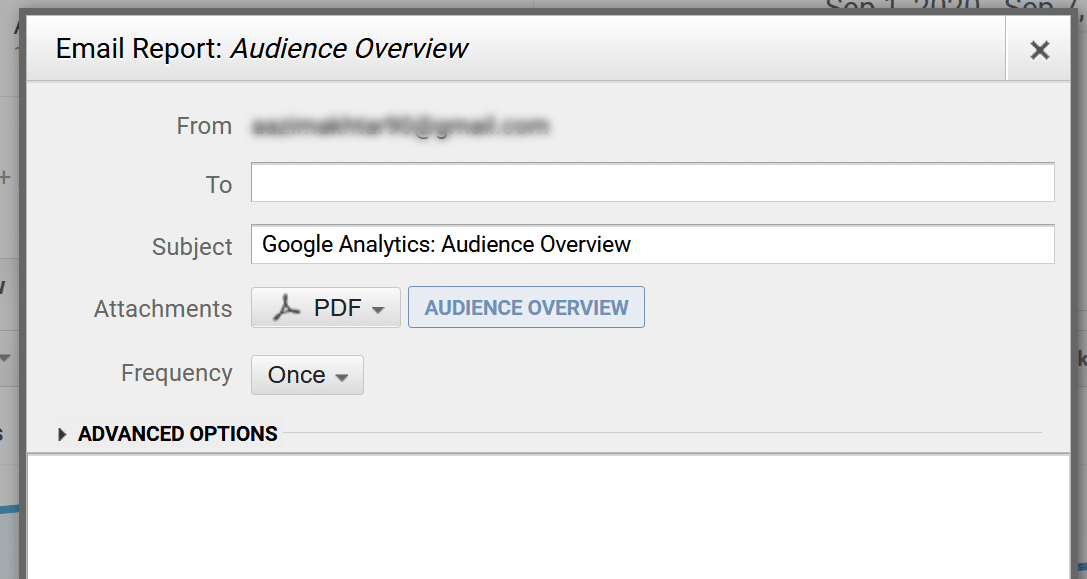 After adding these details, click Send. You've now successfully shared saved reports in Google Analytics with others.
5. Export Google Analytics Reports as Other File Formats
Google Analytics lets you export reports in different file formats. We've already shown you how to export them as PDF files.
But what if your client requires it another format? Or your team member requires it in a format that he or she can run calculations on it?
For that, you can download your report as Google Sheets, Excel (xlsx), and CSV file formats. Simply click on the Export option in any Google Analytics report and select the file format you want to share with others.

And that's it!
You can now easily share reports with your clients and team members without having to give access to Google Analytics account.
We hope that you liked our article on how to share your Google Analytics reports. You can also go through our guide on how to track link clicks on your website with Google Analytics.
Don't forget to follow us on Twitter and Facebook to get to know the latest tutorials on Analytics.