In-page analytics allows you to see where your website visitors are clicking on your page. If you're wondering how to see in-page analytics, you're in the right place.
In-page analytics is actually something you can do with Google Analytics, but it's not really widely known, so most Google Analytics users probably don't use it.
That's a shame, because it can help you take note of where your visitors are clicking and how they're interacting with your website in order to make changes that'll bring in more conversions.
Ready to find out how to set up this awesome "extra" Google Analytics feature? Let's get started.
How to Set Up In-Page Analytics
As a bonus, we're going to show you how to see your in-page analytics, plus page-by-page analytics in WordPress.
To set up in-page analytics with WordPress:
Step 1: Install the Page Analytics Extension in Google Chrome
The Page Analytics extension was created by Google as a way for users to see their in-page analytics. It's no longer supported by Google, but it still works well so don't let that deter you. Just click the blue Add to Chrome button to install it.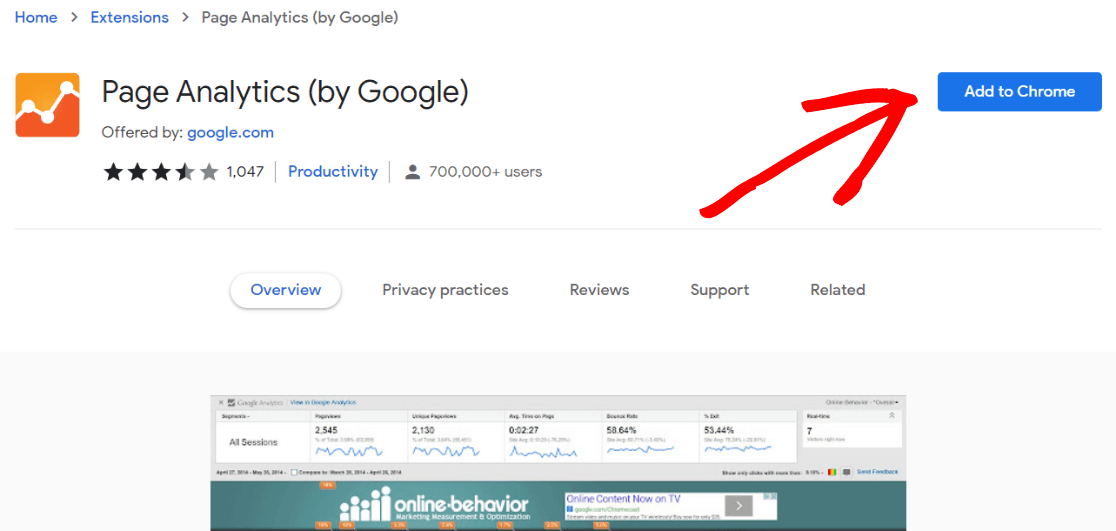 Now, before you use the extension, you'll want to set up Enhanced Link Attribution.
Enhanced Link Attribution is a fancy way of describing being able to tell which link is which if you have two links to the same URL on a page.
For example, say you have a donate page where visitors can donate to your cause. You have a link to the page in your navigation, a callout on your home page, and a link in your footer to donate. When you turn on enhanced link attribution, the Google extension you just installed will be able to tell you which one of those 3 links were clicked.
Without turning on enhanced link attribution. those three links will all say the same number – the number of clicks from your home page to the donate page. There won't be any way of knowing which donate link was clicked the most.
Step 2: Install ExactMetrics
The easiest way to turn on enhanced link attribution in WordPress is with ExactMetrics.
ExactMetrics is the best premium WordPress analytics plugin. With ExactMetrics, there's a whole list of things you can set up and monitor in Google Analytics and your WordPress dashboard, plus a single-click enhanced link attribution switch.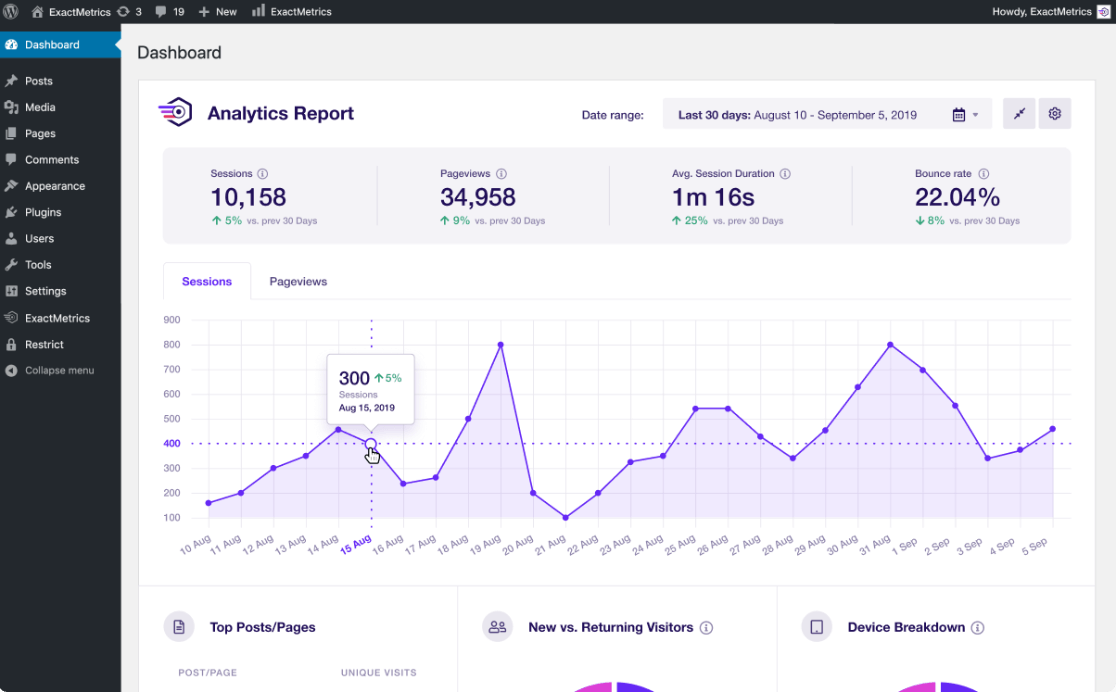 Our most popular features include:
With ExactMetrics, all your most important metrics are right there in your WordPress dashboard.
To get started with ExactMetrics, head to the Pricing page. Once you complete checkout, download the plugin.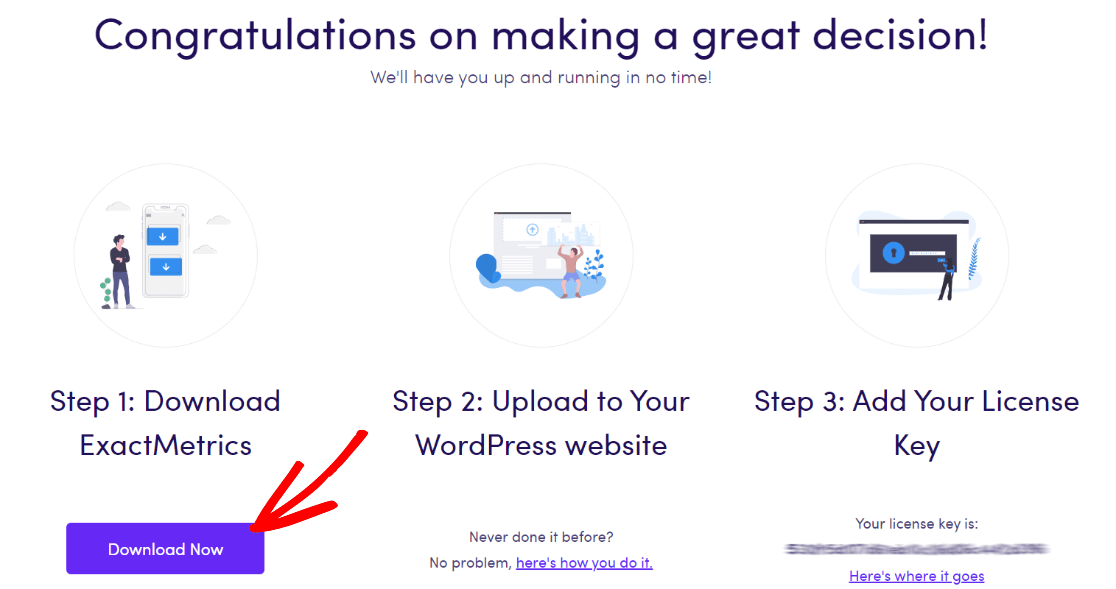 Next, upload it to your website.

Now that you have ExactMetrics installed, you can add your license key and connect your Google Analytics account. To get set up, click on ExactMetrics under your WordPress Dashboard and click the big green "Launch the wizard!" button.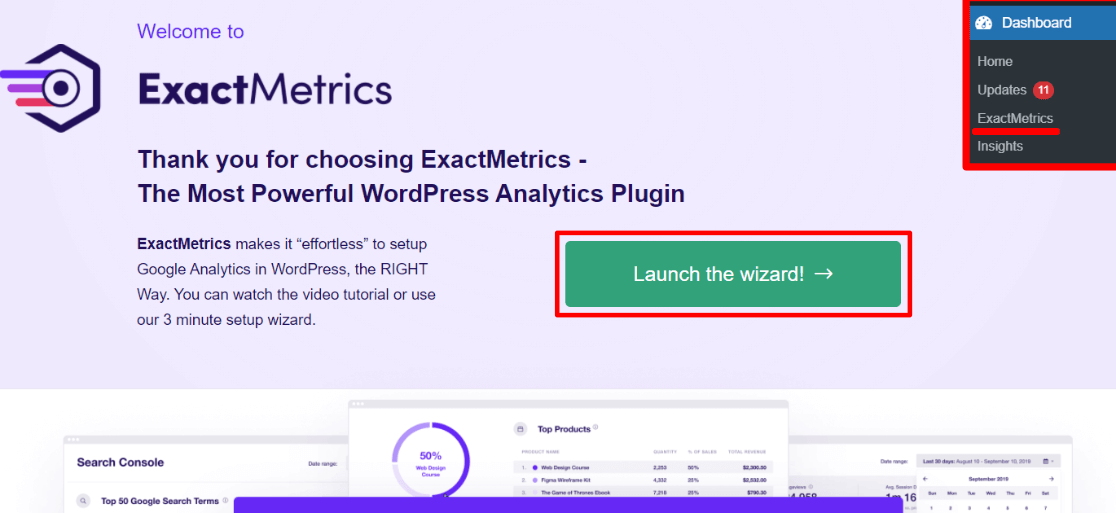 Once you're in the wizard, you'll get to this page where you can add your license key and connect with Google Analytics: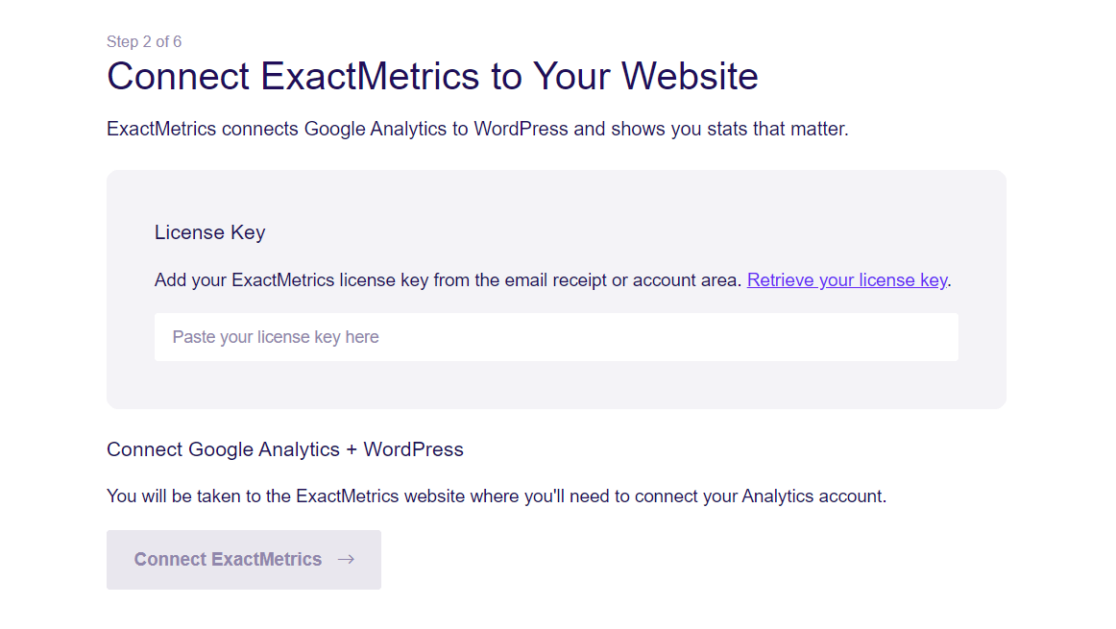 For more details on this step, check out our guide on How to Add Google Analytics to Your WordPress Site.
Step 3: Turn on Enhanced Link Attribution in ExactMetrics
Once you have ExactMetrics set up, head to Settings » Engagement, then make sure the Enable Enhanced Link Attribution toggle is set to the on position.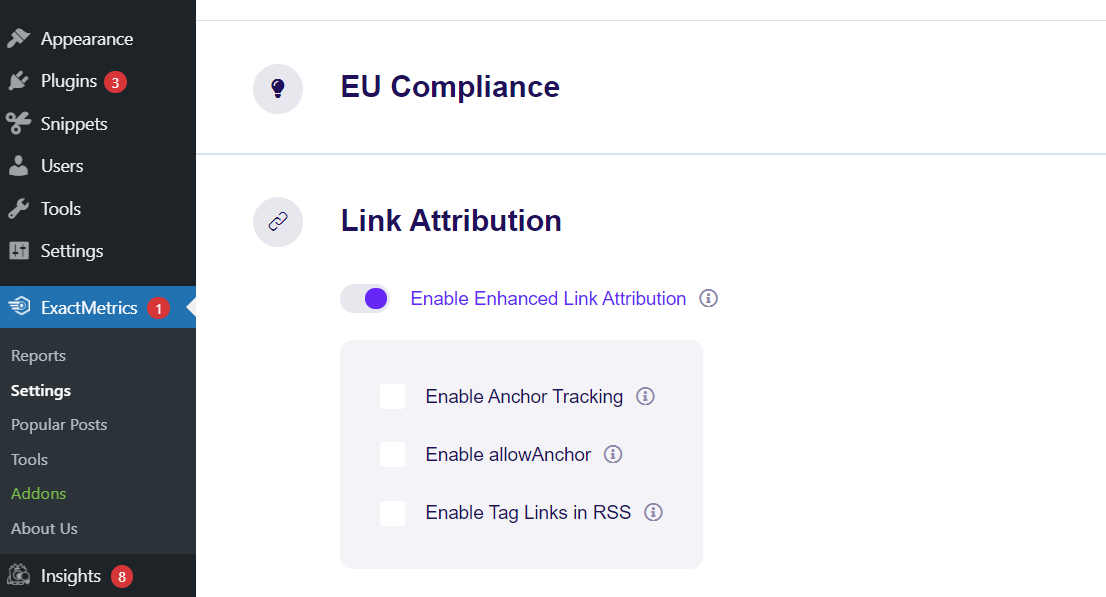 If you have anchor links on your site, you can turn on anchor tracking here, too.
Step 4: Turn on Enhanced Link Attribution in Google Analytics
Please note: Skip this step if you're using Google Analytics 4. You only need to complete this step if you're using Universal Analytics.
To turn on enhanced link attribution in Google Analytics, sign into your Analytics account and go to Admin » Property Settings.
Then, scroll down to In-Page Analytics, and turn on enhanced link attribution.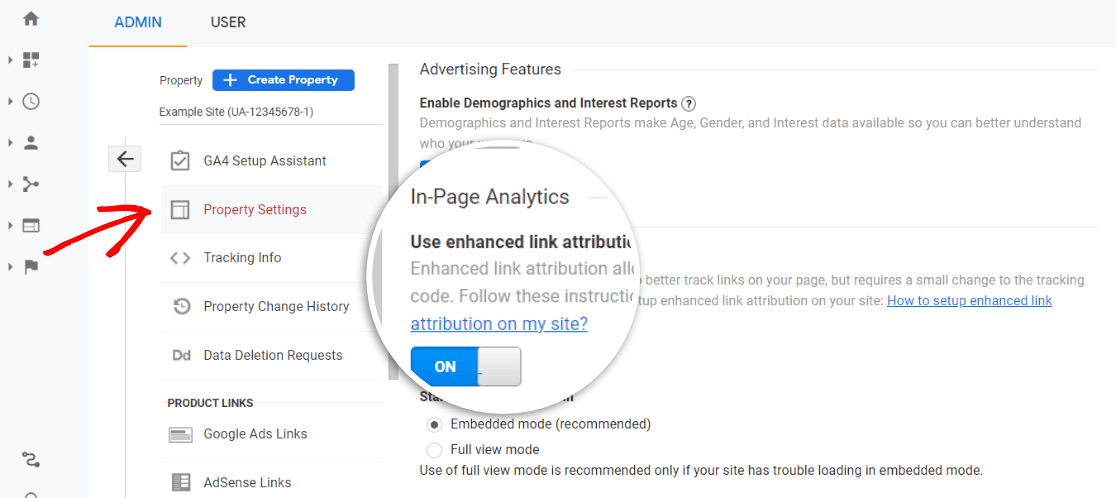 That's it! You're ready to use the Page Analytics extension.
To do that, navigate to the page on your website you want to see link clicks on and open the extension: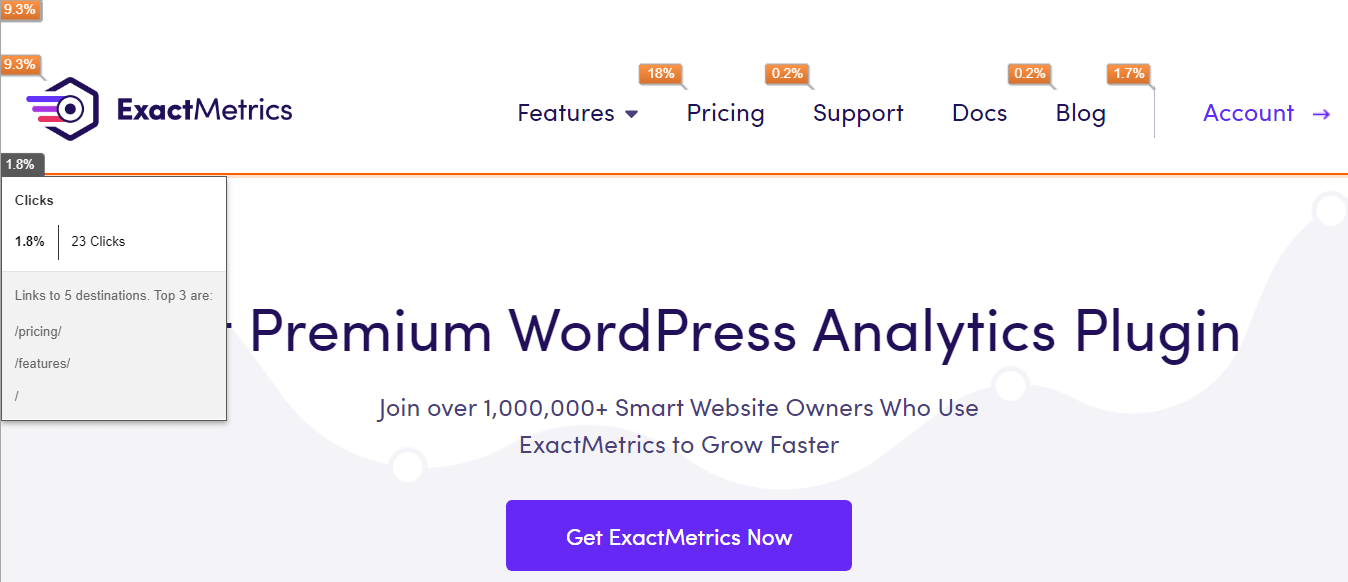 The extension will also show you sessions, bounce rate, and other metrics for the page you're on.
To do that without the extension. make sure you're logged into your site, navigate to the page you want to check, and click the ExactMetrics button in your toolbar:

That's the end! We hope you liked our tutorial on setting up enhanced link attribution on your WordPress website.
Want to track clicks on certain links and buttons? Read How to Track Link Clicks in Google Analytics and WordPress.
Don't forget to follow us on Twitter and Facebook to see all the latest Google Analytics tutorials.