Looking for how to share Google Analytics access with others on your team? You're in the right place.
Google Analytics is a powerful website and app analytics platform. Using it is often the best way to gain insights into how to grow your business! If you set up your Google Analytics account but you're working with others who need to access the data, you'll need to share Google Analytics access with them.
In this article, we'll go over how to share Google Analytics access and take a look at an even easier way to provide access to WordPress users.
Skip to our WordPress instructions.
Google Analytics Access Overview
When you grant access to Google Analytics, you'll notice that there are a few different levels of access that you can choose from. Before we go over granting access, let's take a look at the different roles users can have in your Google Analytics account.
Administrator – An administrator can access everything in your account, and can add and remove users (even you!). Be very careful with who gets admin access to your property.
Editor – An editor can access all reports and make almost any changes across Google Analytics, including inside your property settings. An editor, however, can not add or remove users.
Analyst – An analyst can access all reports and create assets (like Explorations in GA4), but doesn't have access to most settings or user roles.
Viewer – A viewer can see all reports and how your property is configured, but can't make any changes.
None – Has no current access.
How to Share Google Analytics Access
To share access to Google Analytics with others, open your account and click the Admin cog in the bottom left.
Now, you can click either Account Access Management in the Account column, or Property Access Management in the Property column.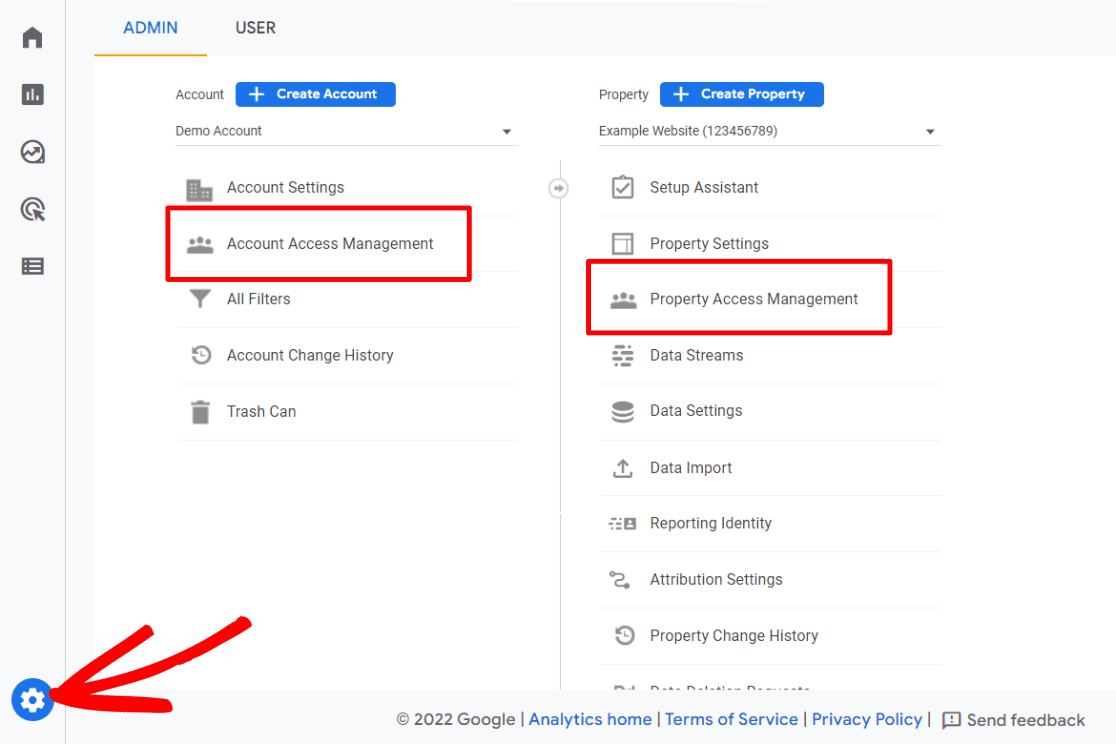 Adding someone at the Account level would give them access to each property in your account, and adding someone at the Property level gives them access to that specific property only.
Next, click on the blue plus sign to add a user:

Now, fill in the email address(es) you want to add and hit enter. Google will make sure it's an existing Google account (only Google accounts can access Analytics). You can keep the box checked if you want the user to be notified.

Then, go ahead and choose the access level for your new user(s) from the list. You'll also notice two extra options to deny access to cost- or revenue-related metrics: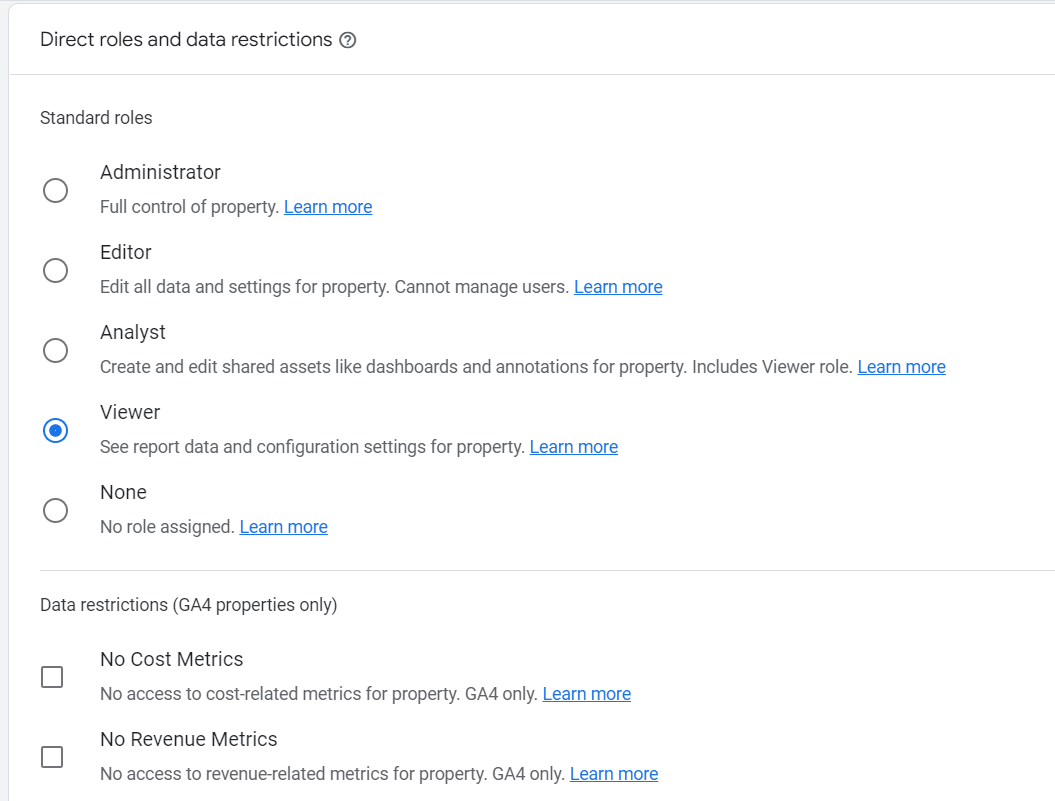 When you're ready, click the blue Add button.
That's it! You've just shared Google Analytics access.
Grant Access to Google Analytics in WordPress
If you're a WordPress user and you'd like to give easy Google Analytics access to other users on your website, ExactMetrics is an awesome way to make that happen.
ExactMetrics is the best premium WordPress analytics plugin. With ExactMetrics, there's a whole list of things you can set up and monitor in Google Analytics and your WordPress dashboard, plus an easy way to give users access to your analytics.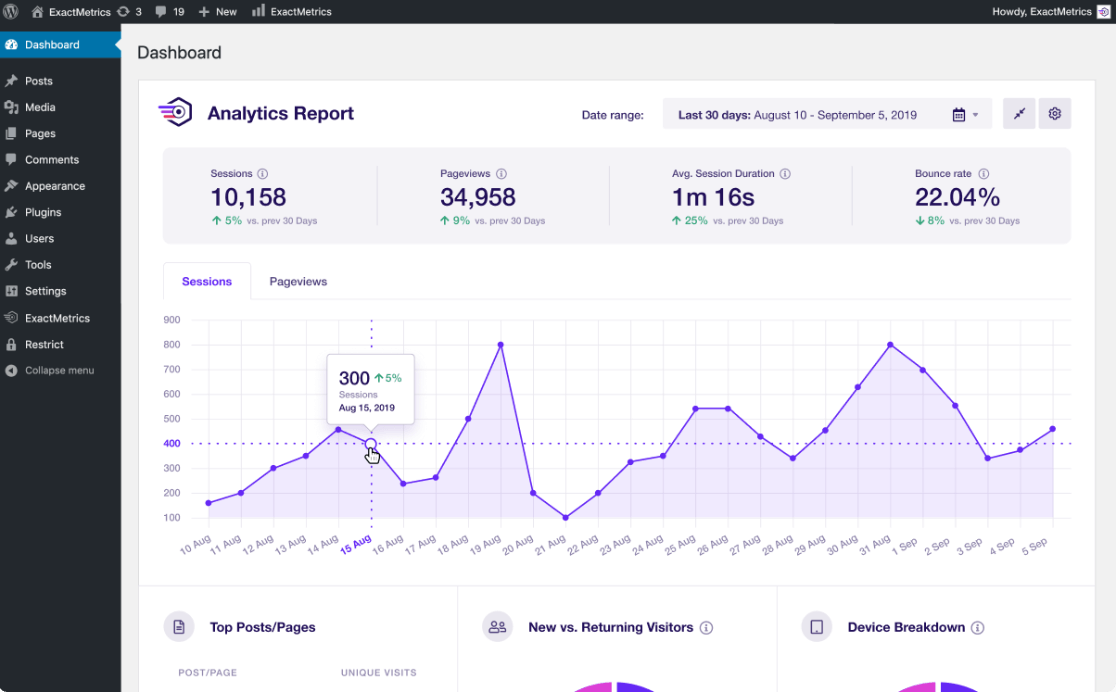 Our most popular features include:
With ExactMetrics, all your most important metrics are right there in your WordPress dashboard, and easily sharable with your website's users!
Once you've downloaded ExactMetrics and set up Google Analytics on your WordPress site, you can choose to share your reports with different user levels.
To do that, head to your WordPress dashboard and go to ExactMetrics » Settings, then to the Advanced tab. This is where you'll find your Permissions settings.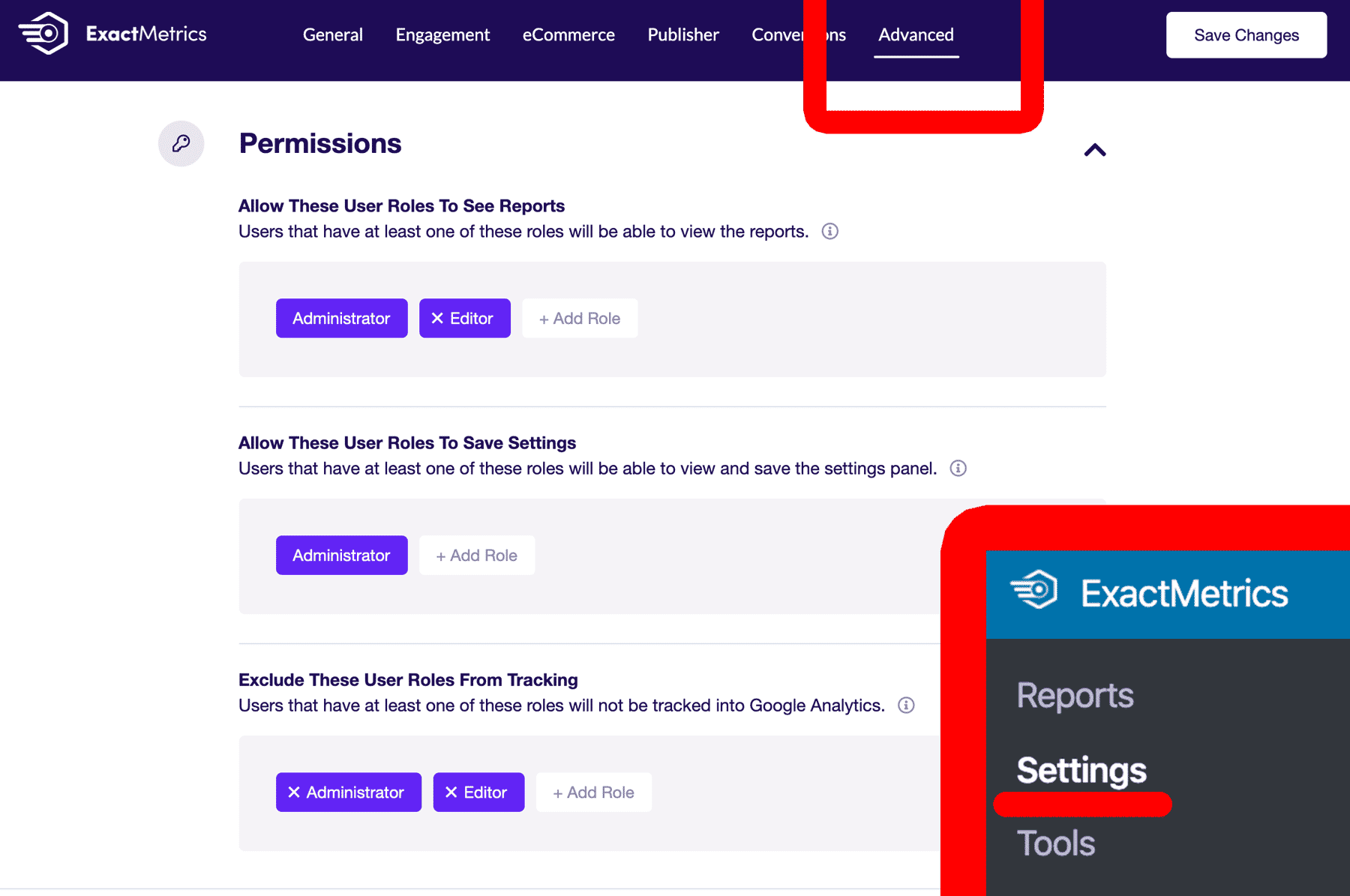 Here, you can choose which user roles can see the reports, and which can make changes to your Settings. You can also choose roles here that, when visiting your site, will be excluded from your Google Analytics data to avoid skewing it.
Below your Permissions settings, you'll find Email Summaries. Here, you can add email addresses to receive email reports each week with some data about the week before.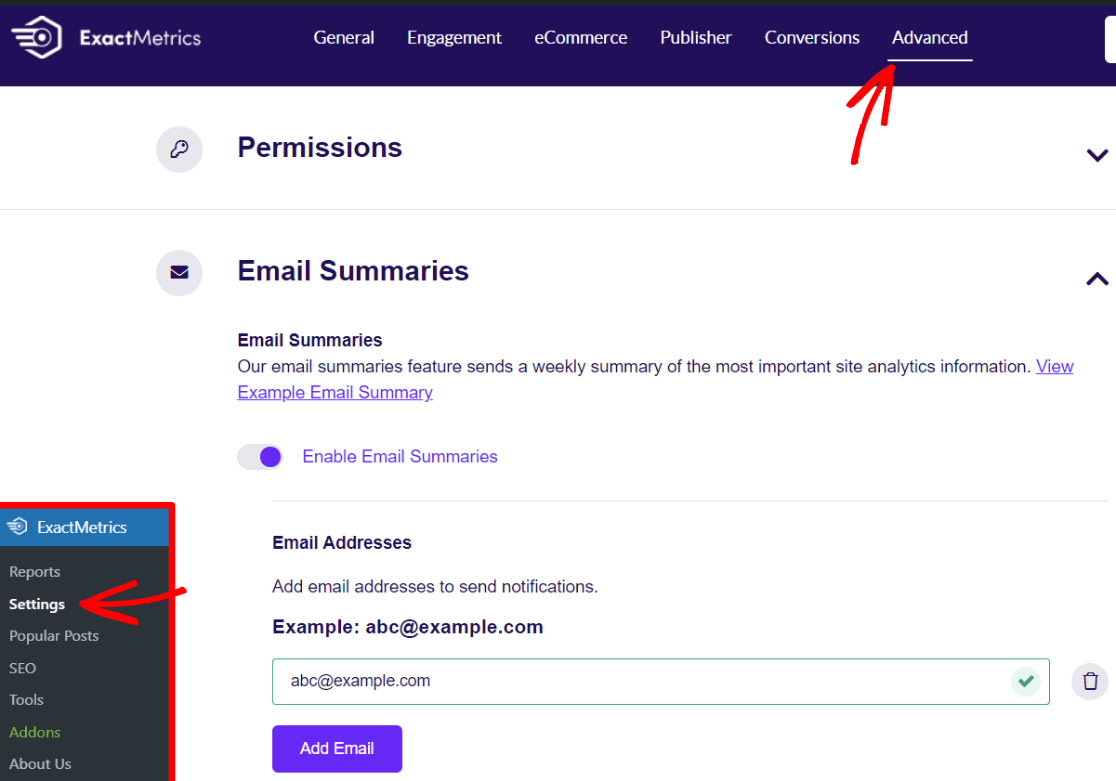 We hope our tutorial helped you share Google Analytics access easily.
If you liked this article, you might also want to check out Google Analytics Metrics Every Business Should Track.
Not using ExactMetrics yet? What are you waiting for?
Don't forget to follow us on Twitter and Facebook to see all the latest reviews, tips, and Google Analytics tutorials.