Are you looking for a way to exclude WordPress admin from tracking? Google Analytics tracks all incoming web traffic. This includes your actual visitors, admins, editors, authors, and others alike.
While Google Analytics is designed to measure how many visitors you get, if it includes your own visits, then the data can be misleading for decision making.
In this article, we'll show you how to exclude WordPress admins from Google Analytics. We'll also guide you on how to stop other user roles from skewing your analytics data.
Let's start…
Why Google Analytics Tracks WordPress Admins?
Google Analytics is a powerful tool to see how many people visit your site, the content they read, or the products they buy.
But Google Analytics will track every WordPress user by default. That's because each time you load a page, you're also loading the Google Analytics tracking code. Even when you preview a post, it will track it as web traffic on your WordPress site.
As a result, you'll get inaccurate data. Plus, it can be difficult to find the difference between your real visitors and your own visits.
That's why it's important to exclude WordPress admins, editors, authors, contributors, and other logged-in users from tracking in Google Analytics.
Let's look at how to remove admins and other logged-in users from tracking.
How to Exclude Admin Users from Tracking
Now you might be wondering how to stop Google Analytics from tracking logged in users in WordPress? There are 2 ways you can go about it.
First, manually set up filters in Google Analytics for each user role or use a WordPress plugin like ExactMetrics to rule out admins from tracking automatically.
Let's look at both ways.
Use ExactMetrics to Exclude Admins from Tracking
The most easiest way of making sure WordPress admins and other logged users don't skew your analytics data is using ExactMetrics.
It's the best premium WordPress Analytics plugin that allows you to set up Google Analytics without editing code, and you also get advanced tracking right out of the box. The plugin is easy to use and offers Analytics reports inside your WordPress dashboard.
To exclude website administrators, simply follow these steps:
Step 1: Log in to your WordPress admin area and go to ExactMetrics » Settings
Step 2: Click on the Advanced tab at the top of the page.
Step 3: After that, go to Permissions and under the Exclude These User Roles From Tracking, add the role you don't want to track in Google Analytics by clicking the + Add Role option.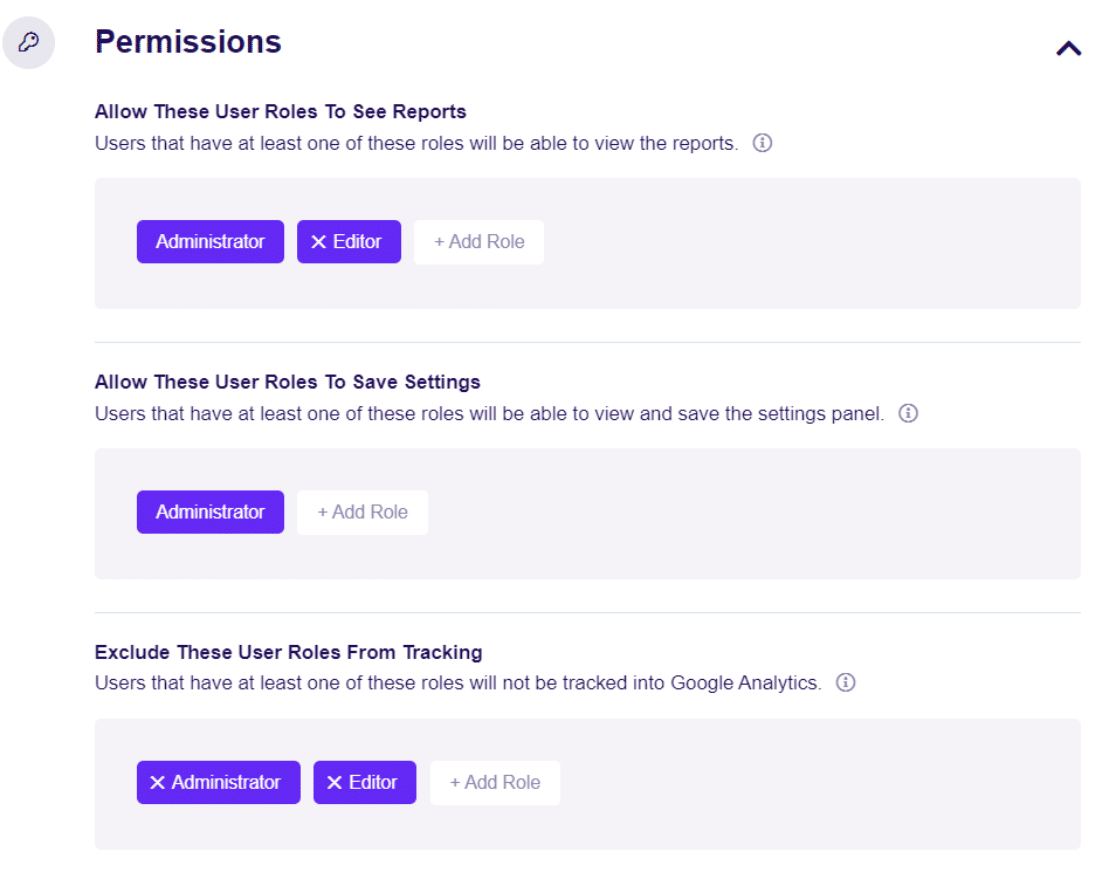 By default, ExactMetrics excludes Administrator and Editor from tracking. But you can easily add more roles to keep your data clean and accurate.
Step 4: Once you're done, click Save Changes at the top.
There you have it! Google Analytics won't track WordPress admins and any user role you've ruled out.
Use Google Analytics Filters to Exclude Users
The next way of excluding WordPress admins is by setting up filters in Google Analytics. This method can be complex for beginners, and it is time-consuming as you'll have to create individual filters for each WordPress user rule.
Step 1: First, log in to your Google Analytics account and select a property (your website). After that, click on Admin from the settings in the bottom left corner.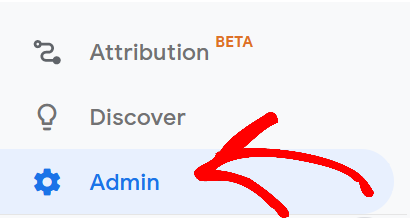 Step 2: Now click on Filters, which is located under the View column.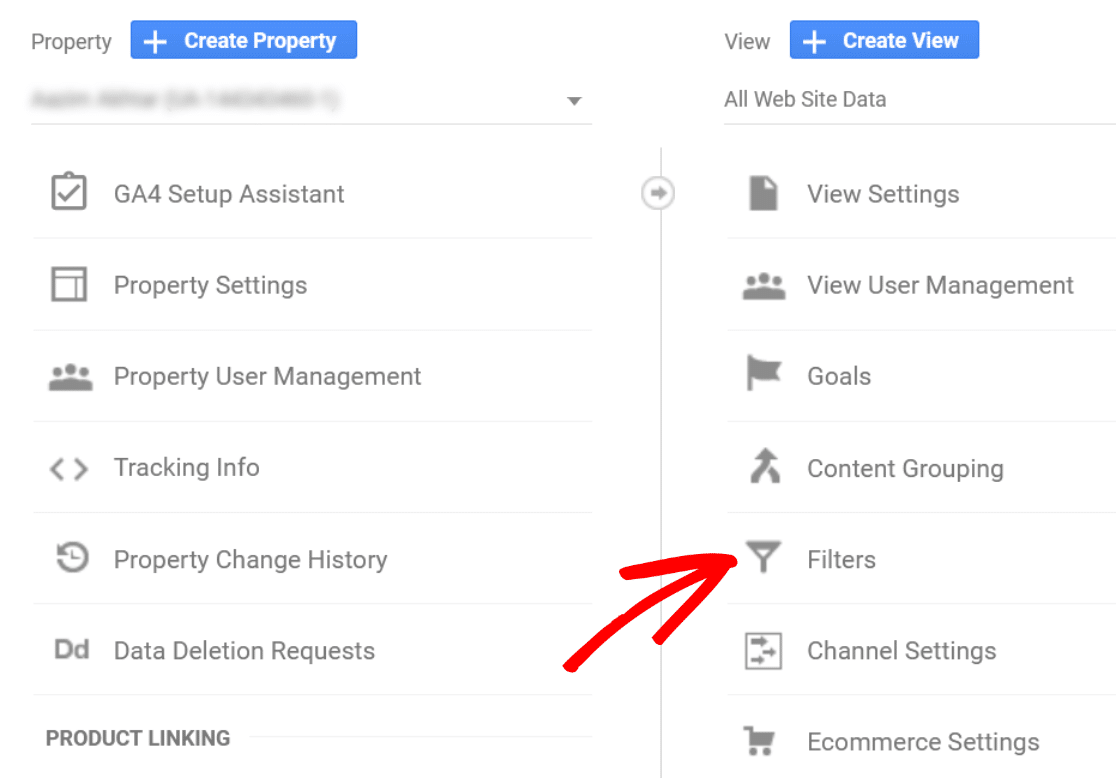 Step 3: After that, click on + Add Filter.

Step 4: In the next step, select the Create new filter option. Now enter a Filter Name and select Filter Type to Custom. From the dropdown menu under Filter Field, select Request URI. As for the Filter Pattern, enter wp-login.php.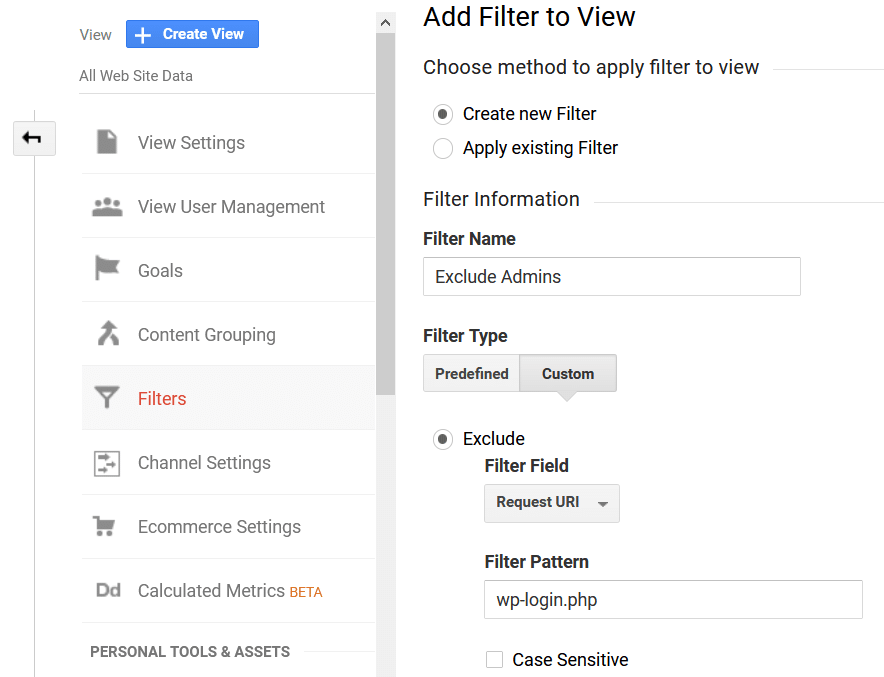 Step 5: Once you've entered these details, you can verify the new filter. Click Save when you're satisfied with the settings.
And that's it!
You can go with any method for excluding WordPress admins and logged in users from tracking in Google Analytics. We recommend using the first method, as it's easy, and you don't have to go through the manually set up process. Click here to get started with ExactMetrics today!
We hope you liked our article on how to exclude WordPress admins from Google Analytics. You can also check out our post on how to track PDF downloads in Google Analytics and how to track link clicks on your website.
Don't forget to follow us on Twitter and Facebook to get to know the latest tutorials on Google Analytics.