When you're working on improving your website's SEO, focusing on WordPress internal links as a part of your strategy is really important!
Using internal links on your WordPress site is crucial not only for SEO purposes, but also to help your visitors navigate your website in an easy, logical way.
In this article, we'll go over a few reasons why WordPress internal links are so important, and we'll dive into a tutorial on how to easily and quickly add internal links in WordPress.
What Are WordPress Internal Links?
Internal links are links within your own domain/website. For instance, all of the links in your navigation lead to pages within your own site, so those are all internal links.
Another great example is a link within a blog post or page that links to another of your posts or pages for more information.
Why Are Internal Links Important for SEO?
Internal links are important for SEO for a few different reasons:
They help search engine bots crawl and index your website. If you want your pages and posts to appear in search results, Google's crawlers need to be able to access them and index them easily. The crawlers will follow your internal links, making your site easier to crawl and index.
They help humans navigate your website. When you link from a post to another for more information, you're giving your visitors a logical way to navigate your website. If those visitors keep finding the content they're looking for, they'll stay on your site longer. This sends signals to Google that your site is valuable and can improve your rankings!
They pass "link juice" or authority. Let's say you have one blog post on your site that's ranking really well in Google. Google has determined that your content is relevant and useful! If you build some internal links from that post to a couple other posts on your site, Google may pass some "link juice" (positive ranking signals) on to those other posts.
Adding WordPress Internal Links: Tutorial
While you can definitely go through your website page by page and post by post to add internal links manually, we're going to show you a much easier, faster way to get the job done, then continue to monitor internal links as you create more content.
For this important job, we're going to use the All in One SEO (AIOSEO) plugin for WordPress.
All in One SEO is the best WordPress SEO plugin. It's going to help us build internal links, but it has tons of features beyond internal link building! AIOSEO helps you make improvements to your content for better optimization with its TruSEO score and recommendations for improvement. It can also create your sitemap, help with WooCommerce SEO or local SEO, add Schema to your pages, set up 301 redirects, and much more.
So, to get started with building WordPress internal links, we're going to install the AIOSEO plugin. For their Internal Link Assistant tool, you'll need to grab the plugin at the Pro level.
Step 1: Install AIOSEO
The first step is to purchase the All in One SEO plugin at the Pro level or above. Then, open the Downloads tab in your account to download the plugin: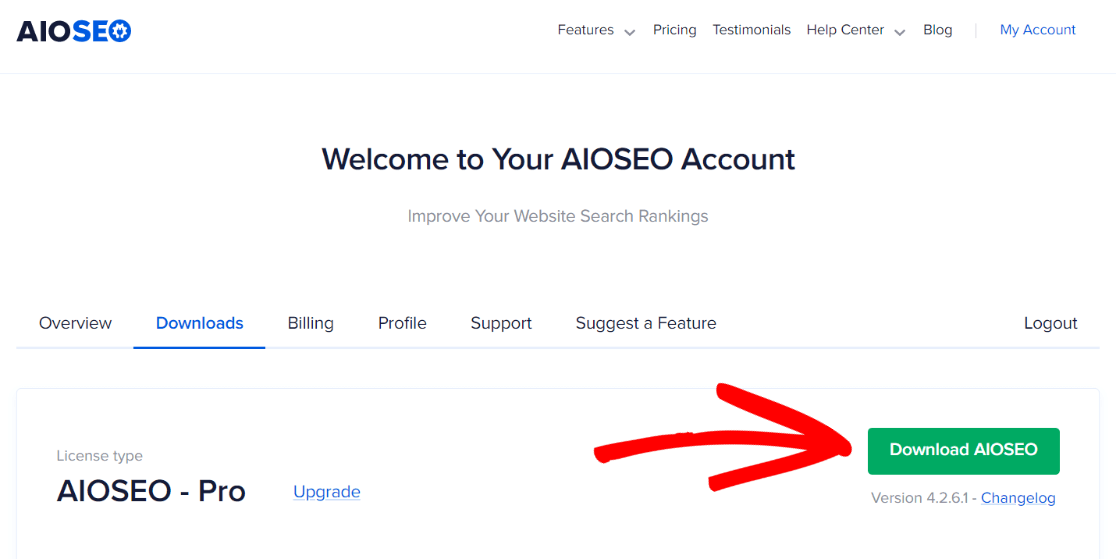 Next, open to your WordPress admin, then navigate to Plugins » Add New and click the Upload Plugin button at the top of the page: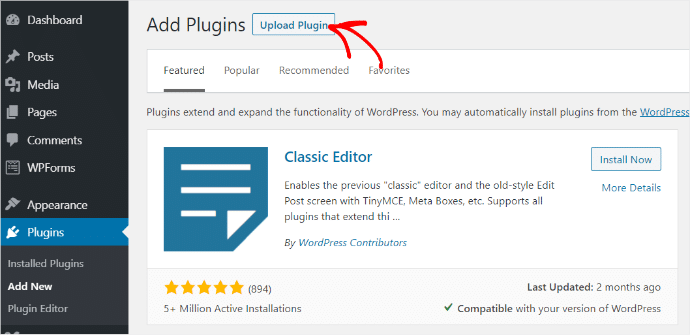 On the next screen, upload the AIOSEO plugin file:

When the installation is done, activate the plugin:

Finally, follow the AIOSEO setup wizard to get your basic SEO setting set up. For help getting started with AIOSEO and configuring it, check out their Beginners Guide for All in One SEO.
Step 2: Open Link Assistant
Now that AIOSEO is installed, you can go ahead and open the Link Assistant tool. Find it in your side navigation under All in One SEO: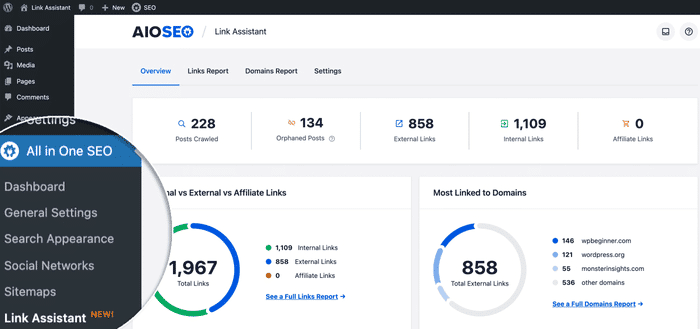 Then, navigate to the Links Report tab:

That's it, you're in the right spot!
Step 3: Build WordPress Internal Links
It's link building time! You'll notice your articles appearing in the table, and you'll see a Suggestions column. This tells you how many link suggestions (internal or external) the tool has found for that page.
The arrow button next to that column will expand your link suggestions for that article. Once you do that, click the Link Suggestions tab, then the Inbound Internal Suggestions tab: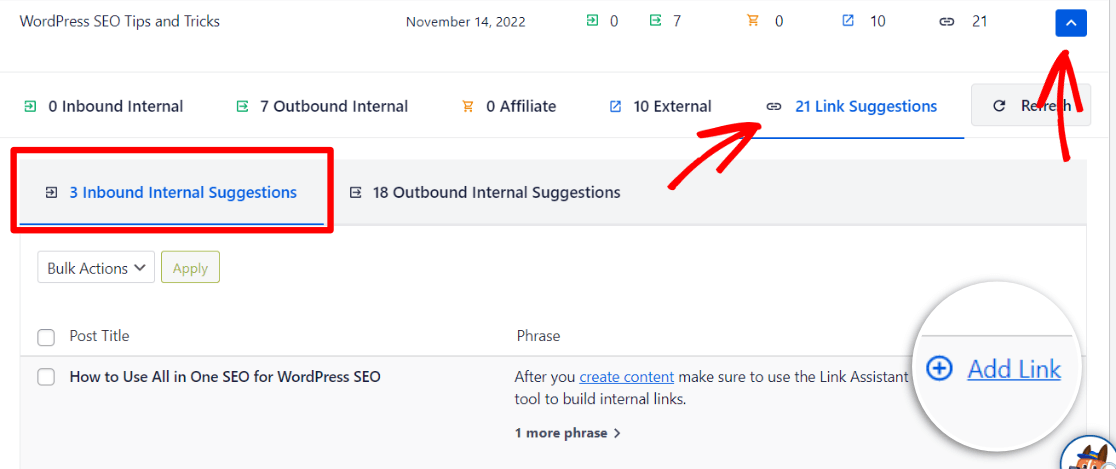 If you like a suggestion, you can click the Add Link button to add that link automatically, without even having to open up your article. If you'd like, you can change which words are linked by hovering over the phrase and clicking the pencil icon.
Go ahead and add internal links for as many posts as you want!
If you need more help with AIOSEO's Link Assistant, check out How to Use Link Assistant to Optimize Your Internal Linking Strategy.
If you liked this post, make sure to check out our Essential On-Page SEO Guide for WordPress.
Not using ExactMetrics yet? What are you waiting for?
Don't forget to follow us on Twitter and Facebook to see all the latest reviews, tips, and Google Analytics tutorials.