If you're running a WooCommerce online store, you're probably looking for ways to use WooCommerce SEO to increase your traffic and ultimately drive more sales.
If that's the case, you're in the right place! In this article, we'll go over the top SEO tips, include for WooCommerce product SEO.
But first, let's take a quick look at WooCommerce SEO.
Does WooCommerce Have Good SEO?
In short: Yes! WooCommerce is very SEO friendly, just like WordPress.
However, to be able to customize all of the elements that will make WooCommerce SEO friendly, you'll need to use one of the top SEO plugins for WordPress. We highly recommend All in One SEO (AIOSEO) for the job!
All in One SEO is the best WooCommerce plugin to grow your traffic. It integrates with WooCommerce, helping you to improve your WooCommerce SEO across the board with tools like:
Title and meta description editing
Image optimization
Social media sharing tools
Schema support
On-page SEO analysis
And more
And with ExactMetrics, you can even track the performance of the focus keyphrases you set for your pages in AIOSEO's options.
Tip: Want to try AIOSEO before buying the pro version? Give the free version a try.
Now, let's dive into our top SEO tips for WooCommerce.
10 Actionable SEO Tips for WooCommerce
Here's a handy table of contents, so you can navigate to the tip you need to read up on:
Let's get started.
1. Use Keyword Research
You can't effectively target your audience if you don't know what search terms they're using to look for products like yours. To do almost any of the following WooCommerce SEO tips, you need to perform keyword research first.
Keyword research can be confusing for beginners, but once you pick a tool and get your own process down, it gets much easier.
To pick a tool, you can decide on free vs. paid and then try out a few tools to decide which you like the most. For an amazing paid tool, we recommend Semrush. They do also have a limited free version that you can use if you're just getting started. Ahrefs is another great one. You could also try Ubersuggest, Wordtracker, or any that you find to be useful.
Just enter some of your top keywords to get ideas, volume data, and learn how difficult the phrase is to rank for.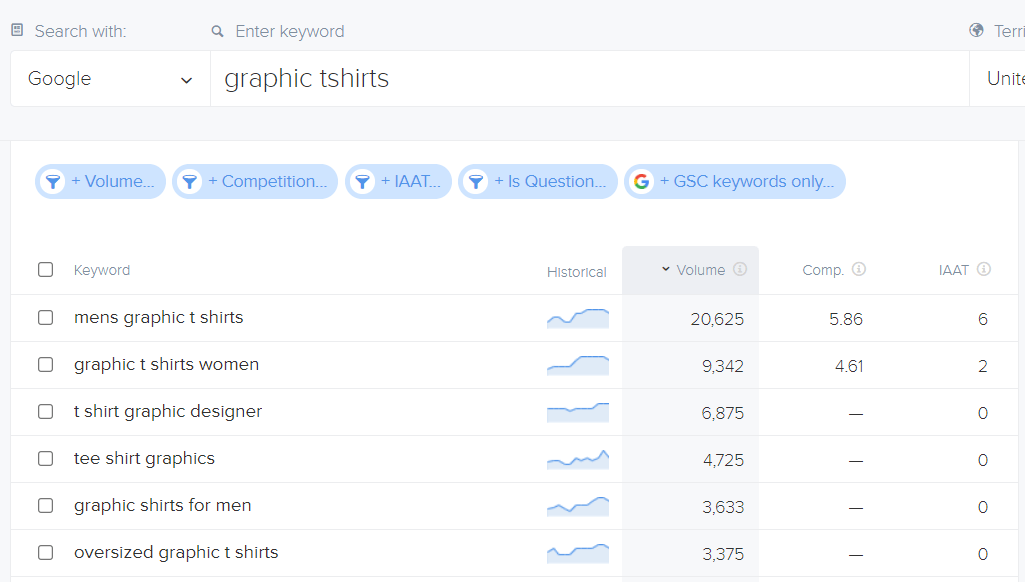 Keep a spreadsheet of all the keywords and volumes that you find and use them to optimize your site.
2. Use Short, Descriptive URLs
Having your keywords in your URL is such an important part of SEO, and it's often overlooked. Just think, Google has no idea what this means:
yoursite.com/p=34?category=9
But what you're going to find here is very clear:
yoursite.com/tshirts/graphic-tees-for-women
Not only is that second one more SEO friendly, but it's more human friendly, too. So when a fan of your shirts shares that URL with a friend, it's clear to that friend what she'll find there.
Be careful here, though. If you've got an established website, you do NOT want to just change your URLs to be more SEO friendly. You'll create a whole lot of broken links and frustrated users.
3. Write Great Titles for Products, Categories and Pages
After you download and install your SEO plugin for WordPress, you'll see a box at the bottom of each product and page where you can write an SEO title. This is incredibly important and it should be the first thing you do before publishing your product, page, or post.
Not only is your title important for SEO, but it's also important for your human users. The title is what users will see in search: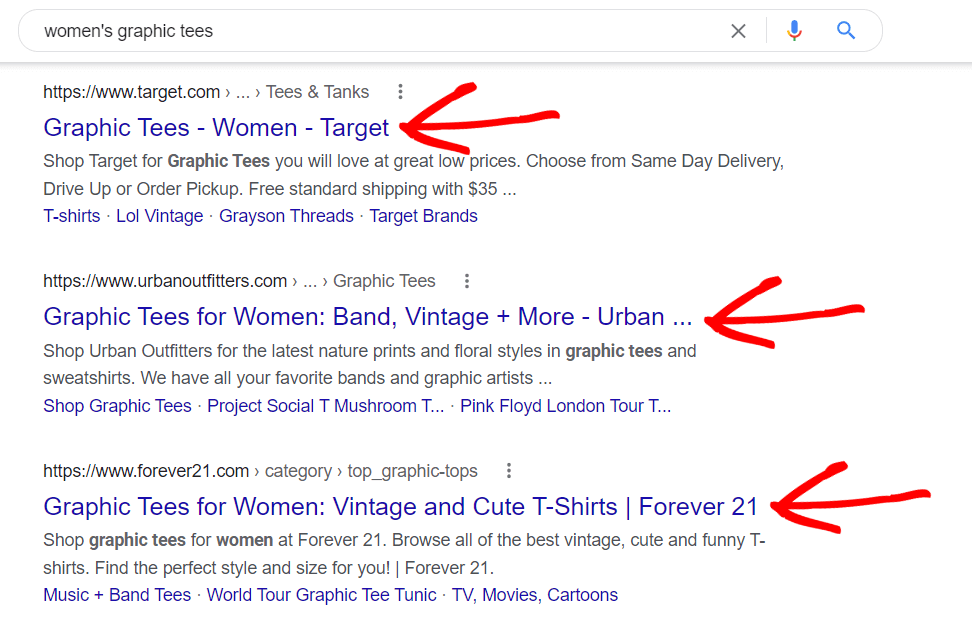 As you can see in the screenshot above, your title is what's going to compel users to click on your result when you show up in the search results. It's definitely one of the most important on-page SEO components!
As a WooCommerce store owner, you'll want to make sure you're creating unique, optimized titles for every page, post, category page, and product. Luckily, with All in One SEO for WooCommerce, you can:
Set sitewide defaults to optimize every page
Set dynamic content tags to automatically populate titles and descriptions with the right content
Individually optimize each product, category and tag archive page to maximize rankings
So basically, you can set each product and page up for success.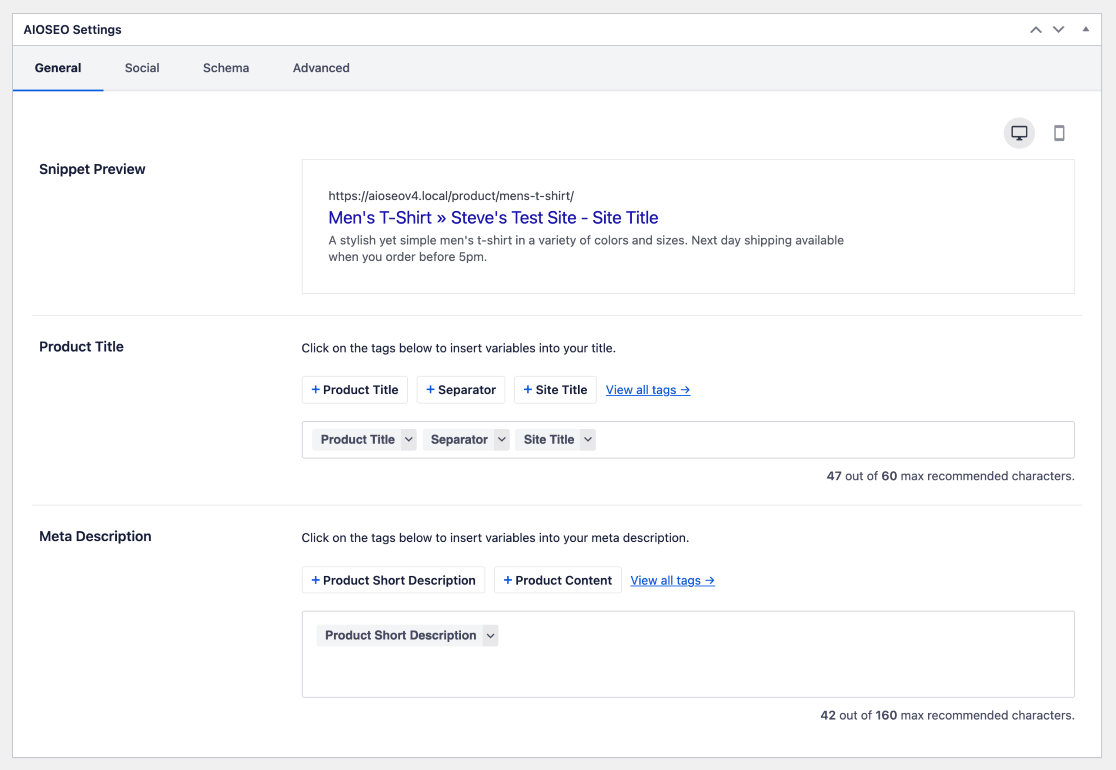 SEO titles should be unique, contain your focus keyphrase, and be 65 characters or less.
4. Write Page or Product-Specific Meta Descriptions
Just like titles, your meta descriptions should be set within your SEO plugin, and they should ideally be unique and contain your focus keyphrase.
Let's take a look at our Google search results example again, but this time, we'll look at the meta descriptions: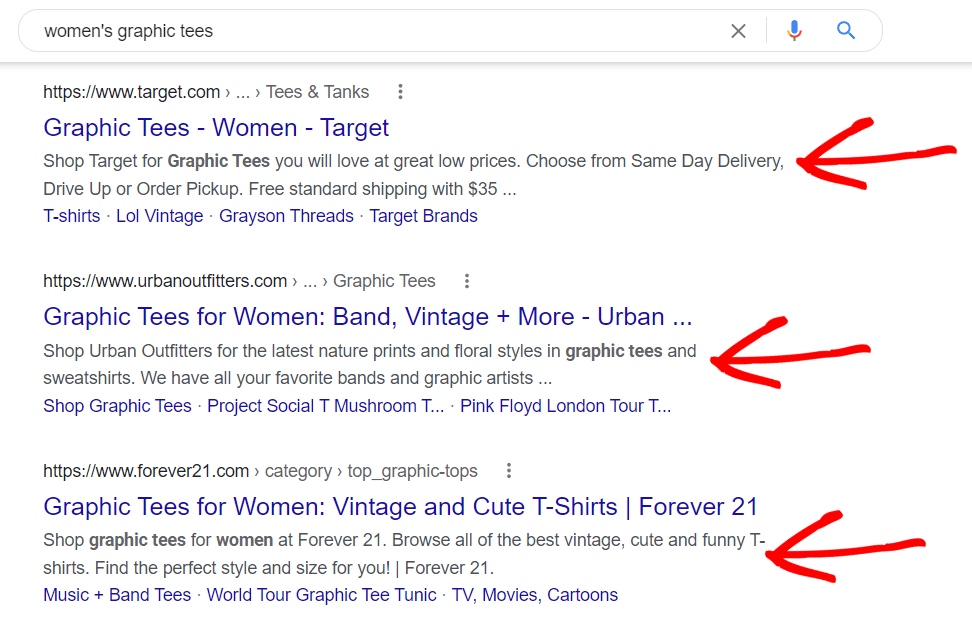 So, while the titles grab the searcher's attention, the meta description will convince them that your result is the one to click.
While Google will often show users a different meta description from the one you wrote by taking content from your page, it's still important to write one. Especially for products! So, describe the product, use a top keyword, and keep it to 155 characters or less.
It can be difficult to write unique meta descriptions for each of your products, especially if you have a lot of them. We get that! You'll see the greatest SEO gains, though, if you do.
For some great meta description writing tips, read How to Write Meta Descriptions for SEO.
5. Optimize Images
A great spot on your page to add more mentions of your focus keyphrase and supporting keywords is in the images.
First, when you're naming your images, use a name that makes sense, rather than something like img398.png. It doesn't have to be long, but it should use actual words. So in the case of a product, it could be womens-sunshine-graphic-tee.png.
Then, when you upload your images, give them a descriptive title and alt text. For those using a screen reader, the alt text is what will be read in the place of your image. So, you want it to be about what's in the image. You can also use a keyword here if it makes sense. For example, "Model wearing women's sunshine graphic tee."
For more on image SEO and writing alt text, check out How to Write Alt Text for Images for SEO (3 Easy Tips).
6. Use Breadcrumbs
Breadcrumbs are not only an added, easy way for your shoppers to navigate your site, but they're also good for WooCommerce SEO. These links give both your site visitors and Google's crawlers a hand when getting around your site and discovering your content.

Not only are they helpful when they're on your website, but Google also displays them in search results:

Breadcrumbs are considered enhancements to your site, and they help Google categorize your products and pages.
Don't have breadcrumbs on your site yet? Check out AIOSEO's feature that helps you display breadcrumb links on your site.
7. Avoid Duplicate Content
This is how Google defines duplicate content:
"Duplicate content generally refers to substantive blocks of content within or across domains that either completely match other content in the same language or are appreciably similar. Mostly, this is not deceptive in origin."
Basically, it means you have the same content in 2 or more places. In general, you want all of your content to be original and appear only in one spot on your website and on the whole of the web.
In WooCommerce, it can be easy to get duplicate content issues when you show products, along with their descriptions, in multiple places on your site. The easiest way to overcome this error is by adding a canonical tag to your product pages.
To learn how to add a canonical tag using the AIOSEO plugin, read Canonical URLs in All in One SEO.
The other duplicate content issue that some WooCommerce sites face is when you sell the same or similar products as other websites. To have that product description duplicated across all the sites that sell the item is not ideal. Try to make your product descriptions unique.
8. Use Product Schema
Want your product to stand out in Google's search results? You should definitely use product Schema (also referred to as Rich Snippets)!
Schema is some extra code that you can use on your product pages to tell Google some certain things about your products, such as the price, rating, number of reviews, brand, whether it's in stock, and more.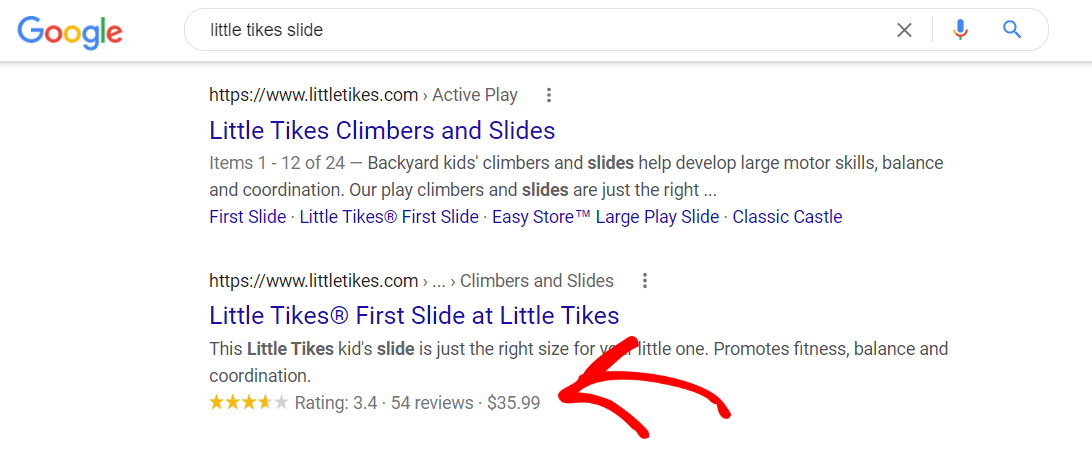 Having this extra information show up in search results gives you an advantage over the products that don't have it. It grabs the eye and can compel the searcher to click on your result, especially if the rating is great.
For more about how to easily add product Schema to your products in WooCommerce, read How to Add Product Rich Snippets in WordPress (The Easiest Way).
9. Use Internal Links
Adding links to your content that leads to other related content is great for SEO. Not only does it send your visitors to other products or other content on your site in a logical way, but it gives Google's site crawlers an added way to discover all of your content.
Linking from pages or products that are ranking really well in search to others that aren't doing as well can help pass along some of that "link juice" too. So, use internal links wisely!
One way to add internal links to WooCommerce is by using a popular products plugin. In ExactMetrics, we have a popular products widget you can set up to display on your site: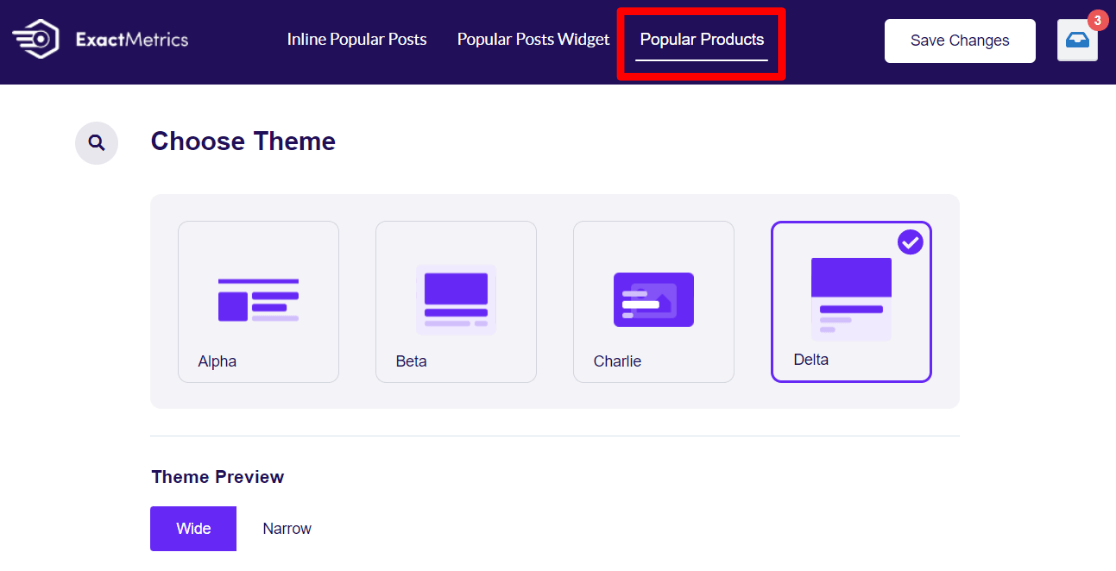 Once it's set up, the widget will add links to your popular products on other pages, creating those internal links dynamically: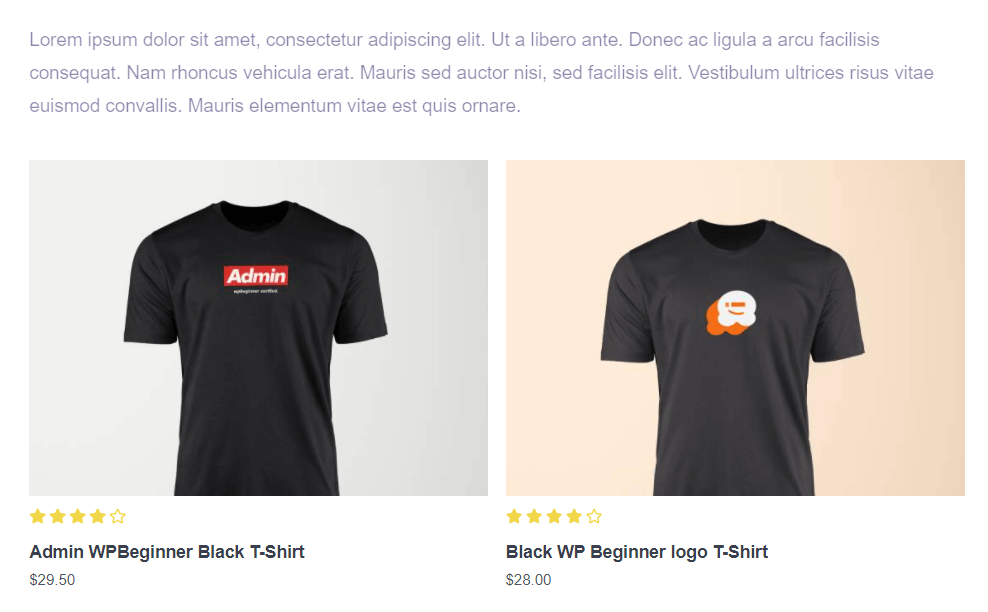 For more on how to set up a popular products widget, read How to Show Popular Products in WooCommerce (Step by Step).
10. Speed Up Your Site
Both users and Google's crawlers will react negatively to your site if it's slow. Google released an update in 2021 called the Page Experience Update, and it introduced three new speed scores called Core Web Vitals. If your WooCommerce site doesn't pass these speed tests, it's possible that your competitors will rank ahead of you in search. Plus, users are less likely to stay on your site and buy from you.
So, you must test your site regularly to make sure it's running at an adequate speed. ExactMetrics users have access to an up-to-the-minute speed test, right in their WordPress dashboard, at all times. Just go to Reports » Site Speed to access it.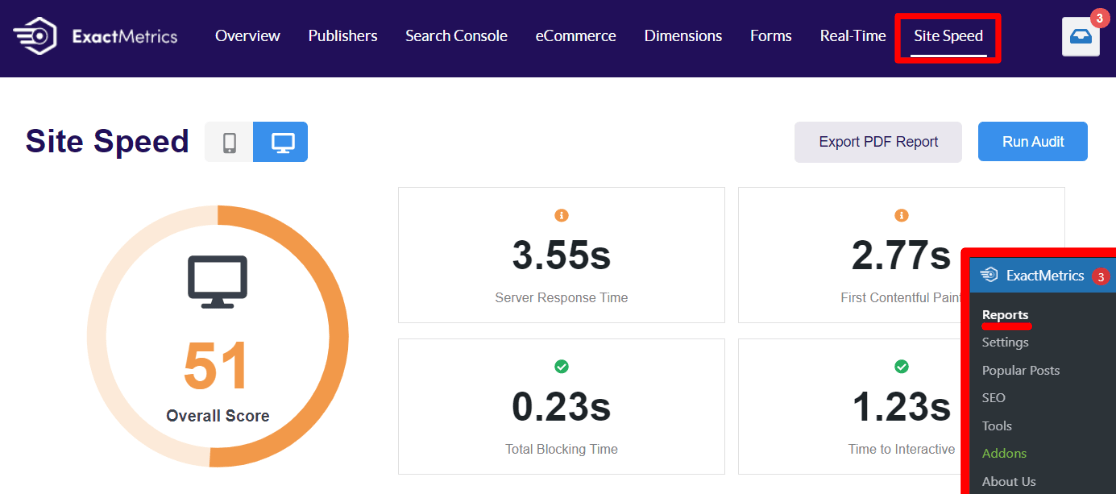 If you find that your site is much slower than it should be, try the tips in this article: How to Speed Up Your WordPress Site (14 Ways).
That's it!
We hope you enjoyed our article on WooCommerce SEO! If you did, you might also like to check out How to Find Your WooCommerce Customer Lifetime Value.
Don't forget to follow us on Twitter and Facebook to see all the latest Google Analytics tutorials.