On-page SEO is absolutely essential to work on if you want your website to rank in search engines. If you don't pay attention to your on-page SEO, you might just not rank at all.
Thankfully, WordPress makes on-page SEO pretty straightforward. As long as you put a little effort into it, you'll be grabbing some keyword rankings in no time.
But what exactly is on-page SEO, and how do you do it in WordPress?
Let's take a look.
What's Included in On-Page SEO?
On-page SEO is a set of tactics that includes:
A focused, keyword-rich meta title
A focused, keyword-rich meta description
An optimized URL
Keywords in article headings and throughout the content
Internal links to other relevant content on your site
Optimized images
Schema, if applicable
On-page SEO is essential to ranking your website and your content in search engines and getting more organic traffic.
Now, let's go over each tactic to take a closer look at how to rock your on-page SEO.
A Focused, Keyword-Rich Title
In Google's search results, the blue links are the page title, and the text underneath is the meta description.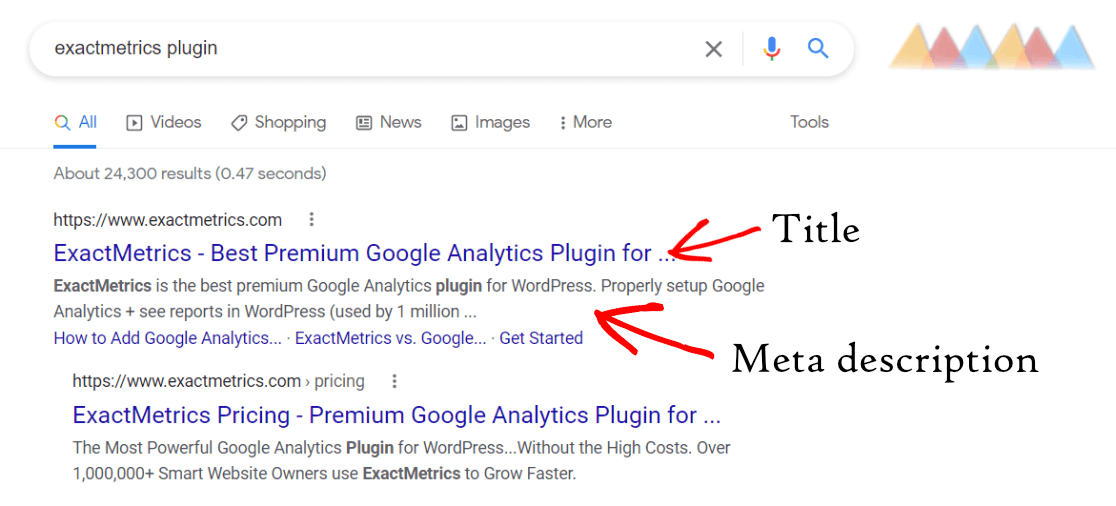 When you're looking for an answer or resource in Google search, you probably click on not only the result that best matches what you're looking for, but also the one that has a title that stands out to you.
Plus, the keywords in the title help you rank in search. So, you want your title to be optimized carefully to not only include your main keyphrase, but also stand out in search and compel searchers to click on your result.
A Focused, Keyword-Rich Meta Description
Think of your title and meta description together like an ad for your page. The title draws the searchers in, and the meta description helps compel them to click.
So, your meta description should include your main keyphrase and even a supporting keyword, but it should also explain to the searchers why they should click on your result.
However, one thing you should note about meta descriptions is that Google will often rewrite them based on the query that was searched. Google is trying to show the searchers what it is in your page content that matches the keyphrase or question they typed in. This can be helpful for you, since it shows searchers that your content is super relevant to their search. It can also be a little aggravating, though, because your carefully crafted meta descriptions might not be what shows up in search.
Still, you should make sure to create a great meta description for every page, post, or product on your site.
An Optimized URL
The URL is often a last thought for beginners when it comes to on-page SEO, but it should definitely be on your radar! It's an ideal spot to have your main keyword.
Make sure that your URLs don't look like this:
www.examplesite.com/?p=22
That URL gives zero clues to a search engine bot or potential visitor about what's on that page. Instead, make sure it looks more like this:
www.examplesite.com/how-to-do-onpage-seo-in-wordpress
The best, most optimized URLs follow this formula:
www.domainhere.com/page-title-here
Including the date that the content was published is not necessary, and can actually date your content in a way that makes less people click on it.
Keyword Distribution
In order to rank your page for a certain keyword, you want that keyword and its close variations to be distributed throughout your content. It should definitely appear in a heading or two, and then in the page content. However, be really careful here not to keyword stuff. If you over-optimize your article with keywords, not only will a regular reader be able to tell, but Google could also ding you for it.
In general, go for every 200 words or so with your keywords.
Internal Links to Other Relevant Content
Internal links are super important for on-page SEO. They can not only help you rank in search, but also help real visitors find their way around your site in a path that makes sense.
First of all, internal links can help your content rank in search by sending "link juice" through the links. For instance, say you have a post that's doing really well in search and bringing in traffic. If you link from that post to a new one you've just published or one that's not ranking, that link can show Google that "hey, this content is important too" and make the bots more aware of that linked content.
Internal links also guide visitors through your content. Using internal links to draw their attention to related content or resources is an awesome way to get users to visit more pages on your site.
Optimized Images
Not only are optimized images important for SEO, but they're also important for your visitors who use screen readers to understand your content without seeing it.
When you use keywords to explain what's going on in an image, those work toward helping your content rank in search. Google's crawlers look at that text and can use it when choosing which content to serve to a searcher. So, you should give each image a descriptive alt tag and title. The alt text is what a screen reader will read, so make sure it's descriptive and makes sense.
For more on optimizing images, read Image SEO: How To Best Optimize Your Images In WordPress (17 Tips).
Schema
When you're running searches in Google, you probably see some results with some extra information in them that look different than other results. If you search for a recipe, a review, a product, or a how-to post, for instance, you'll see different information in the search results.
For example, when you search for a recipe for apple pie, many of the results will have ratings, reviews, how long the recipe takes to make, a photo, and possibly even ingredients:

These extra bits of information are in the results because of Schema. Schema is some special code you include on your page that tells Google more about the content.
If you have a content type that has the opportunity for Schema usage, you should definitely try it to gain that extra step up with your search results.
The best way to add Schema to your pages is with a schema plugin.
How to Do On-Page SEO in WordPress
Okay, now you know what the main components are of on-page SEO. How do you work on those in WordPress?
To effectively do on-page SEO, you'll need a plugin that allows you to easily edit some of the components we went over above. We highly recommend All in One SEO!
All in One SEO (AIOSEO) is an awesome plugin that can help you dial in your on-page SEO and bring in more traffic. The plugin has powerful features that not only let you easily manipulate your title, meta description, schema, and more, but is also "reads" your content and gives you specific, actionable tips to improve it to set you up for SEO success.
For example, let's say you're writing an article on ecommerce email marketing best practices. After writing your article and filling in your title and meta description, you can enter a Focus Keyphrase ("ecommerce email marketing" in our case). The All in One SEO plugin scans your article content, title, meta description, and more to determine if it's well optimized.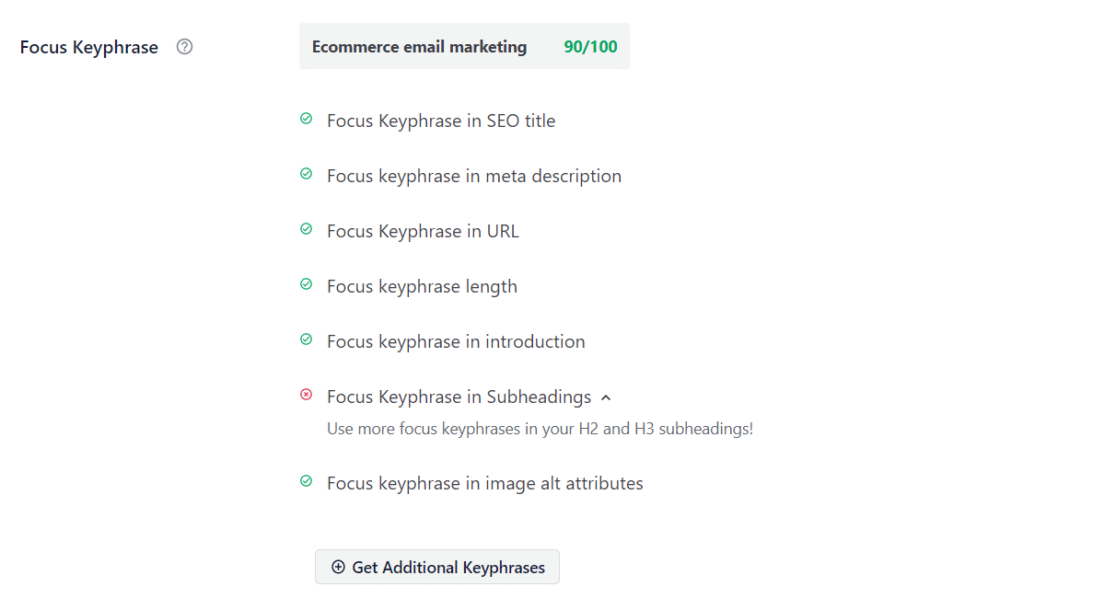 Then, you can scroll down further for even more on-page SEO suggestions in the Page Analysis section. Use the tabs on the top to see all of the suggestions: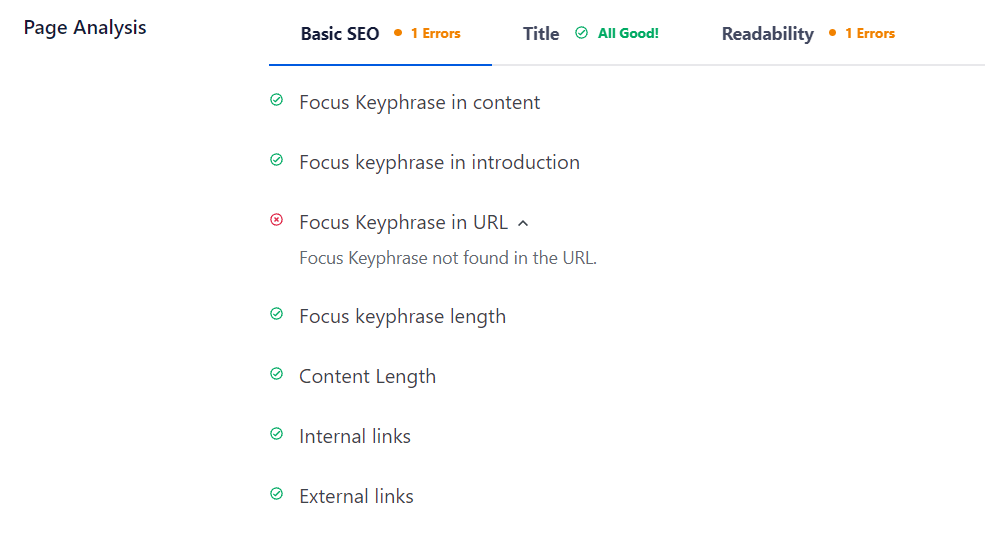 Remember when we mentioned using Schema? AIOSEO can help you with that, too. Just toggle to the Schema tab and choose your type, then fill in the details.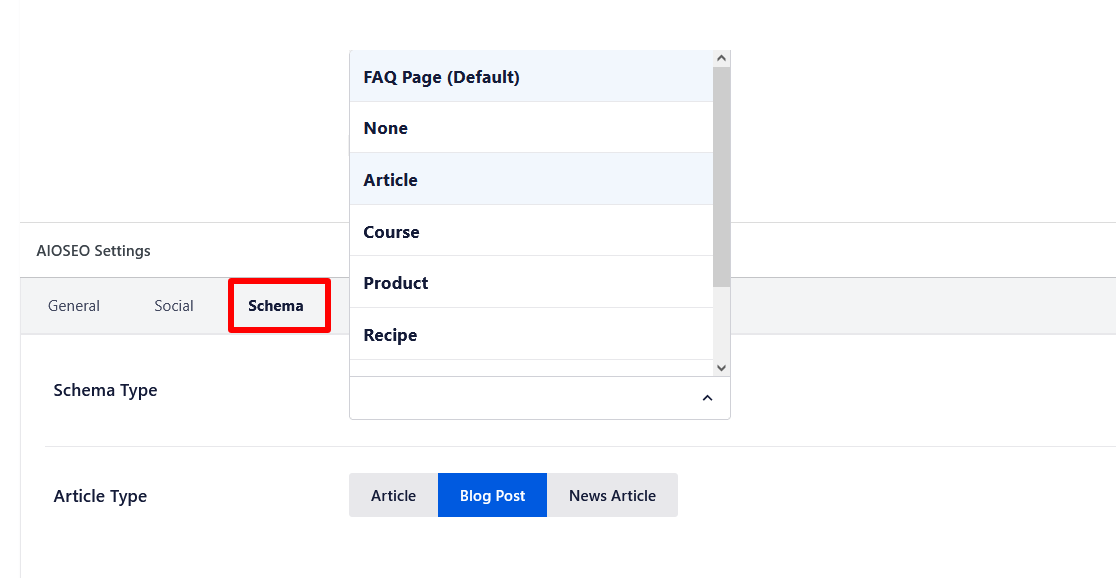 AIOSEO will also give you something called a TruSEO score. This is the score between 0 and 100 that the plugin gives your content to show you at a glance how optimized it is for search. You can click on the score right in your WordPress sidebar to expand the suggestions for making the article more optimized: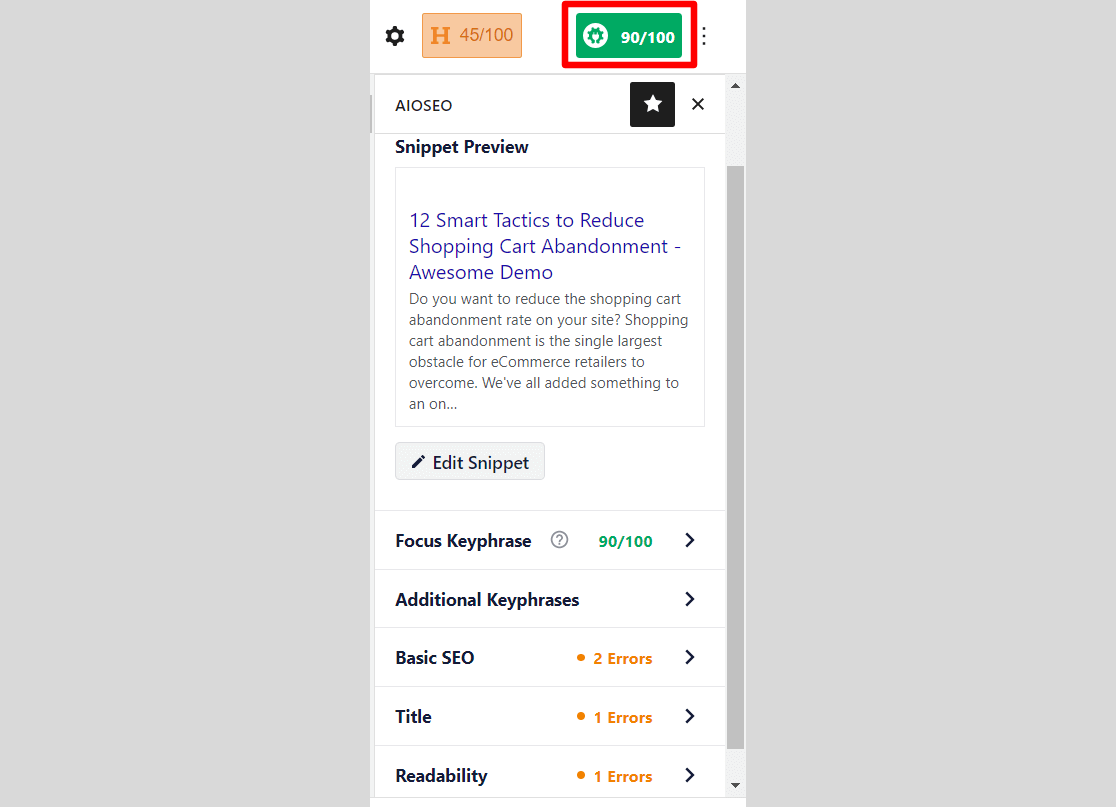 Get started with AIOSEO today.
Bonus: Track Your TruSEO Scores with ExactMetrics
If you're using AIOSEO, you can track your TruSEO score in WordPress and Google Analytics with ExactMetrics.
To set it up, follow these simple steps. Don't have ExactMetrics yet? Get started now.
Make sure you have an ExactMetrics Pro license.
Activate the Dimensions addon under ExactMetrics » Addons.


Create the TruSEO custom dimension. For a walkthrough about how to do this, read Google Analytics Custom Dimensions: Complete Beginner's Guide.

You're done! Your TruSEO score will now show up in a report in your ExactMetrics reports under Dimensions.
That's it! We hope you found some great tips in our on-page SEO guide. Want to learn more about WordPress SEO? Check out 10 Basic WordPress SEO Tips to Drive More Business.
Don't forget to follow us on Twitter and Facebook to see all the latest Google Analytics tutorials.