Are you hoping to find a few great social media plugins for your WordPress website that'll help you grow your following?
Whether you want to bring your social feeds onto your website, increase the easiness of sharing your posts or products to social networks, or do anything else with your WordPress website and social media, there are some truly awesome plugins that can help you accomplish just that.
Our list of great WordPress social media plugins includes social feed plugins, sharing plugins, automation plugins, and more. Let's dive in!
Our Favorite Social Media Plugins
If you're looking for a way to embed a social media feed onto your site, then Smash Balloon is your top option. It's actually a set of 5 different plugins that you can choose from:
Instagram Feed
Facebook Feed
Twitter Feed
YouTube Feed
Social Wall
So, you can grab one plugin or multiple for the network(s) you need to embed on your site. Whichever plugin you choose, there are tons of customization options to make it look like it belongs on your site. You can customize the layout, colors, which posts appear, and much more.
If an embedded feed is what you need, Smash Balloon is the way to go.
Get started with Smash Balloon today!
Want to save time on your social media posting duties? Use Uncanny Automator to automate your social media posts.
This is just the coolest plugin. It can automate your social media posts and SO many other things with so many other plugins and apps. We highly suggest taking a look at all their triggers and recipes.
For social media, though, you can:
Instantly publish an image to a social network when you publish a new post
Publish a new post when a form is submitted
Post a congratulatory post when a user completes a course or download
And more
Get started with Uncanny Automator today!
Revive Social's Revive Old Posts plugin is a very cool social media plugin for WordPress that lets you automatically share your content across your social media profiles. And, like the name says, this plugin can revive your older blog posts by posting them (using a formula that you select) on social media, with no further work required from you.
With Revive Social, you can:
Share on Facebook, Instagram Business, Twitter, LinkedIn, Tumblr, Pinterest, or Google My Business
Automatically create hashtags for your posts using your site's tags, categories, or custom fields
Share posts, pages, media, or custom post types like recipes or products
Automatically create UTM campaign URLs so you can track your social media traffic in Google Analytics
This plugin is a genius way to use all that content you've so painstakingly created on your site.
Get started with Revive Old Posts today!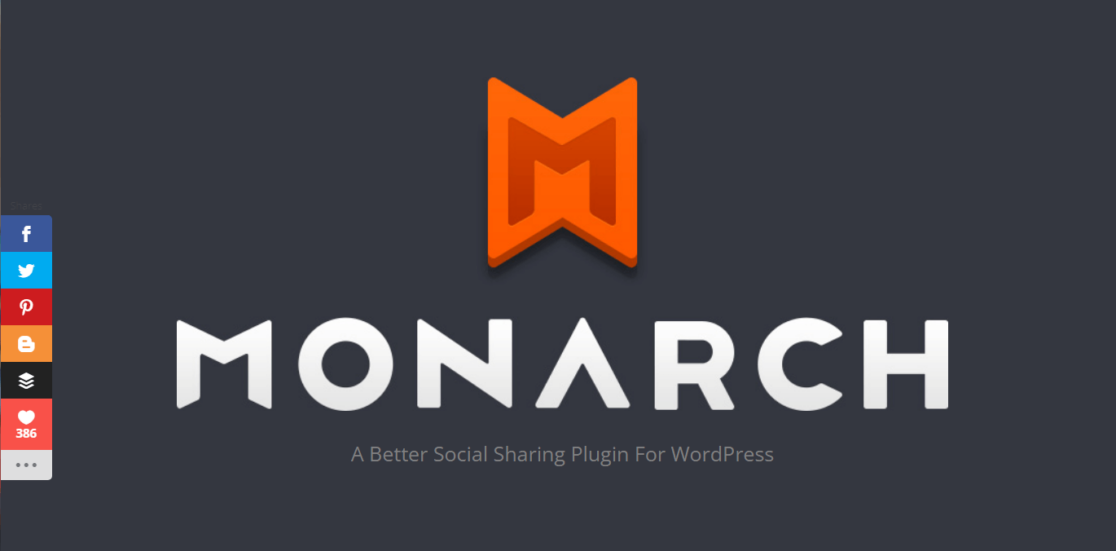 Monarch is a social sharing plugin for WordPress that will help you add a visually appealing and powerful social sharing bar to your site. It connects with over 20 social networks and there are many different ways it can be customized to your site.
Key features:
Connects with 20+ networks, including Twitter, Facebook, Pinterest, Tumblr, Evernote, and Reddit
Put your sharing logos in 5 different locations, including above or below posts, at the side of the site, and on photos
6 automatic pop-up and fly-in triggers to increase your engagement
Include follower counts
Choose button shapes, colors, and hover effects
Monarch is pretty straightforward and easy to set up, but can really help increase the amount of social shares you're getting.
Get started with Monarch today!
Better Click to Tweet is a free WordPress social media plugin that helps you put click to tweet buttons within your content. It encourages visitors to share your content on Twitter by making it incredibly easy for them to do so.
It works with a simple shortcode in the classic editor, or can be used as a block in the Gutenberg block editor.
Key features:
This plugin has over 10,000 installs and a 4.8/5 star rating
Easy to use
Supports UTM tagging for Google Analytics campaigns
Customizable
Get started with Better Click to Tweet today!
Looking for a better option for a "link in bio" page, or need a high-converting social media landing page? SeedProd is a drag and drop landing page and website builder plugin for WordPress that can help you accomplish either of those goals. In fact, it's so powerful, you can even create your very own WordPress theme that showcases your social media just exactly how you want it to.
The benefit of creating a "link in bio" page right on your website is simple: You're sending that traffic right to your own site, instead of an intermediary page with links to your site.
Or, if you're sending traffic to your site from any network and you want that traffic to convert, creating an optimized landing page is the very best way to make that happen.
Let's take a look at SeedProd's key features:
Lightweight, super fast, and responsive page builder
150+ landing page templates
Draft mode for any new pages
Mobile device preview
Choose from over 20 built-in color schemes or create your own custom color palette
Integrates with Google Fonts
Custom CSS
Free version to try out to start
Get started with SeedProd today!
Feed Them Social is a social feed plugin that works with Facebook, Twitter, Instagram, and YouTube. It can create an embeddable social feed for your WordPress site to get your site visitors interacting with your social media profiles.
Key features:
Display social feeds on any post, page, or sidebar
Simple shortcode generator for creating your feeds
Feeds are responsive
Color customizable
Add Like and/or follow buttons above or below any feeds
Get started with Feed Them Social today!
AddToAny is a social sharing plugin for WordPress that lets you set up sharing buttons for a really big variety of social networks. This plugin has been around since 2006, has over 200,000 active installs, and is rated 4.8/5 stars! AddToAny is free and has a lot of customization options.
Key features:
Choose from standard or floating share buttons
Choice to display share counts for your content
You can also choose to display follow buttons
Official buttons including the Facebook Like Button, Twitter Tweet Button, Pinterest Save Button, and LinkedIn Share Button
Image sharing buttons
Get started with AddToAny today!
Whether you're sharing your own content or asking others to share it, it's important that it looks good when it's shared, right? All in One SEO can give you more control over what your content looks like when it's shared.
All in One SEO offers seamless integration with popular social media platforms like Facebook, Twitter, Pinterest, YouTube, LinkedIn, Instagram, and more. This ensures that your website preview is optimized for both search engines (SEO), and social media networks.
In addition, AIOSEO goes way beyond social media sharing to give you a whole list of SEO tools and features that'll help you optimize your website.
Key features:
Integrates with Facebook, Twitter, Pinterest, YouTube, LinkedIn, Instagram, and more
On-page SEO optimization tools
SEO content analyzer
XML, video, and news sitemaps
Local business SEO
Rich snippets schema
SEO Knowledge Graph support
Google Search Console connection
Free version to get started with
Get started with AIOSEO today!
Grow Social is a social sharing plugin for WordPress that creates great looking social share icons. It's liked for being very easy to use and customize.
Key features:
Free version connects to Facebook, Twitter, Pinterest and LinkedIn
Customize the button for each network
Can display share counts
Can be placed before or after your page content, or scroll along with visitors on the side of your site
Retina ready
Get started with Grow Social today!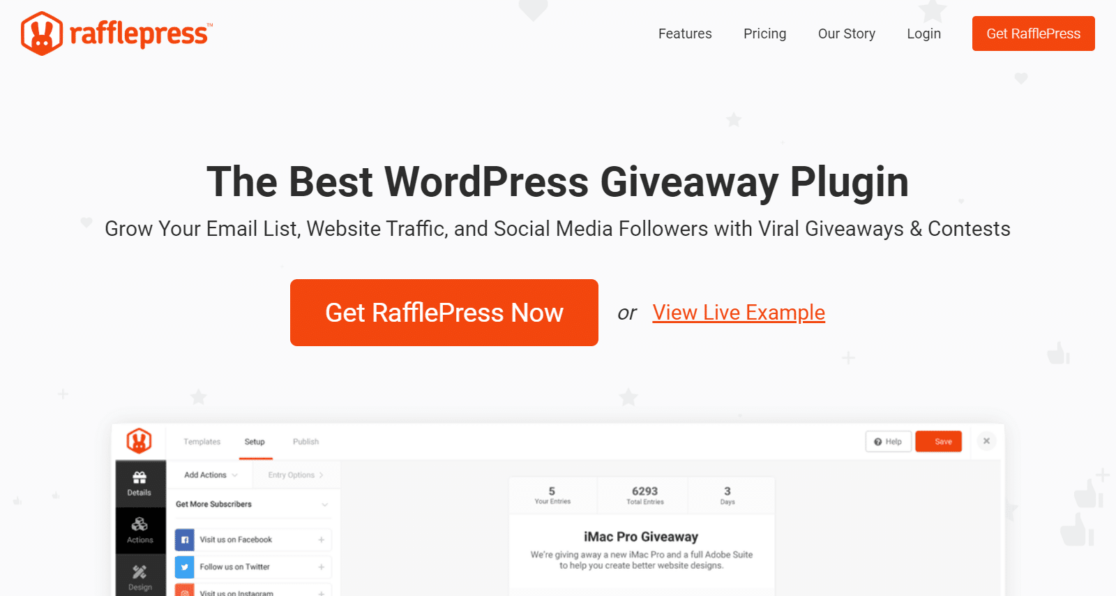 The last (but not least!) plugin on our list is RafflePress, the best WordPress giveaway plugin that can also help you explode your total social media followers. Using giveaways and contests to get more followers is an incredibly effective way to grow your following! Visitors are incentivized to share the giveaway to earn more entries, which helps you boost engagement.
Key features:
Integrates with Facebook, Instagram, YouTube, Twitter, and more
100% mobile responsive
Highly optimized for web and server performance
Drag-and-drop giveaway builder
Pre-built giveaway templates
Verified bonus actions
Built-in viral sharing feature
Free version to try out
Get started with RafflePress today!
That's our list! We hope you found a couple WordPress social media plugins that'll help you grow your following and take advantage of social media traffic.
Now, do you want to learn how to effectively track the traffic you get from social media? Read How to Use Google Analytics to Track Social Media.
Don't forget to follow us on Twitter and Facebook to see all the latest Google Analytics tutorials.