Creating a landing page is one of the very best marketing tactics out there. Luckily, there are several great WordPress landing page plugins that you can use to create custom, high-converting landing pages.
In this article, we'll go over a few of the ways you might want to use a landing page, give you a comprehensive list of the best landing page builder plugins out there, and talk about how to tell if your new pages are working to convert visitors into leads or subscribers.
Landing Page Builder Benefits & Ideas
There are so many reasons why a landing page plugin is going to be beneficial to your WordPress site and your marketing plan overall. Landing pages are typically super focused on getting the visitor to convert in some way, making them an ideal place to send traffic from your different marketing campaigns.
Here are just a few examples of when and how to use landing pages:
Offer visitors from social media (or other channel) a specific deal and create a landing page just for them
Create a page that's super focused on requesting a quote or contacting you to share with leads
Target a certain demographic with ads and tailor a landing page just for their needs
Advertise a guide or other enticing download
Create a page that's focused on newsletter/email signups
Pretty much any way you can dream of using a landing page will work, as long as you build and market it effectively.
Now, how do you build a great landing page? With a landing page plugin, of course! Let's take a look at our favorites.
The Best Landing Page Plugins for WordPress
Ready to find the best landing page builder plugin for your site? Take a look at our list.
SeedProd is our number one choice for the best landing page builder plugin. Their drag-and-drop builder, tons of templates, fast page speed, and integrations all make them the best.
Plus, they also have a complete custom theme builder, where you can design not only a landing page, but your entire website using their intuitive drag-and-drop builder.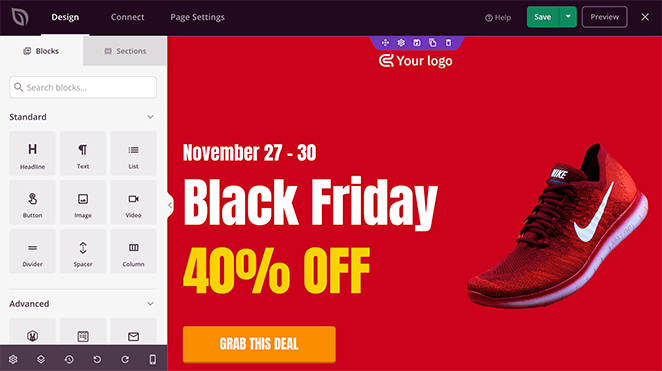 You can start with one of their 200+ landing page templates, then drag and drop the elements you need onto the page, customizing it completely for your site and your goals. Add buttons, forms, text, images, and much more.
Key features:
200+ landing page templates to start with
Live previews
Bloat-free code for fast loading
Responsive and mobile-ready
Save pages, templates or blocks to speed up your next page build
Get started with SeedProd today!
Divi is a popular WordPress theme and page builder. It actually replaces the WordPress page/post editor with a visual editor. So, similar to SeedProd, you can drag and drop modules and change colors/features to create your landing page.
Divi aims to replace multiple plugins on your WordPress site, with tons of features and modules you can add. The only drawback here is if you already have a website, you might not need the whole theme just for your landing pages.
Key features:
Design your website without touching code
Advanced design interface
Many available add-ons in the Divi Marketplace
25/7 support
Beaver Builder is another one of the best WordPress landing page plugins available. Use its simple drag-and-drop page builder to create a great landing page without touching code.
Like our other picks, this plugin also has page templates you can choose from to kickstart your landing page design. Just change up the images, text, and colors and you're done. The editor lets you edit and preview in real-time.
Beaver Builder also lets you save your own templates, so you can speed up future designs. And, like Divi, it replaces the traditional WordPress editor with their builder.
Key features:
Mobile-friendly, responsive layouts
Full-width, column-based layouts
Save, export, and reuse full-page layouts, rows, and modules
Beautiful pre-made layout templates
Free version you can try out to start
Get started with Beaver Builder today!
Elementor is another great plugin to use to make WordPress landing pages. Like the others on our list so far, it's a drag-and-drop editor with live editing capabilities.
Elementor comes with a free version, so you can try out the basics of the plugin before you purchase one of the paid plans to get more features.
Key features:
Intuitive drag-and-drop Editor
Fun design elements like box shadows, background overlays, hover effects, headline effects, animations and more
100+ beautiful full page templates
build your website by choosing and combining from over 300+ Blocks
40+ free widgets
Get started with Elementor today!
Leadpages is another powerful landing page builder plugin, but unlike the others on our list, it's not completely inside WordPress. Instead, you create your landing page within their editor, then install their WordPress plugin to publish it on your website.
Leadpages is great for building lead pages, squeeze pages, popups, splash pages, thank you pages, and more, all intended to convert visitors into customers or leads.
Key features:
Their exclusive technology predicts your page's performance before you publish it and tells you what to tweak
Unlimited page publishing
Unparalleled page load speed
Code-free drag-and-drop customizations
200+ professionally designed templates to start with
Get started with Leadpages today!
OptimizePress is a complete WordPress tools suite. It's another large tool with a lot of features and perks. It comes with a bundle of exciting features including easy opt-in forms, email marketing integration, and pre-made layouts to help you create effective landing pages.
While that's awesome, if you already have your site set up and you're using other plugins for forms and email marketing, this one might have more than you need. But let's take a look!
Key features:
40+ conversion-tested landing page templates
Create opt-in forms in just a few clicks
GDPR compliance options
2-step opt-in forms help increase conversions on landing pages
All templates are developed with page-load speed in mind
Get started with OptimizePress today!
How to Track Landing Page Success
Alright, so now you've probably chosen a landing page plugin for your WordPress website. Great! Now, how are you planning to track whether those pages are really working for you or not?
If you don't know how your landing pages are performing, you won't be able to make changes that bring in more visits and more conversions.
So, install ExactMetrics to track your landing pages!
ExactMetrics is the best premium WordPress analytics plugin. With ExactMetrics, there's a whole list of things you can set up and monitor in Google Analytics and your WordPress dashboard, including landing pages, forms, and CTA clicks.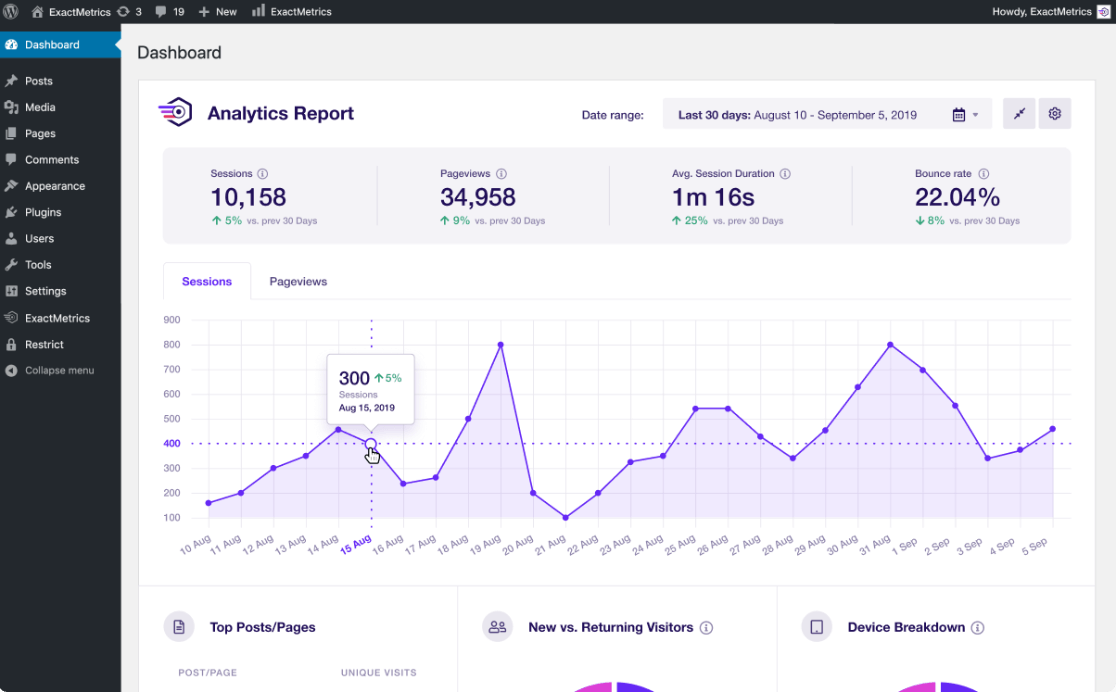 Our most popular features include:
With ExactMetrics, all your most important metrics are right there in your WordPress dashboard.
To access a report of your top landing pages, head to the Publishers tab: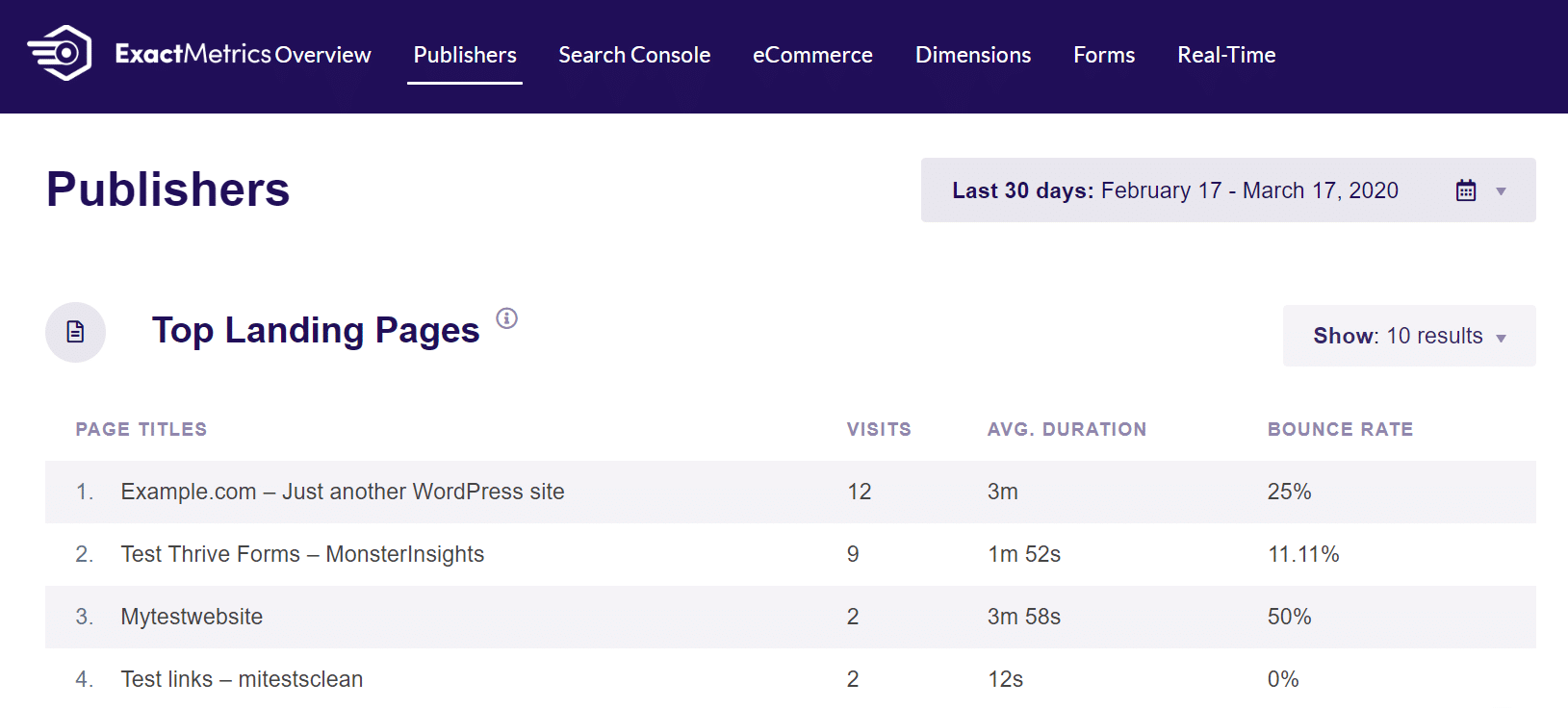 In this report, you can see how many visits each page has, what the average visit duration is, and bounce rate, without leaving your WordPress dashboard.
Have a form on your landing page? Head to the Forms tab to see analytics for your forms: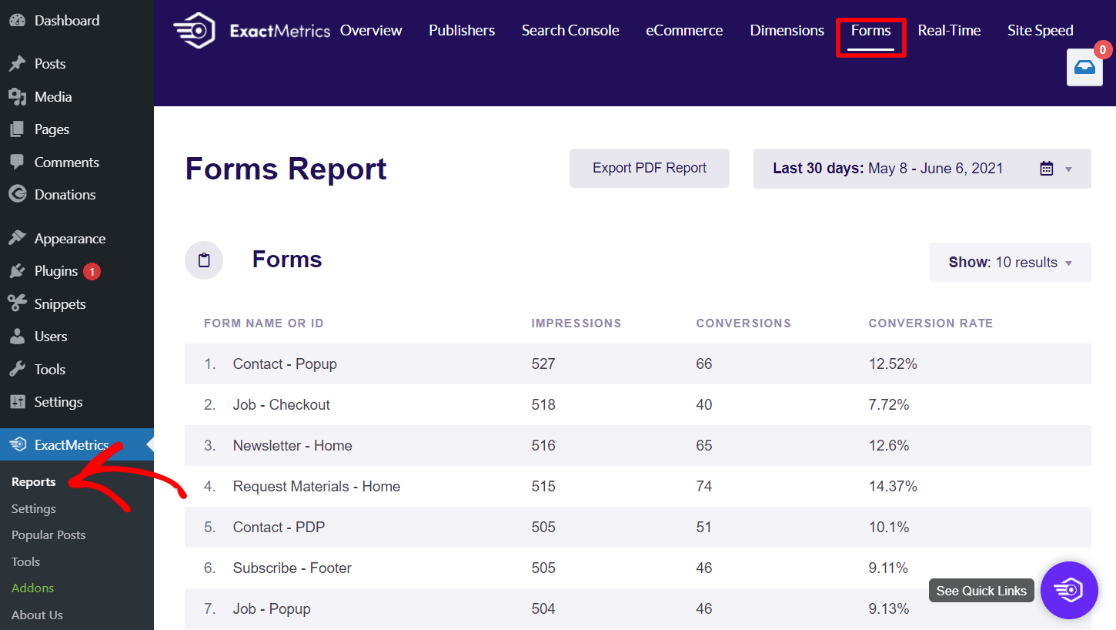 Curious about what else ExactMetrics can tell you? Check out all of our features.
Or, get started with ExactMetrics today!
Want to track conversions from your landing pages? Read How to Track Google Analytics Landing Page Conversions.
Don't forget to follow us on Twitter and Facebook to see all the latest Google Analytics tutorials and more.