Using Google Analytics to track your marketing campaigns is an awesome way to collect data that you can use to grow your business. The best thing is, once you learn how Google Analytics campaigns work, you'll be able to set them up easily and quickly.
In this article, we'll show you how to set up and track your Google Analytics campaigns using UTM parameters, plus how to find your data in Google Analytics and WordPress.
What Can Google Analytics Campaigns Track?
While Google Analytics can track a lot of things out of the box, there are some that it can't track. Luckily, you can set up campaign tracking for a lot of those bits of data you wouldn't get otherwise.
Use campaigns to track:
Visits from email: Track which email sent traffic, how much it sent, and what those visitors looked at on your website.
Visits from PDFs and other documents: Have files for download on your website with links in them? Add UTM parameters to track them with Google Analytics campaigns.
Social media visits: While Google Analytics can track social media without using UTM parameters, you can use parameters to lump your social traffic into specific campaigns with other sources, track what day or time you post on, or traffic from social media ads, for example.
Visits you want to lump together: Let's say you're going to run a giveaway, and you're going to advertise it through email and social media. Give all those visits the same campaign parameter to view them all in one place. That way, you'll quickly see which channel worked best for that specific campaign.
What Are UTM Parameters?
UTM parameters are little bits of code that you put on the end of the URL you want to track. Then, Google Analytics recognizes those parameters, so you can see which campaigns brought in traffic.
Which tags are standard google analytics campaign parameters?
There are 5 standard google analytics campaign parameters that you can use to describe your campaign and set it apart from your other traffic sources. They are:
Campaign Source: The source of your traffic, such as newsletter, Instagram, offline, etc.
Campaign Medium: The medium you're using for marketing your campaign, such as email, social, pdf, etc.
Campaign Name: The name you want to give your campaigns, such as winter-promo, ipad-giveaway, or ebook-download.
Campaign Term: If you're running a paid campaign, enter the term or keyword you're targeting here.
Campaign Content: Use this to differentiate similar content or links within the same campaign such as two call-to-action links in the same email message.
The first 3 UTM parameters (Source, Medium, and Name) are required for tracking campaigns in Google Analytics. Meanwhile, Term and Content are optional tags to collect more information.
How to Track Google Analytics Campaigns
Intimidated? Don't be! With ExactMetrics, you can use our simple URL Builder tool to easily create the URLs you use in your campaigns and then track your campaigns in Google Analytics or right inside WordPress.
ExactMetrics is the best premium WordPress analytics plugin. With ExactMetrics, there's a whole list of things you can set up and monitor in Google Analytics and your WordPress dashboard, plus a URL builder tool for campaign tracking.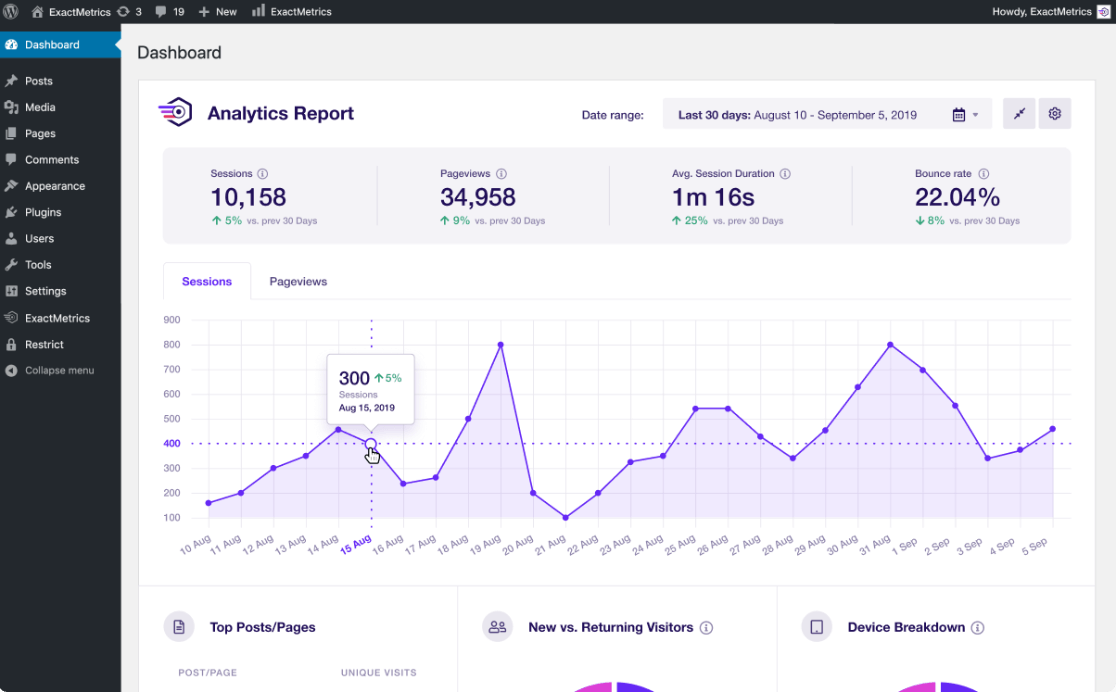 Our most popular features include:
With ExactMetrics, all your most important metrics are right there in your WordPress dashboard. To get access to the URL Builder tool we'll be using next, get started with ExactMetrics now!
You can check out our step-by-step tutorial for How to Add Google Analytics to WordPress.
Google Analytics Campaign URL Builder
Once you have ExactMetrics installed and connected to Google Analytics, navigate to ExactMetrics » Tools to find the URL Builder.
Then, simply fill in each field with a word or phrase that makes sense to your campaign, then the tool will give you the URL to use in your posts or email or whatever you're putting your links in.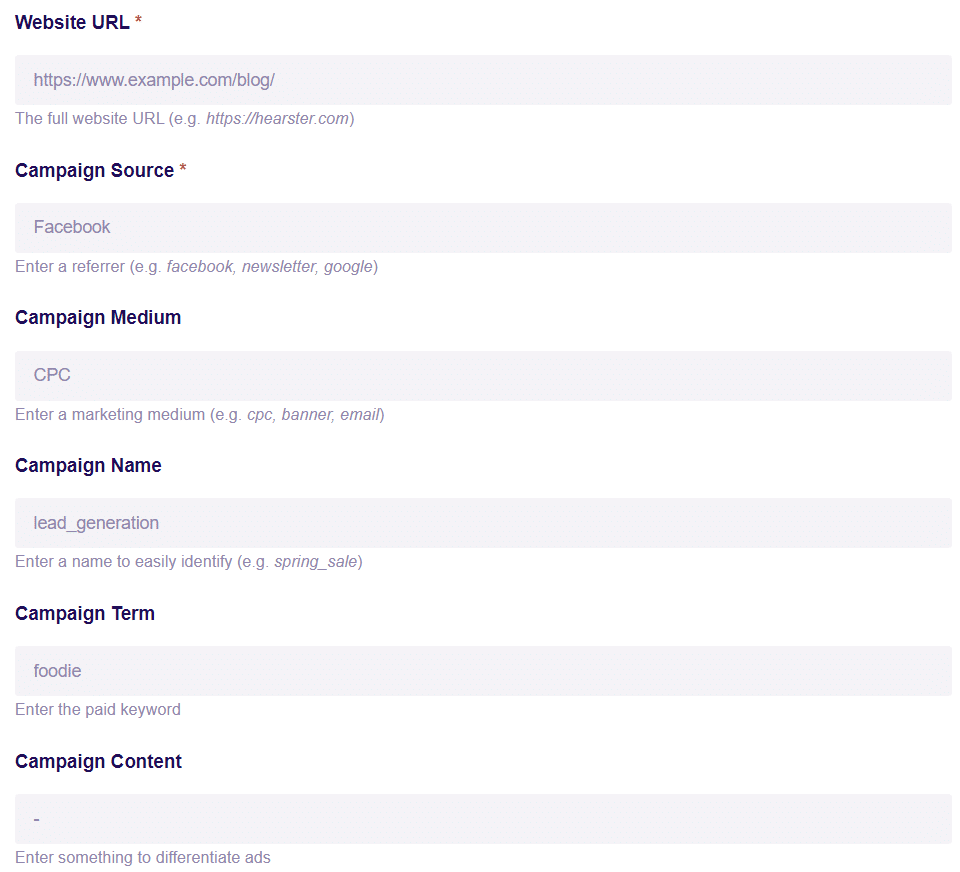 When you've filled in all the fields, the box at the bottom will give you your URL:

So in the above example, you'd use that URL in your Facebook post to track the specific traffic from that specific post in Google Analytics.
How to See Campaign Data in WordPress
With ExactMetrics, you can track how your campaigns are doing without even leaving WordPress! Just click ExactMetrics » Reports. Then, click Traffic » Campaigns from the top menu.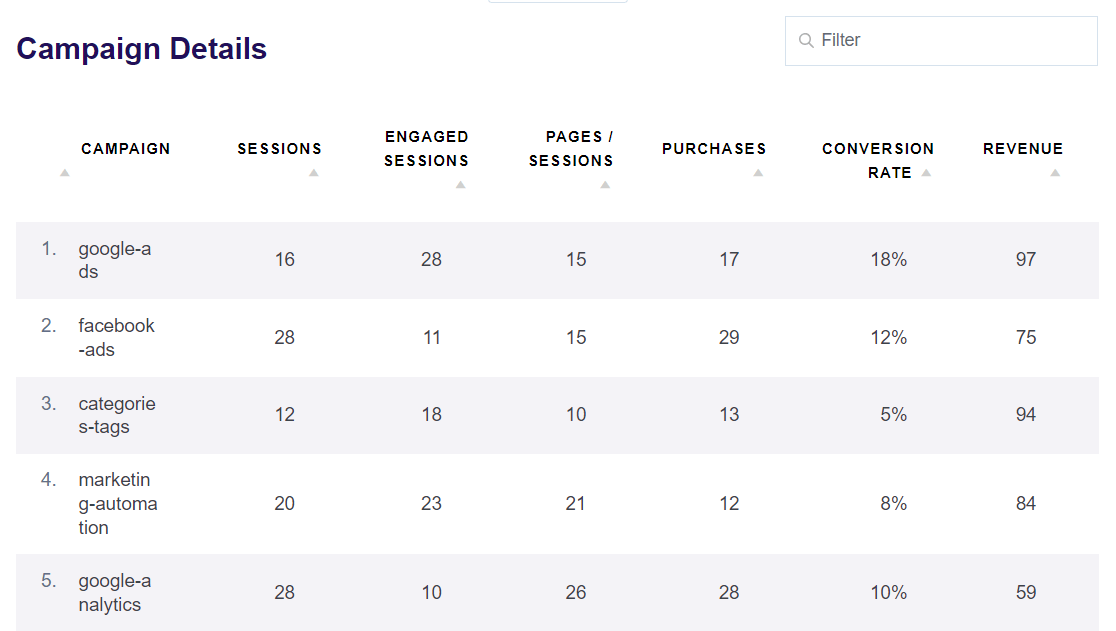 You can see your top campaigns along with important metrics like sessions, engaged sessions, conversion rate, and more. Quickly see which campaign is bringing in the most revenue, identify which ones need some work, and optimize your digital marketing strategy.
For example, if one of your campaigns is converting visitors really well even without as many sessions, that tells you you're doing something right. You can focus your efforts on promoting that campaign and try to optimize your other campaigns to boost conversions in the same way. Or, you might see that a campaign is getting a lot of traffic, but isn't bringing in revenue, you can investigate to find out why it's not leading customers to a conversion.
Want to see your campaign data in Google Analytics? Let's see how to do that next.
How to Find Campaign Data in Google Analytics
Now, let's see where you can find your campaign data. In Google Analytics, go to Acquisition » Traffic Acquisition. Once there, click on the Session default channel grouping dropdown: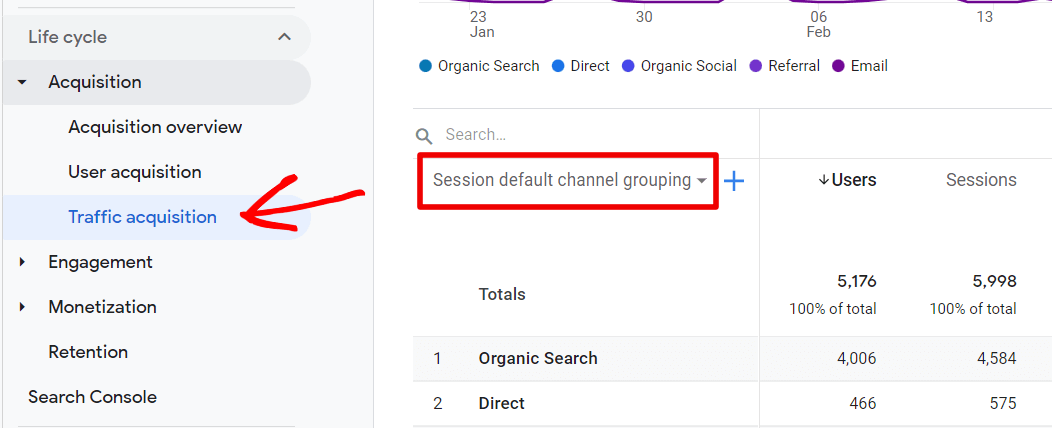 From the dropdown, choose Session campaign: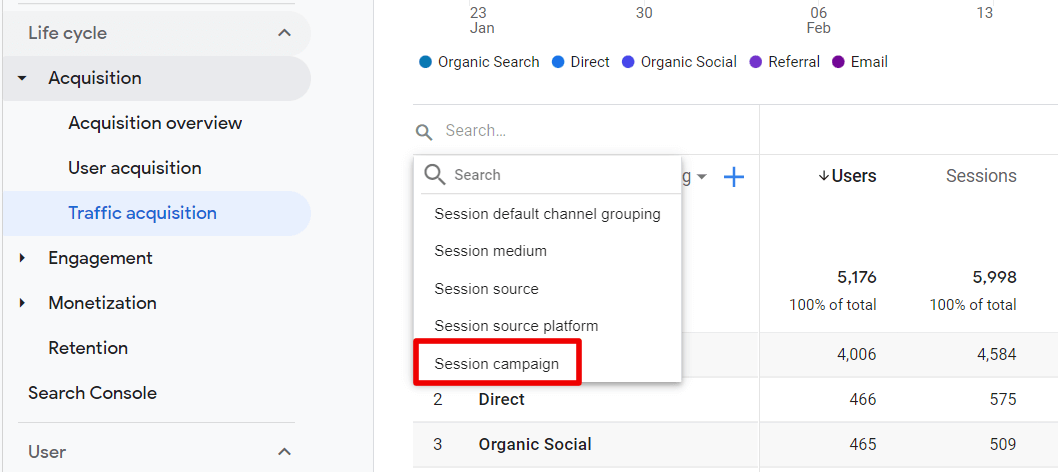 Now, you'll see your traffic broken down by campaign: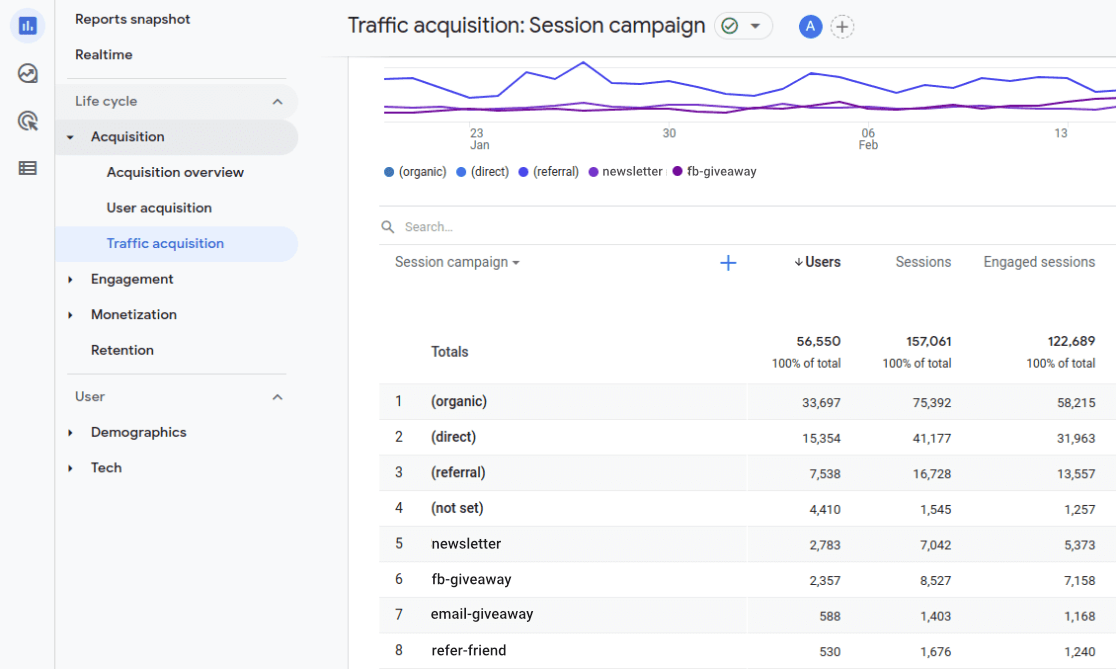 That's it for this tutorial!
Now that you're tracking Google Analytics campaigns, do you want to know how to track a bunch of different conversions? Check out our Ultimate Guide to Conversion Tracking in WordPress.
Don't forget to follow us on Twitter and Facebook to see all the latest Google Analytics tutorials.