Do you know how people move around your online store? What things are they interested in? How do they end up buying something?
When you can see the routes your users take on your website, you can understand what they want and need. This helps you better serve your customers, make more sales, and increase revenue!
The ExactMetrics team is always looking for ways to simplify our users' experience and give you the data that matters most, in the easiest way possible. That's why we're excited to announce our latest release, which allows you to see your eCommerce journeys right inside ExactMetrics with the new User Journey Report.
Let's check it out!
NEW Report to Track User Journeys
When ExactMetrics' User Journey addon was released in May 2022, it quickly became a game changer for eCommerce sites, revealing visitors' behavior in each step of the buying journey and even tracking customers over multiple visits or days before they complete a purchase.
The User Journey addon allows eCommerce businesses to understand how customers move around their website, see which content is most effective, find the best ways of leading customers to buy something, optimize pages that aren't leading to purchases, and more.
ExactMetrics users wanted a way to see this highly valuable user journey data right inside their ExactMetrics dashboard, so that's exactly what we did!
The new User Journey report allows you to easily see order history, UTM parameters (source, medium, campaign), and the step-by-step buying journey of any and all orders in one convenient location.  
To find the new User Journey report, just click ExactMetrics » User Journey. First, you'll see all your orders and their UTM parameters, which you can filter by to easily see trends in the buying journey and areas to optimize!

For example, when you filter by source type to see orders that came from your newsletter, you might notice that orders coming from a specific campaign have much fewer steps in the buying journey. Is that campaign linking to a different page than the others? Are you advertising different products?
Take a look at the details and journey steps of any order by clicking the Transaction ID. You can quickly see the pages a customer visited, the products they looked at and added to their cart, and how long it took for each step during checkout and payment.
Why are those customers reaching a purchase faster? Can you optimize your other campaigns to do the same thing?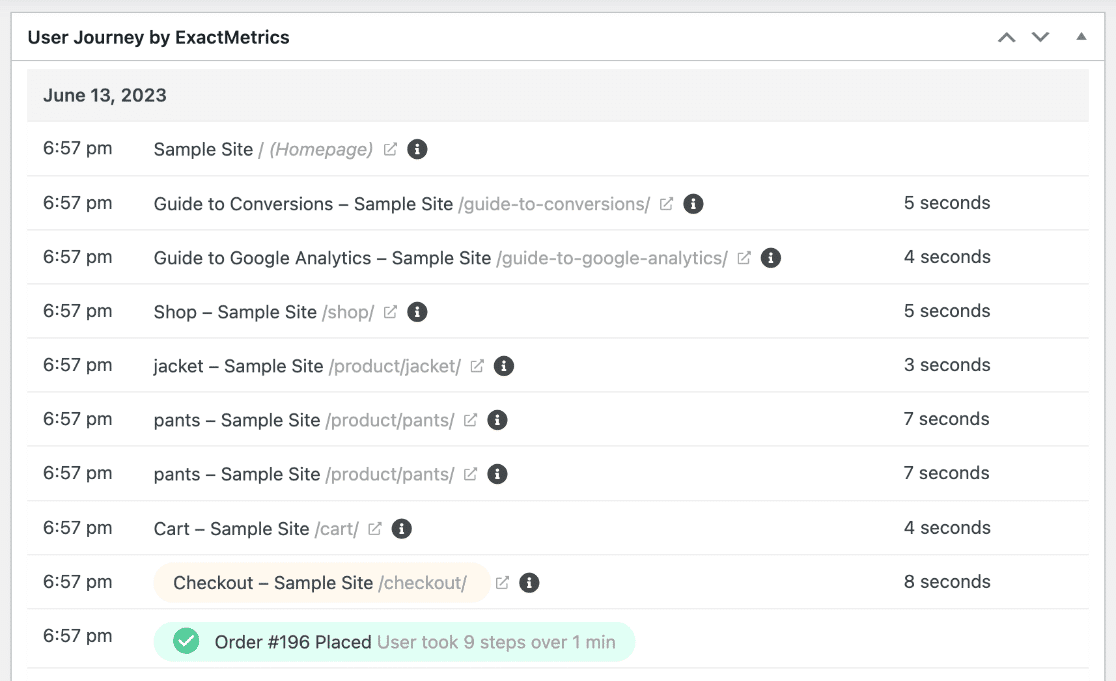 These detailed insights help you find any problems in your eCommerce funnel, fix them quickly, and create the best customer experience.
The new User Journey report is available for all Pro users and up who have activated the User Journey and eCommerce addons, which integrate seamlessly with:
WooCommerce
Easy Digital Downloads
MemberPress
Restrict Content Pro
GiveWP
LifterLMS
MemberMouse
Check out our Guide to eCommerce Customer Journey Analytics in WordPress for more information about the User Journey addon.
Well, that's all for this update. We hope you love this new feature and start using it to optimize your online store today! Be sure to let us know if you have an idea that would make the ExactMetrics plugin even better.
Not using ExactMetrics yet? What are you waiting for?
Don't forget to follow us on Twitter and Facebook to see all the latest reviews, tips, and Google Analytics tutorials.