Are you looking for the best WordPress giveaway plugin to create contests that attract massive amounts of new traffic? Then you've come to the right place, as we review the top giveaway plugins for WordPress and offer our recommendations.
What Does a Giveaway Plugin Do?
A WordPress giveaway plugin is a special piece of software that makes it incredibly easy to make online contests, raffles, and sweepstakes. These plugins manage the design and display of your giveaway campaigns, record contest entries and user contact info, and even pick contest winners.

In addition to all that, giveaway plugins make it easy for contest entrants to share your giveaway with others. That's how you can use giveaways to amplify your subscribers and email lists. People love to share contests and raffles with their friends!

What's the Point of Offering a Giveaway?
When you give away free prizes or awards on your website, you'll see a couple big benefits. One, you can increase the interest and engagement of returning visitors. People who have been to your site before are more likely to sign up to an email list. And they might actually look forward to seeing your email in the inbox, to see if they've won a prize!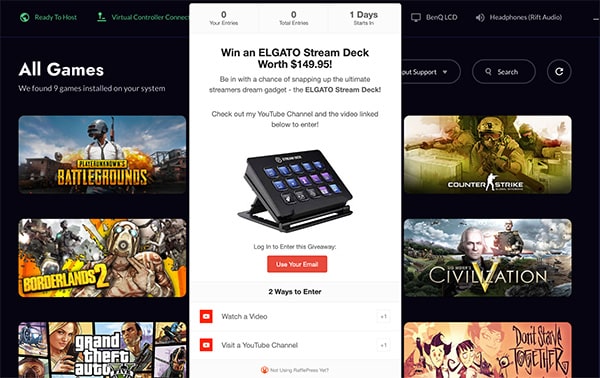 Second, if you share your contest on other channels like social media, you can get a whole bunch of new traffic to your website! If your offer is really great, those people will also share with their friends, too. That's how giveaways, contest, and raffles can have a viral effect and skyrocket your web traffic and followers.
What Should You Look for in a Giveaway Plugin?
When you're deciding on a WordPress giveaway plugin, make sure you're getting the features you need to suit your giveaway or contest plans.
Are you trying to grow your email list, get more subscribers to a podcast, or boost your social media following? The best giveaway plugins let your visitors enter your contests by doing things like signing up, subscribing, and following.
Do you want to display your giveaway details on a dedicated landing page, or embed it in a widget? Whatever your vision is, check that your plugin's display options match your needs.
If you really want a contest or giveaway to explode and impact traffic in a big way, your giveaway offer should be easily shareable. So, if new traffic is one of your goals, your giveaway plugin needs to let users easily refer their friends.
Now that you have an idea what to look for, let's look at our list of best WordPress giveaway and contest plugins.
Our Top Picks for WordPress Giveaway Plugins
All right, here's our detailed review of the best plugins for creating contests and giveaways on WordPress. We'll start with our #1 pick at number one…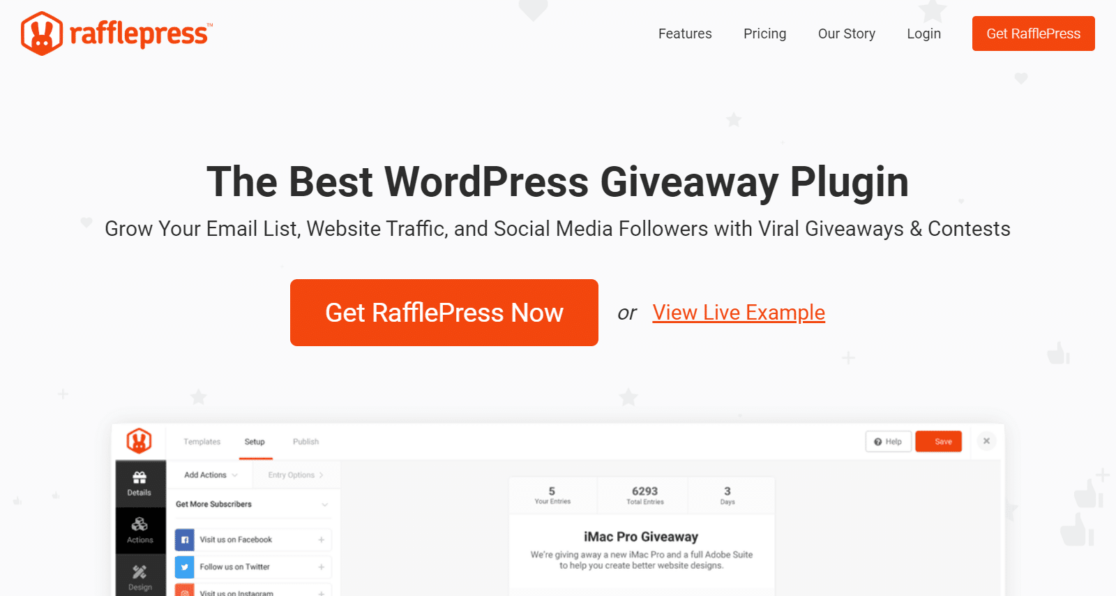 RafflePress is the best giveaway plugin for WordPress users. Considering its full set of features, simplicity, and low price, this is our top choice for creating giveaways and contests on WordPress.
It has one of the easiest to use campaign builders, with a visual drag-and-drop editor that anyone can use to make contests that grab users' attention.
RafflePress gives you all of these capabilities right in your WordPress dashboard, with all of these powerful features:
Professionally designed viral giveaway templates to maximize entries
Responsive widget displays on any device or screen size
Refer-a-friend campaign options automate viral sharing
One-click entry makes it easy for users to enter
Advanced fraud detection to eliminate spam and bot entries
Seamless connection to Facebook, Instagram, Twitter, YouTube, and other platforms
Quick integration with your email or CRM system to manage leads and subscribers
Success tracking and retargeting optimizes your conversion rates
Create a giveaway landing page to completely focus users on your contest
Pricing: RafflePress offers a free version, with paid plans starting at $39.50 a year
KingSumo is a product created by the team at AppSumo, and it lets you make and manage viral giveaways on your WordPress site or any other website.
The KingSumo app has a simple, user-friendly interface, so you can set up a giveaway really quickly. You create a giveaway on their website, then use an embed code, link, or various other methods to share your campaign on WordPress and other places.
Here are some of the best features of KingSumo:
Unlimited giveaways
Integrates with email to add contacts to mailing lists
Quickly set up sharing and entry actions on social media platforms
Remove King Sumo branding with premium version
Facebook pixel tracking
Automated random winner picker
Spam blocker built in
Free updates for life
Pricing: KingSumo is a one-time payment of $49, free version available
Woorise is another top WordPress plugin for contests, giveaways, and other forms. It has a huge variety of customization options to create different types of giveaways and competitions.
But Woorise offers a lot more than simply contest forms. You can create full landing pages for your giveaways, and also make surveys and quizzes using the built-in templates.
Woorise has templates for giveaways and contests on all the major social media platforms. Then, you can customize your design with a drag-and-drop campaign builder.
Some other great features included with Woorise:
Secret codes, refer a friend, and photo voting campaigns
Design lead pages for content gateways, lead magnets, and more
Mobile responsive giveaway forms and landing pages
Create order forms with payment integrations
Templates for contact forms, surveys, quizzes, and polls
Easy email integrations with many top services
Embed campaigns on a webpage, popup, email, Facebook, and other locations
Pricing: Woorise premium plans start from $23 per month, free version allows for 200 entries per month
Gleam offers several top WordPress tools for creating giveaways, rewards, and lead capture campaigns.
The Competitions app lets you build great looking giveaways, contests, and sweepstakes. If you want to create an instant rewards program to award users for actions, you can get the Rewards app separately or as part of Gleam's bundled package.
Check out these highlight features in Gleam Competitions:
Supports refer a friend and viral sharing
Verifies entries on social platforms to reduce spam
Mobile responsive campaigns
Email notifications and integrations
Pick winners randomly or manually
Embed on your landing page, blog, Facebook page, or free hosted landing page
Pricing: Gleam offers all its apps bundled in the Full Package for $97 per month, and the Competitions single app for $10 per month
Contests by Rewards Fuel is a WordPress contest plugin that allows you to create and manage giveaways right in WordPress.
You can also create a hosted landing page to publish your campaign using Rewards Fuel's website.
Contests by Rewards Fuel offers these powerful features:
Automated confirmation of user accounts to cut down fraudulent entries
Use Zapier to connect to Survey Monkey, Salesforce and others
Video submission and video voting campaign templates
Use WordPress plugin or embed campaigns on any website
Use on unlimited websites with paid plans
Limit entries with filters for location, IP address, and age verification
Pricing: Contests by Rewards Fuel paid plans start at $11.63 per month
Simple Giveaways is an easy to use plugin that lets you create professional-looking giveaway campaigns. Its interface is simple, with an easy learning curve for beginners.
The Simple Giveaways plugin offers a free basic version. To get all of the advanced features and design abilities, the premium version is still a great value for the price.
You'll get all of these top features in Simple Giveaways:
Email notifications to winners and non-winners
Multiple automated sharing methods
Built-in countdown timers
Export entry data in CSV
Customizable form fields and templates
Premium integrations, templates, and entry actions with paid versions
Built-in integrations with email, eCommerce, and marketing platforms
Pricing: Simple Giveaways paid plans start at $49 per year for one site, free version available
Social Boost is a WordPress plugin specifically designed to boost your social following and traffic. It lets you create a number of contest and giveaway campaign types including instant win, sweepstakes, refer a friend, purchase to win, and user submitted content giveaways.
Design options are fairly limited, but that's offset by the ease of use for beginners and those who only need a simple form. The free version of Social Boost lets you run unlimited campaigns and includes most of the features, but limits the number of user entries.
Some of Social Boost's unique features and benefits include:
Over 25 entry actions available – referring, sharing, liking, commenting, and many more
Create campaigns in 5 minutes or less with easy click-to-design interface
Library of pre-made templates for popular holiday campaigns
Gamified treasure hunt templates
Integrates with email and eCommerce providers
Pricing: Social Boost is free for capturing up to 50 leads, then accounts start at $6.97 per month for 200 user entries
What's the Best Giveaway Plugin for WordPress?
All of the products on our list are good tools for running giveaways on your WordPress site. But, they have some major differences in pricing, features, integration abilities, and other things.
We recommend RafflePress as the overall best WordPress giveaway plugin for most users. It's super easy to design appealing campaigns with the drag and drop builder.
For power users, RafflePress has advanced success tracking and retargeting features that can amplify your results with zero effort.
In spite of the huge number of features you get with RafflePress, pricing is incredibly affordable. So, we think this is the best value, by far, in WordPress giveaway plugins.
Finally, if you're on the fence, RafflePress has a free version that lets you try out the campaign builder and tools before you buy. That means there's basically no risk to jumping in and experimenting with your own viral marketing offers!
We hope this helps you choose the best giveaway plugin for your WordPress site. If you liked the article, check out this guide to user engagement metrics and learn more about your site visitors.
And, don't forget to follow us on Twitter and Facebook for more Google Analytics tips and tutorials!