Ever wonder how many people visit your website every day? The more visitors you have, the higher is the chance that they'll buy your products, subscribe to your email list, and interact with your website.
But if you don't have any data about the number of people visiting your site, then it's hard to make decisions to grow your business. Instead, you'll be guessing which content topics your readers like, which channel should you use for marketing, or which products to promote.
So, an easy way to avoid this is to track your WordPress visitors. And this is where plugins like ExactMetrics come in handy.
In this article, we'll show you how to set up WordPress visitor tracking step by step. Let's start…
Why Track Visitors on Your WordPress Site?
Before we go onto the tutorial, it's important to understand the benefits you get from tracking the number of visitors.
For starters, you can see how your site is performing in terms of attracting people. If you know how many users view your site each day, you can develop your strategies to increase your conversions, capture leads, and boost sales.
Besides that, you get to understand your audience. By uncovering where people are coming from, which social platform or referral source they use, and how they interact with your website, you can then create content and marketing message for different segments of visitors.
Now that you know the importance of visitor tracking in WordPress, let's see how you can set it up…
Setting Up WordPress Visitor Tracking
To start tracking your WordPress visitors, you can follow these steps and view reports inside your WordPress dashboard.
Step 1: Create a Google Analytics Account
The first step for configuring WordPress visitor tracking is to create a Google Analytics account.
The process is very simple, just visit the Google Analytics website and click Start for free option.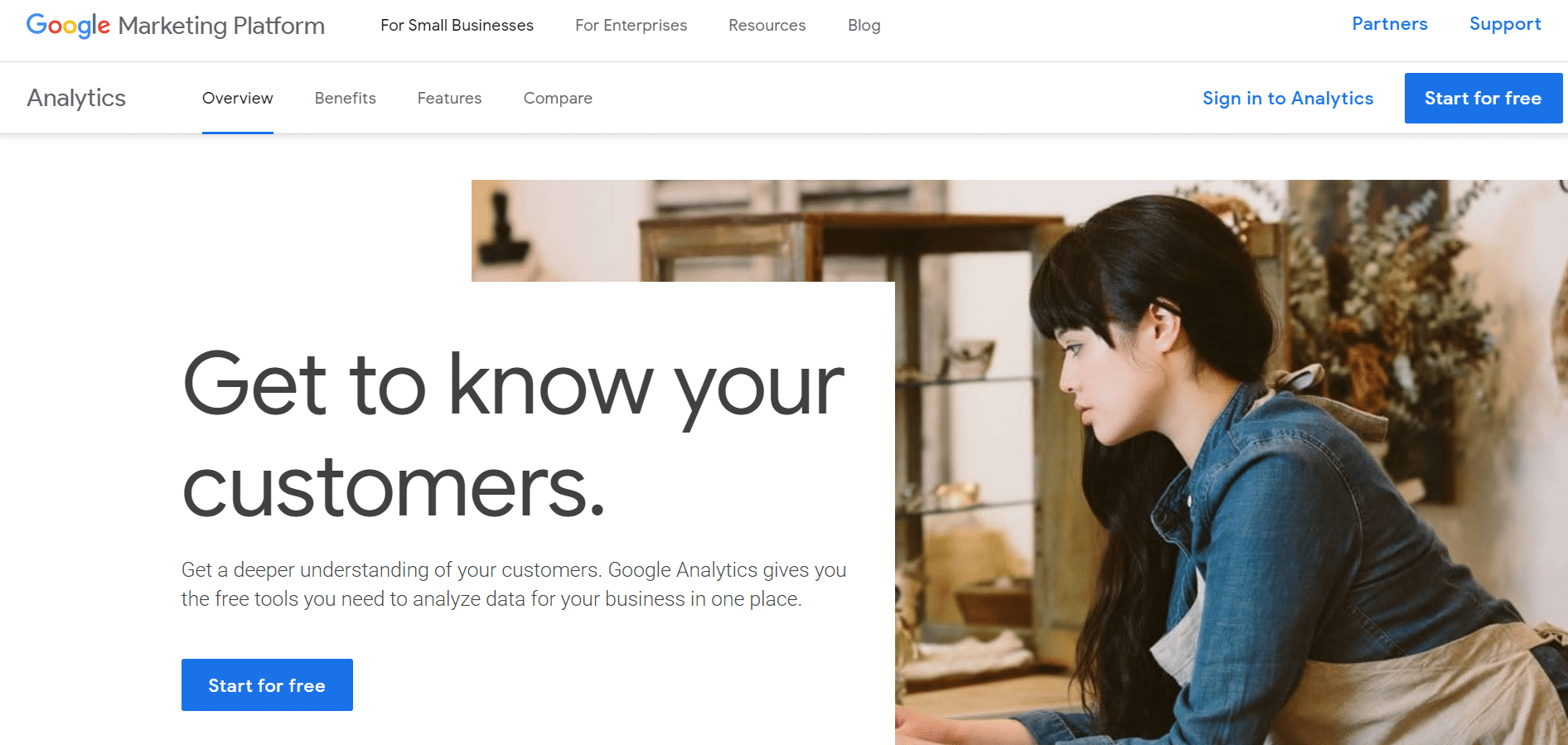 Next, select your Google account on which you want to set up Google Analytics. You can enter an email address or a phone number. And if don't have an account, then you can create one in just a few clicks. Click Next when you're done.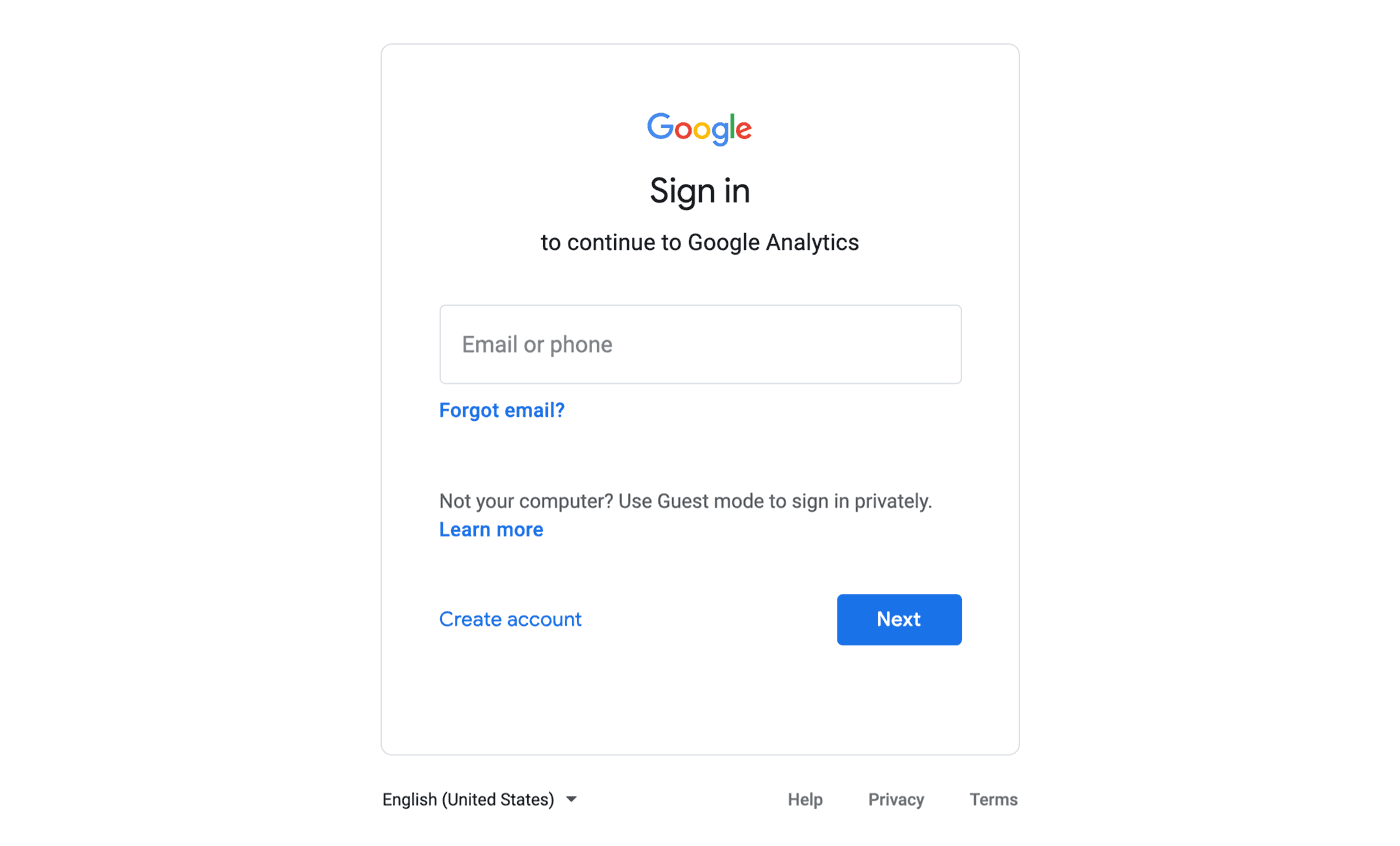 On the next screen, select Sign Up under Start using Google Analytics.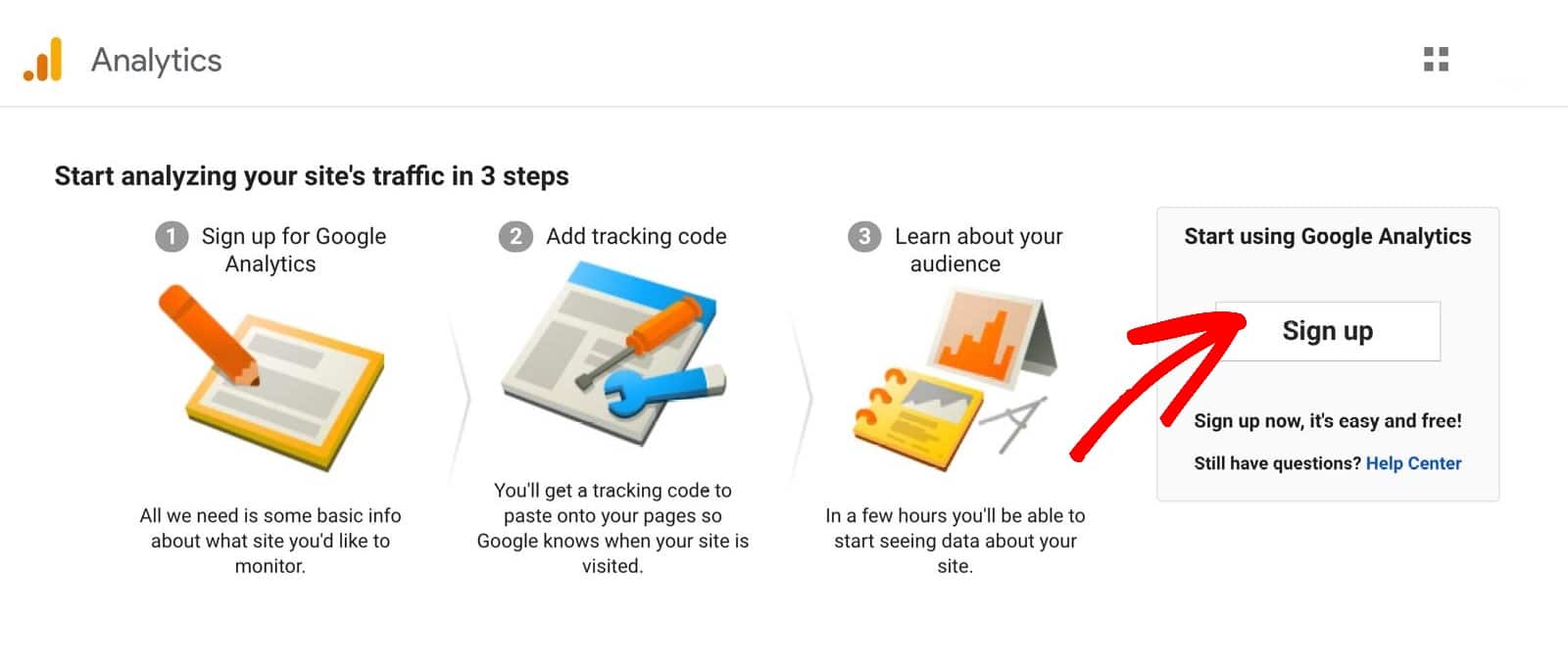 You'll then have to enter a name for your Google Analytics account. Besides that, make sure you check all the options under Account Data Sharing Settings.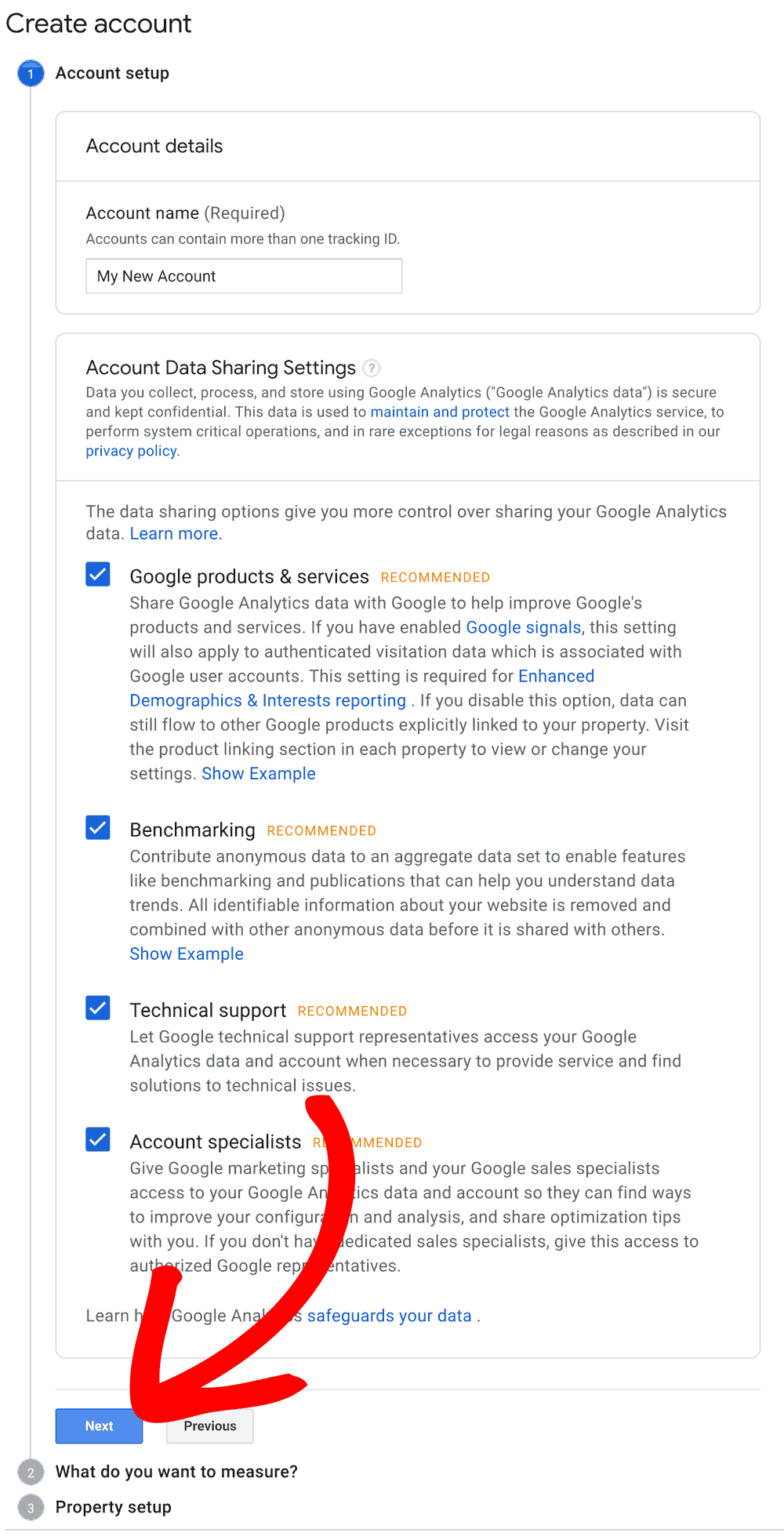 Google Analytics will ask what you want to measure. Select Web since we want to track WordPress visitors.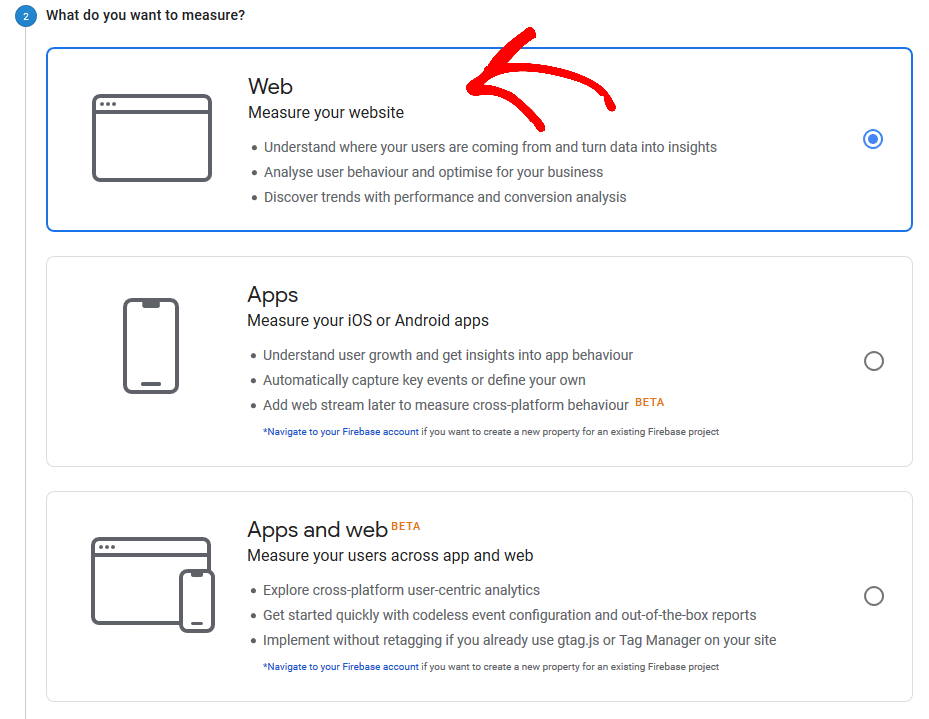 Now, enter the details of your website, such as its name, URL, industry category, and reporting time zone. After entering these details, click Create.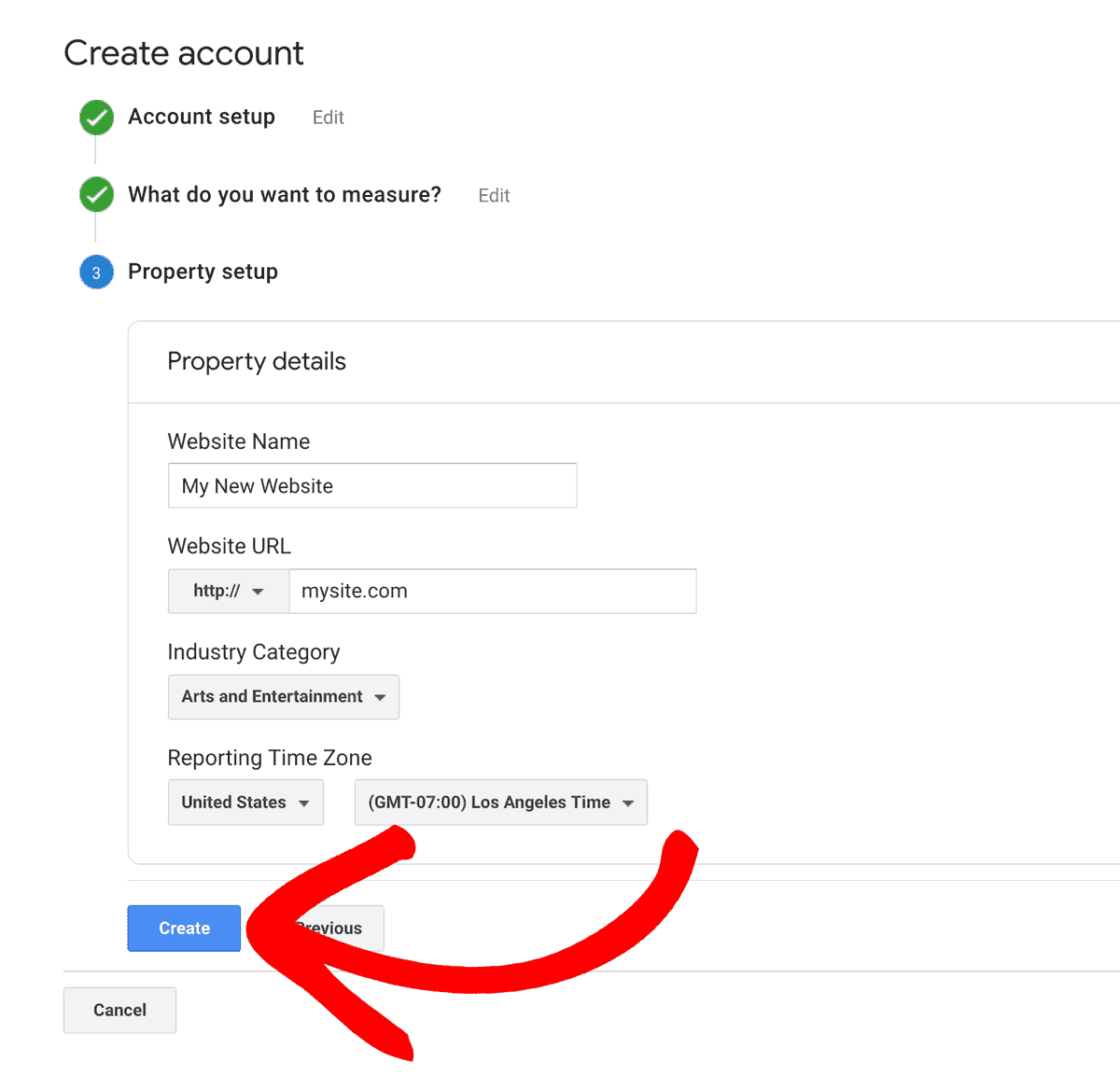 Lastly, you'll be shown different terms of services. Check the boxes to accept the terms and click I Accept in the end.
Google Analytics will then show you your tracking ID and tracking code and ask you to insert it on your website. But since it requires coding, there's an easier way, as we shall explain in the next step.
Step 2: Install and Activate ExactMetrics
Now that your Google Analytics account is set up, the next thing to do is install and activate the ExactMetrics WordPress plugin. It's the best premium WordPress Analytics plugin.
Using the plugin, you can easily connect Google Analytics to your website without editing code. And it makes tracking your visitors very easy by offering advanced features.
For instance, if you have an eCommerce store, then you can track its performance with just a few clicks using ExactMetrics.
Not only that, but the plugin automates tracking in Google Analytics that's not possible by default. Like, you can track file downloads, outbound links, affiliate links, form conversions, and more right out of the box.
To get started, simply sign up for an account, download the setup files, and upload them on your WordPress website. Once the plugin is active, verify your license key and you're all set to use ExactMetrics.
For more details, follow our guide on how to install ExactMetrics plugin on WordPress.
Step 3: Connect Google Analytics with Your Website
After installing ExactMetrics, it's time to connect your Google Analytics with your WordPress website.
This where ExactMetrics makes the process super simple, thanks to its step by step setup wizard. You just have to follow the steps to add Analytics on your website without having to hire a developer or an expert.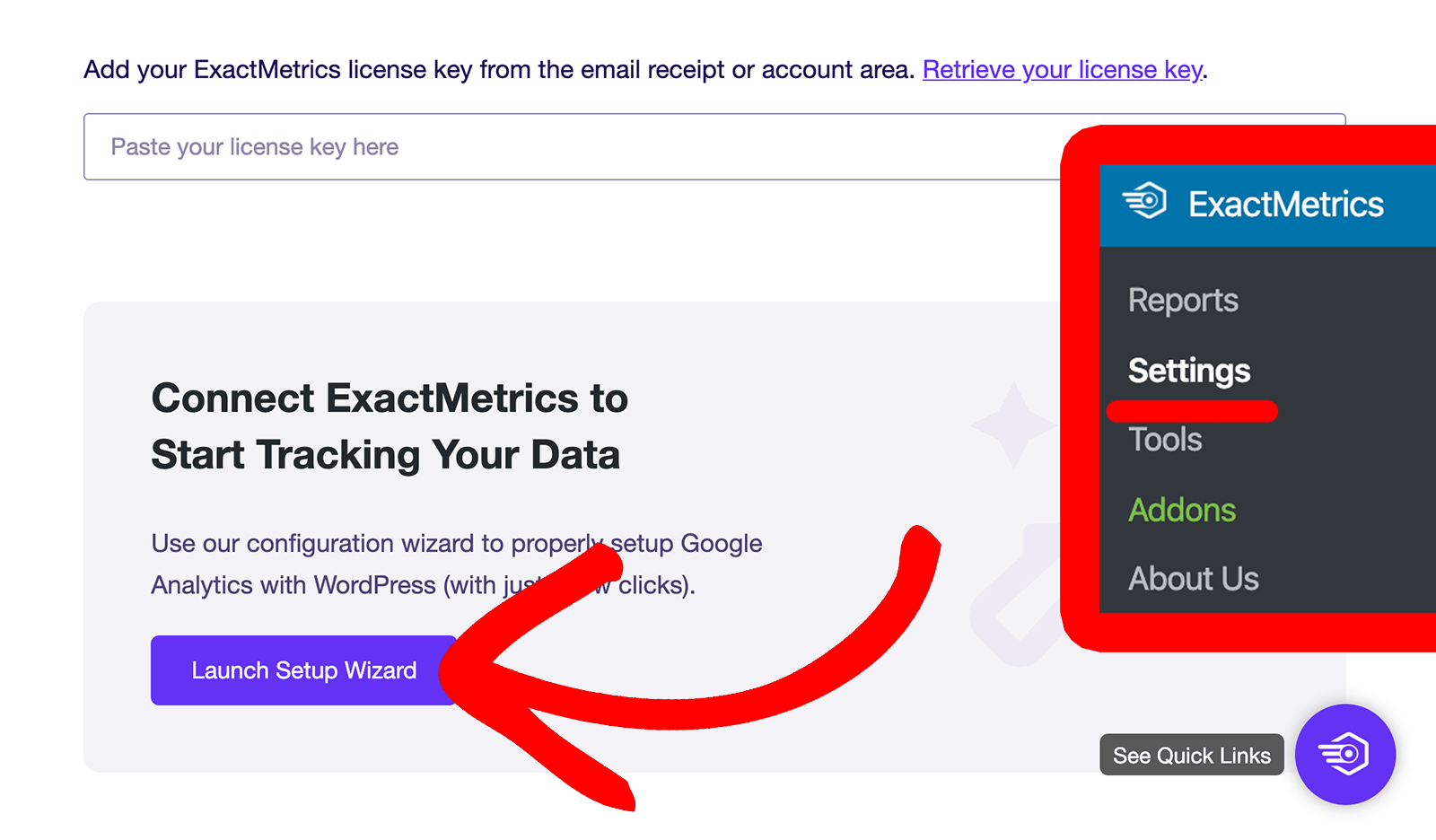 Here's a complete guide on how to properly set up Google Analytics in WordPress.
Step 4: View ExactMetrics Reports
Once you've successfully added Google Analytics to your site, you can now view reports for WordPress visitor tracking inside your dashboard using ExactMetrics.
Do remember that Google takes a few hours (usually between 24 to 48 hours) to gather data about your site and populate your reports.
Let's take a look at different reports offered by the plugin…
Overview Report
You can start by going to ExactMetrics » Reports from your dashboard. And the first report you'll see will be of Overview. Here you can see useful information about the number of visitors on your website.
You can look at the number of sessions and pageviews along with their graphs in the report. And you can select different date ranges to view data.
Besides that, ExactMetrics also shows how long your visitors stay on your website with an average session duration and how many people leave your site without performing any action with the bounce rate.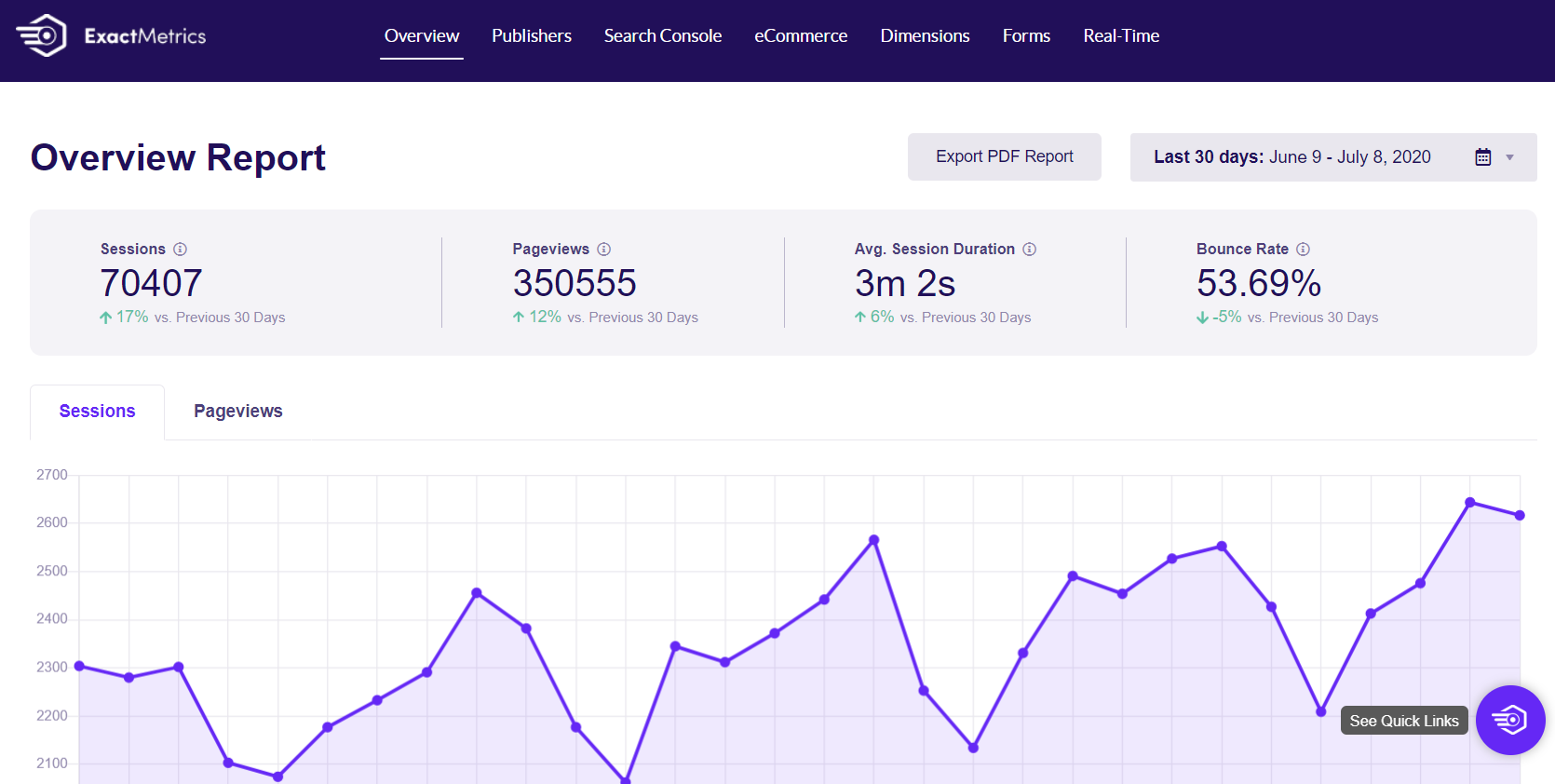 And if you scroll down, you can find more data about your WordPress visitors.
For instance, you can view the breakup between new and returning visitors. The plugin also shows which device (mobile, desktop, tablet) your visitors use to access your website.

The next report you should view for WordPress visitor tracking is the Top 10 Countries and Top 10 Referrals. Both these reports show where your audience is coming from.
Using the top countries report, you can create targeted messages based on the user's location. And with referral sources, you can create partnerships and offer exclusive deals or content for visitors from a particular website.

Publishers Report
The next report you can view is Publishers in ExactMetrics and it shows how people use your website. For instance, you can see your top landing pages that get the most traffic.
Plus, you can track top exit pages and optimize pages where your users shouldn't be leaving from. And if you have download links, affiliate links, and outbound links on your website, then you can track them in the Publishers report.
But one of the reports that really useful for understanding your visitors is the Age and Gender report. These reports provide insights that you can use to come up with new content ideas, create a personalized experience for users from different demographics, and more.

Search Console Report
ExactMetrics Search Console reports show the top 50 Google search terms your website is ranking on. This shows you what keywords users enter in the search engine to find your website.
From an SEO (search engine optimization) point of view, the report is really important. That's because it shows you which keywords to optimize to increase the number of visitors. Plus, you can find new keyword opportunities by researching similar search terms.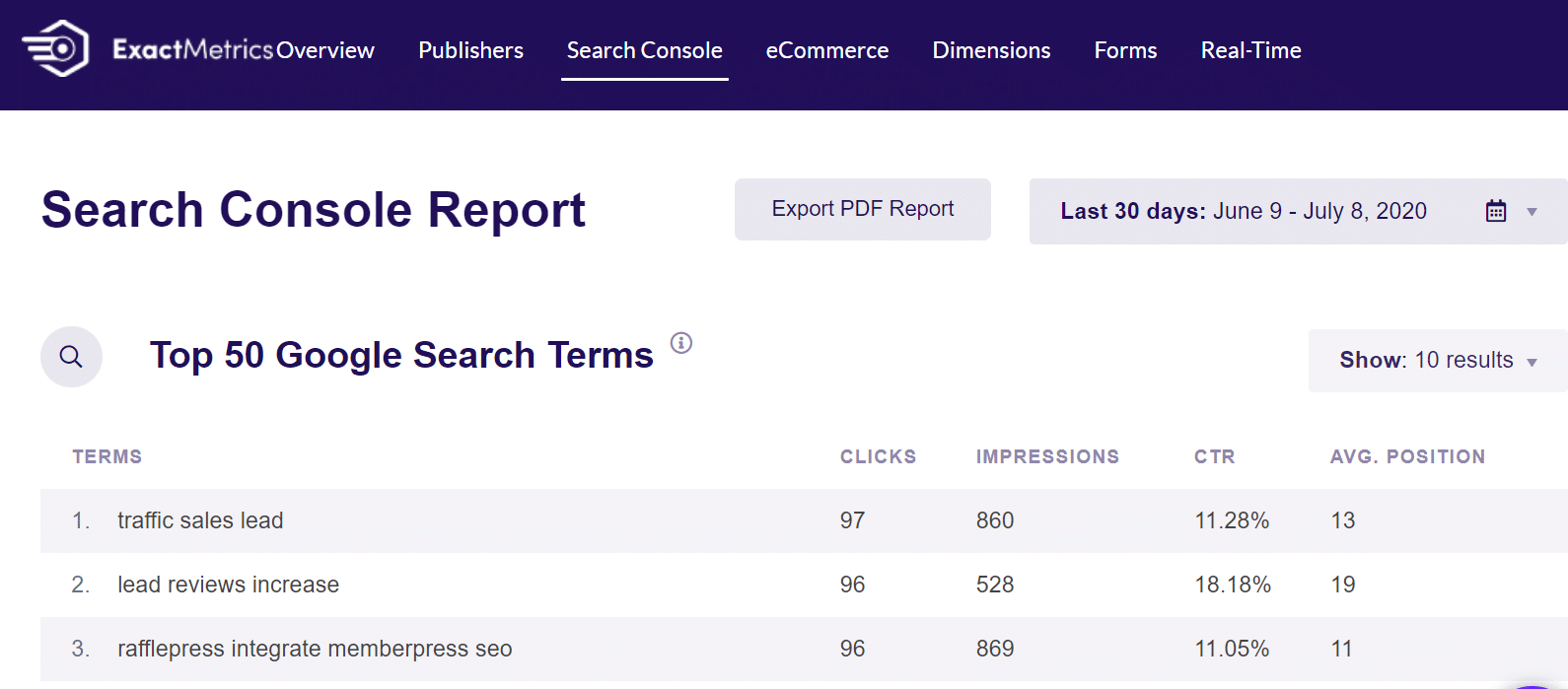 eCommerce Report
Now, if you have an eCommerce store and want to track WordPress visitors, then ExactMetrics eCommerce report will come in handy.
ExactMetrics easily integrates with different eCommerce platforms like WooCommerce, MemberPress, and Easy Digital Downloads, and it brings you your important data inside your dashboard.
You can view your site's conversion rate, transactions, revenue, average order value, and top products.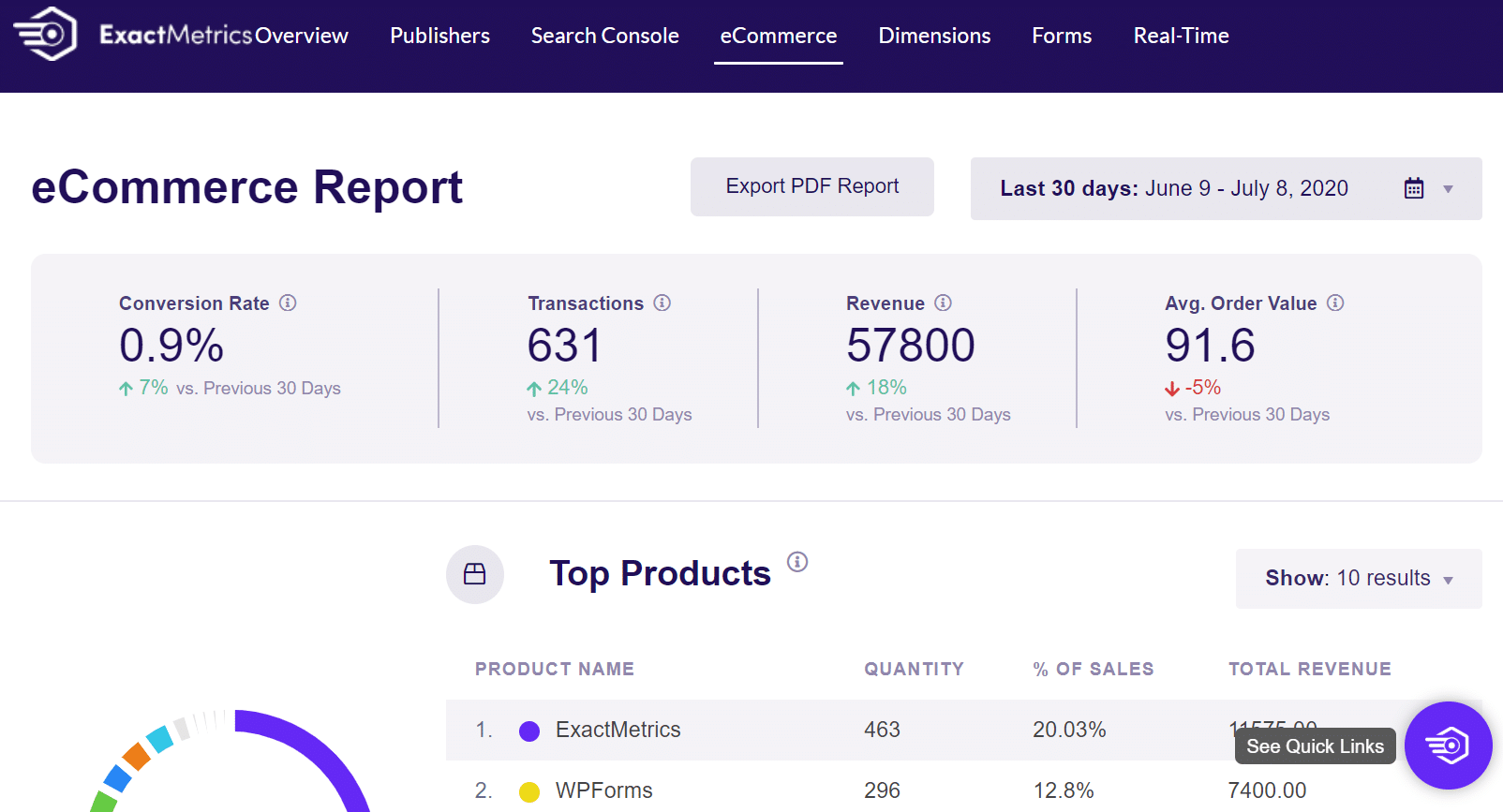 And if you scroll down, you can find your Top Conversion Sources. These are website from where you customers land on your online store and purchase products.
Since the traffic from these sources easily converts, you can create different promotional offers and discounts that are exclusive for visitors from a certain website.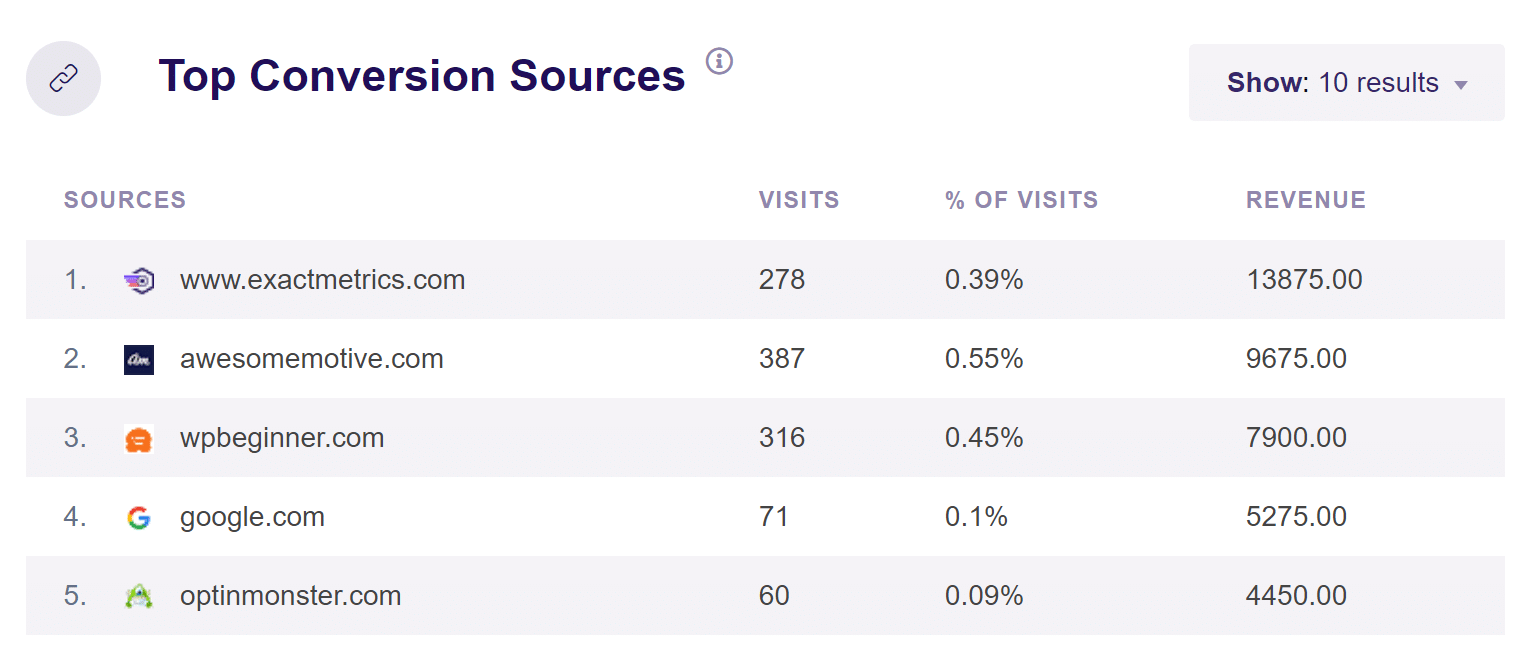 Forms Report
The next report to check out is the Forms report in ExactMetrics. If you have different forms on your site and want to know how they're performing, then this report can help you out.
You can find out the number of impressions and conversions for each form. And if you see any form that's not doing so well, then you can change its design and optimize it.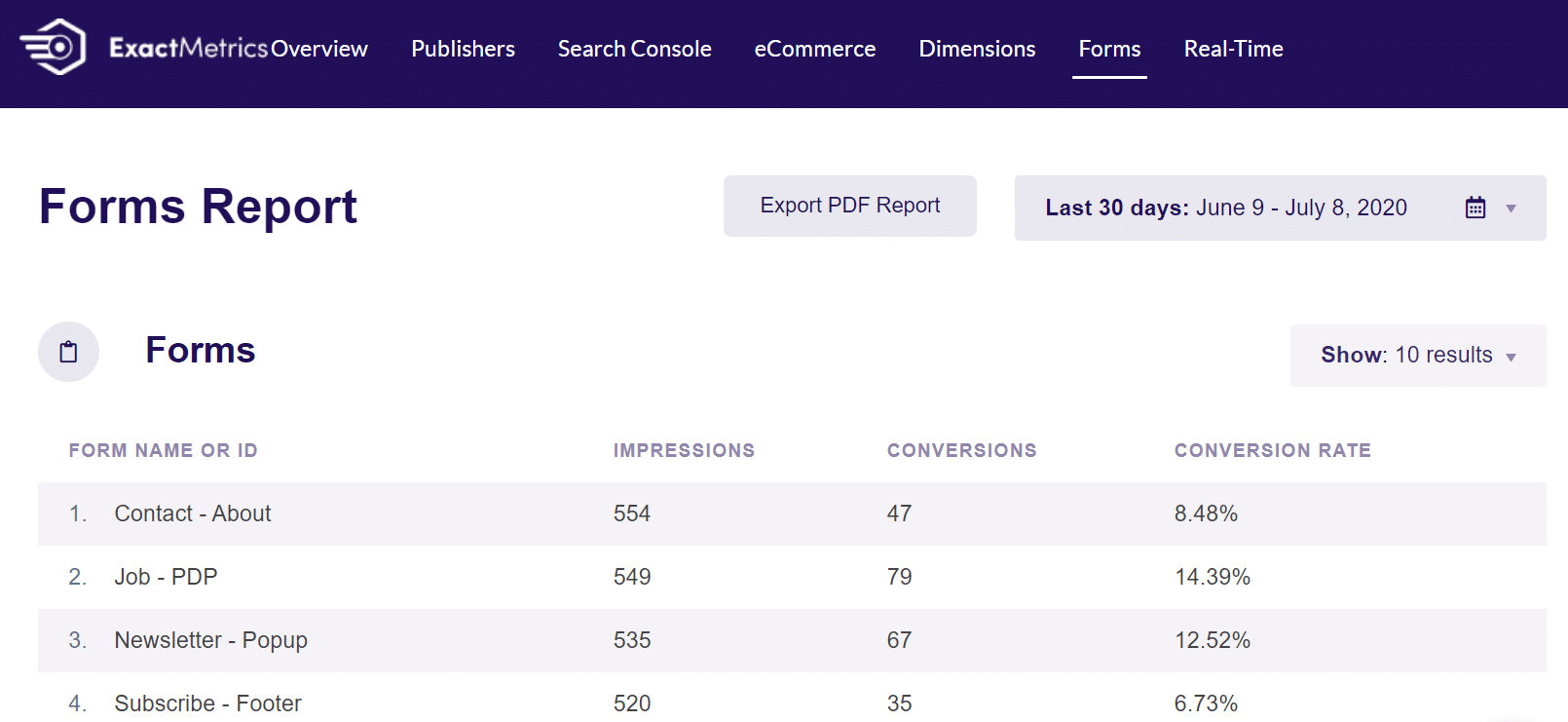 Dimensions Report
Do you want to track additional information about your WordPress visitors that's not possible by default in Google Analytics?
If yes, then you'll need to set up custom dimensions. And with ExactMetrics, it's easy to track stuff like most popular author, category, tags, post type, SEO score, focus keywords, and more.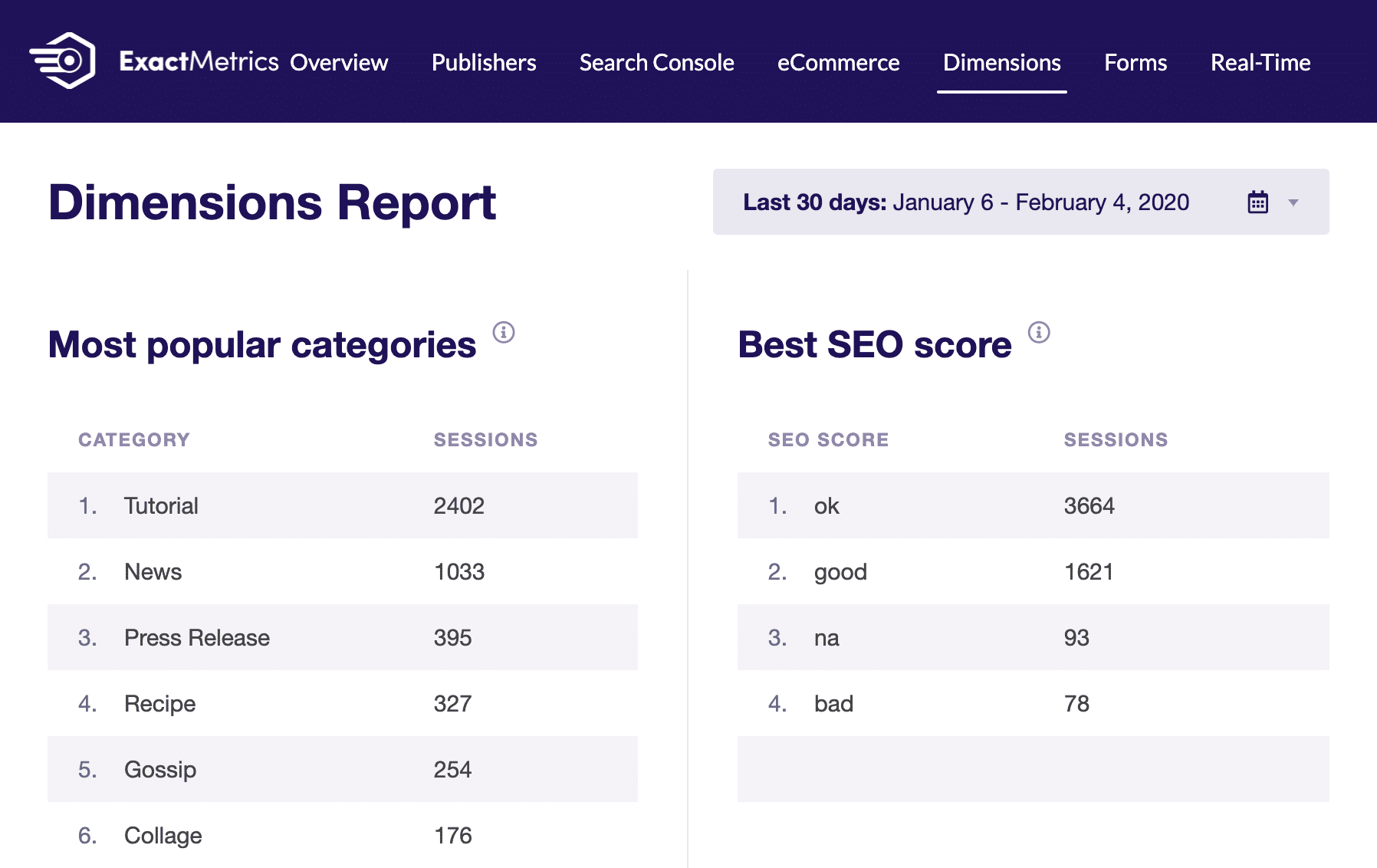 You can check out our beginner's guide to custom dimensions in Google Analytics for more information.
Real-Time Report
The last report you can view for WordPress visitor tracking is the Real-Time report. It shows you how many people are on your website right now.
You can get a snapshot of the real-time performance of your website using the report. This is especially helpful if you've just launched a new campaign or sent out an announcement and want to see their impact in real-time.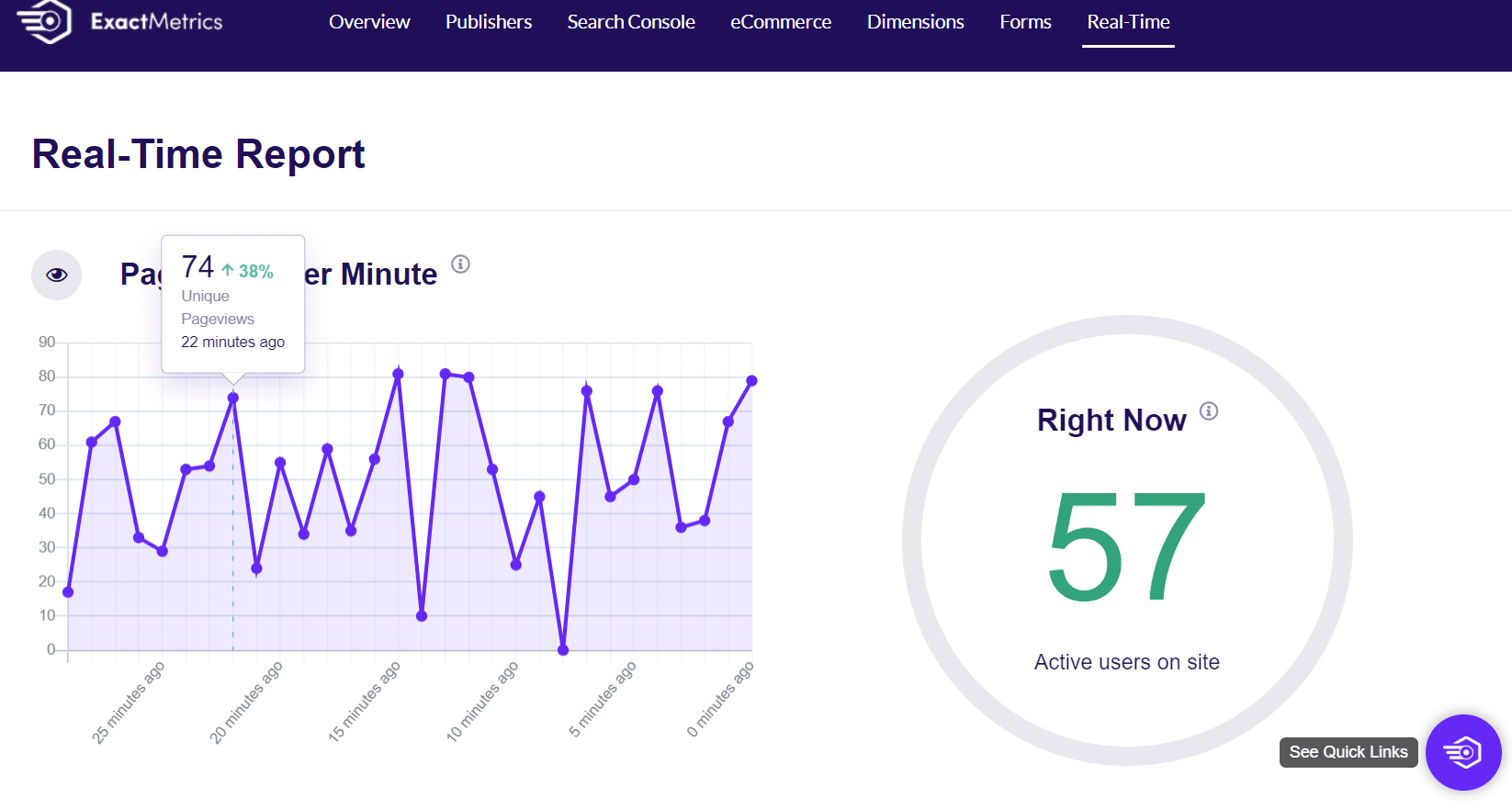 And that's it!
You can now easily track how many people visit your WordPress site, so you can make data-driven decisions and grow your business.
We hope you liked our post on how to set up WordPress visitor tracking step by step. You can also go through our guide on how to track Google Analytics custom events.
Don't forget to follow us on Twitter and Facebook to get to know the latest tutorials on Analytics.