Instead of keeping your most popular posts or products buried within your WordPress site, display them using our Popular Posts feature to keep your site visitors engaged!
Setting up Your Popular Posts' Appearance
Once Popular Posts are enabled, you'll be able to place them around your site.
Don't have design experience? No problem! Choose from professionally designed themes and styles to control the layout and appearance of your Popular Posts.
Themes offer preformatted layouts that you can preview. You can further customize details such as post title colors and font sizes, ensuring your Popular Posts match your site's style seamlessly.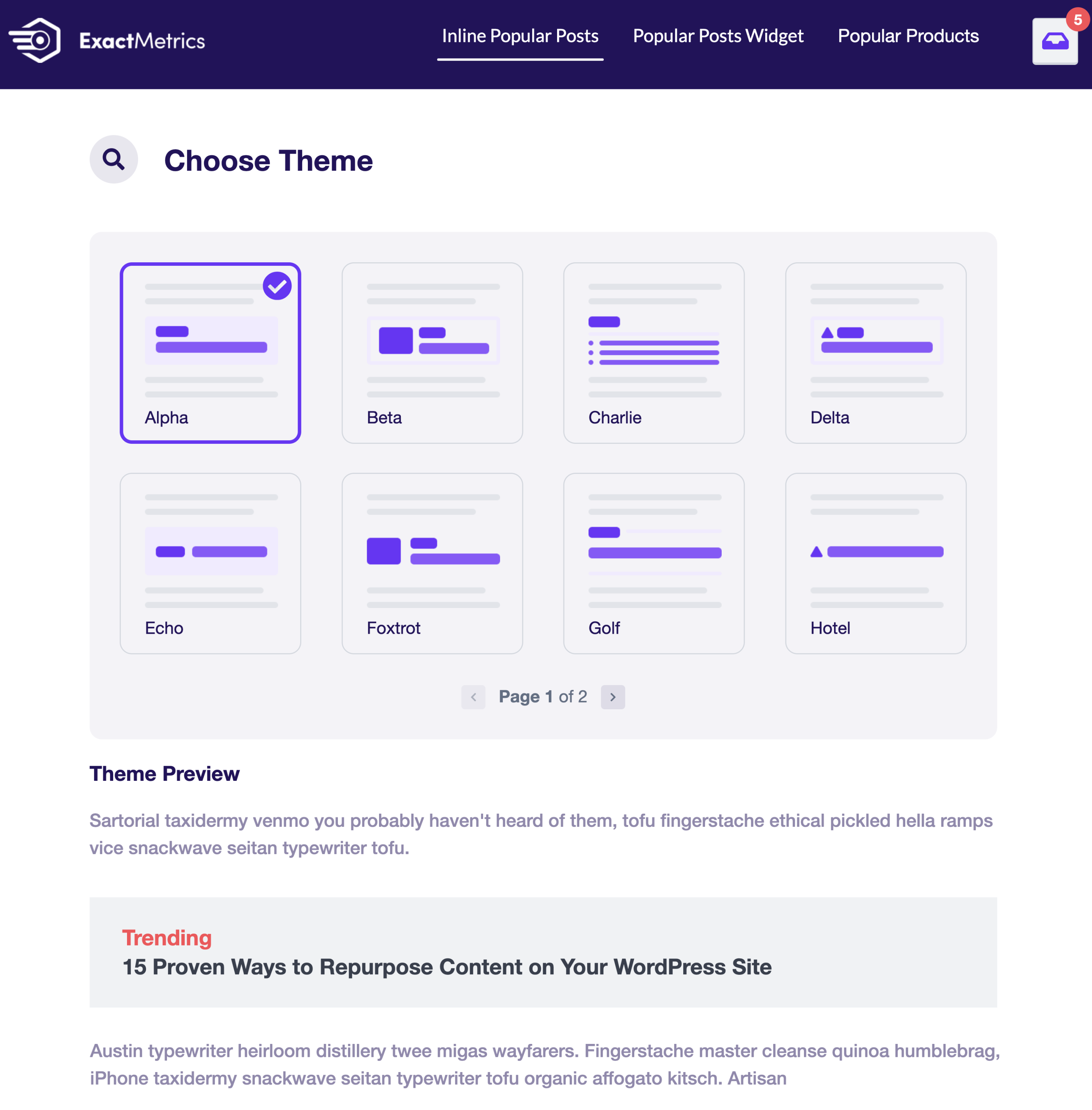 The Popular Posts Widget supports both wide and narrow layouts, while Popular Products offer grid and list style layout options.
Prefer your own styles? No worries, easily override our built-in styles with your own preferences.
With your Popular Posts' appearance sorted, let's explore the three types of Popular Posts.
3 Ways Different Ways to Show Popular Posts
ExactMetrics presents three ways to show your content:
Inline Popular Posts: Embed your top posts within your page or post content.
Popular Posts Widget: Display up to 10 of your best posts in a widget container for placement in footer and sidebar widget areas.
Popular Products: Highlight up to 10 best-selling items on your single product pages.
Now that you've chosen your Popular Posts type, let's pinpoint where to place them on your site.
Sorting Your Popular Posts
You have three options for selecting and sorting your Popular Posts, offering the flexibility to define what makes a post popular:
Most comments.
Most shared post from your SharedCount account.
A randomly selected post from a curated group of your choosing.
Learn more on How to use the Sort By Options in Popular Posts.

For Pro subscribers, an Automated + Curated mode is available. It displays the top 5 posts from the last 30 days based on your Google Analytics property. Learn more on How to Include Your Popular Posts from Google Analytics.

With sorting options clear, let's dive into precision placement for your Popular Posts.
How to Place Your Popular Posts
For Inline Popular Posts, determine the number of words (e.g., 25 or 50) before revealing your top post. For longer articles, you can enable the Multiple Entries setting so that your Inline Popular Posts appear more than once.
Select specific post types for Inline Popular Posts to appear on or exclude them from particular post types.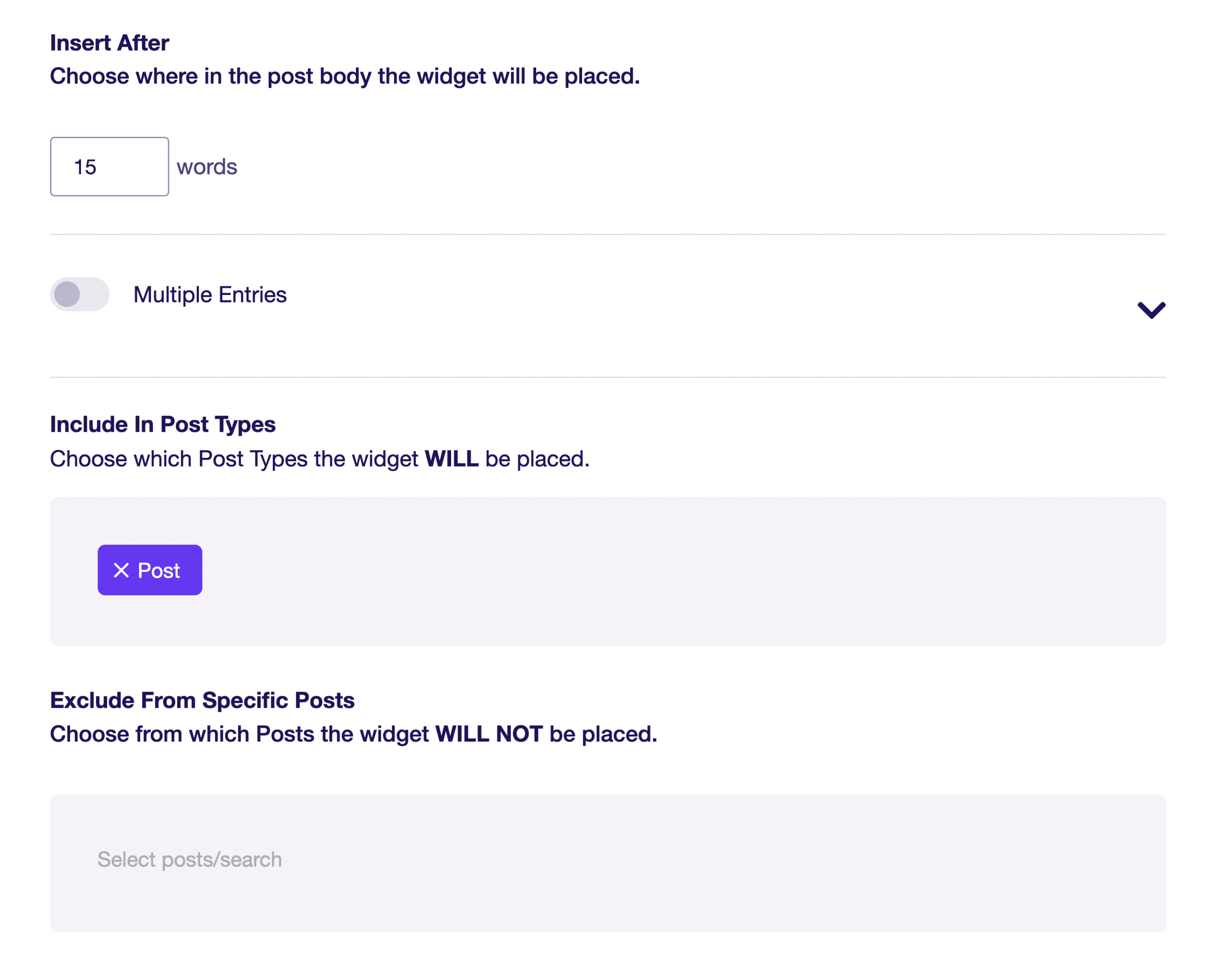 Popular Posts Widgets behave like standard WordPress widgets, allowing easy addition to your site's footers and sidebars. They can automatically appear at the end of each post or be manually placed, just like Inline Posts. You can also specify which post categories the widget should appear for.
Popular Products automatically show up at the end of each single product page or can be manually inserted using a Gutenberg block, shortcode, or in a sidebar. Exclude product categories and specific products as needed.
Automatic and Manual Mode
Under the Placement settings, choose between two modes:
Automatic: Embed Popular Posts within your content after a set number of words. Ideal for seamless integration.
Manual: Utilize the Popular Posts shortcode, Gutenberg block, or widget for precise control over placement.
Unlock the potential of your most popular content with ExactMetrics and engage your audience strategically.