Is your business or brand on Instagram, and you're looking for the best WordPress Instagram plugins to help you bring Instagram visitors to your website, and send website visitors to your Instagram profile? Connecting WordPress and Instagram is an awesome way to try to funnel traffic back and forth between the two.
In this article, we've listed the best WordPress Instagram plugins. We picked plugins that do a few different things to help you take advantage of all the ways you can link your WordPress website and your Instagram profile.
How to Choose an Instagram Plugin
When you think of Instagram plugins for WordPress, are you just thinking about embedding your Instagram feed on your site? That's definitely the #1 thing you should do with your feed, but did you know there are other ways to tie your Instagram feed to WordPress?
You can use plugins to:
Embed your Instagram feed on your site
Build an amazing link in bio landing page
Automate some of the process of posting on Instagram
Host giveaways on your site that help grow your following on Instagram
So, to choose the best Instagram plugins for your site, think about what you really need them to do. Which of the features we just listed are the best for your site?
When choosing a plugin for embedding your feed onto your site specifically, you'll want to look for a plugin that:
Doesn't disconnect all the time and need manual reconnection
Is highly customizable so it looks like it was designed right into your theme
Can showcase the exact posts you want it to show, whether that's your feed, a feed of posts with a specific hashtag, or something else
Is updated often and has developers actively working on adding to it and making improvements
Won't slow down your website
Let's take a look at the plugins we recommend.
Best Instagram Plugins for WordPress
Smash Balloon's Instagram Feed Pro is our top pick for the best WordPress Instagram plugin. It's the best way to embed your feed onto your WordPress site, and has many awesome features that make it the best.
To start, Smash Balloon has its API key registered with Instagram, so that it doesn't break. If you've tried another Instagram feed plugin, you might have had to re-connect it several times whenever it stopped working. That's not an issue with Smash Balloon!
Plus, you can set up multiple feeds. Feeds can be customized to display everything, such as just videos, just photos, just posts with specific hashtags…whatever feed you need, you can create it.
Instagram Feed Pro also has a super customizable design, so you can make it look like your feed was designed to be there on your site – not like an extra plugin. Customize your design with the visual feed customizer, so you can see your changes in real time.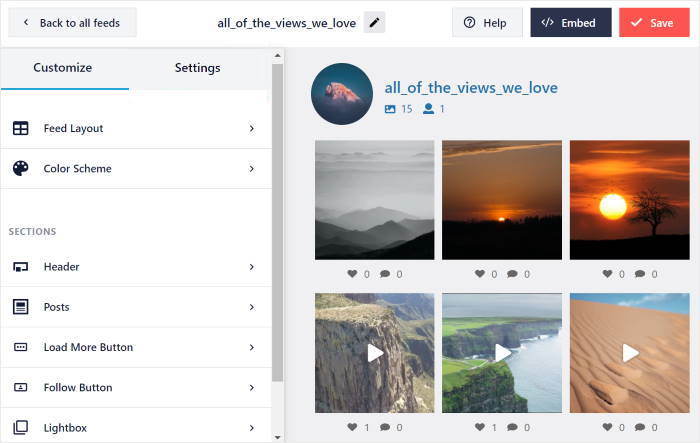 More Instagram Feed Pro features include:
Optimized for speed with smart data loading
Built with SEO best practices in mind with code search engines can read
Reels support
Shoppable feeds
Tagged feeds & hashtag feeds
Display Instagram Stories in a pop-up lightbox
Easy share option
And more!
All these features make Instagram Feed Pro the best Instagram feed plugin for WordPress.
Pricing: $49/year for the Personal license
Get started with Smash Balloon's Instagram Feed Pro now!
Envira Gallery isn't specifically an Instagram plugin, but instead it's a gallery plugin with an Instagram addon. If it's photos that you're posting on Instagram and you want them displayed in a really nice way on your site, Envira Gallery would be a great choice.
The Instagram addon for Envira Gallery imports your photos from Instagram to WordPress automatically, so you can display those photos right away without having to manually import them. Then, use the powerful customization settings to decide how they should be displayed.
Some of Envira Gallery's features include:
Albums – integrate your Instagram photos with others, or display them in their own album
Drag-and-drop gallery builder
Videos addon
Social sharing addon (automatically share your photos on Facebook, Twitter, Pinterest, LinkedIn or WhatsApp)
Image compression to keep your site running fast
Responsive & mobile friendly
Pricing: For the Instagram addon, you'll need at least the Plus license for $62/year.
Get started with Envira Gallery now!
Uncanny Automator is the best WordPress automation plugin, and there are multiple ways you can use it for Instagram. It helps you connect plugins and apps (like WordPress and Instagram), and automate tasks. Uncanny Automator can take many of the other plugins and tools you might be using, and help you automate posting on Instagram with them.
For instance, maybe you want to create a user-generated (or employee-generated) Instagram feed using WPForms. Easily connect a form where users can upload an image right to an Instagram account, so the image publishes automatically.
Some of Uncanny Automator's features include:
Pricing: Uncanny Automator starts at $149/year.
Get started with Uncanny Automator now!
SeedProd is the best WordPress theme and landing page builder. It makes building landing pages or entire WordPress themes incredibly easy, and will help you build an awesome link in bio page!
There are so many benefits of creating a landing page on your own site for your Instagram link in bio page, instead of using a third-party tool. By sending visitors to a landing page on your own domain instead of using a third-party tool, you're sending more traffic right to your website, not needing to manage yet another tool outside of WordPress, and you have complete control over the design without having to choose from premade design themes in your tool.
Some of SeedProd's features include:
Easy, intuitive drag-and-drop landing page builder
Tons of templates to get you started
Subscriber management
Email marketing integrations
Unlimited pages
Complete control over the design of your pages
Pricing: SeedProd starts at $39.50/year.
Get started with SeedProd now!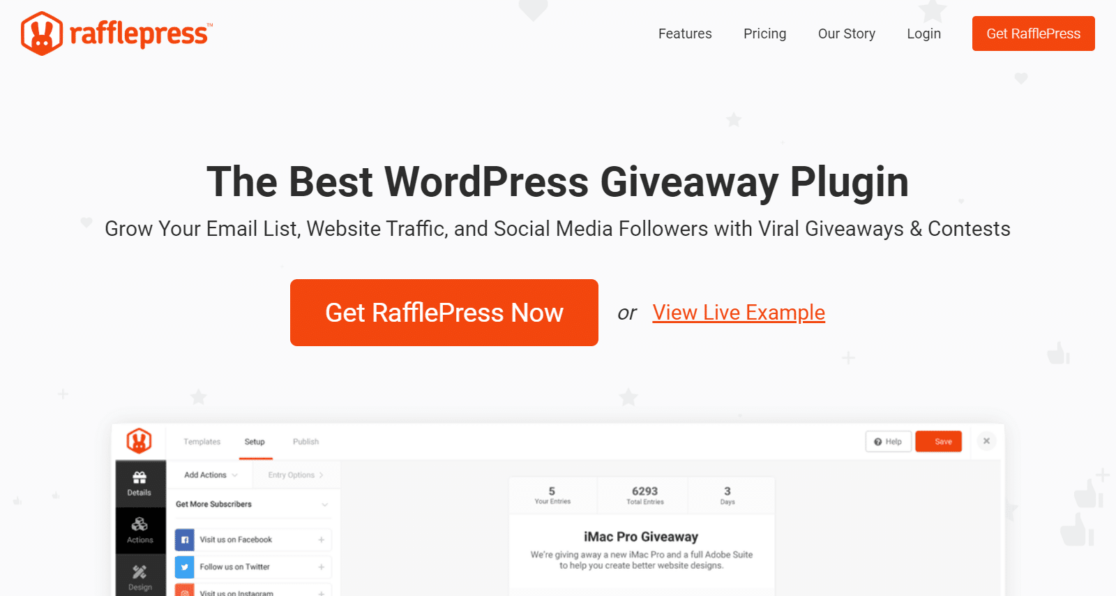 RafflePress is the best WordPress giveaway plugin, and one of the best ways to grow your following on Instagram. You may have noticed that people love giveaways on Instagram! However, they can be really complicated to run, with you having to manually count entries. Instead, just paste a link in your stories to your RafflePress giveaway and watch it all get done for you, PLUS, incentivize people entering your giveaway to check out your other Instagram posts or videos. It's a win-win!
RafflePress features include:
A drag & drop giveaway builder
Pre-built giveaway templates
1 click entry and fraud protection
Word-of-mouth marketing (refer a friend)
Social media integrations
Marketing & CRM integrations
Pricing: RafflePress starts at $39.50/year.
Get started with RafflePress now!
Feed Them Social is another social feed app for WordPress. It works to create feeds for YouTube, Twitter, Facebook, and Instagram. Feeds can be embedded anywhere on your site using a shortcode. You can create as many social feeds as you'd like.
More Feed Them Social features include:
Feeds are mobile responsive
You can customize your font colors
Your feed includes an option to share your photos
Add like or follow buttons above or below your feeds
Pricing: Feed Them Social is free, or get the premium version with a couple more features for $50.
Get started with Feed Them Social now!
WPZOOM is specifically an Instagram feeds plugin. It can create a basic Instagram feed that you can embed into your WordPress website wherever you'd like it to go.
More WPZOOM features include:
Can create multiple different feeds
Use the Gutenburg block or shortcode to embed your feed
Choose from a couple different layouts
Display photos in a lightbox
Supports lazy loading
Pricing: WPZOOM is free, but if you want to customize your colors and get another couple features, you'll need the Pro version for $49.
Instagram Theatre is another Instagram feed plugin for WordPress. This one is really focused on the design and layout of your photos and can show them in a unique fullscreen mode. This one could be best for users who want an eye-catching gallery without a ton of other features.
More Instagram Theatre features include:
Multiple layouts to choose from, including fullscreen, list, and thumbnail
Tag and user feeds
Multiuser feed mode
Location feed mode
Mobile responsive
Pricing: Instagram Theatre is $16 for the plugin and 6 months of support.
Get started with Instagram Theatre now!
Revive Social's Revive Old Posts plugin is an awesome, easy way to keep your social media going when you don't have as much time as you'd like to devote to it. It helps you publish posts to Instagram straight from your site, re-publish older posts to keep your feed active, or even share images right from your WordPress Media Library.
More Revive Old Posts features include:
Share your content across multiple social accounts at once
Share posts, pages, media, and custom post types
Share posts right on publish
Adds hashtags for you
Set the Tags, Categories and other WordPress taxonomies you want excluded or included for sharing on a per account basis
Pricing: Revive Old Posts is $75 for use on a single website.
Get started with Revive Old Posts now!
BONUS: Track Social Media Visits with ExactMetrics
ExactMetrics is the best premium WordPress analytics plugin. With ExactMetrics, there's a whole list of things you can set up and monitor in Google Analytics and your WordPress dashboard.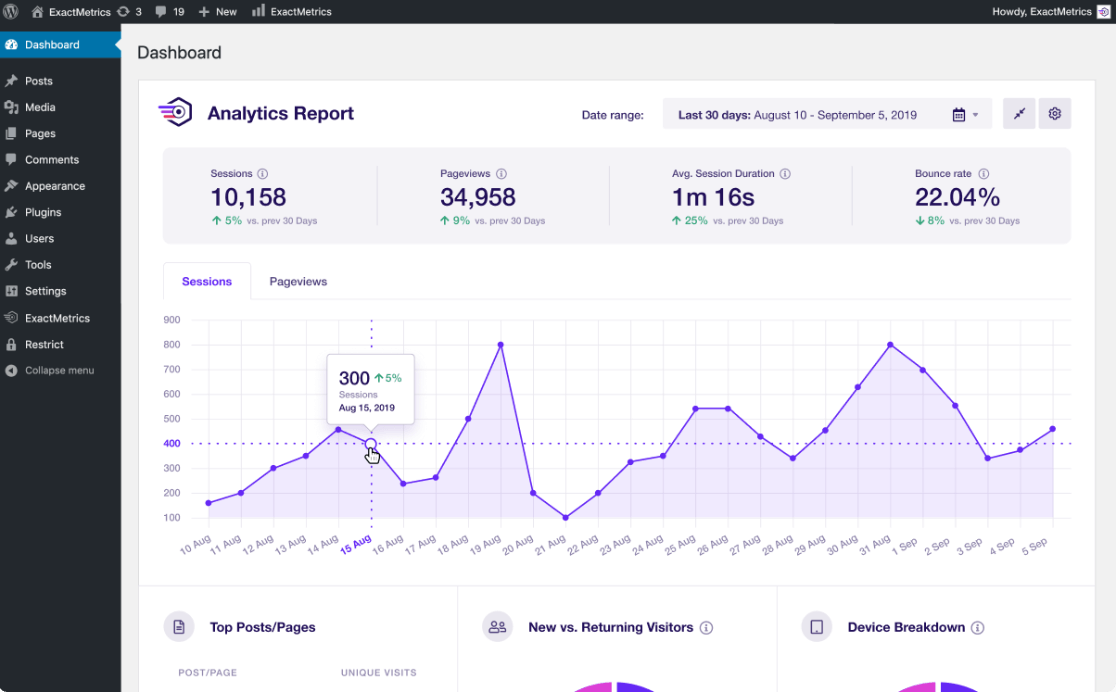 Our most popular features include:
Easy eCommerce setup and tracking through WooCommerce and other popular eCommerce platforms
Top outbound and top affiliate link clicks
Top referral traffic report
Scroll tracking
Form tracking
Popular posts or products widget
With ExactMetrics, all your most important metrics, including visits from social media and outbound clicks to your social media profiles, are right there in your WordPress dashboard.
Get started with ExactMetrics now!
That's it for our list of the best WordPress Instagram plugins. We hope you found one or two plugins to help you rock your social media and grow your following!
If you liked this post, you might also want to check out How to Use Google Analytics to Track Social Media.
Don't forget to follow us on Twitter and Facebook to see all the latest reviews, Google Analytics tutorials, and more.