Are you looking for a simple way to track your Contact Form 7 forms? Contact Form 7 is one of the most popular form plugins for WordPress.
If you've got different forms on your site, it's important to know how they're performing. And the best way to do that is through Google Analytics.
Unfortunately, it can track form submissions or conversions by default. You'd have to manually set up tracking to see the performance of your forms.
But there's a simple way!
In this article, we'll show you how to track Contact Form 7 submissions in Google Analytics. Let's begin with…
Benefits of Tracking Contact Form 7
You might be wondering about the benefits of tracking Contact Form 7 in Google Analytics at this stage.
It helps you measure which marketing campaign captures the most leads and how each form is converting. That way, you can create similar campaigns and lead generation forms in the future.
Besides, tracking Contact Form 7 will also provide insights into your visitor's behavior. You can see how people interact with different forms, where they click, do they submit their entry, or abandon the form.
Using this data from Analytics, you can create more engaging forms, reach out to people who didn't complete and submit the form, and provide a better user experience.
That being said, let's take a look at how to set up Contact Form 7 tracking in Google Analytics.
How to Track Contact Form 7 in Google Analytics
Setting up form tracking in Google Analytics isn't that straightforward, especially for beginners. That's because Analytics doesn't track form submissions and conversions by default. You'll have to set up tracking manually.
This requires adding a piece of tracking code on your website, which is difficult if you're not a developer. Not to mention, any mistake can lead to inaccurate tracking and break a website from working properly.
So, the easiest way of tracking form submission in Google Analytics is through ExactMetrics. It's the best premium WordPress Analytics plugin that makes setting up form tracking a walk in the park.
To get started, just follow these steps.
Step 1 – Install ExactMetrics WordPress Plugin
The first thing you'll need to do is get hold of ExactMetrics and install it on your WordPress website.
With the plugin, you won't have to hire a developer, edit code, or manually set up tags for each form on your website. ExactMetrics automatically tracks all types of WordPress forms, including Contact Form 7.
All you need to do is signup for an ExactMetrics Pro license and use the Forms addon. The plugin will take care of the rest and show how your forms are converting.
Step 2 – Add Google Analytics to Your Website
The next step is to connect Google Analytics with your WordPress website. Usually, this requires entering a tracking code on the webpages you want to track, which means going through the website code.
But ExactMetrics makes this process very simple. You don't need to know how to code or have any technical knowledge. Its setup wizard guides you every step of the way and automatically adds the tracking code without the need to edit code.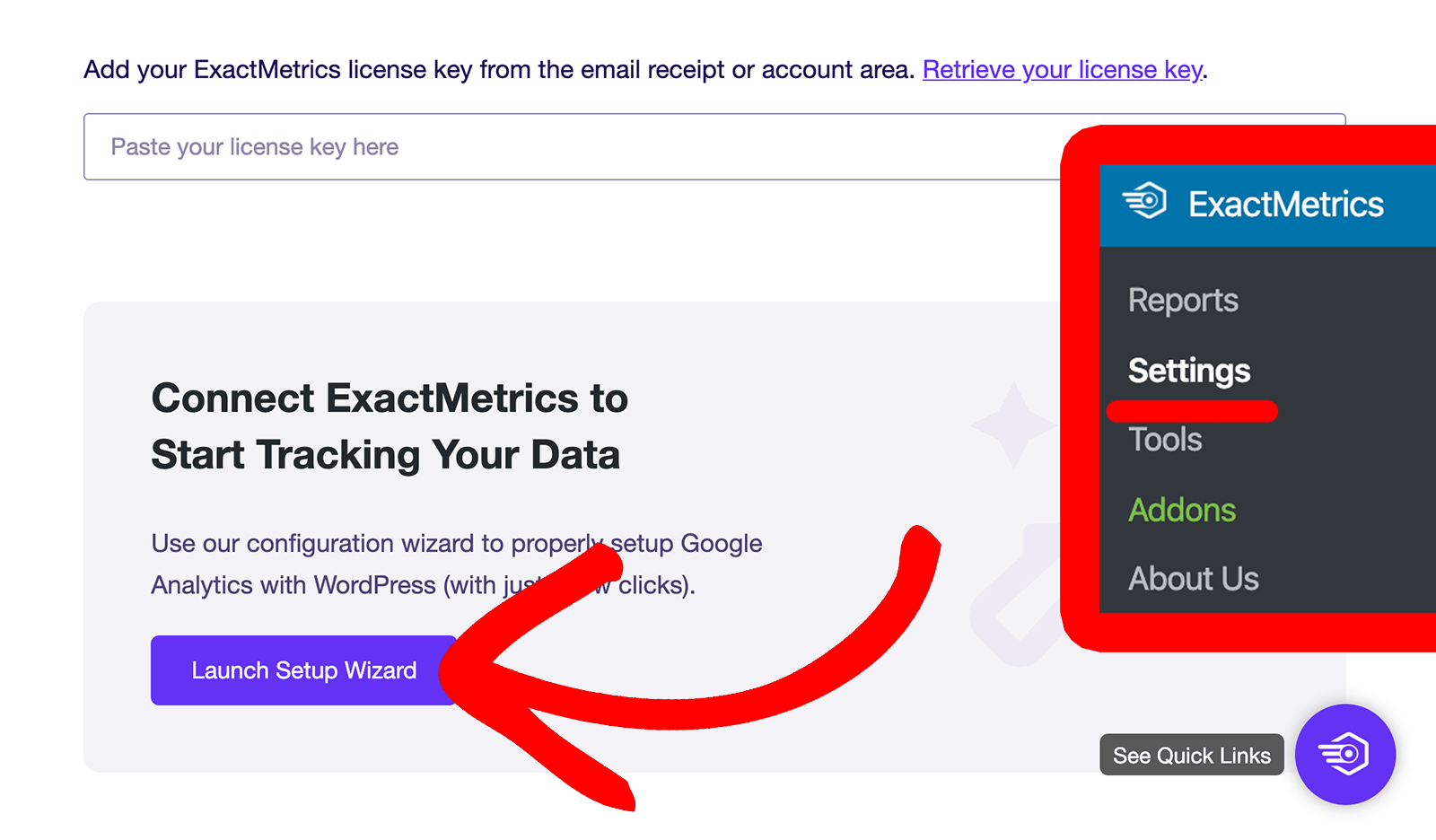 To help you out, we've created a step-by-step guide on how to add Google Analytics to WordPress.
Step 3 – Install and Activate ExactMetrics Forms Addon
After that, you'll now have to activate the ExactMetrics Forms addon.
It's through the addon that the plugin is able to track Contact Form 7 forms automatically. It creates Google Analytics events for each form, so you don't have to track every individual form manually.
To install the addon, go to ExactMetrics » Addons » Forms. Now click the Install button and wait for a few seconds for the addon to become active.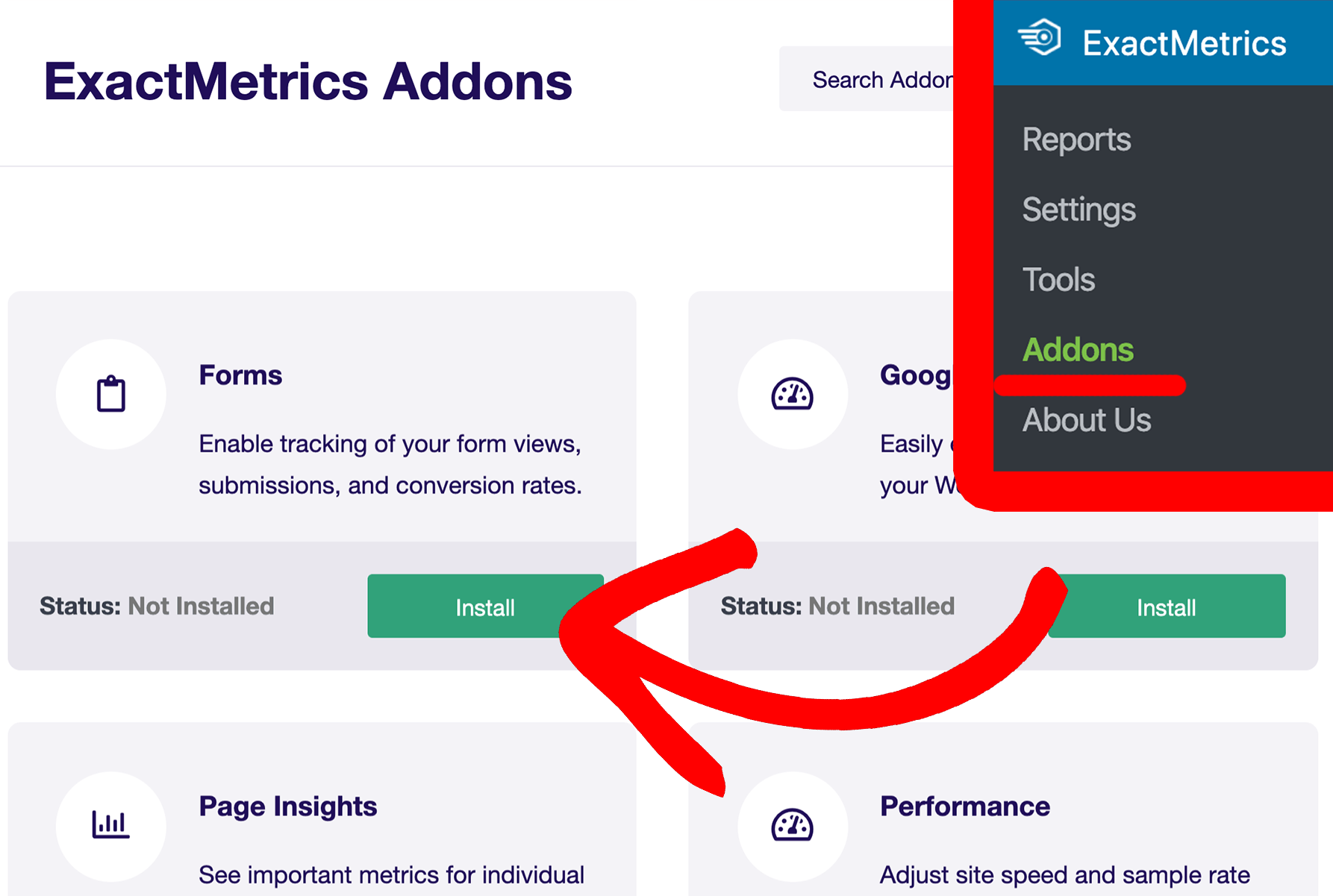 Once the addon is active, it will start to track form conversion in Google Analytics.
To verify, go to ExactMetrics » Settings » Conversions, and then under Form Tracking, you should see the Enable Form Conversion Tracking option enabled.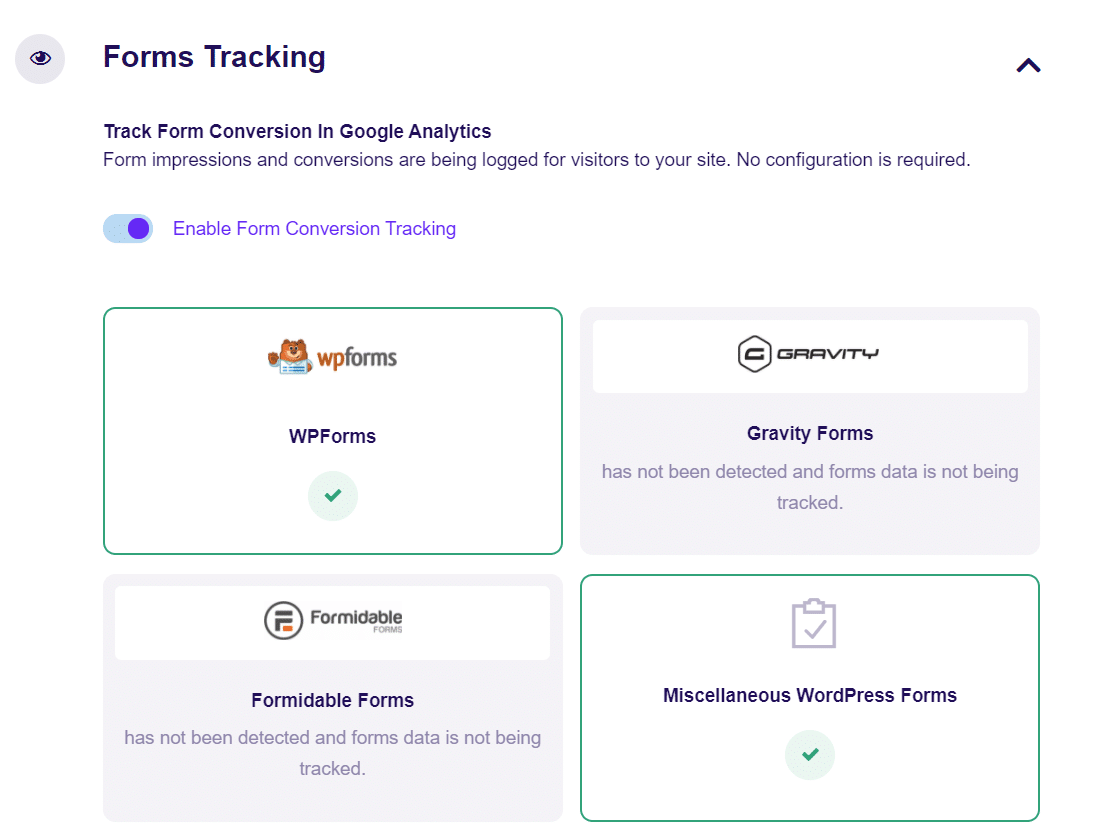 Step 4 – View Form Submission Report
Now that you've successfully set up Contact Form 7 submissions, the next thing to do is view the report and see their performance.
With ExactMetrics, you get to see detailed reports inside your WordPress dashboard. It helps save time, and you don't have to navigate through different Google Analytics reports to see form submissions.
To see the report, go to ExactMetrics » Reports » Forms. The plugin will show the number of impressions, conversions, and conversion rate for your Contact Form 7 forms.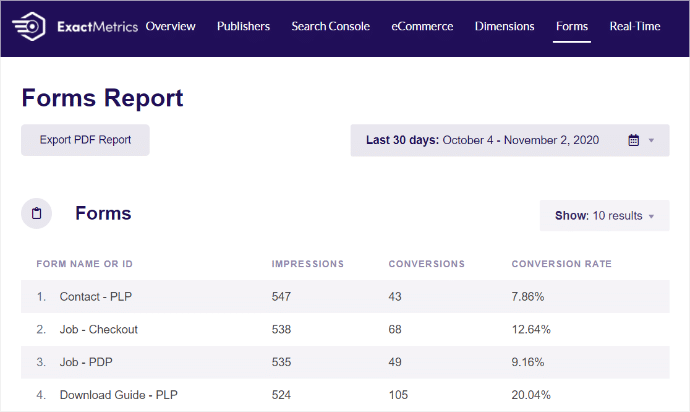 If you want to see the form submission report in Google Analytics, click the View Full Forms Report button at the end of the report.
Or you can log in to your Google Analytics account and navigate to Behavior » Events » Top Events. Next, under the Event Category, click form.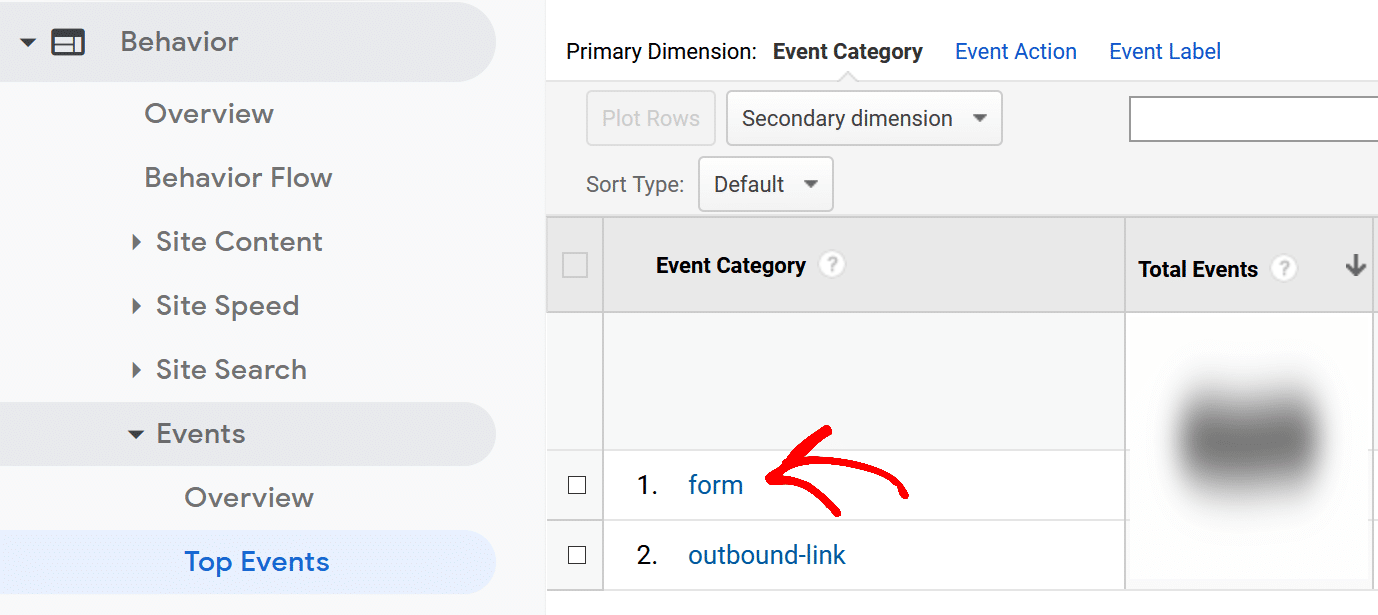 On the next screen, you can see impression and conversion under Event Action. Click on either option to see how many impressions your forms got or the number of conversions.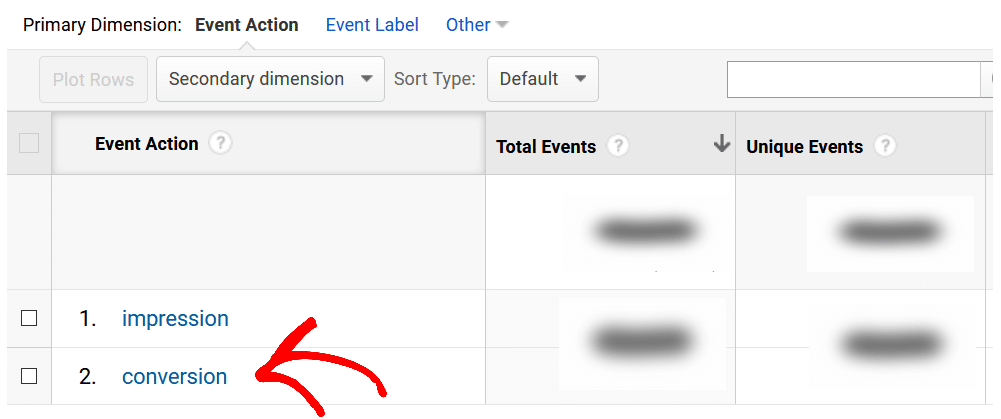 When you click on any of the options, you'll see the total events for each of your Contact Form 7 forms.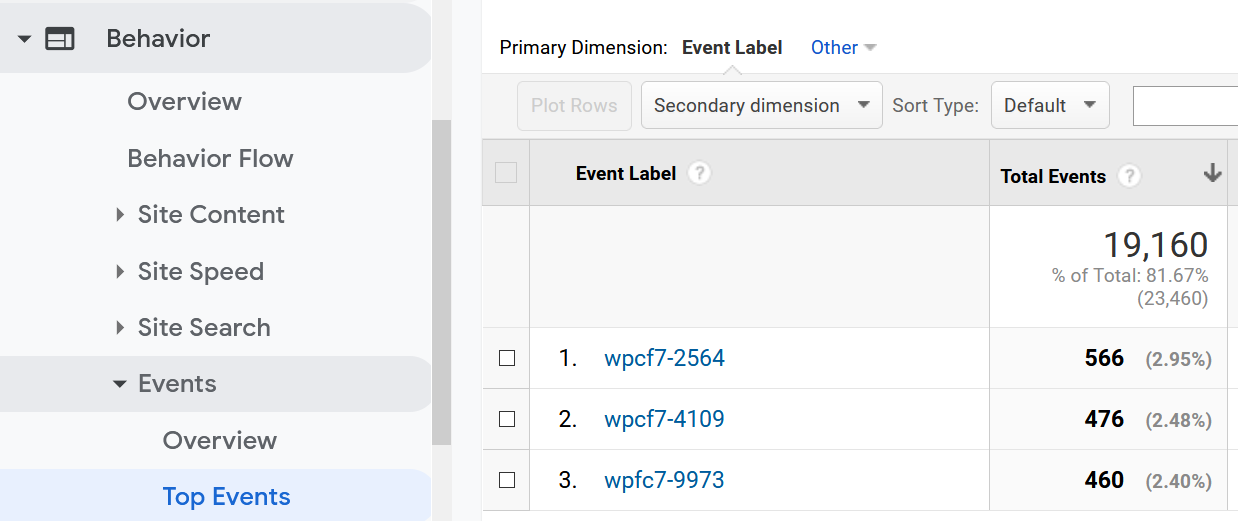 And that's it!
By following these steps, you now know how your forms are performing and getting the most conversions.
We hope you liked our article on how to track Contact Form 7 submissions in Google Analytics. If you found this post useful, do check out our guide on how to exclude WordPress admins from Google Analytics.
Don't forget to follow us on Twitter and Facebook to get to know the latest Google Analytics tutorials.