The ExactMetrics team has been working very closely with the Google Analytics team for months to make it easy for ExactMetrics and WordPress users to connect with the new version of Google Analytics (GA4).
Today, I'm thrilled to announce that ExactMetrics now seamlessly integrates with GA4, the newest version of Google's web and app analytics platform.
Plus, ExactMetrics users can easily enable dual tracking, so you can get all the new GA4 tracking capabilities while still holding onto your historical data and the features of Universal Analytics that you're used to.
In this post, I'll go over what's new in GA4, how it impacts your website, and what you need to do to leverage the full power of all the new Google Analytics features.
Table of Contents
What is GA4?
Google Analytics 4 (GA4) is the latest version of Google's web analytics platform, and it can track both websites and apps in the same property. It also has some new reporting features and can give you better, more in-depth insights into how users are interacting with your website.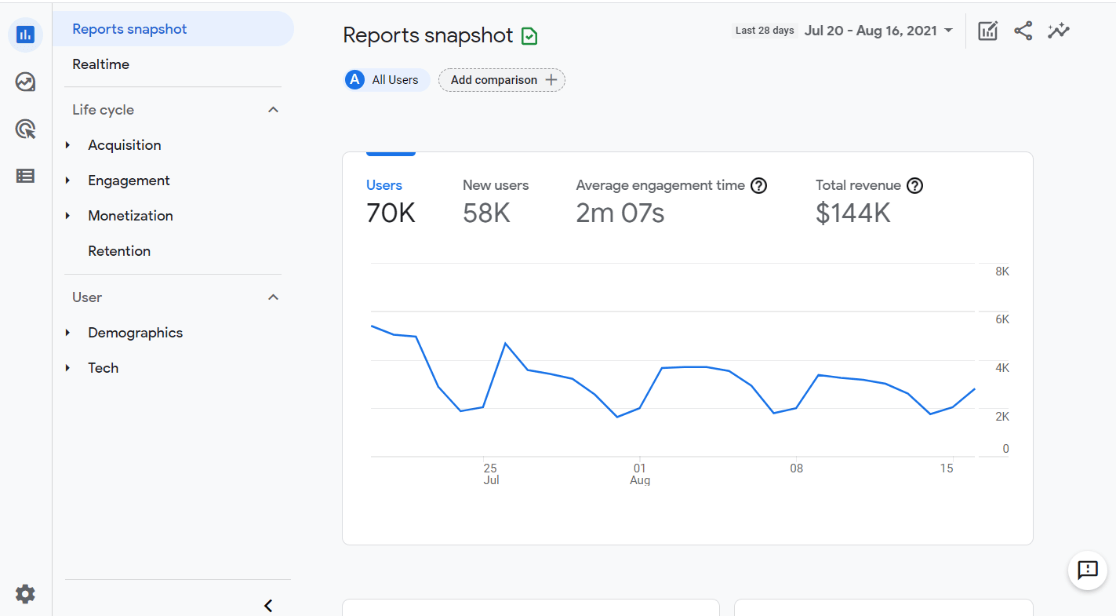 Right away, you'll notice that the whole interface has changed. The reports and navigation all look different. If you've been a Google Analytics user for a while, you'll have to spend some time figuring out where the reports went, and how to read them.
Beyond the changes to the design and navigation, the biggest difference between Universal Analytics and GA4 is the event focus. GA4 is built around events, while Universal Analytics was built around pageviews. Now, a pageview counts as an event. Google says:
In Google Analytics 4 properties, events are user interactions with a website or app that can be measured concurrently or independently from a webpage/screen load. Examples of events include page views, button clicks, user actions, and system events.
The Google Analytics team has created a way for users to automatically track some events, without needing to make updates to the code. As an ExactMetrics user, you've always had these options in our plugin. 
GA4's new "Enhanced Measurement" settings look like this, where you can track certain events by turning them on: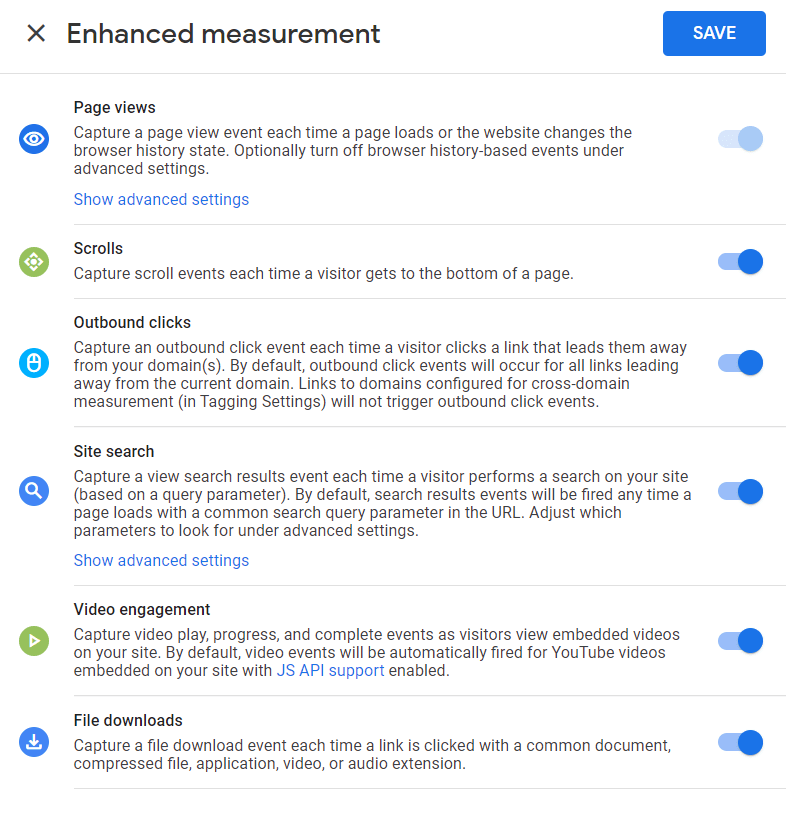 However, some of these seemingly awesome features may not function like you expect them to, which is why we recommend keeping control of them from inside ExactMetrics.
For instance, Google's outbound clicks event doesn't take into account any shortened or branded affiliate links that you might use on your site, using a plugin like Pretty Links or ThirstyAffiliates. In ExactMetrics, though, we integrate with both of those plugins and can give you a specific affiliate link click report.
It's similar for other events too, like file downloads. ExactMetrics lets you have more control over your tracking settings, without ever touching code.
What is GA4 Missing?
GA4 has some exciting new features, but using them, along with finding the data you're used to, isn't at all beginner friendly. Plus, GA4 is missing some metrics that a lot of people use to track their most important numbers. Luckily, we have a way to recover them (more on this later).
1. Reports Are Not Beginner Friendly
Let's take a look at the events report in GA4: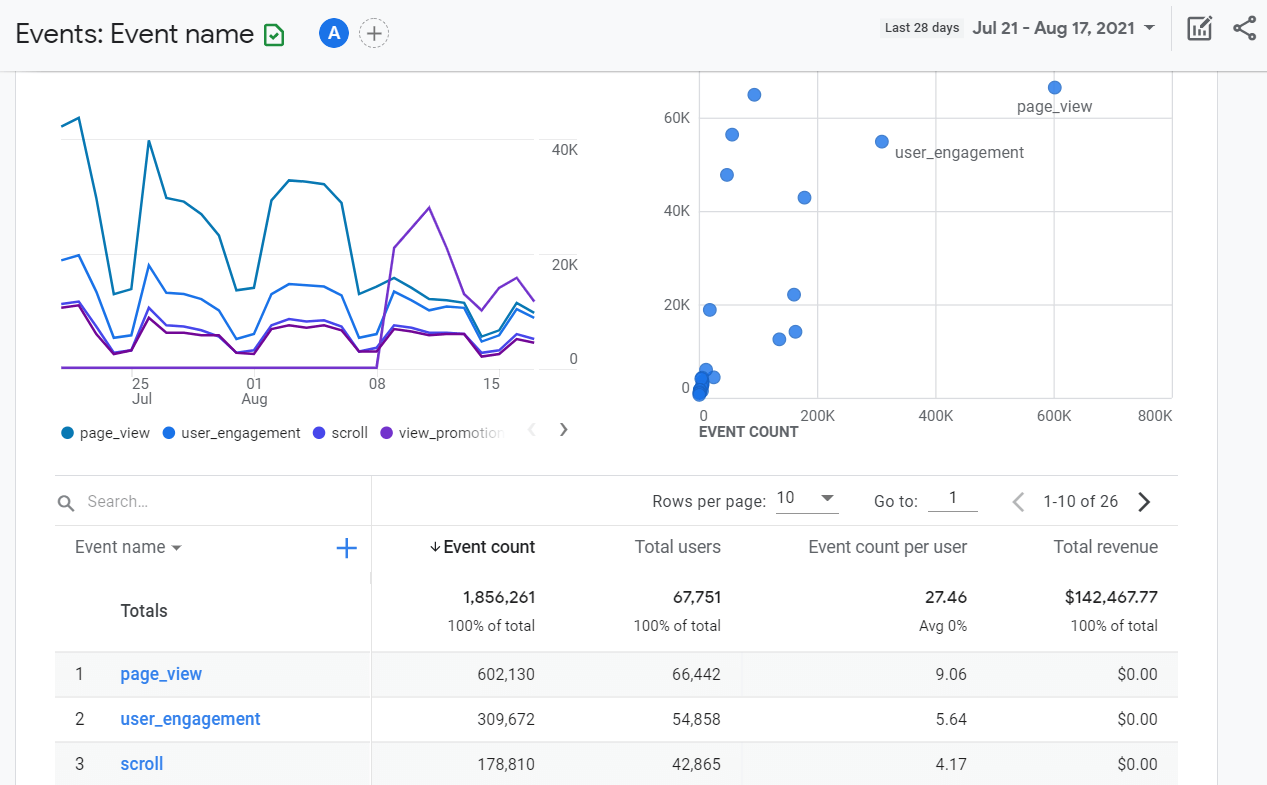 It's cool that these events can be tracked now, but this is incredibly hard to read if you're not a Google Analytics pro. The Google team really had pros in mind when they added new features that make it easy to not only personalize the standard reports, but also to build your own. The regular user isn't going to fool around with building their own funnels and other reports.
Thankfully, if you're an ExactMetrics user, your reporting interface won't change much. You'll see the same reports you're used to, with the data that matters, right there in your WordPress dashboard.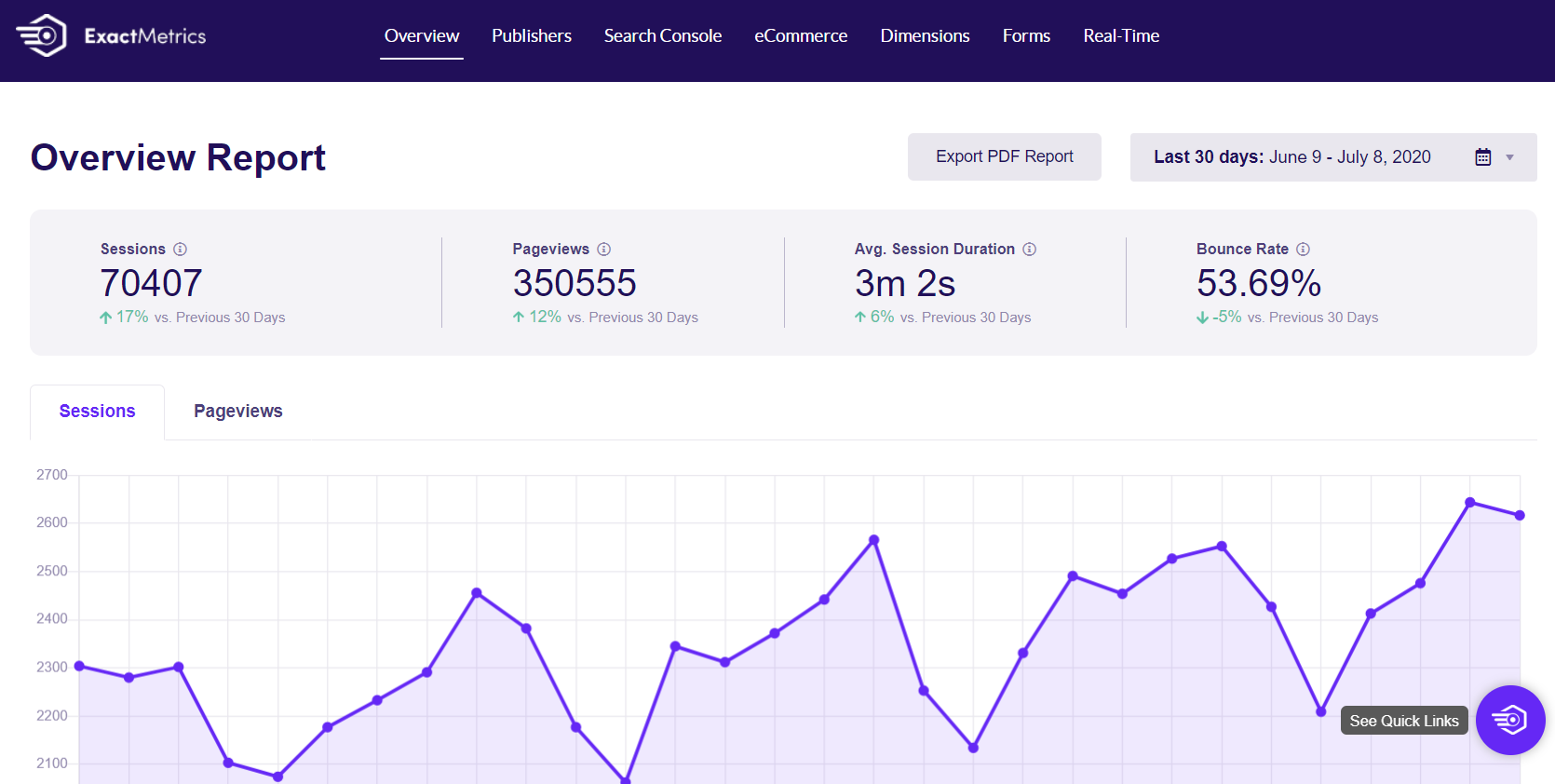 2. Bounce Rate is Missing
Instead of bounce rate, GA4 uses "engaged sessions." So, whereas bounce rate shows the percentage of people who "bounced" away without interacting any further with your site, engaged sessions shows the percentage of users who took more action on your site, or stayed for 10+ seconds.
That seems like a decent change, but what about all of us who've been using bounce rate as a KPI for years? It's the metric that we use to gauge how well our pages are performing. This is a real screenshot from the ExactMetrics KPI report that we use every week.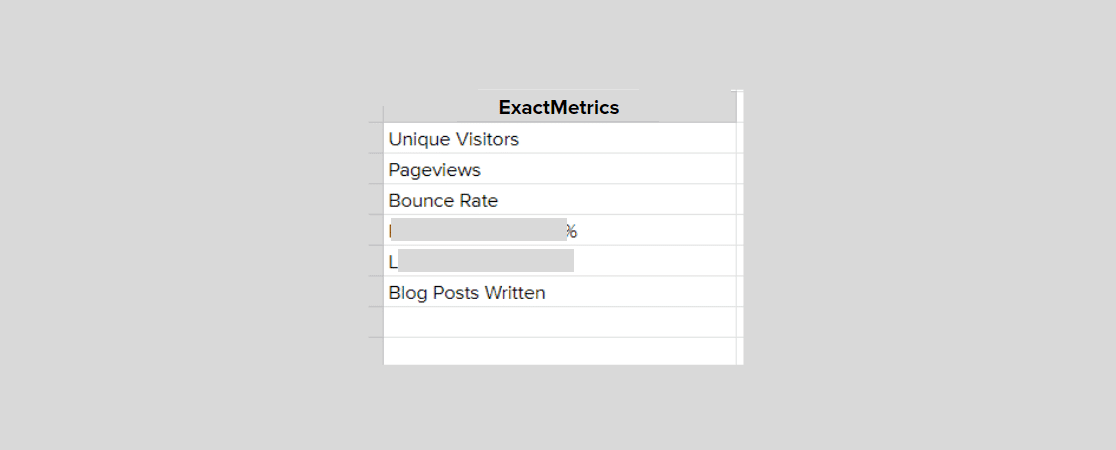 We've been keeping track of bounce rate for years. So what do we do, start a new spreadsheet? Change the metric and lose that past data?
Nope. We use dual tracking. With ExactMetrics, you can connect both your GA4 property and your Universal Analytics property to WordPress. You'll keep your bounce rate metric, even while you're using GA4.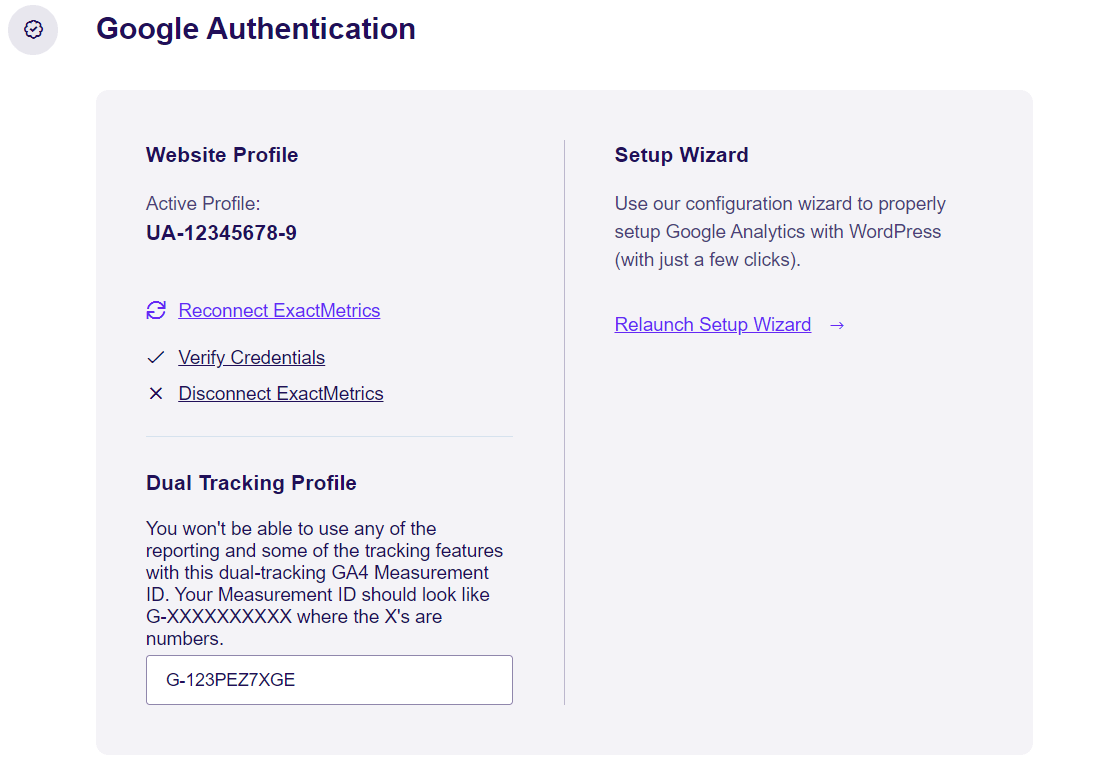 3. It Still Doesn't Track Form Submissions
While GA4 does feature some better event tracking, you still can't track form submissions without coding and going through a custom setup process. Yet, tracking your form submissions is such a huge part of Analytics. You always need to know how users are converting!
ExactMetrics tracks forms out of the box, without any complicated setup or coding. You can even see how many impressions a form has, and its conversion rate, no matter which version of Google Analytics you're using.

Plus, we integrate directly with many of the top form plugins, including WPForms.
4. It Doesn't Integrate with Search Console
The Analytics team hasn't yet set up an integration between GA4 and Google Search Console. Search Console is such an important tool for monitoring your organic keyword performance, and tracking your SEO efforts. Until they set up an integration between the two tools, you won't be able to access that important search term data inside Analytics.
With the ExactMetrics dual tracking feature, though, you can keep your Search Console report while using GA4 at the same time.

5. The Landing Pages Report is Missing
You can still see all your pageviews, but you'll have to look really hard to find your landing pages. In fact, you'll have to modify one of the standard reports to get it to show your "session start" pages. There's no more Landing Pages tab in the navigation, and that report doesn't exist.
We're not sure why such an important report isn't there!
However, this is another report that you can still find inside ExactMetrics with dual tracking. You can collect data from both your Universal Analytics and GA4 properties, and keep that important Top Landing Pages report right in your WordPress dashboard.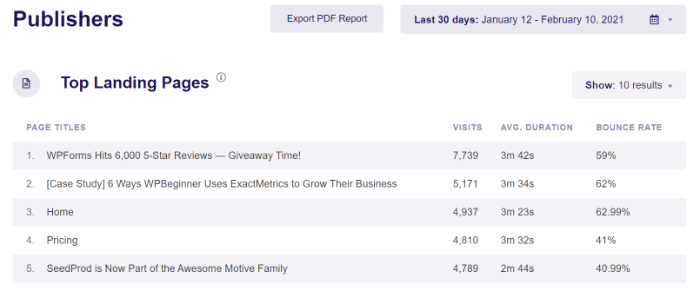 Do I Have to Use GA4?
No, you don't have to. If you're not feeling like setting up a GA4 property right now, there's no need to.
ExactMetrics will keep our connection with Universal Analytics working as long as we can.
However, it's important to note that Google is only going to release new features in GA4. They won't be updating Universal Analytics anymore.
That's why we recommend going ahead and setting up a GA4 property, even if you don't want to use it right now. Then, when Google does make you switch (if/when that happens), you'll have a lot of historical data in your GA4 property.
Universal Analytics and GA4 can both be connected to the same website and collect data at the same time, so it won't hurt to have them both. In fact, it's what we're recommending to all of our users.
Setting up and connecting a GA4 property to your ExactMetrics account will actually be quick and easy, and it'll prepare you and your website for the future of Analytics.
What Happens to My Data?
Nothing happens to your existing data and your Universal property will not be deleted.
However, to use GA4, you have to set up a new property in Google Analytics. When you create a new property, it starts with a totally blank slate. Your historical data will be in your Universal Analytics property. Once you create a GA4 property, both of them will collect data.
That's why the ExactMetrics team worked tirelessly to give you a dual tracking option. If you connect both your Universal Analytics and GA4 properties to your ExactMetrics account, you'll see seamless, uninterrupted data, past AND current.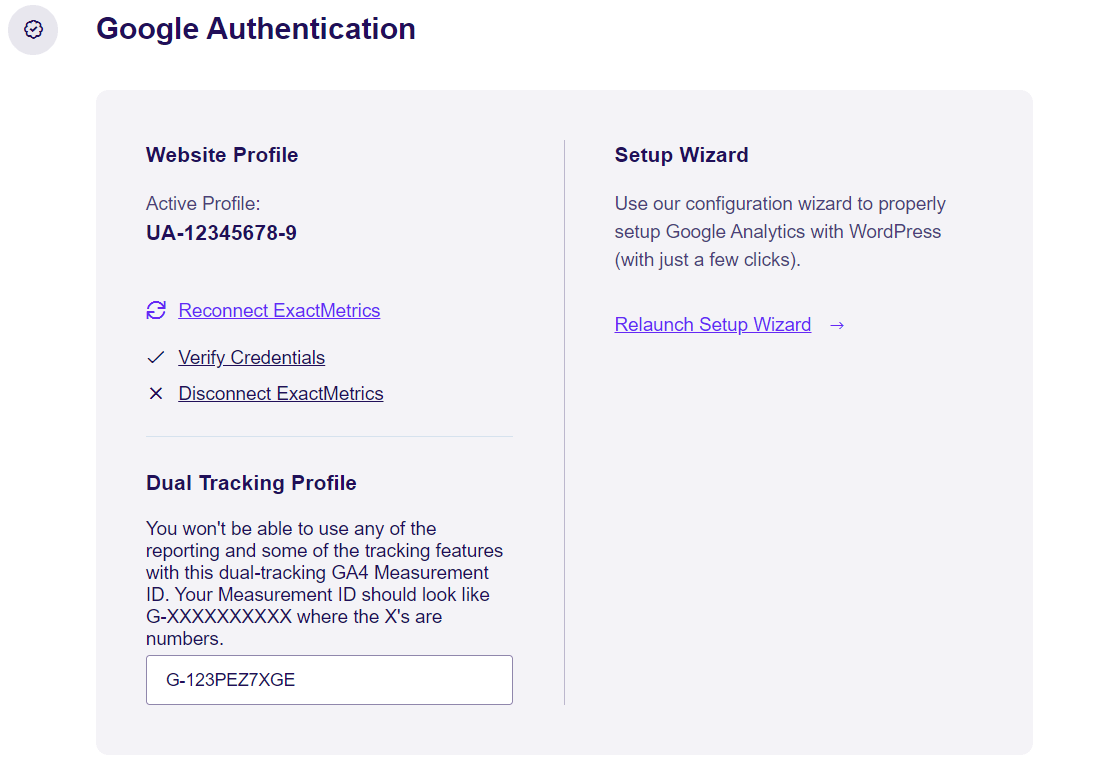 My Personal Thoughts About GA4
It's clear that Google Analytics 4 is a big, exciting step ahead for the world's most popular website tool.
The new features that Google is releasing with this update, like the report builder and the automatic event tracking, are great.
That said, GA4 is not at all beginner friendly. Even people who've used Google Analytics for years are confused by the new interface. The pros are using it to build their own reports. But are you going to go ahead and build your own funnels, configure event streams, and worry about measurement models?
Probably not.
However, because it's the future of Google Analytics, we suggest setting up a GA4 property now so your site can be future proofed. That way, it'll be collecting data, even if you're not using it right away.
Our mission at ExactMetrics has been and always will be to make analytics powerful and easy for you to measure and monitor what matters.
How ExactMetrics Maximizes the Power of Google Analytics + WordPress
ExactMetrics is the best premium WordPress analytics plugin. So, we always need to offer our users a way to use the latest and greatest Analytics tools.
That's why we worked so hard to create a dual tracking option.
You can connect both your Universal Analytics and GA4 properties to WordPress with dual tracking. That way, you'll keep all your historical data from your Universal account, but be tracking in GA4 too to be prepared.
You can choose to stay connected to Universal on its own, connect to just a GA4 account, or connect to both. It's up to you and your unique website and Analytics needs.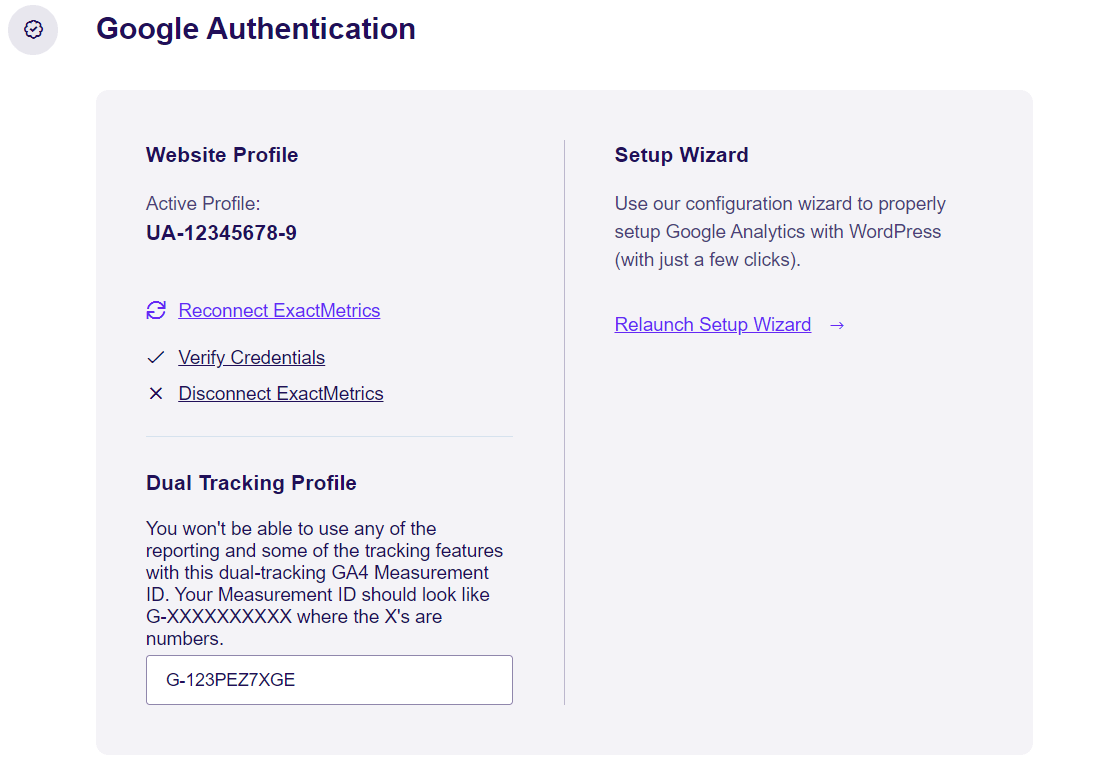 ExactMetrics has all the same great features it had before, but it's now backed by the power of GA4.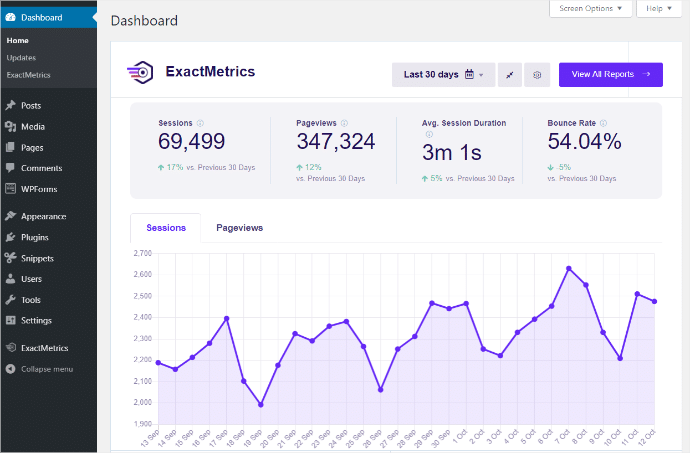 Our dashboard and reports interface is not changing, whether you connect GA4 or not. It's just as easy and powerful as it always has been!
For the power users, we'll be sending the proper tracking data streams into GA4, so that you can explore the interface knowing tracking has been configured properly from the start.
Here are a few of the ExactMetrics features that you'll love, that haven't changed:
Universal and GA4 Analytics integration, with no coding required
Powerful reports built right into your WordPress Dashboard
Automatic enhanced eCommerce setup with WooCommerce, Easy Digital Downloads, MemberPress, and more
EU compliance to help with privacy regulations (GDPR, PERCR, CCPA)
Advanced growth tools to help you get more traffic and sales
Form conversion tracking, custom dimensions integration
…and much more!
Our goal for ExactMetrics is to make using Google Analytics as easy as possible to use without needing to hire a developer, yet still be powerful enough so you can dig deeper if you want.
We think that our new dual tracking feature will help keep this big transition simple for beginners and pro users alike, by keeping all of our reports and tracking working for both GA3 and GA4. We hope you do, too.
What's next?
If you're still using Universal Analytics, you don't have to do anything right now if you don't want to. Google so far has no plans to remove it.
However, any and all new sites that sign up for Analytics are prompted to sign up on the new GA4 platform, and Universal users are being urged to upgrade. Even if you have an existing website, then you've likely gotten an email from Google to upgrade to the new Google Analytics platform. GA4 is the future of Analytics.
All new sites are being prompted to use the new GA4 platform – because it's the future.
Before you switch, we definitely recommend starting with dual tracking. That way, you won't lose any historical data and you'll continue to get metrics that aren't available in GA4, like bounce rate and landing pages.
If you have a friend who switched to GA4 and is missing the ability to get the old metrics, then let them know about this post and convince them to use ExactMetrics.
Remember, friends don't let friends miss out on the good stuff.
Yes, we have an affiliate program, so you can even earn some extra $$$ too 😉
But in all seriousness, we're committed to helping you grow your business with confidence by helping you see the stats that matter.
Our team is always working hard to ensure that you get access to the best analytics feature for your website.
As always, I want to thank you for using ExactMetrics, and we're proud to partner with you in your growth journey.
Cheers,
Jolissa Skow
Product Educator
Not using ExactMetrics yet? Start tracking the right metrics, so you can grow your business with confidence. Get started with ExactMetrics today.