Have you ever wanted to know things about your website traffic that Google Analytics doesn't tell you? If so, then you may need to set up Google Analytics custom dimensions.
With the help of custom dimensions, you can collect and analyze information that's especially important to your business.
In this article, we'll explain everything you need to know about Google Analytics custom dimensions. By the end of the post, you'll know what custom dimensions are, how to configure them in WordPress, and how can you view custom dimension reports in WordPress and Analytics.
Let's kick things off with a brief look at…
What Are Custom Dimensions in Google Analytics?
Custom dimensions in Google Analytics are dimensions that Google doesn't track automatically, so you have to set them up in your own custom reports. A dimension is simply an additional piece of information that is added to a metric to give you a better level of understanding.
A metric is a numerical measurement or statistic, like number of sessions, number of visitors, or number of purchases. By themselves, these numbers often don't tell you what you want to know. However, when you add dimensions to your metrics you get more details about users' behavior.
For example, if you sell products on an eCommerce site, you might want to track a dimension called product name. Once you set it up, Google Analytics can track the "product name" dimension for every purchase event. Then, you'll be able to track not only the number of transactions on your site, but exactly how many of each product you're selling.
Why Set Up Google Analytics Custom Dimensions?
You should set up Google Analytics custom dimensions when you want to analyze data that isn't collected in default reports. Every business and website has unique needs, and sometimes you need information that isn't standard.
Google Analytics tracks some dimensions by default. For example gender, age, country, browser, source, medium, etc. But when you need more information to understand your audience, track your marketing efforts, or make informed decisions, then you need custom dimensions.
You can use custom dimensions to track just about anything, from logged in user IDs to which authors perform the best or which post types are most popular.
Since this data isn't automatically tracked, you'll need to manually configure custom dimensions. Don't know how? Here's a step by step tutorial.
How to Set Up Custom Dimensions in WordPress
Just follow these steps, and you'll be able to view custom dimensions reports in your WordPress dashboard in no time.
Step 1: Install ExactMetrics and Dimensions Addon
For the easiest way to set up custom dimensions on your WordPress website, you'll need ExactMetrics. It's the best premium WordPress Analytics plugin you can use today.
ExactMetrics lets you easily add Google Analytics to your WordPress site without the need for coding. And it's more than just a plugin for viewing analytics data. ExactMetrics allows you to do much more, like setting up custom dimensions reports with only a few mouse clicks.
So, the first thing you'll need to do is get ExactMetrics Pro, because it offers advanced tracking features and extensions like the Dimensions Addon.
Once you've signed up and installed the plugin on your website, go ahead and activate the Dimensions Addon. For that, go to ExactMetrics from your WordPress dashboard and then click Addons. Navigate your way to Dimensions and click Install.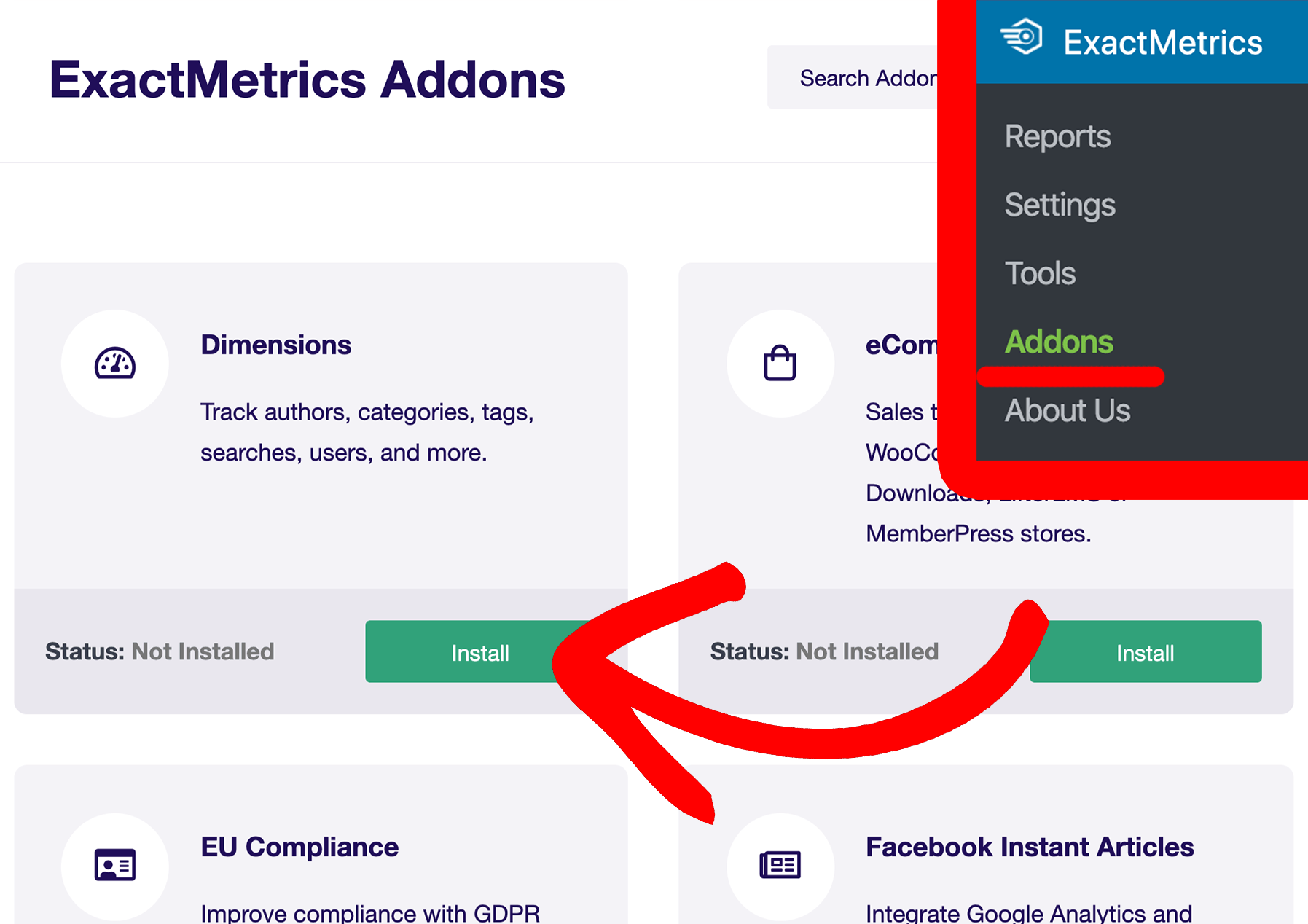 Step 2: Add Custom Dimensions to ExactMetrics
After setting up ExactMetrics and its Dimensions addon, the next step is to add your custom dimensions.
To do that, go to ExactMetrics » Settings and then select the Conversions tab from the top menu. Now, scroll down to Custom Dimensions.

Here you'll select the custom dimensions you want to track for your website. ExactMetrics supports tracking of the following custom dimensions:
Logged in – This dimension tracks whether users are logged into your website or not. You can set up this custom dimension if you have an eCommerce store or a membership website and want to see how logged in users and guests behave differently.
User ID – If want to see what each logged in users is doing on your website, then using User ID you can track their activities.
Post type – You can see which post types are most popular amongst your visitors using this custom dimension, and focus on promoting that post type more to drive traffic and conversions.
Author – This dimension is ideal for sites that have multiple authors. It helps you track the performance of each author's reader views.
Category – Measuring the popularity of different categories gives you insights into what visitors like. That way you can spend more money on marketing popular categories.
Published at – Wondering what's the best time to publish your content? Published at custom dimension helps you see when to push your posts and how old posts perform.
Tags – Similar to categories, the Tags custom dimension also lets you track the popularity of different topics and subjects on your website.
TruSEO Score – If you have All in One SEO (AIOSEO) plugin for SEO installed on your WordPress site, you can track the TruSEO score of each post and page in Google Analytics.
Focus Keyphrase – Using the AIOSEO plugin, you can even see which focus keyphrase is generating traffic on your website by tracking it in Google Analytics.
To add any or all of these custom dimensions, and start tracking them, click on Add New Custom Dimension.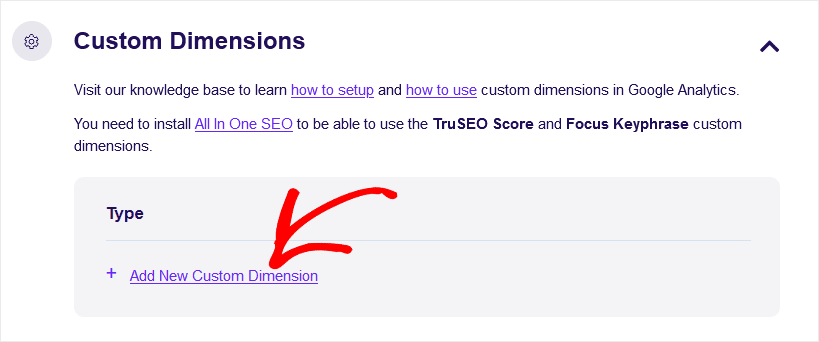 Then, you'll be able to select each custom dimension to activate it, or delete it from the list.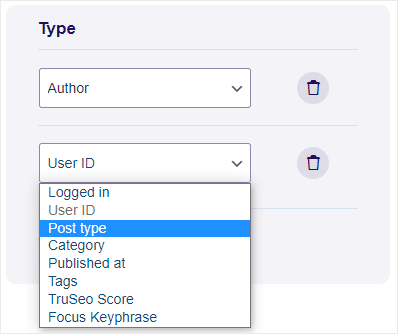 When you've selected all the custom dimensions you'd like to track, click the Save Changes button. Okay, you're all done setting up your custom dimensions in Exact Metrics.
And now, there's one more step. Before you can track them, you'll also need to add custom dimensions in your Google Analytics account.
Let's find out how you can do that…
Step 3: Set Up Custom Dimensions in Google Analytics
Once you've successfully set up custom dimensions in ExactMetrics, you'll need to make sure they're set up correctly in Google Analytics.
If you only use Google Analytics 4 (GA4) to track your website stats, ExactMetrics will configure the custom dimensions shown in Step 2 automatically. However, you should log into GA4 and confirm that your desired custom dimensions are enabled.
In order to see active custom dimensions in GA4, log in and select the desired property, then go to the Admin area.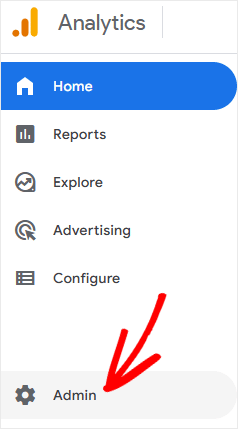 Now, you can click Custom definitions under the Property column.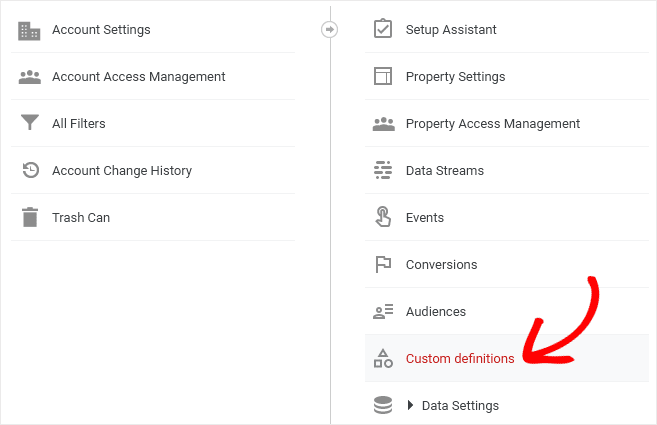 This opens up the Custom definitions screen, which displays a list of active Custom dimensions. If you previously installed ExactMetrics and the Dimensions addon from Step 2 above, you should see all of the custom dimensions you enabled in ExactMetrics.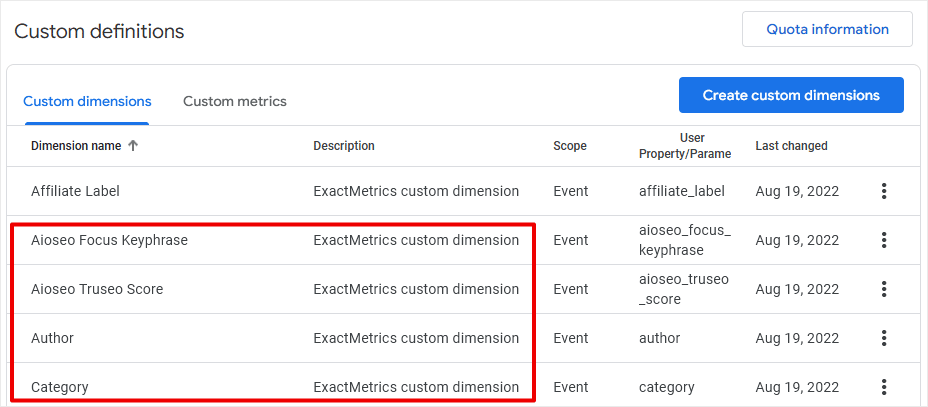 If this list is empty, or you don't see the custom dimensions you turned on in ExactMetrics, go back to the WordPress dashboard. Click ExactMetrics » Settings and then click Reconnect ExactMetrics.
How to Configure Custom Dimensions in Google Universal Analytics
For Universal Analytics users, the process takes a little more work, but it's still fairly simple.
To start, log in to Google Analytics and select the website for which you want to set up custom dimensions. Then, click on Admin in the left sidebar.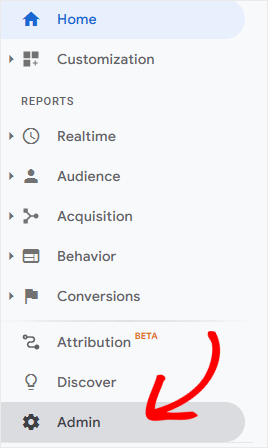 Under the Property column, click on Custom Definitions and then Custom Dimensions.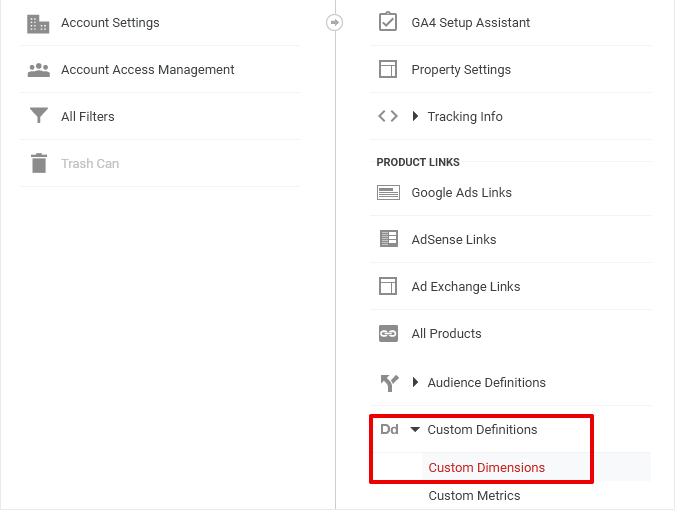 Next, click on + New Custom Dimension to add a dimension.

You'll have to enter the name of the custom dimension you want to track. For example, if you want to compare performance between different authors' content, type in Author.
If you've set up custom dimensions using ExactMetrics, these names should match the names that you already set up.
Under the Scope dropdown, you'll have 4 options (hit, session, user, and product). You can leave the Scope setting on Hit, and make sure the Active box is checked. Then click Create.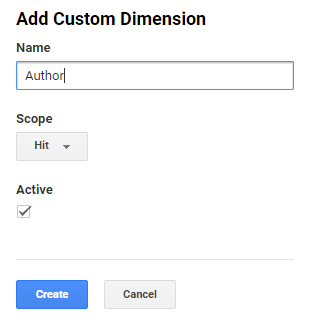 In the next screen, you'll see example codes for your dimension. You don't have to do anything here, so click Done at the bottom to complete the Google Analytics custom dimension setup.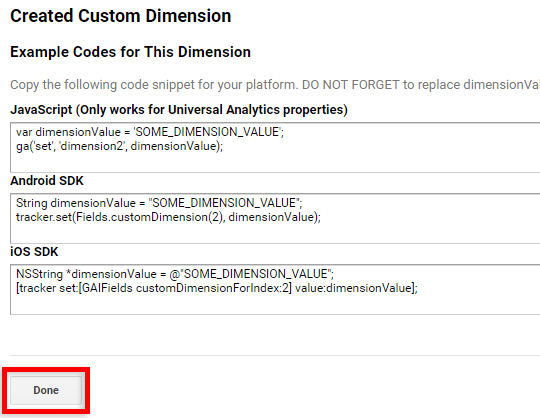 Your custom dimension is now added to Google Analytics. After you click Done, you'll return to the previous screen that lists your active custom dimensions.

If you want to add more custom dimensions to your website, repeat this process by clicking + New Custom Dimension.
Step 4: Match the IDs of Your Custom Dimensions
The last step in setting up custom dimensions is to make sure that the Name and Index IDs in Google Analytics match the Dimension IDs in ExactMetrics.
You can do that by looking at the Index number in Google Analytics for each custom dimension.

Then, head back to your WordPress dashboard and go to Custom Dimensions in ExactMetrics » Settings » Conversions. Check and confirm that each dimension's name and ID is the same as the Name and Index number in Google Analytics.
If the ID is not the same, then change the number in ExactMetrics to match the number shown in Google Analytics. After you verify that each ID and name matches, click Save Changes.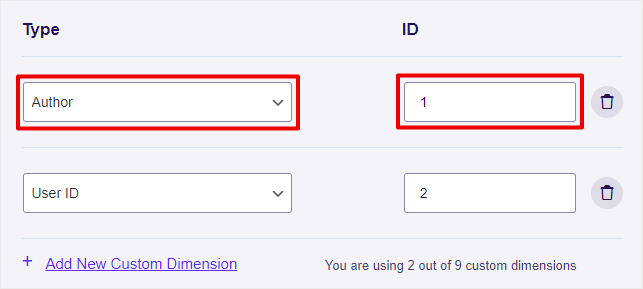 Congratulations!
You successfully added custom dimension tracking to your WordPress website. Now, let's see how you can view that data in your reports.
How to View Custom Dimensions Reports in WordPress
You must be wondering, how do you view the information from your custom dimensions report in WordPress?
ExactMetrics shows all your important Google Analytics reports directly inside your dashboard. So, you can see the custom dimensions report at a glance without leaving your site.
To view your custom dimensions report, go to ExactMetrics » Reports » Dimensions. In this example, you can see the data for the custom dimensions Tags and Published at.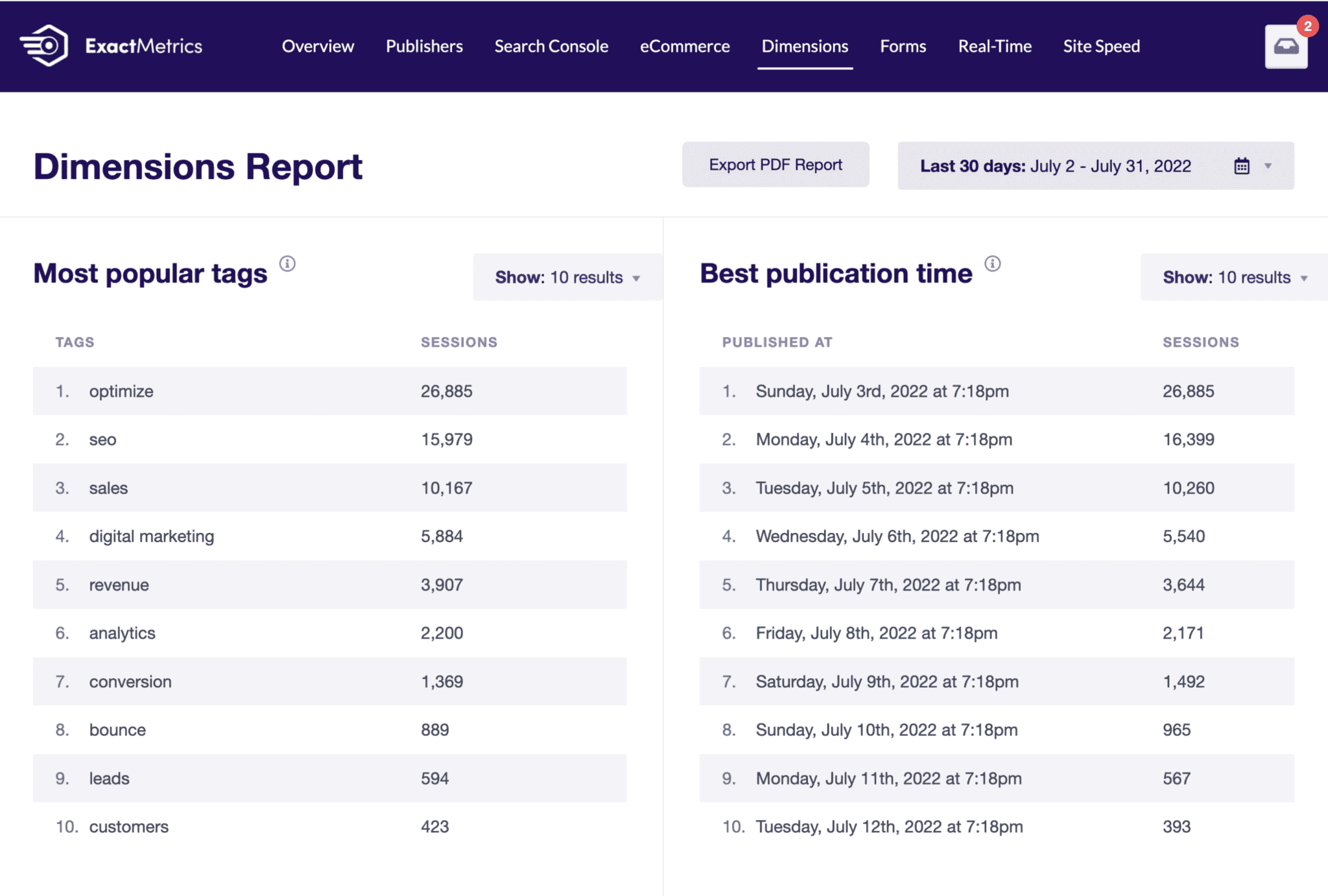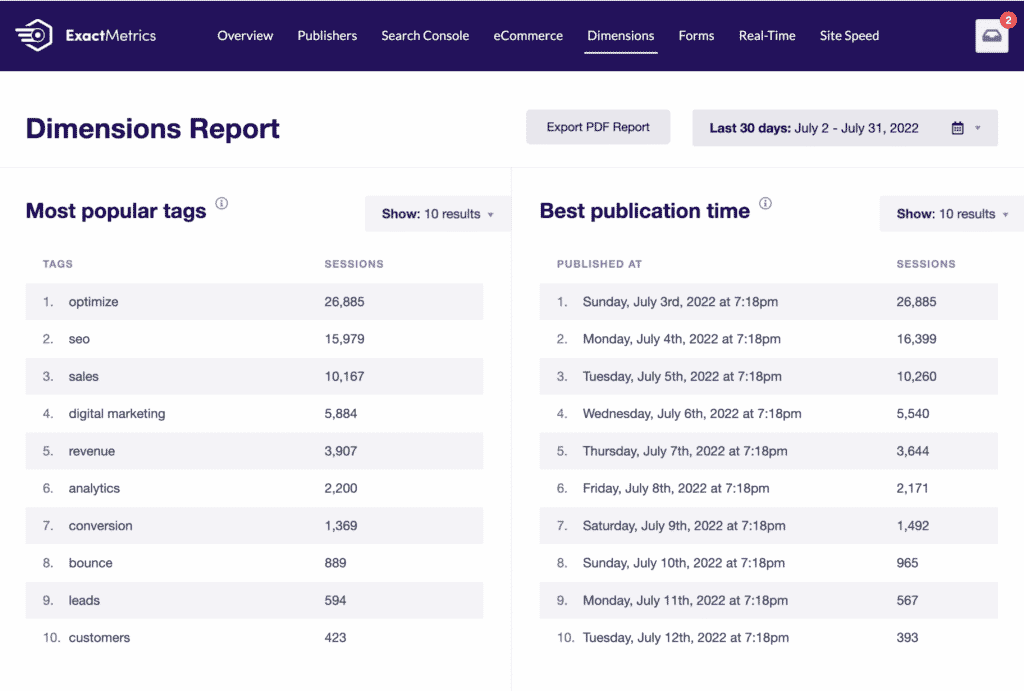 The custom dimensions reports in ExactMetrics give you a lot more data to help better understand your visitors.
But what if you want a more detailed look at your custom data? Let's see how to create and view custom reports in Google Analytics….
How to View Custom Dimensions Reports in Google Analytics
Unfortunately, Google Analytics doesn't offer a standard report to show you your custom dimensions data. For that, you'll have to create a custom report.
To create a custom report, go to your Google Analytics account and select the property for which you want to set up a Custom Dimensions report.
Now, go to Customization » Custom Reports from the panel on your left. Then click + New Custom Report.

Next, you'll have to tell Google Analytics what to include in your report.
Let's say you want to see how many page views (or traffic) different authors drive to your website. You can give your report a title, Page Views by Author.
Now, in the Metrics Groups section, click on + add metric and then search page views. From the drop-down list, select Page Views.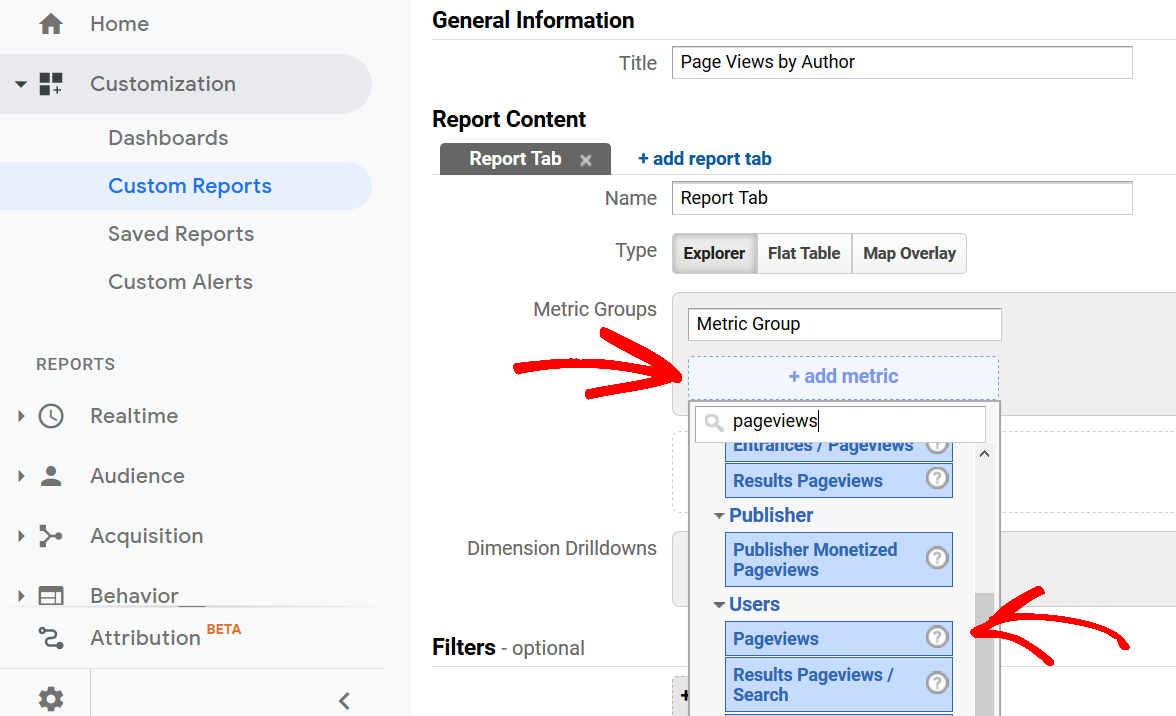 After entering the metrics, you'll have to define the dimension for Google Analytics to use. For this, click in + add dimension under Dimension Drilldowns.
Now search author and the select Author under Custom Dimensions drop-down menu.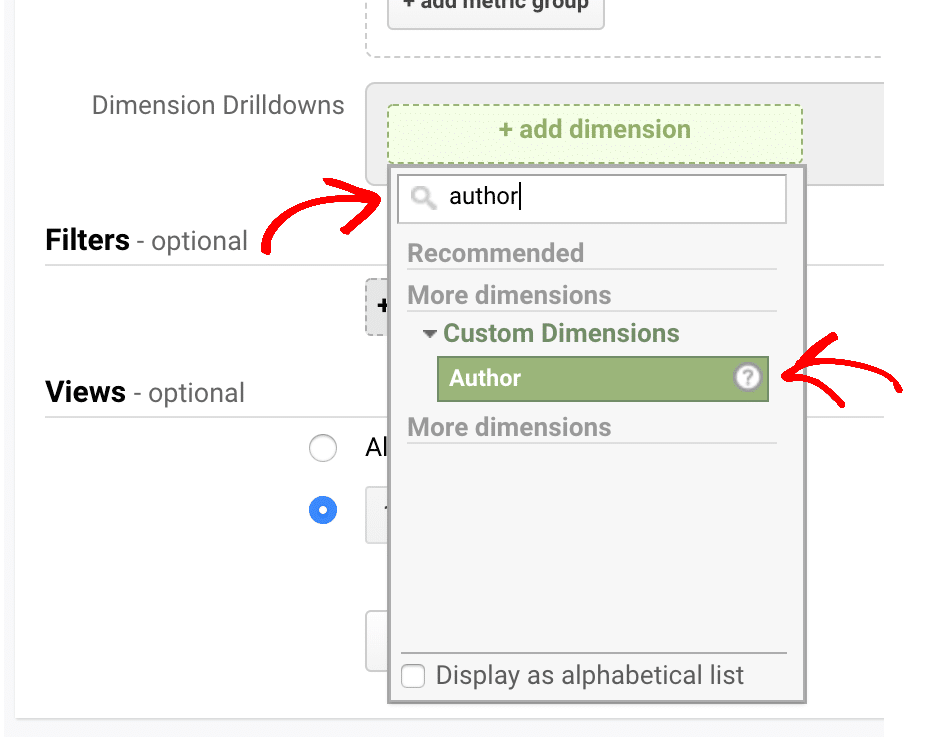 The final step is to click Save and your custom report is ready. You'll be redirected to the report where you can see each author's performance in terms of page views.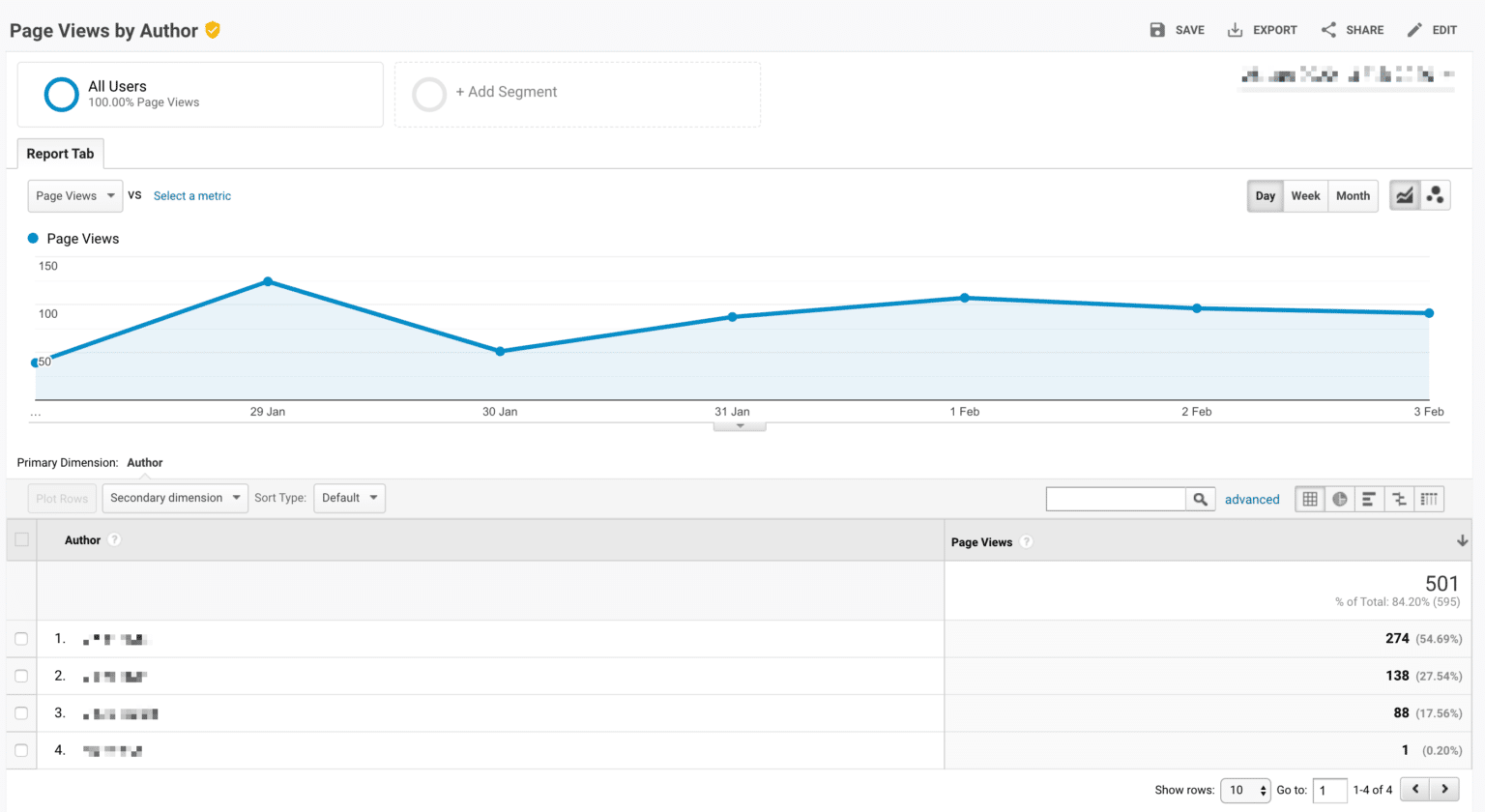 You'll have to create separate reports for each custom dimension you want to track and view in Google Analytics.
But once you've created your reports, you can view them by going to Customization » Custom Reports » Page View by Author. Now, click the report title to see your custom dimension report.

And that's it!
You now have a great start on understanding and using custom dimensions. So, start thinking about how you can use this customized data to get deeper insights about your audience. That should help you improve their user experience, along with your site's traffic and conversion numbers.
We hope you liked our beginners guide to Google Analytics custom dimensions. If you enjoyed reading this post, you might like this tutorial on how to track affiliate links in WordPress.
And don't forget to follow us on Twitter and Facebook to stay updated on the latest Google Analytics tips and tools.