Want to get ExactMetrics for free? You can start with the Lite version!
ExactMetrics Lite offers many amazing features that you can access completely free. And the best part won't expire and you can use ExactMetrics for as long as you want.
In this article, we'll tell you everything you need to know about ExactMetrics Lite and how to get an unlimited free trial.
Let's get started!
Is ExactMetrics Free?
Yes, there is a free version of ExactMetrics called ExactMetrics Lite. You can get even more advanced features and addons by upgrading to a paid plan.
That said, ExactMetrics Lite is a great option for those just getting started with a WordPress blog or anyone who wants to try the plugin out on their site before upgrading. And it's the perfect solution for setting up Google Analytics on your WordPress website.
So, what do you get in the Lite versions?
What is ExactMetrics Lite?
ExactMetrics Lite is the free version of ExactMetrics, which is the best premium WordPress Analytics plugin. With ExactMetrics, you can connect your site to Google Analytics in just a few seconds, with no code required.
You'll know exactly how your website performs thanks to easy-to-read analytics reports directly in your WordPress dashboard.
Some of the key features you get with ExactMetrics Lite include:
Easy Google Analytics set up without editing code
Actionable insights right inside the WordPress admin area
Demographics data to better understand your audience
User role permissions to easily filter out data from internal users
File download tracking
Outbound link tracking
Track affiliate links across your website
Identify your top referral sites
Plus, so much more!
With that, are you ready to learn how to get your hands on ExactMetrics free trial?
How to Get a Free Trial of ExactMetrics
Now that you have an idea of some of the awesome features you'll get with ExactMetrics Lite, let's talk about how to get it for free. It's actually super simple! Follow the steps below to get your unlimited free trial.
Step 1: Download & Install ExactMetrics Lite Plugin
To get an unlimited free trial of ExactMetrics, the first step is to download and install the plugin on your WordPress site.
From the dashboard, select Plugins » Add New and type ExactMetrics in the search bar at the top right of the page. Once you've located the ExactMetrics Lite plugin, click the Install Now button.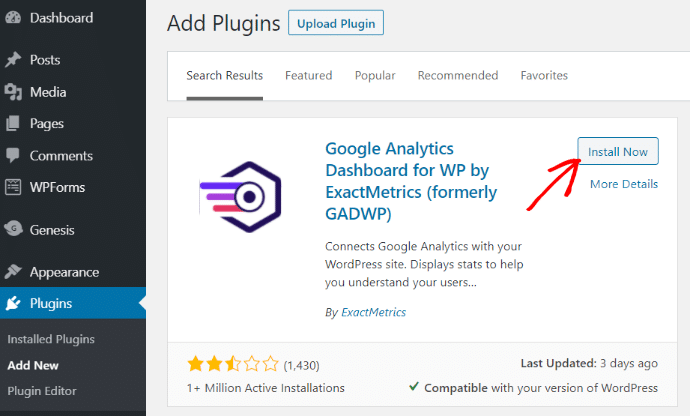 Step 2: Activate ExactMetrics Lite
After you've clicked the Install Now button, wait for a few seconds while the plugin is added to your site. When it's done installing, click the Activate button.
With that, the lite version of ExactMetrics is ready to use!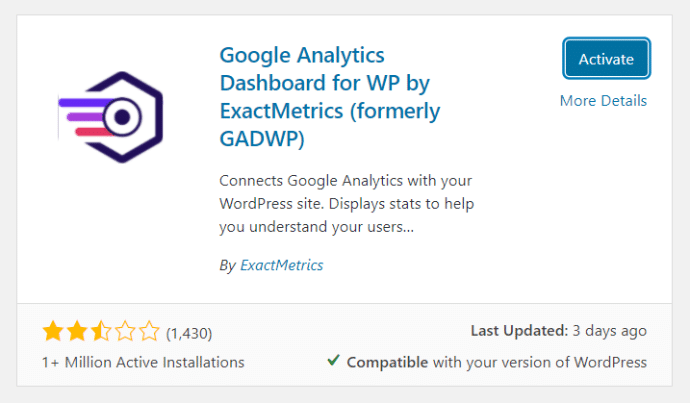 Step 3: Connect ExactMetrics With Google Analytics
The next step is to connect your WordPress site to Google Analytics. ExactMetrics simplifies the process with the setup wizard. Getting connected to Google Analytics takes just a few clicks, and you don't even have to write any code or hire a developer.
Before you start, make sure you have a Google Analytics account. If you need to sign up for one, this tutorial will walk you through how to set up Google Analytics in WordPress.
To begin, click the Launch the wizard button on the ExactMetrics welcome screen.
You can also start the wizard by navigating to ExactMetrics » Settings and clicking Relaunch Setup Wizard near the bottom of the page.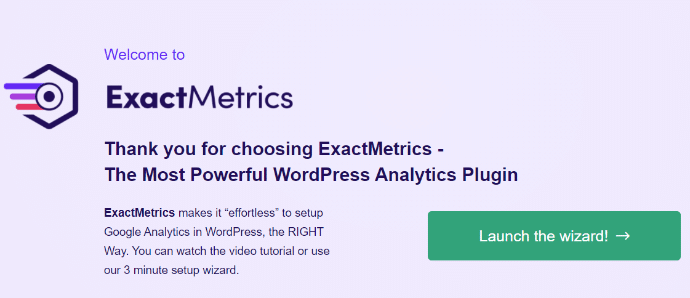 When you click the Launch the wizard button, on the next screen, select a category that best describes your website. Once you've done that, click Save and continue.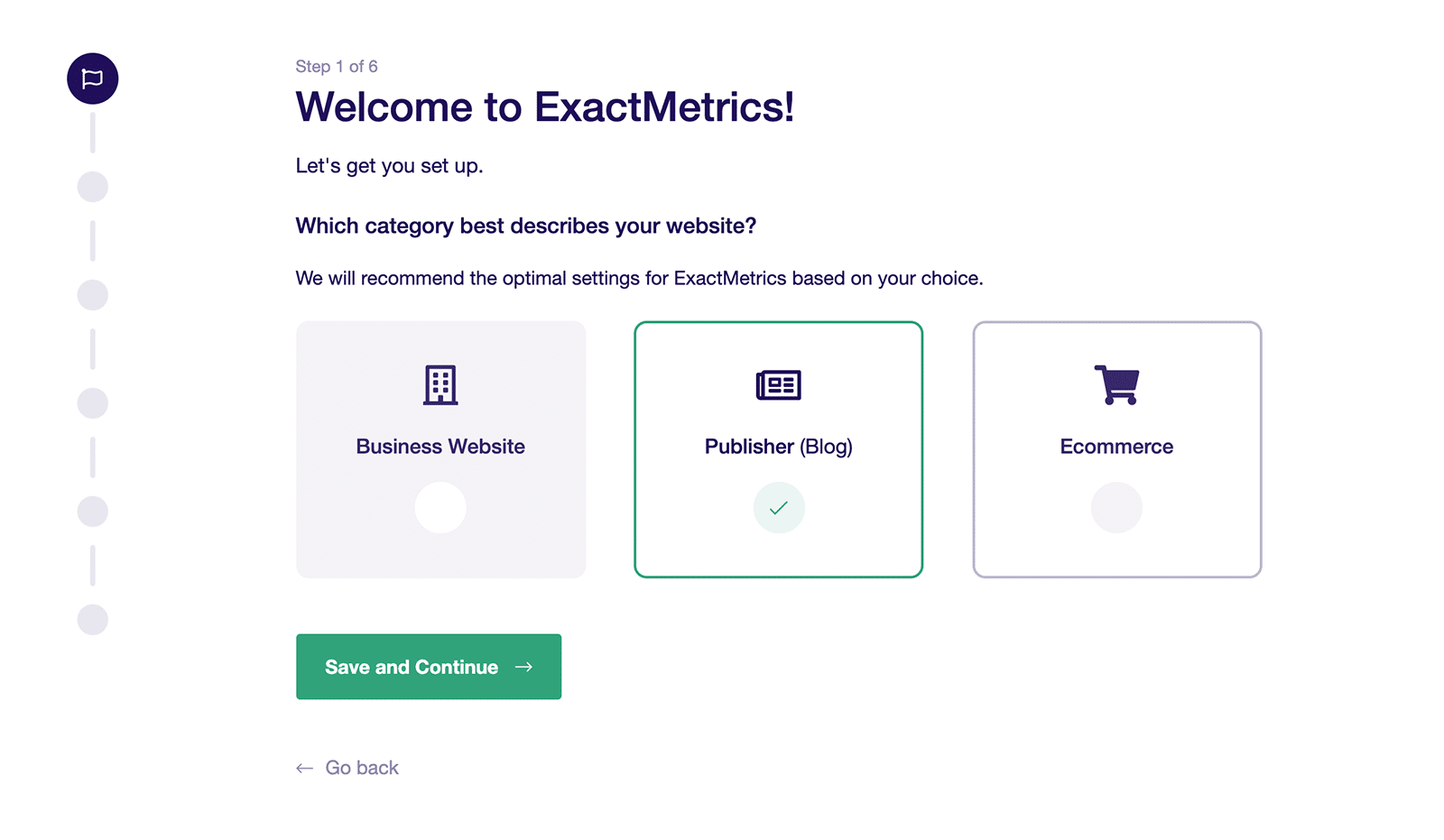 If you want to unlock more advanced tracking features and addons, you can upgrade to ExactMetrics Pro. You get to set up custom dimensions and track popular authors, categories, tags, and more.
And if you have an eCommerce store, then ExactMetrics can help you track its performance and show you how much revenue you're making. That's not all. You can also track form conversions with the Pro version.
Click Connect ExactMetrics to continue.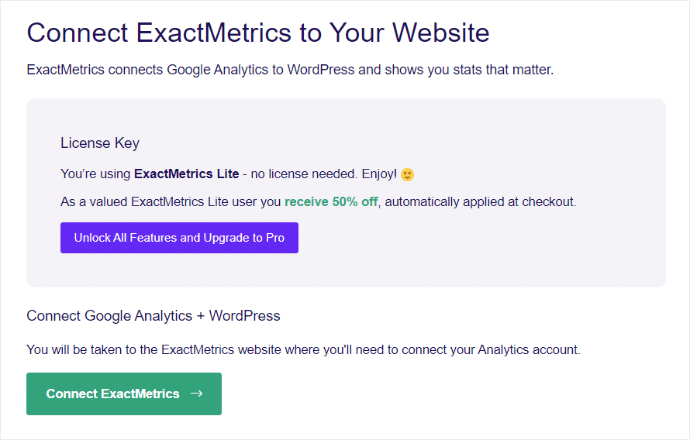 Now select your Google account to connect with ExactMetrics. Do remember to select the same account that you used to set up Google Analytics.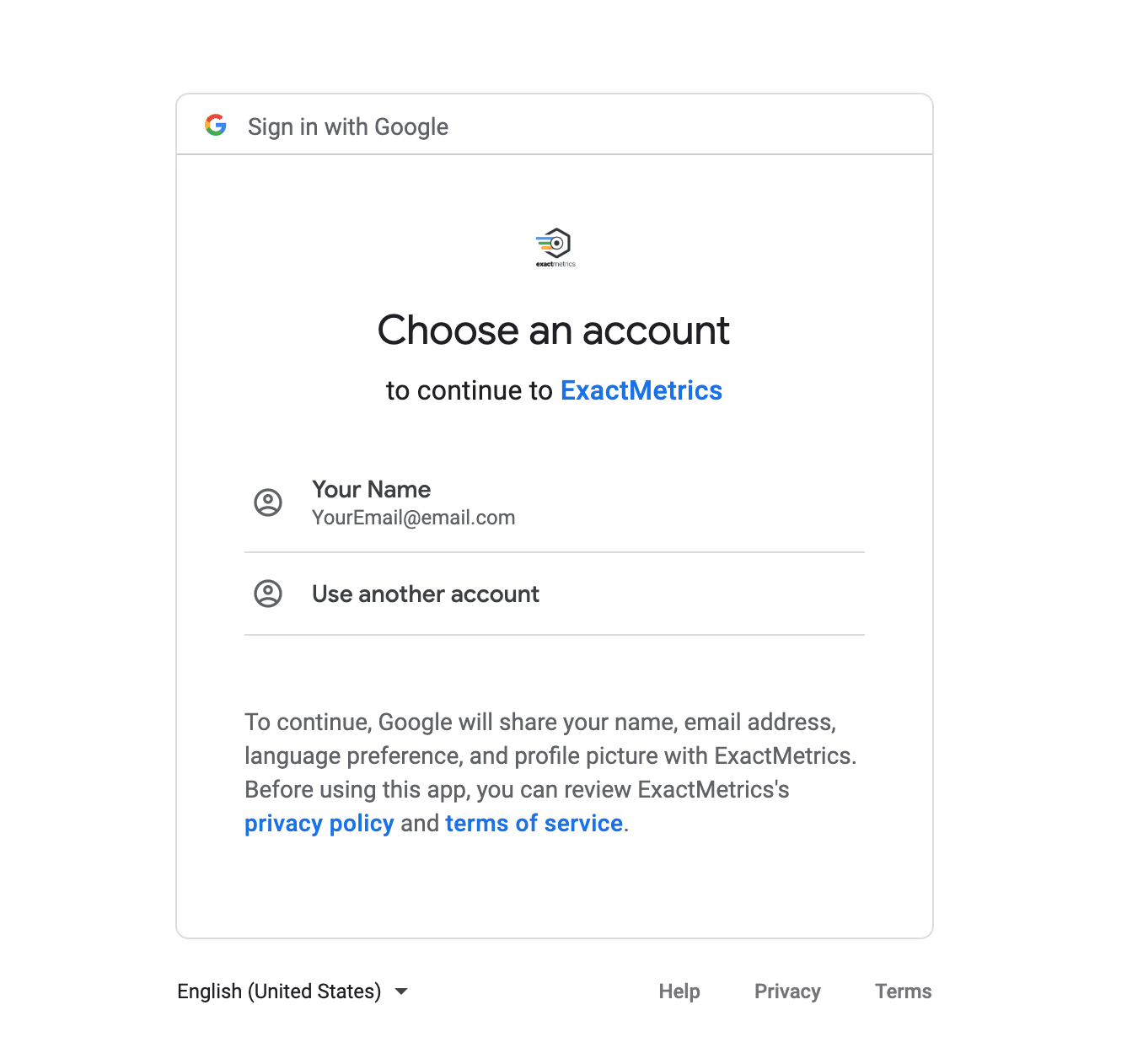 Next, you'll have to grant ExactMetrics a set of permissions so that it can connect Google Analytics to your WordPress website. Click the Allow button to continue.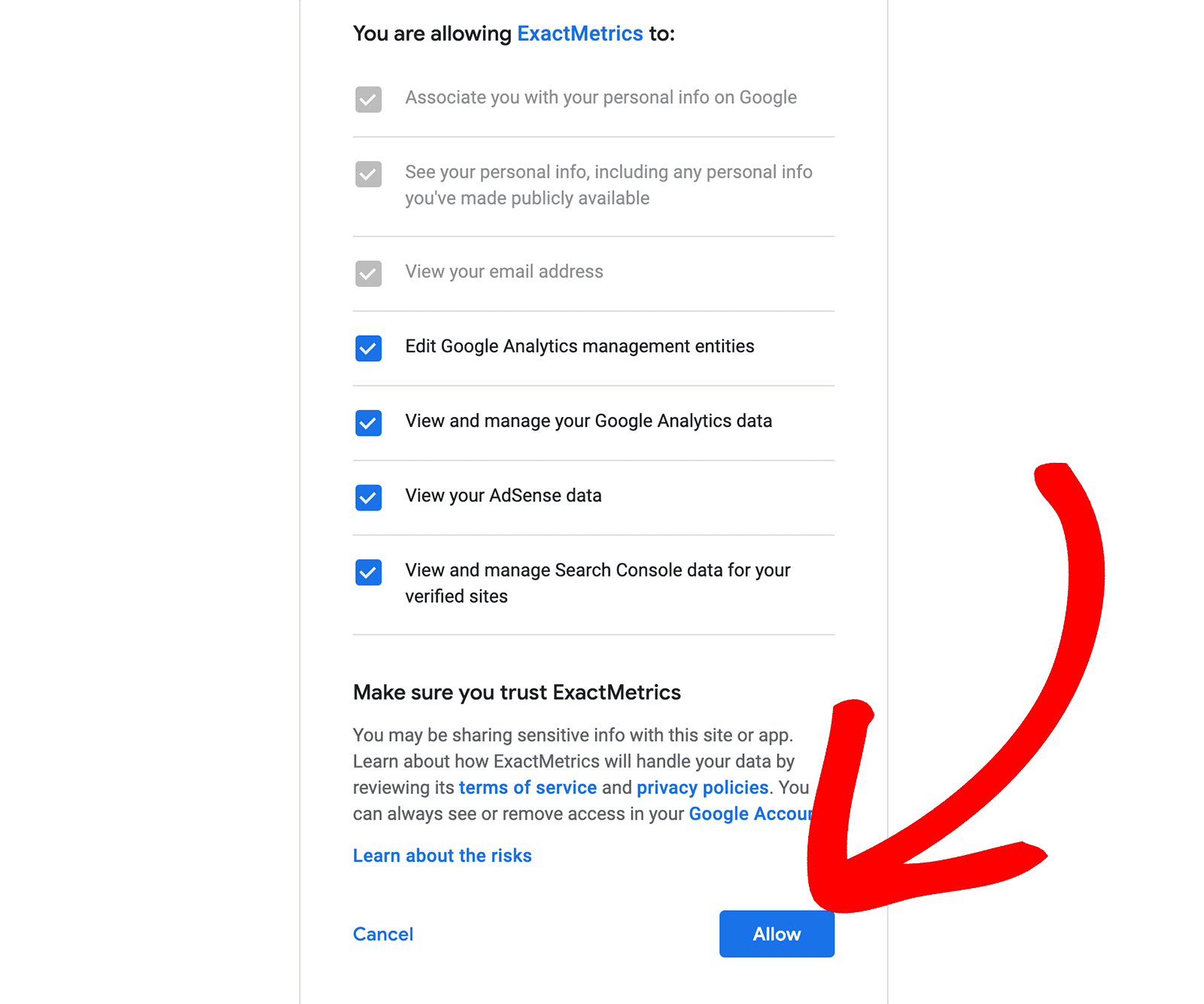 Now pick a profile or your Google Analytics property that you want to connect with ExactMetrics and click Complete Connection.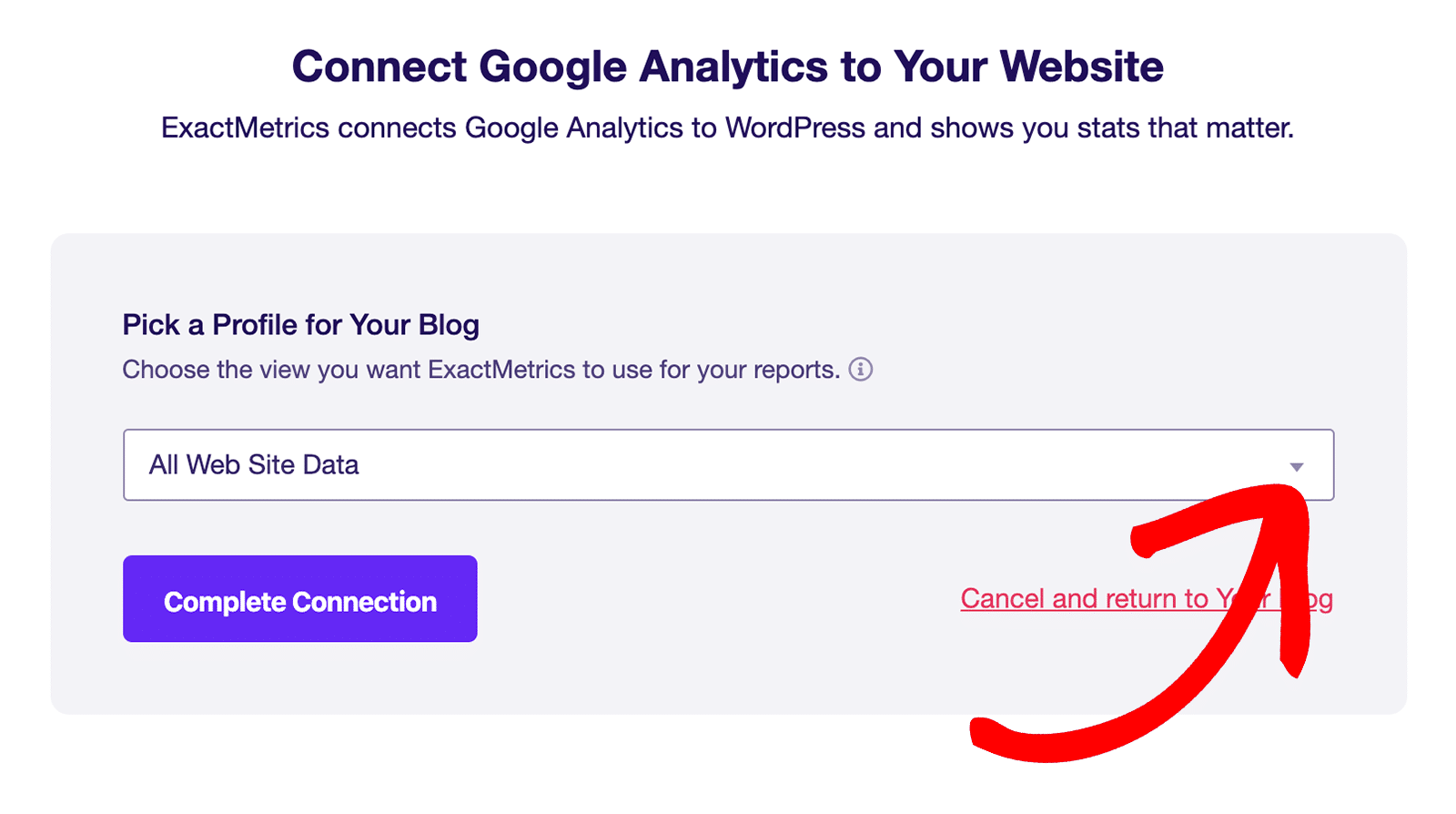 ExactMetrics will now ask for some recommended settings. Here you can enable the options to track events and enhanced link attribution. You can also select the file extensions you want to track and set up affiliate link tracking.
And if you scroll down, there are more options like adding user roles to view the report and options to install updates automatically. Click Save and continue when you're done.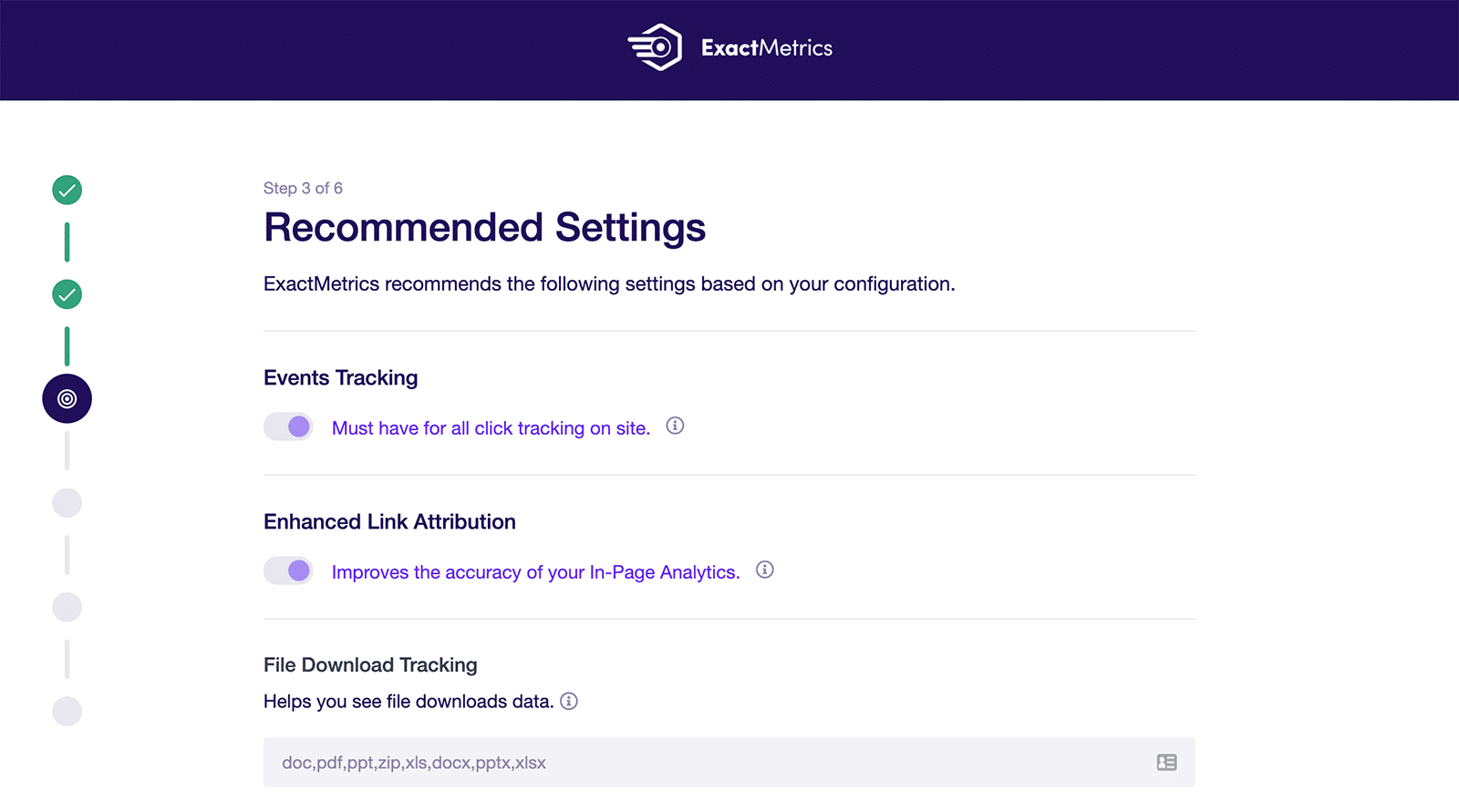 On the next screen, you'll see different addons that can help you set up advanced tracking in Google Analytics. But remember, you'll need to upgrade your plan to the Pro version to use these addons.
For now, you can scroll down and click the Save and continue button.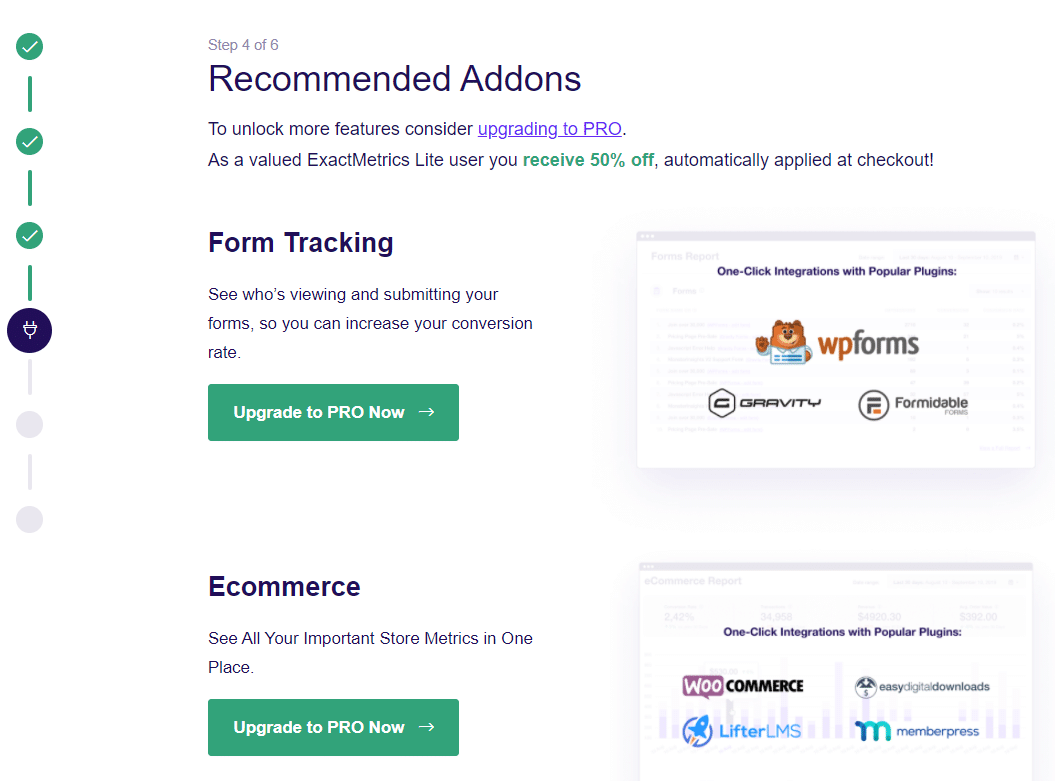 Next, you'll be on the final set in the setup wizard. Click the Finish Setup & Exit Wizard button to complete the setup process.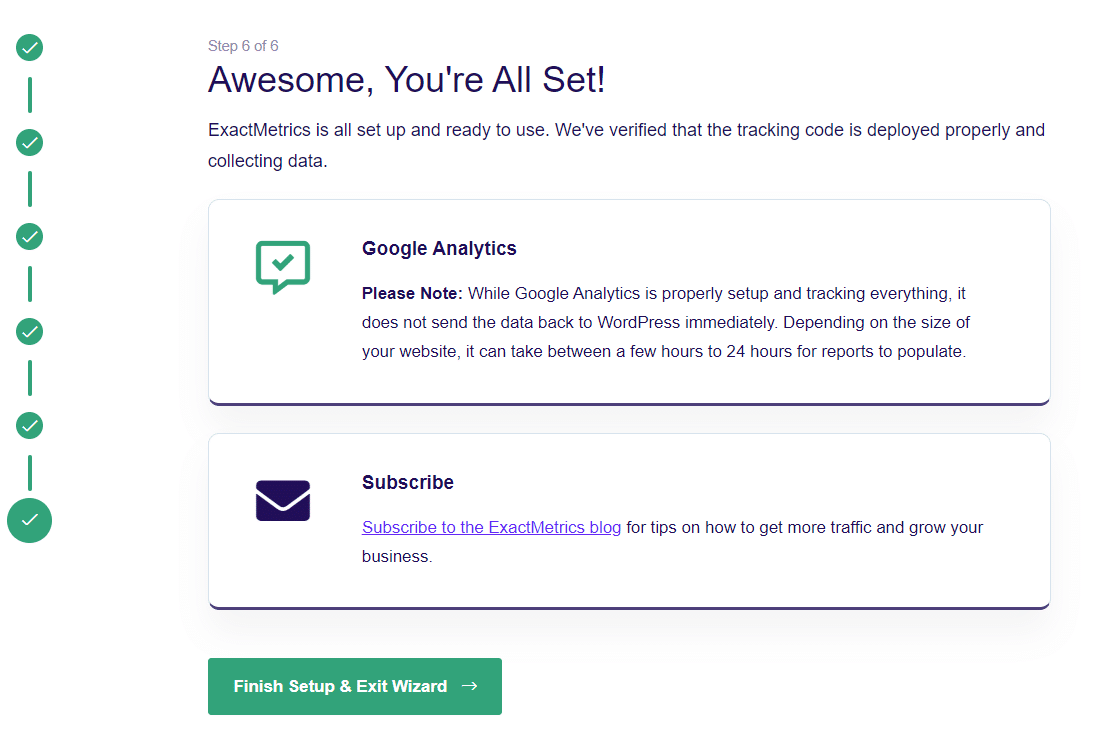 That's it!
Now that you have ExactMetrics Lite installed on your WordPress site, you can get detailed data about your visitors. Best of all, you can use the analytics insights to make informed decisions about how to grow your business!
If you want even more features, consider upgrading to a paid plan, including a 14-day money-back guarantee.
We hope you liked this article on how to get an unlimited free trial of ExactMetrics! You may also want to check out these tutorials on how to find your site's traffic sources and how to share your Google Analytics reports.
Don't forget to follow us on Twitter and Facebook to stay updated on the latest Google Analytics tutorials.