Are you looking for a way to track link clicks and button clicks on your website?
If you have call to action (CTA) buttons, affiliate links, or offer downloadable content, then by tracking them, you get to know how people interact with your website.
In this article, we'll explain how to track link clicks on your website with Google Analytics.
Why Track Link Clicks on Your Site?
When people visit your website, they interact by clicking on things on your website. And links and buttons are the most common places where they'll click.
If you set up link click tracking, you get to know more about your audience. For instance, you can see which links get the most clicks, where should you place your links, and what's working on your website.
All this data is important in improving your site's conversion rate. For instance, if you're into affiliate marketing, then by getting insights about your most clicked affiliate link, you can optimize your website and boost your revenue.
Now, are you ready to learn how to use Google Analytics for tracking link clicks and make data-driven decisions?
How to Track Link Clicks in WordPress?
Google Analytics is one of the best analytical tools you can use to track your WordPress site's performance. Having said that, it does have a few shortcomings.
For starters, you cannot track link clicks by default in Google Analytics. You'll have to manually set up tracking through events or use Google Tag Manager. Now, if you're a beginner, this is easier said than done.
That's because the process is tricky, and it can be overwhelming to use Google Analytics and Tag Manager. But a much easier way is to use ExactMetrics. It's the best premium WordPress Analytics plugin.
ExactMetrics tracks link clicks and button clicks right out of the box. You don't have to perform any additional set up or go through the tedious manual process. Simply install and activate the plugin on your WordPress website and it will take care of the tracking automatically.
So, what type of links can you track with ExactMetrics? Let's look at each one of them…
1. Track Affiliate Link Clicks
With ExactMetrics, you can easily track affiliate link clicks in WordPress. If you're using affiliate link management plugins like Pretty Links or ThirstyAffiliates, then it will automatically detect them on your website.
In ExactMetrics settings, you can set the path and label for your affiliate links. This makes it easy for you to differentiate them from other outbound links on your website when you view the Google Analytics reports.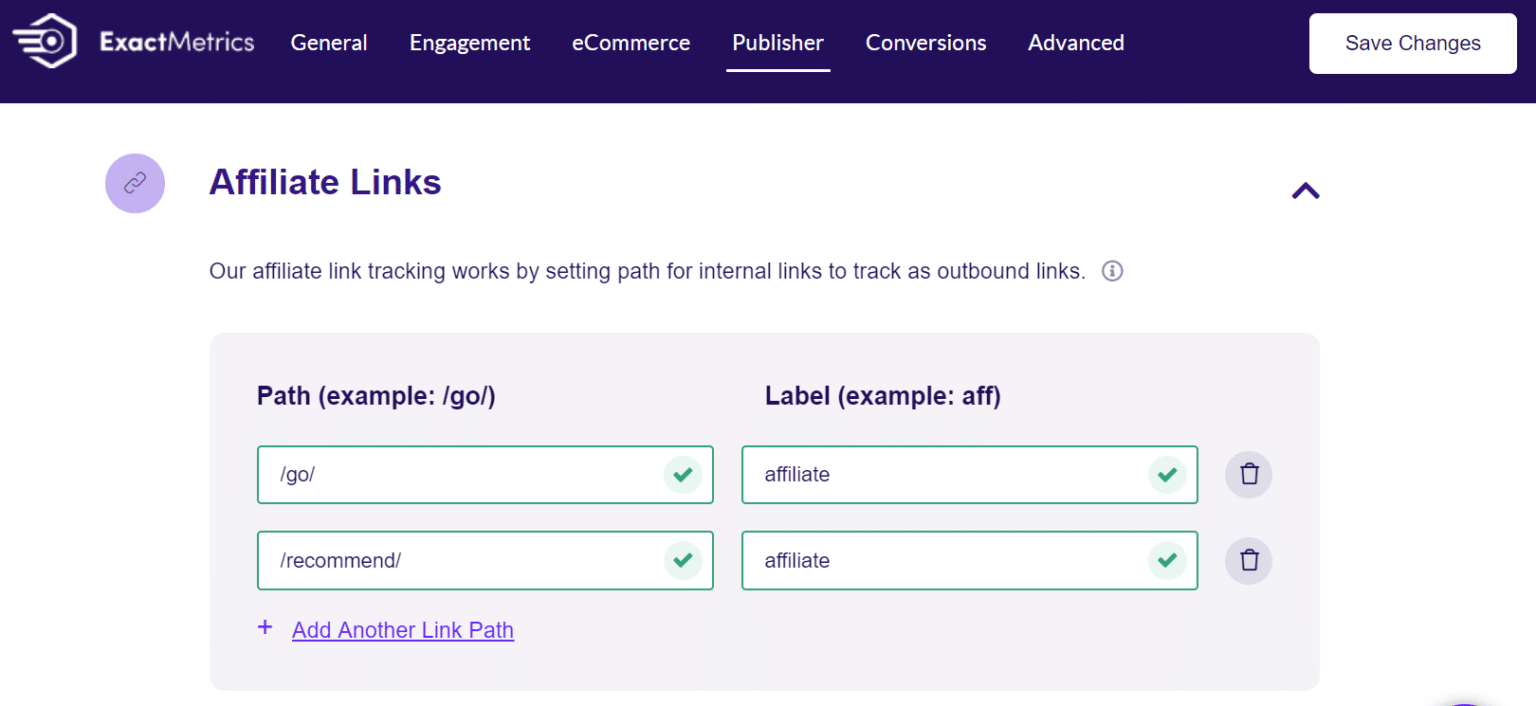 Not only that, but you can view your top affiliate links in your WordPress dashboard. Simply navigate to ExactMetrics » Reports and click in Publishers. Now scroll down and you can see which affiliate link got the most clicks.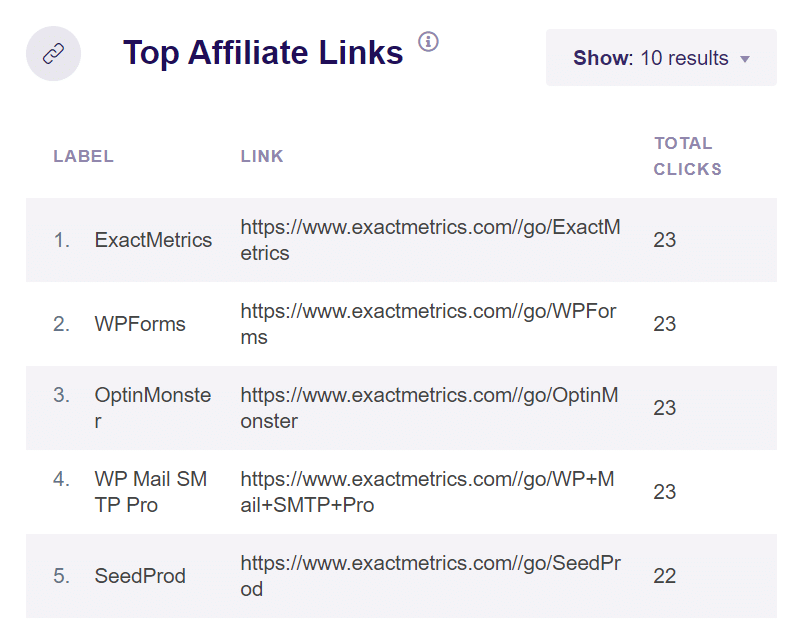 Using this data, you can grow your website and increase your revenue. It shows which affiliates are getting a lot of clicks, so you can promote them more on your site.
And it also helps to understand which affiliates aren't performing. So, you can either optimize them or replace them with your best affiliate.
2. Track Outbound Link Clicks
Outbound links are external links that people click and go to another website. If you're using the default Google Analytics reports, then you cannot find out which external link your visitors click and exit your site.
But ExactMetrics tracks them automatically. It sets up a Google Analytics event for you, so you can learn about your most clicks outbound links. And to view the data, go to ExactMetrics » Reports » Publishers and scroll down to Top Outbound Links report.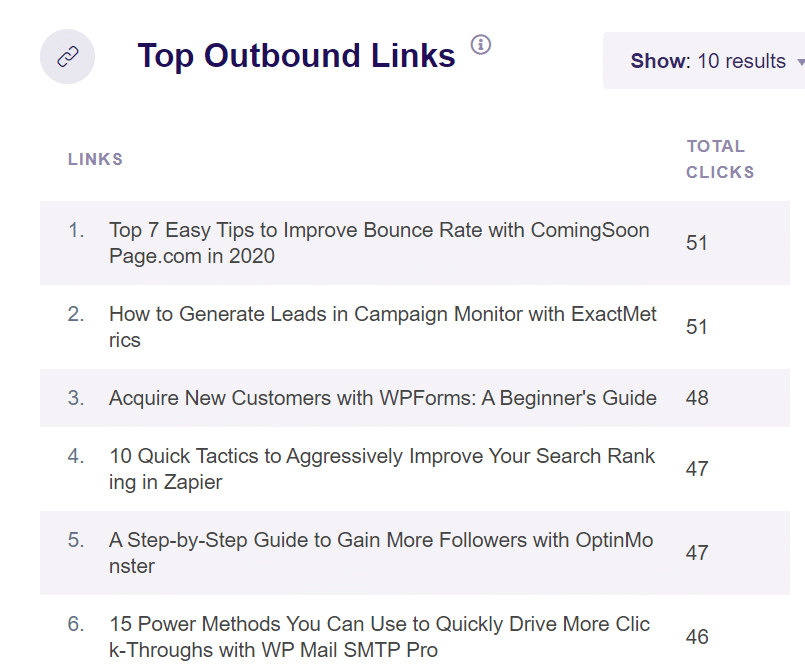 3. Track eCommerce Link Clicks
Having insights about how many times people click the Buy Now button on your online store can help you grow your business and increase your revenue.
And with ExactMetrics, you can track how many items were added to cart, how many were removed, and total buy button clicks. Not only that, but you also get to see your top conversion sources
Thanks to ExactMetrics eCommerce addon, you can automatically track your WooCommerce store, MemberPress site, or Easy Digital Downloads store.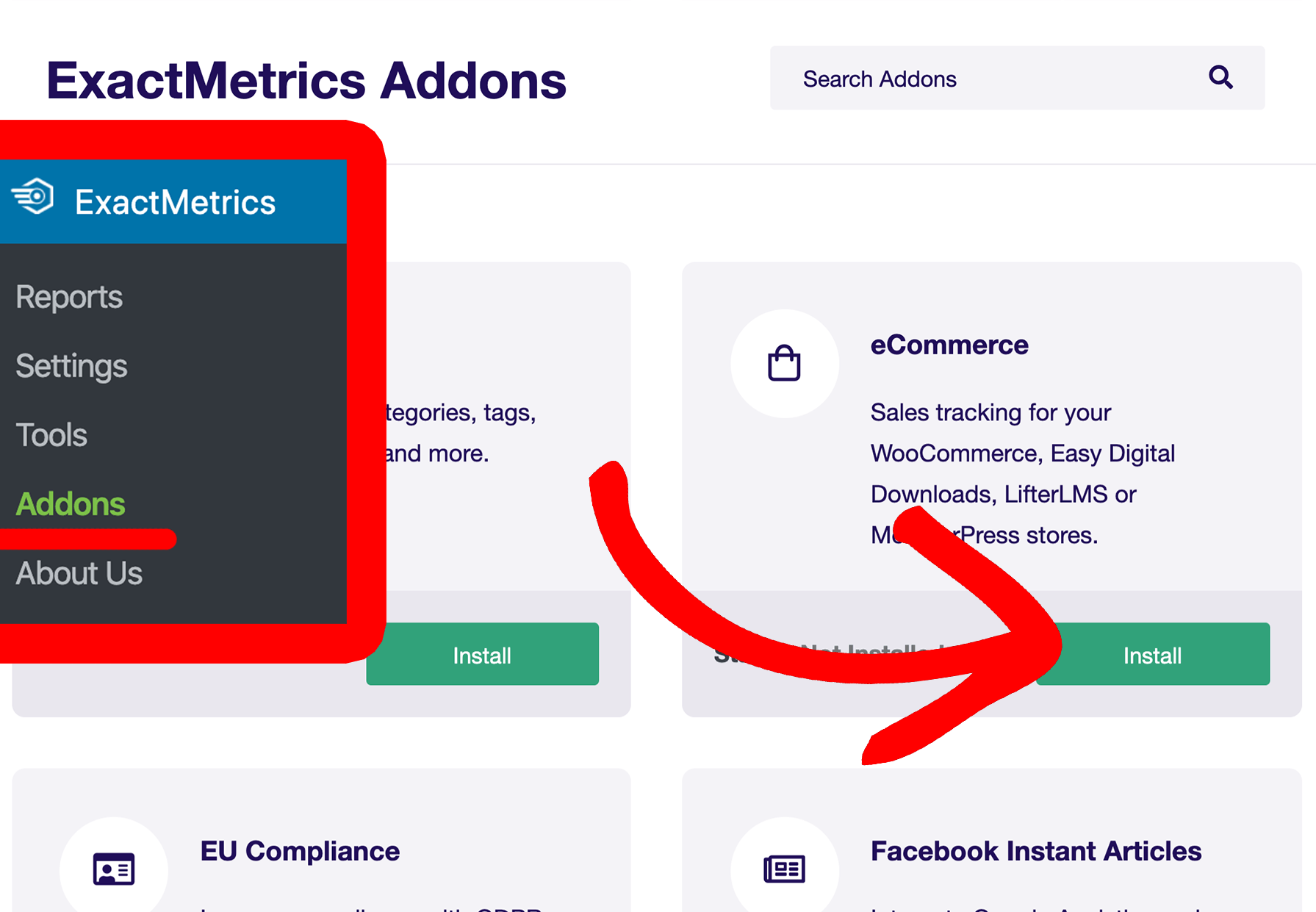 Once you've installed the addon, you'll have to enable Enhanced eCommerce tracking from ExactMetrics settings.
It will then automatically detect your eCommerce store and start tracking.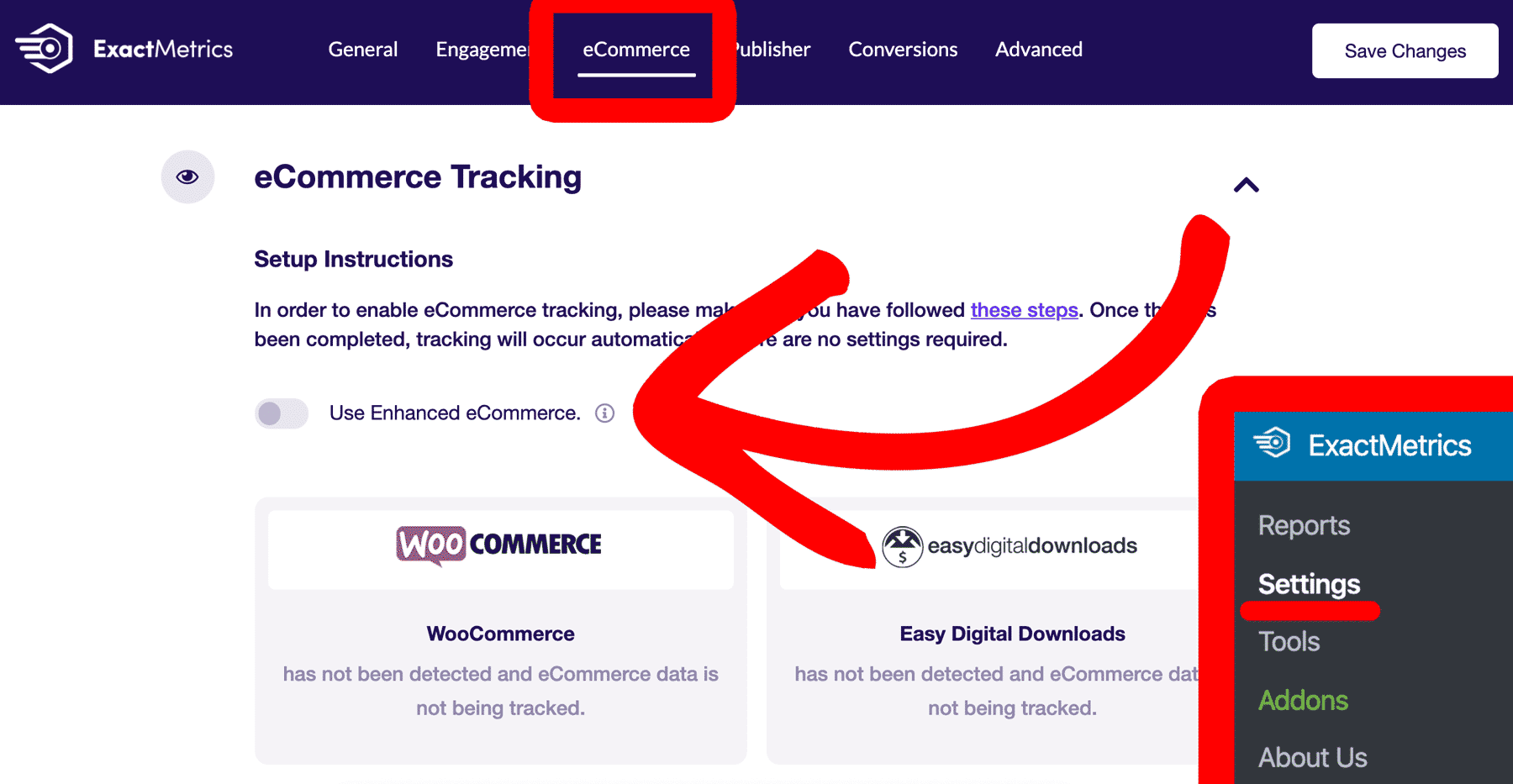 You can then view the reports in your dashboard. Just go to ExactMetrics Reports and click on the eCommerce tab. It will show you an overview of your online store along with your most popular products.
And if you scroll down, you can see how many times people clicked the Add to Cart button and Removed from Cart buttons.
Besides that, you can also see your top conversion sources. These are websites that have a link to your online store. So, when a user clicks on the link, he or she lands on your eCommerce website. This data is extremely valuable if you want to know which websites to promote your products.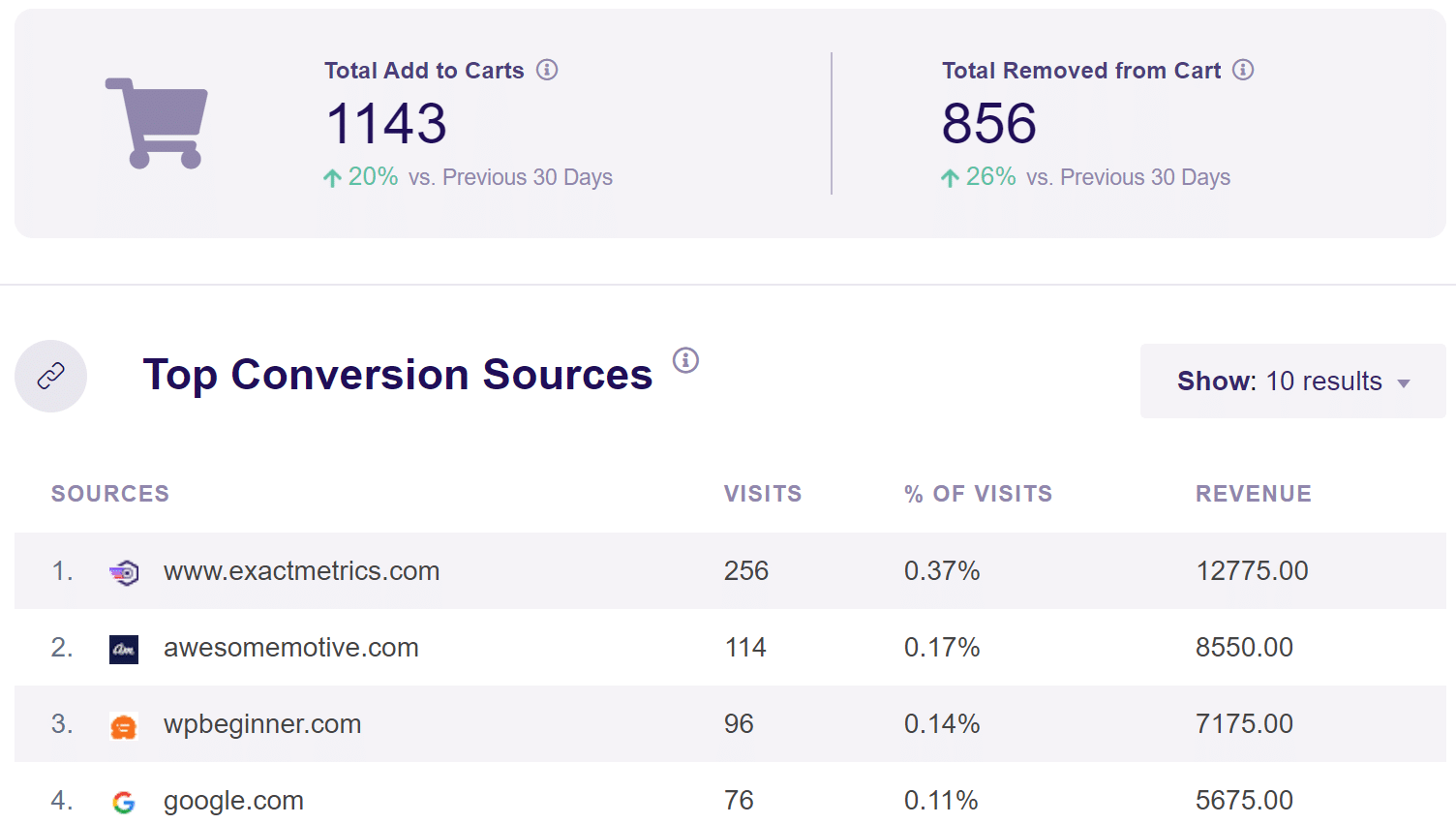 You can follow our guide on how to set up Google Analytics eCommerce tracking to get started.
4. Track Download File Links
Do you offer different files that people can download from your website? If so, then you should track your download links and see which type of file people like the most.
Then using this data, you can create more resources that people prefer. It also helps to repurpose your content, as you can turn your guides into PDF files and offer them as downloadable content.
ExactMetrics makes the process of tracking your download file links in WordPress very simple. It automatically detects and tracks file extensions on your website. And you can specify which file types to track by going to ExactMetrics » Settings » Engagement and then scroll down to File Downloads.

By default, ExactMetrics will track doc, pdf, ppt, zip, xls, docx, pptx, and xlsx file types. But you can add more.
Once you're satisfied with the settings, you can view your reports under Publishers. Navigate to Top Download Links and you can see your files and the number clicks they get.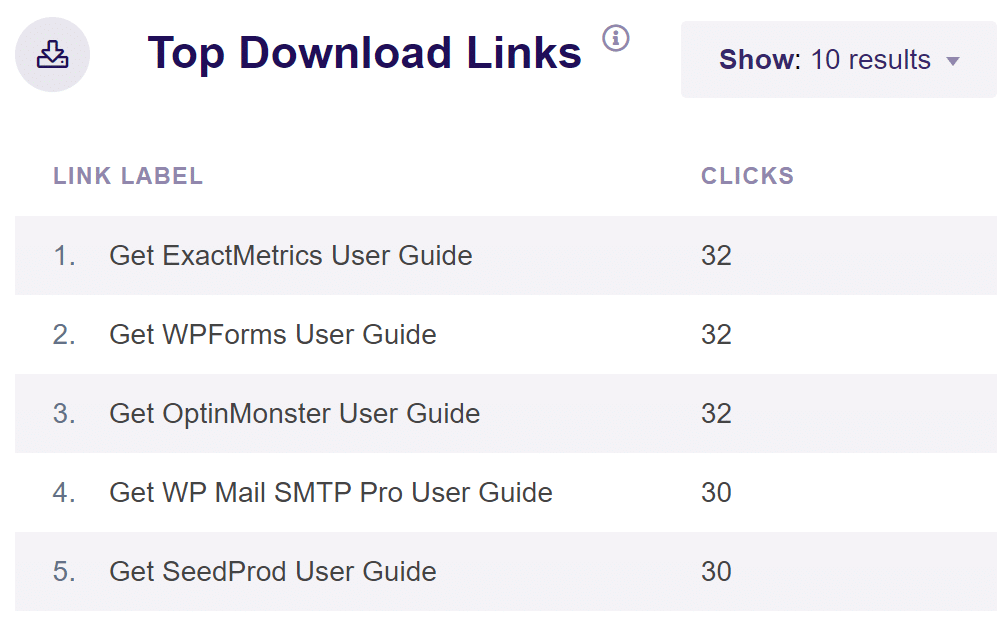 5. Track Form Submissions
Now, what if you have different forms on your WordPress site and want to know how many people click and submit them?
With ExactMetrics Forms addon, you can automatically track form submissions in WordPress. No need to perform any additional set up to see who clicked the submit button or not.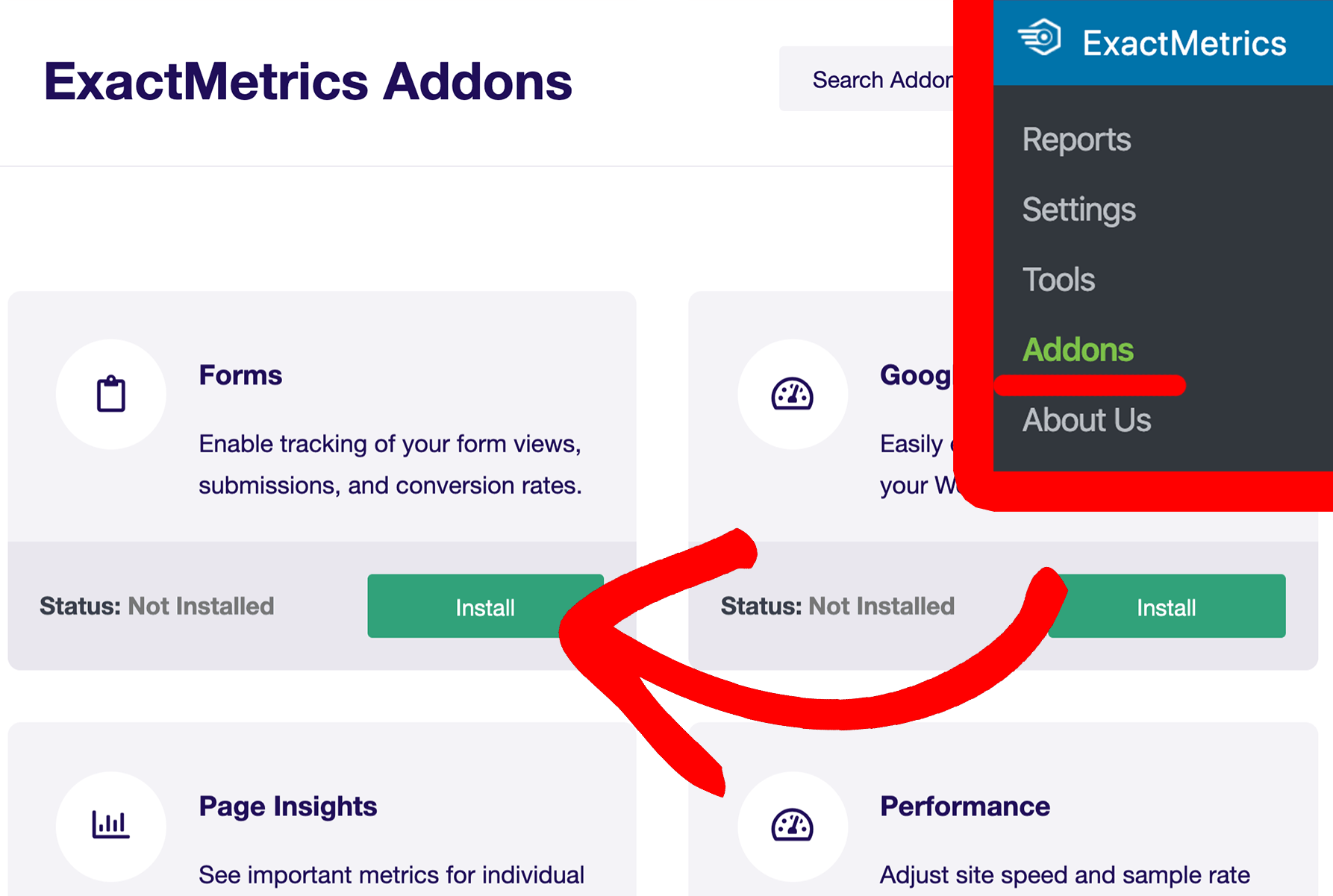 Once the addon is active, you get to see the number of impressions, conversions, and overall conversion rate of your forms in ExactMetrics reports.  This helps you tweak your strategy and see which forms are working and which aren't.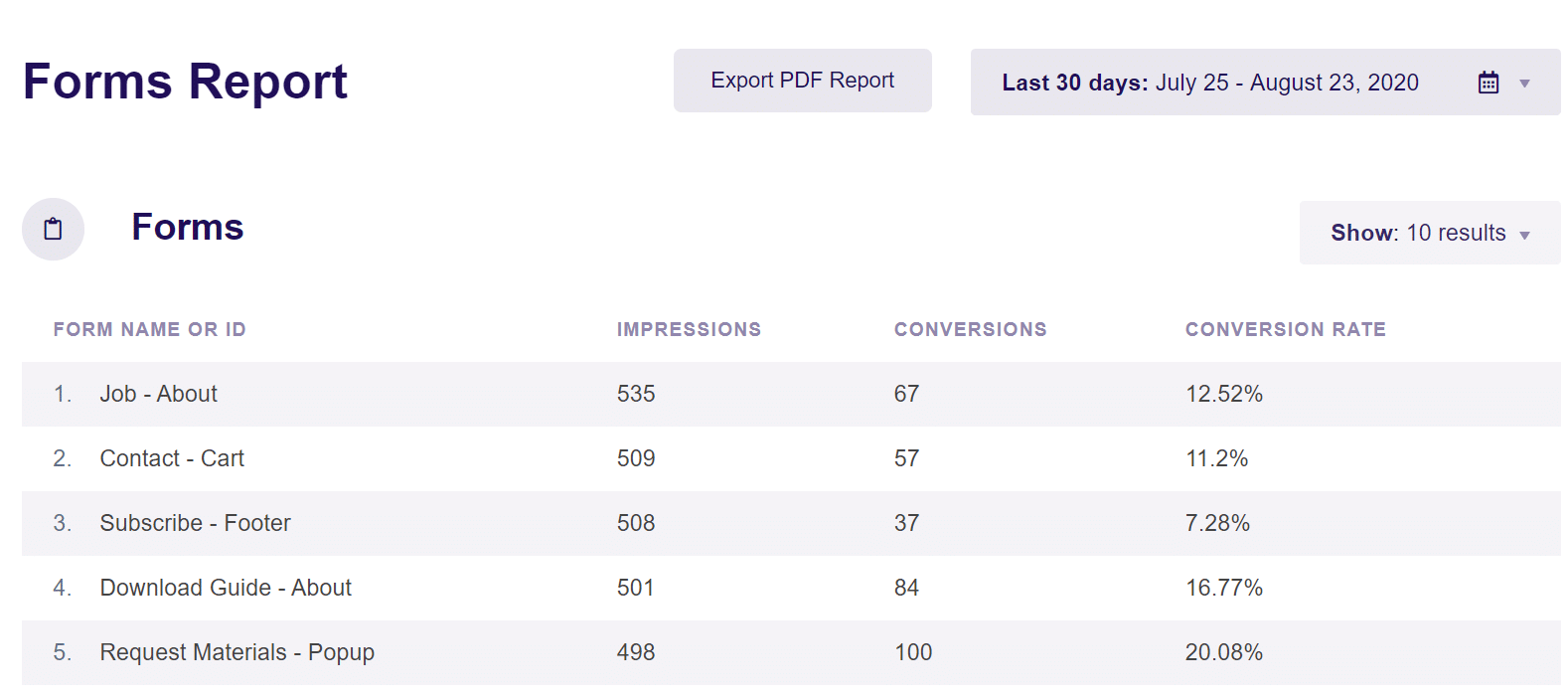 6. Track Custom Links
While ExactMetrics makes it super easy to automatically track link clicks and button clicks in Google Analytics, but what if you need to track a custom link.
Using its Link Attribution feature, you can easily track custom link clicks on your site. This is important if you have call to action (CTA) buttons in your content and want to know which CTA gets the most clicks.
And do that, go to your page or blog post. Then switch to the HTML view in your block editor, then add your custom link in the following format:

As you can see, the link contains additional information. Let's break it down:
Category – This helps you group your link into a category
Action – It describes the action users perform (e.g. CTA link click)
Label – You can use event labels to easily identify the link click from other links
Once you've entered the link, ExactMetrics will start to track it in Google Analytics. And you can view the report by logging into your Analytics account and then go to Behavior » Events » Top Events.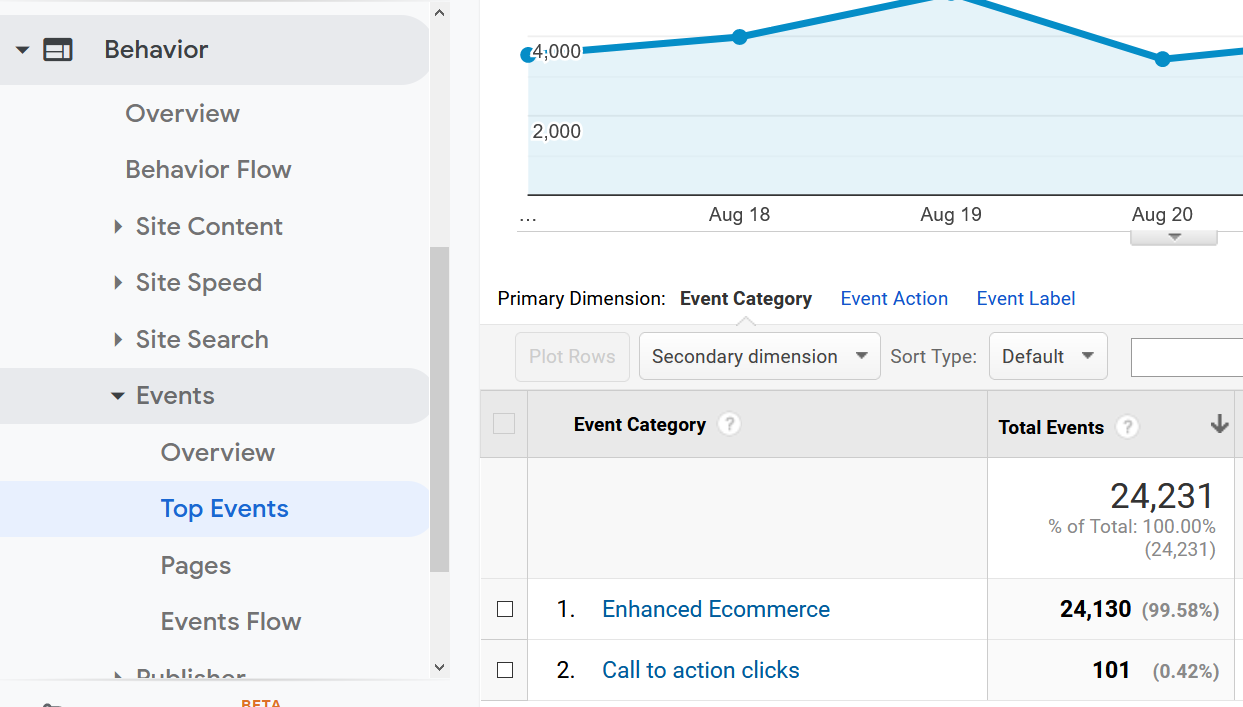 And that's it!
We hope you liked our article on how to track link clicks on your website with Google Analytics. If you want, you can also go through our guide on how to track Google Analytics custom events.
Don't forget to follow us on Twitter and Facebook to get to know the latest tutorials on Analytics.