Are you looking for a way to see how many people down PDF files on your WordPress website? Offering downloadable content like eBooks and PDFs is a great way of increasing user engagement.
By tracking your file downloads, you get to understand your audience better. You get insights about which PDF gets the most downloads so that you can offer similar content to your visitors.
Unfortunately, Google Analytics doesn't track PDF downloads by default. But don't worry, this is where ExactMetrics can help you out.
In this article, we'll show you how to track PDF downloads in Google Analytics using a simple method. Let's begin…
Can Google Analytics Track Downloads?
Google Analytics is the most popular analytics tool that's used by small and large businesses. But sadly, it doesn't track file downloads out of the box. Be it PDF files, Excel spreadsheets, Word documents, PowerPoint presentations, or more.
That's because Google Analytics code tracks pageviews. When a visitor downloads a file on your site, it doesn't trigger a pageview, so Google Analytics doesn't track it by default.
To set up file download tracking in Google Analytics, you'll have to set up event tracking. Events help you measure any interaction or action people make on your websites, such as downloads and affiliate link clicks.
Let's see how to track PDF downloads…
How to Track Downloads in Google Analytics
There are several ways to set up event tracking in Google Analytics to see how people interact with your download files.
You could use Google Tag Manager, but the process is time-consuming and tricky for beginners. It's easy to get lost in the Tag Manager if you're not familiar with its interface, and any mistake during the setup may result in your tracking not working properly.
Another way is to edit the Google Analytics tracking code and manually add the code for your files. This is again difficult if you're not a developer. And the slightest mistake could break your tracking and website.
So, is there a simple way?
With ExactMetrics, you don't have to edit any code or have to go through a lengthy and complicated setup process. It's the best premium WordPress Analytics plugin that automatically tracks PDF downloads in Google Analytics.
Step 1 – Install and Activate ExactMetrics
The first step is to download and activate ExactMetrics on your WordPress site. The plugin helps you set up Google Analytics without coding or requiring a developer.
Plus, it sets up event tracking right out of the box. You get to track file downloads, outbound link clicks, affiliate link tracking, and much more without having any additional configuration.
Step 2 – Add Google Analytics to Your Site
Once ExactMetrics is active on your website, the next step is to connect Google Analytics with your WordPress site.
Now, normally you'd have to enter a tracking code in your website's header so Google Analytics can track your visitors. But that requires editing code, and you might need to hire a professional.
That's not the case with ExactMetrics!
Just follow the setup wizard and it will guide you step by step. For detailed instructions, follow our tutorial on how to add Google Analytics to your WordPress site.
Step 3 – Manage File Extensions
After connecting to Google Analytics, you're now ready to track file downloads on your website. And with ExactMetrics, you can manage which file extensions to track.
To change the settings, go to your WordPress admin area and then navigate to ExactMetrics » Engagement » File Downloads.

ExactMetrics will automatically track PDF files along with Word documents, Excel files, and PowerPoint presentations. But if you want, you can add more file extensions that you'd like to track on your website.
Step 4 – View Most Popular File Downloads
The last step is to view which PDF files get the most downloads on your WordPress website. And with ExactMetrics, it's effortless to see the reports inside your WordPress admin area.
But remember, you'll need to have ExactMetrics Plus or a higher plan to view dashboard reports and see your best download files.
Now, go to ExactMetrics » Reports » Publishers and then scroll down to Top Download Links.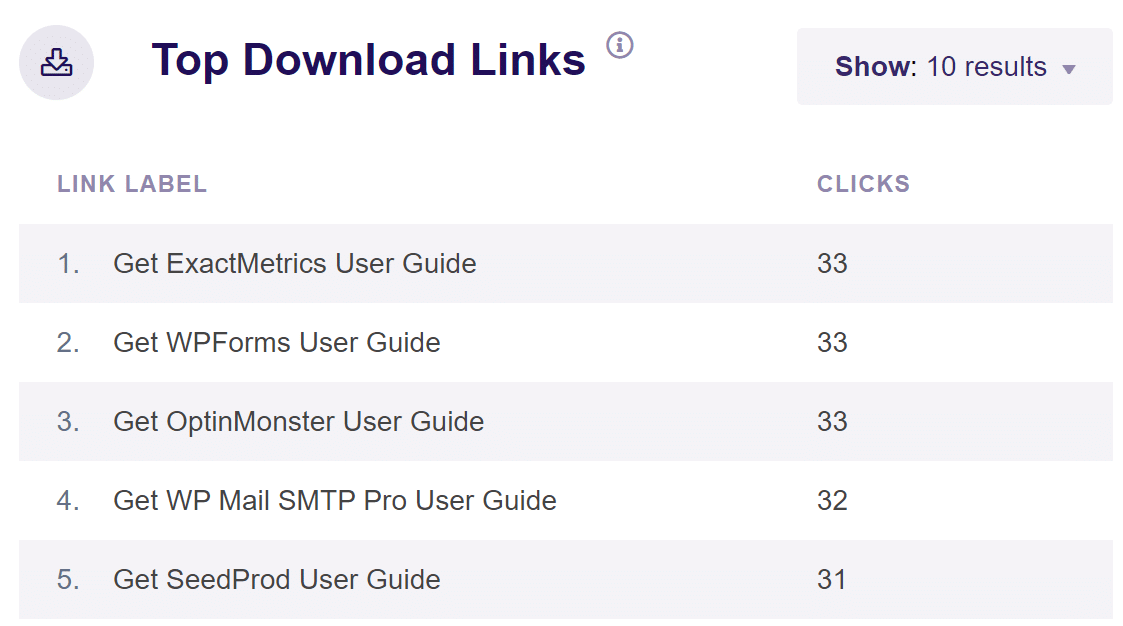 The report will show you your top download files based on the number of clicks. You get to see which PDF file your visitors like to download a lot. Then using these insights, you can create similar content and offer them as PDFs to your audience.
And if you want to see the report in Google Analytics, click the View All Download Links Report option at the bottom of the Top Download Links report in ExactMetrics.
Or you can log in to your Google Analytics account and navigate to Behavior » Events » Top Events and click on downloads to see your PDF files.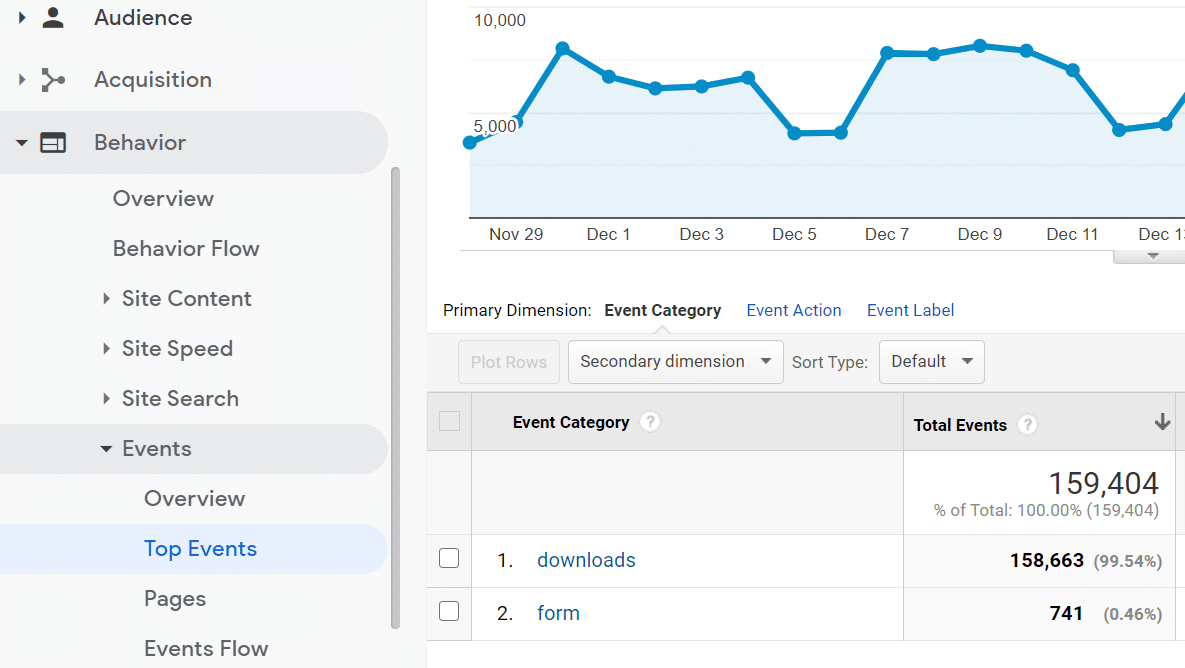 And that's it!
You can now get insights about people to interact with your PDF files and increase user engagement by offering amazing content for download.
We hope you liked our article on how to track PDF downloads in Google Analytics. If you want, you can also go through our guide on how to track phone calls in Google Analytics.
Don't forget to follow us on Twitter and Facebook to stay updated on the latest Google Analytics tutorials.