Do you want to learn how to track PDF downloads in Google Analytics 4?
Offering downloadable files on your website such as PDFs, eBooks, and more can enhance user engagement, but it's important to track those file downloads so you know which content is the most popular among visitors.
Using this data, you can improve your marketing campaigns, create better content, better understand your audience, and more.
In this article, we'll show you how to track PDF downloads in Google Analytics and WordPress, the easy way. So, let's get started…
Why Track File Downloads?
There are several reasons to set up tracking to see how people interact with your downloadable files. Check out a few of the advantages of tracking your download links:
Gain insight into how popular your downloadable resources are.
Improve your marketing campaigns by promoting downloadable content that you know your audience wants.
Understand which content types you should make available for download more frequently and which ones may not be worth your time.
See which pages visitors are on when they click a button to download content.
Does Google Analytics Track Downloads?
Yes, Google Analytics 4 does track downloads. There's a built-in GA4 file download event that's part of Enhanced Measurement, which can help you track when visitors click a download link. That said, it still isn't particularly beginner-friendly and comes with some caveats.
If you do turn on the feature, Google Analytics will report your basic file download metrics in your Events report, which looks something like this.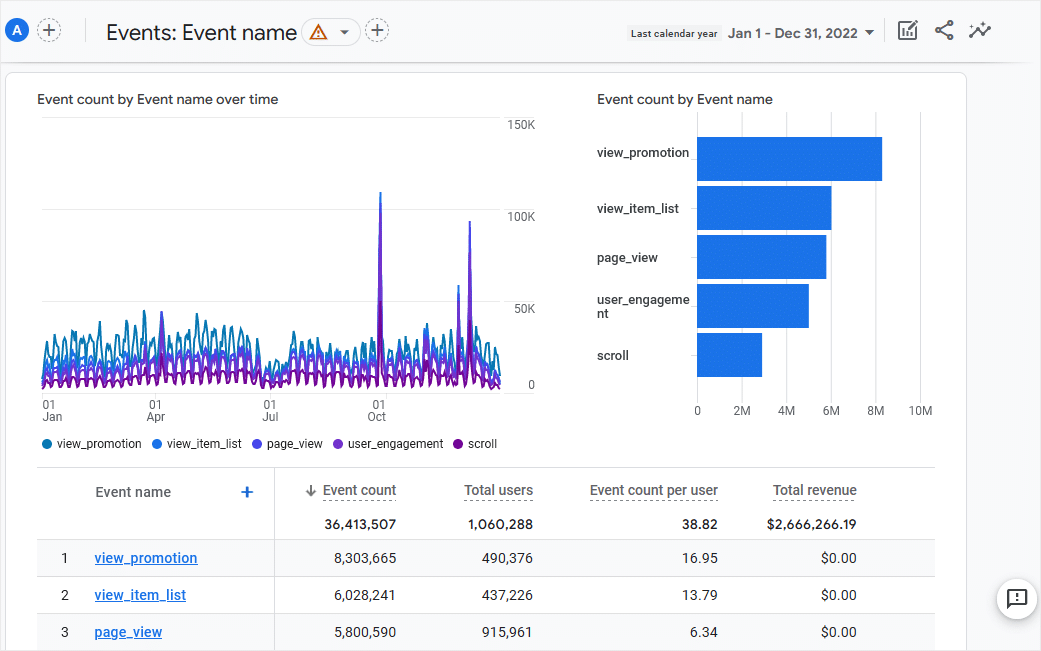 Although you can activate the downloads tracking feature, many users struggle with figuring out where file downloads are reported and how to dig up the data they need.
Plus, the automatic tracking feature has a maximum URL link of 100 characters, and it'll cut off anything after this, which is often the actual file name and extension. And, there isn't a way to expand the list of file types that Analytics will track.
This means if you want to track your downloads by their name and/or track additional file types, you'd need to create custom events or set up a complicated Google Tag Manager configuration.
Both of these are pretty time-consuming and technical options, and any mistakes may result in your tracking not working properly or even your entire website breaking.
So, is there a simpler way?
A Better Way to Track WordPress File Downloads
What if we told you that there's a much simpler, faster, and more efficient way to monitor the download links on your WordPress website? Well, there is!
With ExactMetrics, you can say goodbye to confusing GA4 reports and complex lines of code, and say hello to streamlined and straightforward file download tracking for PDF files, Excel spreadsheets, Word documents, PowerPoint presentations, eBooks, and more.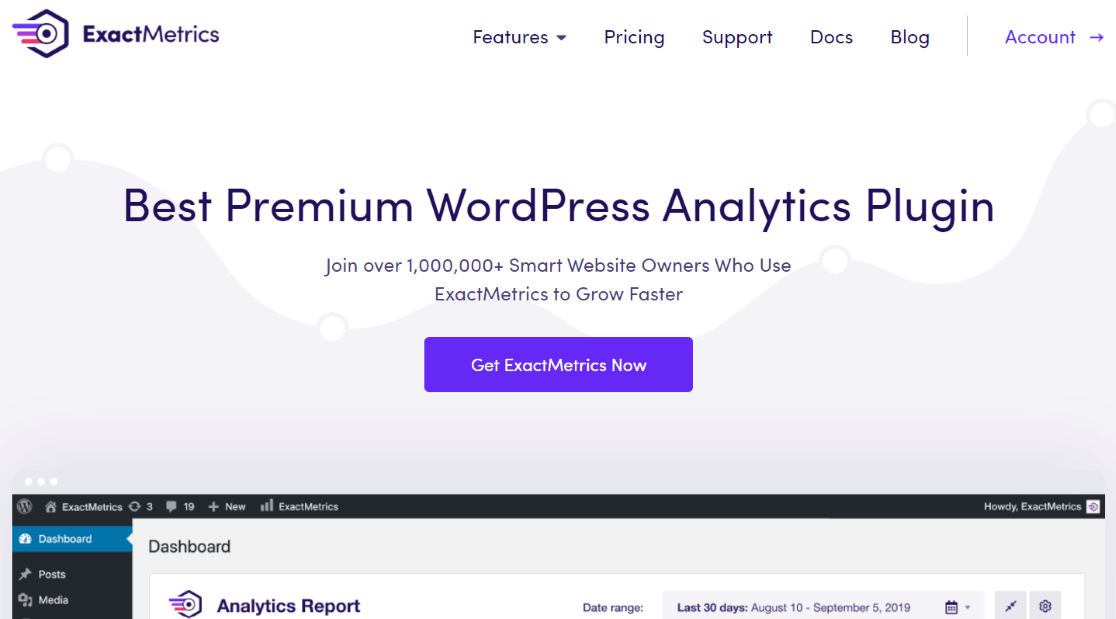 ExactMetrics is the best premium WordPress Analytics plugin, allowing you to easily set up Google Analytics without editing any code. Plus, you get advanced tracking right out of the box. With just a few simple clicks you can set up tracking for form submissions, eCommerce, affiliate links, videos, social media, and lots more.
Easily see all your important Google Analytics data in extremely user-friendly reports, right inside your WordPress dashboard.
With that, let's dive into how you can start tracking PDF files and other downloadable content with Google Analytics and ExactMetrics.
How to Track Downloads in Google Analytics
1. Install ExactMetrics
To start tracking PDF downloads, the first thing you need to do is purchase ExactMetrics at the Plus level or above. After, you'll be able to download the plugin's ZIP file directly from the website.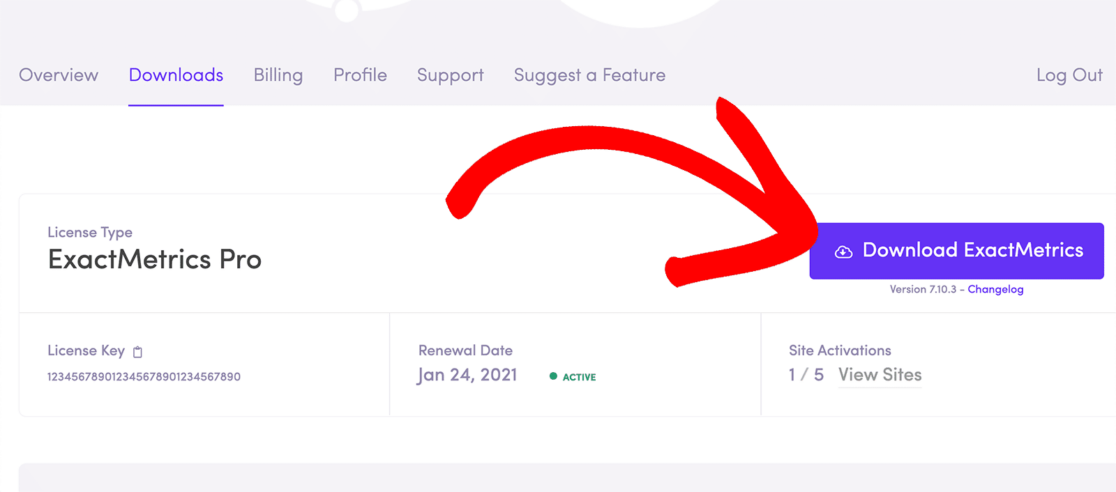 Now, to install the plugin, log into your WordPress website and navigate to Plugins » Add New. Click Upload Plugin at the top. Then, select the ExactMetrics file you just downloaded, and press Install Now.
After it finishes, click Activate.
2. Connect Google Analytics to Your Site
Once ExactMetrics is active on your website, the next step is to connect Google Analytics with your WordPress site.
Normally you'd have to add tracking code to your website's header so Google Analytics can track your visitors, but that's not the case with ExactMetrics!
Just follow the setup wizard, and it will guide you step-by-step. You'll have Google Analytics tracking set up in only a couple of minutes, and won't need to edit any code or hire a developer.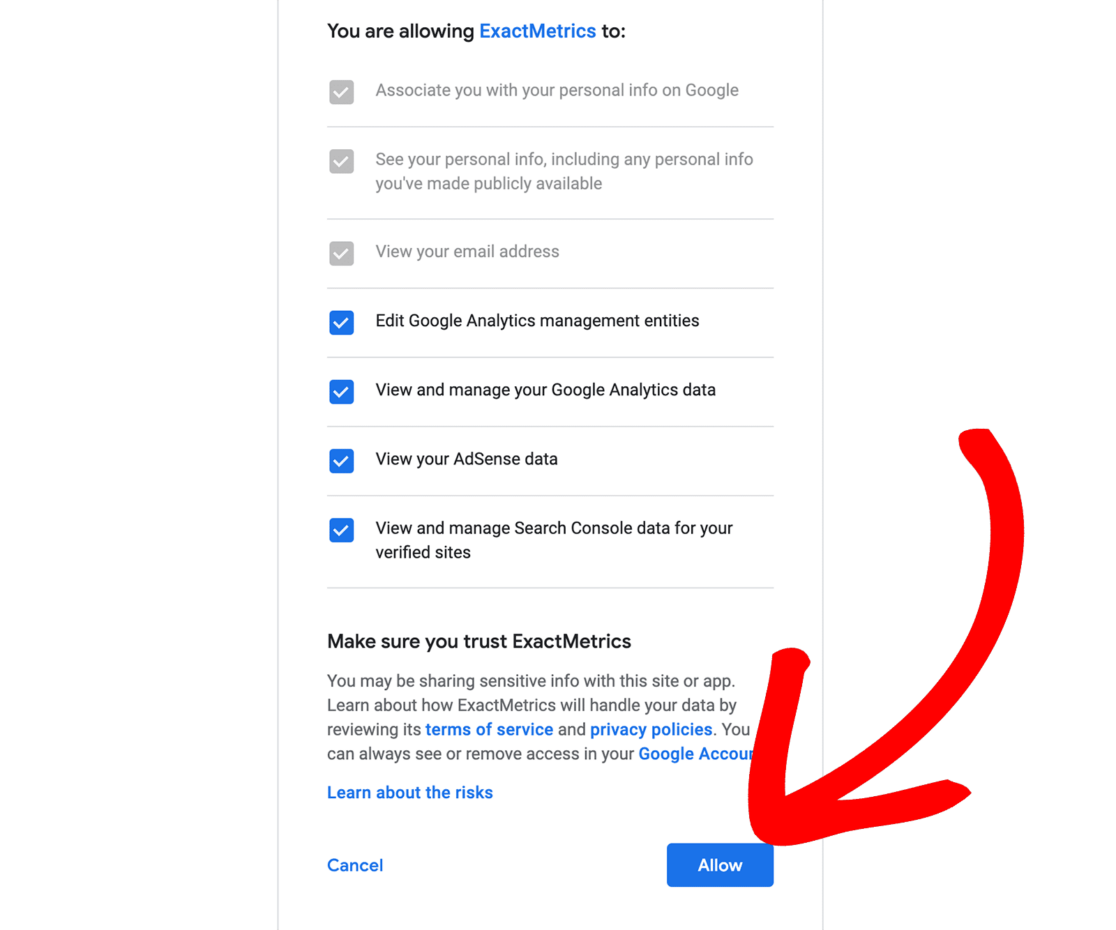 For detailed instructions, follow our tutorial on How to Add Google Analytics to Your WordPress site.
3. Manage File Extensions
After connecting to Google Analytics, you're now ready to track file downloads on your website. And with ExactMetrics, you can easily manage which file extensions to track.
To change the settings, go to your WordPress admin area and navigate to ExactMetrics » Engagement. Expand the File Downloads section.

ExactMetrics will automatically track PDF files along with the following extensions: doc, ppt, zip, xls, docx, pptx, and xlsx. But if you want, you can add more file extensions that you'd like to track on your website. Just separate additional extension types with a comma.
4. View Your File Downloads in WordPress
The last step is to view which PDF files or other downloadable content is most popular on your WordPress website.
Just go to ExactMetrics » Reports » Publishers » Overview from your WordPress menu. Scroll down to Top Download Links report.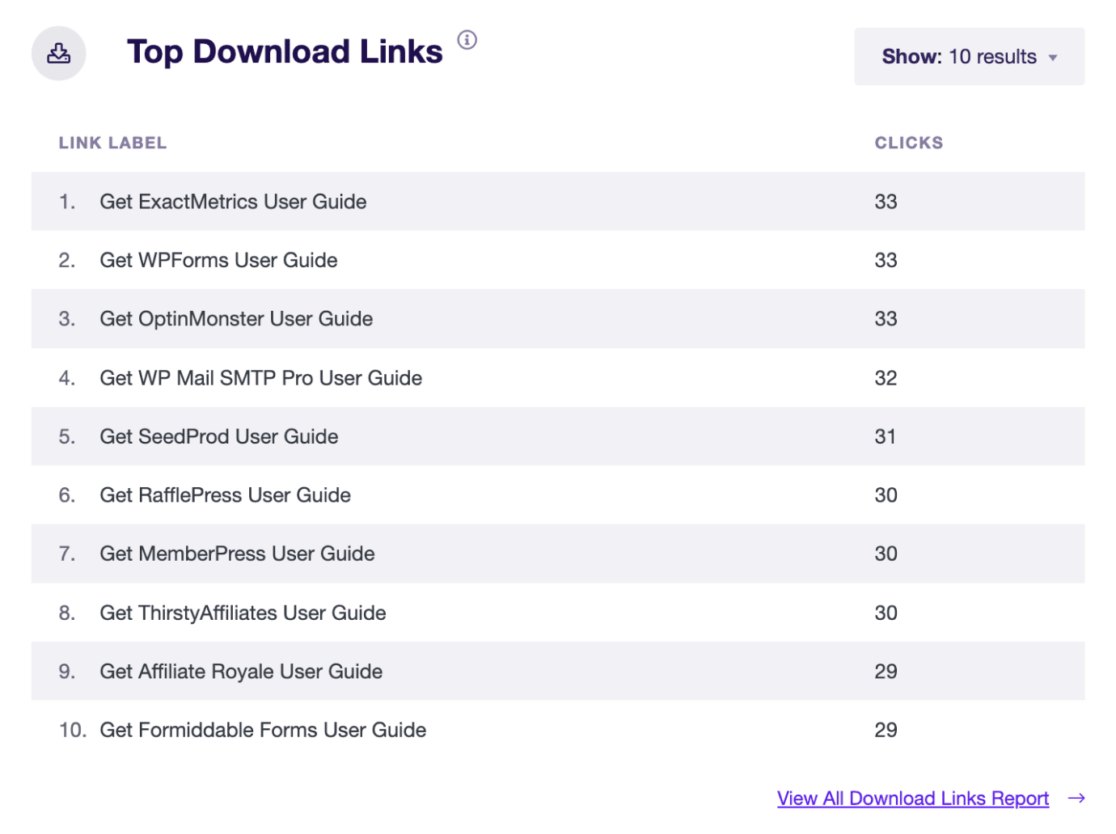 The report will show your top download files based on the number of clicks, so you can quickly see which files your visitors download the most. Using these insights, you can create similar content, promote popular downloads, and improve your marketing strategy.
What if you want more information about your file downloads? We'll show you how to get deeper data in Google Analytics next.
Where to Find Downloads in Google Analytics
To see your file download report in Google Analytics 4, you can just click the View All Download Links Report option at the bottom of the Top Download Links report in ExactMetrics. This will take you straight to the correct event report in GA4.
Or, you can find it by navigating to Reports » Engagement » Events. From here, scroll down to the table and look for an event called file_download. Go ahead and click it.

This will take you to the overview report for your file_download event. One of the best things about ExactMetrics is that it takes care of all the complicated Google Analytics stuff behind the scenes, so you can find your GA4 reports without any additional setup.
You can use the various cards to see more information about your downloads such as the countries where users who download your PDF files come from.
To see the clicks on individual download links, scroll down to the card titled Link Text. Here, you can see the number of downloads (Event Count) and Total Users for each downloadable link on your site.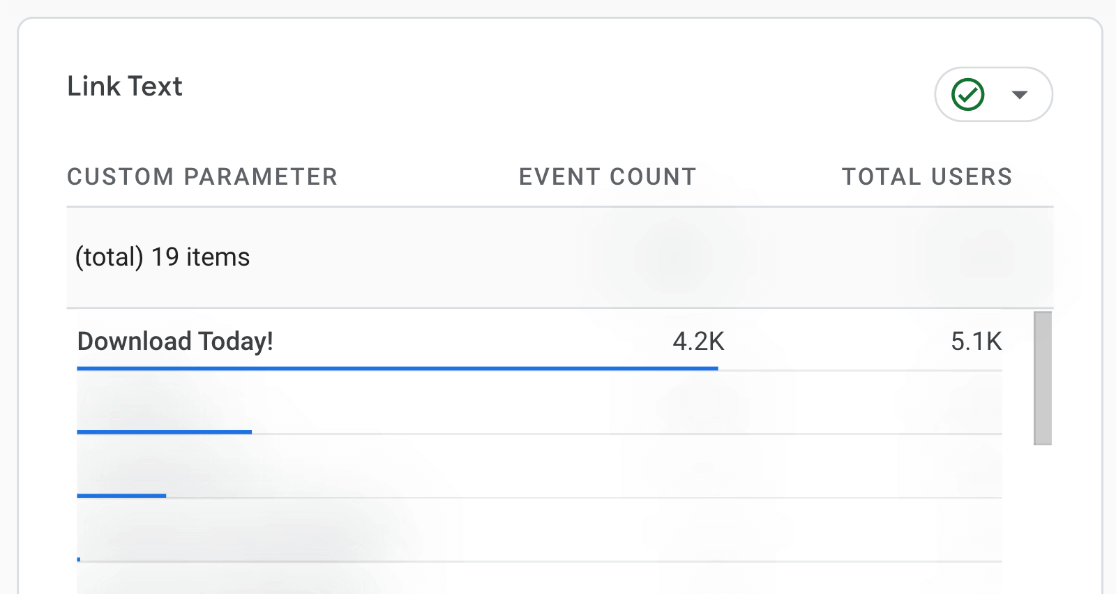 Now, what if you want to use Google Analytics to see which pages users downloaded a PDF file or other content from? For that, you can create a custom file downloads report, which we'll go over next.
Get More Data About File Downloads in GA4
To get more data about PDF resources and other files your website visitors download, you'll need to create a custom report. In Google Analytics, go to the Explore tab and click to create a Blank report.
If you're unfamiliar with using custom exploration reports in GA4, you can head to our tutorial on How to Create Google Analytics 4 Custom Exploration Reports to learn more.
In your blank report, you'll want to import the following Dimensions and Metrics using the respective + signs in the left column.
Dimensions: File name, Link text, Page location, Event name
Metrics: Event count
Now, drag File name, Link text, and Page location over to the Rows box in the right column: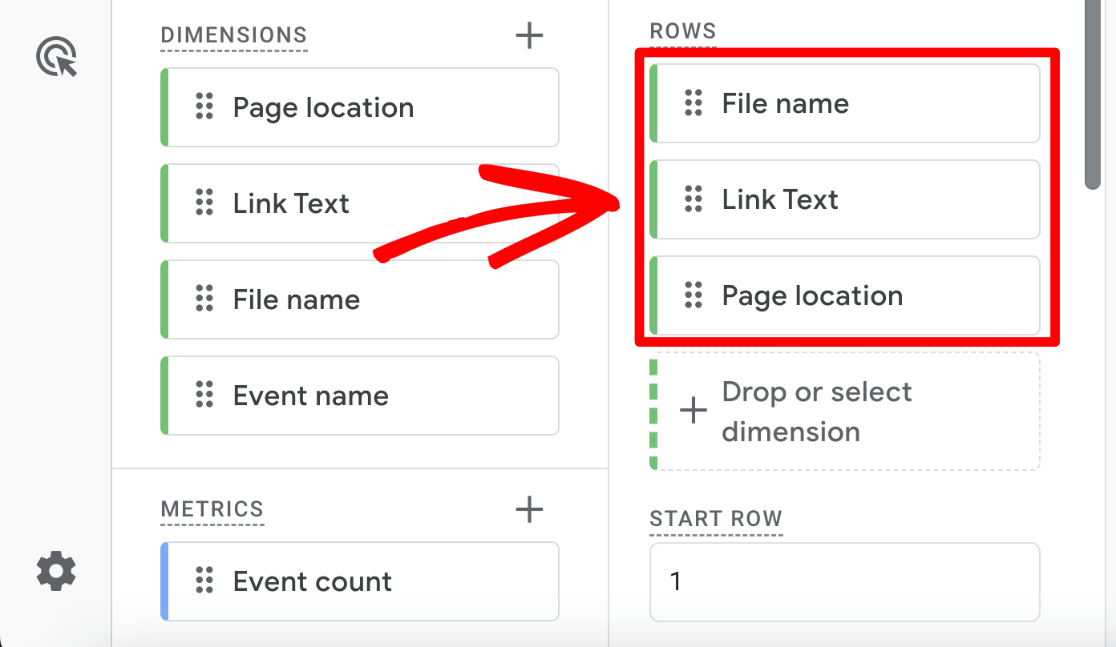 Next, place Event count in the Values box. Then, drag Event name to the Filters box. Set the Conditions to exactly matches file_download, and hit Apply.
It should look like this: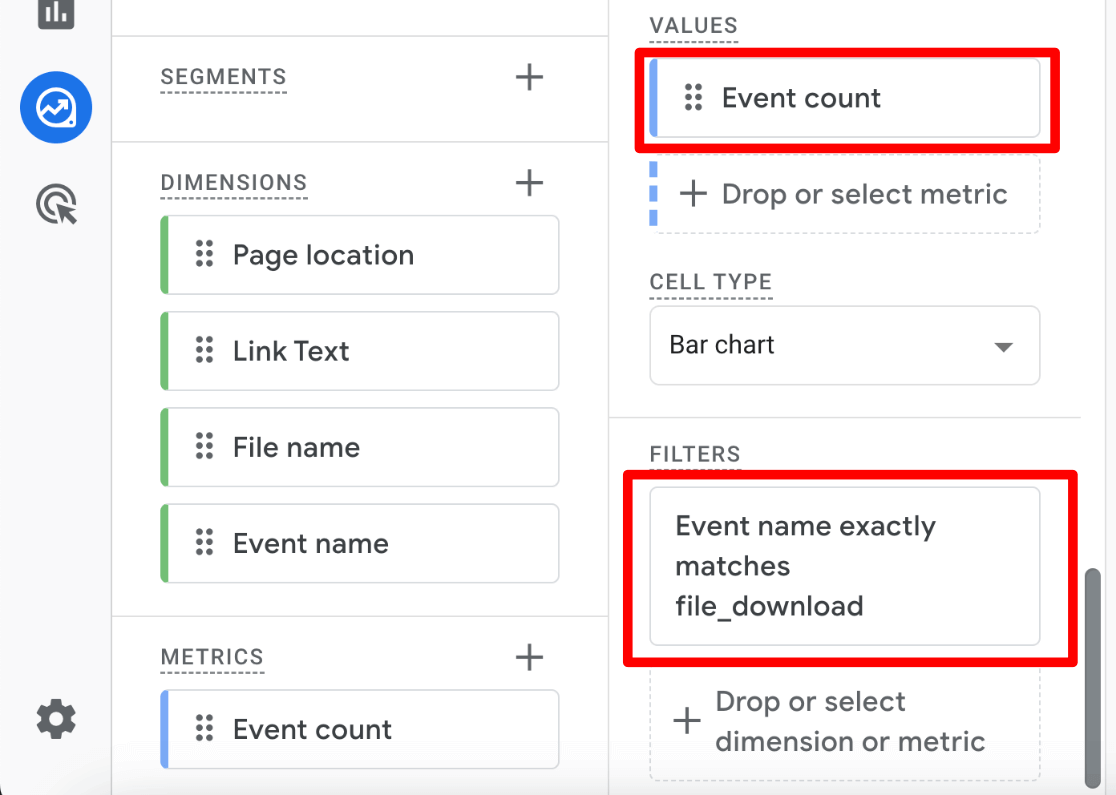 Congratulations! You've successfully created a custom GA4 file downloads report.
This report provides insight into which files have been downloaded, offers context with the corresponding link text, and helps you keep track of the specific pages where files are downloaded.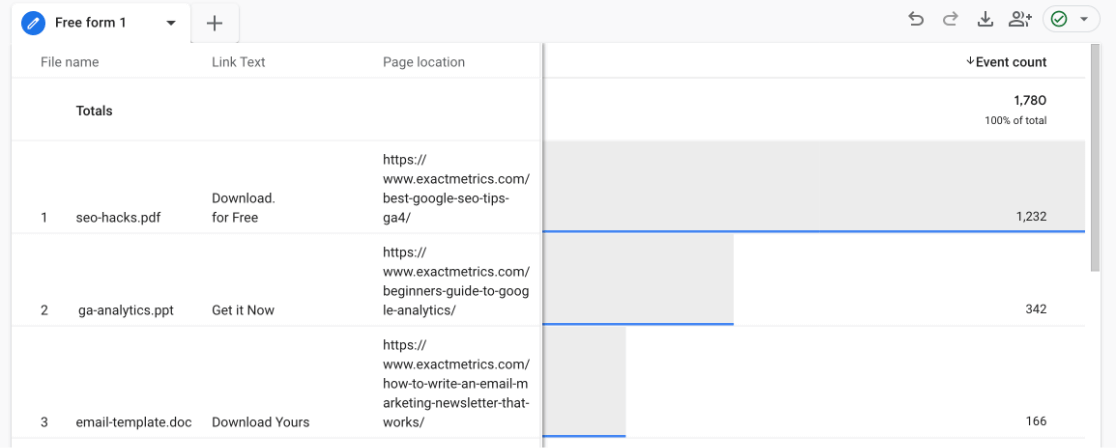 And that's it! You can also use different dimensions and metrics in your custom report to get more data about how people interact with your PDF files and downloads.
Track file downloads to increase user engagement and offer more amazing content for download on your site.
We hope you liked our article on how to track PDF downloads in Google Analytics. If you enjoyed this article, be sure to check out How to Track Phone Calls in Google Analytics 4 (Easy Way)
Not using ExactMetrics yet? What are you waiting for?
Don't forget to follow us on Twitter and Facebook to see all the latest reviews, tips, and Google Analytics tutorials.