Are you looking for a way to see how people use your Facebook Instant Articles? If so, then you need to set up tracking in Google Analytics.
Instant Articles provide a quick reading experience to your audience. And if you're a publisher, then it's important to know which posts perform better at driving visitors from Facebook.
But setting up tracking natively will lead to inaccuracies in Google Analytics and you may see not set in reports. This is where ExactMetrics comes in handy, as it resolves this issue.
In this article, we'll guide step by step, how to track Instant Articles in Google Analytics using ExactMetrics.
Let's begin with…
What are Instant Articles?
Instant Articles by Facebook offers your readers a quick and seamless user experience. According to Facebook, Instant Articles load 10 times faster than standard web articles on mobile devices.
It makes this possible by loading a stripped-down version of your website, so your blogs load instantly on the Facebook mobile app.
This is excellent for users with a poor internet connection, as they're able to read your posts without any trouble. As a result, you don't have to worry about visitors leaving your website without finishing the article and having a high bounce rate.
With Facebook Instant Articles, you can even monetize your blog posts. It makes it easy to use ads within your articles.
So, are you ready to set up Instant Articles tracking?
Tracking Facebook Instant Articles in Google Analytics
Before we start with the tutorial, there are a few things you'll need in advance.
First, you need to install ExactMetrics on your WordPress website. It's the best premium WordPress Analytics plugin.
Using ExactMetrics, you can easily add Google Analytics to your website without any coding. And with its Facebook Instant Articles addon, you can easily track your blog posts with complete accuracy.
Not only that, but ExactMetrics also lets you track the performance of your ads, outbound clicks, and more on your Instant Articles.
Do note that you'll need to have a Plus license or higher to access Facebook Instant Articles addon.
Besides ExactMetrics, you'll also need Instant Articles for WP plugin by Automattic.
Once you've got these things in place, just follow these steps…
Step 1: Install ExactMetrics Facebook Instant Articles Addon
To install the addon, go to ExactMetrics » Addons and then navigate your way to Facebook Instant Articles.
Now click the Install button and the addon will automatically activate. In case it doesn't, go ahead and click the Activate button.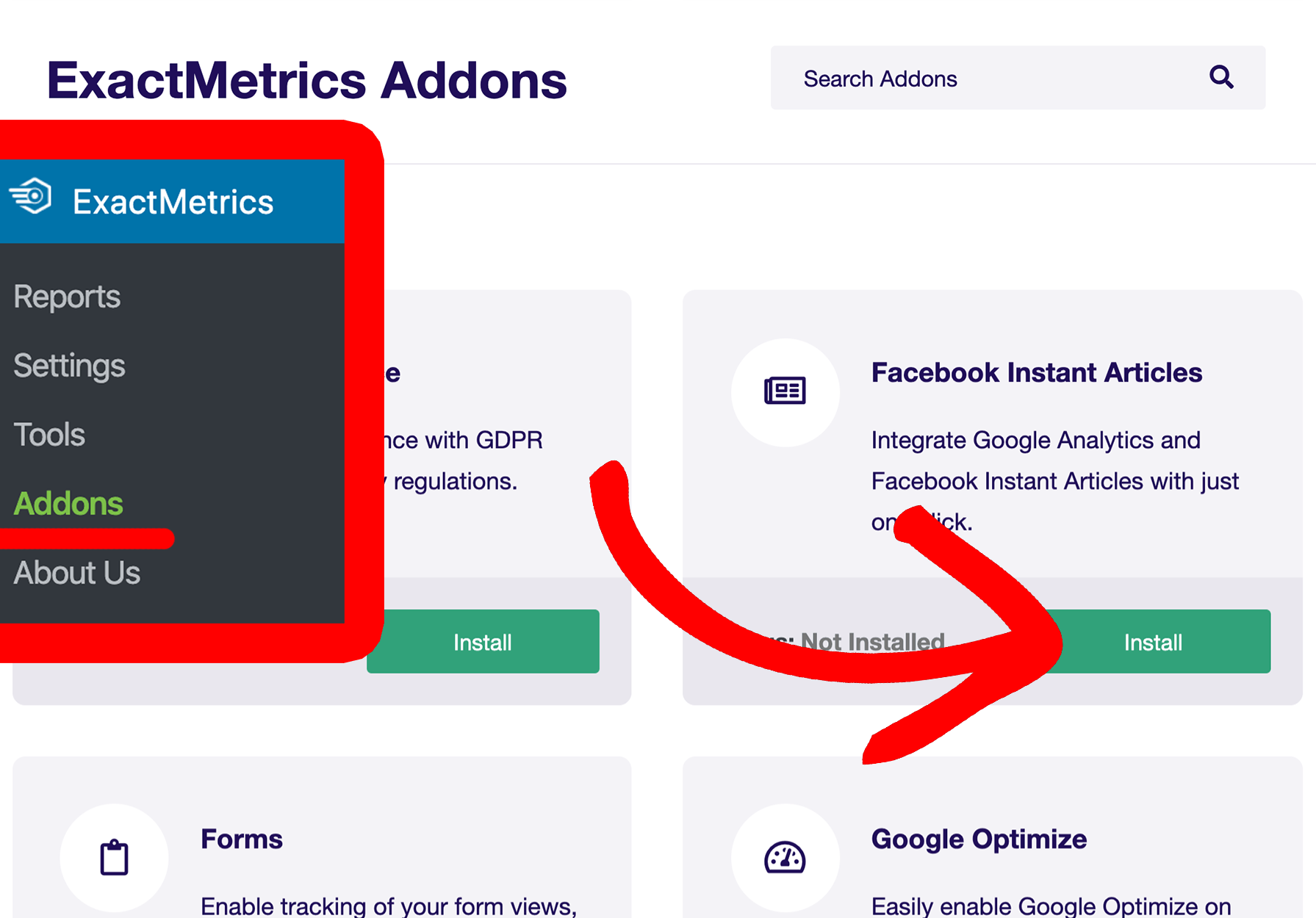 Step 2: Integrate ExactMetrics with Instant Articles for WP Plugin
After successfully installing and activating the ExactMetrics addon for Instant articles, the next step is to integrate it with Instant Articles for WP plugin.
First, install and active Instant Articles for WP plugin on your website. Once it's installed, you'll see Instant Articles in your WordPress dashboard.
Next, go to Instant Articles from your dashboard and open its settings page. Now scroll down to the Analytics section and in front of 3rd Party Integrations, enable Google Analytics by ExactMetrics.
And that's it! You can now track Facebook Instant Articles in Google Analytics.
Step 3: View Instant Articles Report in Google Analytics
After completing the setup process, you can now view the performance of your Instant Articles in Google Analytics.
You can view the report by logging into your Google Analytics account.
Next, click on Acquisition from the menu on your left. Then select All Traffic » Channels and then click on Social.

You'll then see a list of social platforms. Go ahead and select Facebook.

Now, set the Secondary dimension to Page, which you can find under Behavior or you can simply enter Page in the search bar.
This will give you the list of pages your audience visited through Facebook. You can now measure the performance of your Facebook Instant Articles.

And there you have it!
You can now accurately data of your Facebook Instant Articles. Using the information, you can see which posts are better at attracting visitors from Facebook and which posts need optimization.
We hope you liked our tutorial on how to track Instant Articles in Google Analytics. If you found this post to be useful, then make sure to check out our guide on how to set up Google Analytics AdSense tracking in WordPress.
And don't forget to follow us on Twitter and Facebook to get to know the latest guides on Google Analytics and WordPress.