Do you want to see where your visitors are coming from on your website? By tracking your Google Analytics traffic sources and mediums, you'll be able to easily see how visitors are finding your site.
When you know where your visitors are coming from, you can better understand your audience and make data-driven decisions that'll grow your business.
In this article, we'll show you how to check website traffic in Google Analytics and how to find the source of your traffic with GA4's source/medium report. We'll also show you an easy way to see your top traffic sources and key metrics for each channel right inside WordPress.
Why Track Google Analytics Traffic Source/Medium?
When you track where your website traffic is coming from, you'll get insights to help you increase your site's traffic and conversions. A few of the benefits are:
Identify New Topics for Your Blog – Look at which content people from different sources prefer, then find similar topics to cover on your site.
Invest in the Right Traffic Sources – At times, it can be difficult to focus on all marketing channels at once, so find out which traffic source brings in the most visitors and invest in that channel to get quicker results.
Create Targeted Marketing Messages – You can set up targeted promotional and marketing messages for visitors from different regions and boost your conversions.
Improve Performance of Marketing Channels – While it's good to find the right channel to invest in, you should also identify opportunities to boost the performance of other traffic sources.
How to See Google Analytics Traffic Sources
How to Find Traffic Sources in Google Analytics
Ready to find your traffic source and medium in Google Analytics? Our tutorial will guide you every step of the way, so you can find the information you need to make decisions, without getting lost in the vast world of Analytics.
Note: Is your site on WordPress? There's an easier way to see your traffic sources, jump down to our WordPress instructions!
There are a few different ways and places to view your traffic source/medium in Google Analytics, but first, we'll go over one that's the easiest to find and understand.
See Which Channels Traffic Comes From
To start, sign into Google Analytics and navigate to Reports » Acquisition » Traffic Acquisition. Here, you'll see an overview report about how your traffic came to your site: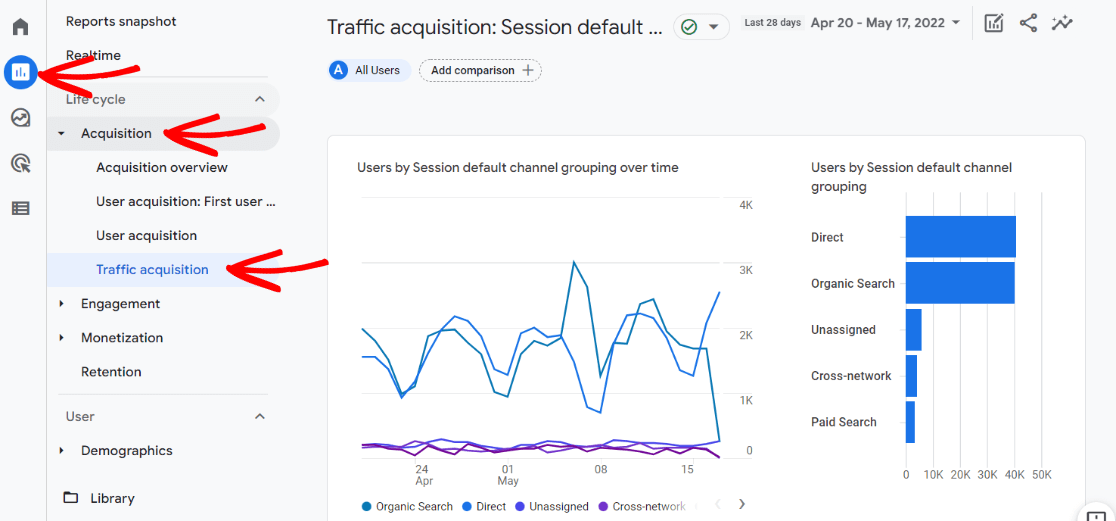 Scroll down to the table to see more specifics and metrics for each channel: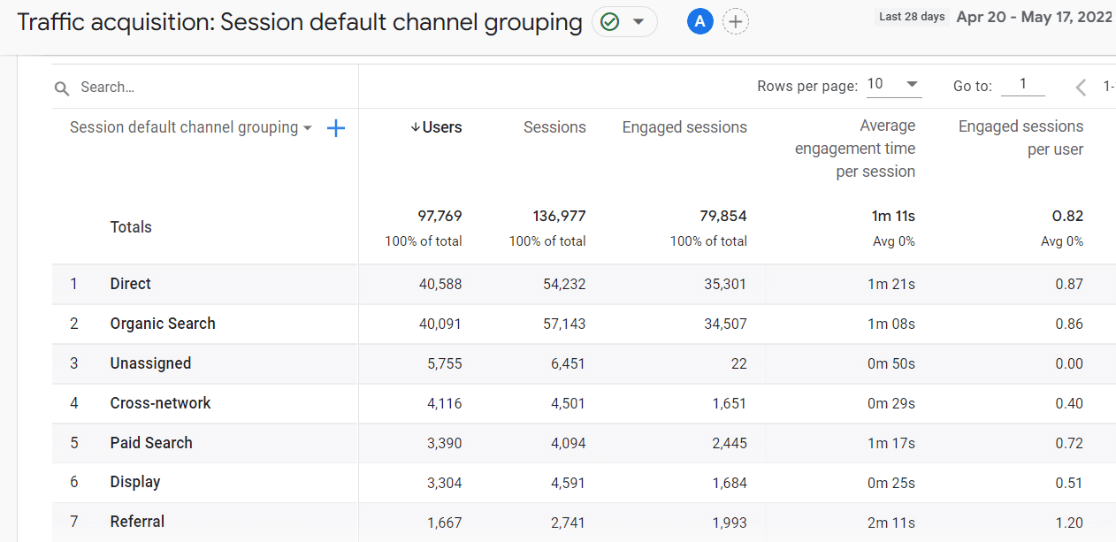 Understanding Your Traffic Source Metrics
In this table, for each channel, you'll see:
Users – the number of users who came to your site via that channel
Sessions – the number of sessions that occurred via that channel
Engaged sessions – the number of sessions that occurred via that channel that lasted 10 seconds or longer, had a conversion event, or had 2 or more pageviews
Average engagement time per session – how long on average sessions via that channel lasted
Engaged sessions per user – the number of engaged sessions on average per user
Events per session – the average number of events that occurred per session for that channel
Engagement rate – the percentage of engaged sessions
Event count – the number of events that occurred for that channel
Conversions – the number of conversions that occurred for that channel (requires conversions to be set up)
Total revenue – the amount of revenue that was recorded for that channel (if you have eCommerce tracking set up)
Using all of these metrics (or just the ones that make sense for your site), you can track how each channel is doing and make improvements to your site that work towards growing your business.
How to See Your Google Analytics Traffic Source / Medium Report
Now, to get even more granular data, let's add Medium to our table. To do that, click the blue plus sign:

Next, in the dropdown box that appears, click on the Session Acquisition category, then choose Session source/medium.

Now, you have a complete source/medium report in Google Analytics. You can see more here than you could with just the source report!
For instance, now you can see things like whether different search engines contributed to your organic search total, and see how traffic via each search engine behaved: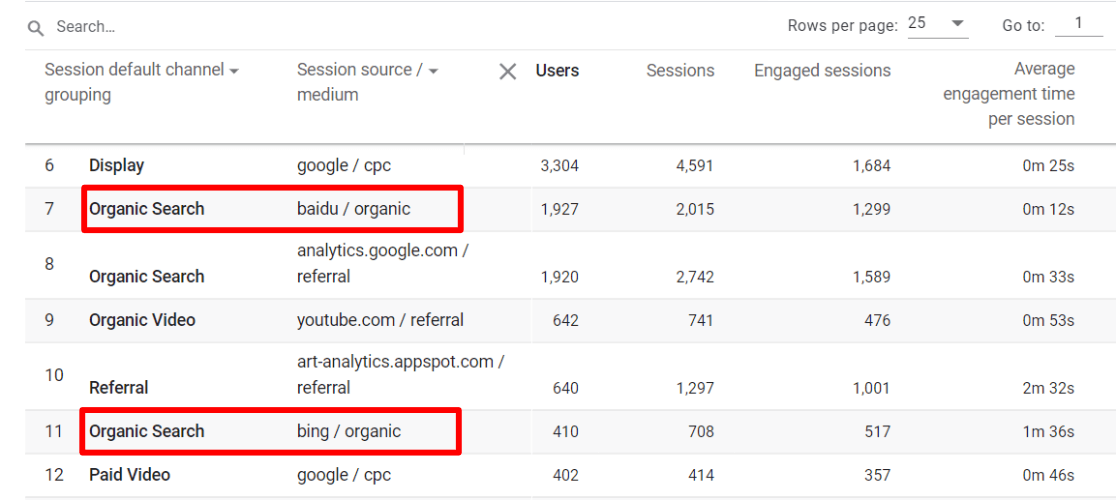 An Easier Way to Track Traffic Sources
For WordPress users, there's an easier way to see Google Analytics traffic sources! Meet ExactMetrics.
ExactMetrics is the best premium WordPress Analytics plugin and makes it super simple to use Google Analytics. You don't have to worry about coding or hiring an expert to set up tracking (even eCommerce!). With its clean, easy-to-read reports, you'll get all your important data inside your WordPress dashboard.
After installing the plugin and successfully adding Google Analytics to your WordPress site, let's dive into the reports you can use to check your traffic sources.
Overview Report
Start by navigating to ExactMetrics » Reports. The first report tab you'll see will be the Overview report. On this page, you'll see your website traffic graph along with key performance metrics at the top.
Scroll down a little bit to see your top referral sources in the Top 10 Referrals report. This report shows you which websites are sending the most traffic to your website. So, if another website has a link to your site and a user clicks on it, they're counted under referral traffic.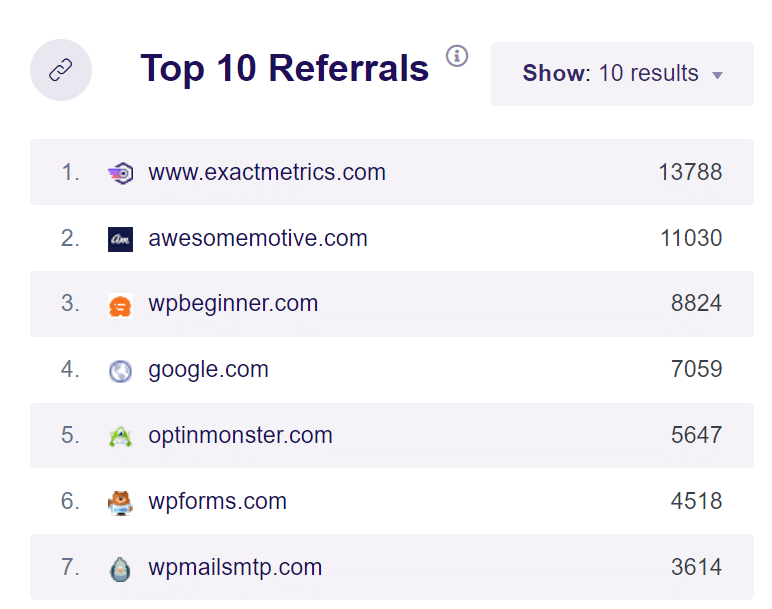 You'll also see some other reports on this page that can help you better understand your website traffic such as:
Device Breakdown – Shows which devices your visitors are using to view your website. So, you can make sure your site is working properly on different devices.
Top 10 Countries – Using the data from this Google Analytics traffic source report, you can see which countries your visitors come from. Then, create marketing campaigns for each region to get more conversions.
New vs. Returning Visitor – Shows a breakdown of the percentage of users that are new visitors versus returning.
Top Post/Pages – Use this report to see at-a-glance which posts and pages are getting the most traffic.
Traffic Details Report
To see which Google Analytics channels (organic search, social media, email, etc.) your website visitors are coming from and how those visitors behave, click Traffic » Overview from the top menu.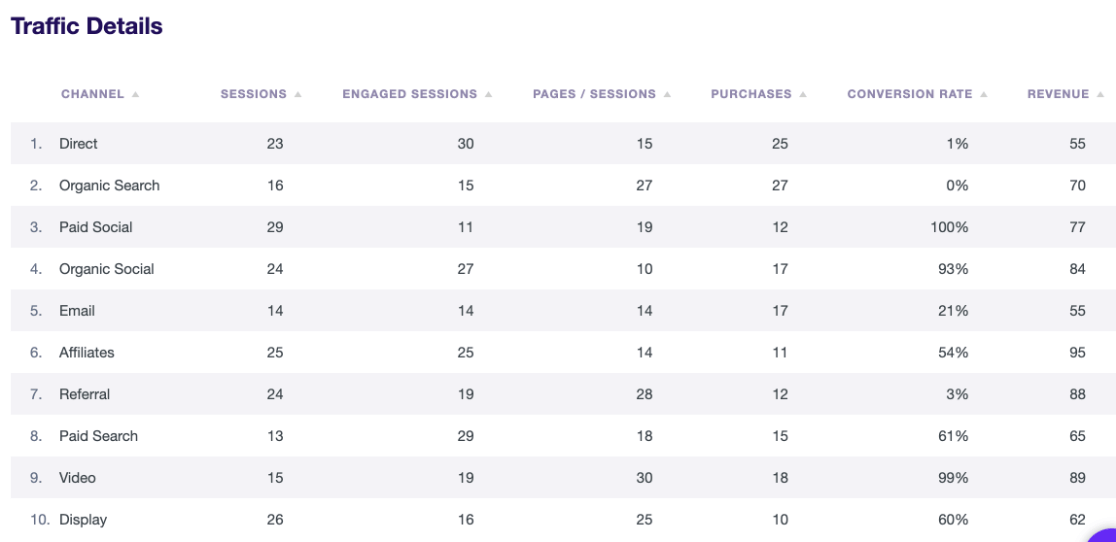 Easily see your top traffic sources along with key metrics like engaged sessions, conversion rate, revenue, and more. Use this data to compare traffic channels, find out what's working, and identify where to focus your marketing efforts.
For example, in the report above, you can see that paid social and organic social traffic is converting really well. That means you're doing something right there. Video also has a high conversion rate, but it isn't getting as much traffic (sessions). Now that you know how well video traffic is converting, you can focus your marketing efforts on bringing in more traffic from that channel.
On the other hand, referral sources are bringing in traffic, but these visitors aren't converting. Can you offer promotions for users that click an affiliate link or think of another way to improve the number of conversions?
Traffic Source/Medium Report
To see your Google Analytics traffic sources and mediums in your ExactMetrics reports, just click Traffic » Source/Medium.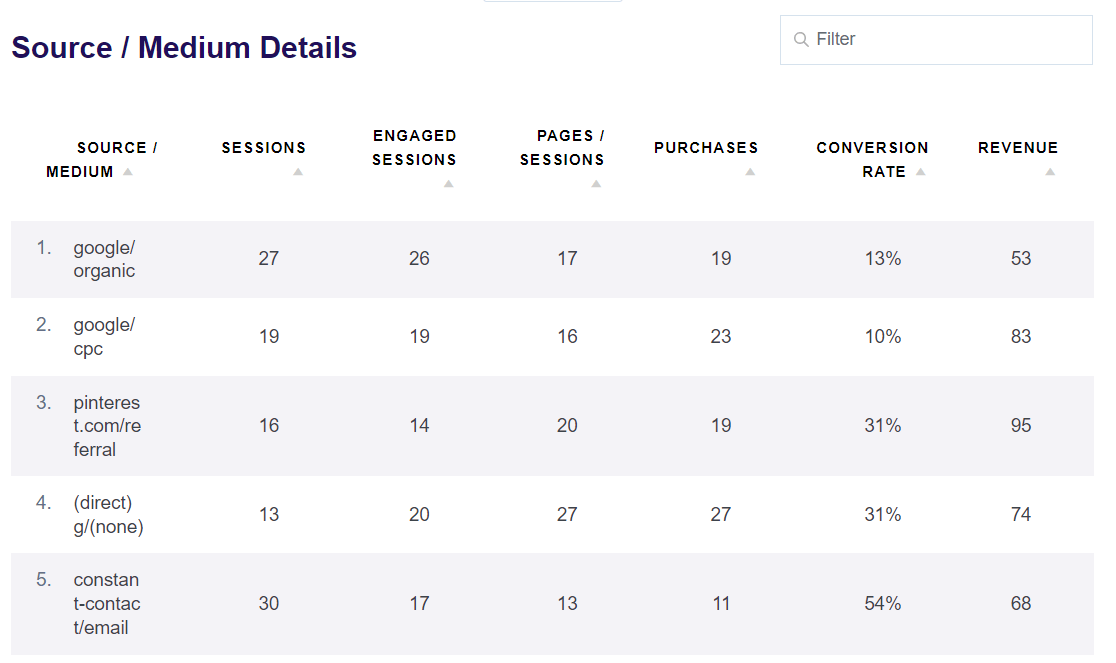 Just like your traffic source/medium report in Google Analytics, here, you can see the overall channels broken down by different mediums. For example, quickly see if paid search (CPC) traffic from Google is performing as well as traffic that clicks your Microsoft Ads in the Bing search engine.
More Reports to Track Website Traffic
ExactMetrics offers a ton of advanced Google Analytics tracking features and valuable reports in WordPress. Here are a few other reports you can find in WordPress to track and better understand your website traffic.
Top Landing Pages – See which pages are driving a lot of web traffic, converting visitors, keeping users engaged, and more.
Campaigns Report – If you use UTM parameters to identify traffic from different marketing campaigns, you can see which campaigns are bringing in the most traffic, how well campaigns are converting, and more.
Top Affiliates – Identify which affiliate sources are sending the most traffic to your site.
Top Outbound Links – Find out which external or outbound links people click the most to better understand why traffic leaves your site.
Demographics and Interest – Get demographic data about your visitors, like their average age and gender. Plus, find out which categories your audience is most interested in.
eCommerce Top Conversion Sources – Identify which referral sources send high-converting traffic to your website. Then, boost your conversions by partnering with these websites to offer discounts and incentives to visitors who come from there. Or, use this data to find similar sources to promote your website.
Search Console Report – See which keywords organic visitors are using to find your website in Google search. Use this data to improve your rankings and find more keyword ideas to try and bring in more traffic from organic search.
Realtime Report – Find out how much traffic is on your site in realtime, the top countries and cities where those visitors are located, and the pages they're viewing.
But that's not all! With ExactMetrics, you'll have access to tons more reports and tracking features such as forms tracking, custom dimensions, site speed, and more.
We hope you liked our article on how to see Google Analytics traffic sources. Want to see what else you can track in Google Analytics? Check out our article on 8 Types of Google Analytics Reports to Track (The Best Ones).
Not using ExactMetrics yet? What are you waiting for?
Don't forget to follow us on Twitter and Facebook to stay updated with the latest guides on Google Analytics.