Ever wondered about the performance of your WordPress forms? Wouldn't it be great to be able to track your form conversion sources so you know exactly where people who submit forms on your website come from?
By setting up form submission source tracking in Google Analytics, you're not just counting your conversions. You're also gaining insights into which referral sites and traffic channels are the most effective. With this vital data, you can get more strategic with your marketing and lead generation campaigns.
In today's guide, we'll take you through the process of tracking your form conversion source in Google Analytics. Before we dive in…
Why Track Form Conversion Sources?
Tracking your form conversion source in Google Analytics helps you see which forms on your site are performing the best and which referral sources are generating the most leads. The data you collect from tracking form submissions can help you:
See which forms get the highest number of conversions
Get insight into how to optimize your forms for a better form conversion rate
See which traffic channels and sources bring in the most leads
Find new partnership opportunities
Identify the best ways to promote your campaigns
Now that you know some of the benefits, let's get started on how to set it up.
How to Track Form Conversions
In only 3 easy steps, you'll have form conversion tracking set up on your WordPress website.
Setting up form conversion tracking in Google Analytics can be pretty time-consuming. For every form you want to track, you'd have to create custom events in Google Analytics. This also requires adding code to your website, which can be tricky for beginners.
Luckily, there's a better way! The best and easiest way to track form conversions and submission sources in Google Analytics is with ExactMetrics.
ExactMetrics is the best premium WordPress Analytics plugin, allowing you to easily set up Google Analytics without editing any code or needing a complicated tool like Google Tag Manager. With advanced tracking features and easy-to-read reports, understanding your site's analytics is easier than ever.
Plus, you gain access to tons of additional Google Analytics features and advanced tracking capabilities with just a few simple clicks such as:
When you install and activate ExactMetrics on your site, it integrates with ALL WordPress form builders and automatically tracks form conversions as events in Google Analytics. There's no code to deal with, and you can see how your forms are performing right in your WordPress dashboard.
Just follow the steps below to get started.
Step 1: Install ExactMetrics
Getting ExactMetrics set up and connected to Google Analytics only takes a few minutes. To enable form conversion source tracking, you'll need to purchase the Pro license or above.
Then, download the plugin's ZIP file from the Downloads tab of your account area.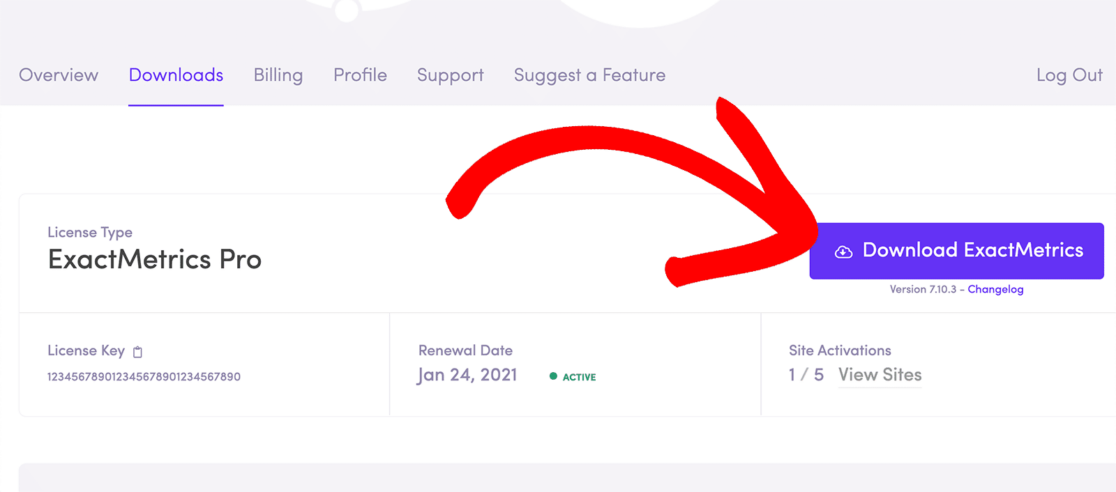 Next, install and activate the plugin on your WordPress site.
After successful installation and activation, it's time to connect the plugin with your Google Analytics account to start tracking your website and forms. The ExactMetrics setup wizard will guide you through the process, making it super easy even for beginners.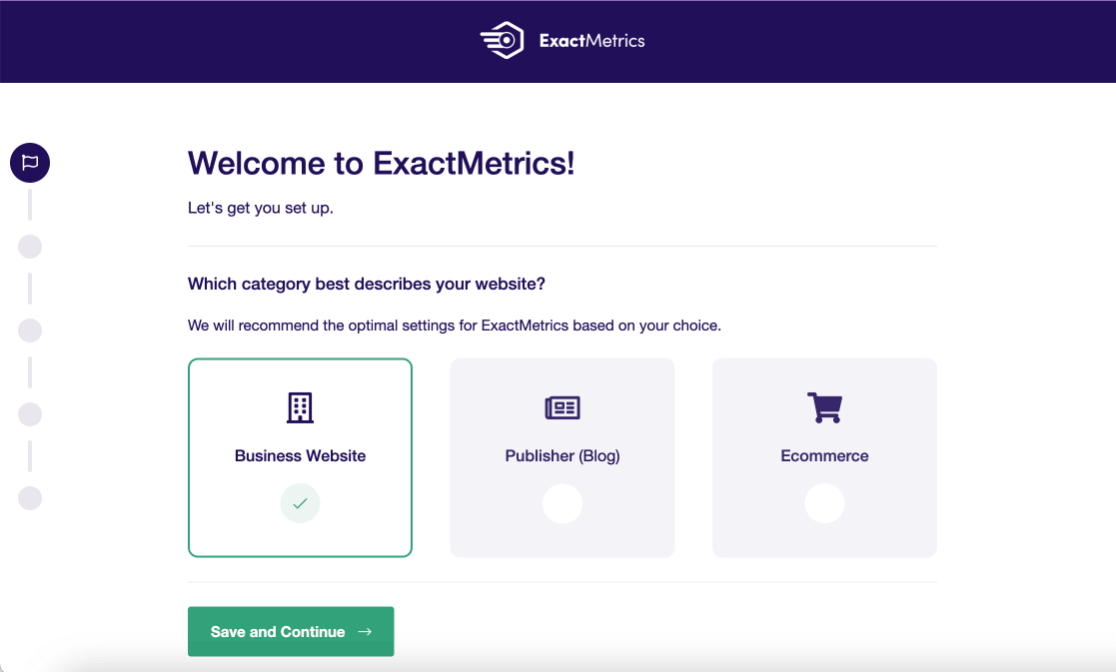 If you need more help with this step, head to our detailed tutorial on How to Add Google Analytics to WordPress.
Step 2: Activate the Forms Addon
Once you've got ExactMetrics installed and connected to Google Analytics, it's time to enable the feature for tracking form submissions. From your WordPress dashboard, navigate to ExactMetrics » Addons.
Here, you'll find the Forms addon that you need to Install. It will automatically activate on your site after installation.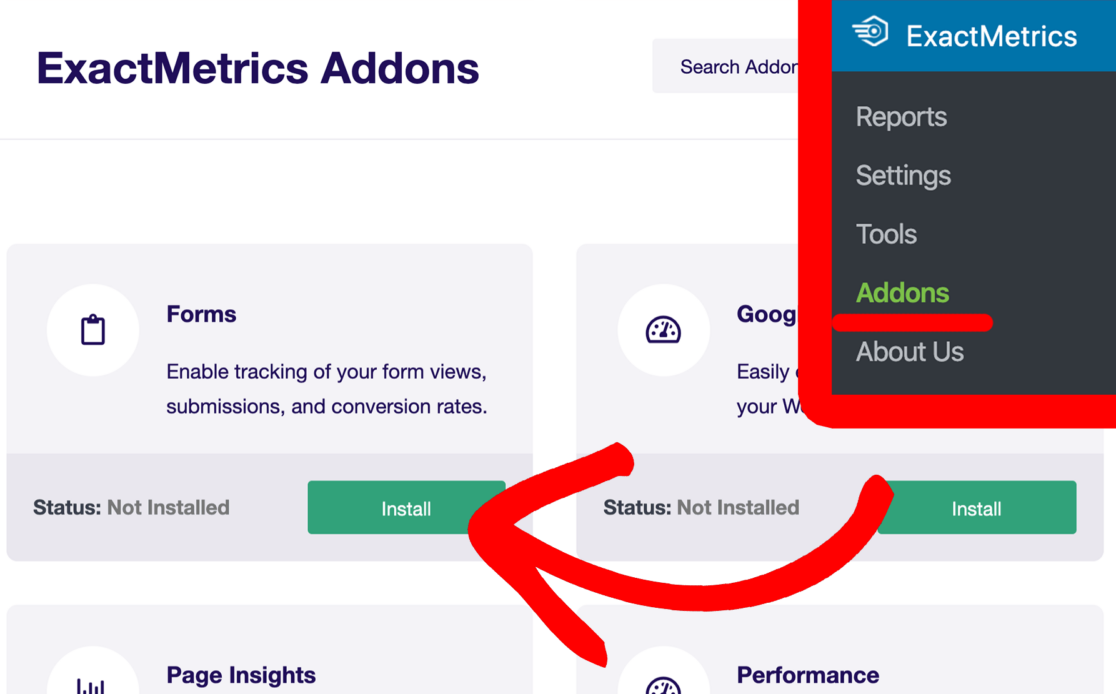 After activation, you're all set! ExactMetrics will automatically begin tracking every form conversion on your website. This includes forms from well-known form builders like WPForms, Gravity Forms, Formidable Forms, and Contact Form 7.
Step 3: View Your Form Conversions
Now that you've installed ExactMetrics and enabled form conversion tracking, it's time to see the magic happen! You can see how your forms are performing right inside WordPress.
To view the Forms report, go to ExactMetrics » Reports » Forms.
Here, you can see the Impressions, Conversions, and Conversion Rate of each form.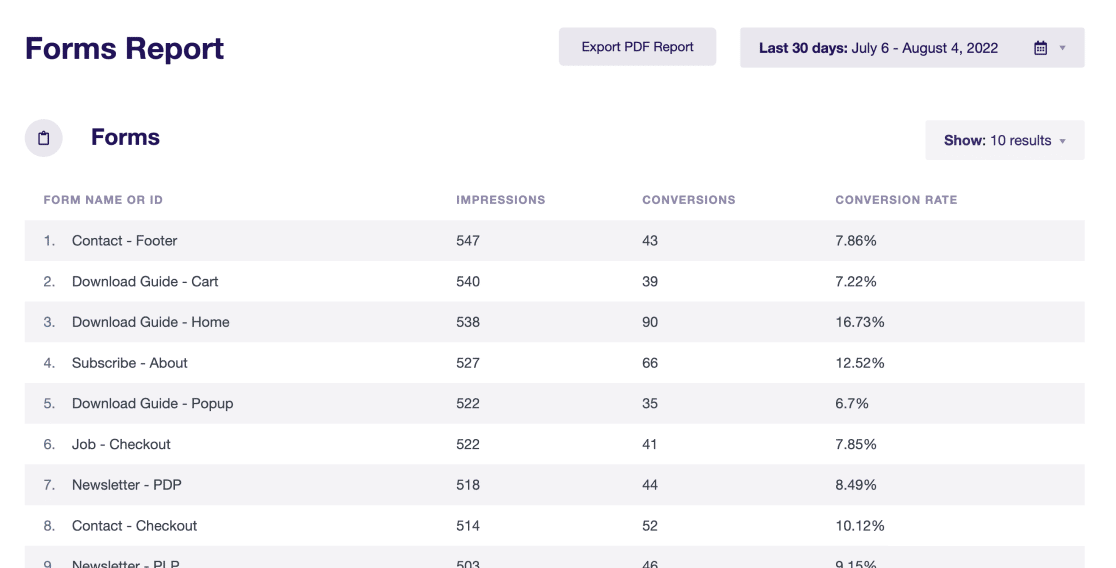 Knowing how your forms are performing is great information to have, and ExactMetrics makes it easy to keep an on which forms are converting visitors best. Next, let's see how to find out exactly where your leads come from by visiting Google Analytics.
How to Track Form Submission Sources in GA4
Since ExactMetrics already sets up all the complicated stuff in Google Analytics, you can now create a custom report to track form submission sources.
To do that, log into Google Analytics (GA4) and select the Explore tab in the left navigation menu. Click to create a Blank report.

First, give your report a name under Exploration Name. Next, we need to populate the report.
In the left column, you'll click the + signs next to Dimensions and Metrics to import the ones we need.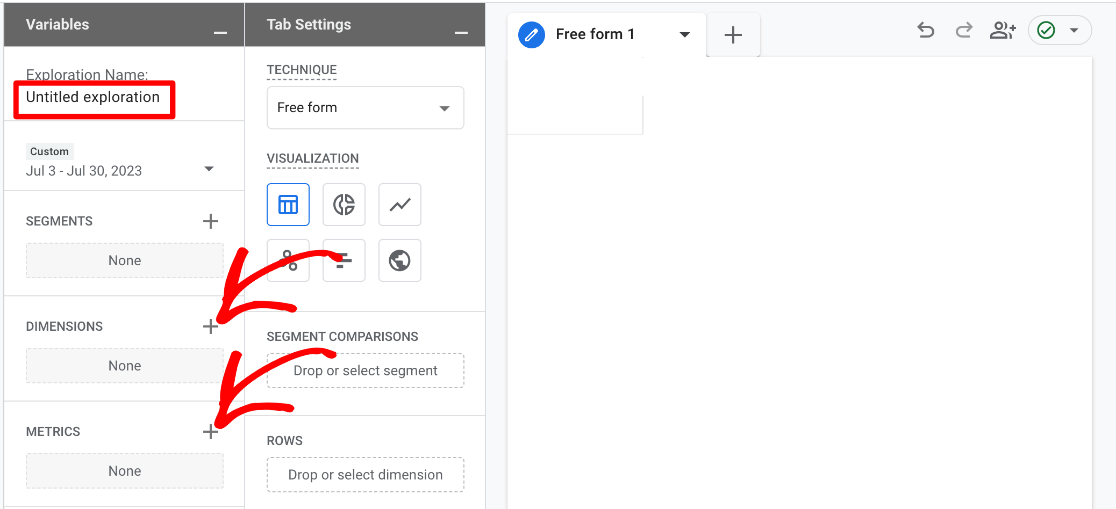 After clicking the + for Dimensions, search for and check the boxes next to the following 4 dimensions:
Form Id
Session source
Session default channel group
Event name
Click Import when you're done. In the same way, click the + sign next to Metrics and Import the metric called Event count. It should now look like this: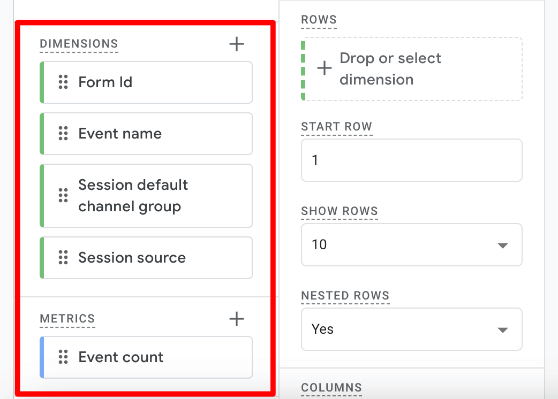 Now, in the second column, add the following dimensions to the Rows box in this order and select Yes under Nested Rows.
Session default channel group
Session source
Form Id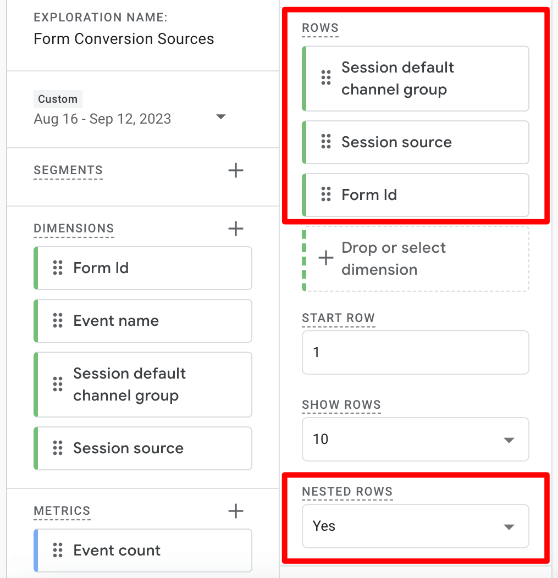 Next, add Event count to the Values box in the second column.
Then, add Event name to the Filters box. Set it to exactly matches and type in generate_lead (this is the custom event ExactMetrics created for your form submissions).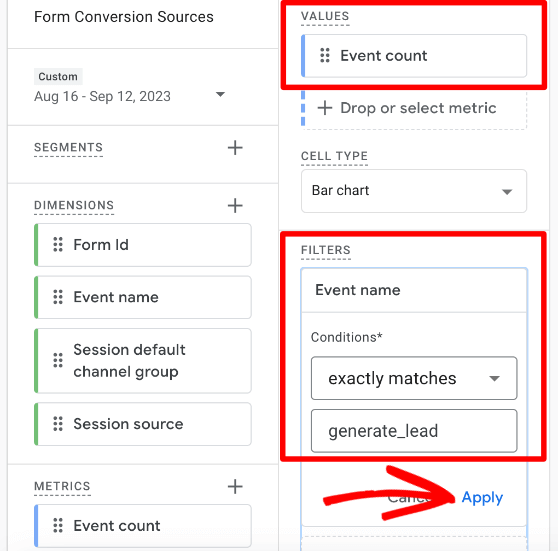 Your custom report will now populate.
Looking at the report, You can see the traffic channels with the specific sources that visitors came from along with which forms were submitted in the left column and how many were submitted in the right column.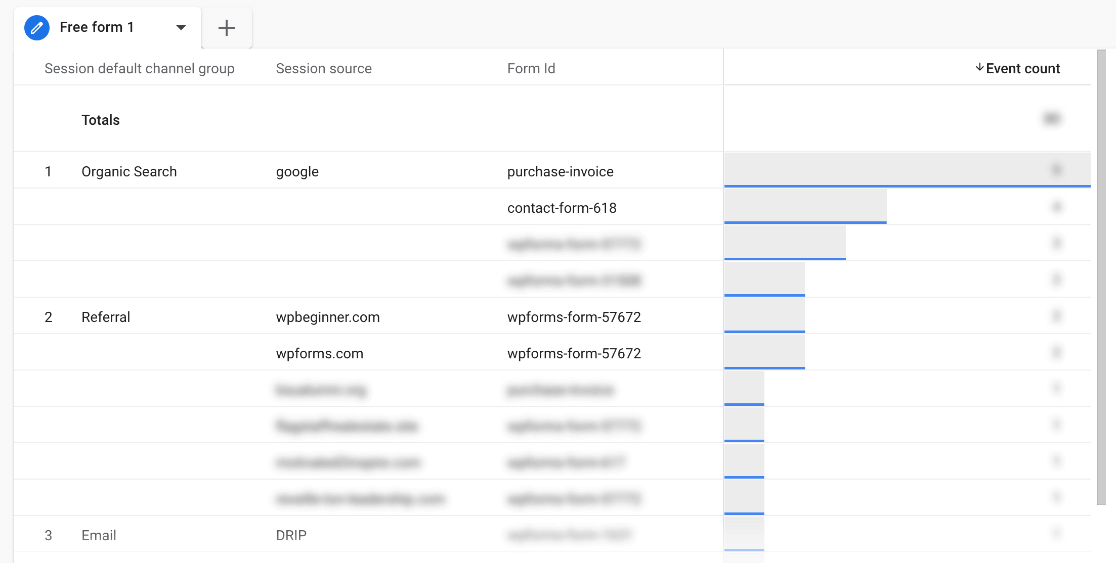 Looking at the screenshot above, you can see that one of the form conversion sources is Organic search from Google. This tells you that leads are arriving from a search engine, and you can see exactly which forms those people fill out.
Under Referral, you can find out which websites referred traffic that completed a form on your site, and which forms those users completed. Since you already know these websites are sending high-converting users, it's a great way to find partnership and collaboration opportunities with other brands.
You can add more dimensions to your report to uncover more data about your form conversion sources such as which pages the forms were submitted on or the landing page that visitors came to before submitting a form. Now, let's take a look at another way to track form conversion sources.
How to Track User Journey to Form Submission
Another way of tracking lead source conversions is through WPForms, which is the best and most beginner-friendly WordPress form plugin available.
The WPForms' User Journey addon allows you to see the steps a user takes before submitting a form, making it effortless to track conversion sources and better understand your visitors.
The addon is available with a WPForms Pro or higher license. After you've installed and activated the plugin, go to WPForms » Addons from your WordPress menu. Then, find the User Journey Addon and click Install Addon.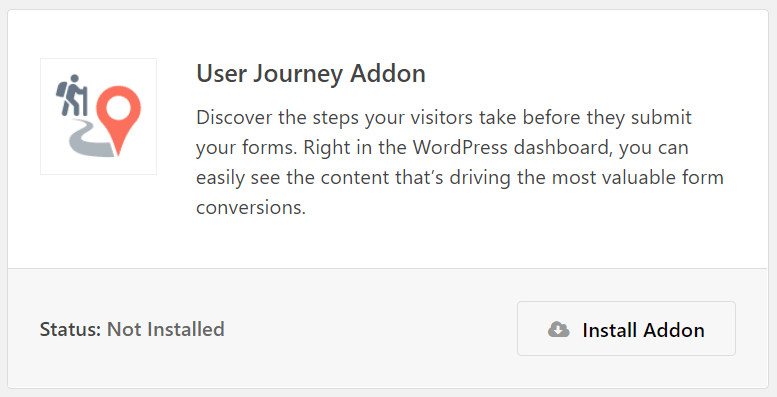 After the addon is active, you'll be able to see the journey a user takes prior to form submission. View this by going to WPForms » Entries and selecting any form.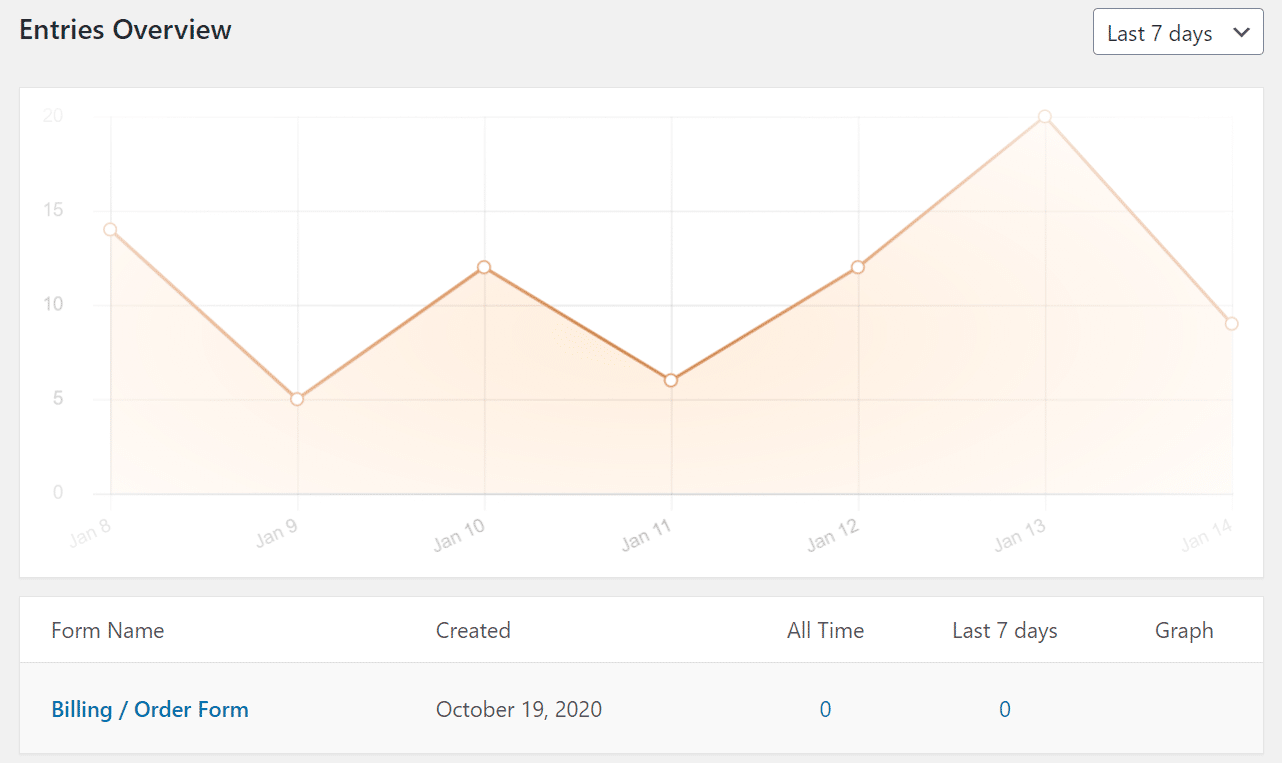 Then, click View next to any user whose journey you want to see.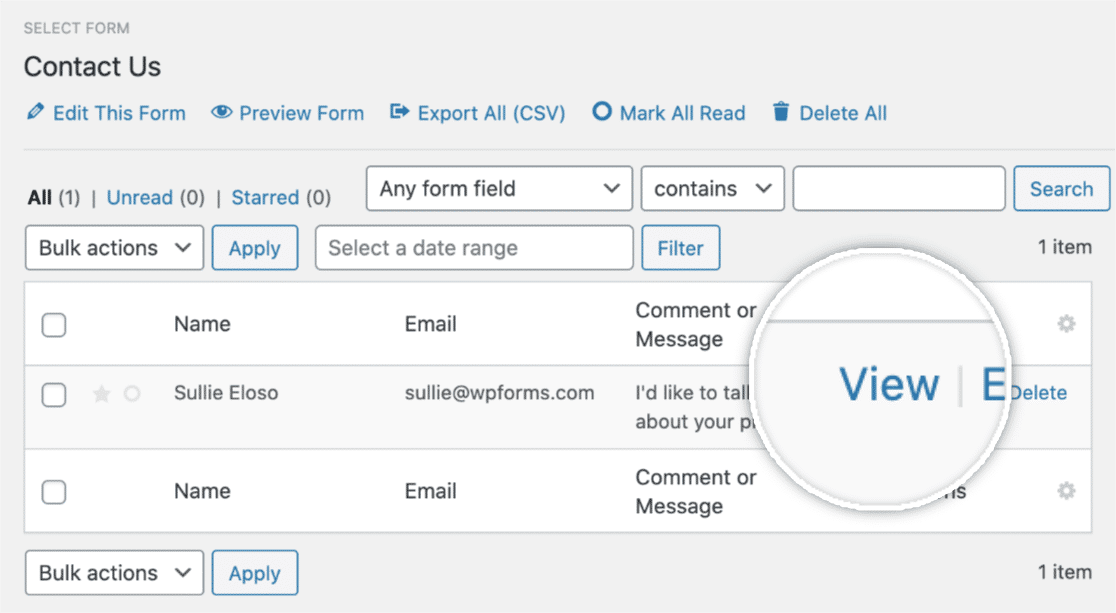 Now, scroll down to the User Journey section to see the path a visitor took before filling out the form. The report shows where your leads came from, the pages they visited along with the time and date, and the time spent on each page.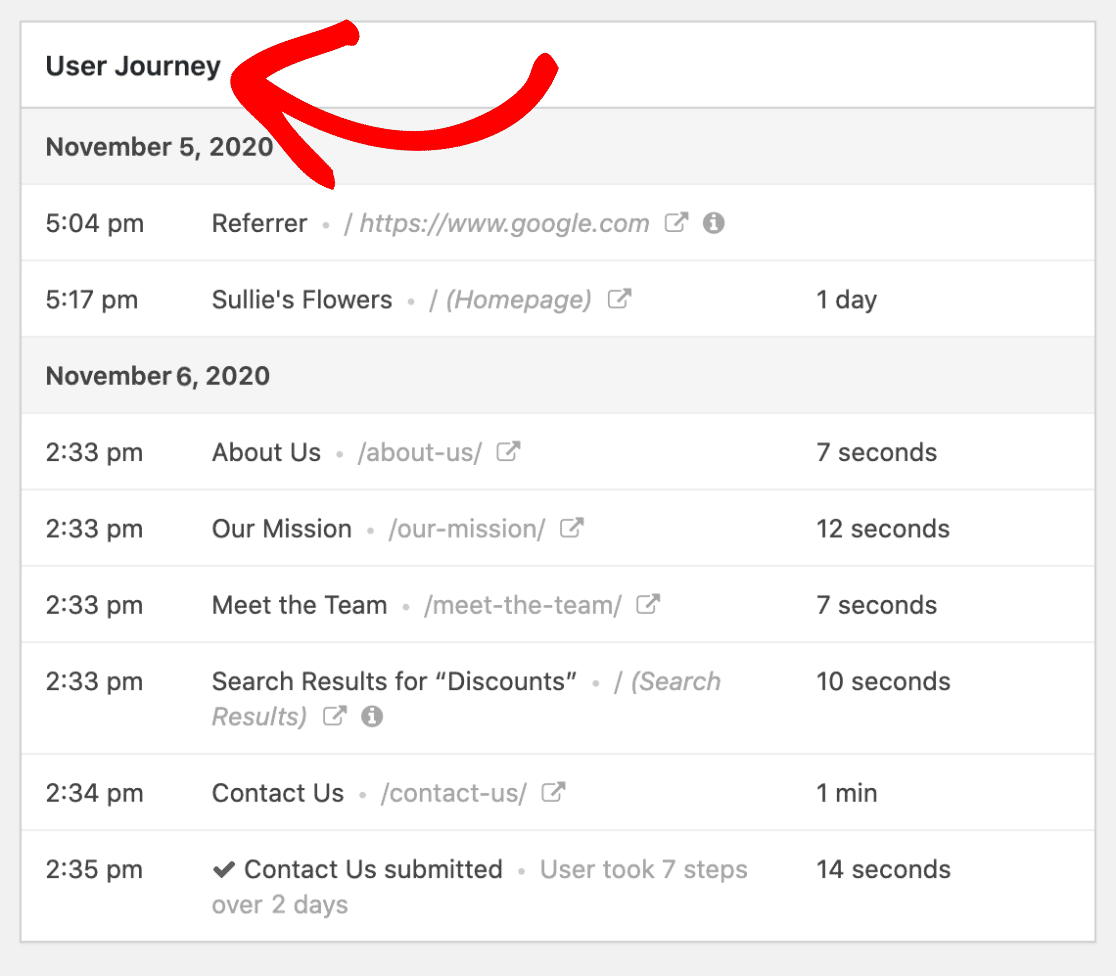 And that's it! Now you know how to use Google Analytics to find form submission sources.
Using all this new information, you can identify top lead conversion sources, identify which channels to invest in to attract more leads, create new partnerships with referral sites, and more.
We hope you found this article on how to set up form conversion source tracking in Google Analytics helpful. Want to get more leads for your business? Check out our tutorial on How to Create an Opt-In Form in WordPress (2 Methods).
Not using ExactMetrics yet? What are you waiting for?
Don't forget to follow us on Twitter and Facebook to see all the latest reviews, tips, and Google Analytics tutorials.