Do you want to track how your WordPress forms perform? Knowing the source of people who submitted a form on your website can help you fine-tune your lead generation efforts.
Setting up form conversion tracking in Google Analytics provides insight into which referral sites or marketing campaigns bring in the most leads. It also helps to understand your audience better, so you can invest in the right channels.
In this article, we'll walk you through how to track your form conversion source in Google Analytics.  But first, let's talk about why tracking your form conversion source is important.
Why Track Form Conversion Sources?
Tracking your form conversion source in Google Analytics helps you see which forms on your site are performing the best. It also allows you to see the referral sources generating the most leads.
The data you collect from tracking form submissions can help you:
See which forms get the highest-quality submissions
Get insight into how to optimize your forms for better conversions
Identify the highest converting pages on your website
Find new partnership opportunities
Identify the best ways to promote your campaigns
Now that you know some of the benefits, let's dive into how to set it up.
How to Track Form Conversions in 3 Easy Steps
Setting up form conversion source tracking in Google Analytics can be time-consuming. For every form you want to track, you have to create a custom event goal in Google Analytics. This also requires adding code to your website, which can be tricky for beginners.
Luckily, there's a better way.
The best and easiest way to track form conversion sources in Google Analytics is with ExactMetrics.
When you install and activate ExactMetrics on your site, it automatically tracks form conversions as events. There's no code to deal with and you can see how your forms are performing right in your WordPress dashboard.
Just follow the steps below to get started.
Step 1: Install and Activate ExactMetrics
ExactMetrics is the best premium WordPress Analytics plugin. With advanced tracking features and easy-to-read reports, understanding your site's analytics is easier than ever.
Getting ExactMetrics set up and connected to Google Analytics takes just a few minutes.
To get started, all you have to do is install the ExactMetrics plugin on your website and follow the setup wizard to connect it to Google Analytics.
Step 2: Install ExactMetrics Forms Addon
After you've installed ExactMetrics and connected Google Analytics with your website, you'll need to activate the ExactMetrics Forms addon to track form conversions.
From your WordPress dashboard, go to ExactMetrics » Addons and navigate to Forms addon.
Click Install to automatically activate it on your site.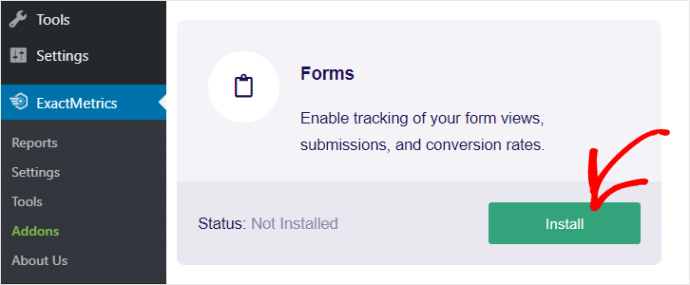 Step 3: Enable Form Conversion Tracking
Once you've activated the forms addon, ExactMetrics will automatically enable form tracking on your website.
The best part is that ExactMetrics can detect popular form plugins like WPForms, which is the most beginner-friendly WordPress form plugin available.
You can also double-check your form tracking settings at any time. To do that, click ExactMetrics » Settings » Conversions.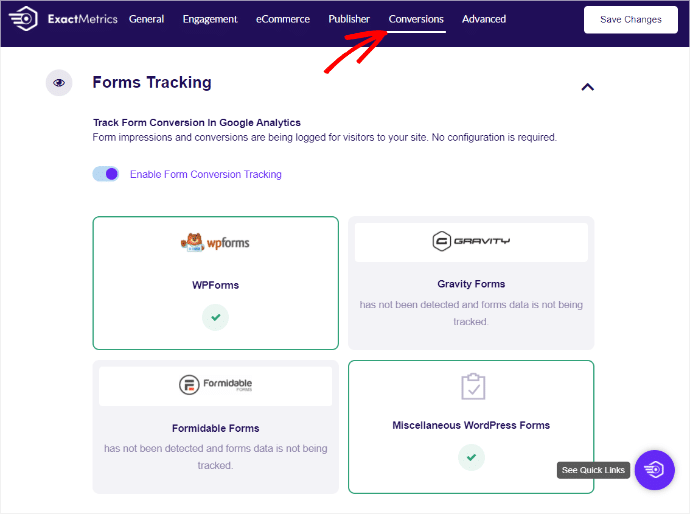 With form conversion tracking enabled, you can see data related to your forms in the Forms Report. To view the report, go to ExactMetrics » Reports » Forms.
This report will show the impressions, conversions, and conversion rate for each form on your site.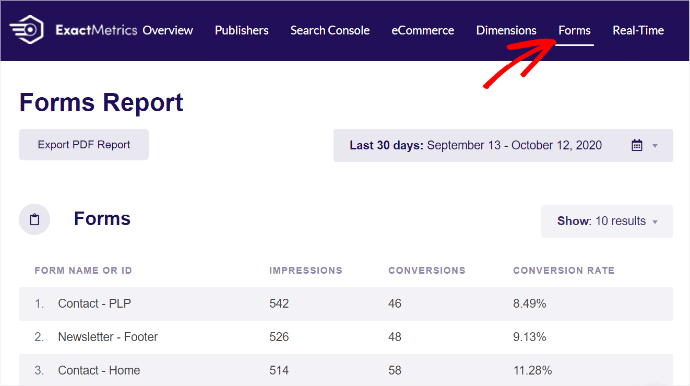 Tracking Form Conversion Source in Google Analytics
Knowing how your forms are performing is great information to have, but it's just the first step. If you want to find out exactly where your leads come from, you'll have to visit Google Analytics.
To do that, log into Google Analytics and select Behavior » Events » Top Events in the menu on the left.
Next, click on Form in the Event Category column.

Now you can see the total impressions and conversions of your forms. To see the form submission stats for each individual form, click on Conversion.

This report shows you all the forms that were submitted by site visitors. For more details, click on the form you want to learn more about.

Once you've selected a form, you can set up a secondary dimension to see the different traffic sources that sent visitors who completed a form to your site.
Click on the Secondary Dimension dropdown menu and select Source / Medium from the list of dimensions. You can find it under Acquisition or by typing it into the search bar.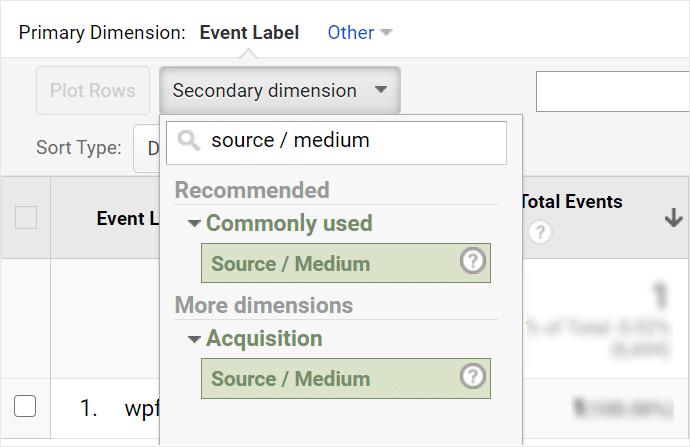 Looking at the screenshot below, you can see that one of the form conversion sources is google / organic. This tells you that leads are arriving from a search engine.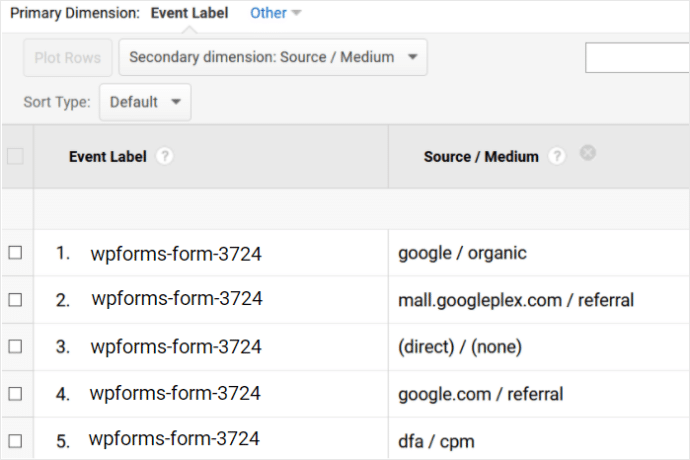 We can break this down even more and see which specific websites are sending you traffic using an advanced filter. This allows you to narrow down the data so it only shows referrals as a source.
To set it up, click on Advanced next to the search bar. Then select Include » Source / Medium » Containing and enter Referral in the text field.
Finally, click Apply.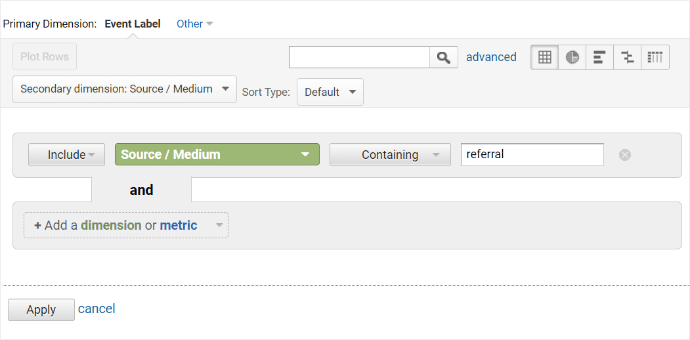 Now you can see exactly which websites referred the traffic that completed a form on your site. You can also use the advanced filter setting to get in-depth data about other form conversion sources.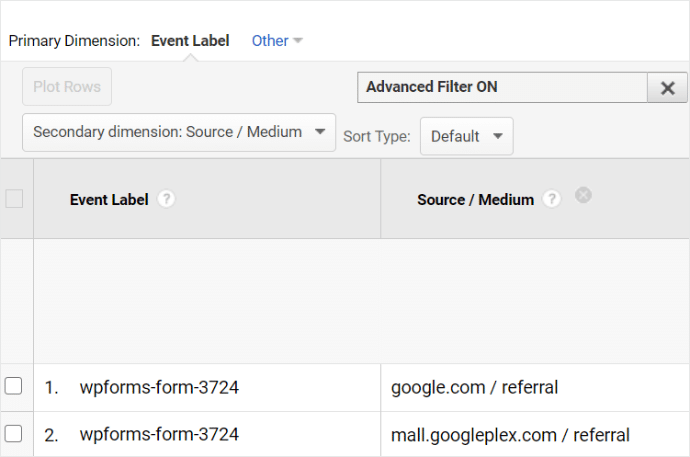 Use WPForms User Journey Addon
Another way of tracking lead source conversions is through WPForms User Journey addon. It allows you to see the steps a user takes before submitting a form.
The addon is available for WPForms Pro or higher license plan. It makes it effortless to track conversion sources and better understand your visitors.
To start, go to WPForms plugin and then select Addons. Next, go to User Journey Addon and click Install Addon.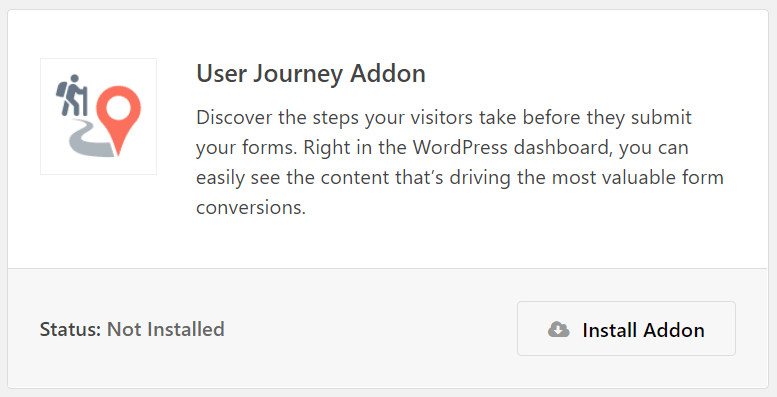 After the addon is active, you can now see the journey a user takes prior to form submission. You can view this by going to WPForms » Entries and then select any form.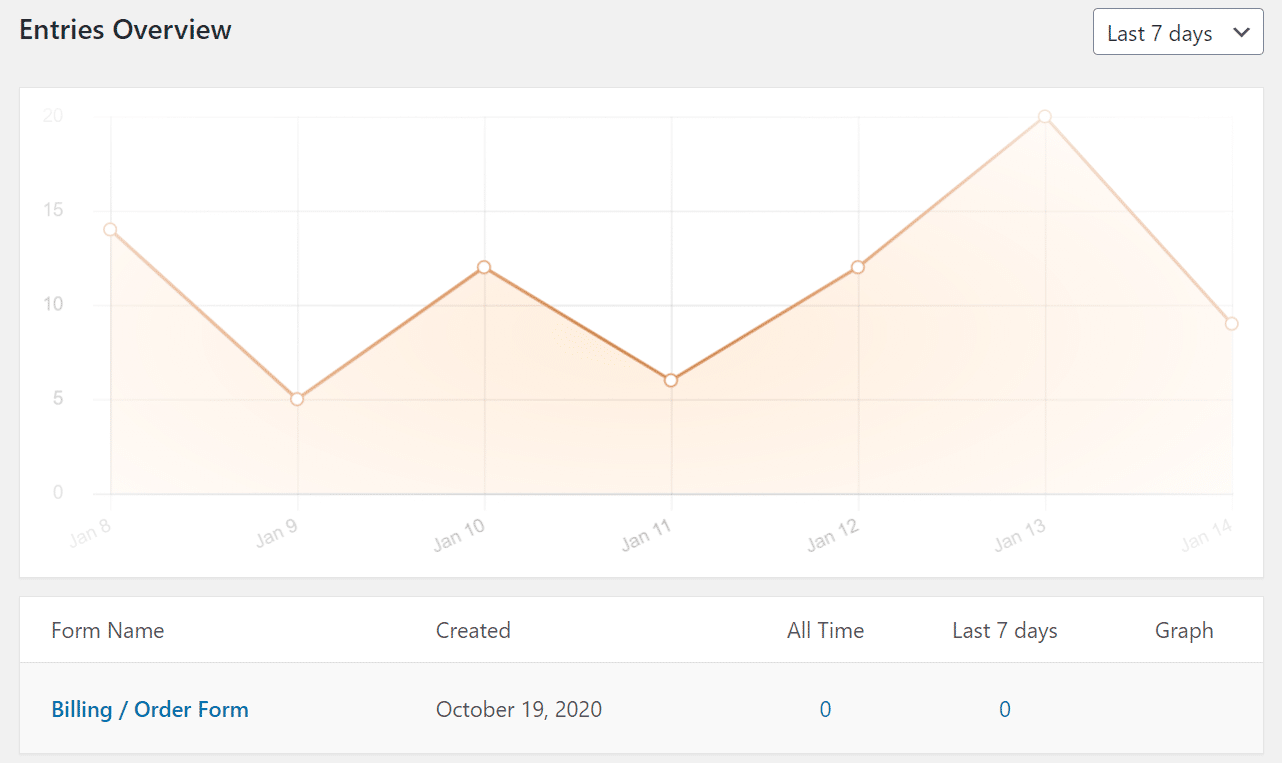 Next, click on the View button for any user you want to see the journey.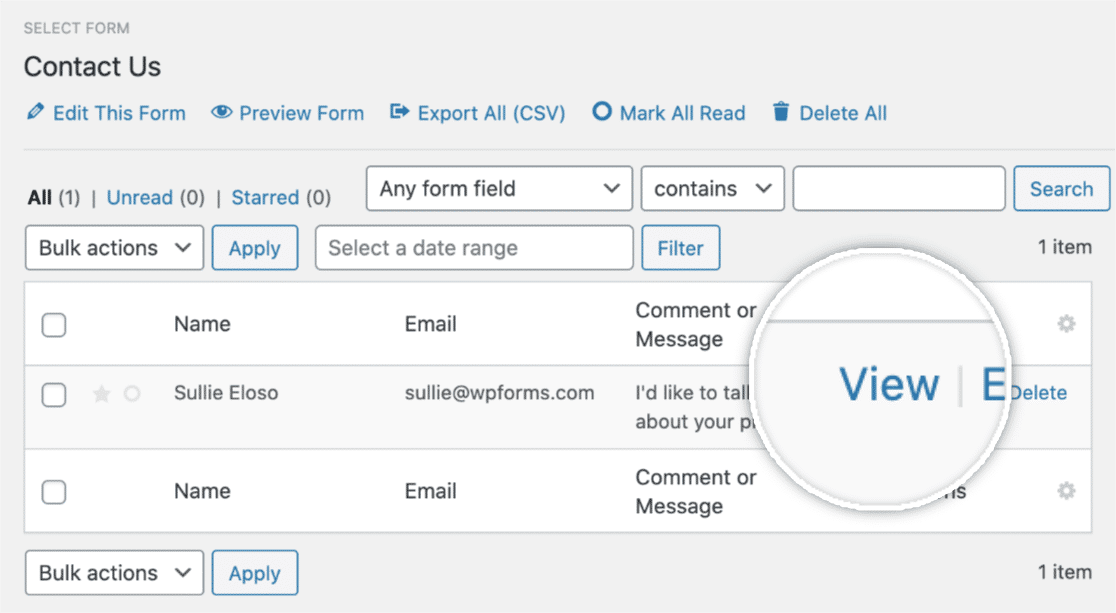 Now scroll down to the User Journey section and see the path a visitor took before filling out the form. The report shows where your leads came from, the pages they visited along with the time and date, and the time spent on each page.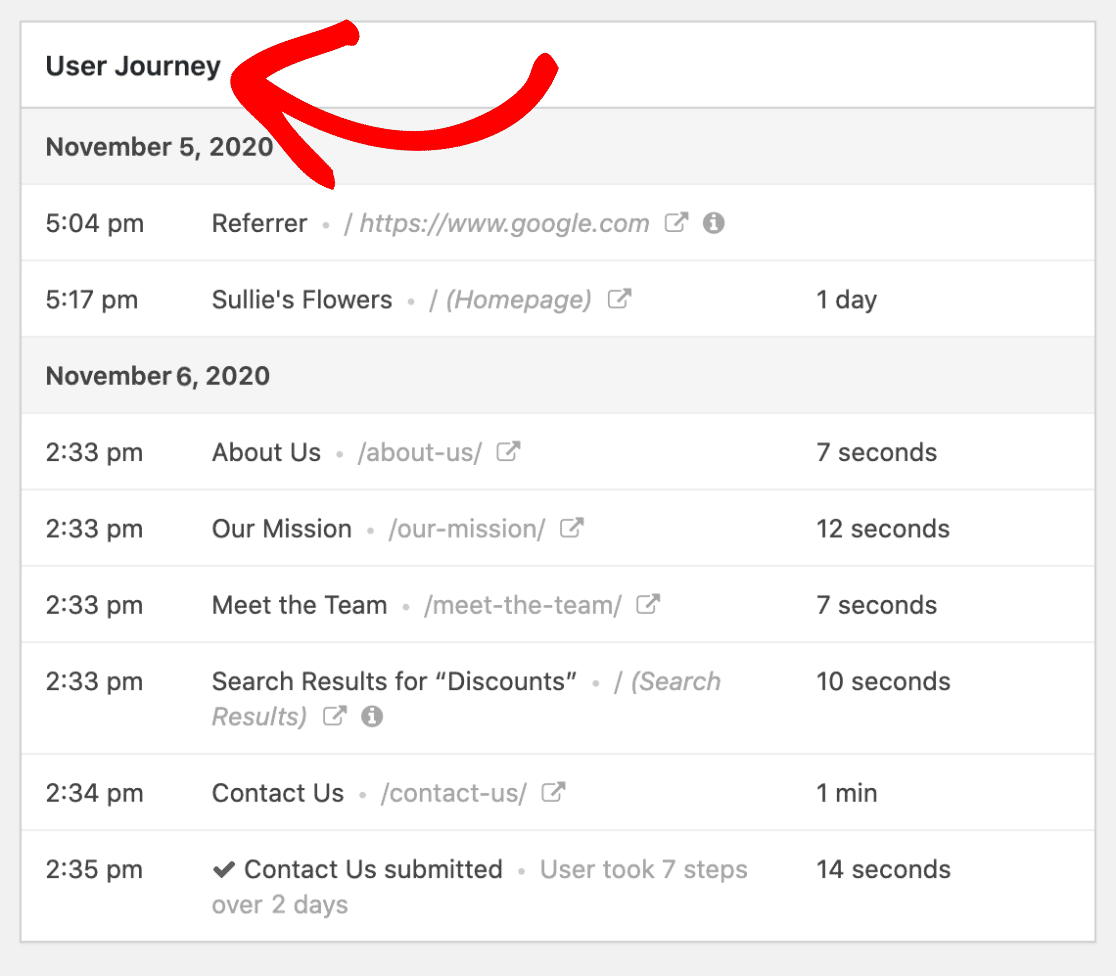 Using this information, you can identify lead converion source, identify channels to invest in to attract more leads, and create new partnerships with referral sites.
And that's it!
Now you know how to use Google Analytics to find form submission sources.
We hope you found this article on how to set up forms conversion tracking in Google Analytics helpful. You may also want to check out these guides on the best form plugins for WordPress and how to split test your signup forms in WordPress.
Don't forget to follow us on Twitter and Facebook to stay in the know on the latest Google Analytics tutorials.