Are you wondering how many people are converting on your WooCommerce store? If so, then you need to set up tracking and find out how your online store is performing.
Tracking will help you get insights about products that your customers buy the most, which campaign performed the best, and what things grab your user's attention.
And to help you out, in this article we'll show you how to set up WooCommerce conversion tracking in WordPress. Let's start with the benefits of tracking your conversions.
Why is WooCommerce Conversion Tracking Important?
If you have a WooCommerce store and sell different products and services, then you must wonder: how can you increase your revenue?
Your store's revenue depends on a lot of things like how people use your website, what pages your visitors are viewing, where are they coming from, how do they find your eCommerce store, and more.
To answer all these questions and find insights, you need to have WooCommerce conversion tracking enabled on your website.
Not only that but tracking your conversions can also help you gather information about:
User's Behavior – Through conversion tracking you can see your user's shopping behavior, which products they add to cart, which items they abandon, and more
Reduce Cart Abandonment – It helps you track down which products customers leave in their cart and don't checkout, so you can optimize your checkout process, reduce cart abandons, and increase sales
Most Popular Products – You can find out which products sell the most through conversion tracking, so you can promote them more on your website
Measure Marketing Campaigns – Conversion tracking helps you see the impact of your marketing campaigns and measure their ROI (return on investment)
Track Sales Performance – If you want to know how much money your store made, were there any refunds, or you want to see which product contributed the most to your revenue, then WooCommerce conversion tracking can help you out
With that, are you ready to learn how can you track your conversions on a WooCommerce store? Let's find out…
How to Configure WooCommerce Conversion Tracking?
When it comes to tracking WooCommerce conversions, the best way is to use Google Analytics. Through its Enhanced Ecommerce option, you can gather data from your store and see how it's performing.
But setting up Google Analytics with WooCommerce on your WordPress site is not that straight forward. You'll have to create custom events and edit pieces of code to get it to work properly.
This is where you can use ExactMetrics, which is the best WordPress Analytics plugin. It comes with an eCommerce addon that automatically tracks conversions on your WooCommerce store.
Do note that you'll need ExactMetrics Pro version to set up eCommerce tracking.
With that, let's start our tutorial…
Step 1: Enable Enhanced Ecommerce in Google Analytics
Now before we get to installing ExactMetrics, the first step is to enable Enhanced Ecommerce in Google Analytics.
You can do that by logging into your Analytics account and then selecting the website (or property) on which you want to allow eCommerce tracking.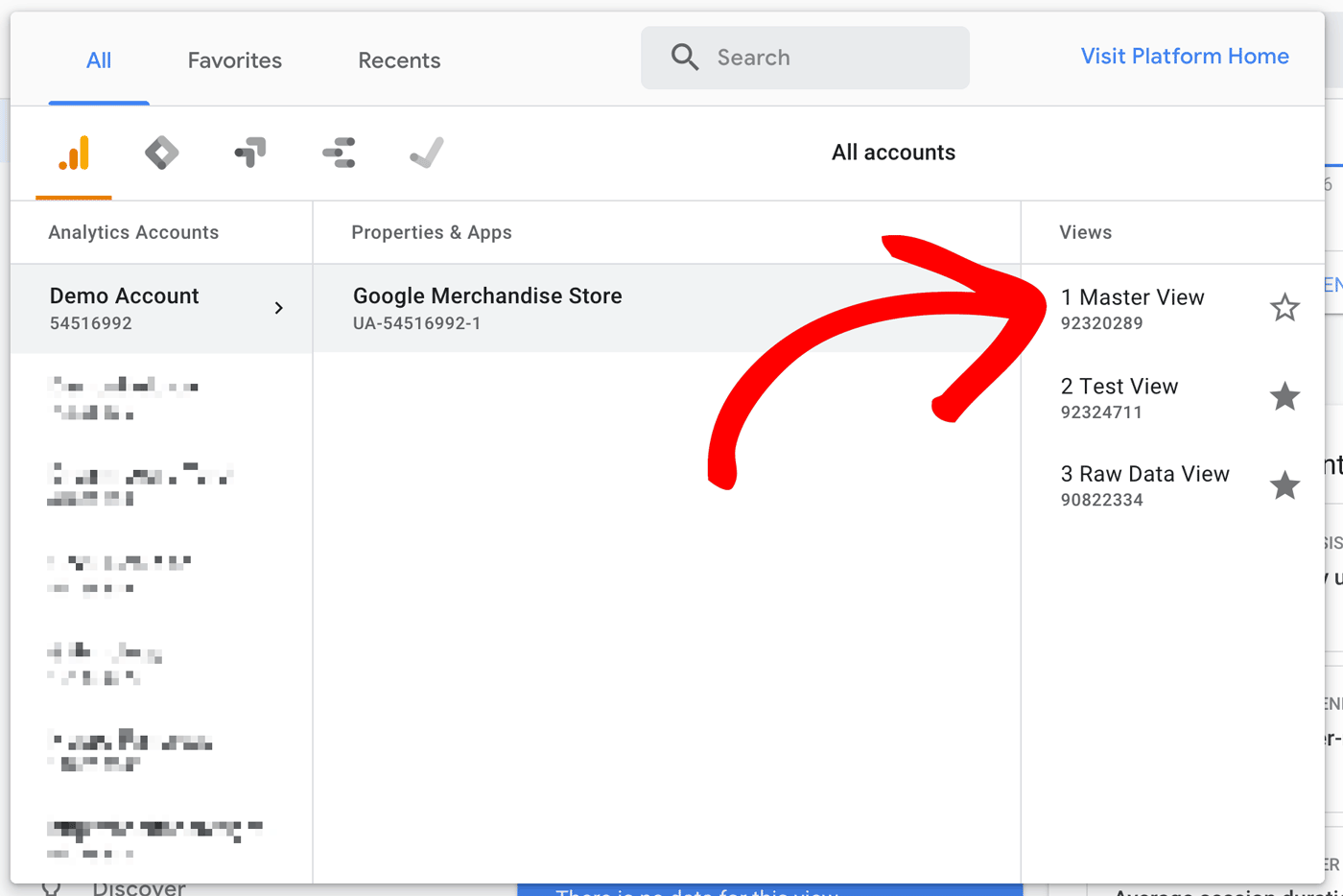 Next, click on Admin in the left bottom corner.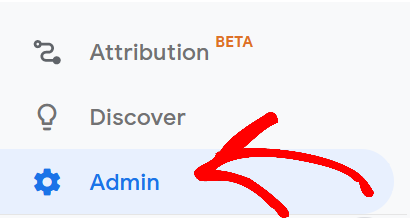 Under the View column (on your far right), click on Ecommerce Settings.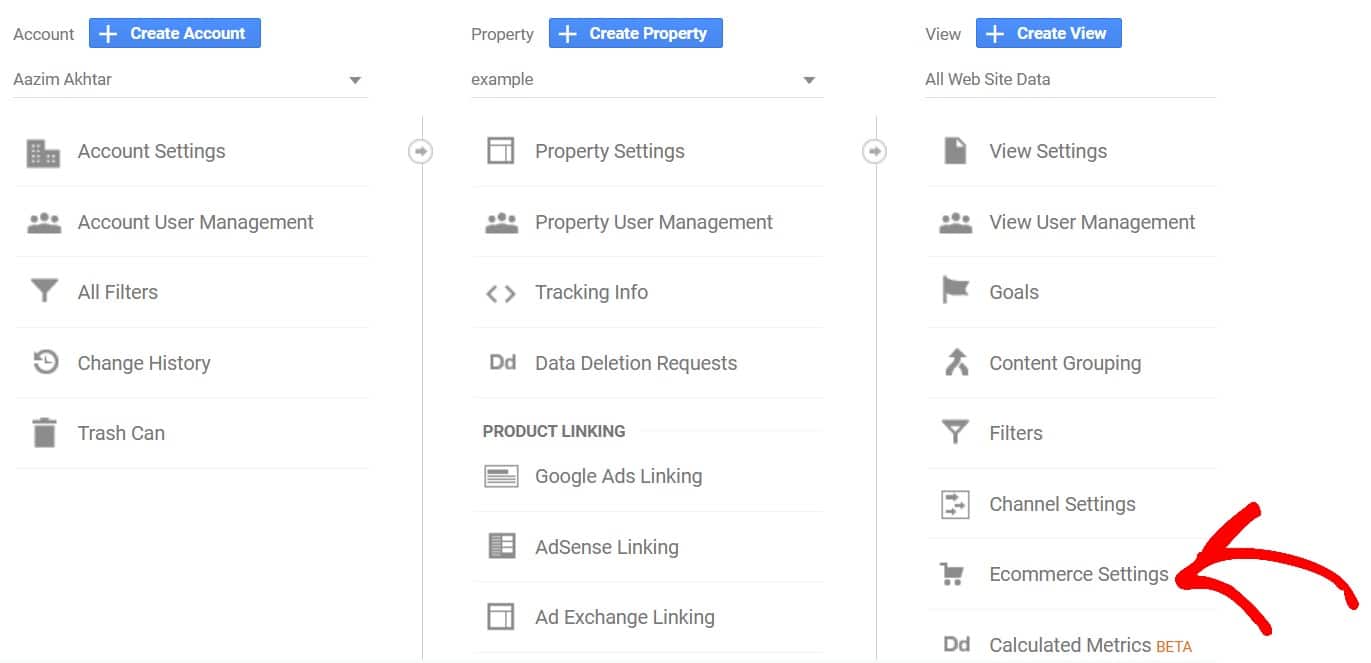 Now click on the toggle under Enable Ecommerce and Enable Enhanced Ecommerce Reporting to switch them on, and then hit Save.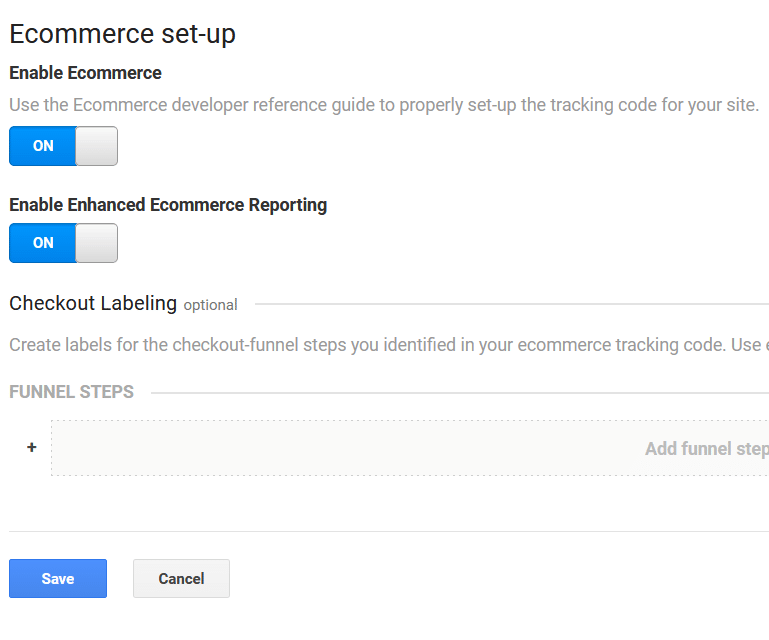 Step 2: Install ExactMetrics eCommerce Addon
Once you've enabled Enhanced Ecommerce in Google Analytics, the next step is to install ExactMetrics eCommerce addon.
You can find the addon by going to ExactMetrics » Addons and then navigating your way to eCommerce. Click install and the addon will automatically be active for use.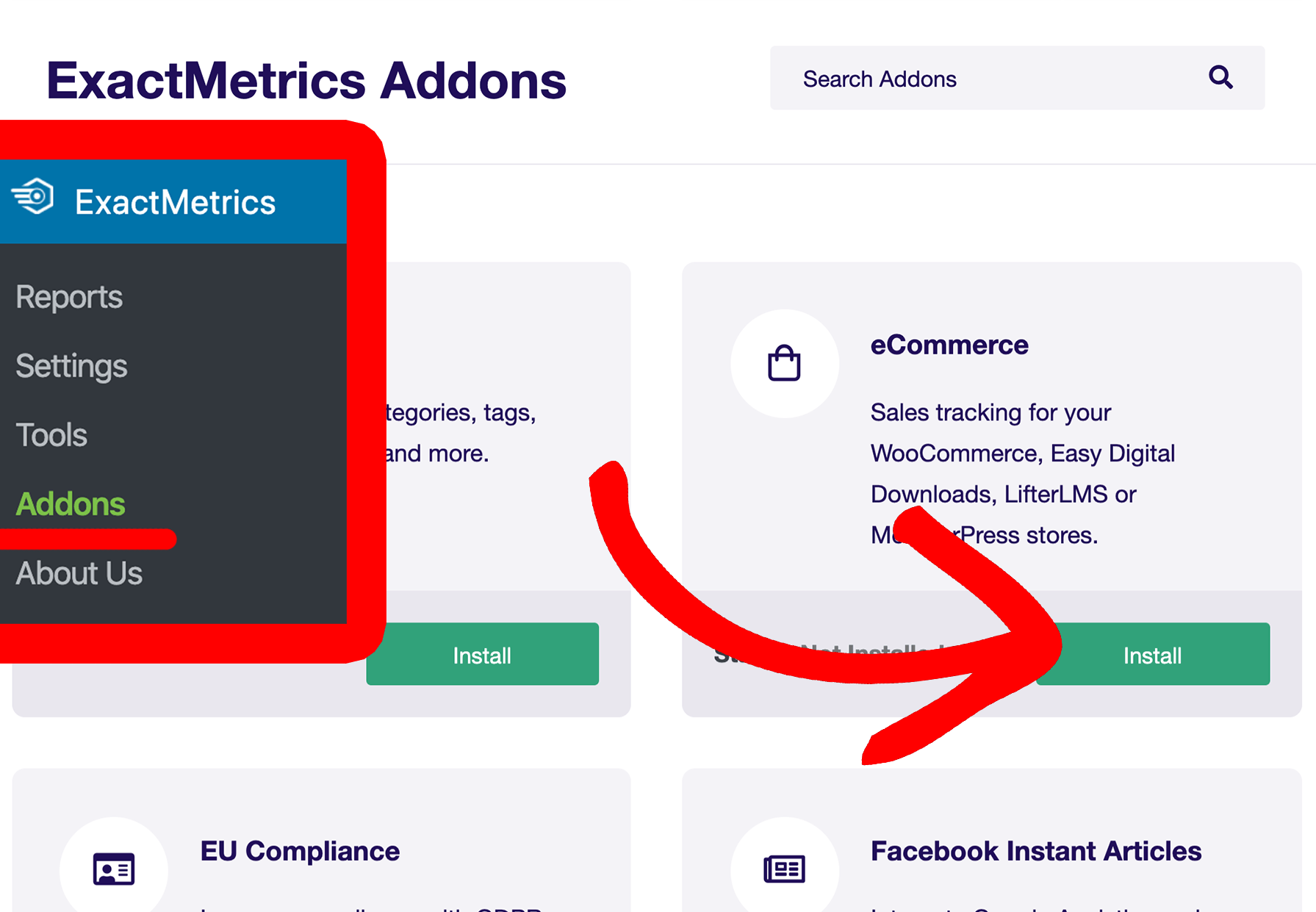 After activating the addon, you'll have to enable Enhanced Ecommerce tracking in ExactMetrics as well.
And you can do that by going to ExactMetrics » Settings » eCommerce. Simply click on the toggle for Use Enhanced eCommerce and it will be ready to use.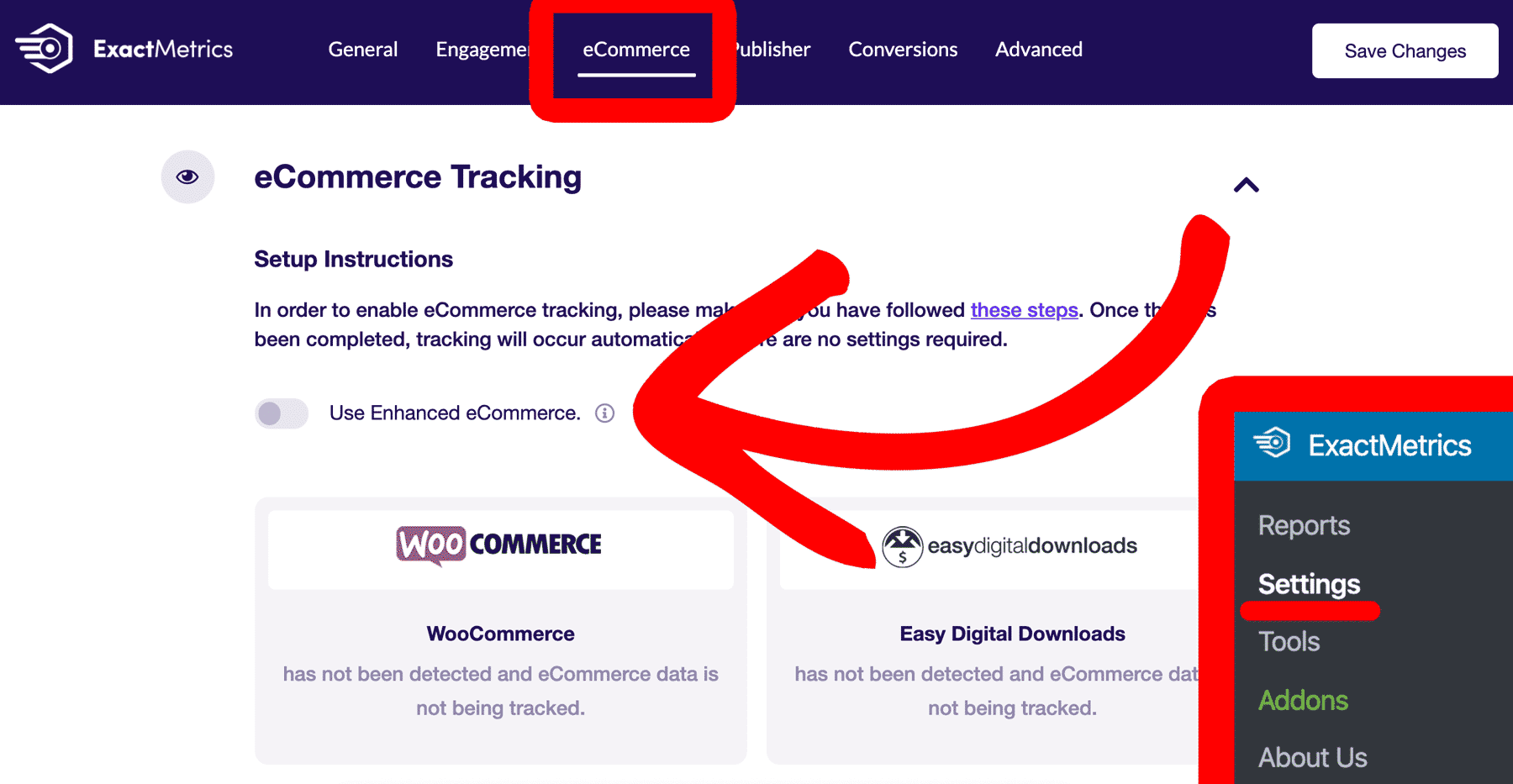 That's it! ExactMetrics will now automatically track your WooCommerce store conversions.
Step 3: View WooCommerce Reports in WordPress
After successfully setting up WooCommerce conversion tracking in WordPress, you can view detailed reports on your dashboard.
ExactMetrics brings you data that matters, so you can make decisions to grow your business and increase your revenue.
To view the report, go to ExactMetrics » Reports » eCommerce.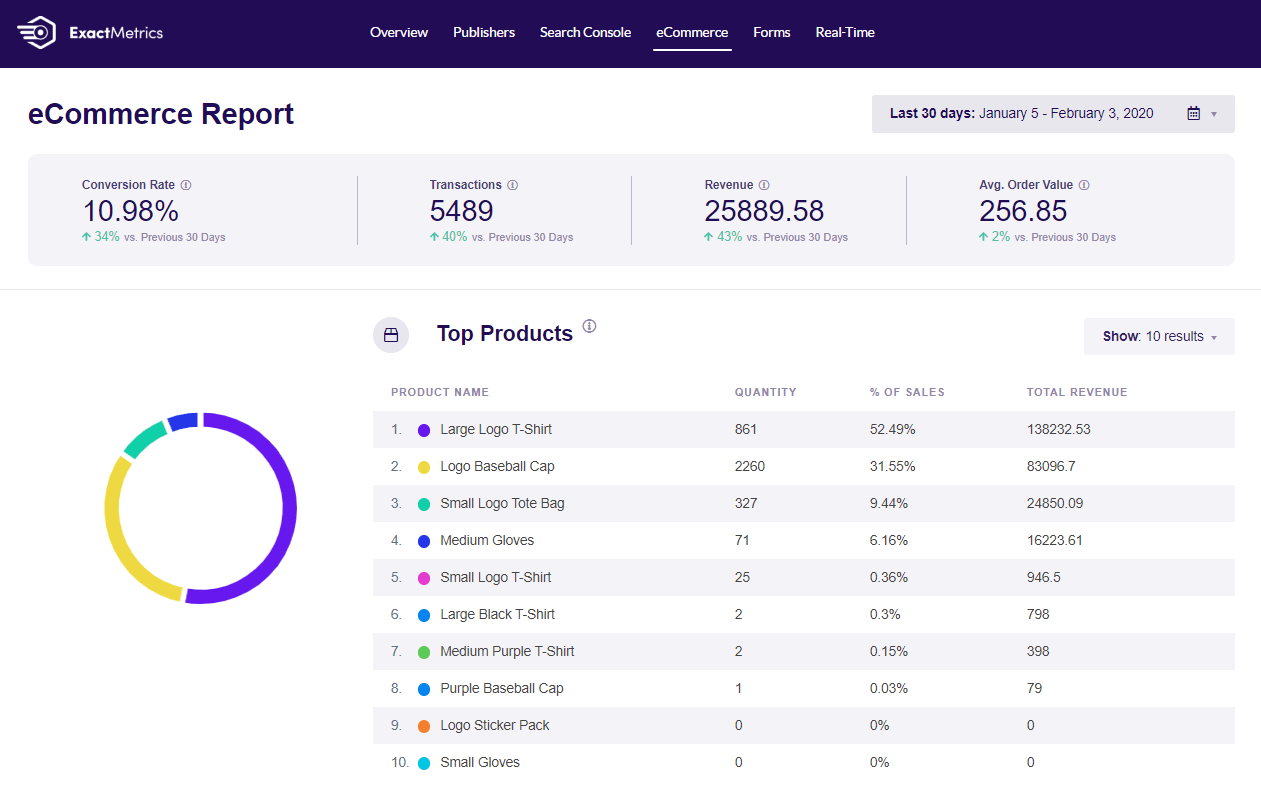 The report shows your WooCommerce store's conversion rate, number of transactions in a given time, total revenue, and average order value.
And if you scroll down, you'll get more reports like Top Products. These are products that have the highest sales and you can view their quantity sold, their contribution to total sales, and the total revenue they generated.
Besides that, you can also view where your traffic is coming from, how much time they spend on your online store, which is the best referral source, and more.
Using this data, you can focus on creating the right marketing strategy to boost your conversions.
How to View Google Analytics Reports for WooCommerce
While ExactMetrics makes things simple and brings you all your important reports in your WordPress dashboard, what if you want to view them in Google Analytics?
To access WooCommerce conversion tracking reports, go to your Google Analytics account and select the property for which you set up Enhanced Ecommerce in the earlier steps.
Now from your home screen, go to Conversions » Ecommerce » Overview.

Here you can get an overview of your WooCommerce store. And if you want to view more reports, then you can select any option under Ecommerce.
With that, you've made it to the end of the tutorial.
You can now start tracking your WooCommerce store conversions and get insights about to boost sales.
We hope you liked our article on how to set up WooCommerce conversion tracking in WordPress. Before you leave, why not check out our detailed guide on how to add a new website to Google Analytics.
And don't forget to follow us on Twitter and Facebook to get to know the latest tutorials on Google Analytics.