Are you looking for a way to track WPForms conversions using Google Analytics? By setting up form tracking in WordPress, you can get insights about how people interact with your forms.
And Google Analytics is the most powerful analytical tool to get the job done. But adding form conversion tracking isn't that simple in Google Analytics.
That's because Analytics doesn't track your forms automatically. You'd have to manually set up tracking, which is too technical for beginners. This is where ExactMetrics comes in handy.
In this article, we'll explain how to set up WPForms conversion tracking in Google Analytics using an easy way. Let's start…
Why Track WPForms Conversions?
You might be wondering, why is it important to track how your WPForms perform on your website? Is it necessary to set up tracking?
There are many benefits to finding out how visitors use your forms:
Find Out Your Best Performing Forms – See which forms convert the best so you can replicate them across your website
Optimize for Conversions – You can improve form conversion by looking at the data and get more people to place orders or signup
Track Form Conversion Sources – Identify which marketing campaigns were successful in driving leads by tracking where your visitors came from
Now, are you ready to learn how to set up WPForms tracking in Google Analytics?
How to Track WPForms in Google Analytics
Google Analytics is a powerful analytical tool to have on your website. It helps you understand your visitors and how they use your website. Not only that, but you can track your marketing efforts.
But as for WPForms, you'll have to manually set up custom events in Google Analytics. That's because Analytics doesn't track website forms automatically.
Now, creating custom events can be tricky and complex, especially for beginners. Not to mention, you'll have to edit the tracking code, so Google Analytics can record your form conversions.
But what if you could automatically track WPForms in your WordPress site?
With ExactMetrics WordPress plugin, you can see how people use your forms and get reports inside your dashboard. To get started, just follow these steps.
Step 1: Install and Activate ExactMetrics
ExactMetrics is the best premium WordPress Analytics plugin. It makes it super simple to use the analytics by helping you set up advanced tracking, like WPForms conversions. It creates custom events for you, so you don't have to perform any manual steps.
You can start by signing up for an account and then installing ExactMetrics on your website.
Once you've installed and activated the plugin, the next step is to add Google Analytics to your WordPress website. ExactMetrics offers a step by step wizard that helps you configure tracking on your website. And the best part, you don't have to hire a developer to do the job.
Step 2: Install ExactMetrics Forms Addon
Now that ExactMetrics is up and running on your website, you'll need its forms addon to track WPForms conversions.
But make sure you have a Pro plan or higher to use the addon and view reports in your WordPress dashboard.
To install the addon, go to ExactMetrics » Addons and navigate to Forms. Hit the Install button and the addon will automatically activate on your website.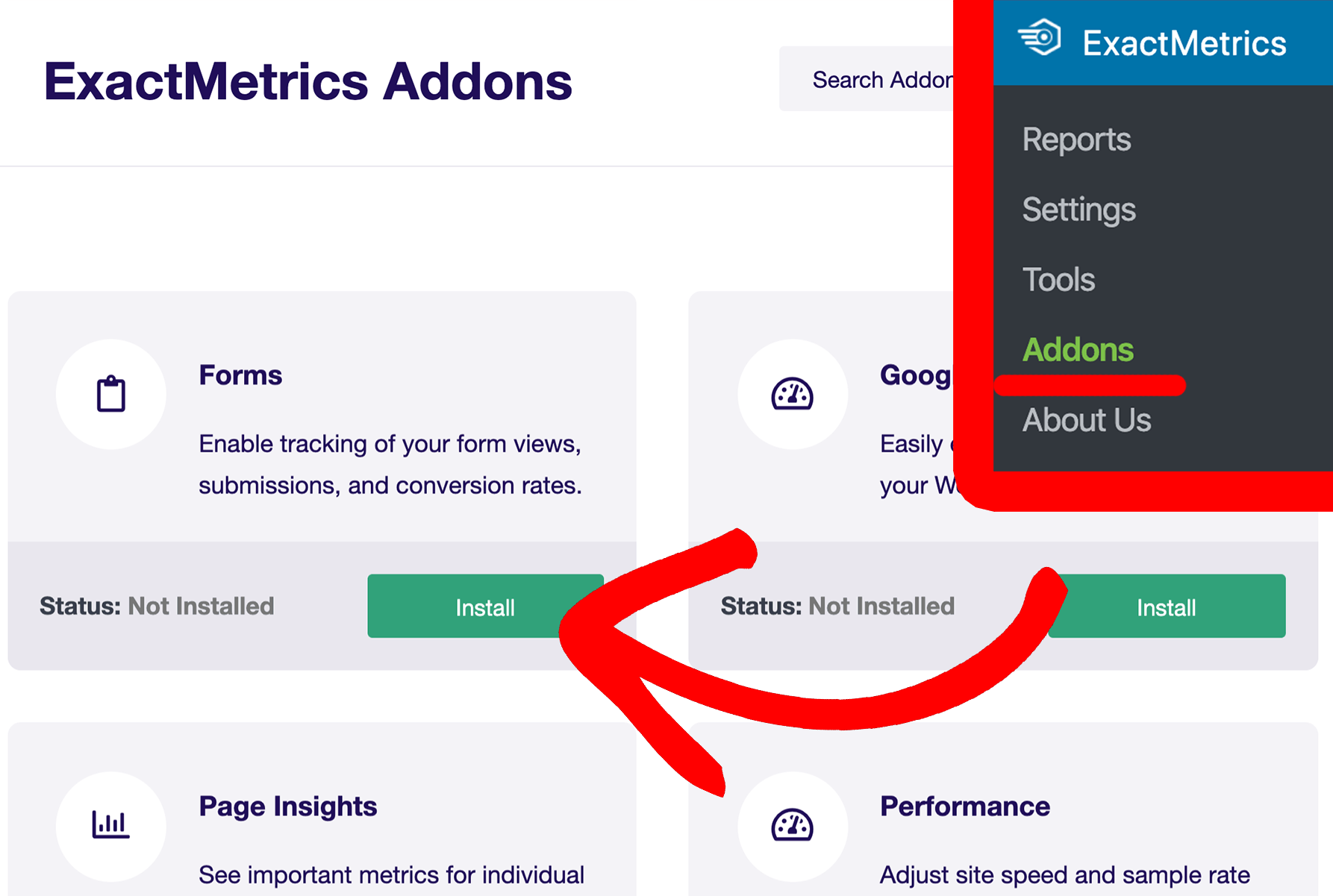 Step 3: Enable Form Conversion Tracking
Once the ExactMetrics Forms Addon is active, it will automatically enable form tracking on your website and detect WPForms plugin by itself.
But to make sure that form tracking is running on your website, you can check the settings. Just go to ExactMetrics » Settings » Conversions.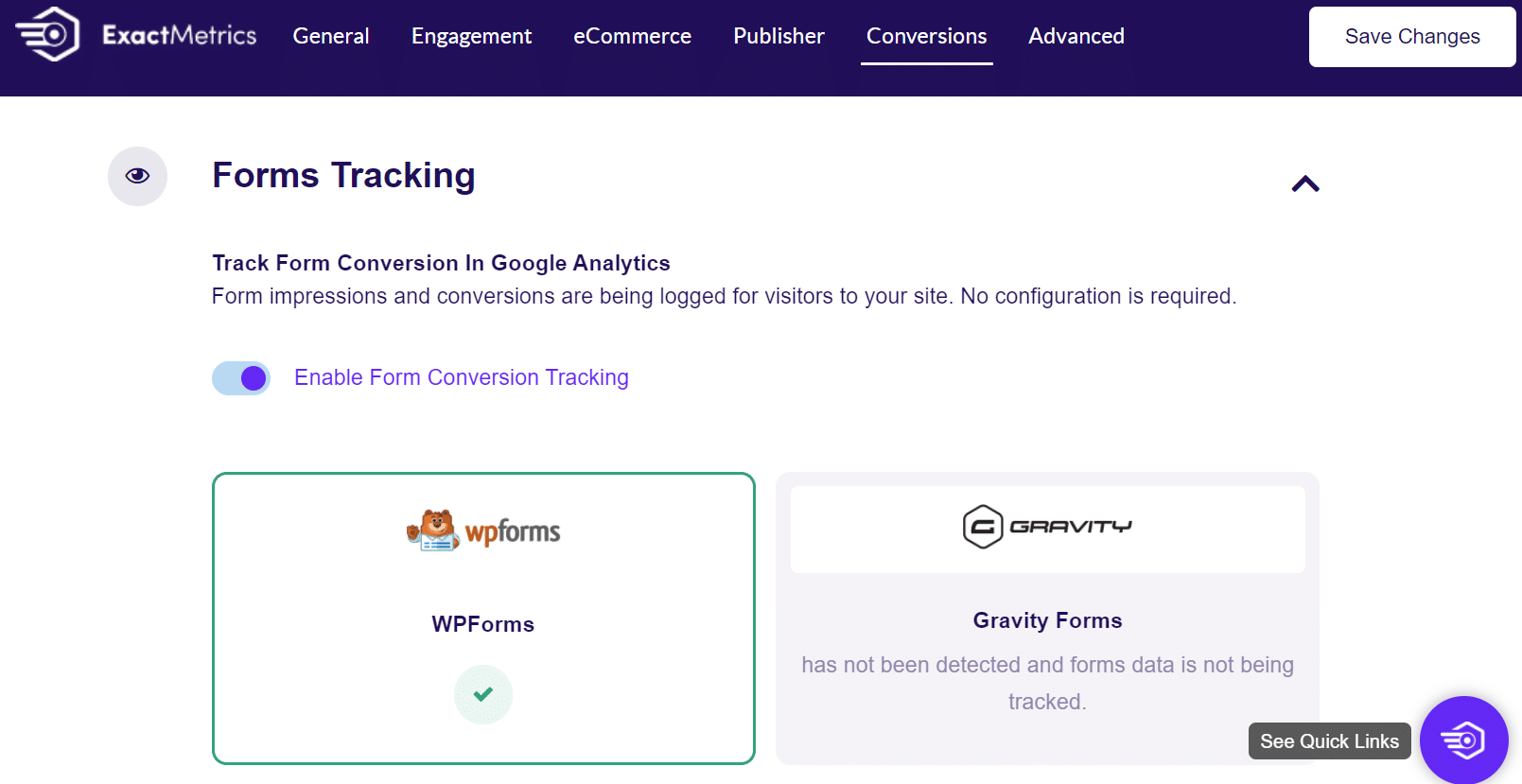 If WPForms is already installed on your website, you'll see a green tick mark under Form Tracking in ExactMetrics.
How to View WPForms Conversion in Google Analytics
Now that you know how to track form submissions in Google Analytics, the next thing to do is view the report. With ExactMetrics, you don't have to leave your website, as you can see how your WPForms are performing inside your WordPress dashboard.
To view the report, go to ExactMetrics » Reports and then click on the Forms tab. The report will show you the number of impressions, conversions, and conversion rates for each form.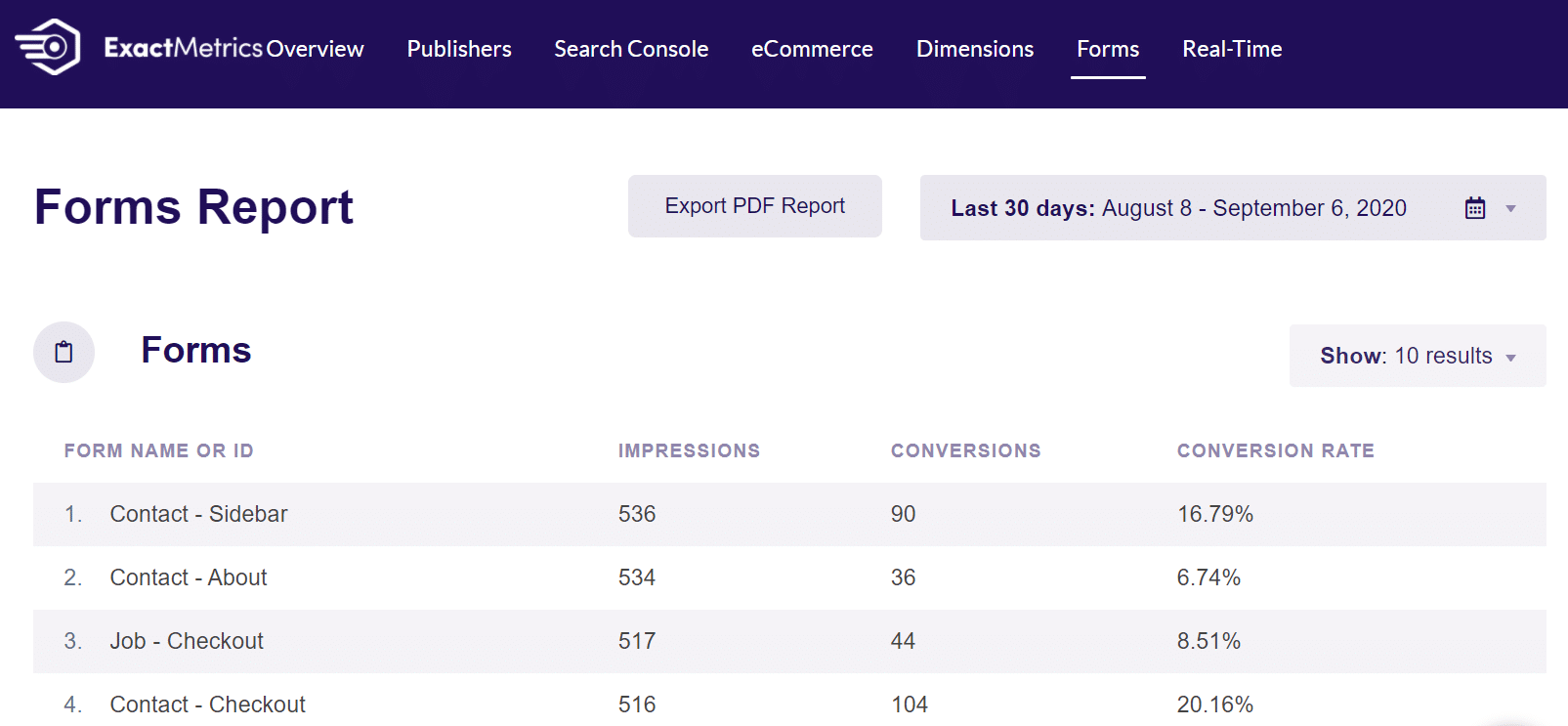 And if you click the View Full Forms Report button at the bottom, you'll be taken to the Google Analytics Events page. Here you can view all your events, including form tracking.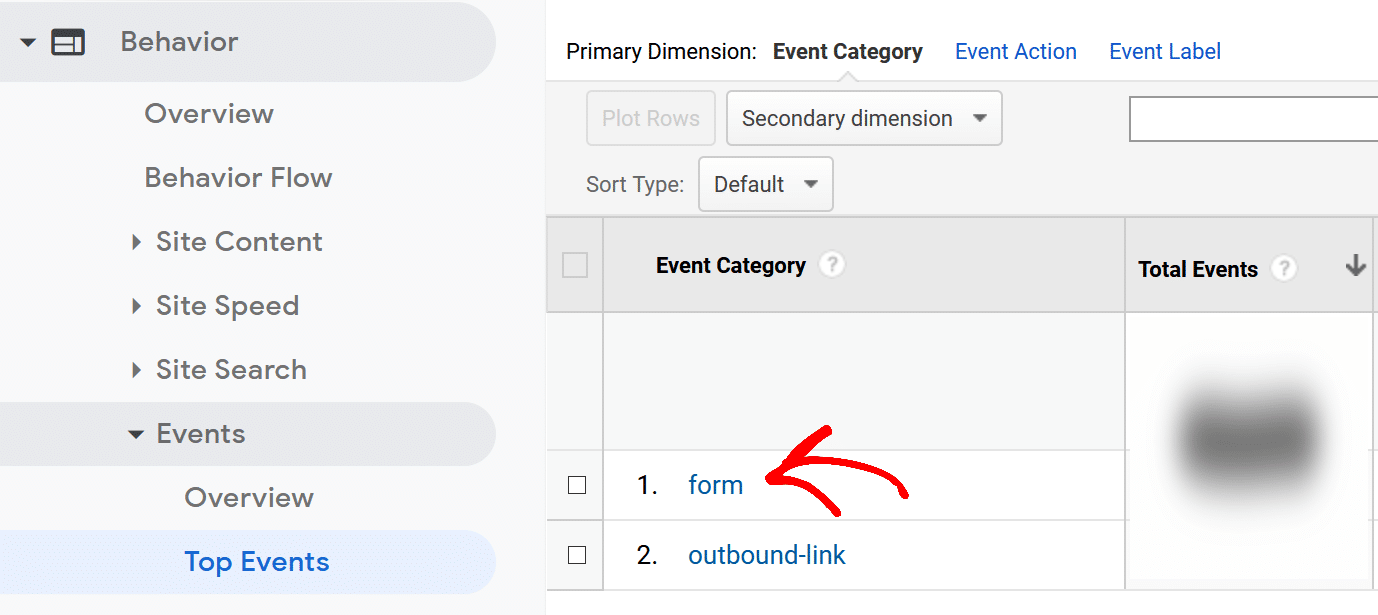 When you click on the form, you'll next see Event Action of impressions and conversions. You can click on either option to see how your WPForms are performing. Let's say you want to see how your forms convert, so click on conversion.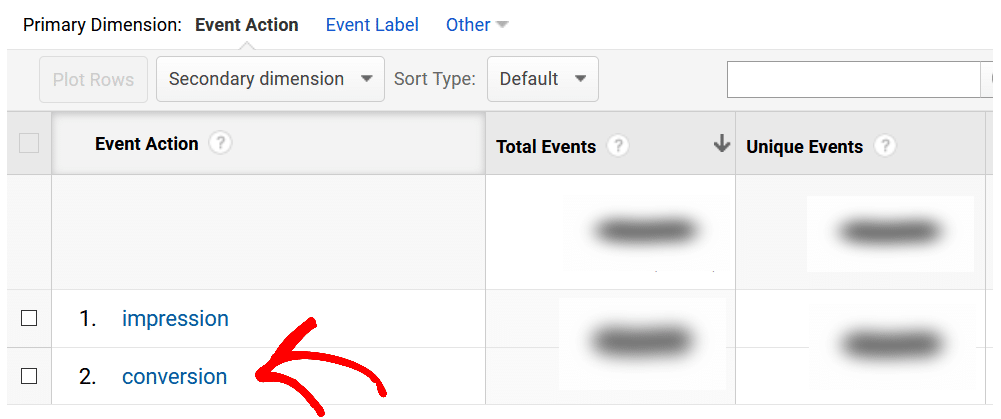 Next, Google Analytics will show you all your WPForms and their conversions.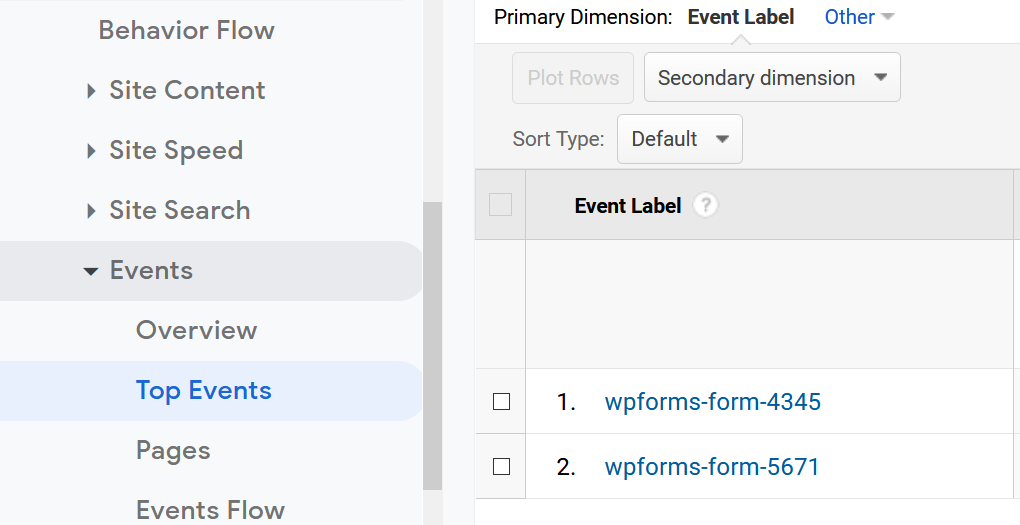 And that's it!
We hope you liked our article on how to set up WPForms conversion tracking in Google Analytics. If you want, you can also go through our post on how to add a contact form in WordPress.
Don't forget to follow us on Twitter and Facebook to get to know the latest tutorials on Google Analytics.