Are you accepting donations on your website, and you'd like to be tracking them in Google Analytics and WordPress?
Tracking donations in Google Analytics can give you lots of valuable insights into how your donation campaigns are going. You can use those insights to make decisions that will improve your donation rate.
Read on to find out how to set up donation tracking on your website with Google Analytics and WordPress.
Why Track Donations in WordPress?
When you set up donation tracking with Google Analytics in WordPress, you can gain insights into your traffic and overall donations that will give you ideas for how to improve your campaigns.
When you have donation tracking set up, you'll be able to see:
Average donation amount
Conversion rate
Top conversion sources (what sites visitors are referred from when they donate, like Facebook)
Time to purchase and sessions to purchase (how many times did a person visit your site before donating?)
Which forms worked best and brought in the most donations
Best Donation Plugin for WordPress
If you don't yet have a plugin for gathering and managing your donations with WordPress, we highly recommend GiveWP.
Not only does ExactMetrics integrate with GiveWP, but the plugin also has 100,000+ active installs and over 400 5-star reviews. It's clearly a winner!
Depending on the license level you're running, you'll get different features. All licenses include Stripe and PayPal donations, donor management, reporting, and support.
ExactMetrics will integrate with any version of GiveWP, so you can connect any of them to Google Analytics and WordPress.
Set Up Donation Tracking in 4 Easy Steps
If you already have ExactMetrics installed, skip to step 3.
Step 1: Install ExactMetrics
ExactMetrics is the most powerful Google Analytics plugin for WordPress, without the high costs. In addition to the donation tracking we're going to be setting up here, you'll get a whole list of features that will help you grow your business with the help of analytics.
So to start, head to the Pricing page and get started with ExactMetrics at the Pro level. Once you complete checkout, download the plugin.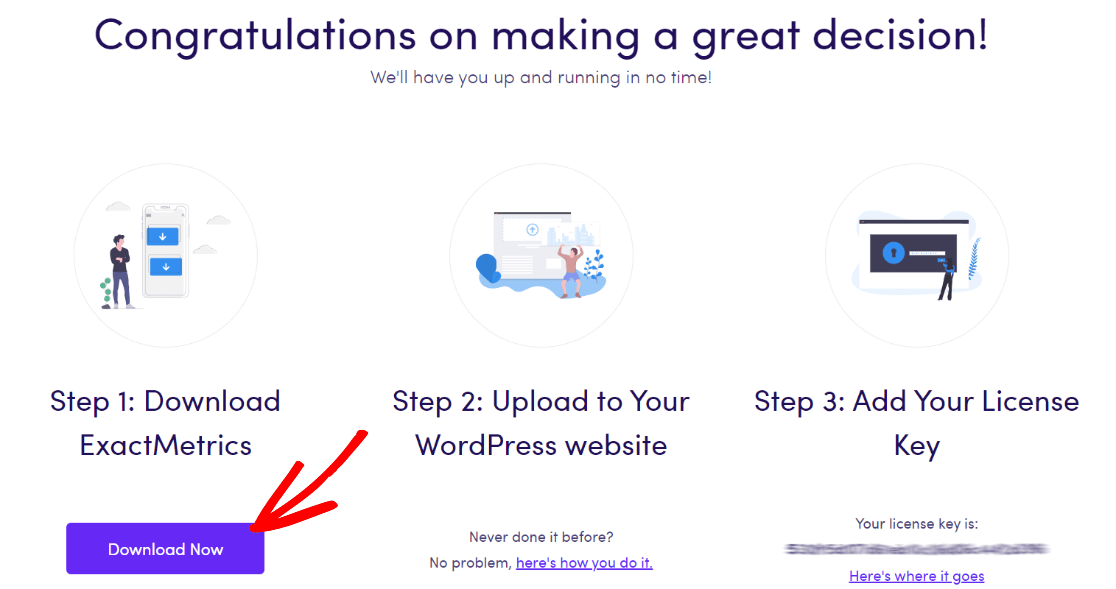 Next, upload it to your website.

Step 2: Add Your License Key and Connect to Google Analytics
Now that you have ExactMetrics installed, you can add your license key and connect your Google Analytics account. To get set up, click on ExactMetrics under your WordPress Dashboard and click the big green "Launch the wizard!" button.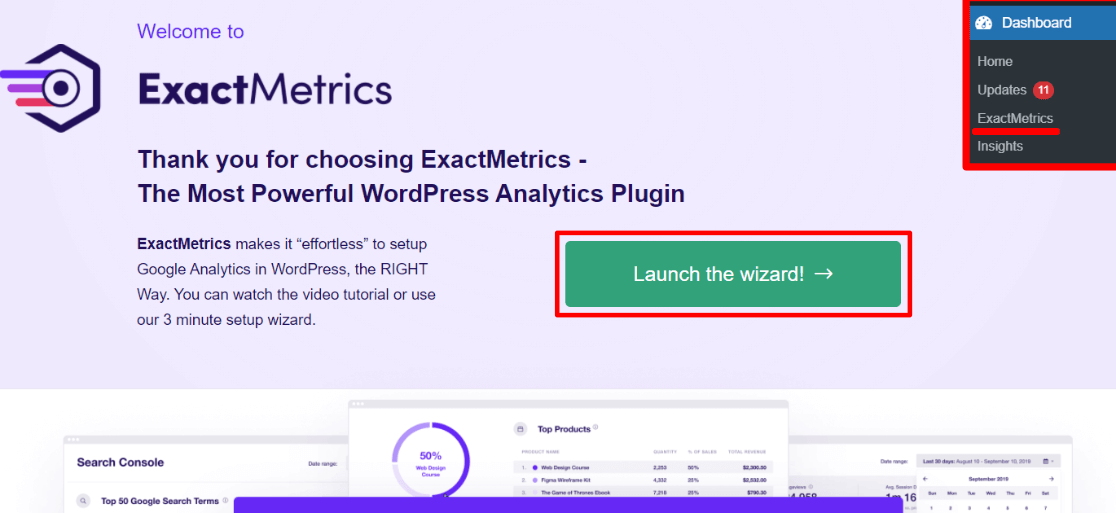 Once you're in the wizard, you'll get to this page where you can add your license key and connect with Google Analytics: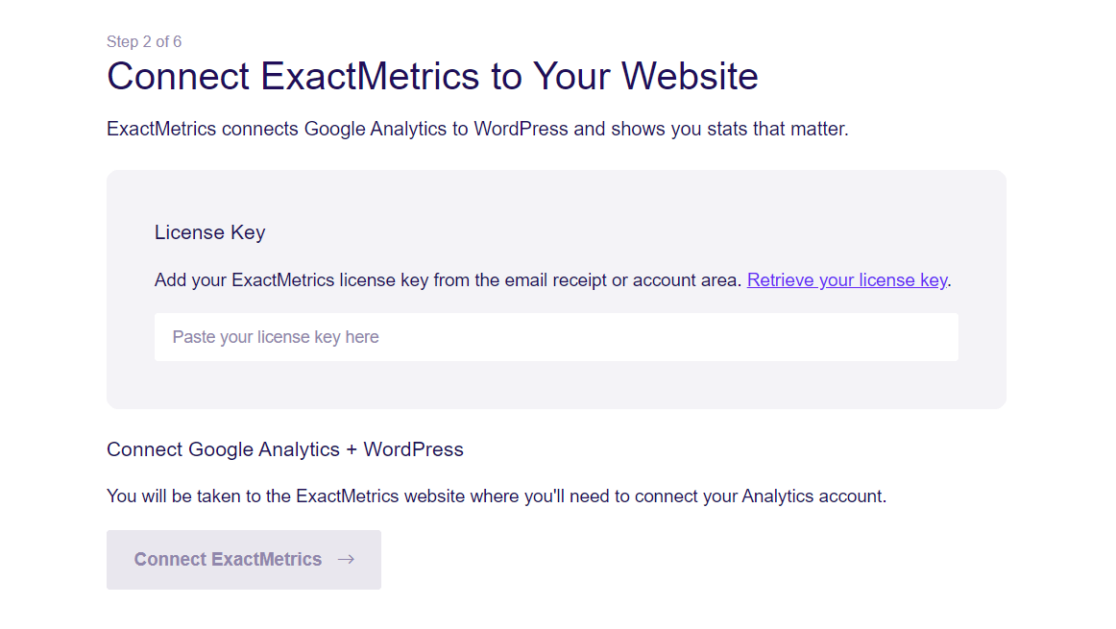 After that, just keep following the setup prompts, answering questions about your business, until setup is complete.
Step 3: Enable Google Analytics eCommerce Tracking
In order to connect ExactMetrics to the Google Analytics eCommerce (donation) reports, you'll need to turn it on in Google Analytics. To do that, head to the Admin area in Google Analytics and click on "Ecommerce Settings" in the right-hand "View" column.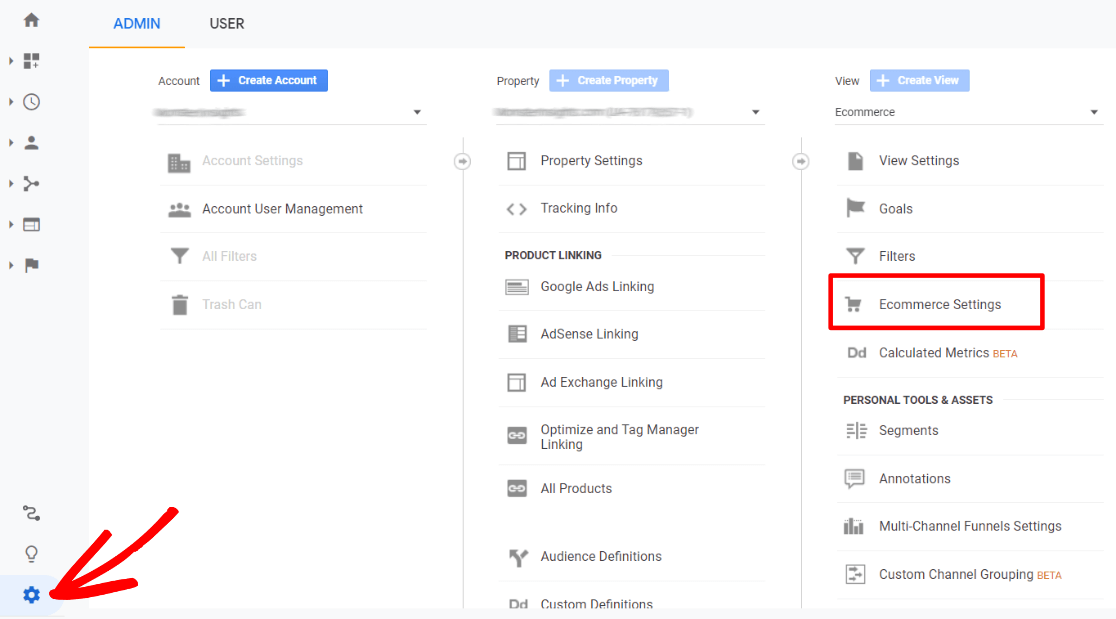 Once there, toggle both buttons to the on position and click Done.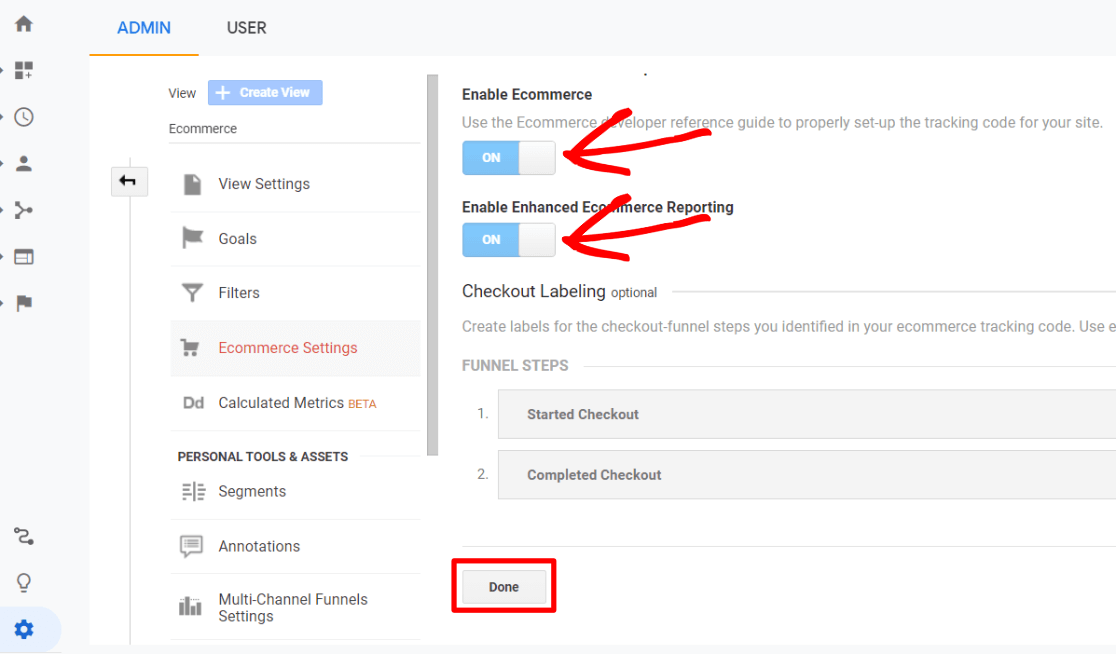 That's it! You've got eCommerce enabled in Google Analytics.
Step 4: Enable the ExactMetrics eCommerce Addon
Now, head to ExactMetrics » Addons in WordPress and install the eCommerce addon.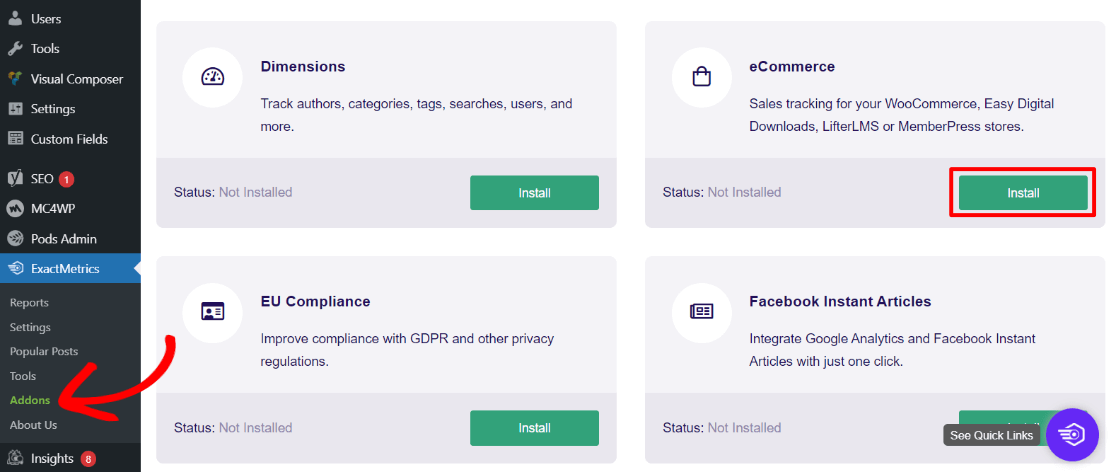 Next, head to Settings » eCommerce and toggle the switch to on.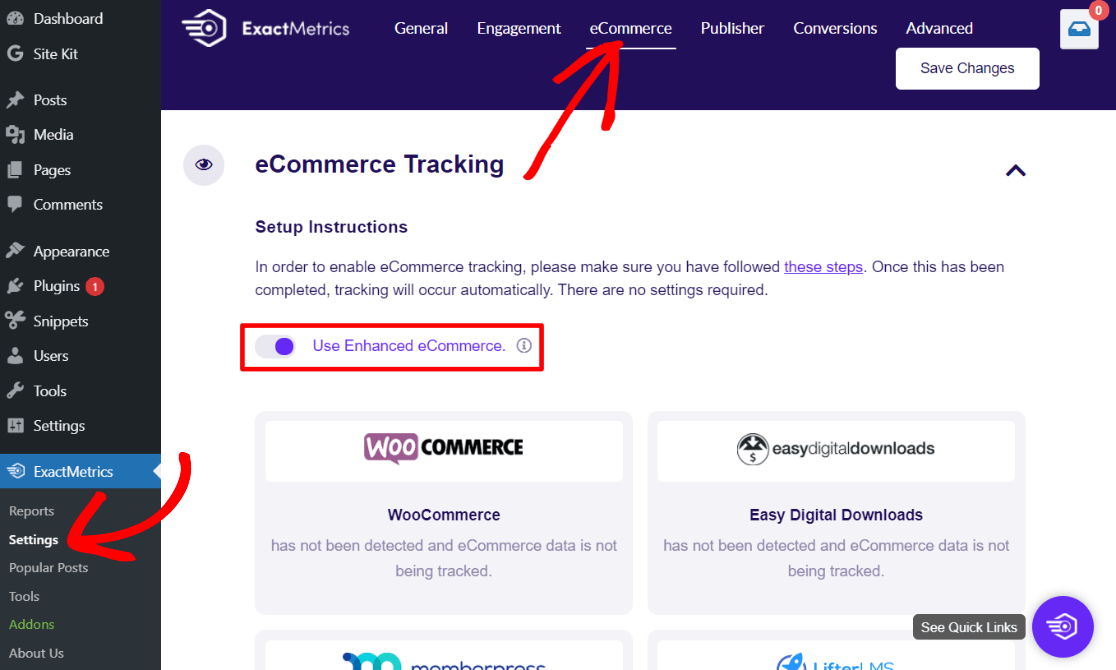 Also on this page, if you're using GiveWP, you can scroll down to see that it's automatically detected and tracked: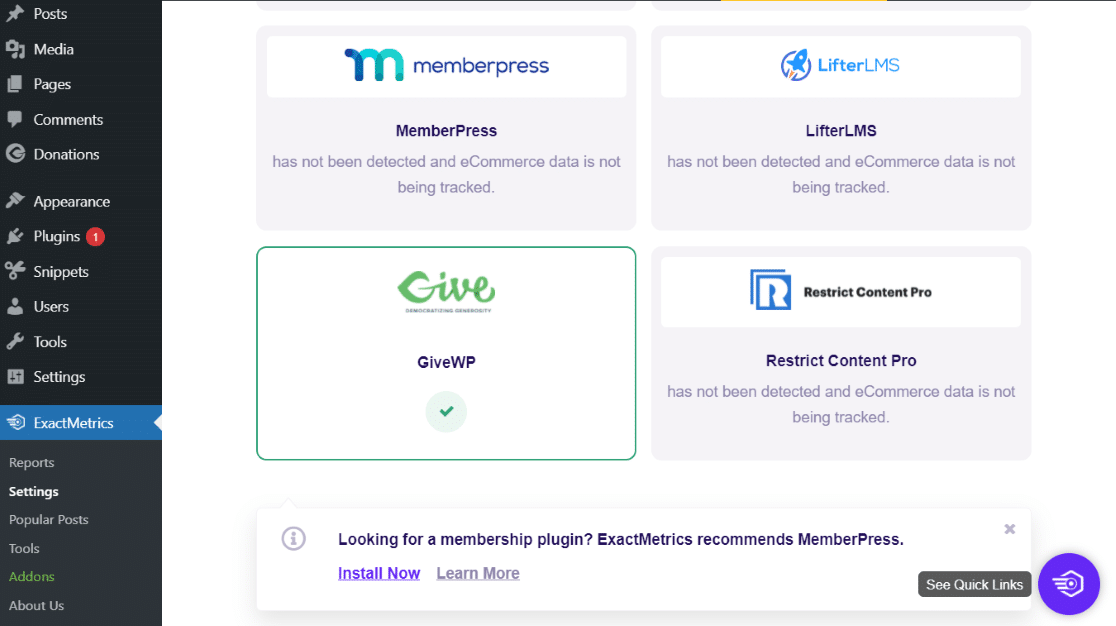 That's it! You now have eCommerce (donation) reports enabled in both Google Analytics and ExactMetrics and you're ready to get started with donation reporting.
WordPress Donation Reporting Dashboard
Let's take a quick look at the reports you'll now have access to after connecting ExactMetrics and Google Analytics Ecommerce reporting.
At the top of your eCommerce report, you'll see your conversion rate, transactions (donations), revenue, and average order (donation) value:

Scroll down to find the top conversion sources report. This report is sorted by revenue (donation amount). You can quickly and easily see if there's a certain referral source that's sending you a lot of traffic that's converting, or one that's underperforming: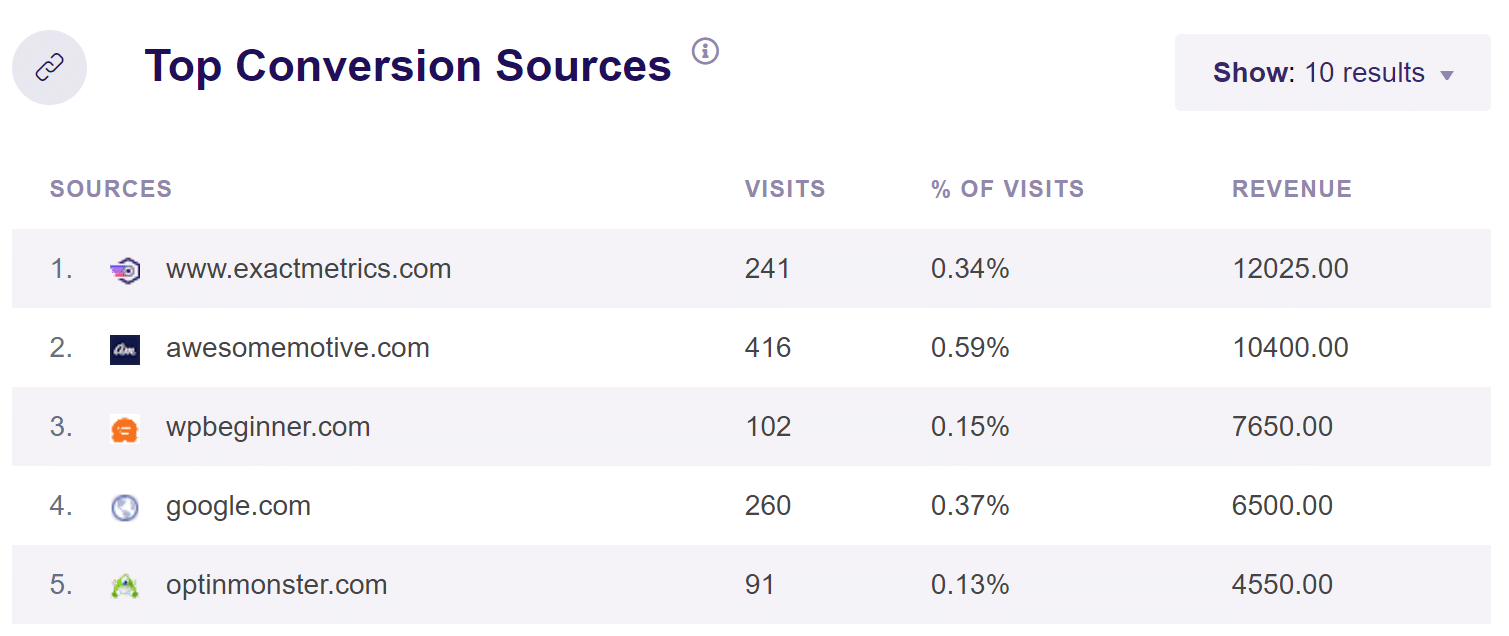 Below that report, you'll find the Time to Purchase and Sessions to Purchase reports. These reports show you how long it took site visitors to make their donation. Use these reports to streamline your process of getting visitors to return to make that donation.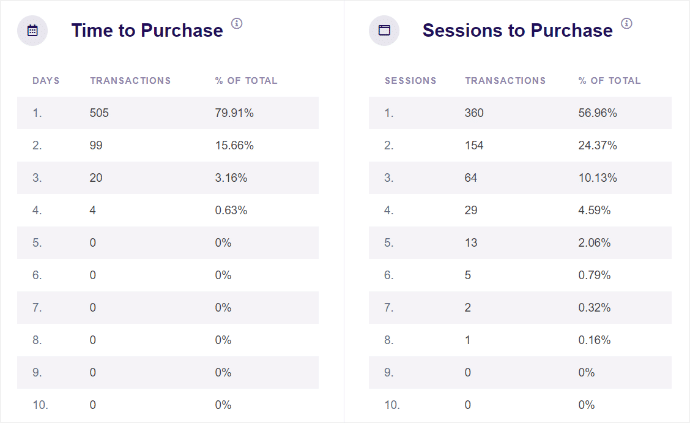 Now, in the ExactMetrics Forms report, you'll be able to see which of your forms are taking in the most donations:

To learn more about all the ExactMetrics reports and what you can do with them, read 18 Simple Ways to Grow Your Business with Google Analytics.
Don't forget to follow us on Twitter and Facebook to see all the latest Google Analytics tutorials.