Want to see how visitors are interacting with your website right now with Google Analytics real time reports?
Maybe you just sent out an email and you want to watch how people navigate your site after clicking on a link to it. Or you just want to watch what your traffic is doing at the busiest time of day.
In this article, we'll show you how to easily find real-time reports in Google Analytics as well as right inside your WordPress dashboard.
Find Realtime Reports in WordPress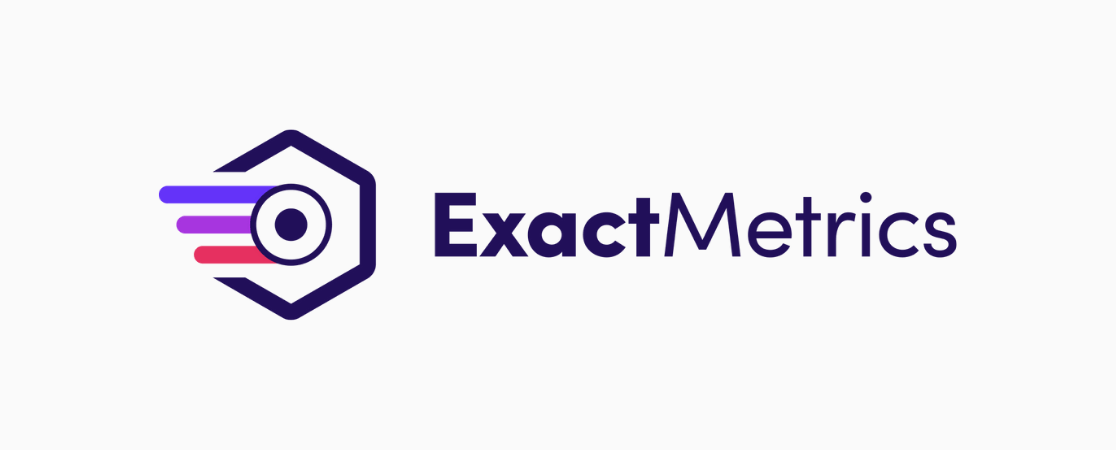 ExactMetrics is the best premium WordPress Analytics plugin, allowing you to easily set up Google Analytics without editing any code or needing a complicated tool like Google Tag Manager. You get advanced tracking right out of the box with an extremely user-friendly interface and Google Analytics reports right inside your WordPress dashboard.
Plus, you gain access to tons of additional Google Analytics features and advanced tracking capabilities with just a few simple clicks. Elevate your tracking game and get sophisticated analytics without complicated configuration or code.
Here are some of ExactMetrics' most popular features:
Get started with ExactMetrics today!
To access your real-time Google Analytics reports from WordPress, you'll need to install and activate the plugin and connect it to your Google Analytics account. Don't worry though, it's only a few clicks with our set-up wizard and you won't need to worry about any code or tracking tags.
From your ExactMetric's real time reports, you'll be able to see:
How many active users are on your site, updated every minute
Pageviews per minute for the past 30 minutes
Top pages users are viewing on your site
What percentage of visitors are on each of your top 50 pages
Top countries where current site visitors are browsing from
Top cities where current site visitors are browsing from
For help installing ExactMetrics and connecting Google Analytics, check out our step-by-step tutorial How to Add Google Analytics to Your WordPress Site.
When you're finished, just head back here to continue, and we'll show you how to find Google Analytics real time reports in WordPress as well as how to find the Realtime reports tab in your Google Analytics account.
Google Analytics Real Time Overview Report
To find your Real-Time report in WordPress, head to ExactMetric » Reports in your admin menu and click the tab that says Real-Time at the top. When you first open it, you'll see an Overview report with a graph of your page views within the last 30 minutes and the number of visitors currently on your site.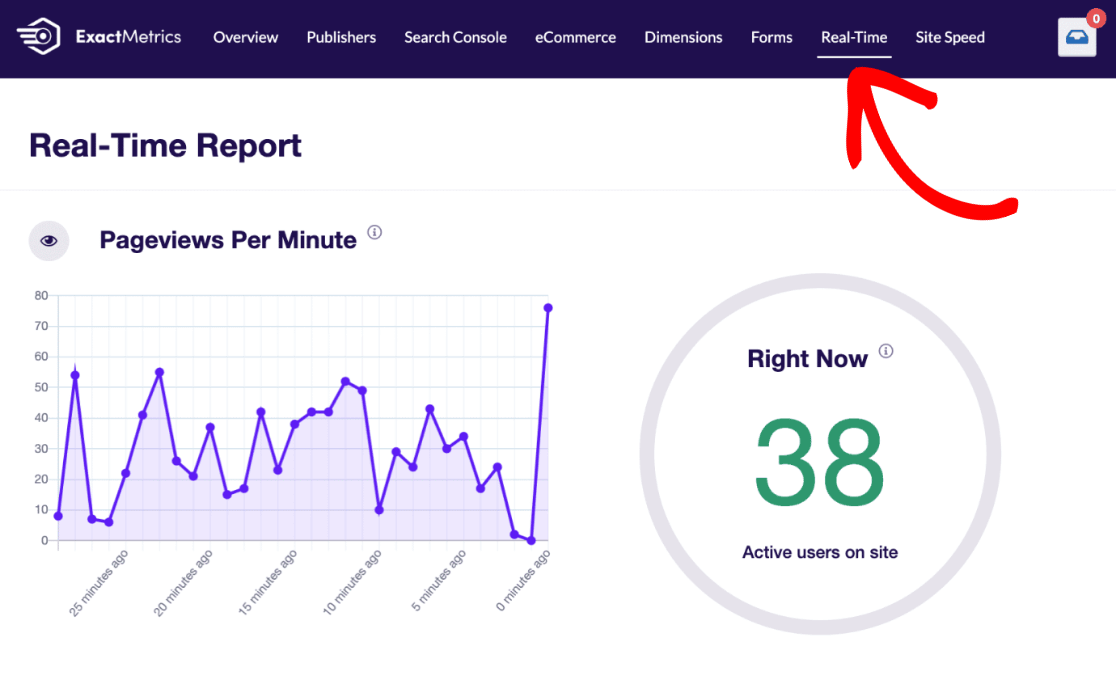 It can be fun (and also helpful) to watch real-time data right after you send out an email, start running an ad, or post a social media update. You can see how many people are clicking right away.
Google Analytics Real Time Top Pages Report
Which pages are your current visitors on? With the Google Analytics Real-Time Top Pages report, you can find out. Watch what pages people are visiting in realtime, without ever leaving ExactMetrics.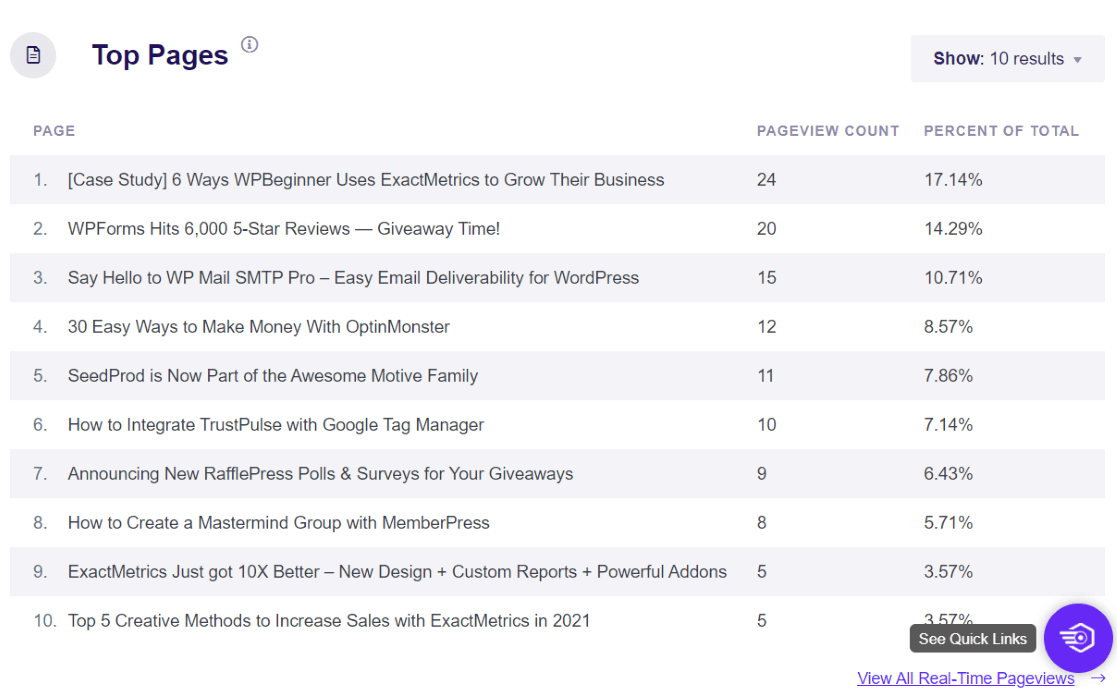 Are you showing the right content at the right time? If you're running a website that gets a lot of visits from social media and other campaigns, this report can help you decide when to share again, and instantly see what content is doing the best.
Google Analytics Real Time Referral Traffic Sources Report
The Real-Time Referral Traffic Sources report can show you how your current visitors got to your site.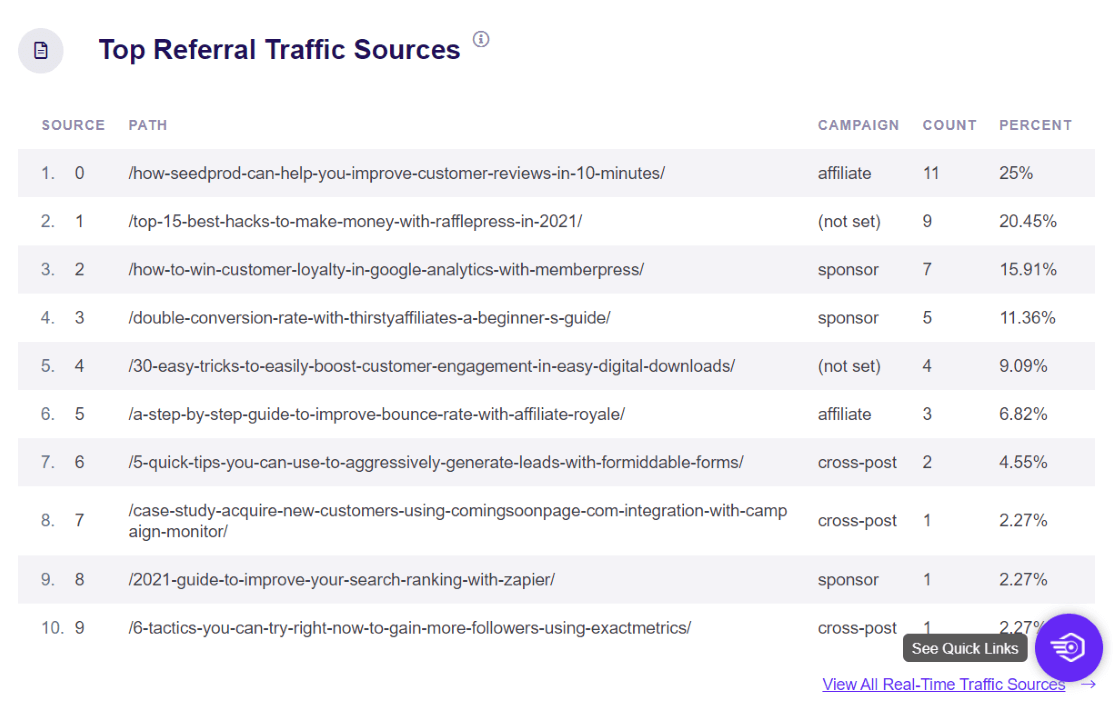 What's really neat about this report in ExactMetrics is that it also shows you the referral path and campaign data. So, let's say you have a couple of different ads running on social media at the same time. If you used campaign URLs, you'll see which traffic is from which campaign.
Google Analytics Real Time Locations Report
At the bottom of the Real-Time report tab in ExactMetrics, you'll find your Top Countries and Top Cities reports. These are where your current visitors are located.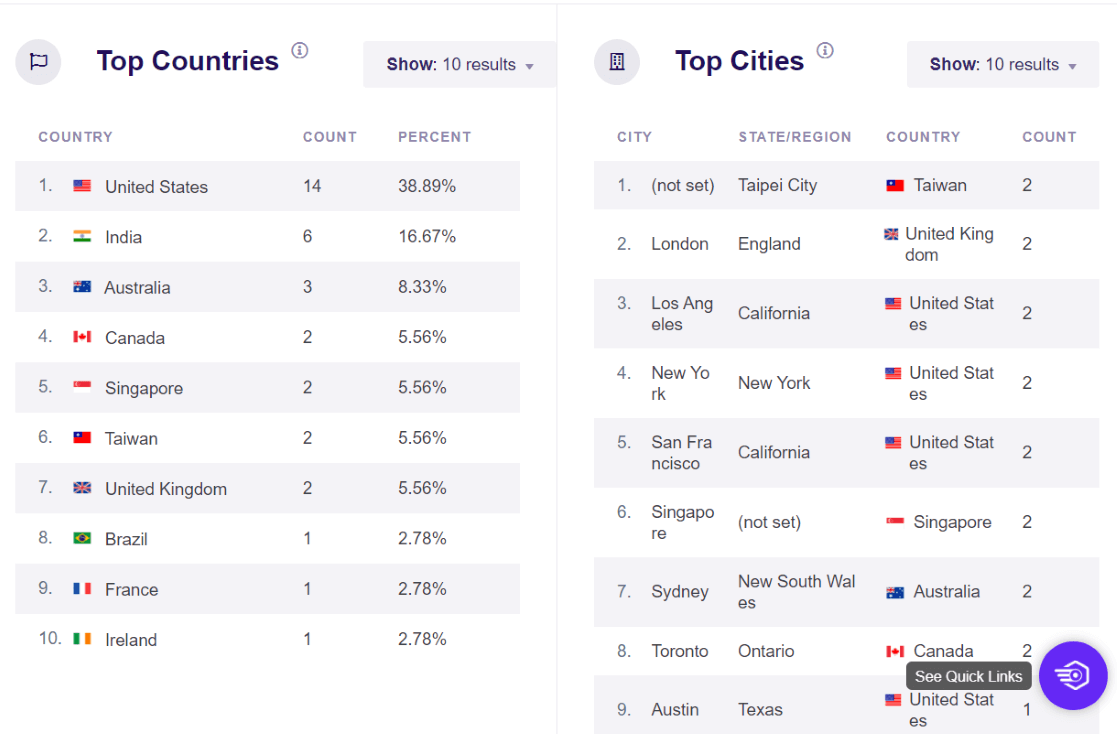 If you have international visitors, the locations report can be a pretty cool way to watch people from different countries visit your site. If you're not international, viewing visitor data by city is still really helpful. It can be very useful if you have multiple physical locations, or want to see how a piece of just-published-and-shared content is doing in different areas.
Now that you've seen how to view your real-time reports in WordPress, let's look at how you can find your Google Analytics Realtime Report.
Find Realtime Reports in Google Analytics
To view the full real time reports in Google Analytics from ExactMetrics, click any of the blue button links from the Real-Time tab in WordPress. It'll take you to your Realtime overview report in Analytics.
If you're accessing your website's real time data from your Google Analytics account, click Reports » Realtime from the sidebar menu.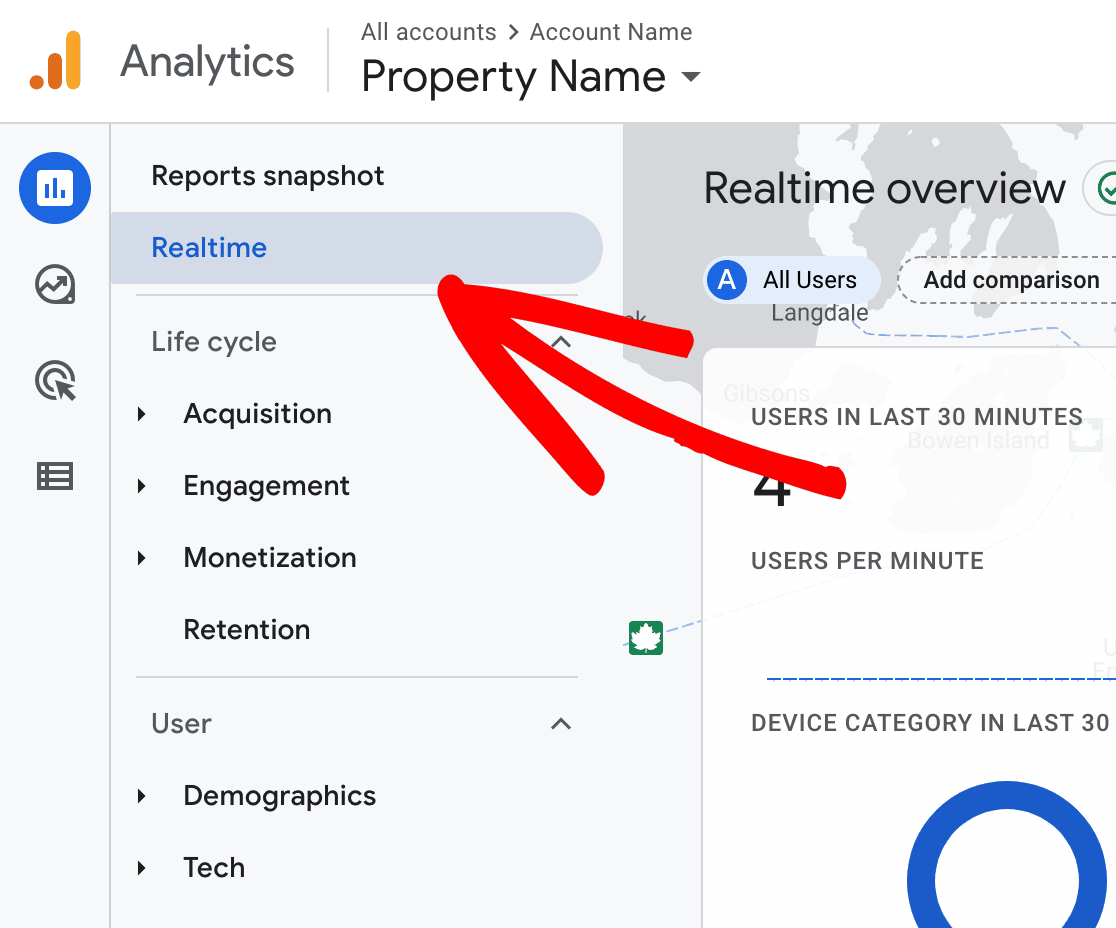 Now you'll see your Google Analytics Realtime Overview with a number of different data cards that have different reports on them. This real time Google Analytics data gives information about site visitors who have been active in the last 30 minutes. The top card will tell you how many users, which is broken down by device type.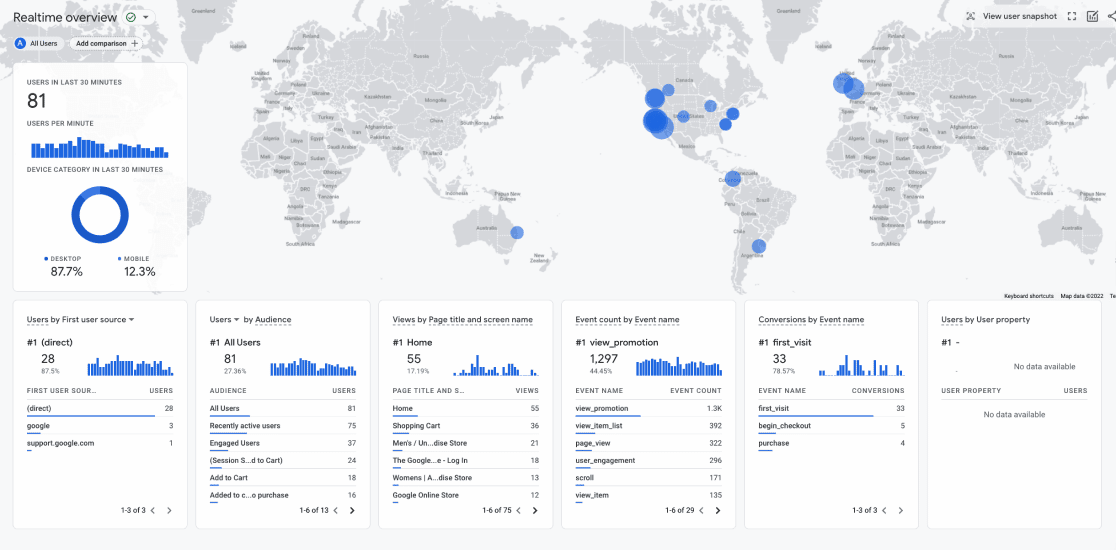 You can find lots more information on the Realtime reports page by looking at the individual cards. In Google Analytics, you'll be able to see:
Users per minute over the last 30 minutes
Percentage of users by device category
Users by source, medium, or campaign
Page views by title
Users by audience
Event counts and names
Conversions by event name
Another really cool thing you can do in Google Analytics Realtime is create comparisons. You can see things like how well two campaigns are currently performing, compare the activity between visitors from different regions, and lots more.
To create a comparison, click where it says Add comparison + towards the top, you can then customize your comparison in the sidebar that comes us and hit Apply. Now you'll see the data side by side.
For example, we added a comparison for English Language so now we see data for English users and all users next to each other. You can add more comparisons or remove them to discover more about your real time site activity and visitors.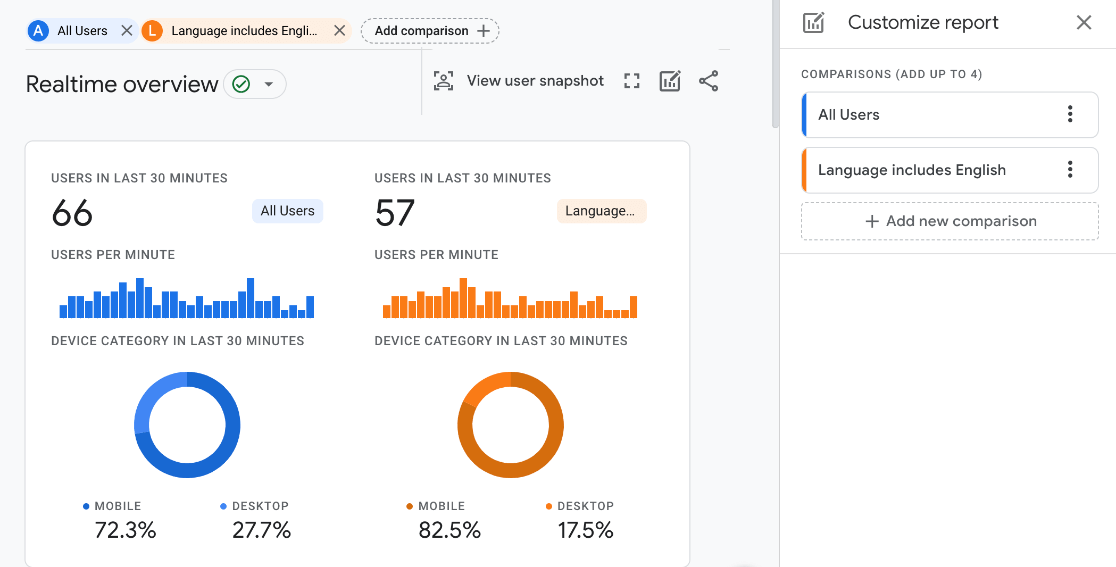 Well, that's all there is to it! You've learned how to find real time reports in Google Analytics and WordPress.
We hope you found this overview helpful. Next, you'll definitely want to learn How to Share Your Google Analytics Reports.
Want to know how far down your pages visitors are scrolling? Check out How to Track Scroll Depth in Google Analytics Without Editing Code.
Not using ExactMetrics yet? What are you waiting for?
Don't forget to follow us on Twitter and Facebook to see all the latest Google Analytics tutorials.