Want to see how visitors are interacting with your website in real time?
Maybe you just sent out an email and you want to watch how people navigate your site after clicking on a link to it, or you just want to watch what your traffic is doing at the busiest time of day.
In this article, we'll show you how to easily find real-time reports right inside your WordPress dashboard with ExactMetrics. We'll also look at all the reports within the Realtime reports tab in Google Analytics and talk some more about why they're useful.
The Real-Time Overview Report
When you first open the Real-Time tab in ExactMetrics, you'll see the Overview report. It gives you a graph of your pageviews within the last 30 minutes and the number of visitors currently on your site.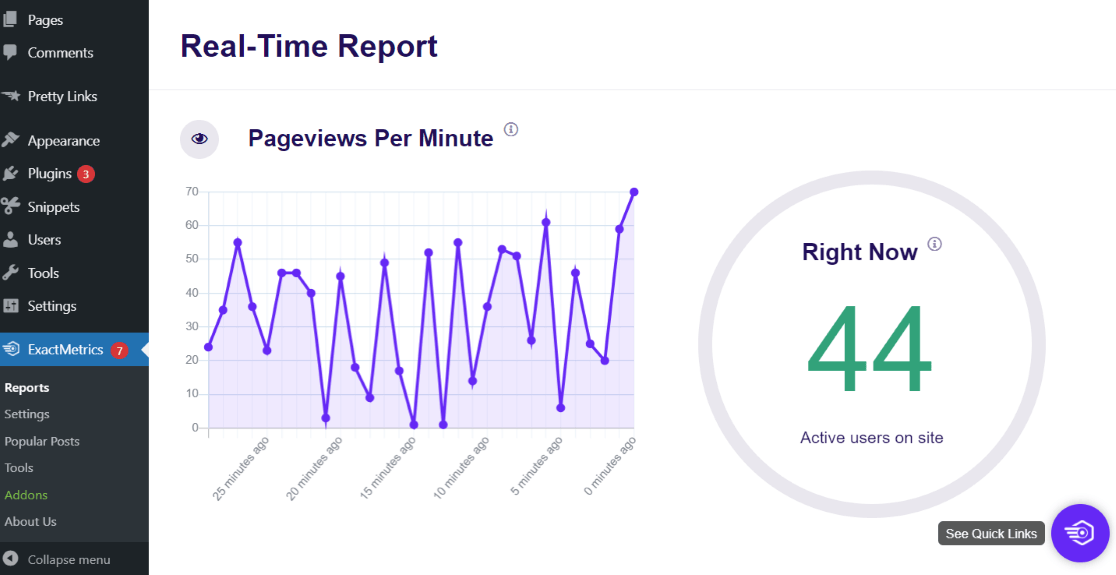 It can be fun (and also helpful) to watch real-time data right after you send out an email or post a social media ad or update. See how many people are clicking right away.
Real-Time Top Pages Report
Which pages are your current visitors on? With the Real-Time Top Pages report, you can find out. Watch what pages people are visiting in real time here.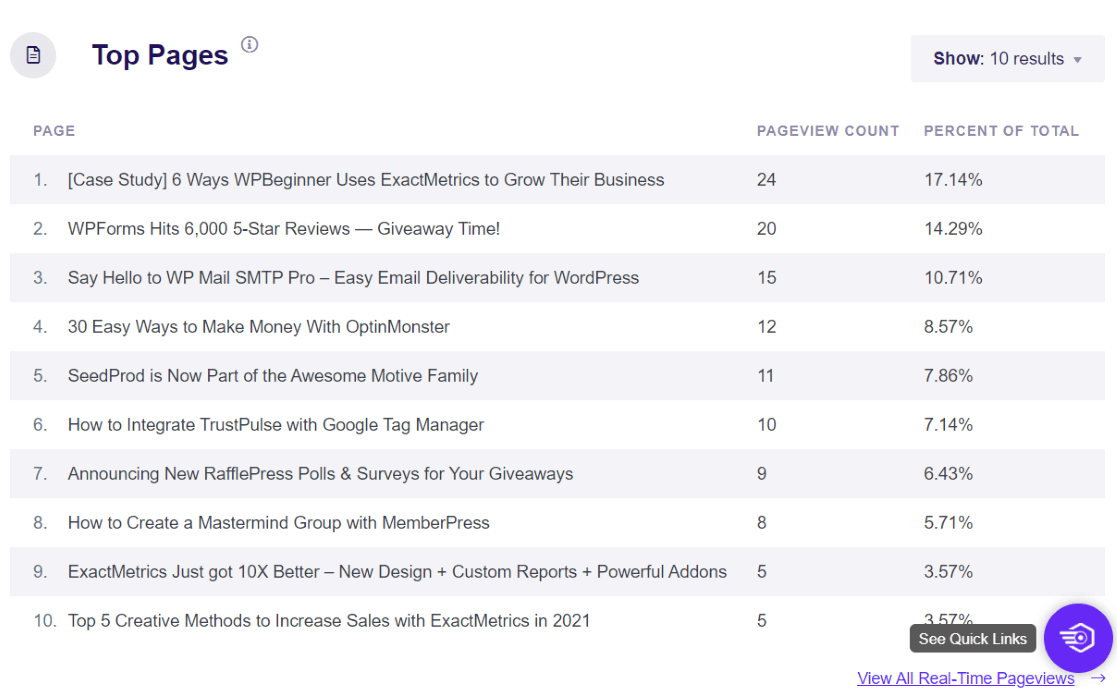 Are you showing the right content at the right time? If you're running a website that gets a lot of visits from social media and other campaigns, this report can help you decide when to share again, and instantly see what content is doing the best.
To view the full Content report in Google Analytics, click the blue link at the bottom of the list in ExactMetrics. You'll get mostly the same data, plus a breakdown of Desktop vs. Mobile.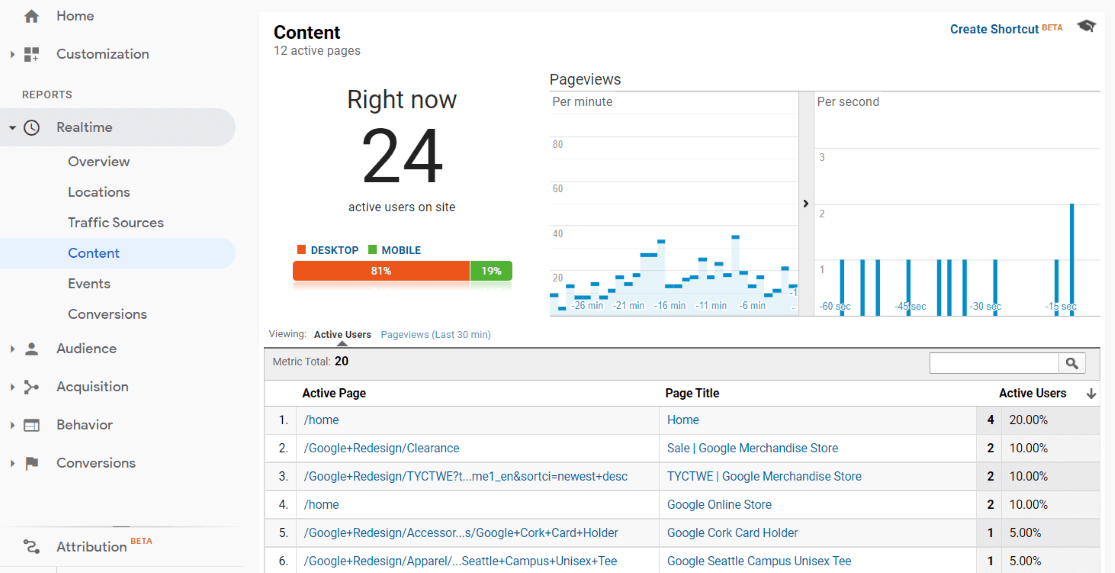 Real-Time Referral Traffic Sources Report
The Real-Time Referral Traffic Sources report can show you how your current visitors got to your site.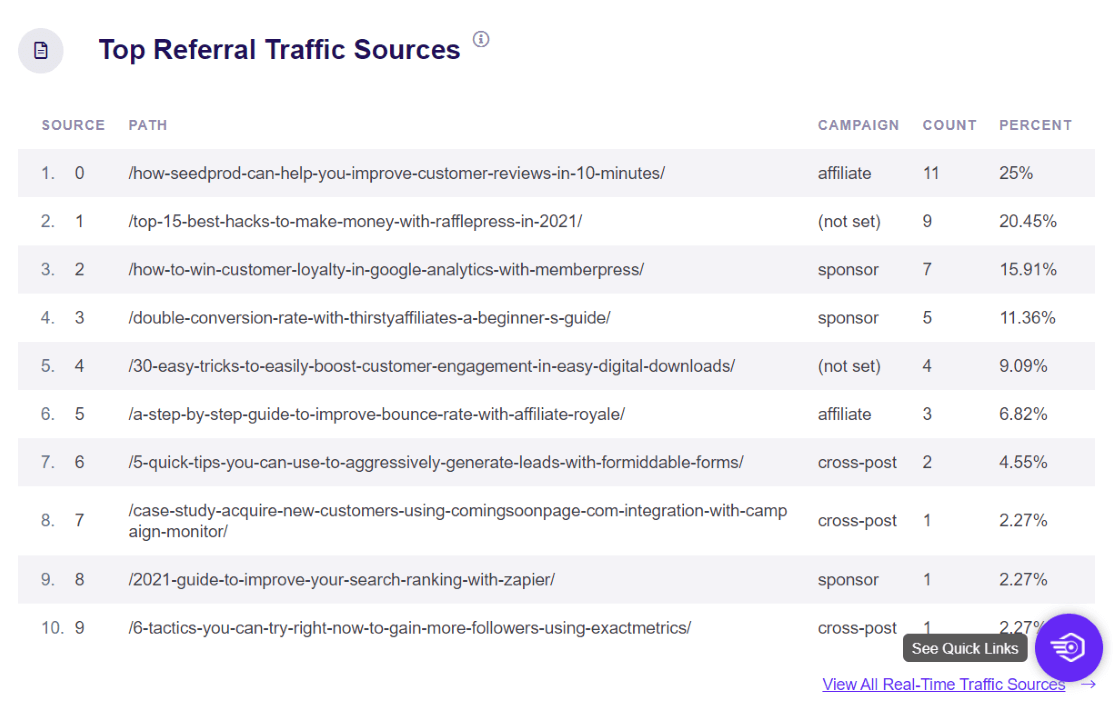 What's really neat about this report in ExactMetrics is that it also shows you the referral path and campaign data. So, let's say you have a couple different ads running on social media at the same time. If you used campaign URLs, you'll see which traffic is from which campaign.
Open the full traffic sources report in Google Analytics by clicking the blue link at the bottom of your ExactMetrics report.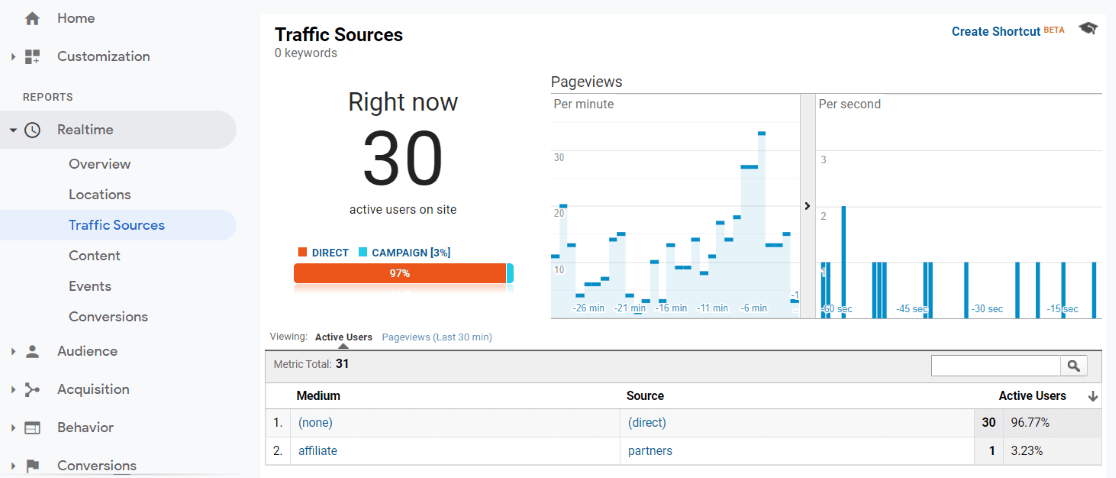 You can play around here with clicking on different Mediums to see just that traffic.
This report is helpful if you need to troubleshoot how certain traffic is getting categorized, or if you just want to see where current visitors are clicking to your site from.
Real-Time Locations Report
At the bottom of the Real-Time tab in ExactMetrics, you'll find your Top Countries and Top Cities reports. These are where your current visitors are located.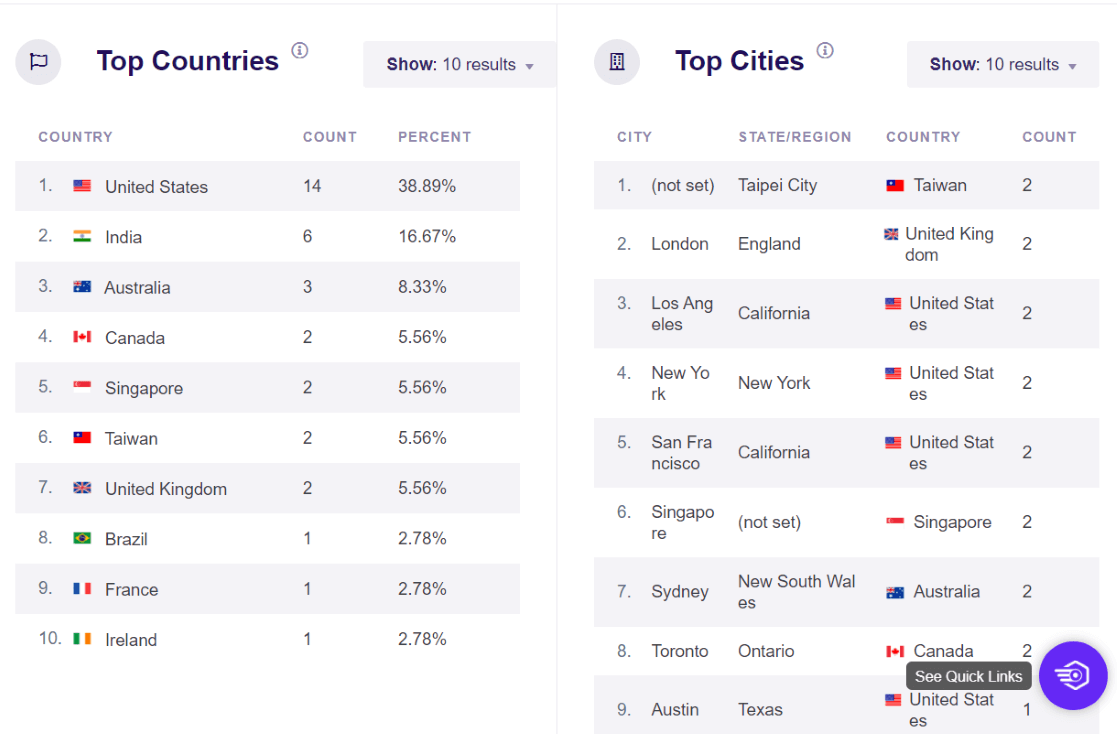 At the bottom of the two lists, you'll find links to view the full report in Google Analytics, which looks like this: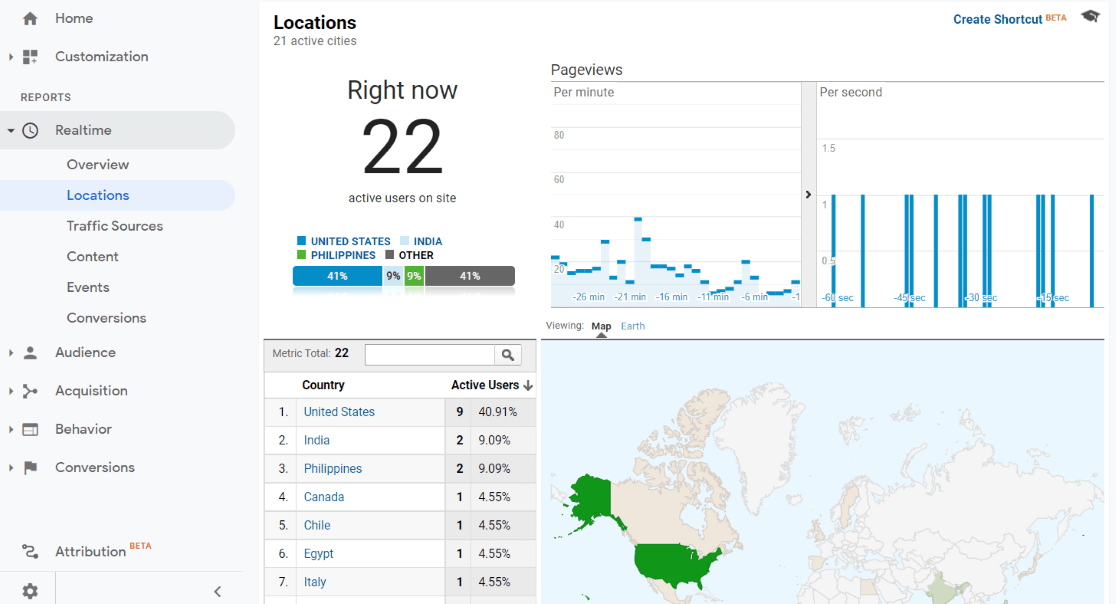 If you have international visitors, the Realtime Locations report can be a pretty cool way to watch people from different countries visit your site. If you're not international, just click on your country to break down real-time visitors by city.
This could be very useful if you have multiple physical locations, or want to see how a piece of just-published-and-shared content is doing in different areas.
Real-Time Events Report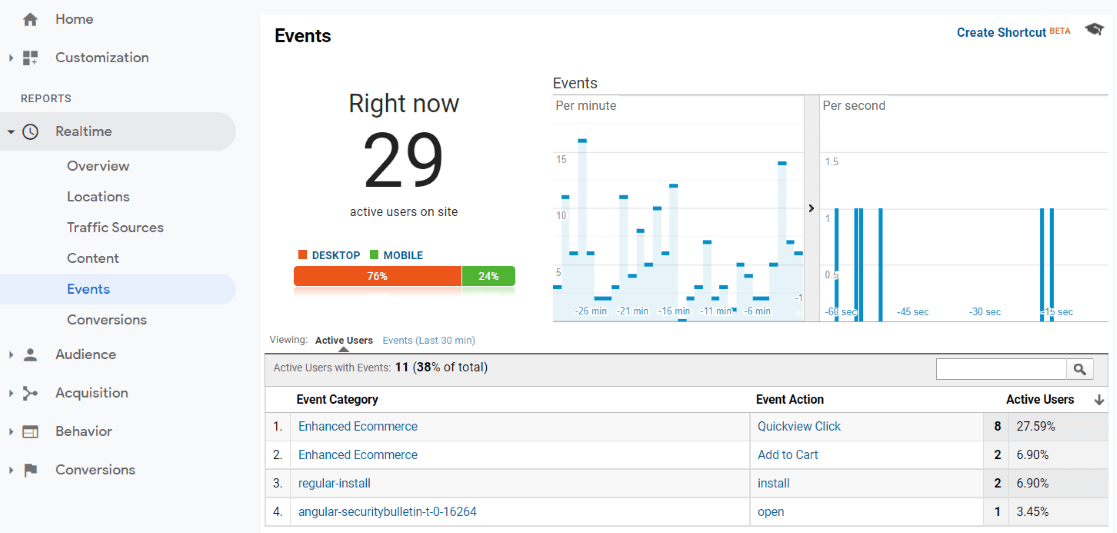 This report is just in Google Analytics, so open Analytics and then navigate to the Realtime » Events tab. This report is a great way to test how your events are working. Use this report to check out how those look in real time, and make sure they're working as intended. Make sure you're not filtered out, then try to trigger your own event on your site to make sure it's working.
Real-Time Conversions Report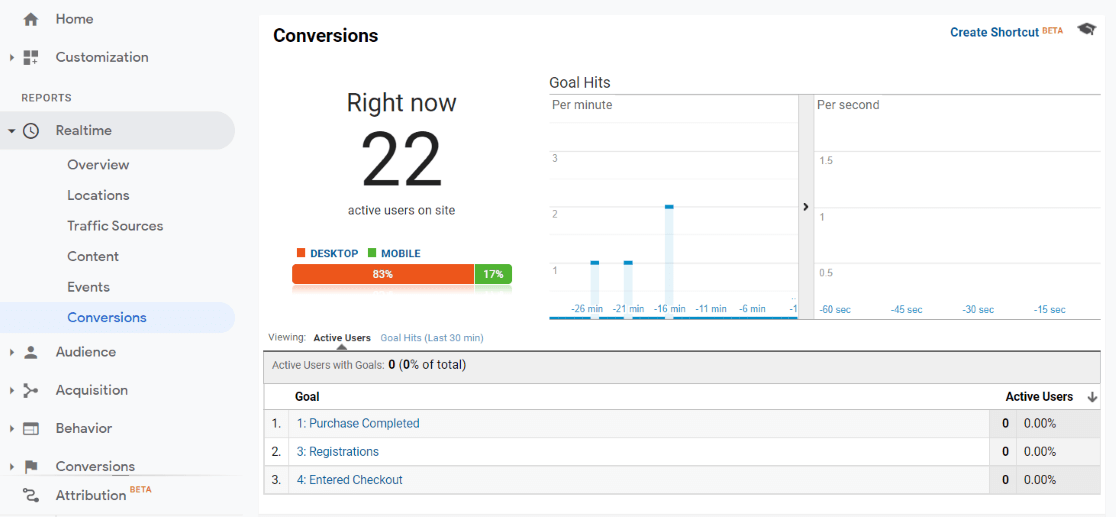 The Conversions report shows you how many current visitors have completed conversions, or how many have happened in the last 30 minutes. This report is helpful in the same way as the Events report, because it can show you if the goals (conversions) you have set up in Google Analytics are working.
That's it! We hope you found this overview of real-time reports helpful. Read this article to find out how to share Google Analytics reports with clients and your team.
Want to know how far down your pages visitors are scrolling? Check out How to Track Scroll Depth in Google Analytics Without Editing Code.
Don't forget to follow us on Twitter and Facebook to see all the latest Google Analytics tutorials.