Looking for an easy, straightforward way to track conversions from Formidable Forms in Google Analytics and WordPress?
Tracking form conversions is an important part of running a website. You want to know if your forms are converting at a good rate, or if you need to try tweaking them to get more conversions.
With ExactMetrics, tracking Formidable Forms conversions in Google Analytics is simple! We'll go over each step now.
Let's get started.
The Most Advanced WordPress Form Builder
First, let's take a quick look at Formidable Forms. Chances are, if you're reading this article, you already use this plugin. If you need a forms plugin with advanced capabilities, this is a great choice!
Formidable Forms is a feature-packed plugin that can make just about any kind of form you can dream of. Some of their features include:
Conditional logic
Multi-page forms
File uploads
Review before submit
Surveys & polls
MailChimp integration
PayPal integration
The higher your plan, the more features you get.
Get started with Formidable Forms now.
Best Premium WordPress Analytics Plugin
ExactMetrics is the best premium WordPress analytics plugin. With ExactMetrics, you can quickly and easily track your website's most valuable Google Analytics metrics and stats right in your WordPress dashboard.
Our most popular features include:
Top outbound and top affiliate links
Site speed report
GDPR compliance
Scroll tracking
Form tracking
Easy enhanced ecommerce tracking
Get started with ExactMetrics now.
Tracking Formidable Forms with ExactMetrics
You can use ExactMetrics to easily track your Formidable Forms conversions in Google Analytics. Here's a step-by-step tutorial.
Step 1: Install ExactMetrics
First, you'll need to install ExactMetrics on your WordPress website. To use the forms tracking feature, download the Pro level license.
Then, download the ZIP file from your account area by navigating to the Downloads tab.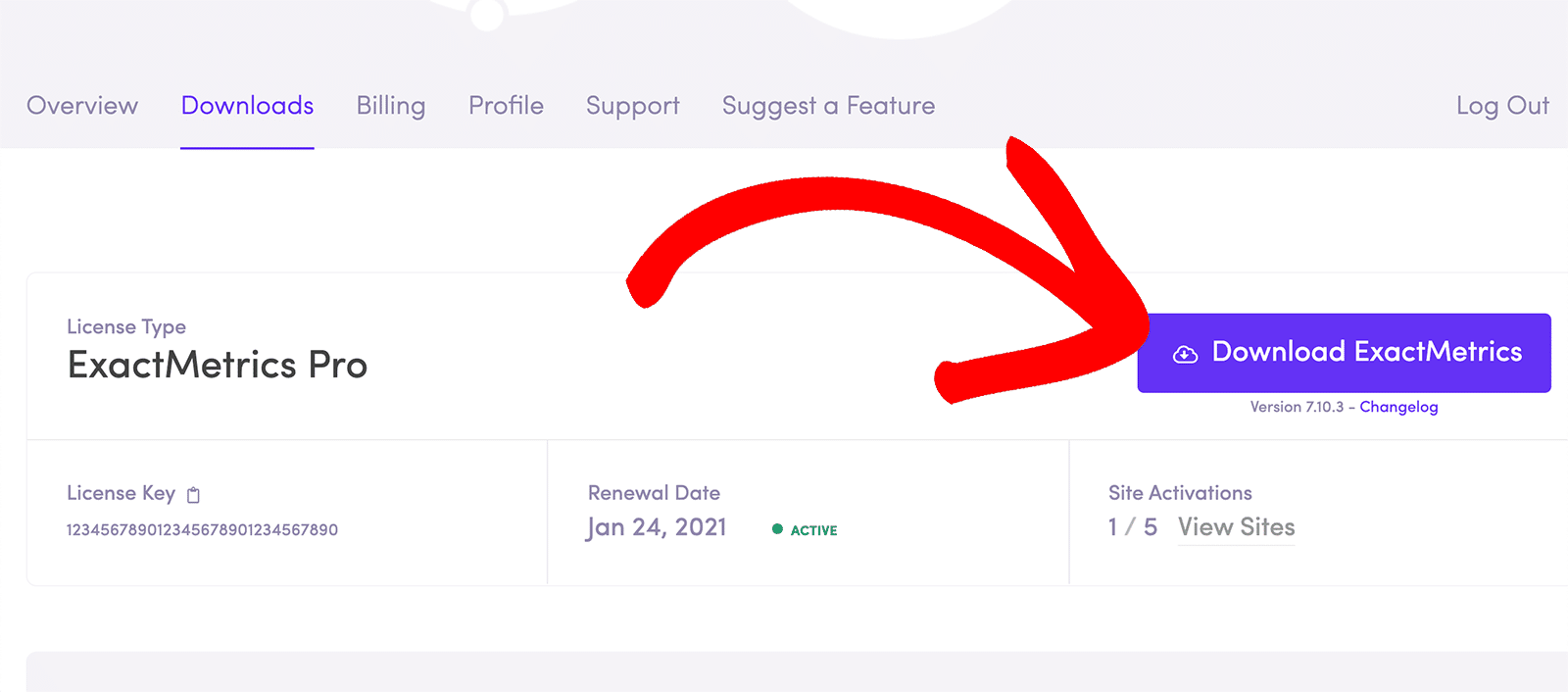 After that, upload the ZIP file to your WordPress website. You can do that by going to your WordPress admin area and clicking on Plugins » Add New » Upload Plugin.

Once you upload the plugin, go ahead and install and activate it.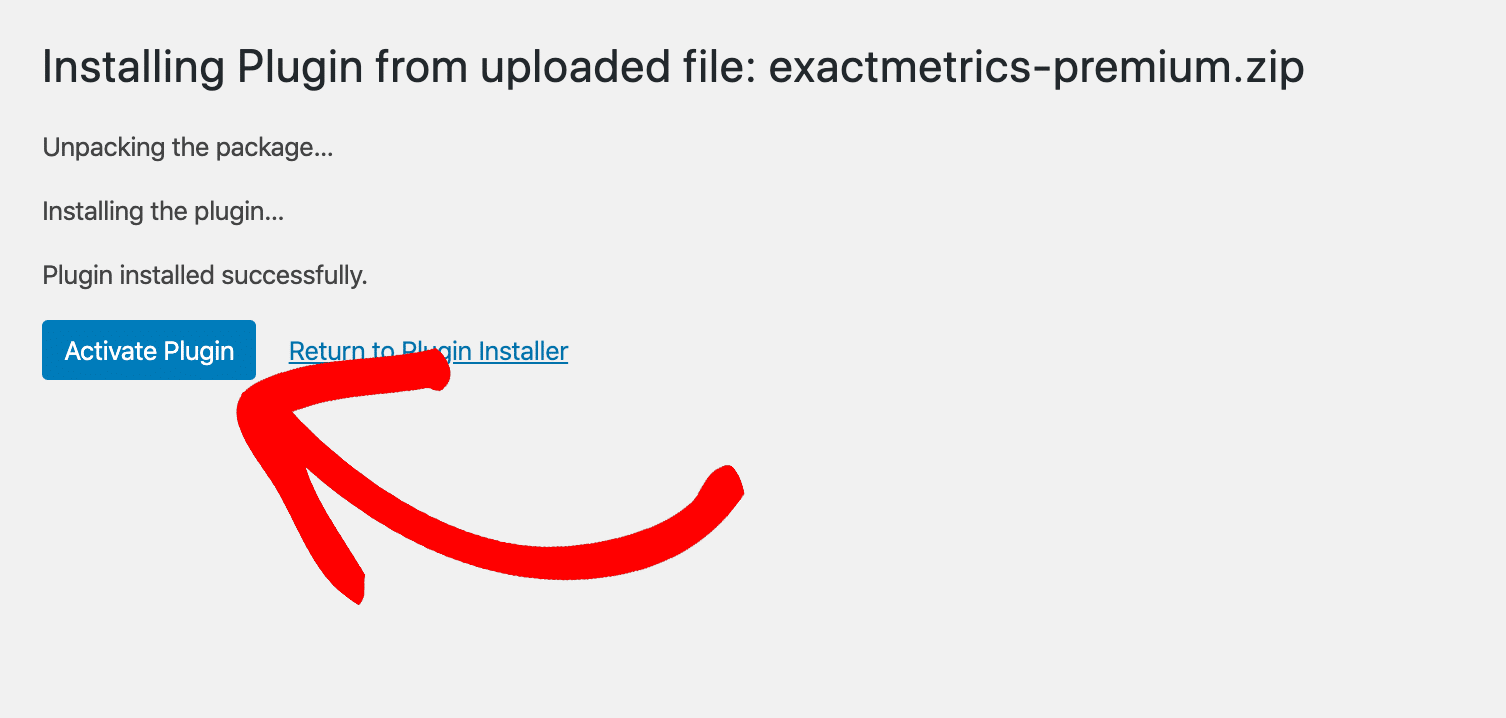 Step 2: Connect Google Analytics to Your WordPress Site
Now, you'll have to set up Google Analytics on your WordPress website. Simple stuff with ExactMetrics!
The plugin adds Google Analytics tracking to your WordPress site without coding. Just follow the steps in the setup wizard to get started.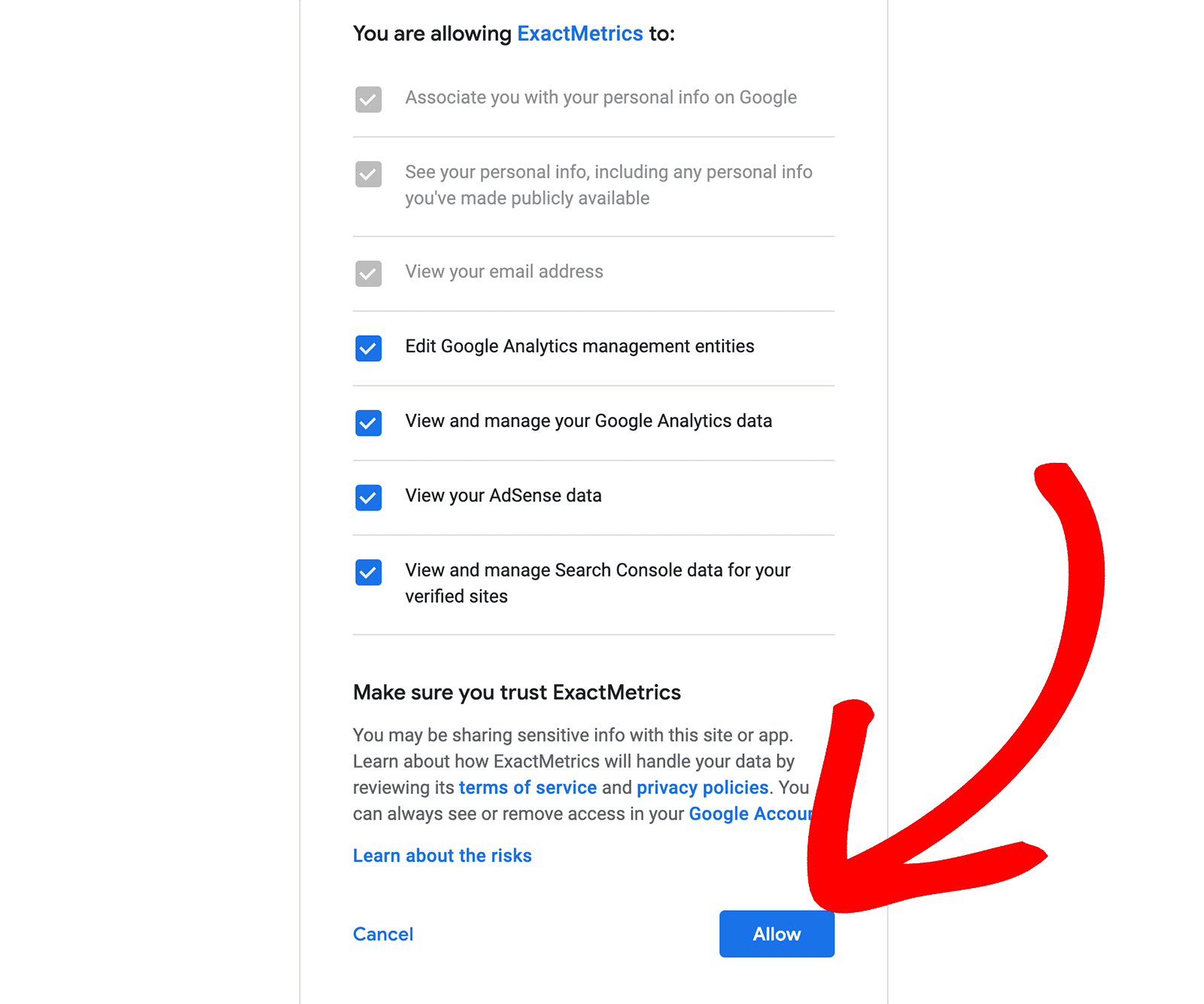 For more details, check out our guide on how to properly add Google Analytics to your WordPress website.
Step 3: Install and Activate the Forms Addon
Now that you have ExactMetrics installed and Google Analytics is connected to WordPress, the next step is installing and activating the Forms addon.
The ExactMetrics Forms Addon will automatically set up tracking for all the Formidable Forms (and any other forms) on your site.
To get started, go to ExactMetrics » Addons and navigate to Forms. Then, click the Install button.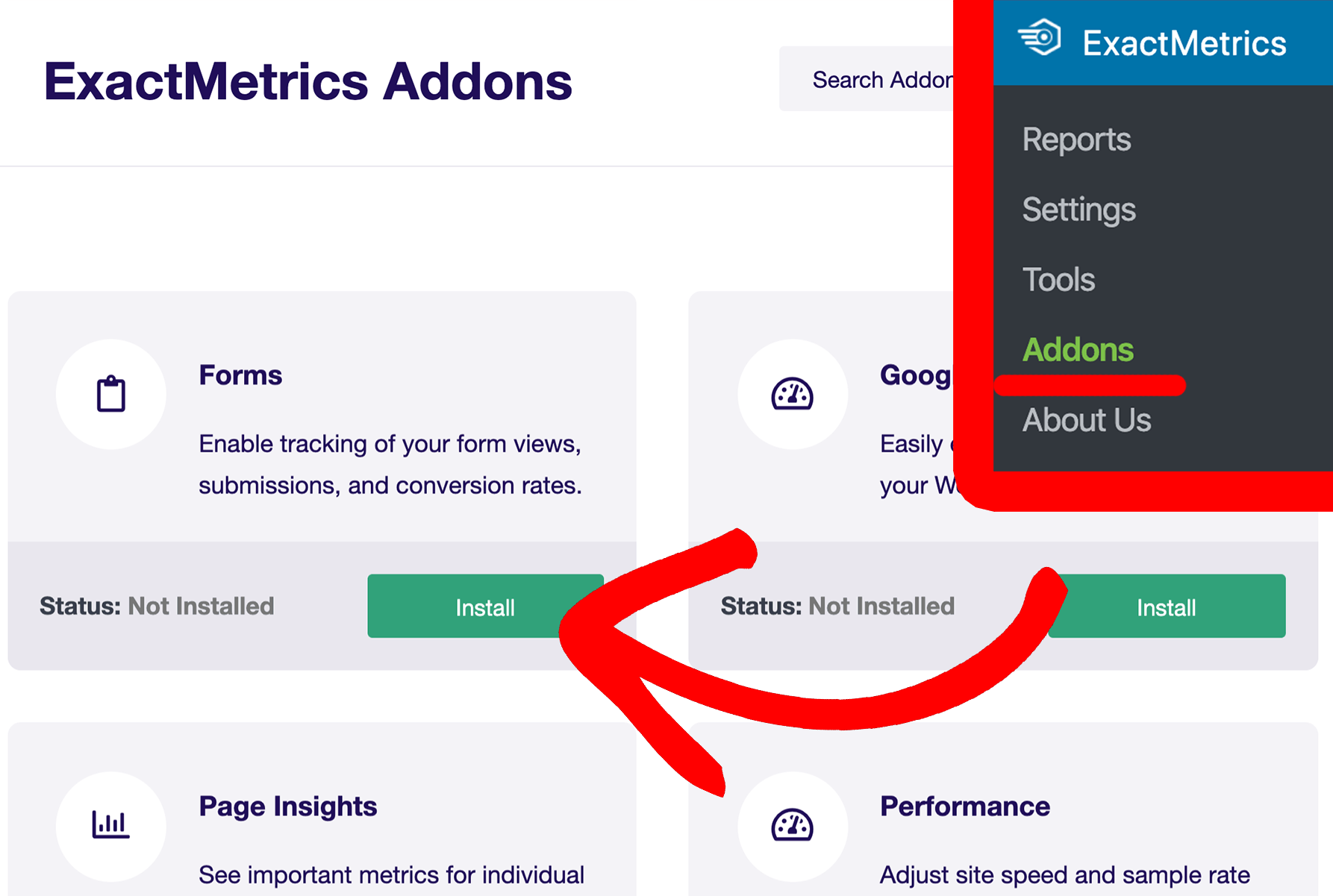 The button will then change to "Activate". Click to activate the addon.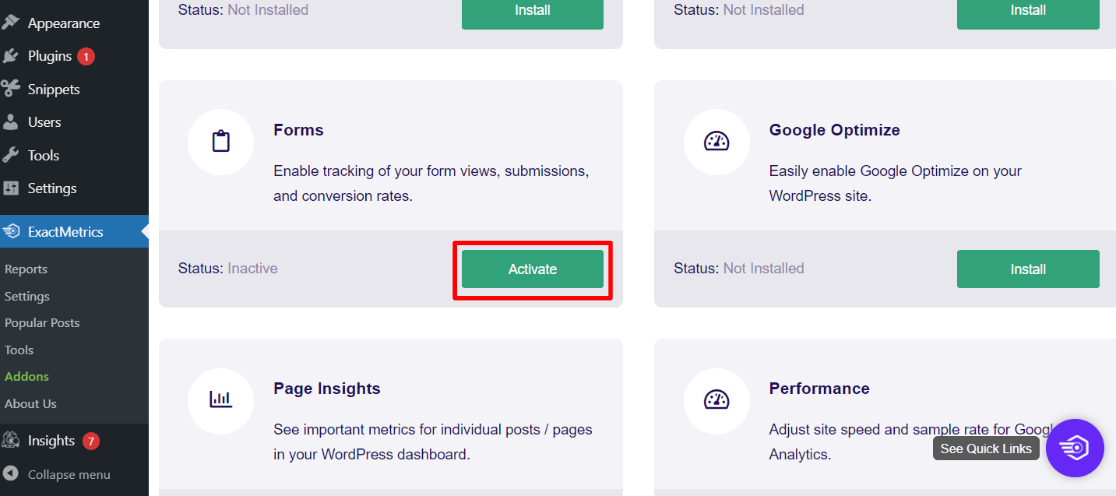 That's it! You don't have to do anything else for your Formidable Forms to start getting tracked.
Step 3: View the Forms Report Inside WordPress
The next step is to view the forms report. With ExactMetrics, it's effortless to find the report inside your WordPress dashboard.
There's no need to leave your site or look at Google Analytics, as you can find out how each form is converting by looking at the report in your admin area.
To view the report, go to ExactMetrics » Reports » Forms. For each form, you can see the number of impressions, conversions, and conversion rate.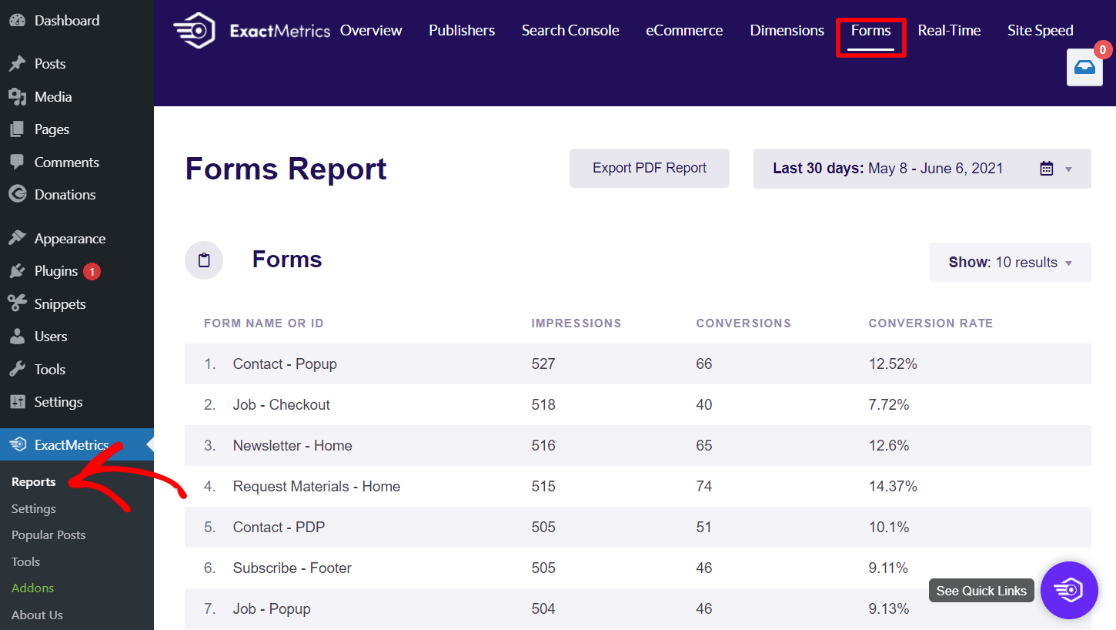 Now, you can see how each of your Formidable Forms is performing. You can gain some helpful insights here about what forms might be too long or too involved, and which ones are performing the best.
If you need even more data, you can access the full Google Analytics data by clicking the "View Full Forms Report" link at the bottom right of the report.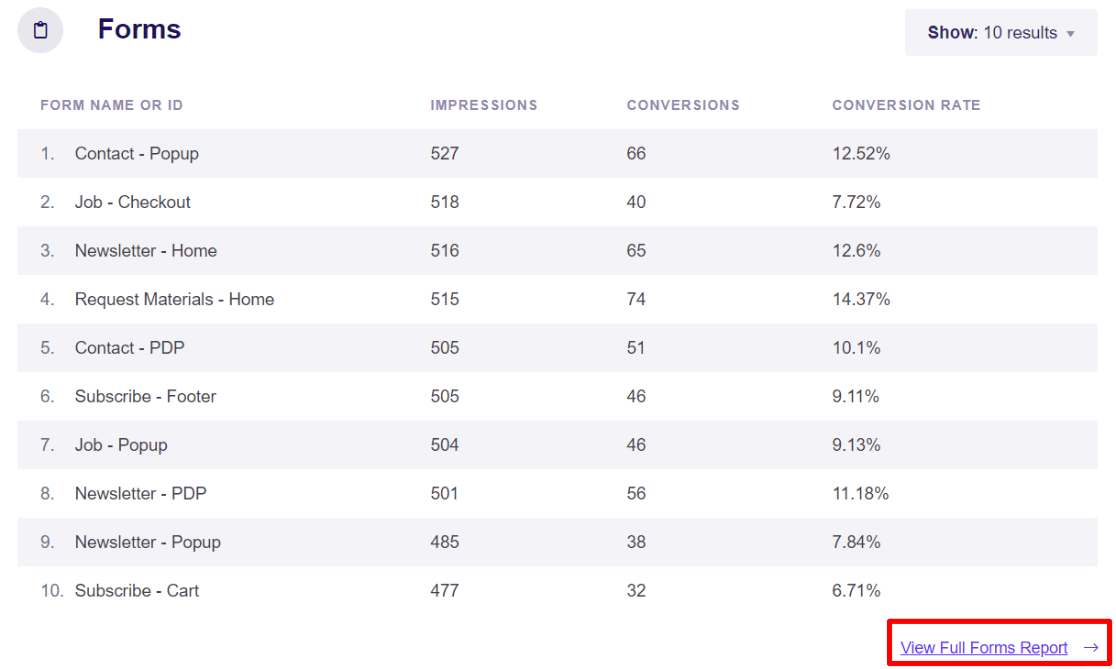 When you click that link, you'll be taken to the Google Analytics Behavior » Events » Top Events report.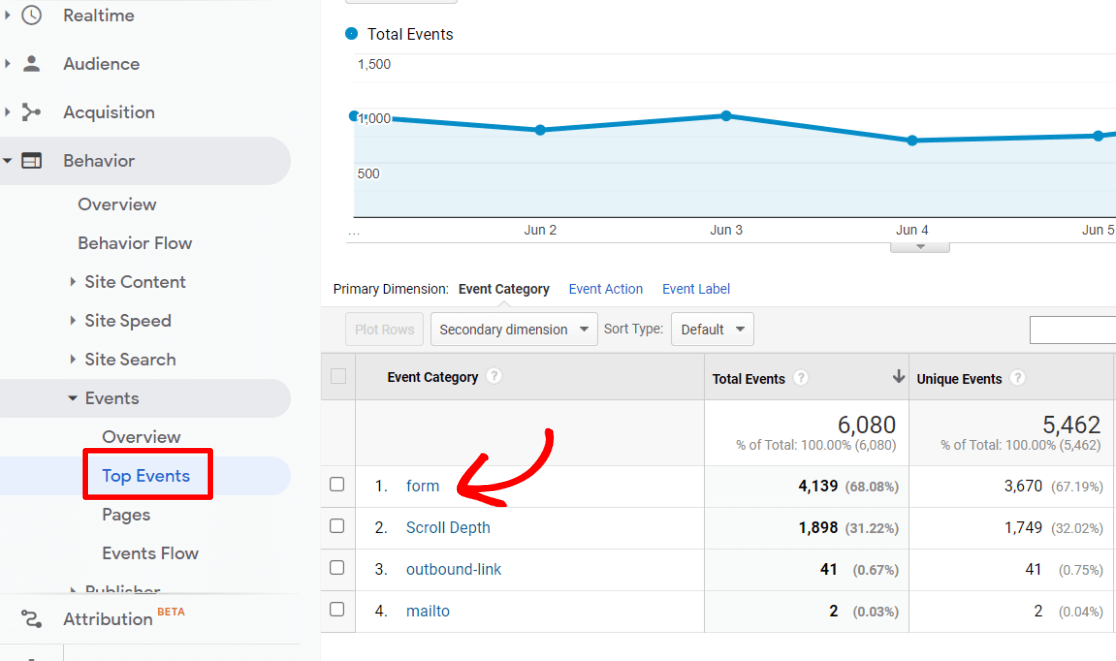 Here, you'll see the total impressions and conversions for all of your forms combined.
If you want to view the metrics for each form individually, first click on "form" in the screenshot above.
Then, click on the Event Label link above the report where it says Primary Dimension.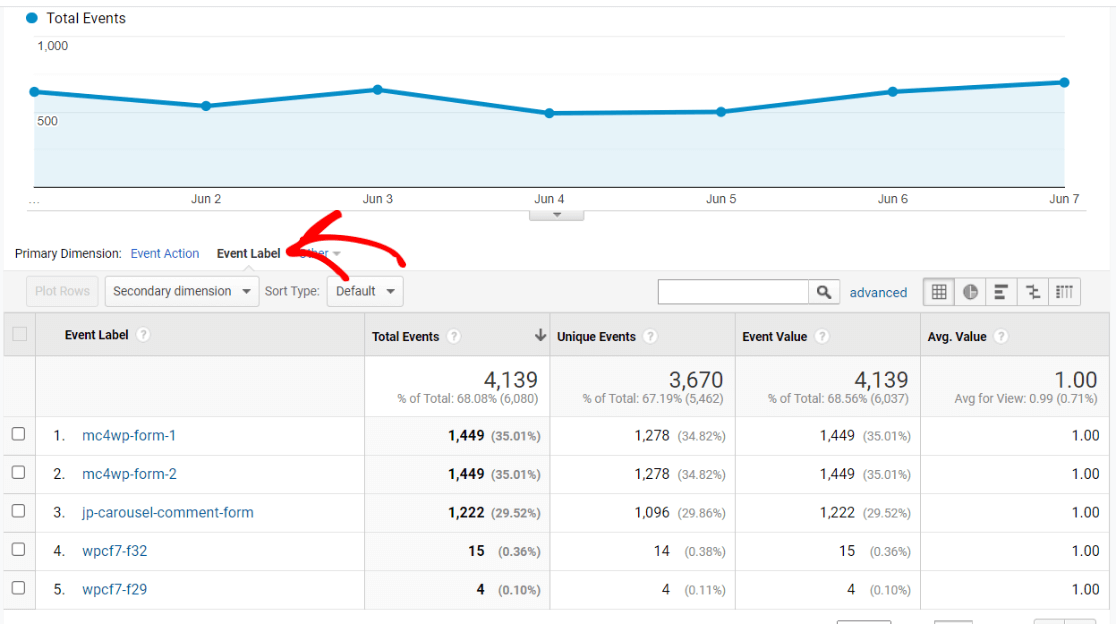 Now you'll see the total events for each of your Formidable Forms forms individually. Total events include both impressions and conversions for your forms.
If you want to see impressions and conversions separately, click on a form name/ID.
Then, you'll see the Impression and Conversion data separately: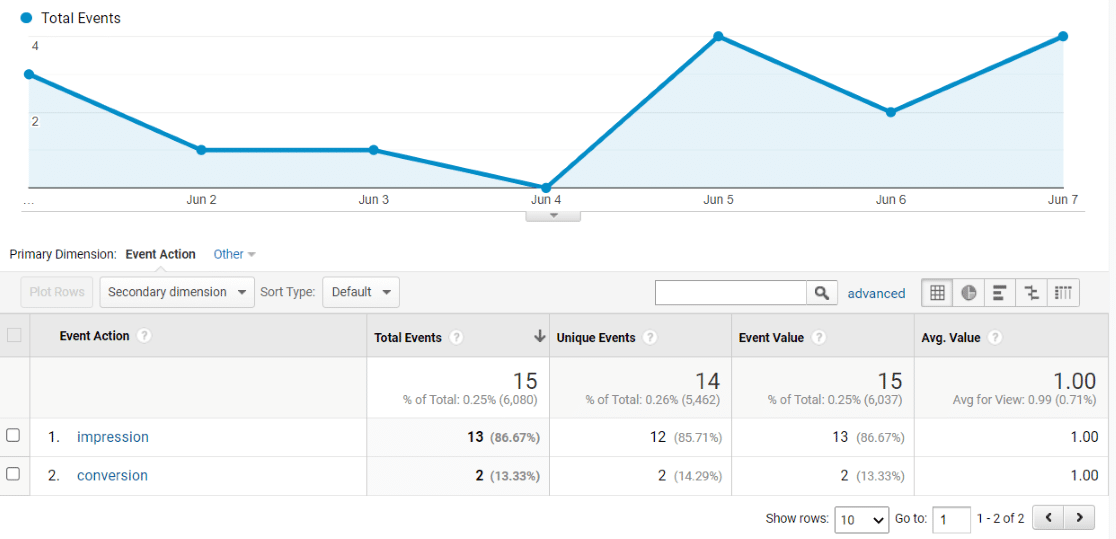 That's it! You're now tracking all your form conversions through Formidable Forms and Google Analytics. Looking for more information on how ExactMetrics and Google Analytics work together? Read ExactMetrics vs. Google Analytics: Which Is The Best?.
Don't forget to follow us on Twitter and Facebook to see all the latest Google Analytics tutorials.