Looking for an easy, straightforward way to track Formidable Forms conversions in Google Analytics and WordPress?
Tracking form conversions is an important part of running a website. You want to know if your forms are converting at a good rate, or if you need to try tweaking them to get more conversions.
In this article, we'll show you an easy way to start tracking your Formidable Forms submissions in Google Analytics today.
Ready to get started?
What Is Formidable Forms?
First, let's take a quick look at Formidable Forms.
Formidable Forms is a feature-packed plugin that's popular among WordPress users. It has a drag-and-drop builder that makes it easy to create just about any kind of form you need for your website.
Chances are, if you're reading this article, you already use this plugin. But, if you need a forms plugin with advanced capabilities, Formidable Forms is a great choice! You can also check out our list of the best forms plugins for WordPress.
Some of Formidable Forms key features include:
Conditional logic forms
Surveys & polls
Multi-page forms
File uploads
MailChimp and other email marketing integration
PayPal integration
The higher your plan, the more features you get. Get started with Formidable Forms now.
Now, ready to learn the easiest way to use Google Analytics to track Formidable Forms on your site?
How to Track Formidable Forms Conversions
ExactMetrics is the best premium Google Analytics plugin for WordPress. With ExactMetrics, you can quickly and easily track your website's most valuable Google Analytics metrics and stats right in your WordPress dashboard, including form conversions!
ExactMetrics allows you to easily set up Google Analytics without editing any code or needing a complicated tool like Google Tag Manager. You get advanced tracking right out of the box with an extremely user-friendly interface.
Plus, you gain access to tons of additional Google Analytics features and advanced tracking capabilities with just a few simple clicks. Here are some of ExactMetrics' most popular features:
To start tracking Formidable Forms submissions easily, head to the ExactMetrics pricing page and grab the license that works for you (you'll need the Pro level or above to access forms tracking). Then, just follow the steps below to track your forms in Google Analytics and WordPress.
Step 1: Install ExactMetrics
First, you'll need to install ExactMetrics on your WordPress website. Remember, to use the forms tracking feature, you need to purchase the Pro level license or above.
Next, download the ZIP file from your account area by navigating to the Downloads tab.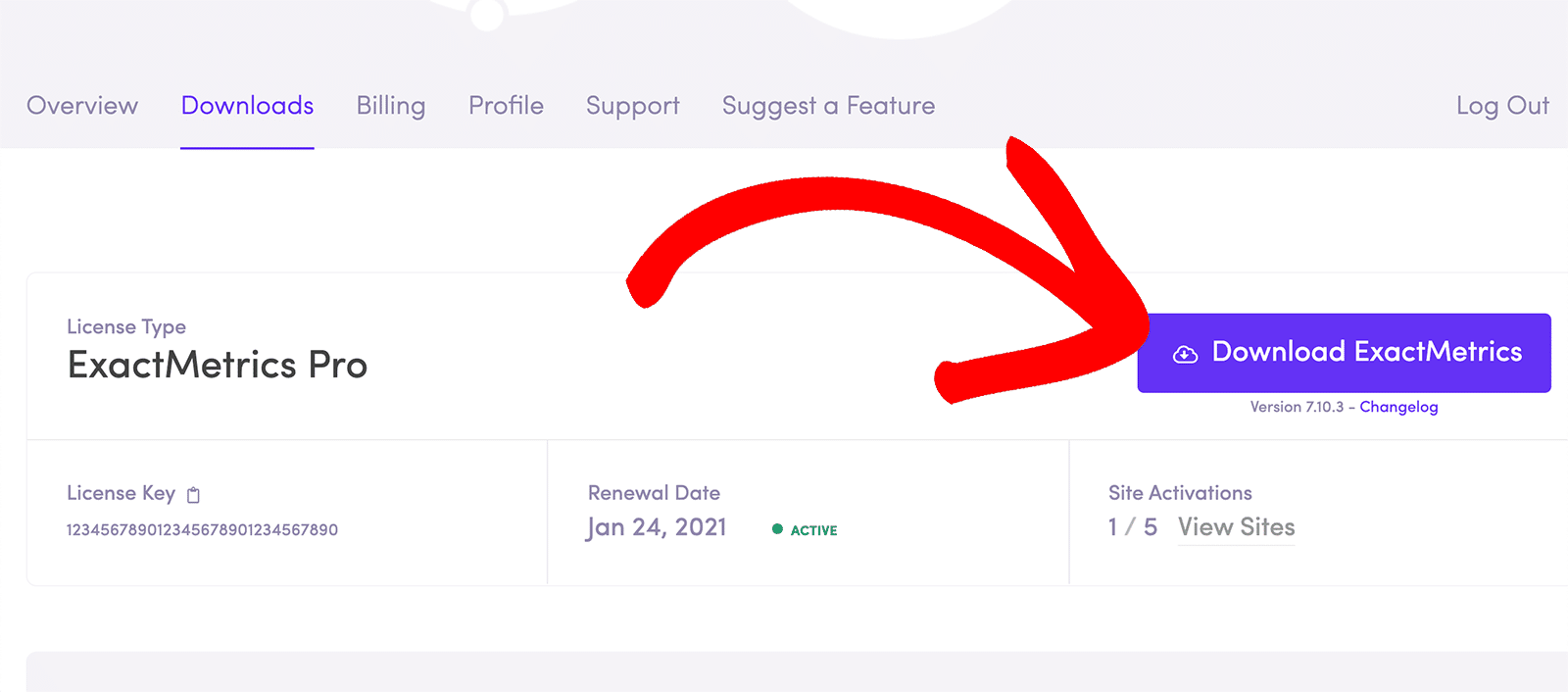 After that, upload the ZIP file to your WordPress website. You can do that by going to your WordPress admin area and clicking on Plugins » Add New » Upload Plugin.

Once you upload the plugin, go ahead and install and activate it.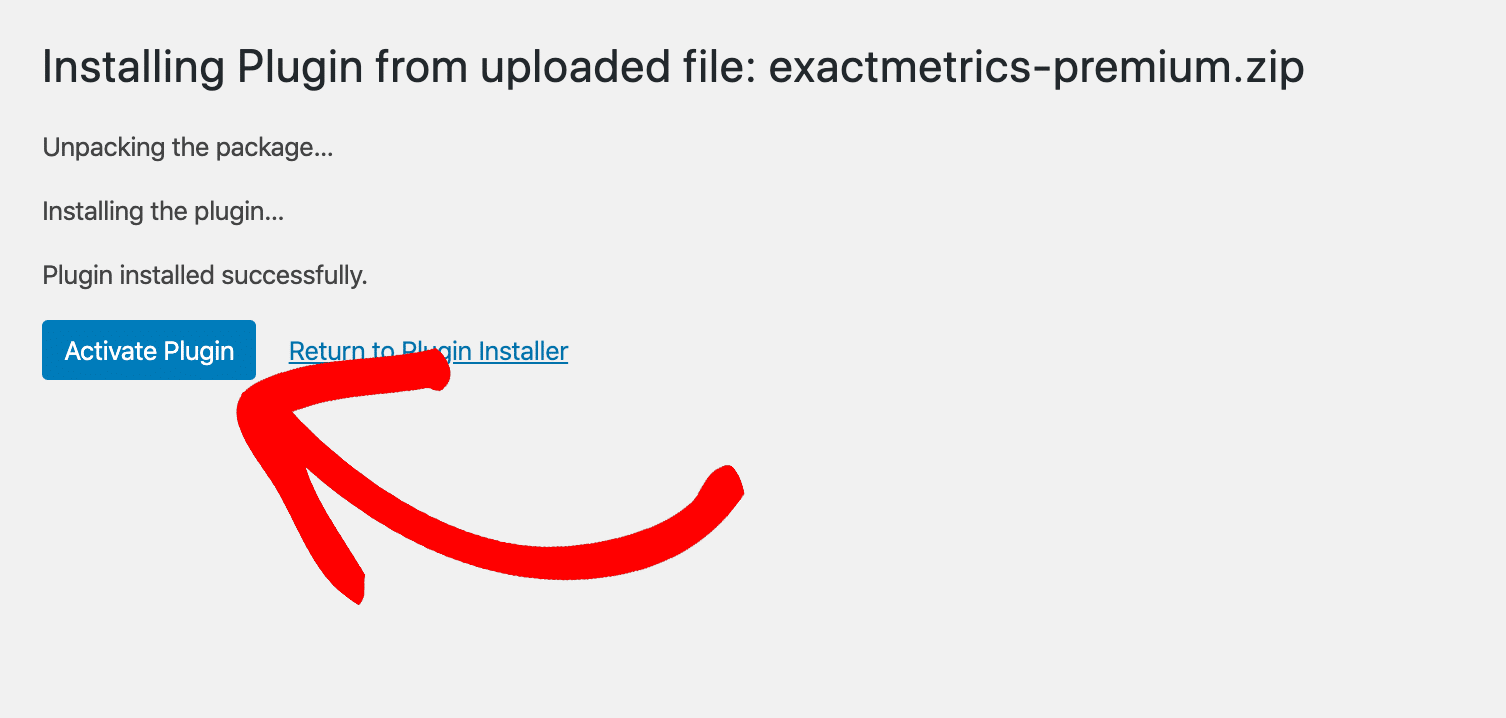 If you're not familiar with installing a plugin on WordPress, you can use this detailed tutorial for help.
Step 2: Connect Google Analytics to Your WordPress Site
Now, you'll have to set up Google Analytics on your WordPress website. Simple stuff with ExactMetrics!
The plugin adds Google Analytics tracking code to your WordPress site without you needing to touch any code or go through a complicated setup. Just click the big green button in the ExactMetrics plugin to Launch the wizard!
Then, follow the steps in the setup wizard to get started and allow the plugin access to your Google Analytics.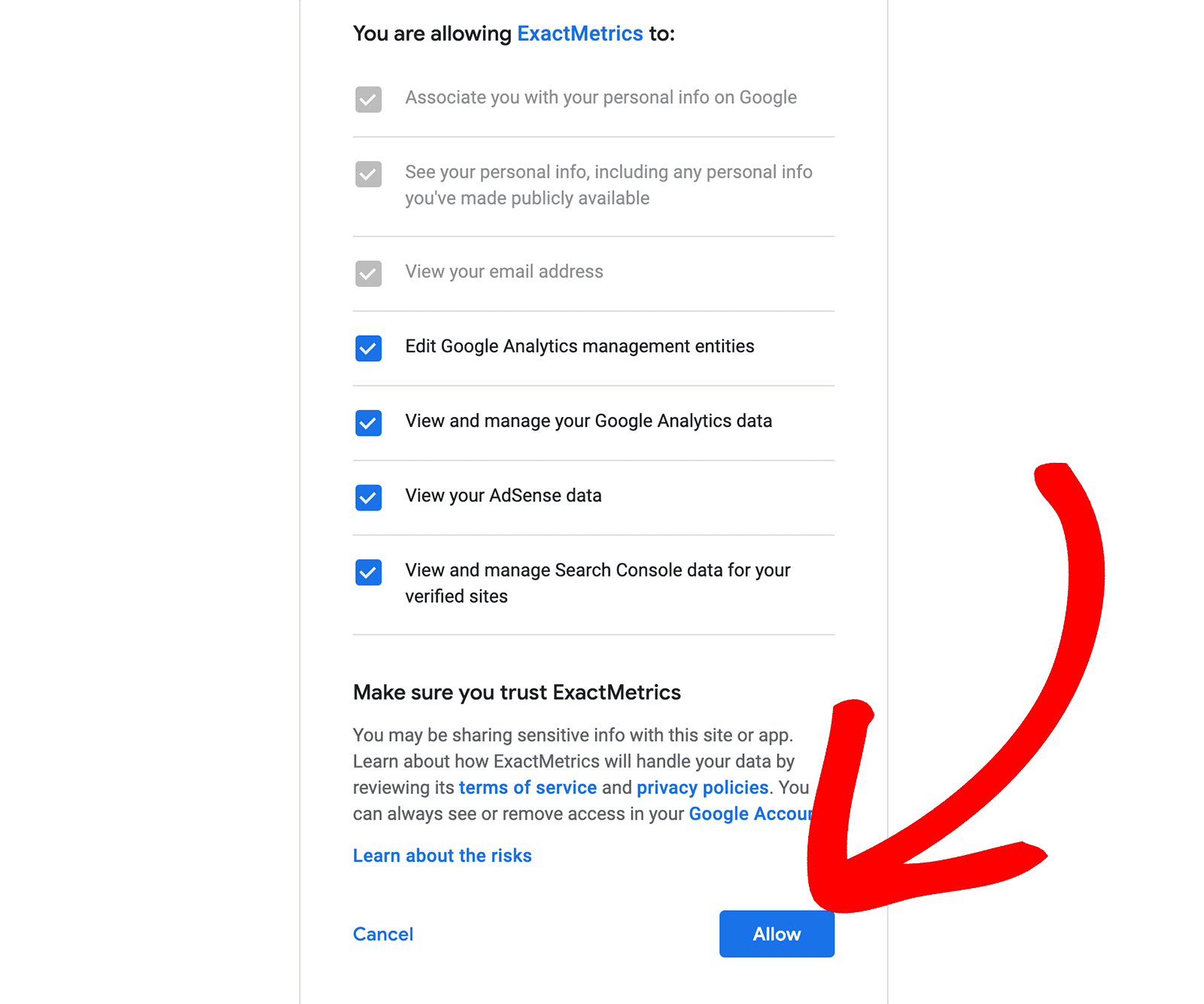 For more details, check out our guide on how to properly add Google Analytics to your WordPress website.
Step 3: Install and Activate the Forms Addon
Now that you have ExactMetrics installed and Google Analytics is connected to WordPress, the next step is installing and activating the Forms addon.
ExactMetrics' Forms Addon will automatically set up tracking for all the forms on your site, including Formidable Forms.
Just head to ExactMetrics » Addons from your WordPress admin and navigate to Forms. Click the Install or Activate button (depending on whether you already installed it during setup).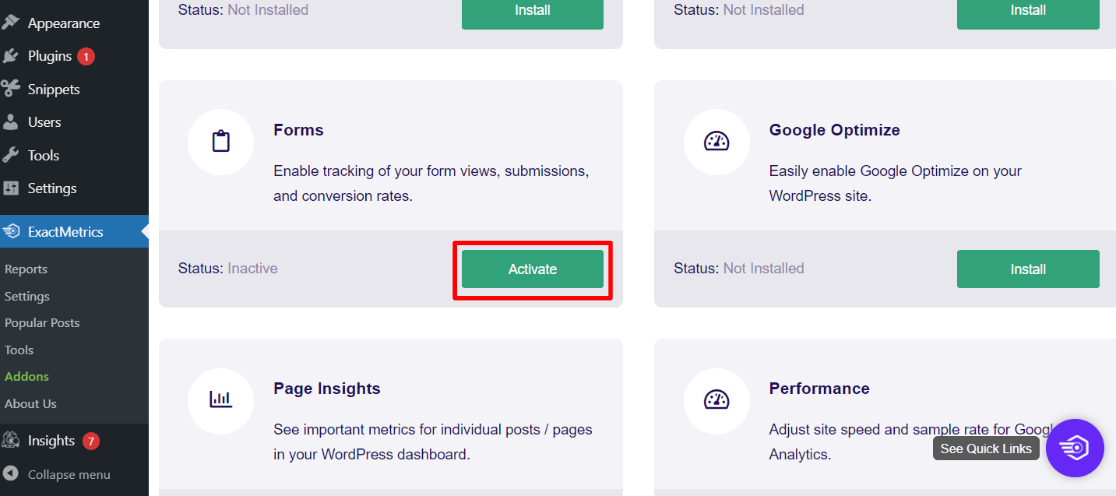 If you didn't previously install it, the addon will automatically activate when you install it now.
That's it! You don't have to do anything else for your Formidable Forms to start getting tracked.
Step 4: View Forms Report Inside WordPress
The next step is to view your forms report. With ExactMetrics, it's easy to find the report inside your WordPress dashboard. There's no need to leave your site or look at Google Analytics, as you can find out how each form is converting by looking at the report in your admin area.
To view the report, go to ExactMetrics » Reports » Forms. For each form, you can see the number of Impressions, Conversions, and Conversion Rate.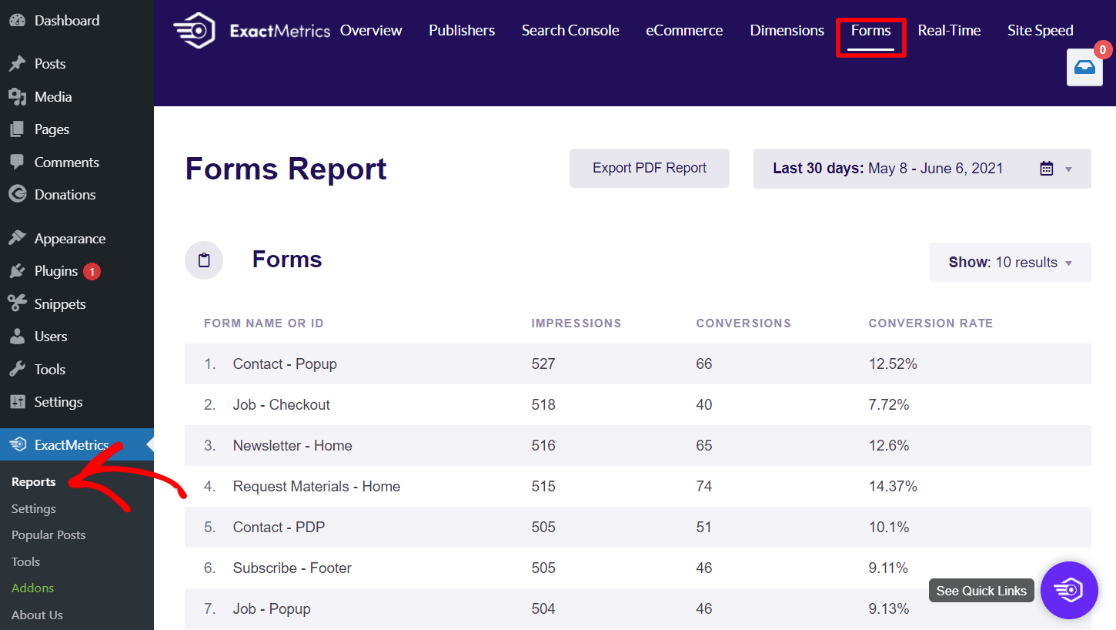 You'll be able to see how each of your Formidable Forms is performing. You can gain some helpful insights here about what forms might be too long or too involved, and which ones are performing the best.
If you need even more data, you can access the full Google Analytics data by clicking the View Full Forms Report link at the bottom right of the report. ExactMetrics already took care of all the behind-the-scenes Google Analytics configurations.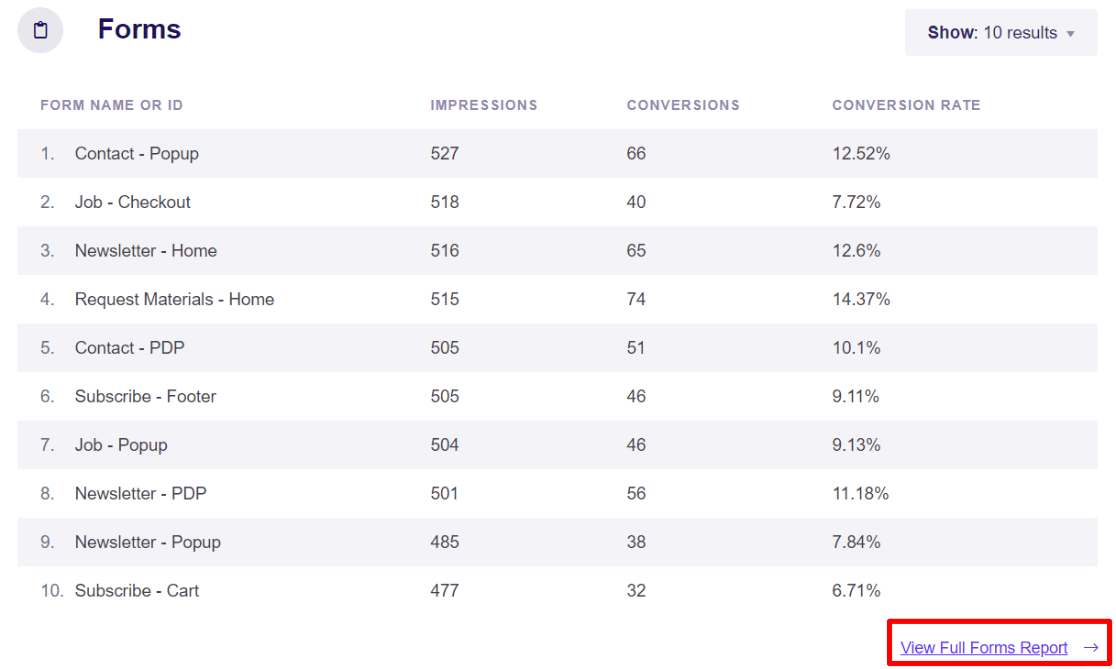 Step 5: View Forms Report in Google Analytics
When you click that link, you'll be taken to the Google Analytics report for a new event called generate_lead.
Alternatively, you can find this by going to Reports » Engagement » Events from your Google Analytics account. Scroll down to the table and you'll see events called form_impression and generate_lead.

The generate_lead event is the new custom event associated with users submitting a form on your site. Click it to access the report. You can scroll down to the card titled Form ID to see the number of submissions for each form on your site.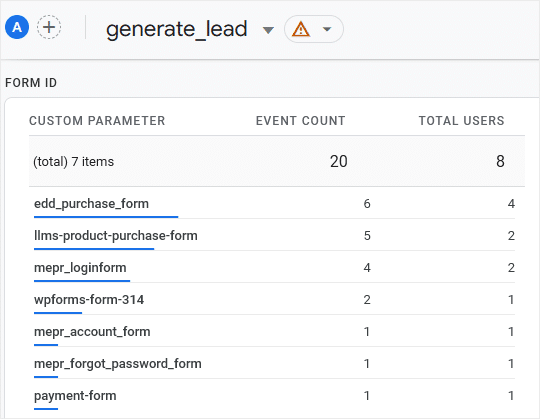 If you want to mark form submissions as a conversion in Google Analytics, click the Admin cog at the bottom of your sidebar menu. Then, click Events in the second column.
You'll see a list of your custom events here, and you can use the toggle next to generate_lead to turn on Mark as conversion.

You can also use your new form submission event in a custom report to find more data on your Formidable Forms, like where users came from before submitting, the pages that forms were submitted on if you have the same form in multiple locations, and more.
Check out our guide for How to Create Google Analytics 4 Custom Exploration Reports.
That's it! You're now tracking all your form conversions in WordPress and Google Analytics.
We hope you enjoyed learning how to track Formidable Forms with ExactMetrics. Looking for more information on how ExactMetrics and Google Analytics work together? Read ExactMetrics vs. Google Analytics: Which Is the Best?
Not using ExactMetrics yet? What are you waiting for?
Don't forget to follow us on Twitter and Facebook to see all the latest Google Analytics tutorials.