Many people often ask us, what's the difference between Google Analytics and ExactMetrics? And which service is better?
It's a common misconception among new users that Google Analytics and ExactMetrics are two different analytics tools.
But that's not the case!
Google Analytics is an analytical service by Google, which helps you see how visitors behave on your website. While ExactMetrics is a powerful WordPress plugin that helps you connect Google Analytics with your site without any coding.
In this article, we'll walk you through ExactMetrics vs. Google Analytics and try to clear the air by showing how these 2 services are tied together.
What is Google Analytics?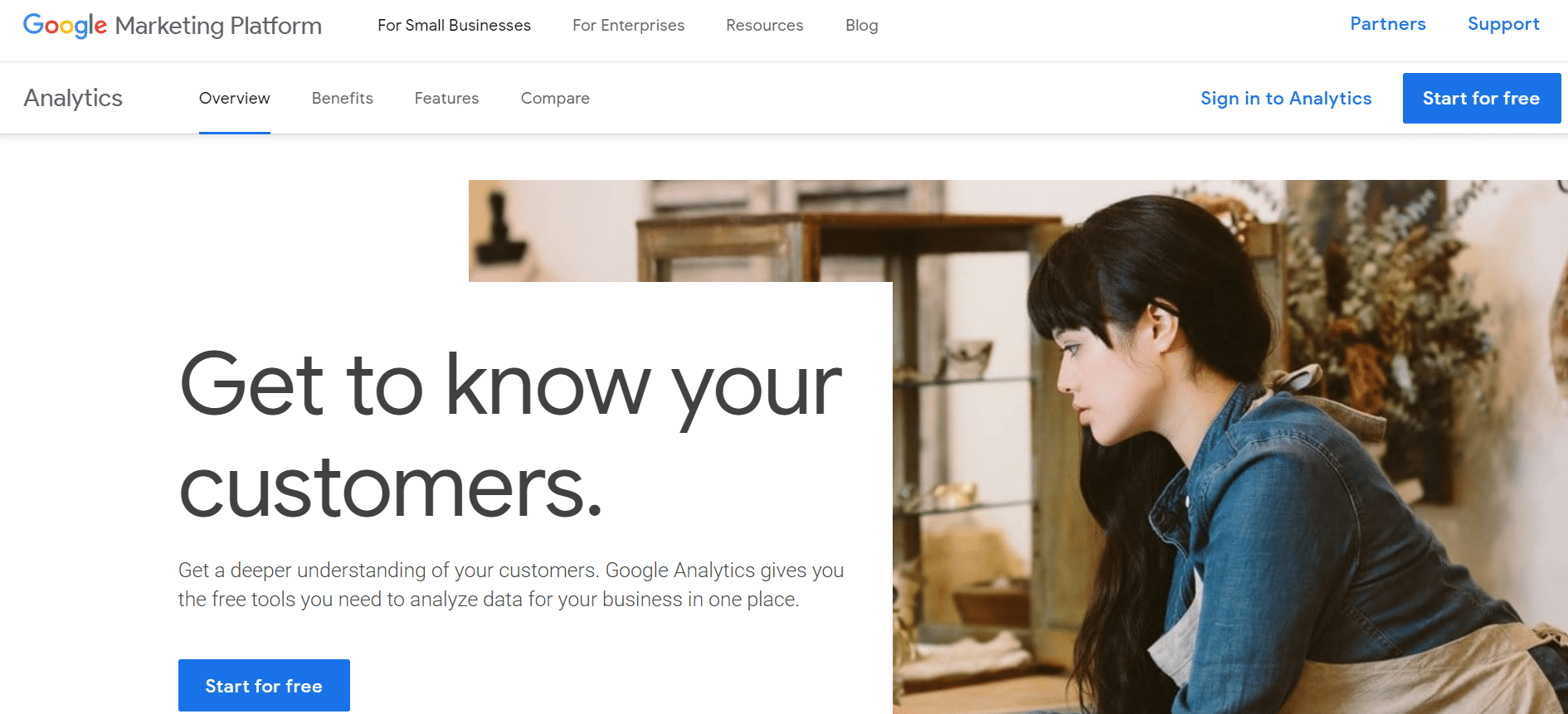 Google Analytics is one of the most popular analytics tools used by millions of websites all over the world. It's a free web service by Google that helps you better understand your audience, track their behavior, and measure your marketing campaigns' performance.
With Google Analytics, you can unlock valuable insights about your visitors. For instance, it shows the total web traffic on your site, the traffic source (social, referral, organic search, paid), demographic information about your visitors, and which device people use to view your site.
Besides that, the tool helps understand user behavior, like how much time a visitor spends on your blog post, which pages they view the most, how many visitors convert into customers, and a lot more.
But as powerful as Google Analytics is, it can be hard for beginners to start using it right from the get-go.
You'll have to edit code or hire a developer so Google Analytics can start tracking. And its interface isn't straightforward, as you'll have to spend a lot of time learning to navigate through each report and find the data you need.
What is ExactMetrics?
ExactMetrics is the best premium WordPress Analytics plugin. It relieves you of all the pain points offered by Google Analytics and makes it seamless to set it up on your website. The plugin helps you connect Google Analytics with your WordPress website without having to edit code.
That's not all! ExactMetrics also comes with different tracking features that Google Analytics doesn't track by default. For example, you can set up affiliate link tracking, outbound link clicks, file downloads, telephone link clicks, and a lot more right out of the box.
And the best part, ExactMetrics offers dashboard reports.
It brings all your important data from Google Analytics in one place and displays them in neatly formatted reports. Each report is easy to understand, and you won't need to learn how to use Google Analytics to find the data that matters for your business.
Now, let's look at some of the reasons why you should be using the plugin on your website.
Why Should You Use ExactMetrics?
As you can see, ExactMetrics helps you save time and allows you to focus on growing your business instead of learning about Google Analytics. It has over 1 million active installs, making it one of the most popular Google Analytics plugins for WordPress.
Here are a few reasons why business owners all over the world love using ExactMetrics:
1. Easy Google Analytics Setup
One of the standout features of ExactMetrics is that it lets you add Google Analytics tracking code on your WordPress website without touching a single line of code or hiring a developer.
Thanks to its step-by-step setup wizard, all you have to do is follow the steps, and the plugin will set up analytics on your website. The entire process only takes a few minutes, and you'll be tracking your visitors and their behavior in no time.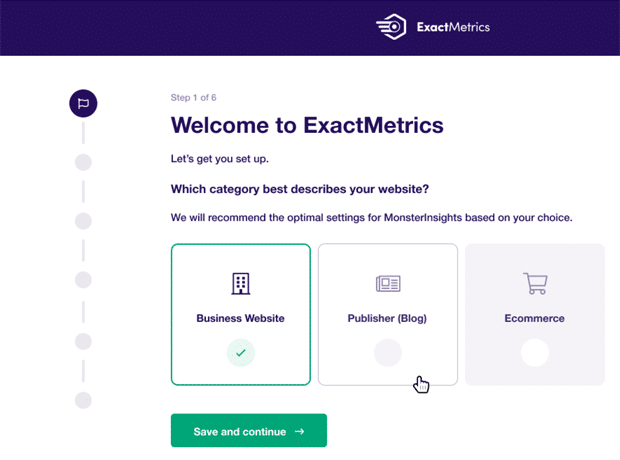 To get started, follow our guide on how to connect Google Analytics with a WordPress website.
2. Get Deeper Insights with Dashboard Reports
Besides setting up analytics, ExactMetrics also makes it easy to understand Google Analytics reports. It simplifies and brings important data under one roof.
You don't have to worry about spending a lot of time learning how to navigate Google Analytics and find out how each report works. We carefully designed each ExactMetrics report, so you can easily understand which strategies are working and make data-driven decisions.
Plus, with ExactMetrics dashboard reports, you don't even have to leave your website. Just view the reports inside the WordPress admin area.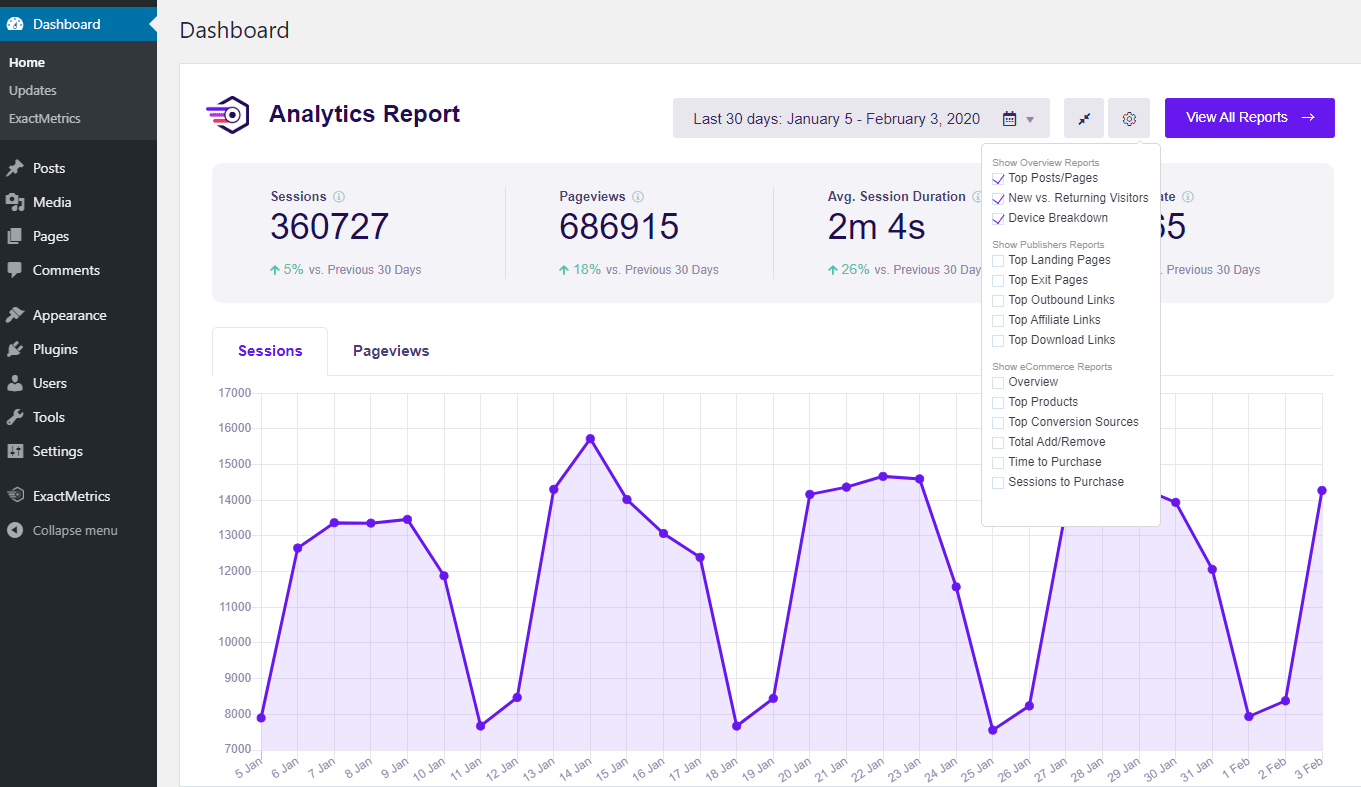 3. Set Up Advanced Tracking
Another reason why smart business owners like to use ExactMetrics is that it helps set up advanced tracking in Google Analytics.
It automatically tracks affiliate links, outbound links, file downloads, telephone links, and email links. You don't have to manually add event tracking in Google Analytics, as ExactMetrics does that for you.

Plus, different addons expand the use of ExactMetrics and help uncover additional insights about users. For instance, with the eCommerce addon, you track your online store's revenue, conversion rate, top products, and more.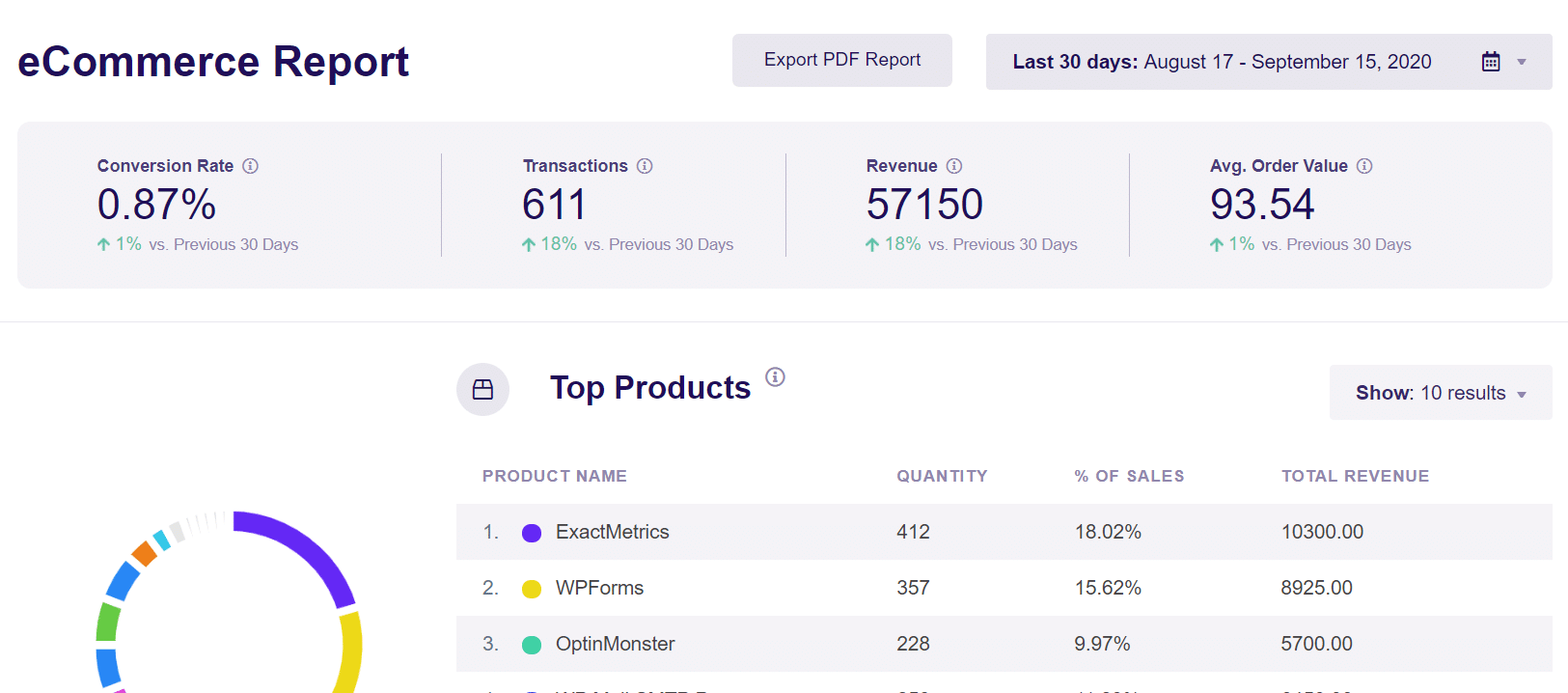 Aside from that, see how different forms are performing with the Forms addon. Or set up additional tracking such a popular author, categories, and post types. You can even add Google AMP (accelerated mobile pages) tracking without coding using the ExactMetrics AMP addon.
4. Skyrocket Your Content Marketing Strategy
You can use ExactMetrics to track your content marketing efforts and see what's working along with advanced tracking.
In the Publishers report, the plugin shows your top landing pages. You can find out exactly which content gets the most visits and how much time people spend on it so that you can optimize it for more conversions.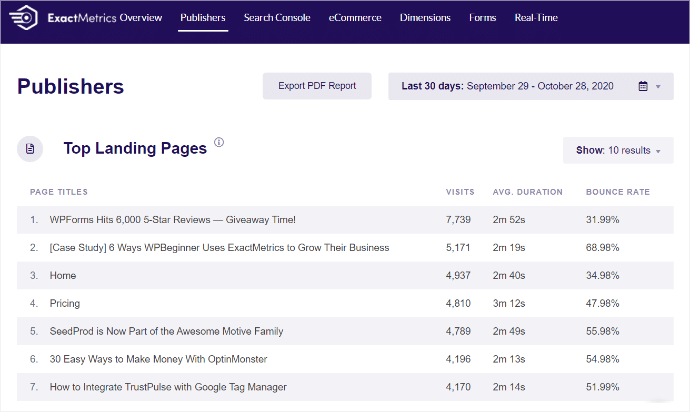 And if you're wondering which keywords people use on Google to find your site, the ExactMetrics can help. By connecting Google Search Console with Google Analytics, you can see the top 50 search terms in the Search Console report.
Using this information, you can optimize different keywords in your content, improve their rankings, and increase organic traffic. Plus, identify new keyword opportunities and find similar search terms to target on your site.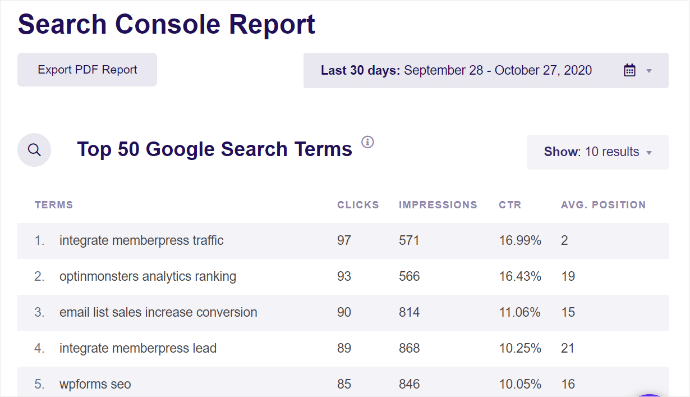 5. Display Popular Posts to Boost Engagement
Speaking of content, did you know that ExactMetrics can help boost user engagement on your site?
With its Popular Post feature, you can display your best content anywhere on the website. It helps visitors easily find new content, keeps them engaged, and lowers your site's bounce rate. Using the widget, you can display posts within articles, in the sidebar, or at the end of a post.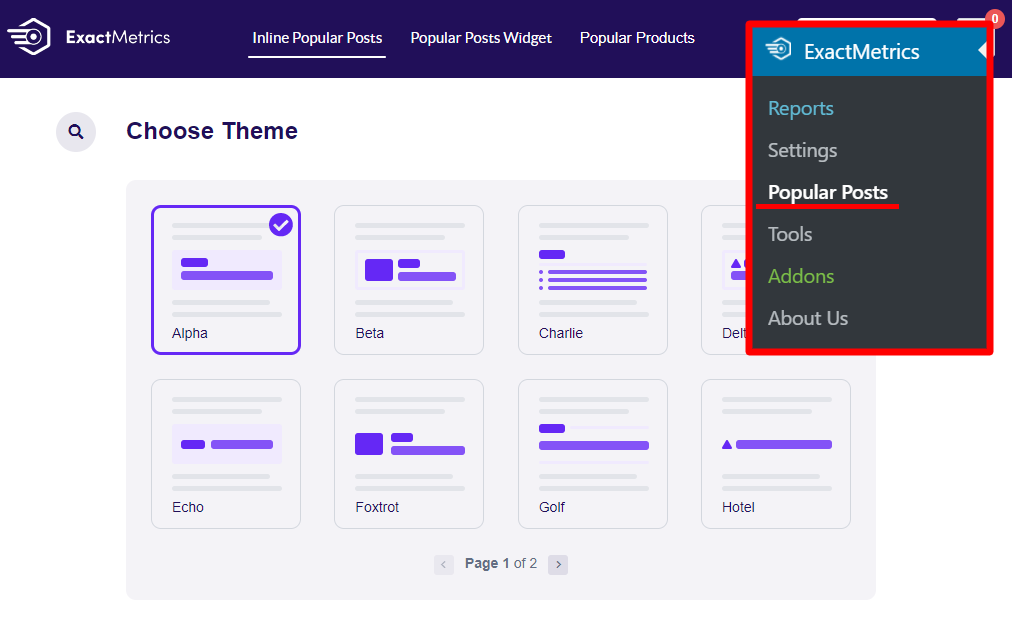 There are multiple themes to choose from and different options for customization. As for selecting which posts to display, you can sort them based on comments, share count, or manually enter posts to show up in the widget.
That's not all. If you have an eCommerce store, you can display the best-selling products anywhere on your store using the Popular Products option. It helps in keeping top converting items in front of your visitors and helps boost sales.
6. Improve User Experience with Fast Load Times
ExactMetrics can help grow your business and improve user experience by showing you how fast your website loads.
Having a website that loads within seconds can have a huge impact on your bottom line. For instance, if a website takes a lot of time to load, users will likely hit the back button and leave your site. As a result, you won't get high conversions.
Not only that, but it also sends a bad signal to search engines. From May 2021, Google will use load time as a ranking factor. It will measure user experience by looking at the site's speed, responsiveness, and visual stability.
With the ExactMetrics Site Speed report, you can find out your site speed for mobile and desktop. The report will show important metrics to keep an eye on and provide suggestions for improving each of them.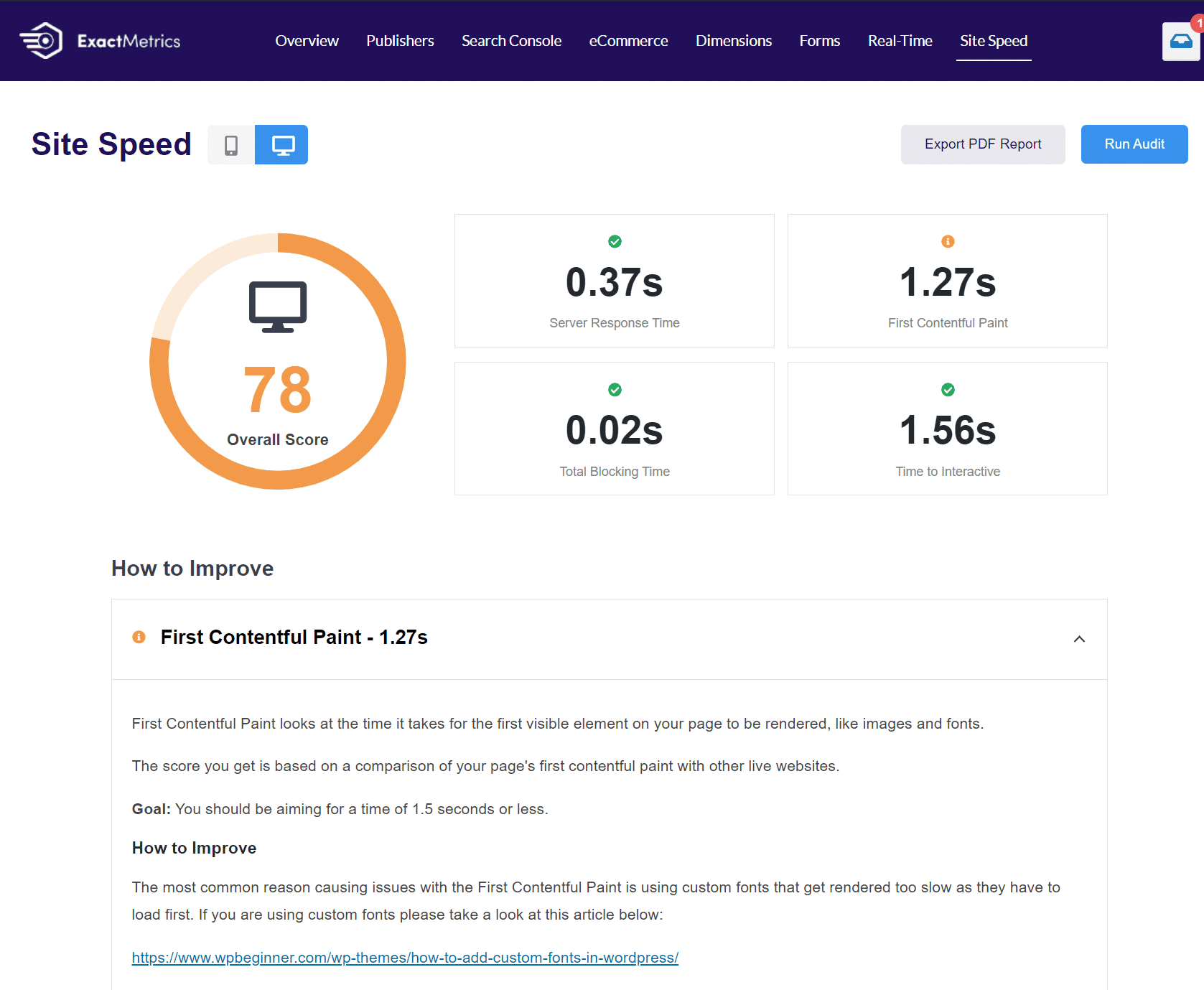 7. Ensure GDPR Compliance
Now, are you looking for a way to ensure your WordPress site and Google Analytics is GDPR compliant?
GDPR or General Data Protection Regulation oversees how companies, websites, and internet service providers store and use EU citizens' data. It requires users' consent before any business can record, process, and use any personal information of users.
And failure to meet GDPR requirements can result in huge penalties of up to 4% of annual revenue or 20 million euros, whichever is higher.
But with ExactMetrics, you can automate different processes and ensure Google Analytics complies with GDPR. Thanks to its EU Compliance addon, you can anonymize personally identifiable information and disable different tracking with a click of a button.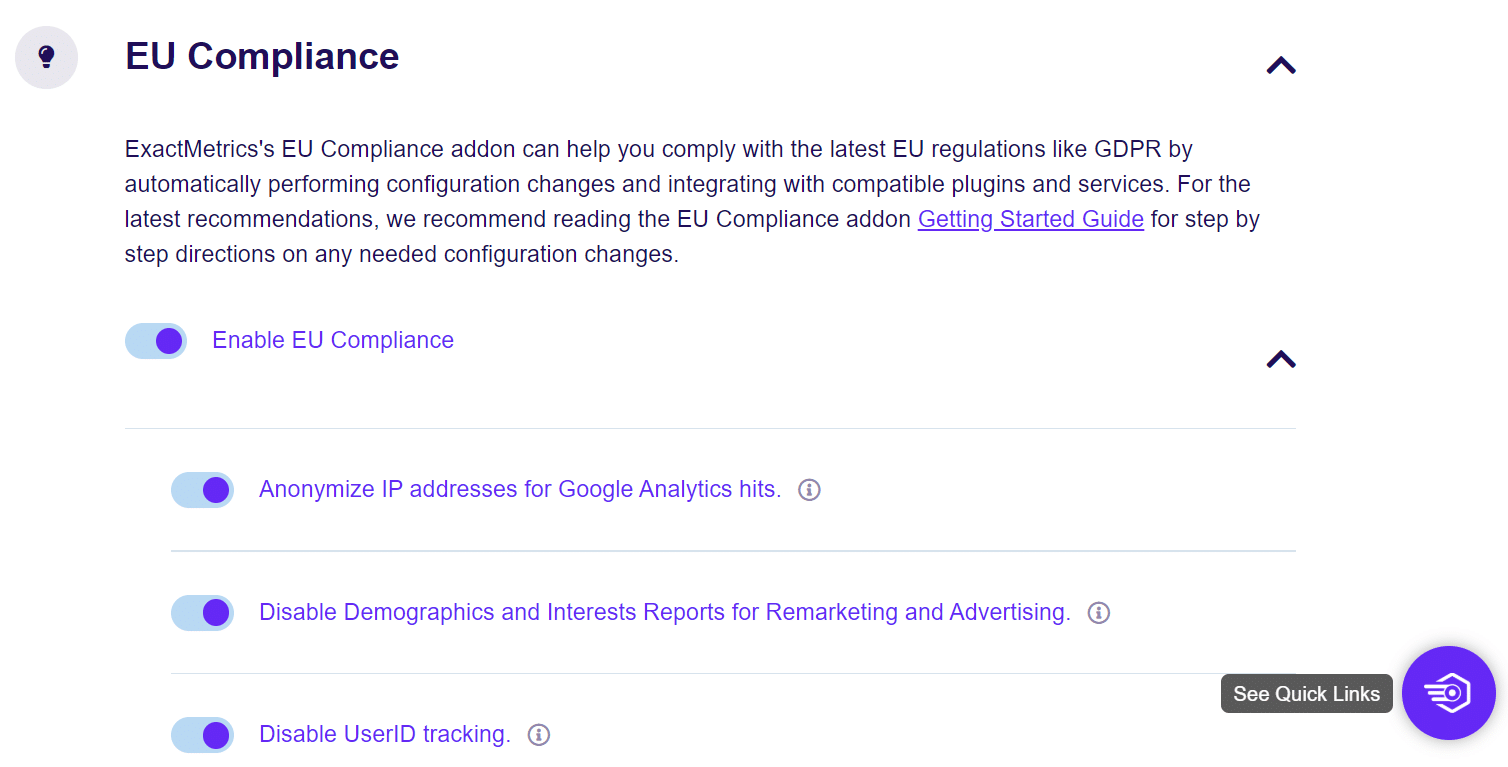 Final Verdict: Which Tool is the Best?
As you can see, ExactMetrics and Google Analytics are both important.
You will need both the solutions to get insights about your visitors and get the data you need to remove the guesswork and make business decisions.
ExactMetrics helps you set up Google Analytics without coding and adds advanced tracking to your site in just a few clicks. It even lets you track additional metrics that Analytics doesn't offer by default.
And there you have it!
We hope you liked our article on ExactMetrics vs. Google Analytics. If you want, you can also check out our post is ExactMetrics worth it.
Don't forget to follow us on Twitter and Facebook to get to know the latest tutorials on Google Analytics.