Are you looking for a quick and simple way to add Google Analytics to your WooCommerce store? With Google Analytics, you can track the performance of your online store.
You can get insights about your customer's shopping behavior, which product sells the most, where are your visitors coming from, which campaign is performing the best, and lots more.
In this article, we'll show you how to properly set up Google Analytics for WooCommerce. Let's get straight to it…
Setting Up Google Analytics for Your WooCommerce Store
To get started, just follow these steps and you'll be able to track your WooCommerce store's performance in Google Analytics in no time.
Step 1: Install ExactMetrics and eCommerce Addon
The first step is to get hold of ExactMetrics. It's the best Premium WordPress Analytics plugin that offers loads of features, including WooCommerce tracking.
You can use the plugin to add Google Analytics to your WordPress website without the need to touch a single line of code or hire a developer.
Using ExactMetrics eCommerce addon, you can automatically track your WooCommerce store in Google Analytics. No additional setup or coding required.
But do note that you'll need ExactMetrics Pro plan for configuring eCommerce tracking.
To install the addon, go to your WordPress dashboard and then go to ExactMetrics » Addons. Next, go to eCommerce and click Install. The addon will automatically install and activate.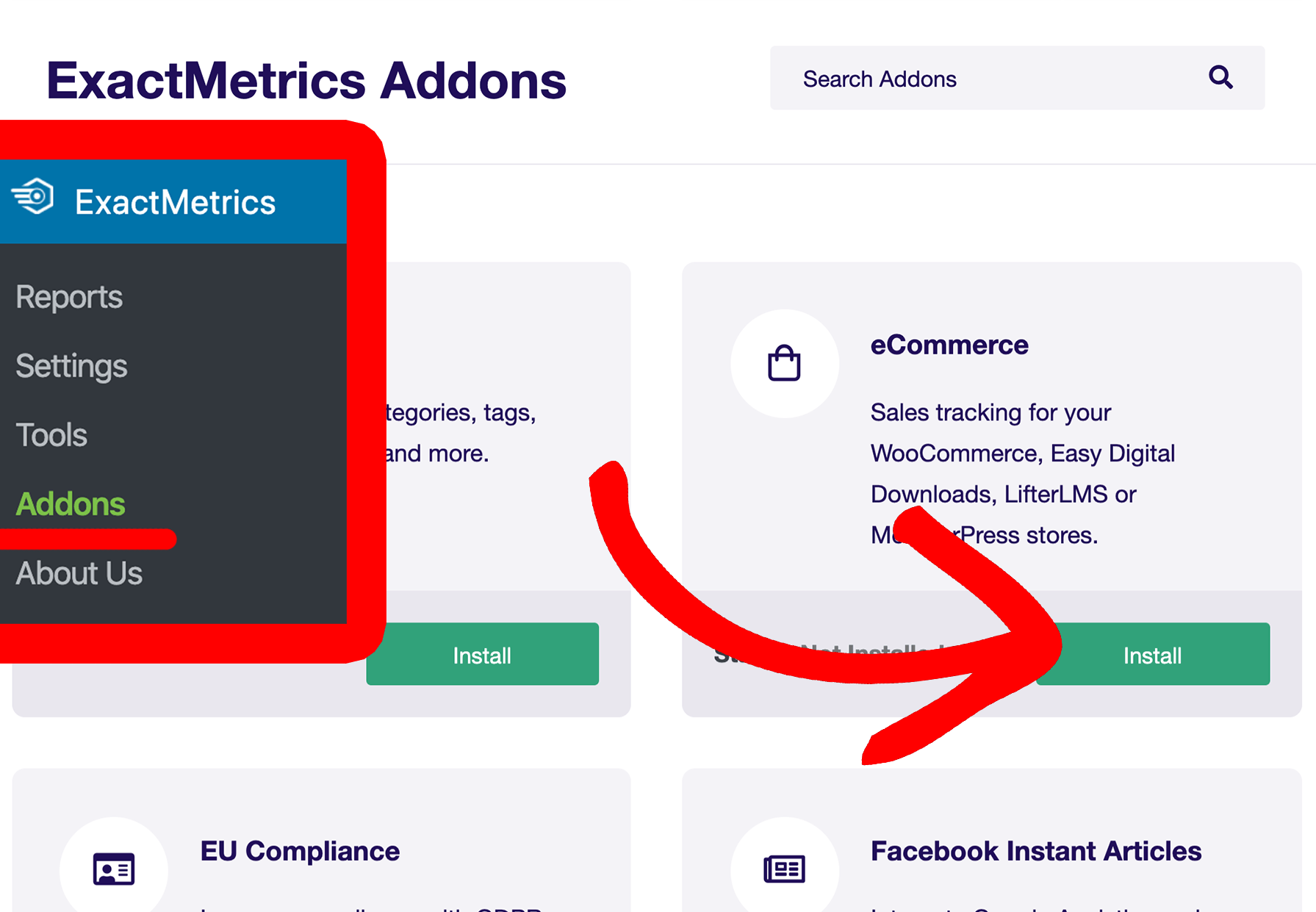 Step 2: Enable Enhanced Ecommerce in Google Analytics
After installing ExactMetrics and its eCommerce addon, the next thing you'll need to do is enable Enhanced Ecommerce in Google Analytics.
Enhanced Ecommerce is how you get to see all your essential data about your online store in Google Analytics.
To enable it, go to your Analytics account and then select the property (WooCommerce website) on which you want to set up eCommerce tracking.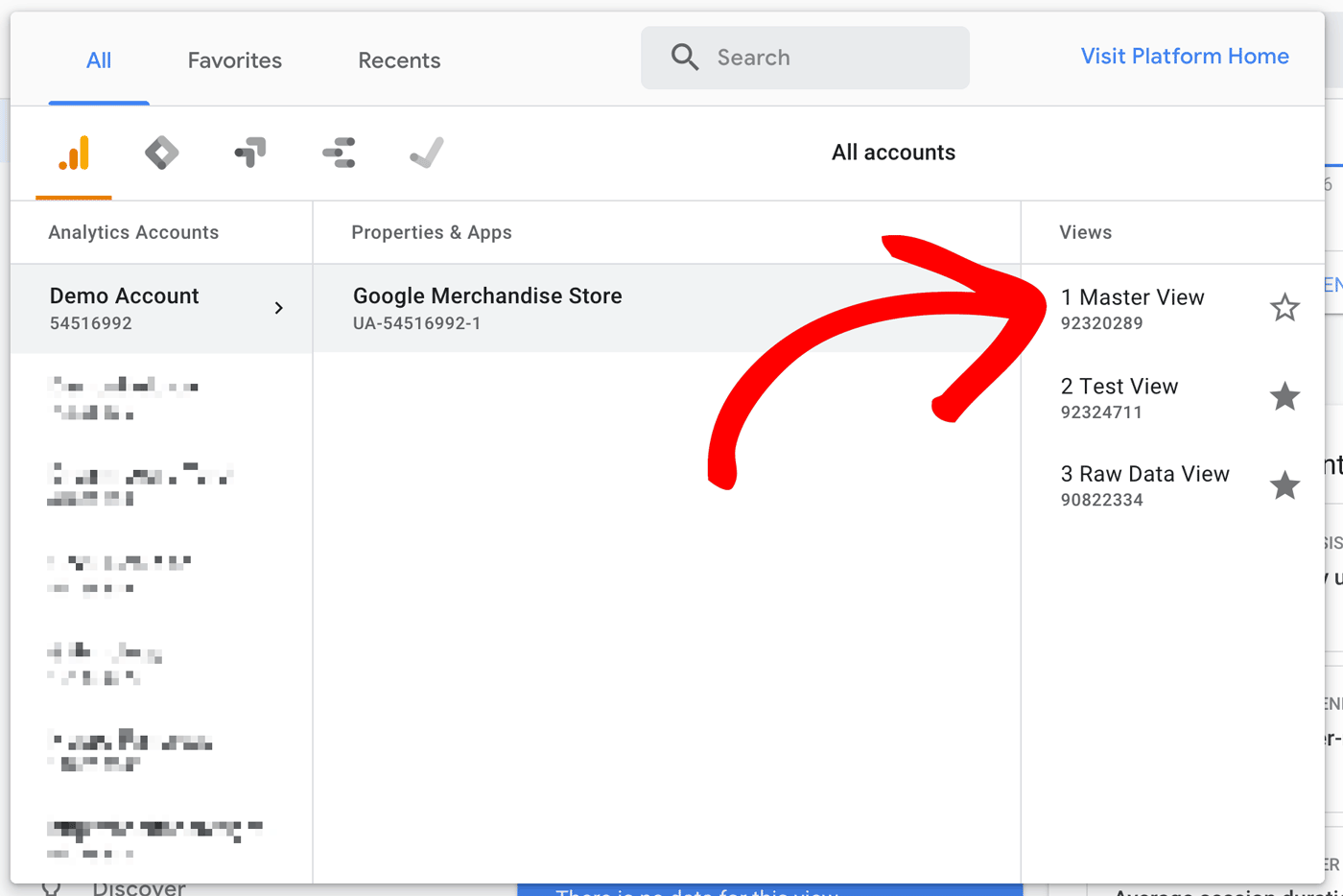 Next, go to Admin, which is located in the bottom left corner.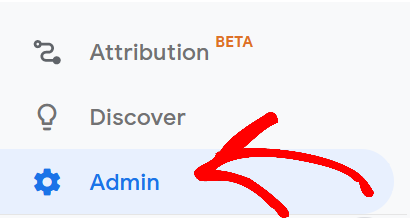 Now, go to Ecommerce Settings that you can see under the View column.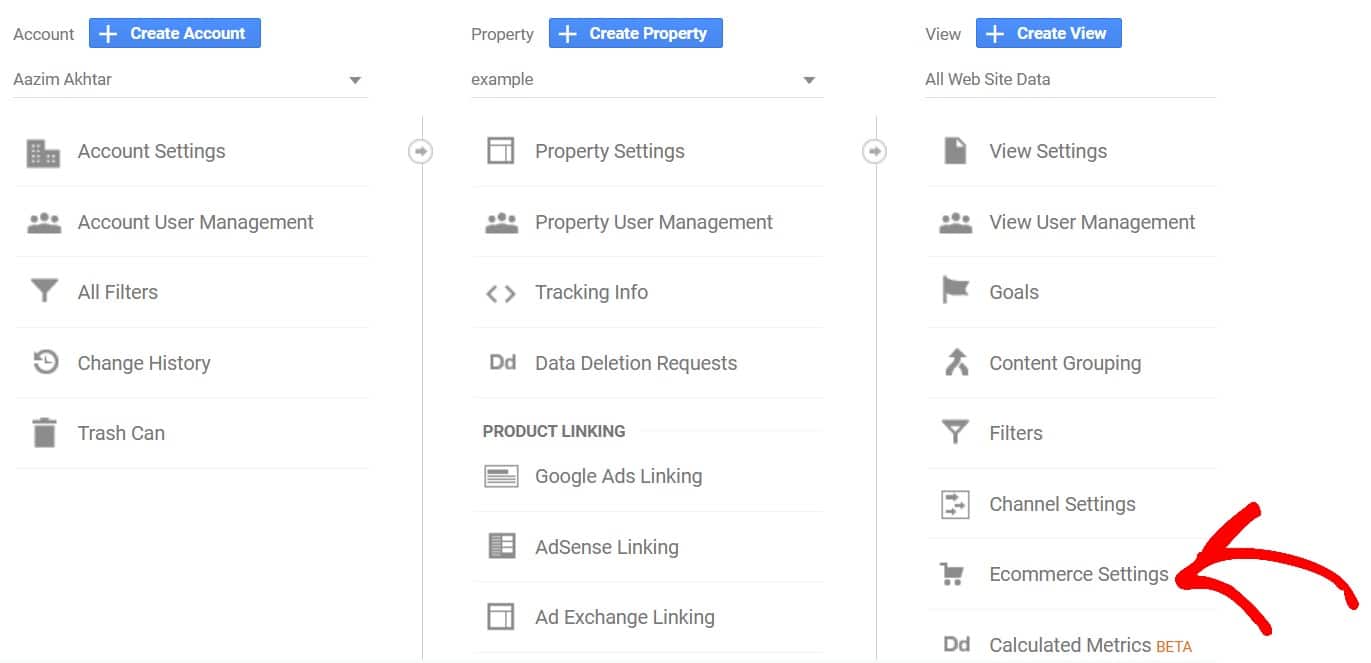 Next, you'll see different options under Ecommerce set-up. Toggle the Enhanced Ecommerce switch to enable the option.
And do the same to Enable Enhanced Ecommerce Reporting. Click Save when you're done.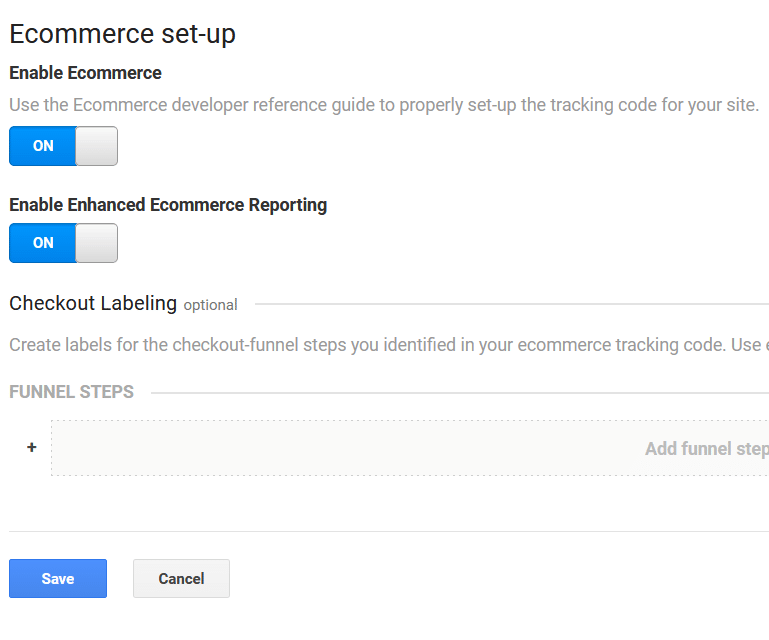 Step 3: Enable Enhanced Ecommerce in ExactMetrics
Now go back to your WordPress dashboard because you'll have to enable Enhanced Ecommerce in ExactMetrics as well.
And to do that, go to ExactMetrics » Settings and then select eCommerce from the top. Next, navigate to Use Enhanced eCommerce option and toggle the switch to enable it.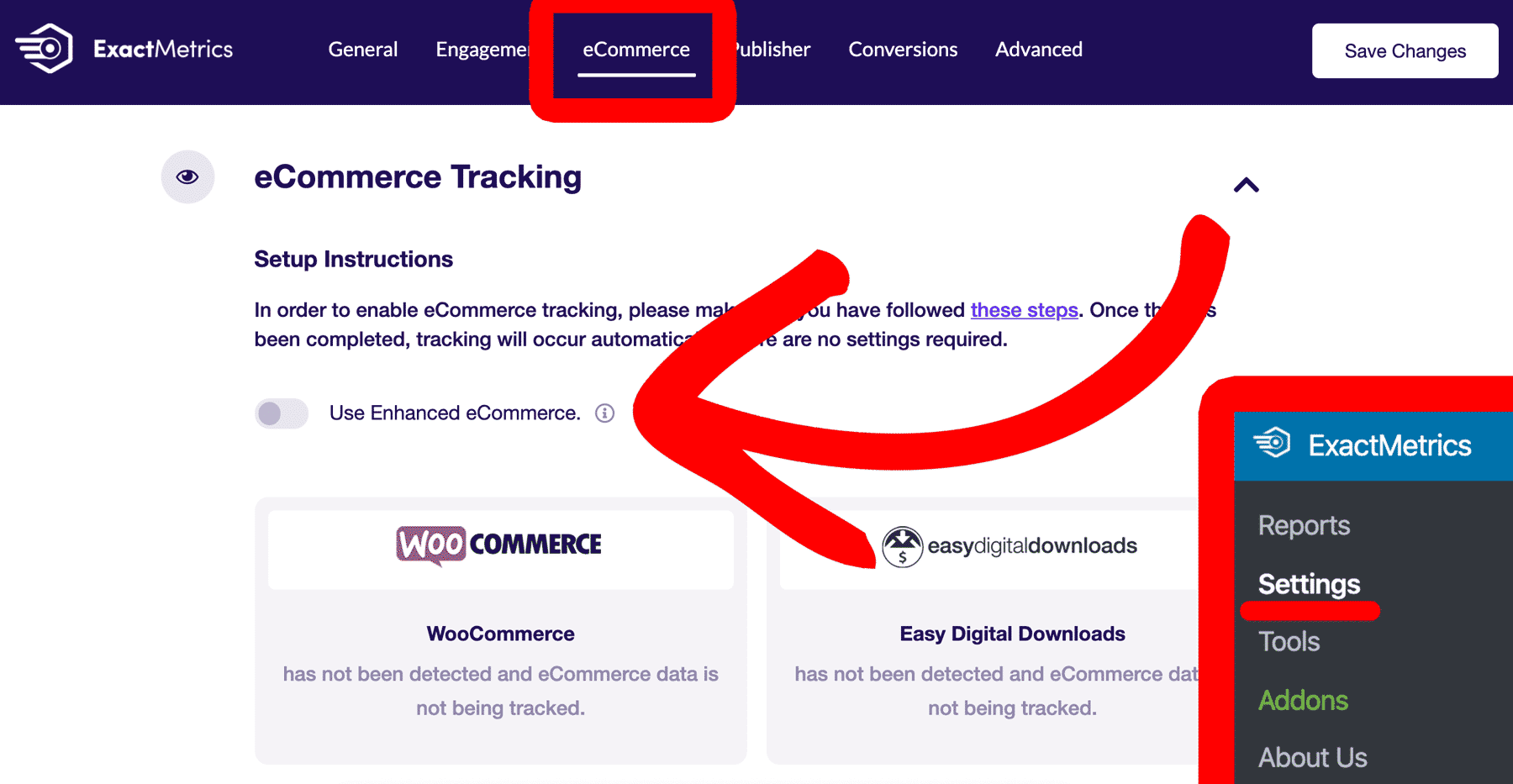 Once you do that, ExactMetrics will automatically detect your WooCommerce store and start tracking.
And that's it, you've successfully set up Google Analytics for WooCommerce.
View WooCommerce Google Analytics Reports in WordPress
Another benefit of using ExactMetrics is that you can see all your important Google Analytics reports inside your WordPress dashboard.
The WordPress plugin brings all your important metrics in one place and displays the data that's important for your business in easy to understand reports.
To view your WooCommerce reports, go to ExactMetrics » Reports » eCommerce.
Right off the bat, you can see the conversion rate of your store, number of transactions, revenue, and average order value for the selected date range.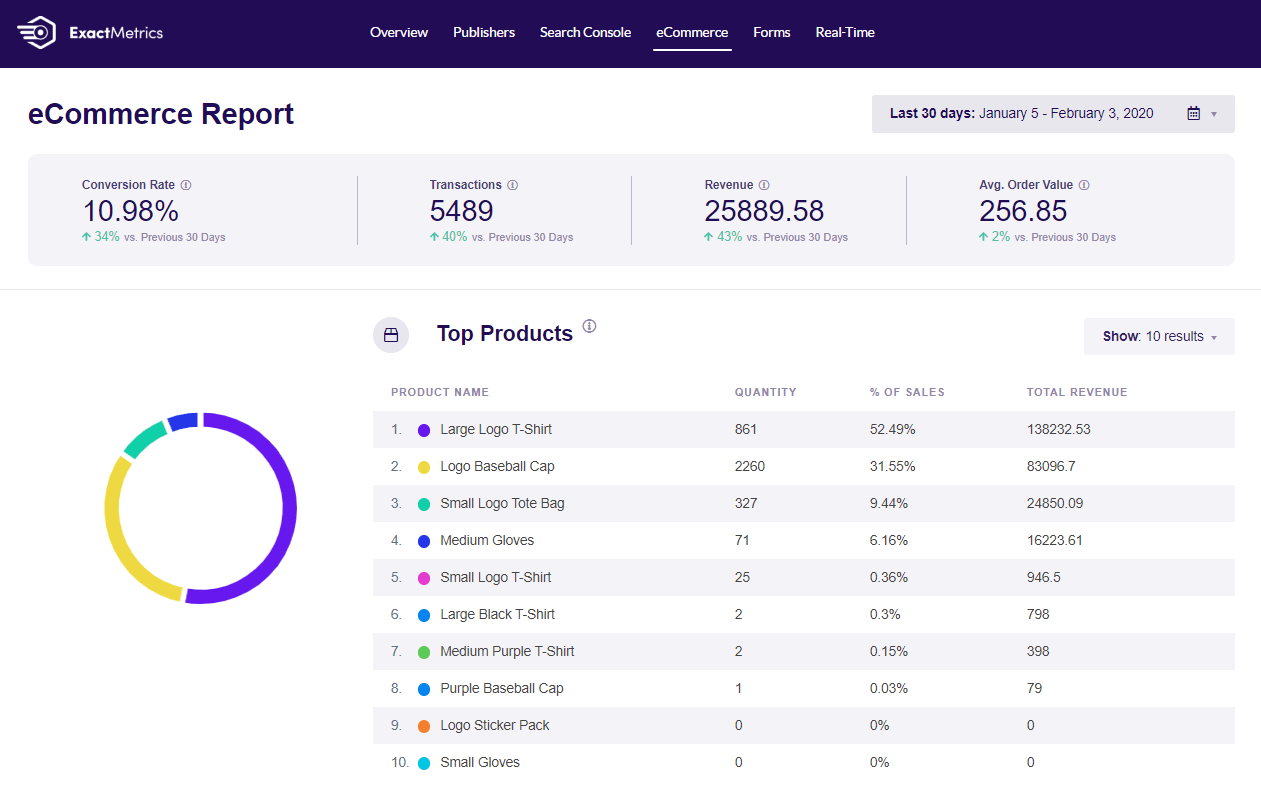 Not only that, but you can see your top products. These are products that generate the most sales in your WooCommerce store. And for each product, you can view the quantity sold, its contribution towards sales, and total revenue generated.
If you scroll down, you'll see more reports like top conversion sources. These are websites where your customers arrived on your WooCommerce store and bought a product.
Besides that, ExactMetrics also shows items total add to carts and total removed from cart. And you can even measure the time to purchase and session to purchase to optimize your store for more sales.
But what if you want to see these reports in Google Analytics?
View WooCommerce Reports in Google Analytics
You can also view your WooCommerce performance in Google Analytics. To view the reports, go to your Analytics account and then navigate to Conversions » Ecommerce.
Here you can see different reports for your online store. For instance, you can look at the Shopping Behavior report and see how customers interacted with your website.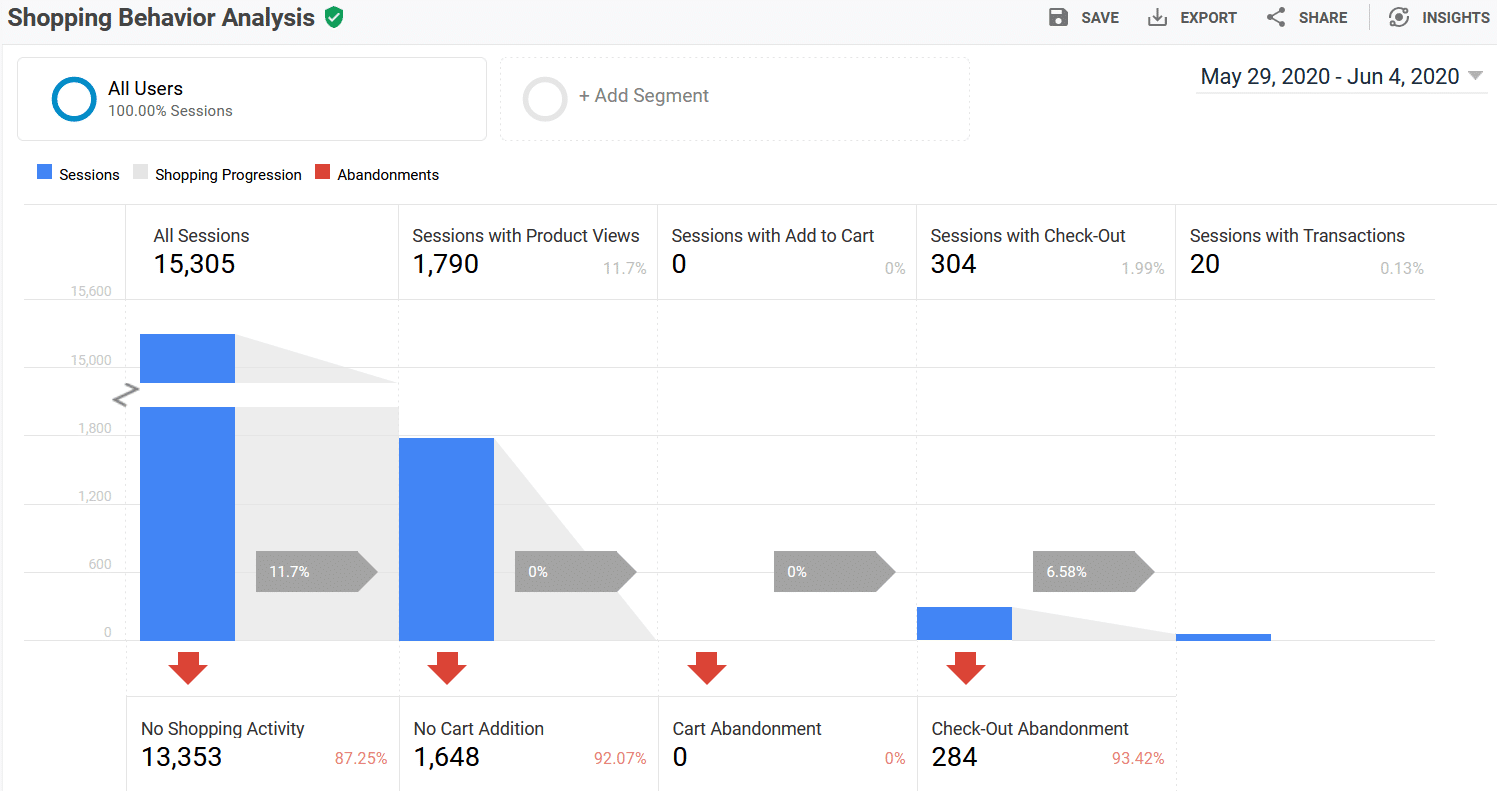 It helps you see map out your customer's journey and see which products they viewed, which buttons they clicked, and what were their final purchases. You can also track cart abonnements and recover them to boost your sales.
Next, you can view the Checkout Behavior report to see how many people completed the checkout process and paid for the products they bought before leaving your site. It helps you see at which point did the customer drop off, so you can optimize your process for more conversions.
And just like ExactMetrics, if you want to see which products are performing well in your store, then you can take a look at the Product Performance report.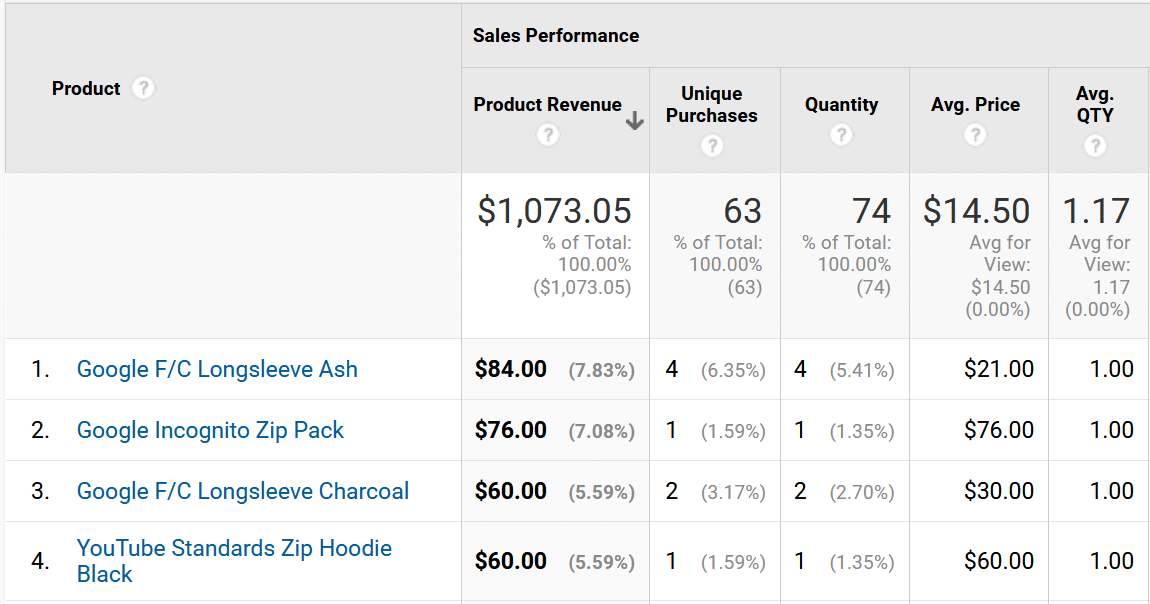 The report gives data about the revenue generated by each product, their order quantity, average price, and more.
And if you want to see a breakdown of your sales then go to the Sales Performance report in Google Analytics.
Here you can view your revenue, tax, shipping charges, refund amount, and quantity ordered against each transaction ID.

If you're running a marketing campaign on your WooCommerce store, then you can even view their performance under Marketing. There are different reports that can help you track how your coupons or affiliate codes are performing.
And there you have it, folks!
You've made it to the end of the tutorial. You can now easily track your WooCommerce store in Google Analytics and see different reports to grow your business.
We hope you like our article on how to properly set up Google Analytics for WooCommerce. You can also check out our guide on WooCommerce conversion tracking in WordPress.
Don't forget to follow us on Twitter and Facebook to get to know the latest tutorials on Google Analytics.