Looking for ways to improve your search engine optimization strategies, increase your organic traffic, and boost SEO rankings with Google Analytics?
You can track and measure the performance of your website and gain valuable insights about your visitors by using Google Analytics, but how does Analytics help boost SEO rankings?
In this article, we'll show you 5 ways to skyrocket your SEO rankings with Google Analytics. Before we dive in…
What Is SEO Ranking?
SEO ranking refers to how and where a website appears in the search results page (SERP) of search engines like Google or Bing. The position or ranking is determined by various factors like the site's content, relevance to search queries, and the website's overall topical authority. Websites with higher SEO rankings show up higher in search results, making them more visible to users and increasing the chances of getting organic traffic.
Is Google Analytics an SEO Tool?
No, Google Analytics is not primarily an SEO tool. It's a powerful tool that helps website owners track and analyze various aspects of their site's performance, user behavior, traffic sources, eCommerce, and more. It's not specifically designed for SEO tasks like keyword research or on-page optimization like other SEO tools are. But, it provides valuable metrics that can indirectly influence SEO strategies and help you uncover more ways to improve SEO rankings.
How to Boost SEO Rankings with Google Analytics
1. Find Top Landing Pages and Cover Similar Topics
Did you cover a blog post for a particular keyword and want to see if it got any traffic? Using Google Analytics, you can measure the performance of content, see how many people visited your post, which channels traffic came from, and more.
If a post is bringing in a lot of traffic from organic search, it's probably doing well in terms of SEO ranking and CTR (click-through rate). So, to boost your overall SEO rankings, you can find similar topics to cover on your website.
If you want to see these stats inside your WordPress dashboard, the best way to view them is with ExactMetrics. It's the best premium WordPress Analytics plugin. It makes using Google Analytics a breeze and brings all your business's useful data straight to your WordPress dashboard.
Once you've installed the plugin, simply go to ExactMetrics » Reports » Publisher » Overview. The first report you'll see will be your Top Landing Pages.

In this report, you can see the total Visits, Average Duration, and Bounce Rate for each landing page during the selected date range. For instance, if you look at the report above, you'll notice that one of the topics is a case study that got a lot of traffic.
From an SEO perspective, this is excellent data to have. Since traffic improves your rankings, you can cover more case studies on your website to attract more visitors.
If you want to dive deeper into where your visitors came from, click on View Full Top Landing Pages Report at the bottom. This will lead you to your pages report in Google Analytics where the table is sorted by landing page visits. You can add a secondary dimension using the + sign to view your blog posts' traffic sources.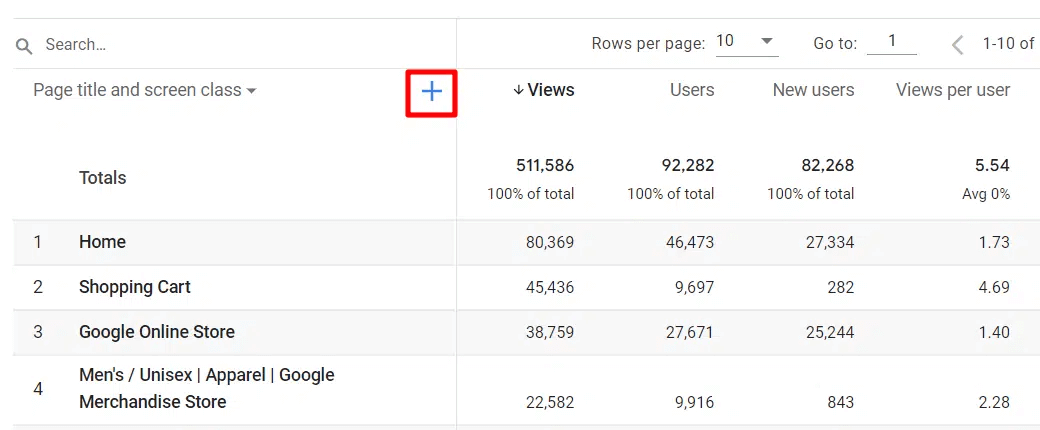 2. View Organic Keywords with Google Search Console
The next way you can use Google Analytics to improve SEO rankings is by looking at your top organic keywords. Using the report, you can see which search terms are ranking in the top 10 Google search results and which ones need improvement.
The data from this report is extremely valuable. You can see the terms people use to find your site and optimize your existing content for these and related keywords to boost rankings and organic traffic. You might find search terms that are on the 2nd page, but with a little tweaking, you can easily bring them to the 1st page.
But, Google Analytics doesn't show your website's keywords by default. For that, you'll need to connect Google Search Console to Google Analytics.
If you're using ExactMetrics, you can view your search console report in your WordPress dashboard. The plugin shows you the Top 50 Google Search Terms along with their number of Clicks, Impressions, CTR (click-through rate), and Average Position in SERPs.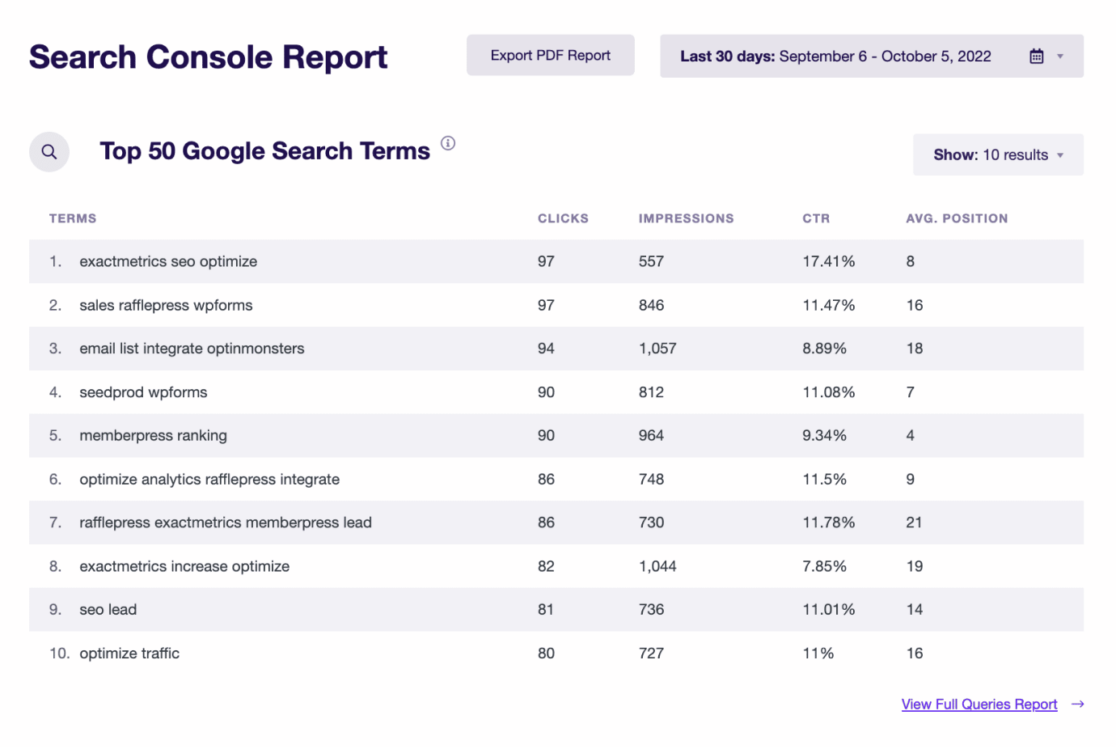 From the report, you can pick keywords that are close to the 1st page and optimize them to boost their rankings.
You can also look at the search terms that are already ranking in the top 5 and find more keywords like them. Then, optimize these similar keywords on your site or create new content around them to increase your organic traffic and build domain authority.
3. Improve Your Site's Engagement
Another way you can use Google Analytics to boost your rankings is to keep an eye on your site's engagement metrics and bounce rate. The engagement rate measures how frequently users are engaged with your content such as reading your article for a certain period of time or completing a conversion. On the flip side, a bounce is when a user leaves your website without performing any action (like clicking a link or viewing a video).
While engagement and bounce rate won't directly impact your rankings, they're important metrics to track for your site's SEO. That's because lack of engagement or high bounce rates may be due to a poor user experience like slow page loading, which directly affects SEO.
Or, perhaps your page isn't matching the users' search intent, and people visiting your site hit the back button in their browsers when they can't find what they're looking for. If so, Google might think your page isn't helpful, which can indirectly lead to a drop in rankings.
Average Session Duration is one of the engagement metrics you'll want to look at, and you can see it in your ExactMetrics Overview Report as well as whether it's increasing or decreasing.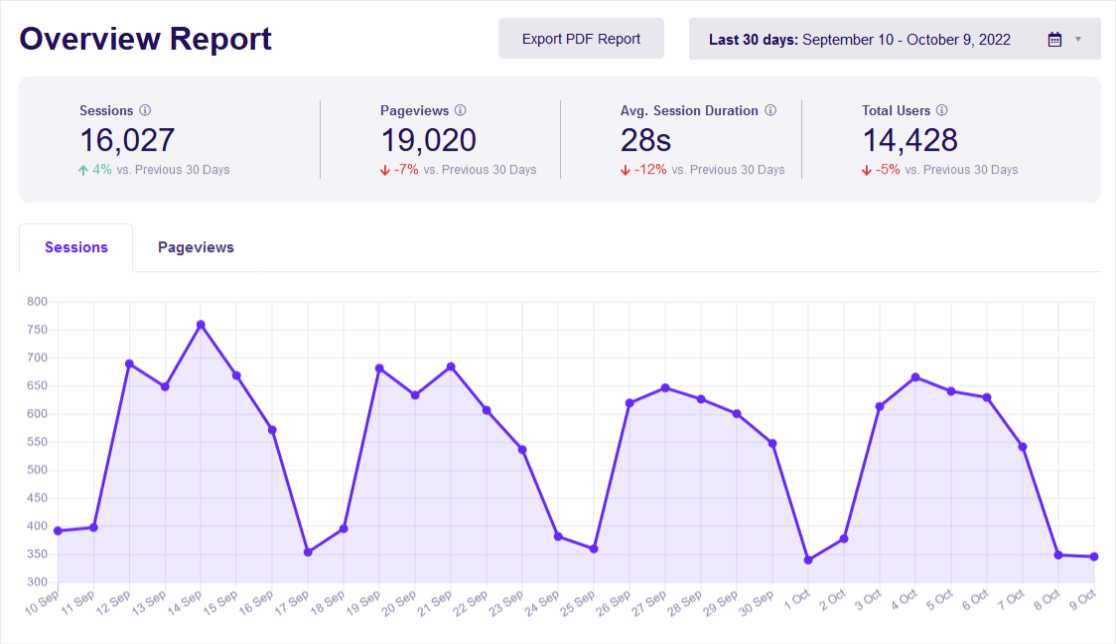 In our first way to boost SEO rankings, we showed you how to see your Top Landing Pages report in ExactMetrics, which also shows the bounce rate and average session duration when visitors land on those pages. But what if you want to see individual pages that are the most popular? Just head to Publisher » Pages Report.
Here, you can see your top Pages along with the number of Engaged Sessions and Bounce rate.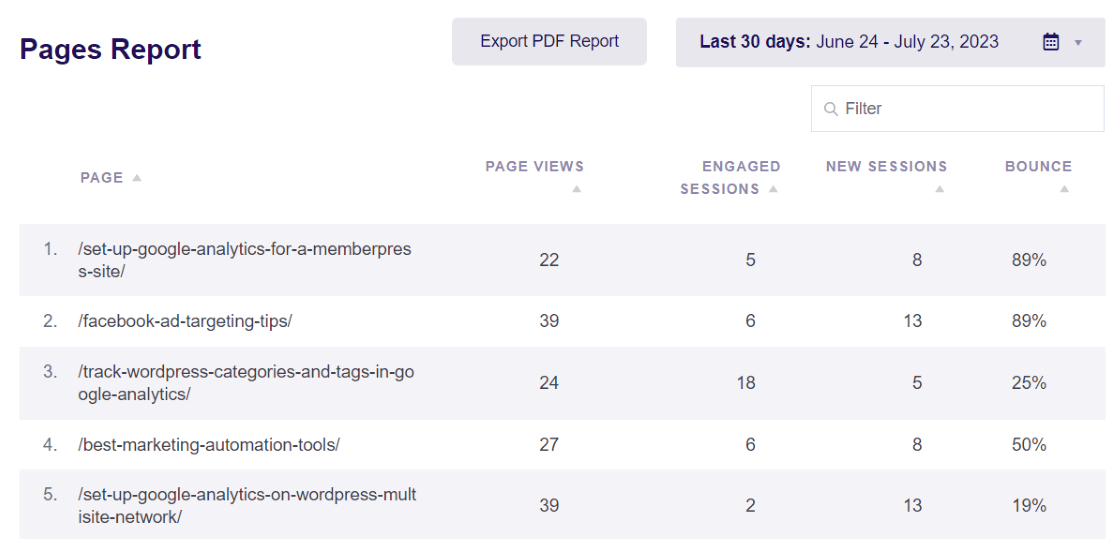 Try sorting the report by bounce rate to see which pages aren't keeping visitors on the page. Then, investigate what the cause could be and how you can reduce the bounce rate. To see how engaged traffic from different channels is in your Google Analytics reports, go to Acquisition » Traffic acquisition.
Want to see which pages have the highest or lowest engagement rate when visitors find your site through search results? Add a secondary dimension and type Organic Search in the table's search bar.

Now you can see which posts are engaging visitors the most or the least, compare pages, and find ways to optimize content that isn't doing as well at engaging organic search visitors. Check out this guide on How to Increase Pageviews and Reduce Bounce Rate to learn more.
3. Tailor Content to your Existing Visitors
You're already aware that creating engaging content that visitors find helpful and want to read can help SEO rankings, but how do you know what your users are interested in? Wouldn't it be great if you could create content around what your current visitors already like?
Since they're familiar with your site, there's already a higher chance that returning visitors read your posts, but you can get a bigger boost in traffic and engagement if you tailor content to their interests. Plus, you'll be more likely to attract the right target audience that's made up of people who share similar interests and will like your content.
Google Analytics can tell you key information about your audience's demographics and what they like. By default, you can find basic information about their location, cities, and languages. But, if you want to see more data like age, gender, and interests, you'll need to enable it. Check out our tutorial on Google Analytics demographics and interest reports to learn how.
Once enabled, you can find these reports in ExactMetrics at the bottom of Publishers » Overview.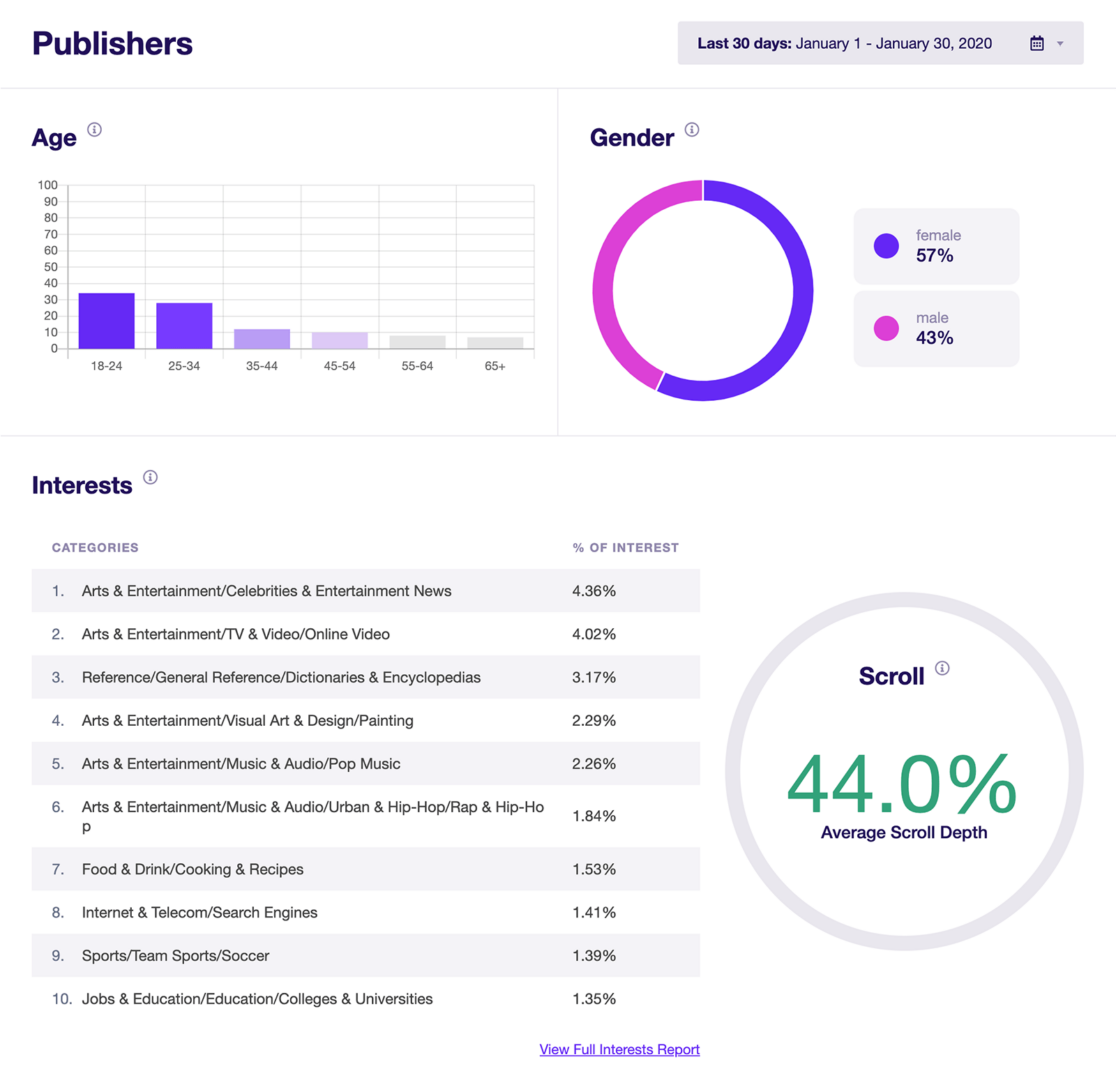 For instance, we can see in the report above that a lot of users are interested in categories that fall under Arts & Entertainment. Assuming that's an area this website covers, we'd want to then focus on creating content or offering products that align with the subcategories.
You can also use interests to find other areas you may not have thought about. In the example, we see that users are also interested in Jobs & Education. So, maybe we should think about creating some content around studying and working in Arts & Entertainment fields.
This report can also help you understand the general age and gender of your visitors to further tailor content. You can also quickly see the Top 10 Countries where users are coming from in your ExactMetrics Overview report.
To see demographics in Google Analytics, just click the link that says View Full Interests Report.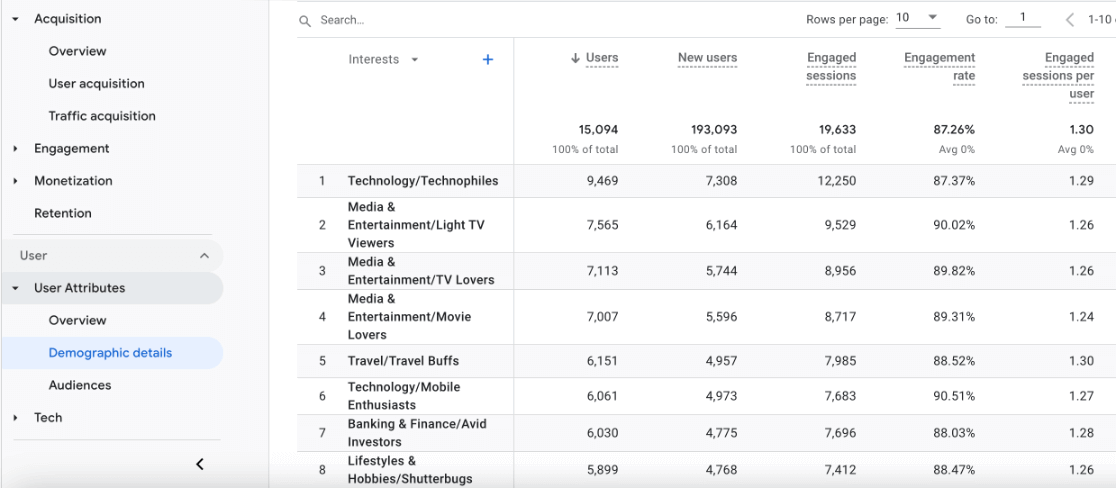 Click where it says Interests at the top of the first column and use the dropdown menu to change the report to other details like age or location. Try looking at cities to narrow down where a good amount of visitors are located. Then, try creating region-specific content and targeting location-based keywords that will rank in search.
Want to really drill into the type of content that will help you gain more organic visitors and increase rankings? You can add a secondary dimension to see traffic channels and narrow it down to organic search to see details about those specific visitors.
4. Uncover Backlink Opportunities with Top Referrals
We've talked a lot about content so far but there's another piece to the puzzle – backlinks. Content and backlinks are the two most important Google ranking factors.
By looking at your top referral sources, you can find opportunities to get backlinks for your website. And for those of you wondering what referral sources are, these are websites that link to your site in their content and send traffic your way.
Now, the more backlinks you can get from high-authority websites, the higher your rankings will be. To view your referral sources, you can use ExactMetrics. Just click the Overview report and you can see your Top 10 Referrals.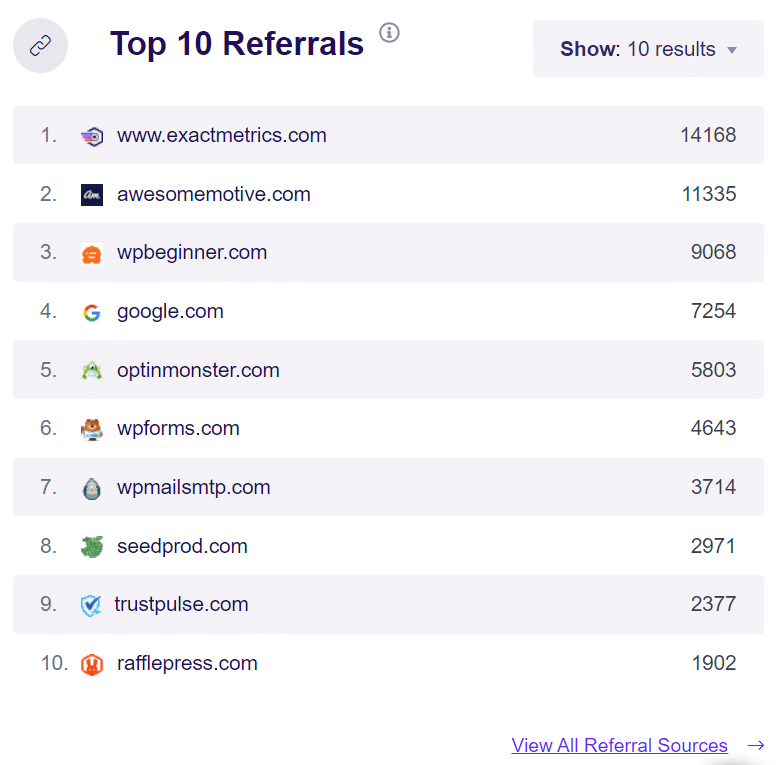 Using this report, you can find which websites link back to yours. After analyzing these sources, try reaching out to them to work out a partnership. For instance, you can do cross-promotion campaigns or a content collaboration to get backlinks. Or, try looking for similar websites to reach out to for backlinks.
To see referral sources in Google Analytics, click View All Referral Sources. You can see your overall referral traffic in a row of the table or add a secondary dimension to see individual sources.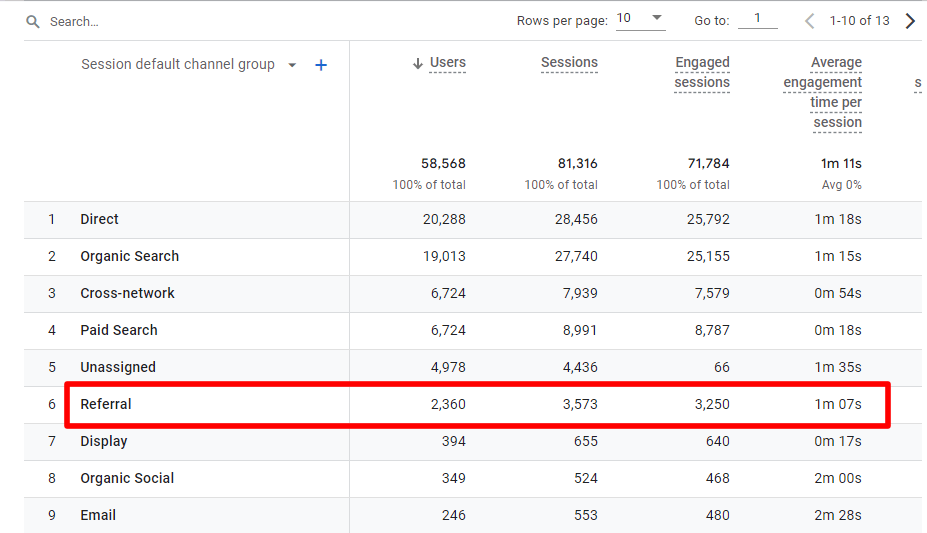 Bonus Tip: Track Web Traffic from Google AMP
Mobile-friendliness is an important part of your search engine rankings, especially since Google uses a mobile-first approach where it primarily uses mobile content to crawl and index websites and will give preference to sites that are mobile-optimized.
If you have Google AMP (accelerated mobile page) set up on your WordPress site, it's important to know how many people visit your site from those pages. With Google Analytics, you can track web traffic from your AMP pages to see which of those pages are generating traffic, optimize them for SEO, and find new content ideas around the same topic.
However, setting up AMP tracking in Google Analytics isn't that simple as it requires coding and can cause inaccurate reports since Analytics may count the same user twice if they visit the AMP page as well as the regular page on a desktop.
A simple way to overcome this issue is to use the ExactMetrics AMP addon. It adds AMP to your WordPress site without editing code and makes sure users aren't tracked twice.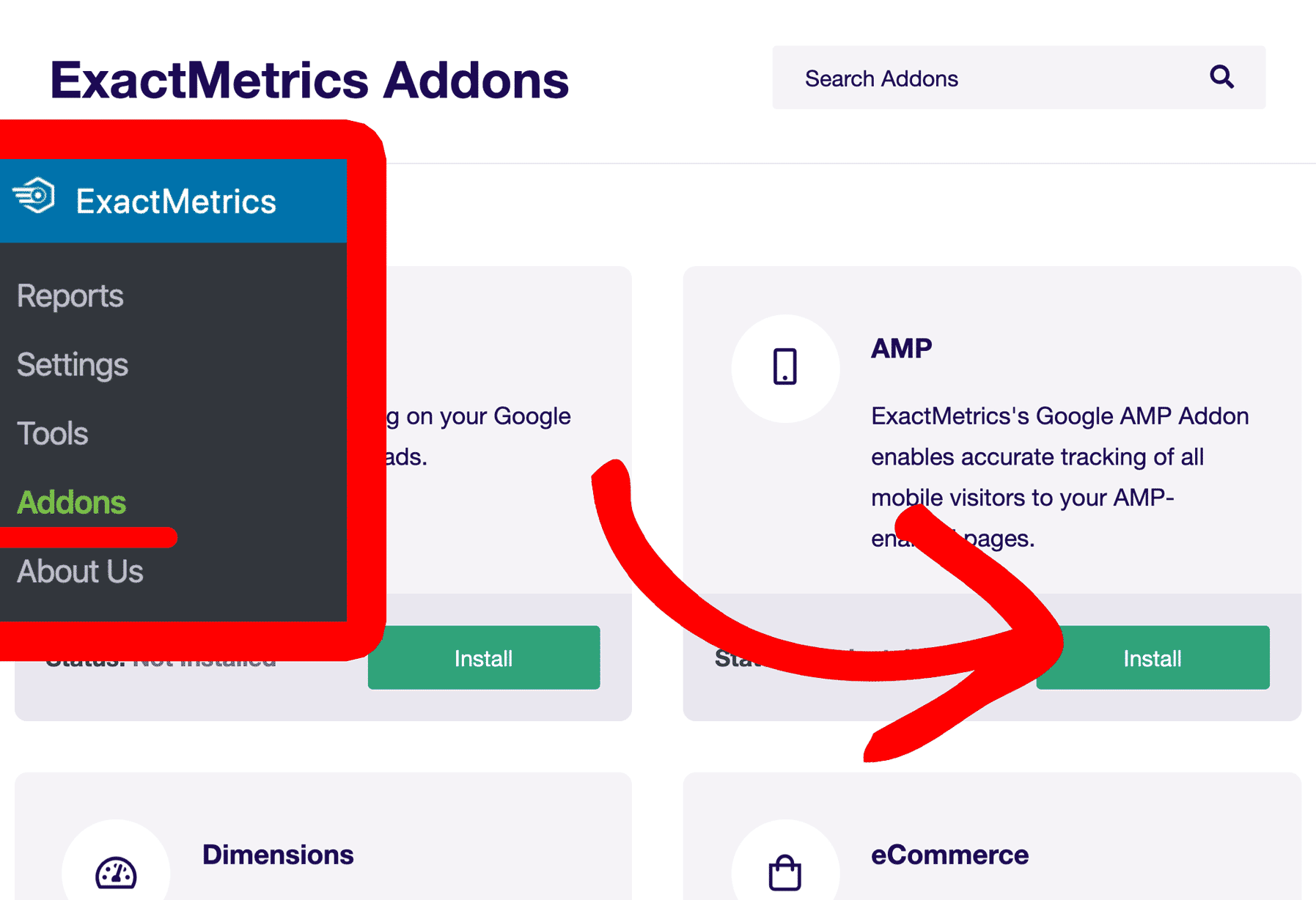 Simply install and activate the addon and you'll be tracking your visitors from AMP pages in no time. You can follow our guide on how to add Google Analytics to AMP pages in WordPress for all the steps.
Once your AMP tracking is set up, head to Google Analytics and navigate to Reports » Engagement » Pages and screens. Next, enter /amp in the search bar and Analytics will show you all your AMP pages. You can then use the secondary dimension to find more insights like source and medium.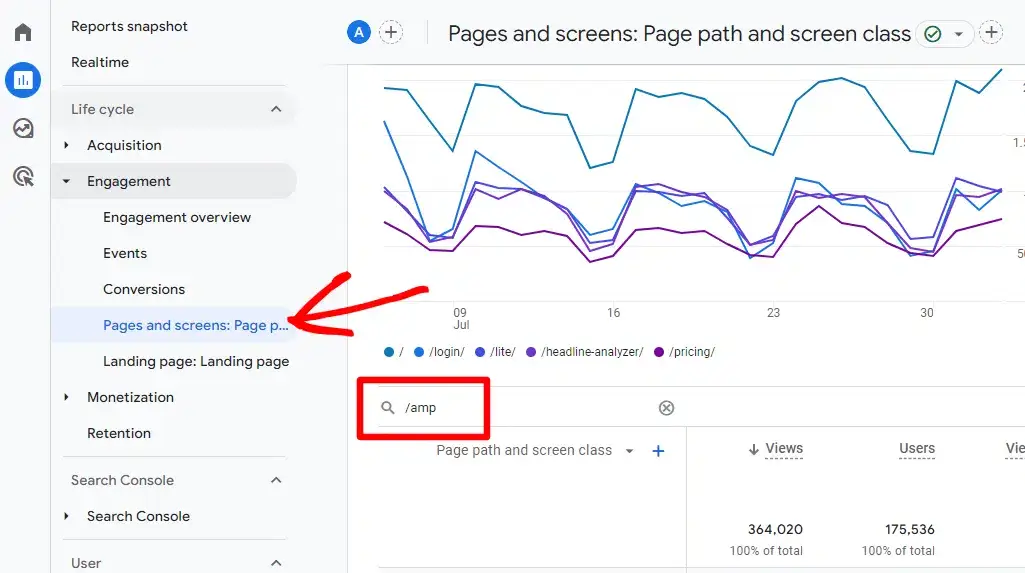 And that's it!
We hope you liked our post on how to boost SEO rankings with Google Analytics. Want to learn more about what you can do with Google Analytics? Check out our guide on How to Create Google Analytics Custom Exploration Reports.
Not using ExactMetrics yet? What are you waiting for?
Don't forget to follow us on Twitter and Facebook to see all the latest reviews, tips, and Google Analytics tutorials.