Are you looking for a way to track eCommerce conversions or form conversions on your WordPress website? If yes, then you'll need to configure goals in Google Analytics.
However, setting up goals can be tricky, especially if you're new to analytics. You'd have to be an expert to know your way around analytics and make sure that your tracking is working properly.
This is where ExactMetrics can help you out. You don't have to do any manual set up, as it automatically tracks conversions on your site and displays reports inside your WordPress dashboard.
In this article, we'll show you how to set up goals in Google Analytics using ExactMetrics. We'll also go through the manual process of creating goals in Analytics.
But first…
What are Google Analytics Goals?
In simple words, goals measure any completed activity a user performs on your website and they're called conversions.
For instance, goals can be anything like people buying products on your eCommerce store, submitting forms, playing videos on your site, or downloading files.
You can add goals to specific pages on your website and measure how long they stay on the page, what activities they perform, and more. For each goal, you can even assign a monetary value, so you know how much money you made when a goal is completed.
And when it comes to selecting goals, there are 4 types that you can choose from:
Destination: these are goals when a visitor loads a specific page and is useful when you want to track pageviews as conversions.
Duration: if you want to see the amount of time a user spends on your website, you can select the duration goal type.
Pages/Screens per Session: using this goal type, you can track the number of pages a visitor views on your website and treat them as conversion.
Event: To track activities performed by your visitors like button clicks, product purchases, eBook downloads, or form submission, you can use event goal type.
Google Analytics also offers Smart Goals, which provide an alternate tracking method. Smart Goals are useful if you run Google Ads.
They use machine learning and automatically evaluating your website visits. Each visit is given a score and the best visits are used as Smart Goals.
You can also check out our guide on how does Google Analytics works.
Now that you know what are goals, are you ready for setting up goals in Google Analytics?
How to Set Up Goals in Google Analytics
To set up goals, make sure that you've added Google Analytics to your WordPress website and then follow these steps:
Step 1: Login to Google Analytics Account
The first step is to login to your Google Analytics account. Then select the website for which you want to set up goals.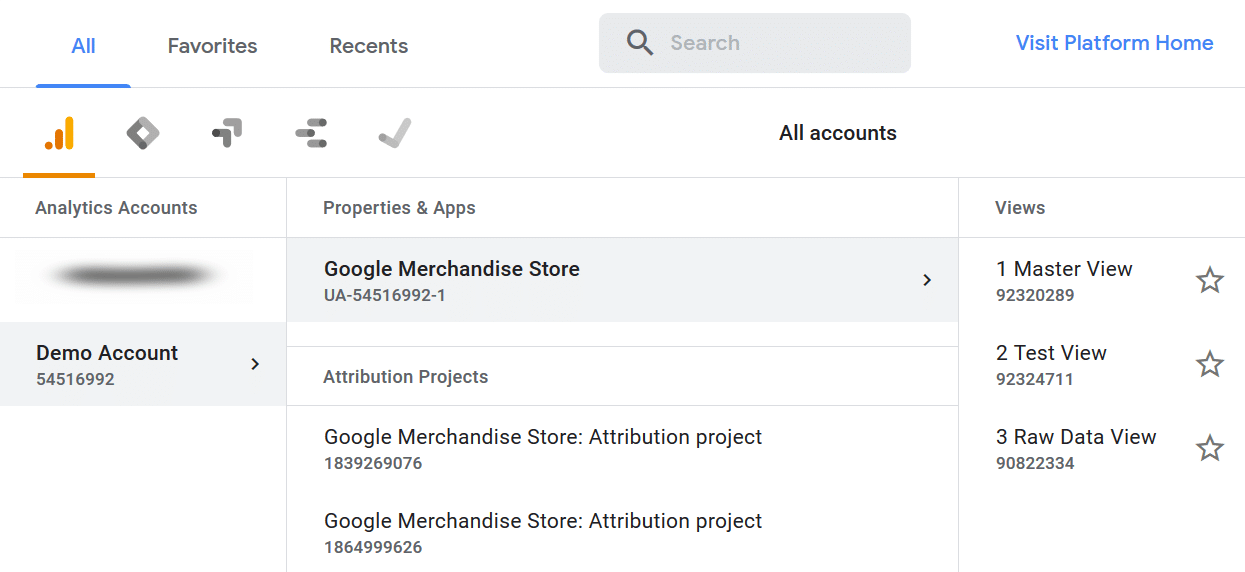 Step 2: Access Admin Area
Now, click on Admin at the bottom of the screen and go to Goals under All Web Site Data.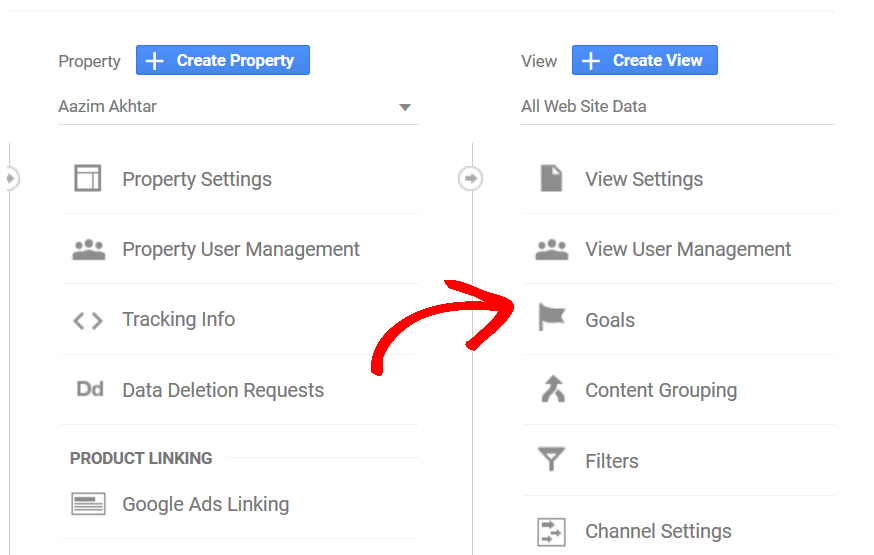 Step 3: Create a New Goal
The next step is to create a goal. And to do that, click on the + New Goal button at the top left corner.

Step 4: Setup Your Goal
Now, you'll have to set up your goal in Google Analytics. For this, you can select pre-build templates, or you can create a custom goal.
Let's say you want to see how well your contact form conversions are doing on your site. To start, select a Custom goal and click Continue.
Then enter a name for your goal and select a goal type. Since we want to see how many people submitted the form, you can select Event as your goal type and then click continue.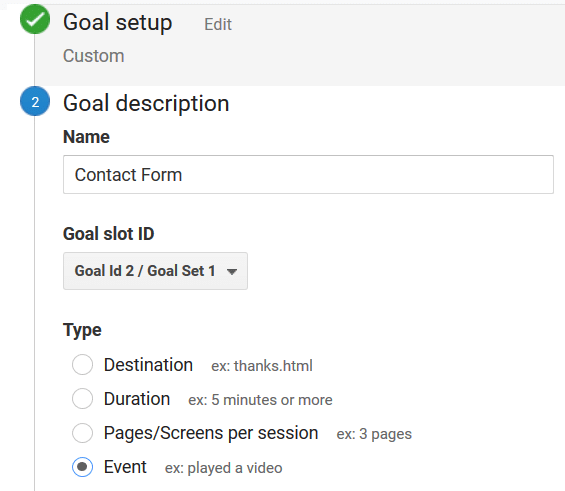 Next, you'll have to provide details about the goal and enter category, action, label, and value.
For category, you can enter forms and for action, you can enter conversion.
But if you're using a WordPress plugin like WPForms and have multiple forms on your site, you'd want to differentiate it from the rest. And you can do that under label by entering a form ID.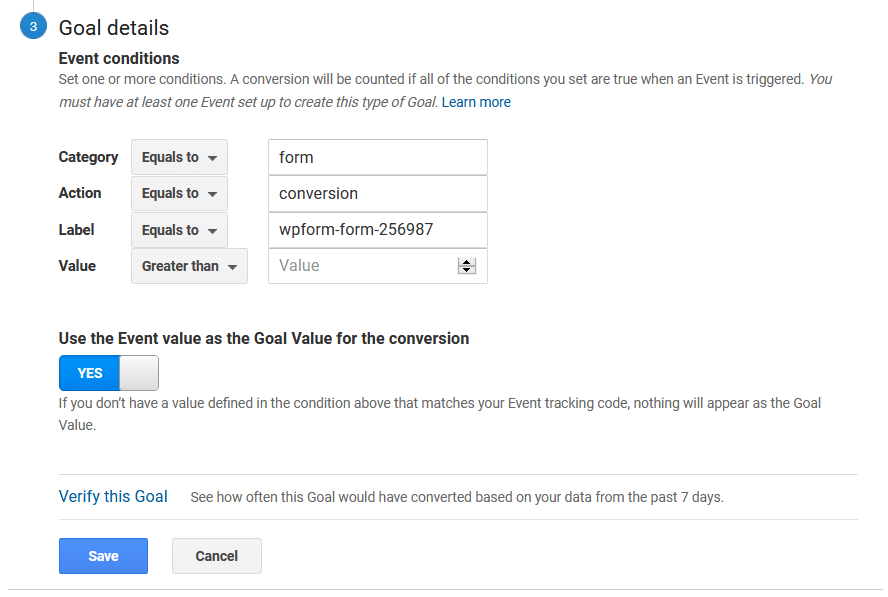 You can also assign a monetary value to your goal. This is particularly useful if you have an eCommerce store. Just enter the price of your product and you'll know how much revenue you made.
Once you've entered all the details, you can click Verify this Goal. This way, Google Analytics will use the data from the past 7 days and show you how your goal would look like in reports.
It helps in fixing any errors if you've not set up the goal correctly.
To finish the setup, click Save.
And there you have it, your goal is now ready in Google Analytics. But what if you don't want to go through this manual process?
Here's an easier way of setting up goals in Analytics.
How to Set Up Google Analytics Goals Using ExactMetrics
You can automatically track goals in Google Analytics thanks to ExactMetrics. It's one of the best premium WordPress Analytics plugins you can use.
ExactMetrics makes is very easy to use Google Analytics and you don't have to be an expert to find data that's relevant for decision making.
It offers different addons through which it automatically creates goals and lets you track the performance of your website and get insights about your users.
Let's take a closer look at these addons…
ExactMetrics Form Tracking Addons
A much simpler way of tracking the conversions of your forms is by using ExactMetrics Form Tracking addon.
You don't have to manually create a goal if you're using the addon.
Simply install and activate the addon and get all your data inside your WordPress dashboard. To view the report, go to ExactMetrics » Reports » Forms.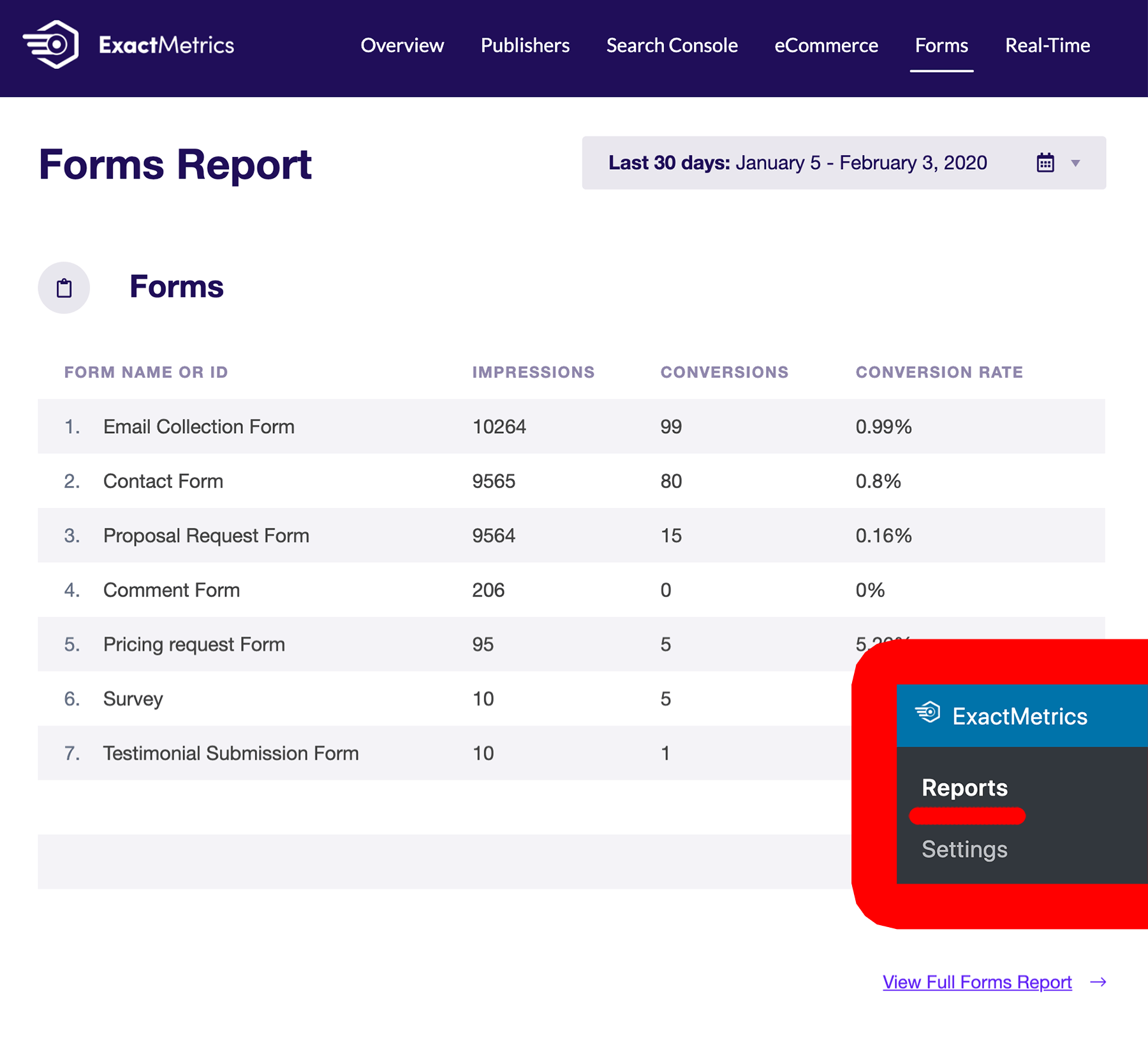 The report shows impressions, conversions, and conversion rates for each form. The data lets you view which forms are performing and which need improvement.
The report also helps you figure out which type of forms to add on your website in the future and which to avoid.
ExactMetrics eCommerce Addon
Now, if you have an eCommerce store and want to see how much money you're making, then ExactMetrics eCommerce addon automatically tracks its performance.
You don't have to manually create goals for each product on your store and assign a monetary value to it. ExactMetrics does that for you!
And you can integrate the addon with stores on WooCommerce, MemberPress, LifterLMS, and Easy Digital Downloads.
Once you've added the addon, you can view your reports by going to ExactMetrics » Reports » eCommerce.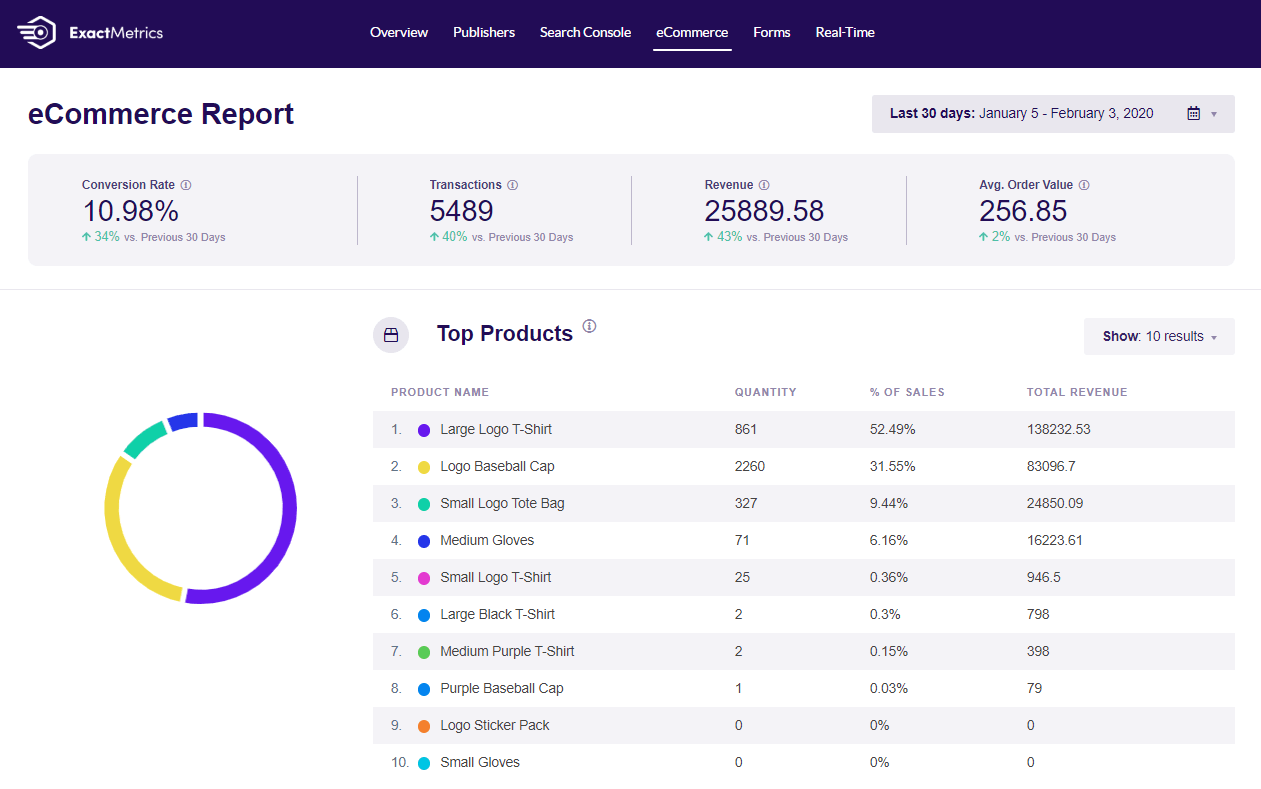 The report will give you insights about the conversion rate, the number of transactions, total revenue, and average order value for the date range you select.
It also shows your top products, their order quantity, total revenue, and percentage of sales. Using this data, you can see how well your store is performing, which products are selling best, and how can you boost your revenue.
And that's it!
We hope you liked our article on how to set up goals in Google Analytics. You can also go through our guide on Google Analytics custom dimensions complete beginners guide.
Don't forget to follow us on Twitter and Facebook to stay updated with the latest guides on Google Analytics.