Are you having trouble figuring out which goal to select in Google Analytics? For any business, it's important to track the performance of its campaigns.
But if you cannot set up goal tracking properly, you won't be able to accurately track your data and see how your marketing efforts are doing.
This is where selecting the right goal type is vital.
In this article, we'll see which goals are available in Google Analytics. We'll also explain which goal to choose in different situations.
What are Google Analytics Goals?
Goals help you track different actions performed by users on your website. And actions could include buying a product, visiting a page, submitting a form, and more.
To track these interactions of your visitors, you need to select the right goal. But it's not that simple.
Did you know, there are 4 different types of goals offered by Google Analytics?
These include destination, duration, pages/screens per session, and event.
Since each of these are for a different purpose, many website owners struggle when they're creating goals in Google Analytics.
To help you out, let's take a closer look at each goal type…
1. Destination Goal Type
Destination goals let you track users if they land on a specific page on your website. You can enter the URL of any page as a goal and Google Analytics will track it as a conversion when someone visits that page.
You might wonder, how is destination goal useful for you?
Let's say you have a thank you page which visitors see when they sign up for your email newsletter. By setting up a destination goal, you can see how many people subscribed to your newsletter by counting the pageviews.
And if you have an eCommerce store, you can even use destination goals for tracking order completion.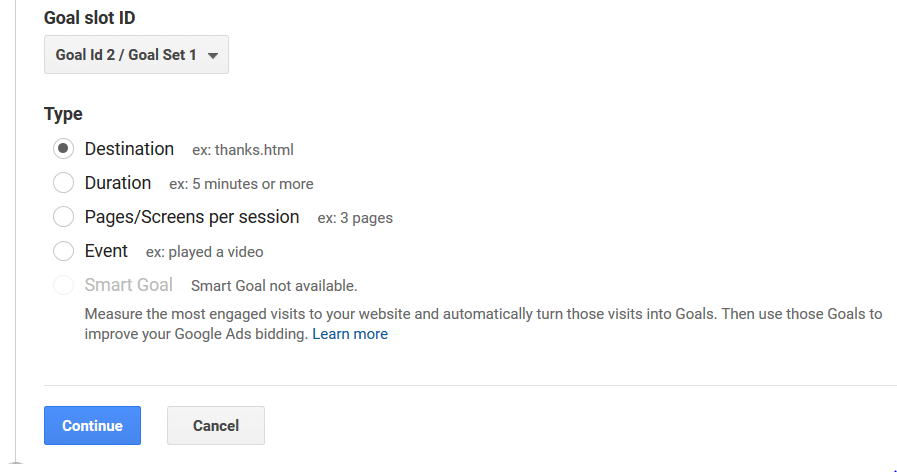 Now, as you start to set up the goal, there are different settings you can change under the destination goal. First, you'll need to match the URL type and you can select from:
Equals to – If you have one specific page to track, you can select Equals to and add the web address, like www.example.com/thank-you or /thank-you, for tracking.
Begins with – Do you have more than one page that you want to track? If so, then use Begins with and Google Analytics will track all your links. This is good if you've set up custom URLs with UTM codes for your campaigns.
Regular expression – This offers more flexibility in terms of defining URLs and is good if you want to specify subdomains, UTM codes, filters, segments, and more by yourself.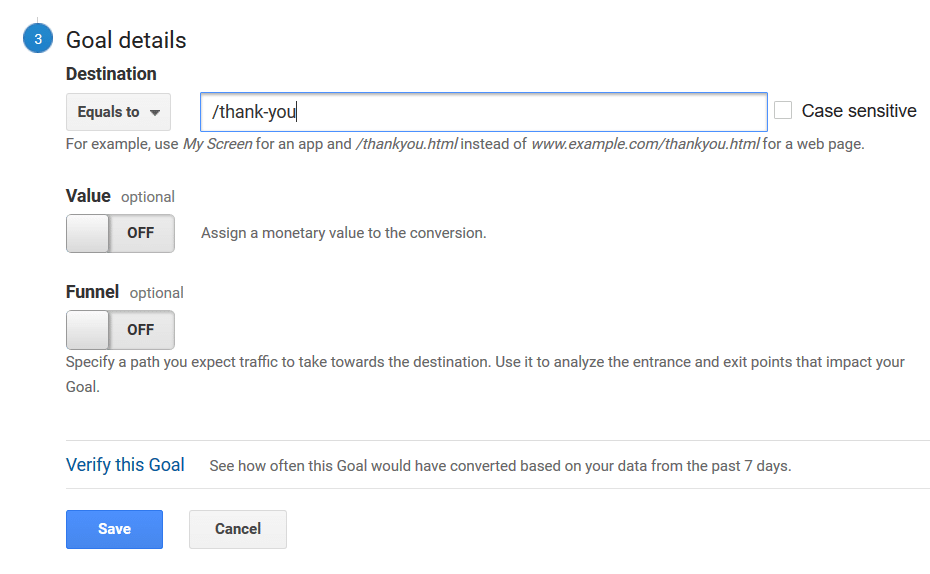 After selecting the URL match for your goal, you can also assign a monetary value for your conversion. And you can do that by toggling the Value option. This is perfect for eCommerce store owners who want to track purchases.
Besides that, you can also enable the Funnel option, in case you want to define a specific path a user took before reaching this page.
Once you've entered these details, you can verify your goal. Google Analytics will then show you how your goal will convert using the past 7 days data.
After you're satisfied with all the settings, click Save. You've successfully created a destination goal for your site.
Now, let's see what's duration goals in Google Analytics.
2. Duration Goal Type
Duration goals let you see how much time a visitor spends on your website. This type of goal is useful if you want to track your website's user engagement.
For instance, you can see how many people stay on your site for more than 10 minutes, read your content, and engage in different activities. Through a duration goal, you can identify these users.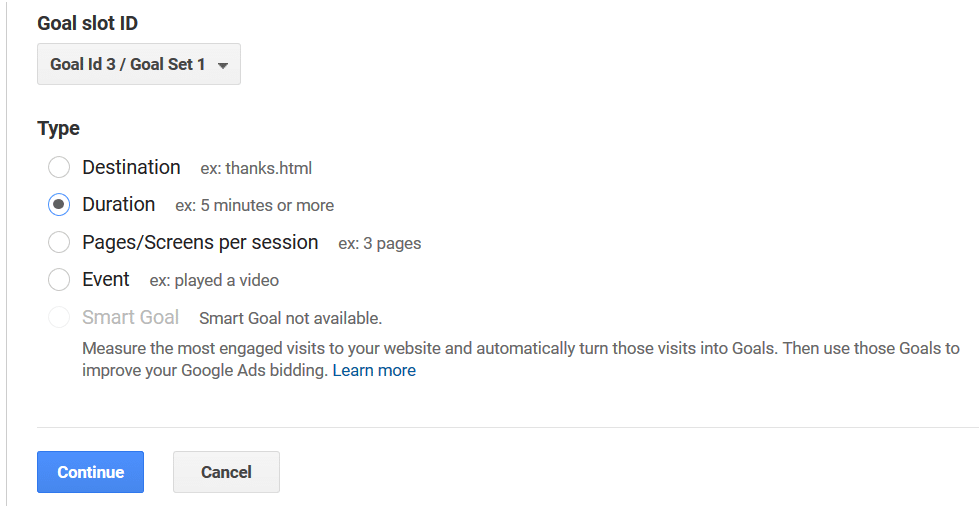 Under the settings for the duration goal, you can set the time limit you want to track. You can specify in terms of hours, minutes, and seconds.
An important thing to remember here is to set a realistic time frame that's not too low or high. To get an idea, check your website's average session duration.
Let's say its 2 minutes and 30 seconds. But to find out highly engaged visitors, you would want to see how many people stay on your site beyond this time. So, you can set 5 minutes as your duration.
And if you want, you can even assign a monetary value to the goal by toggling the Value option to ON.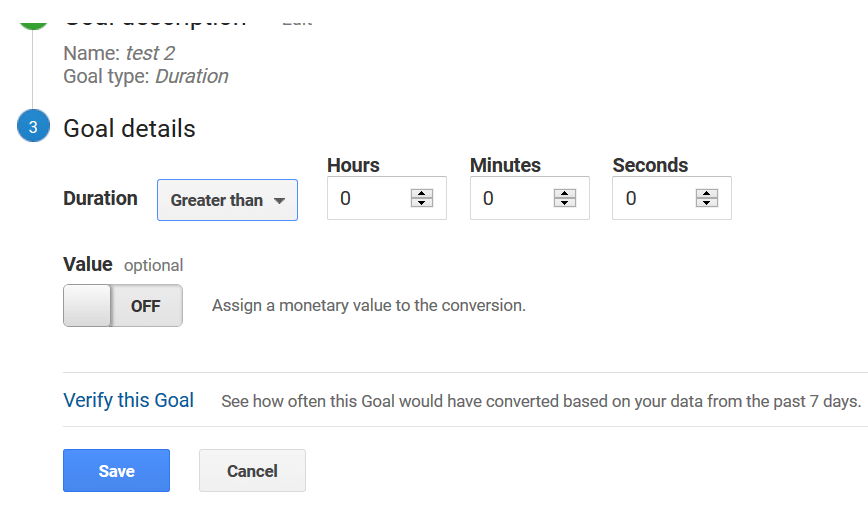 You can then repeat the process for verifying your goal, then hit Save and Done. And your duration goal is now ready to be tracked by Google Analytics.
With that, ever wonder how many pages a visitor views on your site before exiting? Here's how you can find out…
3. Pages/Screens per Session Goal Type
Just like duration goal, pages/screens per session goal also helps in measuring your website's engagement. But instead of looking at how much time a user spends on your site, it tracks the number of pages a visitor views before leaving.
You can use this goal to improve your site's performance. You'd want people to view as many pages as possible. By setting a goal, you can see if your site needs improvement or not.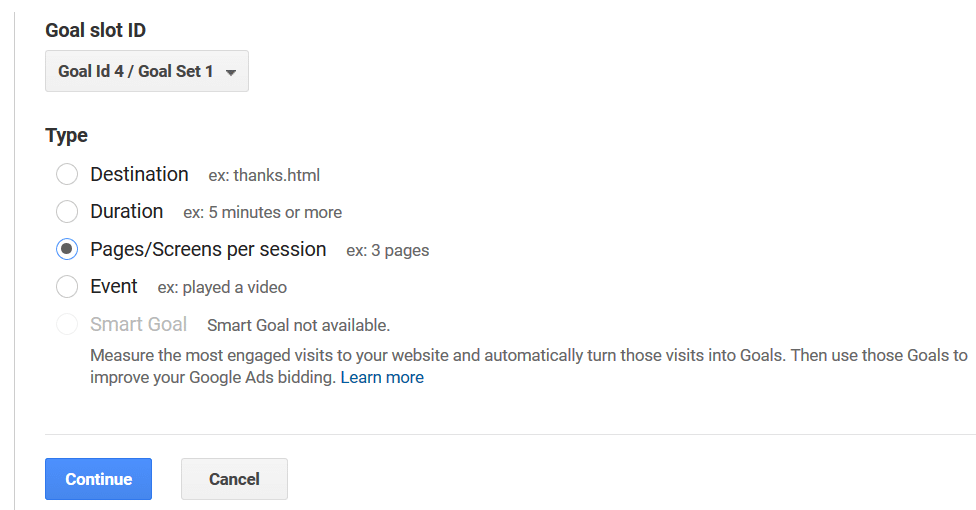 You can specify how many pages or screens users should view before they're counted as a conversion. For instance, you specify greater than 5 pages/screens per session as your goal and track your highly engaged users.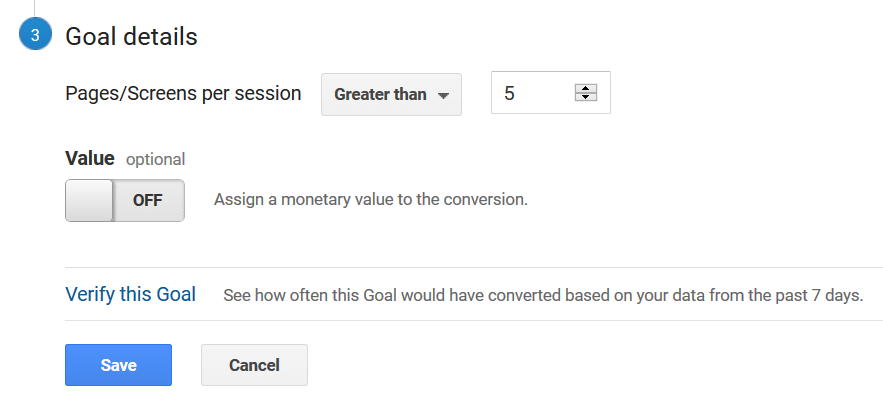 Next, verify your goal to see if it's working properly and then click Save. You've successfully created a duration goal.
Now, ready to learn about the last goal type, event?
4. Event Goal Type
Event goal allows you to track specific actions your visitors perform on your site. They're great for finding out how many people played a video, clicked on a link, submitted a form, downloaded a file, or track clicks on AdSense banner ads.
Do note these interactions aren't automatically tracked in Google Analytics. To see how they are performing, you'll have to create an event goal.
On the other hand, you can also use ExactMetrics. It's the best premium WordPress Analytics plugin.
Using the plugin, you can easily track forms, outbound links, file downloads, and more with a click of a button.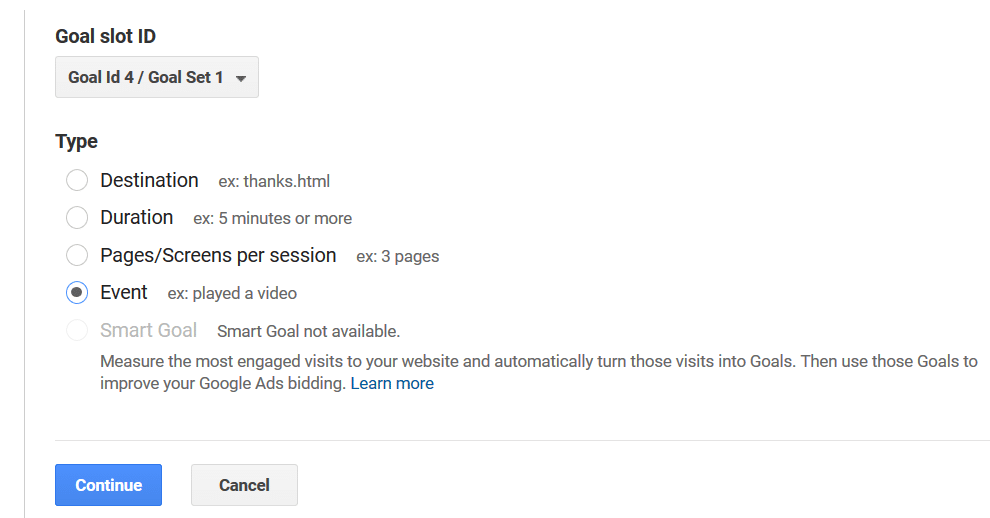 Once you select the event goal, the next thing you'll have to do is specify the following details:
Category – You can give a name to your interaction so that you can track in Google Analytics (like forms)
Action – This is the desired action you want to track but you can simply enter conversion here
Label – If you have multiple forms, downloadable files, or videos, you can use a label to specify each content, in this case, we've entered a specific form ID for tracking
Value – You can also enter a monetary value for your event goal if you want in this field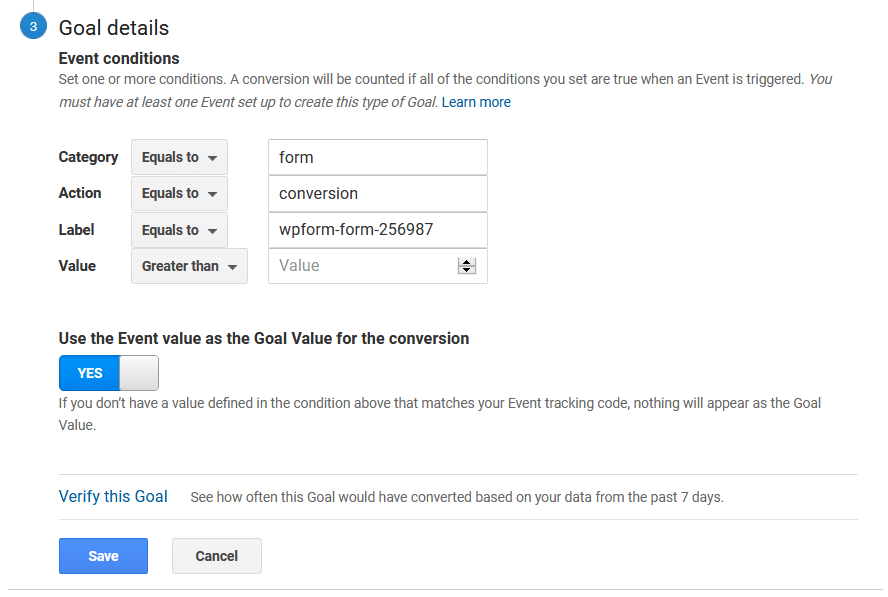 Once you've entered these details, click verify this goal to check if the tracking is set up properly. Then click Save and your event goal is now ready for tracking.
And there you have it, folks!
You now know different types of goals offered by Google Analytics. Using these goal types, you can set up tracking on your website with ease and get accurate data to grow your business.
We hope you liked our article on which goals are available in Google Analytics. You can also read our guide on how to add Google Analytics to your WordPress site.
And don't forget to follow us on Twitter and Facebook to stay updated with the latest guides on Google Analytics.