Ever wonder how far people scroll your blog posts or product pages before exiting your website?
Tracking the scroll behavior of your visitors helps in increasing engagement and boosting conversions. You can optimize your web pages based on how people move throughout your website.
But Google Analytics doesn't offer scroll depth tracking by default. You'd have to add a code snippet or manually set up tracking. This can be tricky and time-consuming. That said, there's an easier way!
In this article, we'll show you how to track scroll depth in Google Analytics without editing code. Let's start…
Why Use Google Analytics Scroll Tracking?
Scroll tracking in Google Analytics can uncover amazing insights about your visitor's behavior. You can use actual data to create marketing campaigns and content that get engagement and conversions.
Here's how you can use scroll tracking on your WordPress website:
Boost Clicks and Conversions – You can find out how far users read your content or scroll a webpage. Then use the data to show call to action (CTA) buttons and products at the right place. This will help you get more clicks and increase your chances of getting more conversions.
Keep Visitors on Your Site – Scroll tracking can show you the point where people exit your website. You can use different ways to keep people engaged, such as exit-intent popups or free ebooks.
Better Understand Your Visitors – It also helps understand your visitors' behavior, how they scroll through a web page, and when do they leave your website. You can even see the data in real-time to find out how people interact with your site.
That said, are you ready to learn how to track scroll depth on your WordPress site in Google Analytics?
How to Set Up Google Analytics Scroll Tracking
Google Analytics is a powerful tool, but when it comes to tracking scroll depth, it doesn't offer the feature out of the box.
You'll have to set up scroll tracking in Google Analytics manually. Now, there are different ways you can go about it. First, use Google Tag Manager to see how far people scroll a page. However, the setup process is lengthy, complicated, and beginners can easily get lost.
The second method is by adding a piece of tracking code to your website. This would require editing code on your website or hiring a developer.
But what if you could set up scroll tracking in Google Analytics with a click of a button?
Using ExactMetrics, you can enable scroll depth tracking in just a few clicks, and there's no need to touch a single line of code. To get started, just follow these steps:
Step 1: Install ExactMetrics
First, you'll need to install ExactMetrics on your WordPress website. To use the scroll tracking feature, you'll need a Plus or higher license.
Next, download the ZIP files from your account area by navigating to the Downloads tab.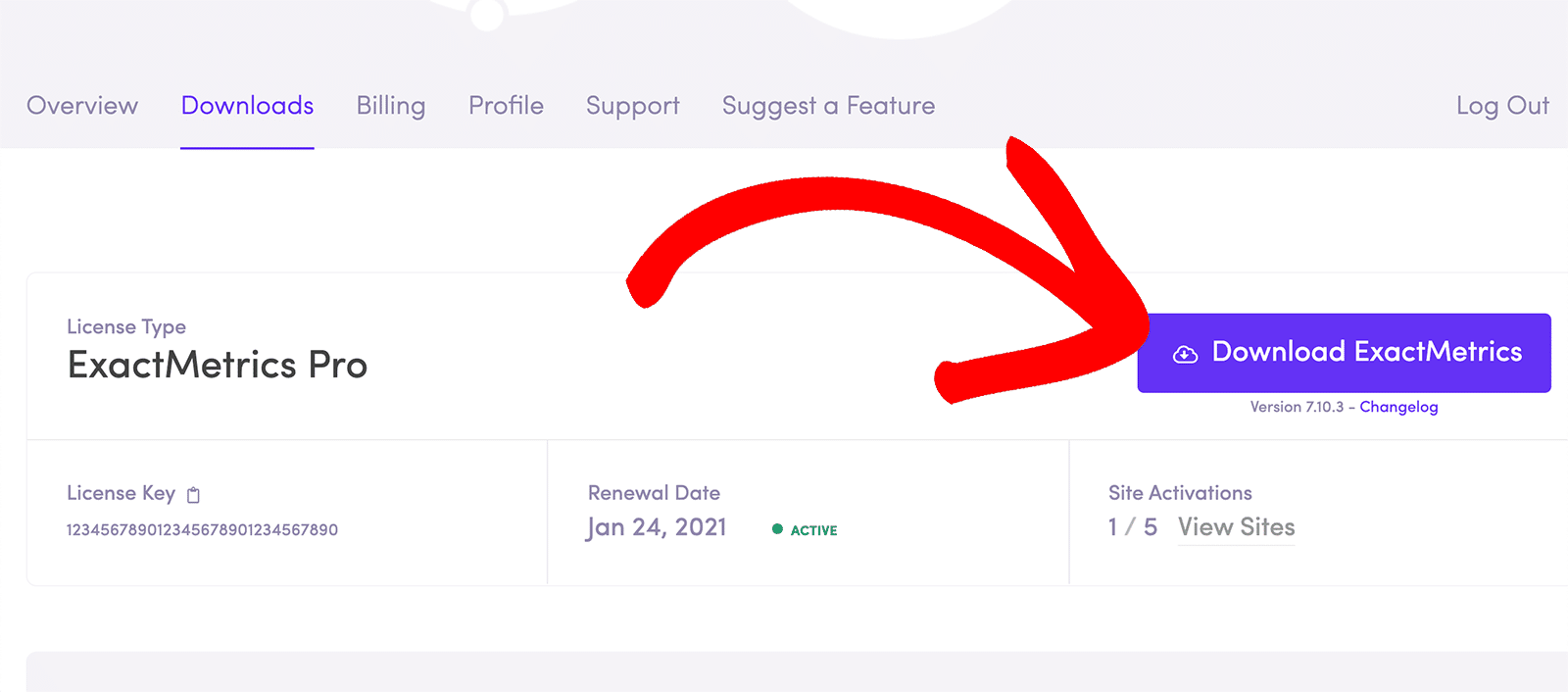 After that, upload the ZIP files to your WordPress website. You can do that by going to your WordPress admin area and then click on Plugins » Add New » Upload Plugin.

Once you upload the plugin, go ahead and install and activate it.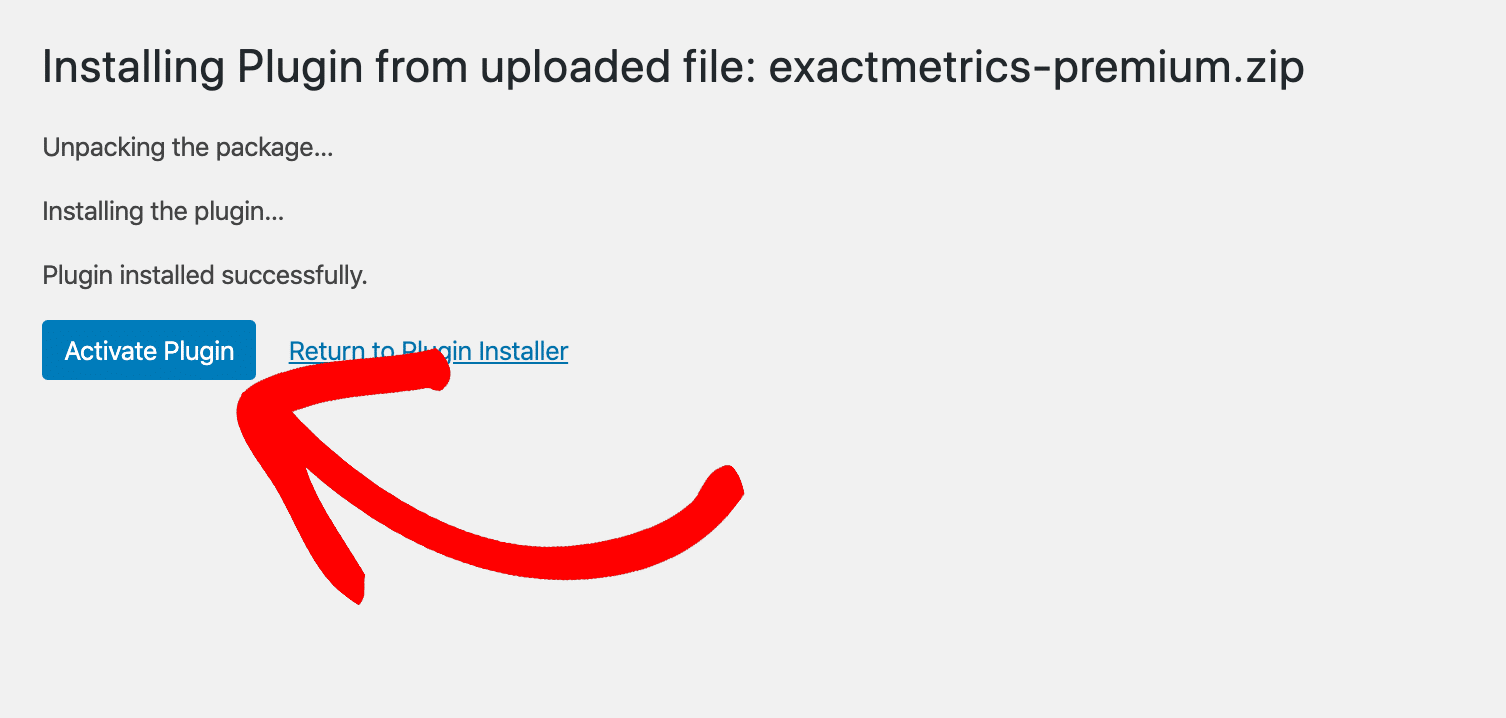 Step 2: Connect Google Analytics to WordPress Site
Now, you'll have to set up Google Analytics on your WordPress website. With ExactMetrics, it's a walk in the park.
The plugin adds Google Analytics tracking to your WordPress site without coding. Just follow the steps in the setup wizard to get started.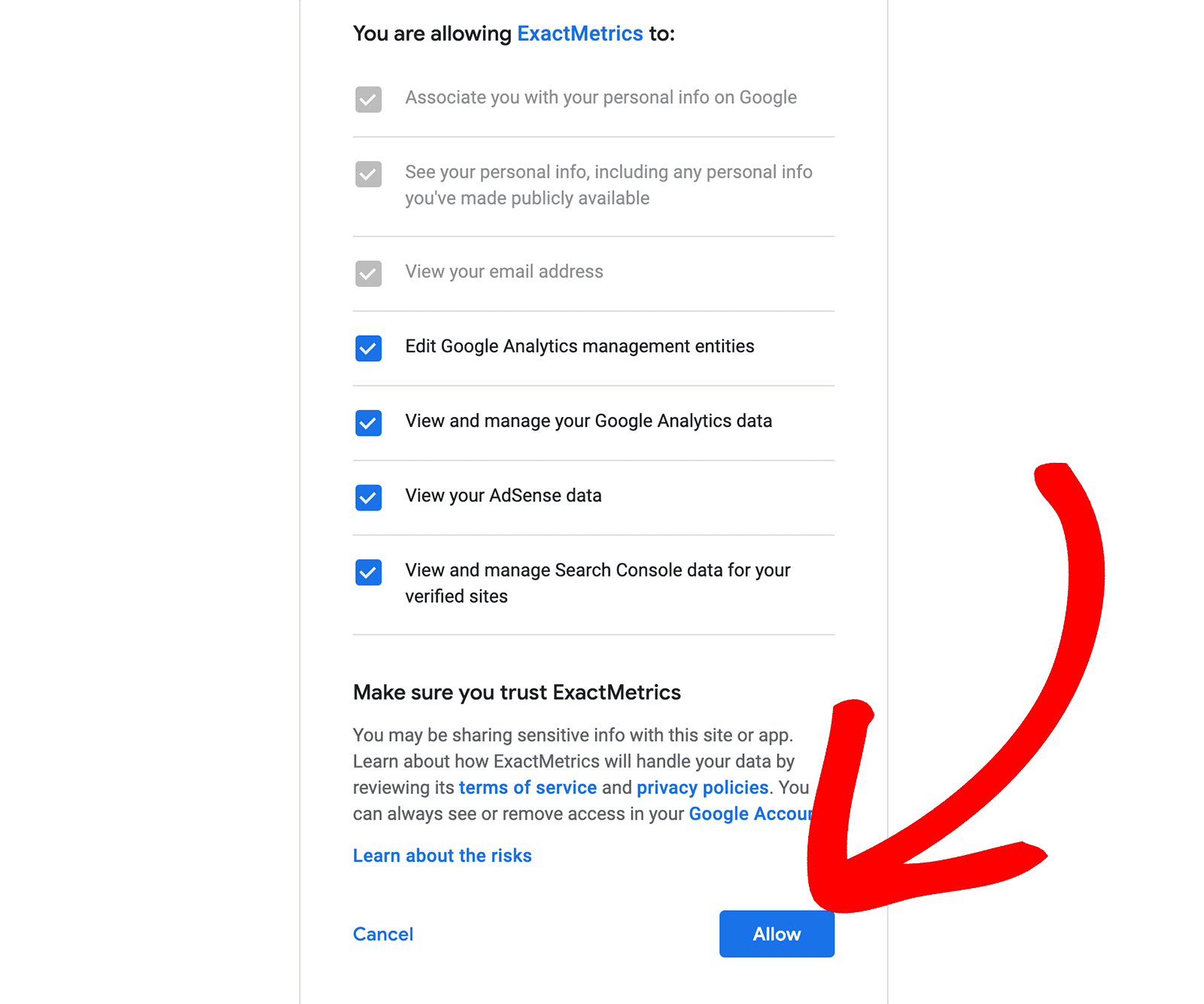 For more details, check out our guide on how to properly add Google Analytics to your WordPress website.
Step 3: Enable Scroll Tracking
Once Google Analytics is added to your site, the next thing is to enable the scroll tracking feature in ExactMetrics.
You can do that by going to ExactMetrics » Settings » Engagement and then navigate to Scroll Tracking. Next, enable the option for Track Scrolling Depth.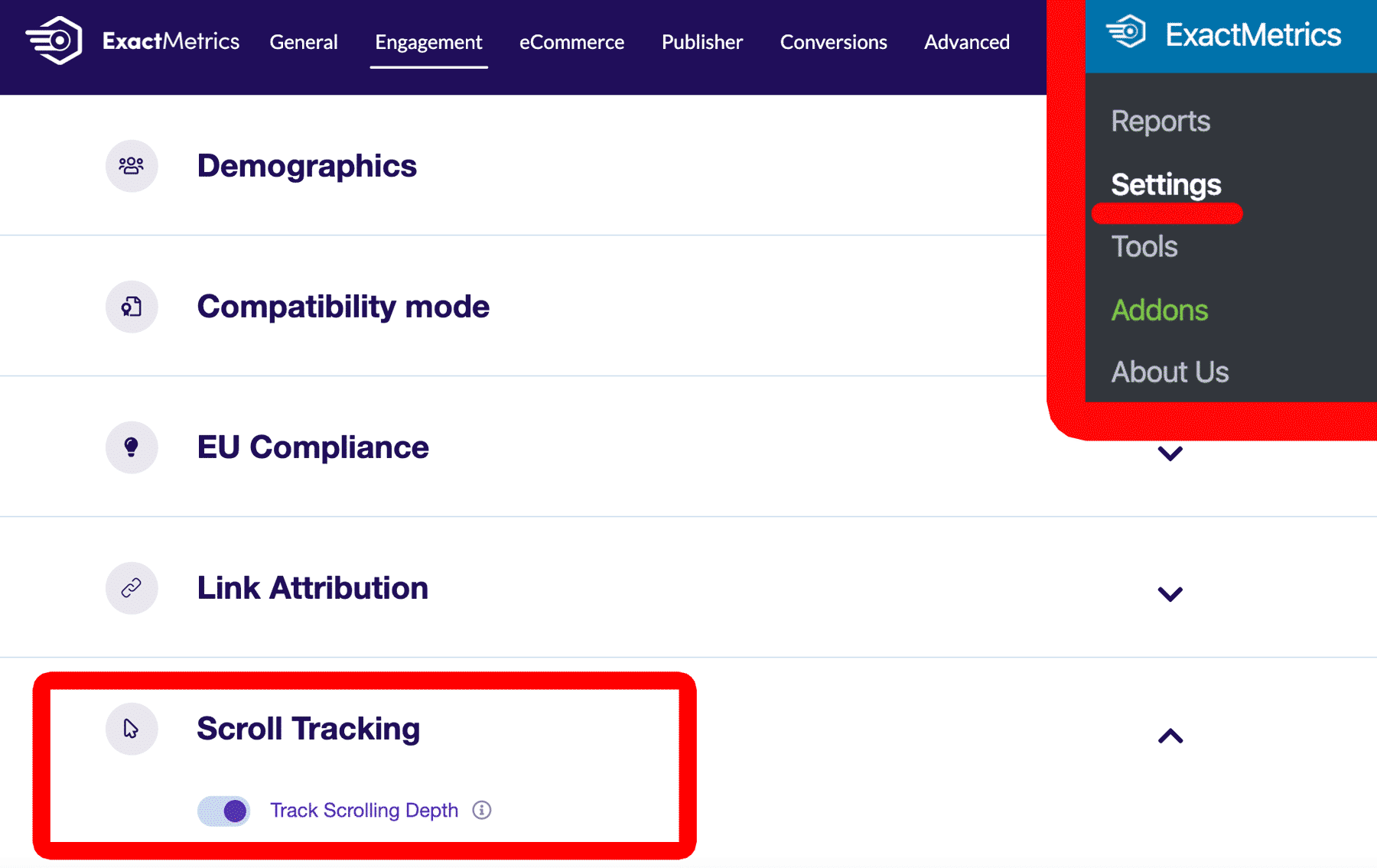 ExactMetrics will start to record the average scroll depth of your visitors in Google Analytics. It will set up events, which will trigger when a user scrolls 25%, 50%, 75%, and 100% on a webpage.
With that, let's see how you can see the data of your user's scrolling behavior.
How to View Scroll Tracking in Google Analytics
With ExactMetrics, you can view the average scroll depth inside your WordPress dashboard. There's no need to leave your site.
To see the report, go to ExactMetrics » Reports » Publishers and then scroll down to see the Average Scroll Depth of your website.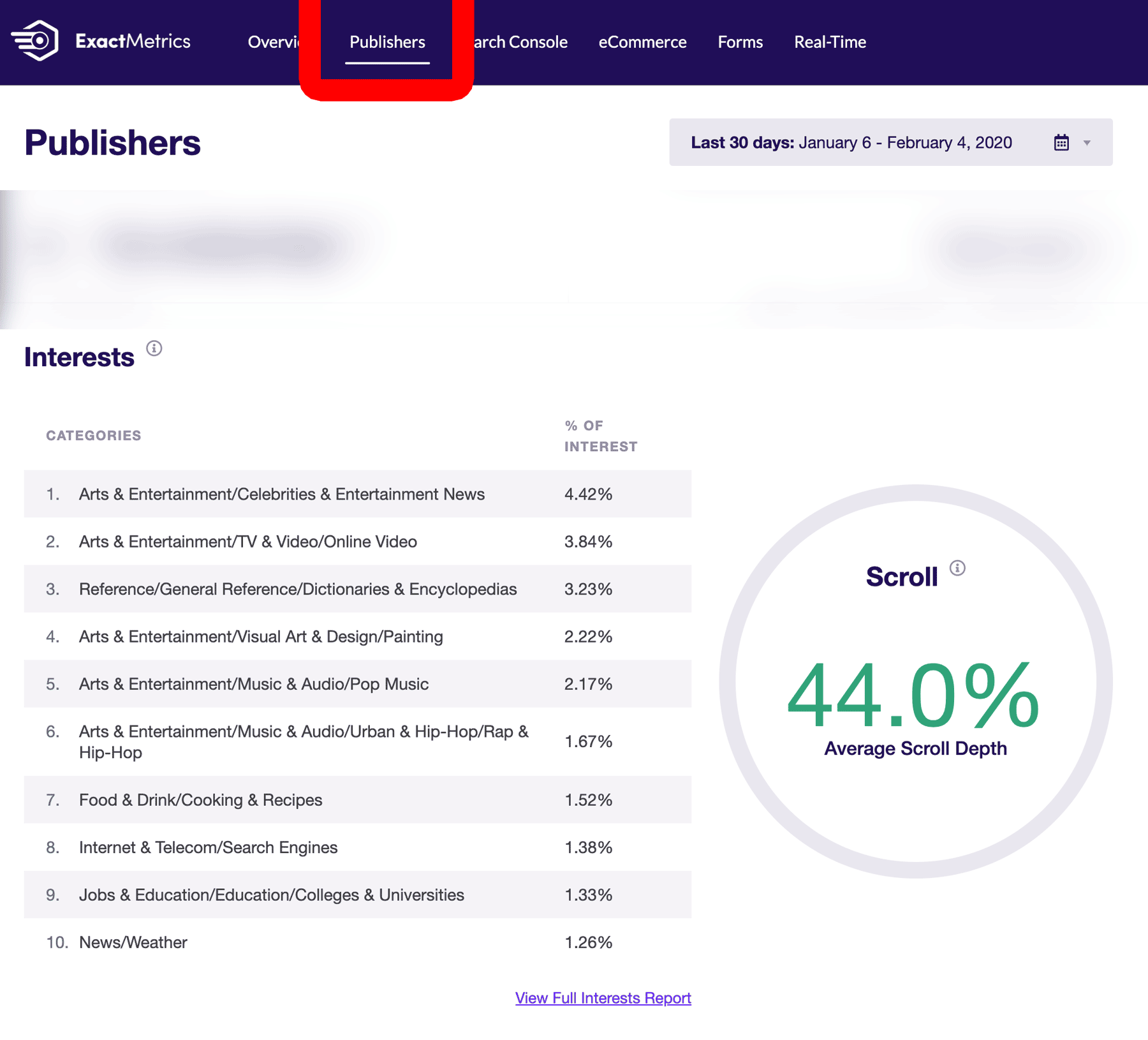 Besides that, you can also view the data in Google Analytics. Just log in to your account and then go to Behavior » Events » Overview. Now, click on Scroll Depth under Event Category.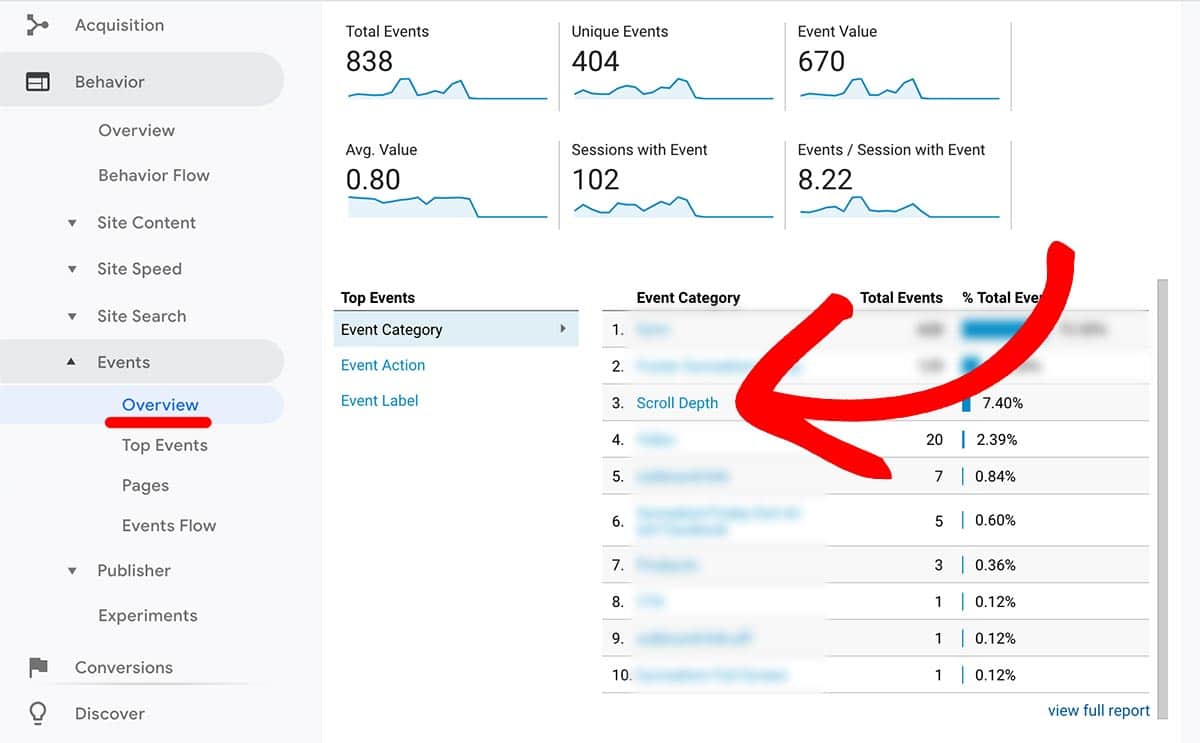 To see how far people scroll a page, click the Event Label option.

On the next screen, you'll see the number of events triggered for each scroll depth percentage. For example, you can see that 31 people scrolled 25% of your website.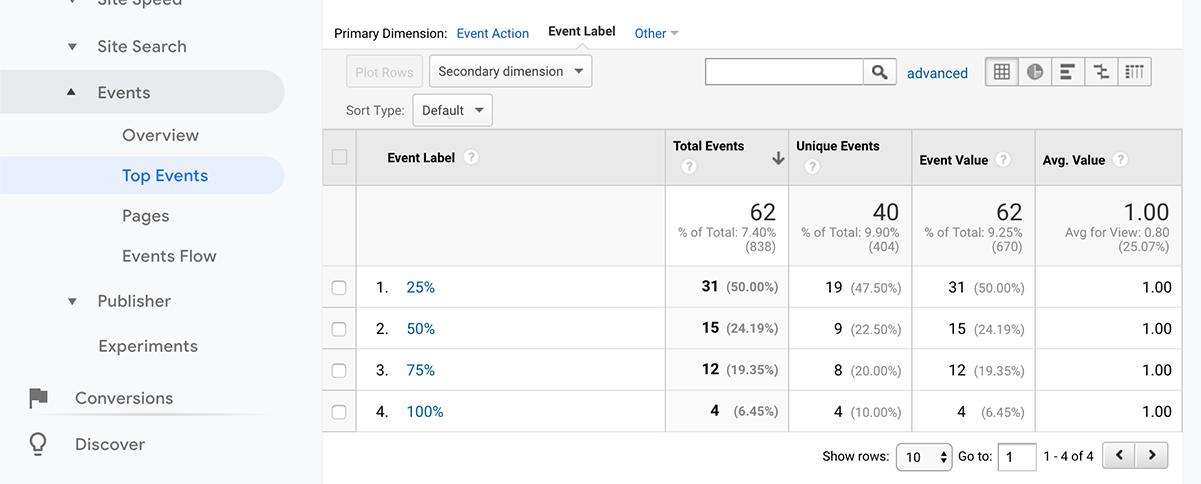 If you want to know the scroll depth of specific pages, then you can use a Secondary Dimension. Simply click the option and select Page Title from the dropdown menu. This will show different pages and the scroll depth percentages.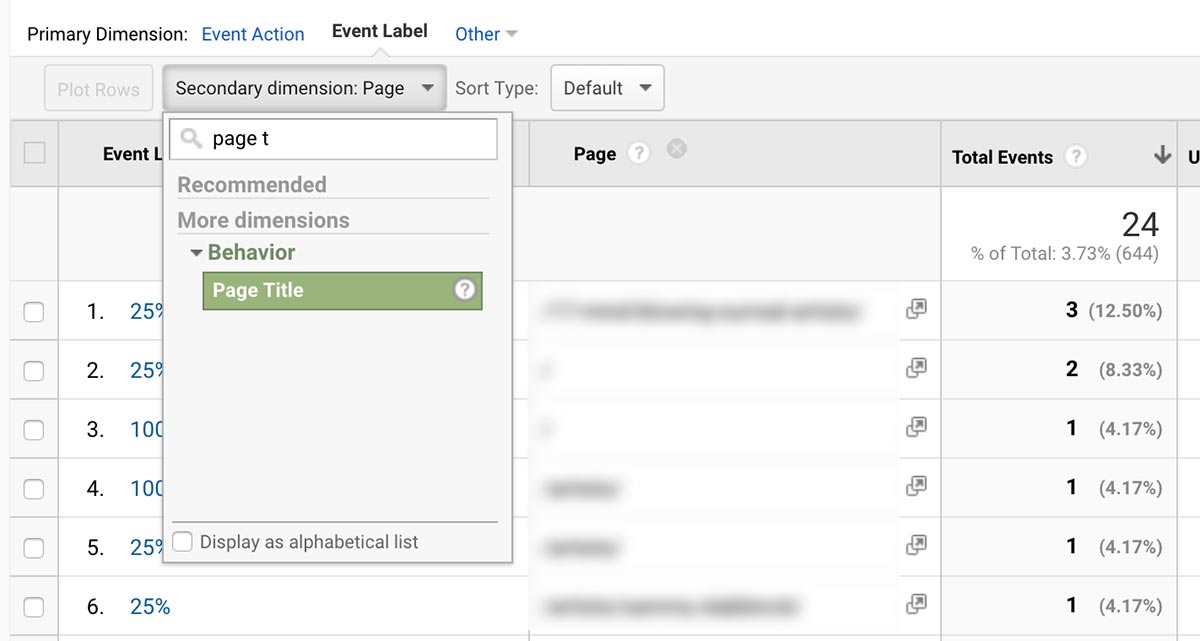 You can also view scroll tracking in real-time by viewing the Real-Time Events report. Just go to Real-Time » Events and see how many people are scrolling through your website right now.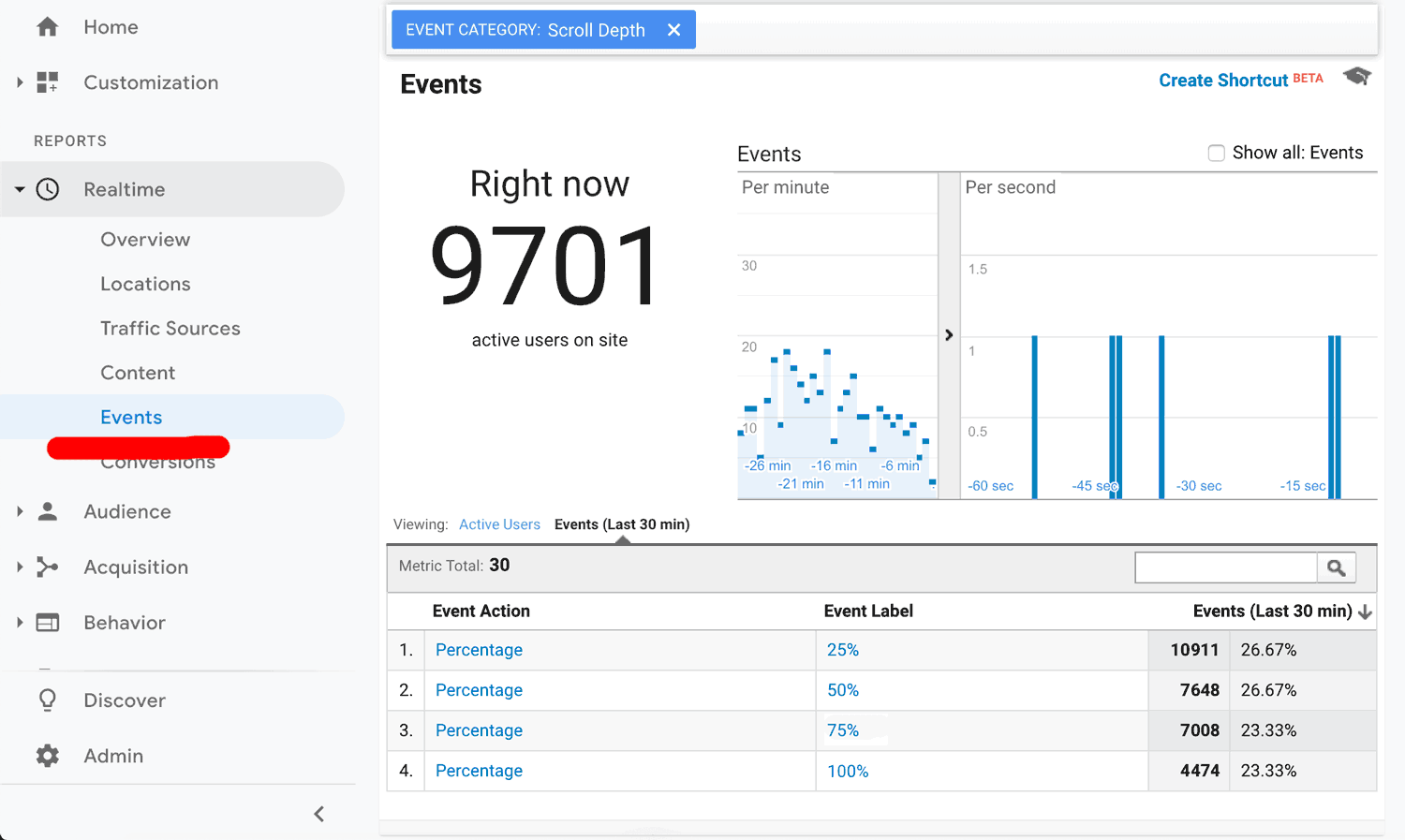 And that's it!
We hope you liked our article on how to track scroll depth in Google Analytics without editing code. You can also check out our guide on how to track cart abandonment in Google Analytics.
Don't forget to follow us on Facebook and Twitter for more tutorials and tips on Analytics for WordPress.