Do you want to know which ad banner will generate the most clicks? Or do you want to know which landing page design will perform the best?
Through split testing, you can run experiments and optimize your marketing efforts.
In a split test, you make two different variations of your campaign and test their performance. The end objective can be increasing conversion, sales, traffic, engagement, and more.
You can experiment with just about anything. For instance, you can test your ad copies, call to actions (CTAs), headlines, or landing page design.
And a simple way of creating a split test is through Google Optimize. In this article, we'll guide you through how to run a split test in WordPress with Google Optimize.
What is Google Optimize?
Google Optimize is a tool by Google that lets you test different elements on your landing pages. You can set an objective and then see which variation of your page performs well.
The best thing about Google Optimize is that it uses the power of Google Analytics to measure your experiments. And you can see instant results to optimize your campaigns.
So, what can you do with Google Optimize? Here are some the benefits of conducting split tests with the tool:
Create Landing Pages that Convert: You can A/B test your landing page with different CTAs, headlines, and content. Then use the data to see which page converts the best.
Reduce Bounce Rate: If you're having difficulty keeping visitors on your website then you can run a split test. By changing different elements in your content, you can find a winning combination that reduces the bounce rate.
Optimize Banner Design: Creating banner ads can be hard work, but how do you know which design will produce results? Through split testing, you can obtain data about banner design and elements you should be using.
Improve the ROI of Your Marketing Campaigns: Since promotional activities can cost money, you can use A/B tests to reduce the risk of failure. By understanding what's working, you can improve the ROI of your campaigns and avoid mistakes.
Now, let's go through Google Optimize tutorial and see how you can conduct split tests on your website.
How to Set Up Google Optimize on Your WordPress Site?
Just follow these steps to configure Google Optimize on your WordPress website and you'll be conducting experiments in no time.
Step 1: Install ExactMetrics WordPress Plugin
When it comes to setting up Google Optimize to run split tests, you'll have to add a code snippet in the header of your website. This is easy if you're familiar with coding and understand where you insert the code.
However, it's difficult for new users, as it requires coding. This is where ExactMetrics comes in handy.
It's the most popular WordPress plugin for Google Analytics and provides detailed reports about your site's performance in your dashboard. Using ExactMetrics, you can integrate Google Optimize with Google Analytics with just a few clicks and without any coding.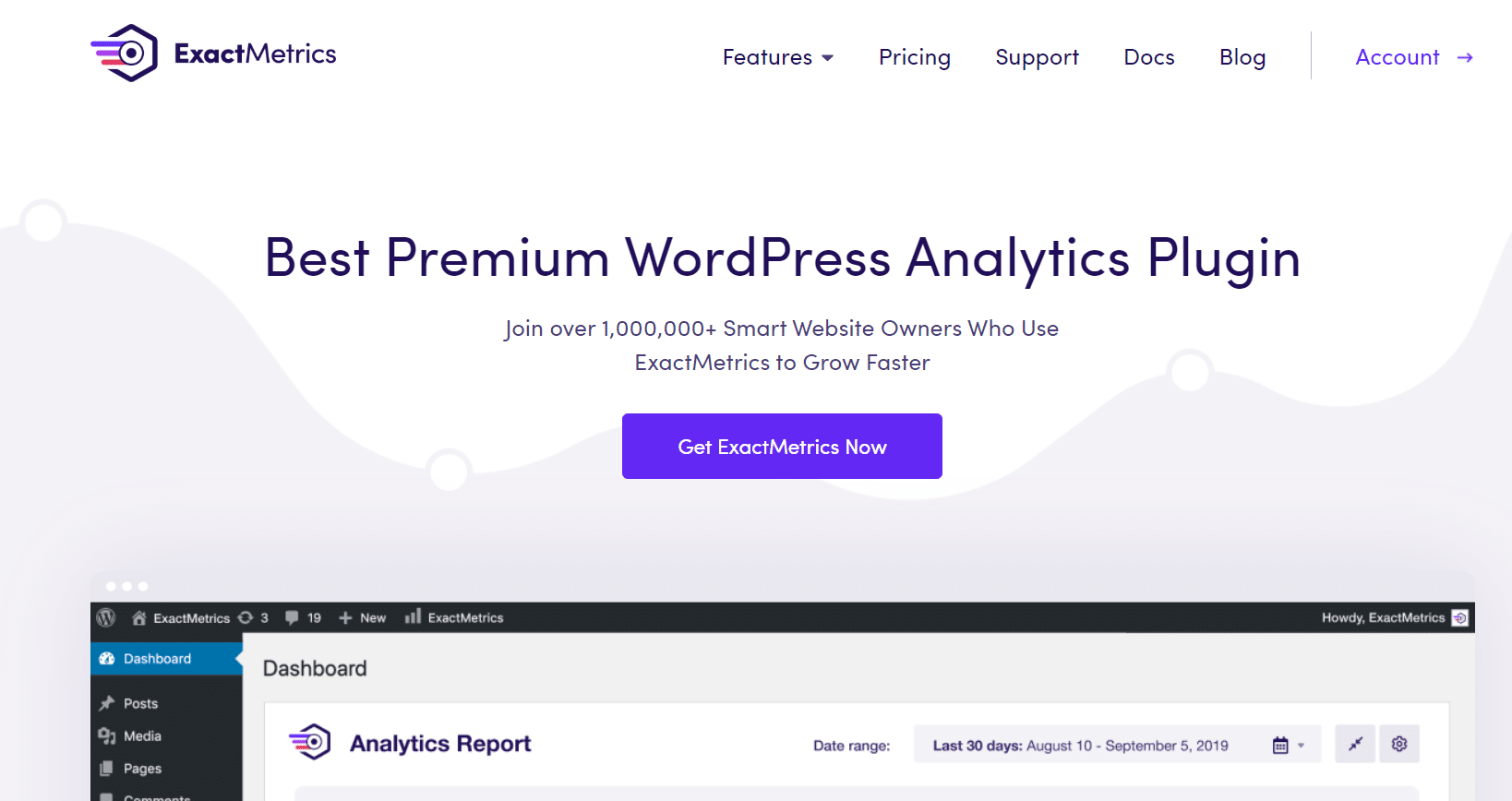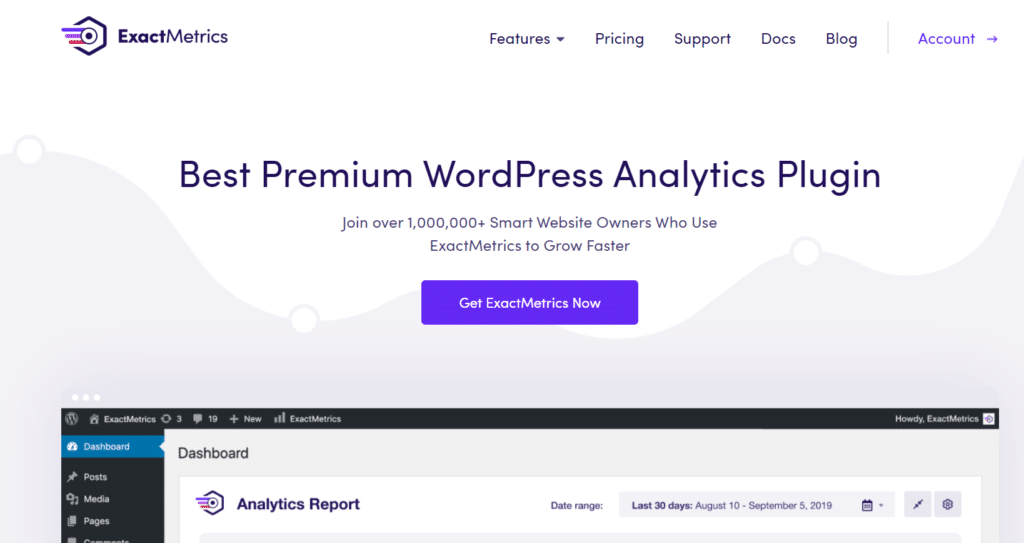 To install ExactMetrics, go to Plugins from your WordPress dashboard and click Add New. Now search ExactMetrics in the search bar.
You'll see the plugin by the name of Google Analytics Dashboard for WP by ExactMetrics (formerly GADWP). Then install and activate the plugin.
Step 2: Activate ExactMetrics Google Optimize Addon
Once the plugin is active, the next step is to get hold of Google Optimize Addon. To access the addon, you'll need a Pro license plan.
Now go to ExactMetrics » Addons and then navigate your way to Google Optimize. Click Install and Google Optimize addon will automatically activate for use.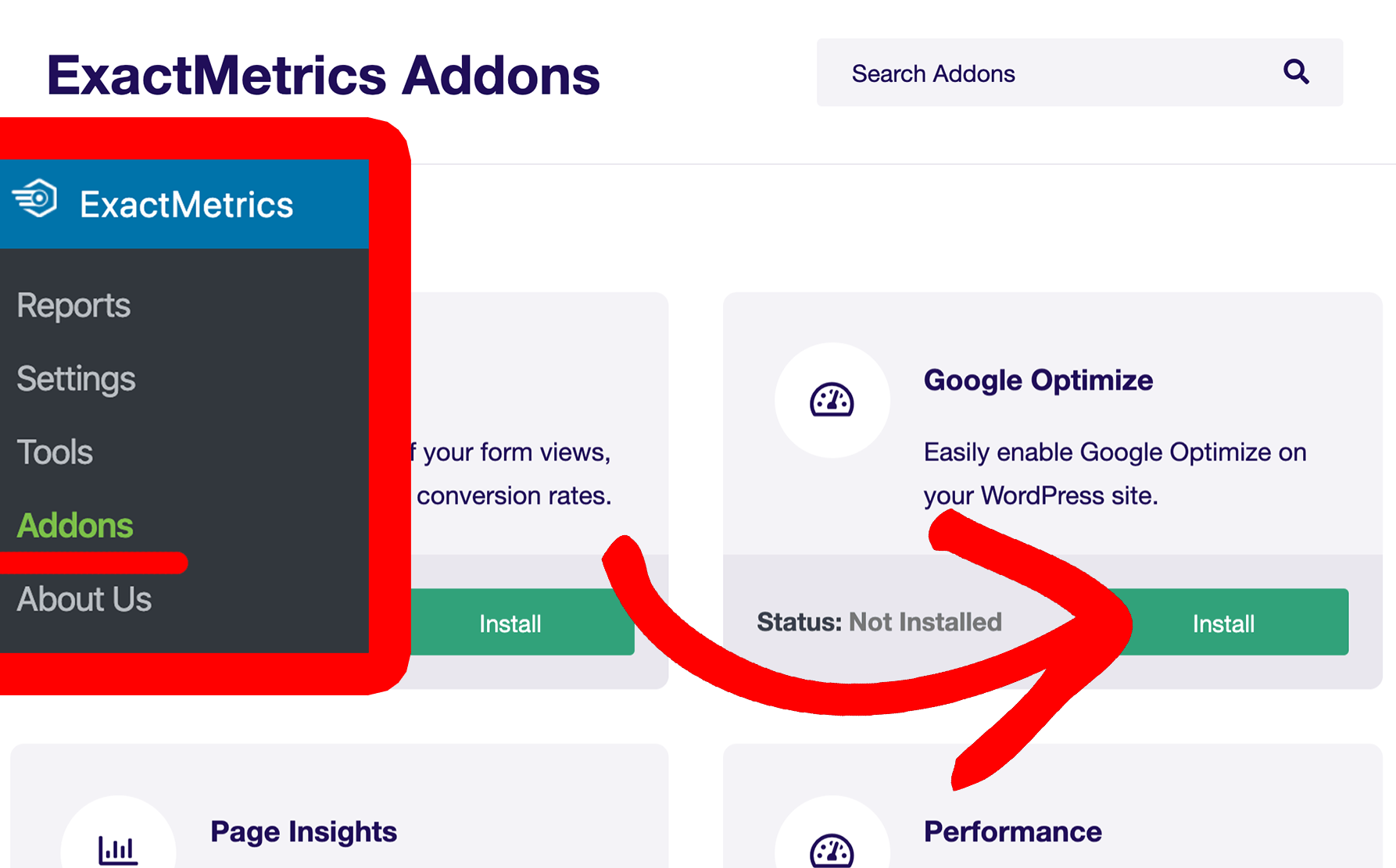 Step 3: Create a Google Optimize Account
To connect Google Optimize with your WordPress site, you'll need a Google Optimize account. You can easily create one by going to Google Optimize website.
Now enter your Account Name and Container Name to get started. The account name is your company's name, like ExactMetrics. While the Container Name is your website, like www.exactmetrics.com.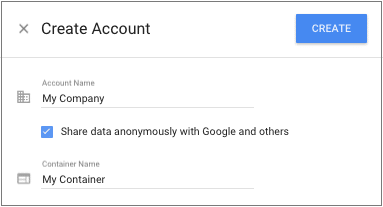 After entering these details, you'll have to agree to the Terms and Service of Google Optimize and click Create.
Step 4: Connect Google Optimize with Google Analytics
The next step is to link your Google Optimize account with Google Analytics. You can do that from your Optimize homepage. From the Container setup panel on your right-hand side, go to Link to Google Analytics and click Link Property.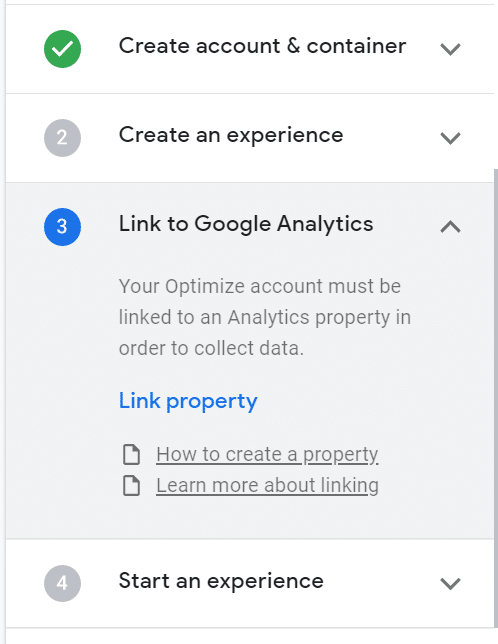 Now select your Google Analytics property to connect with Google Optimize. Then click Link to continue.

You'll see a popup message asking to add optimize snippet to your site. You can select Skip for now, as it requires adding a code snippet to your website header. We've got a much simpler way of adding Google Optimize to your WordPress website.
Step 5: Copy Your Container ID
For adding Optimize to your website, you'll need a Container ID. There are different ways of obtaining the Container ID.
First, go to your Google Optimize homepage and view the Container setup options panel. Then copy the Container ID, which will be in the format GTM-XXXXXXX or OPT-XXXXXXX.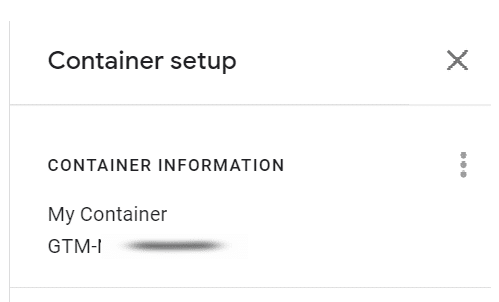 Second, you can go to the Account Page in Google Optimize and view your Container ID. Copy the ID as you'll need to enter it in ExactMetrics addon.

Step 6: Enter the Container ID in ExactMetrics Addon
Now go back to your WordPress website and access the dashboard. Then go to ExactMetrics » Settings » Conversion.
Under the Google Optimize option, enter the Container ID you copied in the previous step. Then click Save Changes.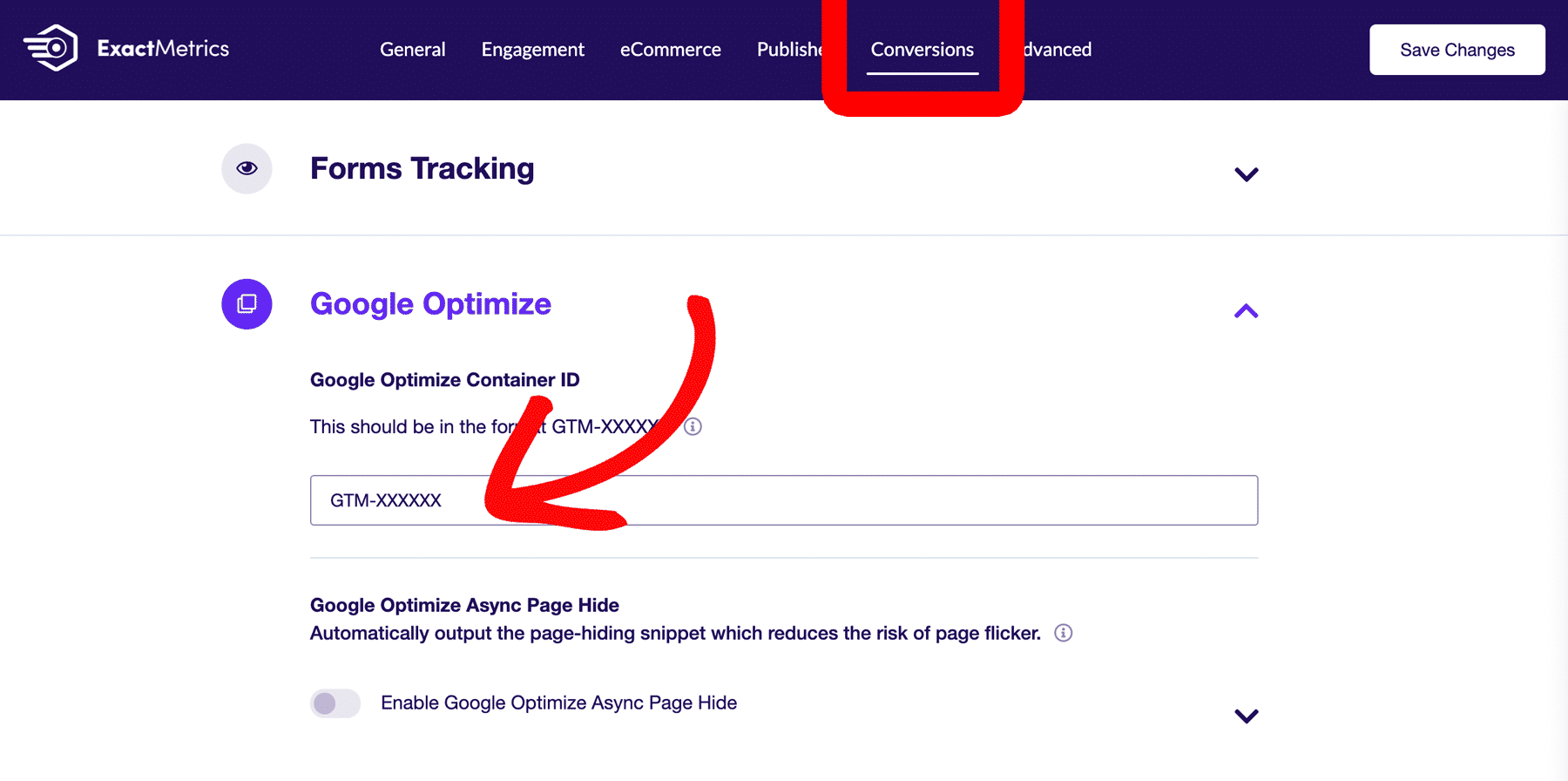 And that's it! You've now successfully added Google Optimize to your WordPress website. So, what's next? Let's set up your first experiment.
How to Create a Simple Split Test Using Google Optimize?
After setting up Google Optimize, you are ready to create a split test for your website.
Step 1: Set Up Your First Experiment
To start, go to your Google Optimize homepage and under the Experiences tab, click Let's go to set up your first experiment.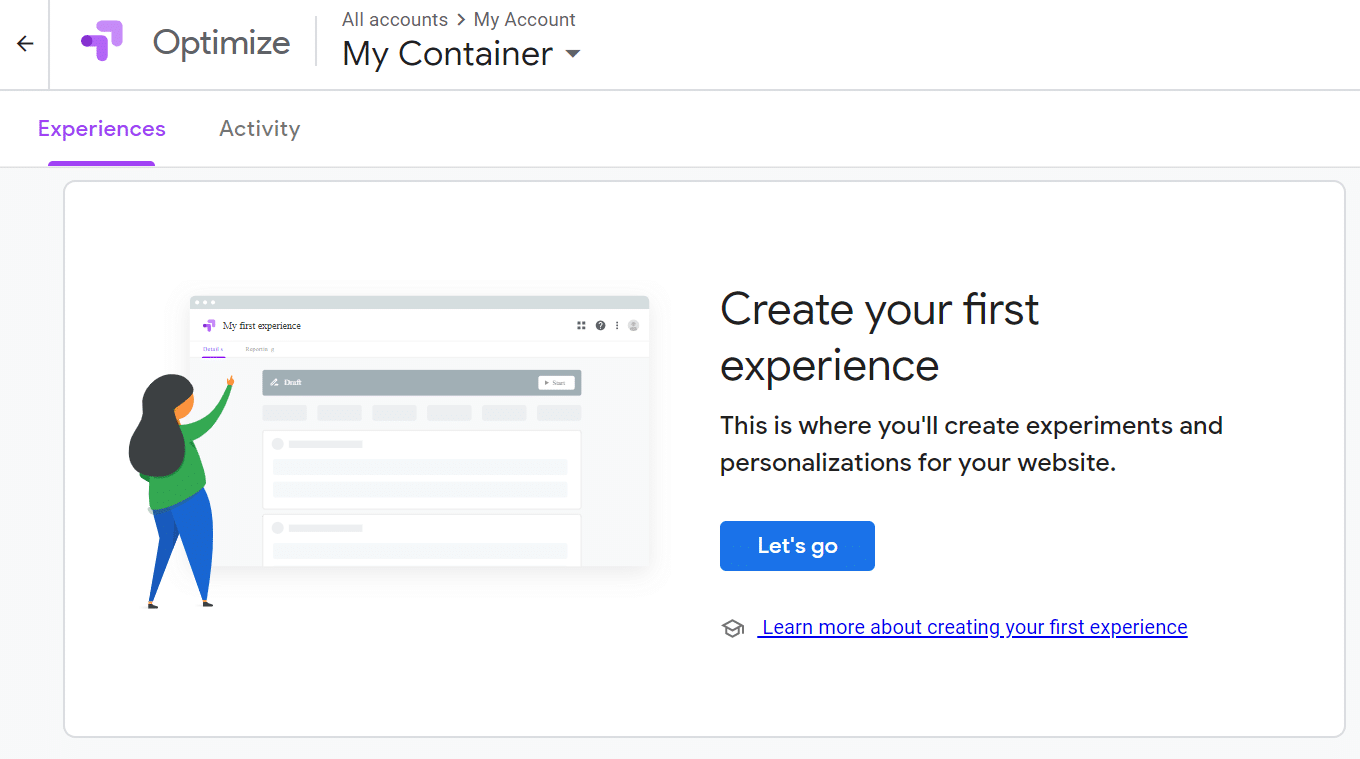 You'll have to give a name for your experiment, enter the URL of your webpage, and select an experiment type. For setting up a split test, choose the A/B test option.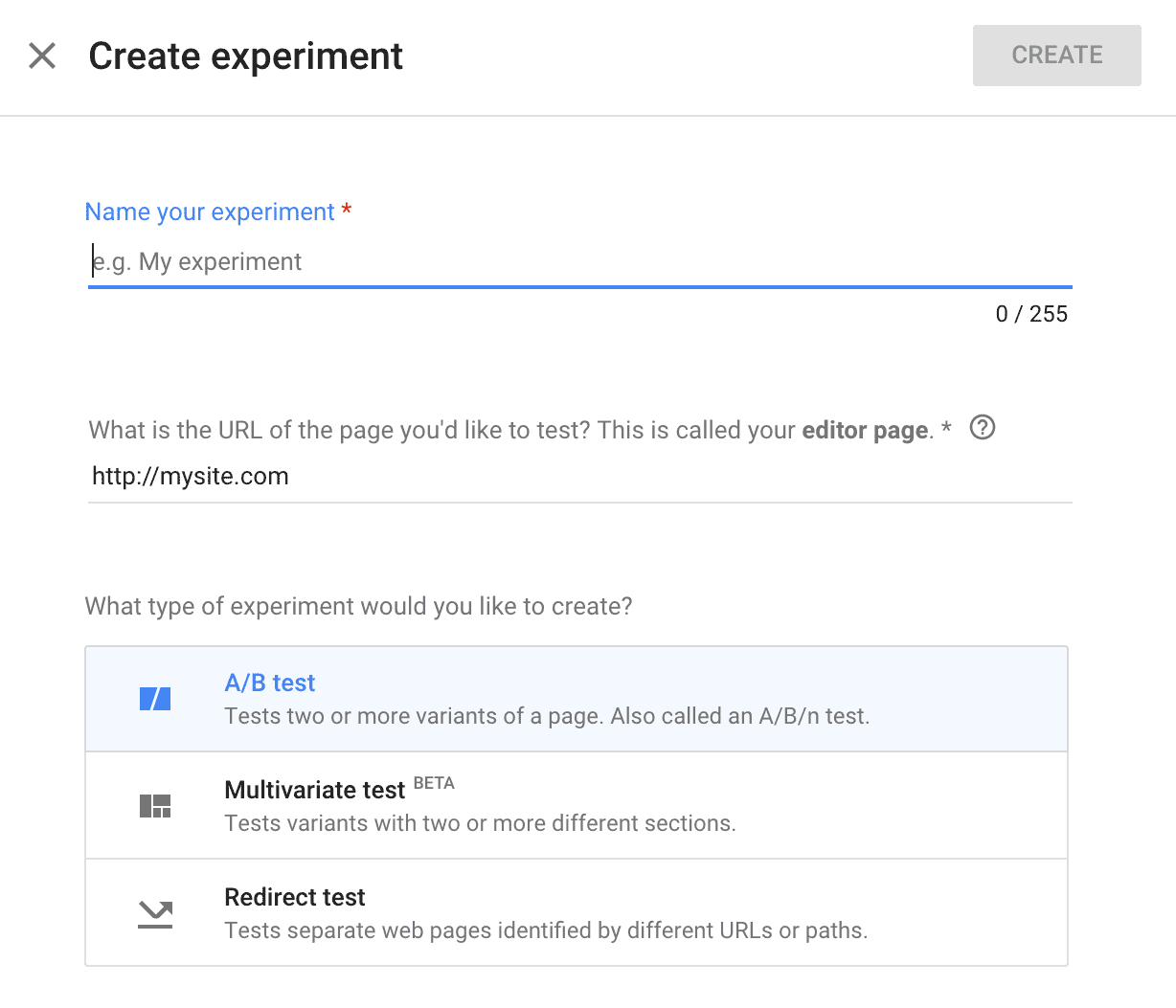 Once you've entered the name of the experiment and selected the type, click Create.
Step 2: Create a Test Variant
Now, set up a variant for your experiment. For this, click Add variant under Targeting and variants tab.

Your variant should now appear in the Variants option. Click Edit to make the changes to your landing page for the experiment. Do note, you'll need Google Optimize Chrome extension. It's a visual editor that lets you edit your landing page and create a test variant.

Let's say you want to test the heading of your landing page and see which headline works best. For this, select the heading and then click Edit element.
Then select any Edit text or Edit HTML and enter your heading for the test variant. Once you've made the changes, click Done (it's located on the top right corner).

Step 3: Add Experiment Objectives
Now the last thing to do before running your split test is to add experiment objectives. You will have 2 options, either you can select an objective from a list or create a custom objective.

In Choose from list option, Google Optimize will offer pre-built goals in Google Analytics for your experiment. These include bounce rate, pageviews, and session duration.

But if you select Create Custom option, you'll have to define a goal so that Google Analytics can track your objective.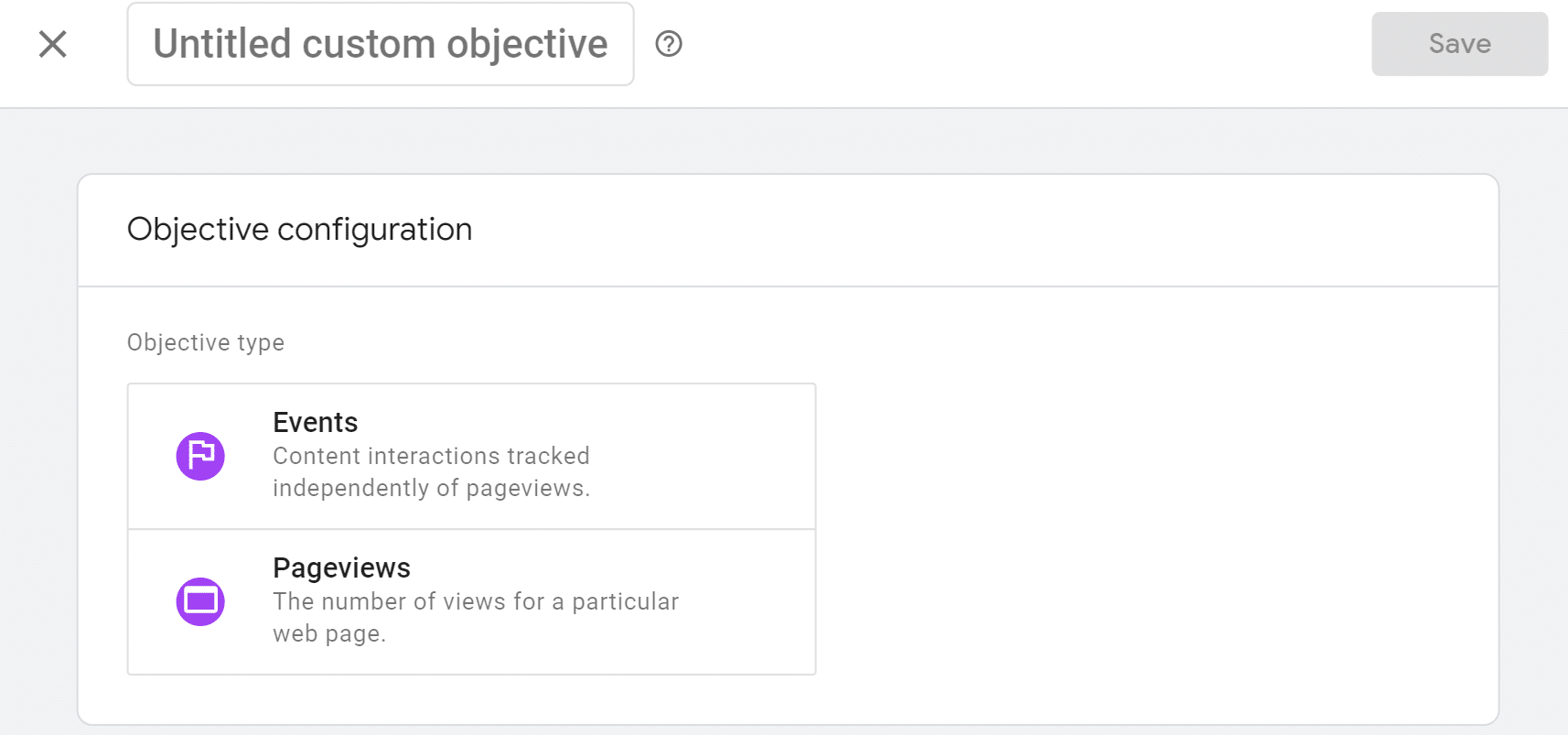 Once you've created a custom objective, you can now go ahead and start your experiment.

Congratulations!
Your experiment is now live, and you can split test your landing pages. Based on the data gathered, you can see which variant is performing the best.
We hope you liked our article on how to run a split test in WordPress with Google Optimize. If you want, make sure to go through our guide on GDPR and Google Analytics: How to Make Your WordPress Site Compliant.
And don't forget to follow us on Twitter and Facebook to stay updated with the latest guides on Google Analytics.