Curious about the number of folks who actually click on your site's contact number? Click-to-call tracking is your answer! Learning how to track phone calls in Google Analytics is an awesome way to gain deeper insights into your audience's behavior.
With the increasing use of mobile devices, it's easier than ever for people to call to get the information they want, and it's important to know how many of those people came from your website.
You can use Google Analytics to track calls to the phone number on your website, but the manual setup process can be tricky as GA4 doesn't track link clicks for phone numbers by default. So, we'll show you how to track phone calls in Google Analytics using the easiest method available. Let's dive right in…
Why Use Click-to-Call Tracking?
As a marketer, it's important to know how people interact with your website so you can better understand their needs and behavior and offer an improved user experience.
Tracking phone calls in Google Analytics offers lots of benefits such as:
Find Out Your Traffic Source – You can group visitors who call you based on the traffic channel they used to visit your site. For instance, if most of your users are coming from social media, you can focus more on social channels to attract more visitors.
Track Customer Journey – Click-to-call tracking helps you understand where your customers are in their journey, so you can provide the right marketing messages at the right time and boost your conversions.
Segment Users Based on Regions – Tracking phone number clicks can give you insights about where your visitors are from and help you create region-based campaigns and identify new content ideas.
Now, are you ready to learn how to track phone calls in Google Analytics?
How to Set Up Google Analytics Call Tracking
Google Analytics is a powerful tool that helps you see how people use your website. Sadly, it doesn't track phone number clicks by default. You'll have to set up phone call event tracking in Google Analytics for it to work.
Now, this can be tricky because it requires editing the tracking code on your website, and any mistake in changing the code can mess up your Analytics tracking or even break your website.
So, an easier way of setting up phone call tracking is through ExactMetrics!
It's the best premium WordPress Analytics plugin, making it super simple to use Google Analytics. Plus, ExactMetrics sets up phone number click tracking right out of the box. You won't need to touch any code, use a complicated tool like Google Tag Manager, or even set up any manual configuration.
You get advanced tracking with an extremely user-friendly interface and Google Analytics reports right inside your WordPress dashboard. Here are some more of ExactMetrics' most popular features:
Simply install the plugin on your WordPress site and connect it to Google Analytics using the simple setup wizard. To get started, follow our step-by-step guide on How to Add Google Analytics to WordPress.
How to Track Phone Calls in Google Analytics
After you've installed ExactMetrics and set up Google Analytics, you can now view how many people click on the phone number on your website using Google Analytics.
First, log in to your Google Analytics account and select the correct website (property).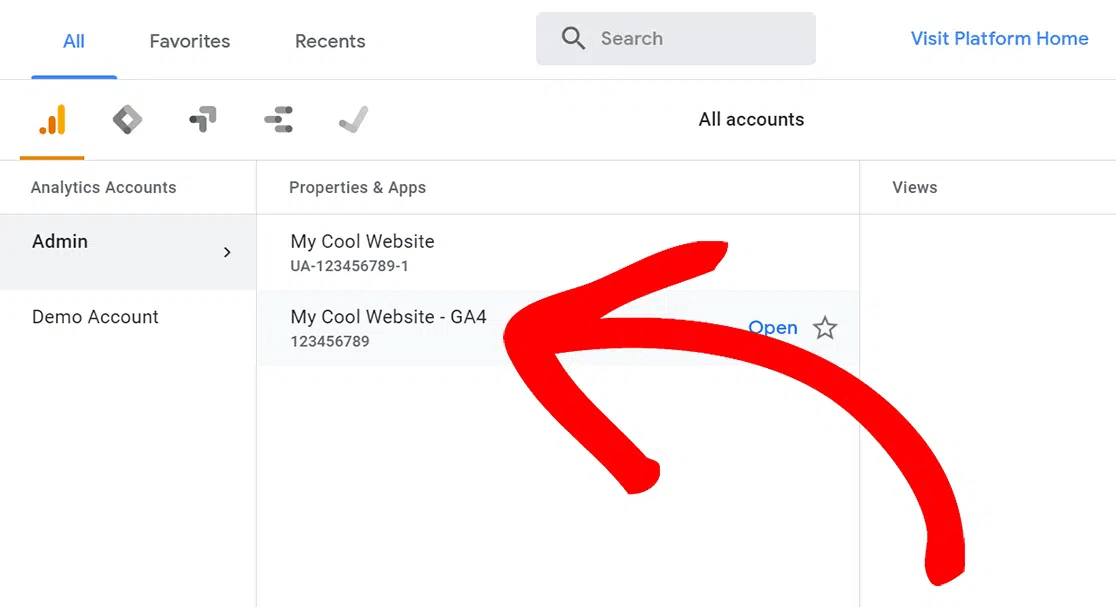 Now, navigate to Reports » Engagement » Events.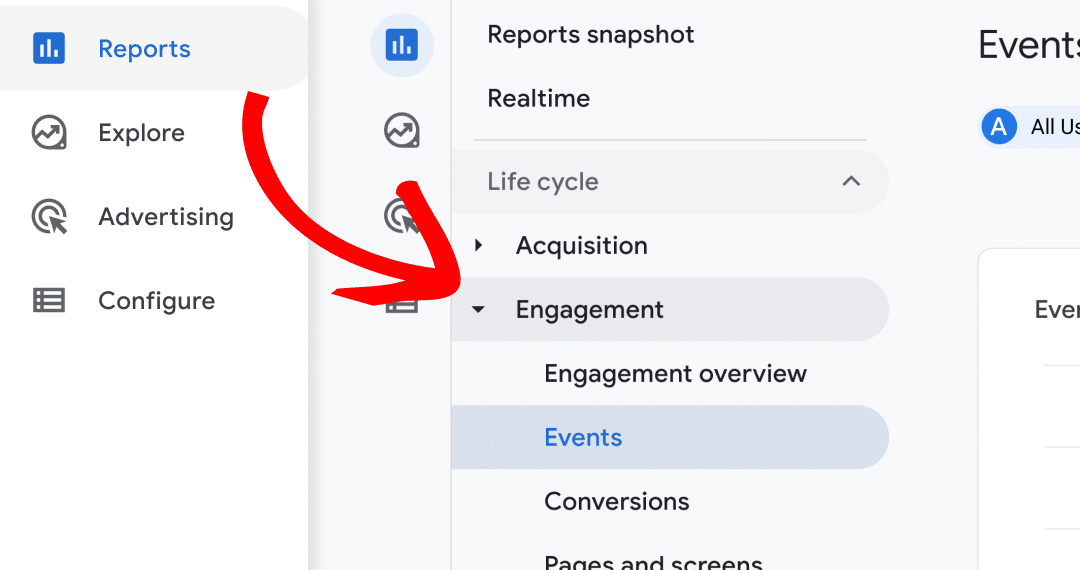 Scroll down to the table in the report and look for tel in the list of events.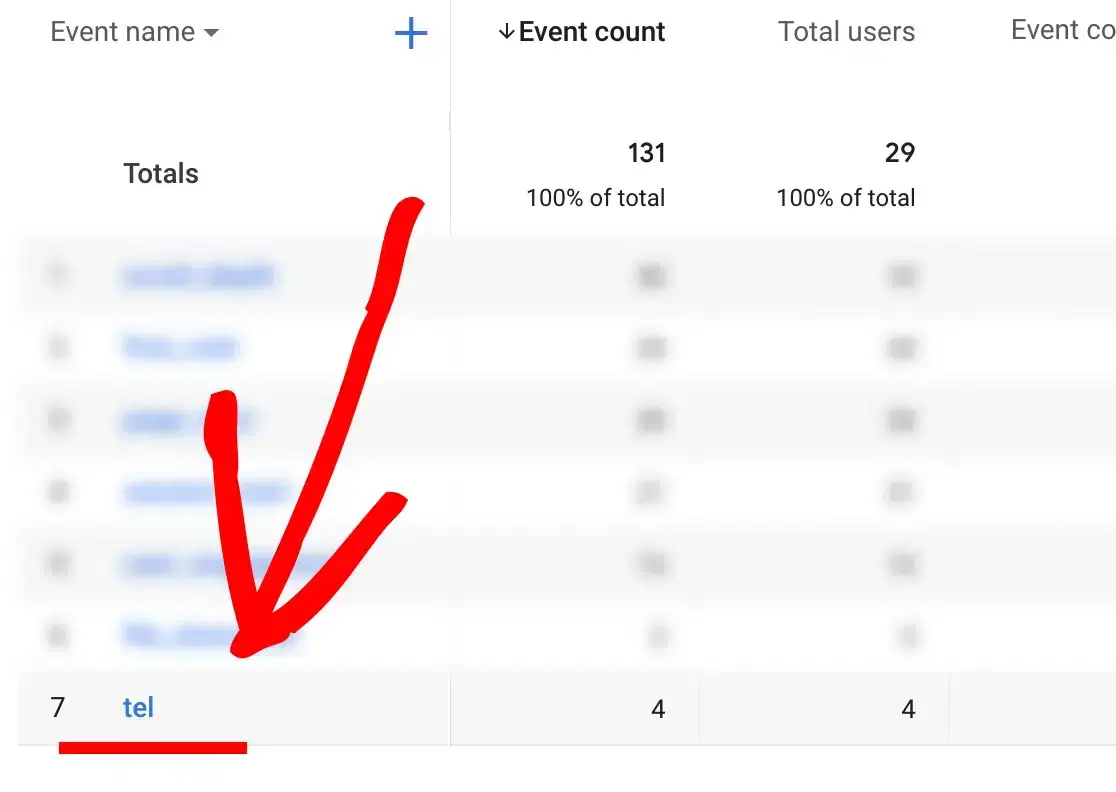 This is the number of telephone link clicks during the time frame you selected in the report. If you use mailto links as well to allow visitors to send an email, you'll also see that event listed.
You can use a secondary dimension to find more insights about your visitors who clicked to call. For instance, you can use the Source/Medium dimension to find out where visitors came from before landing on your site and clicking the call link.
To do this, click the + sign next to Event Name and add Session source/medium as a secondary dimension.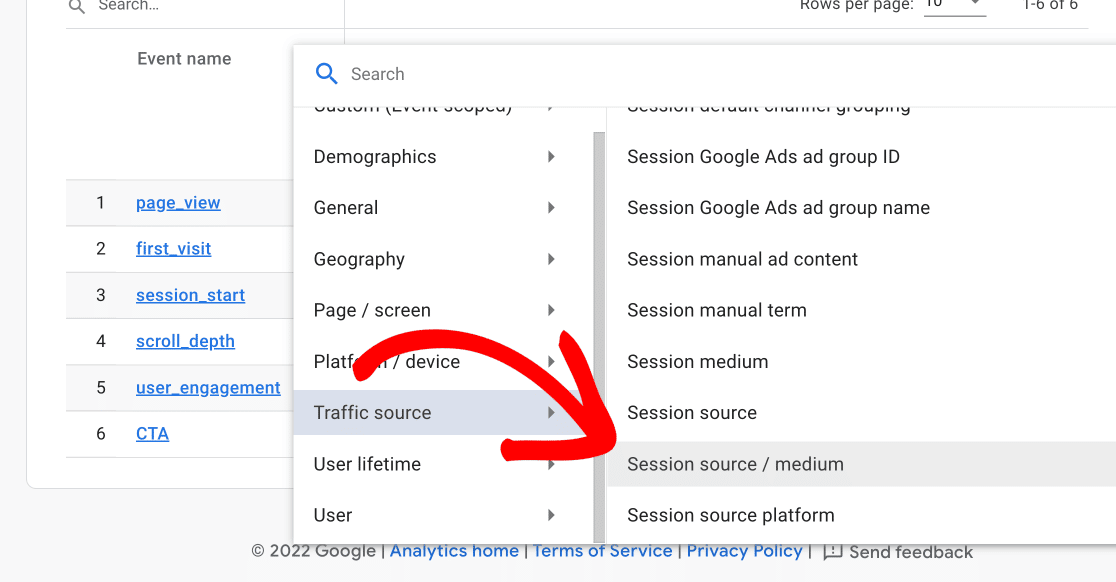 Now you'll see your events along with the source and medium.
To view only phone call click events, just type tel in the search bar.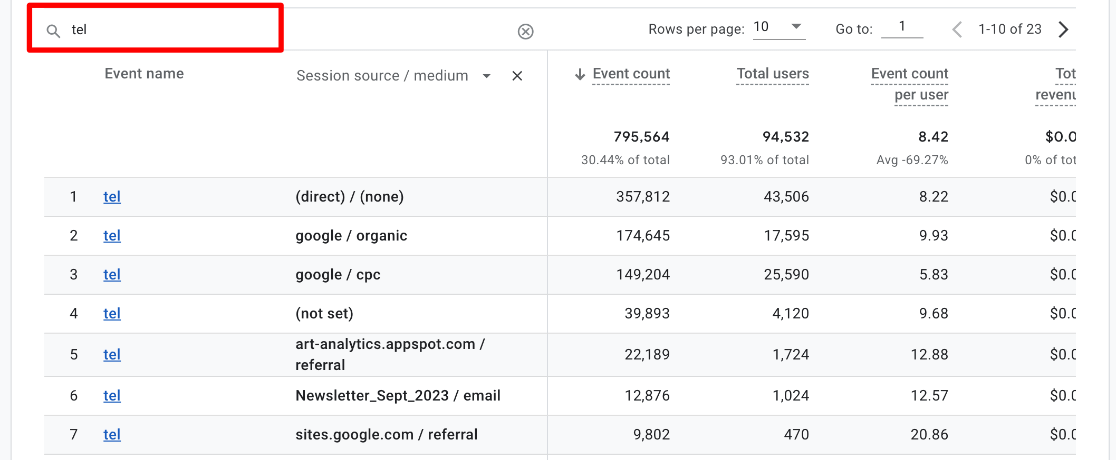 You can find more information by changing Session source/medium to other secondary dimensions. For example, you can change it to one of the dimensions found under Geography (City, Region, or Country) to see which areas your visitors who call are located in.
Adding City as the second dimension can be particularly helpful for local businesses to see which nearby cities or suburbs interested users are calling from. You can play around with different dimensions to uncover more data about your telephone links or create a custom report using your new tel event.
And there you have it! You've successfully set up phone call tracking in Google Analytics.
Now, what if you want to create a click-to-call link or button to track, but don't know where to start?
Don't worry, we've got you covered…
How to Create a Click-to-Call Link
The easiest method for creating click-to-call links on your WordPress website is with a plugin. It saves time since you won't have to enter any code, and you can place the link anywhere on your site.
The best WordPress plugin for adding a phone number link is WP Call Button. It's a simple and free plugin that offers customization options. After creating the button, you can either place it on all pages or display it only on certain pages.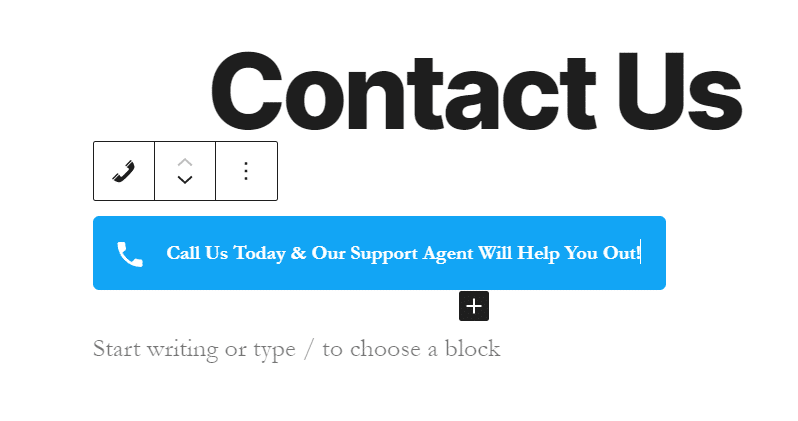 It's a really handy way to quickly add call buttons that work seamlessly on mobile and look great. You can follow this step-by-step tutorial on How to Add a Click-to-Call Button in WordPress to learn more about the plugin or how to add a phone call click link manually.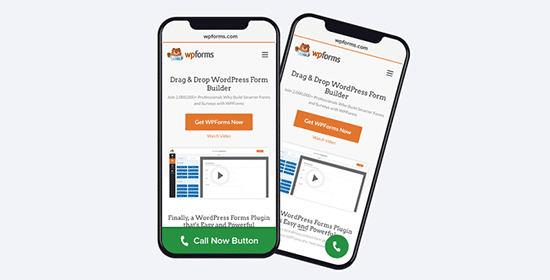 And that's it!
You can now generate more leads with a call button, find if customers are contacting you from your website, and uncover more information about visitors who click to call by tracking your phone call number in Google Analytics.
We hope you liked our article on how to track phone calls in Google Analytics. You may want to also check our post on How to Use Google Analytics for SEO.
Not using ExactMetrics yet? What are you waiting for?
Don't forget to follow us on Twitter and Facebook to see all the latest reviews, tips, and Google Analytics tutorials.