Are you having trouble figuring out how Google Analytics works? Google Analytics is a powerful free tool by Google.
You can understand your user's behavior, learn how they interact with your website, find out where they're coming from, and track the performance of your site using Analytics.
But as helpful as the tool is, it's not that easy to use. If you've never used Google Analytics before, you can find it overwhelming. It's difficult to navigate through different reports and find meaningful data that you can use for decision making.
That's why in this article, we'll explain how does Google Analytics work. We'll also show you what each of the reports means and how you can use them.
What is Google Analytics?
Google Analytics is a web analytics tool that you can use to get to know your visitors. It helps you understand how people use your website, so you can deliver a better experience and grow your business.
It comes under Google's Marketing Platforms and is a free service. You can integrate with other Google services such as Tag Manager, Data Studio, Optimize, Survey, Search Console, AdWords, and more.
But what information can you get from Analytics? Let's find out…
What Can Google Analytics Tell You?
You can do a lot with Google Analytics. From getting insights about your customers to tracking the performance of your website, the tool offers loads of features.
Here are a few insights you can get from Google Analytics:
Find the number of visitors on your website
See which are your most popular posts and pages
Look at your top traffic sources
Measure the performance of your marketing activities
Discover which device or browser users use to find your website
See how many people converted on your website
Find out which countries bring in the most visitors
Get insights about users' interest and demographics
… and lots more
Now you might be wondering, how Google Analytics works to track website traffic? Here's how…
How Does Google Analytics Work for a Website?
Google Analytics collects information about your website using a tracking code. The code is made up of a programing language called JavaScript and it helps your computer to send and receive information with other computers connected to the internet.
So, when a visitor arrives on your website that has the JavaScript code, it allows Google Analytics to record important information about your user and then sends it to its servers.
The data is then shown to you in the form of different reports, which we'll take a closer look at in the next section.
As for finding the tracking code, login to your Analytics account and to Admin. Then under Property, go to Tracking Info » Tracking Code.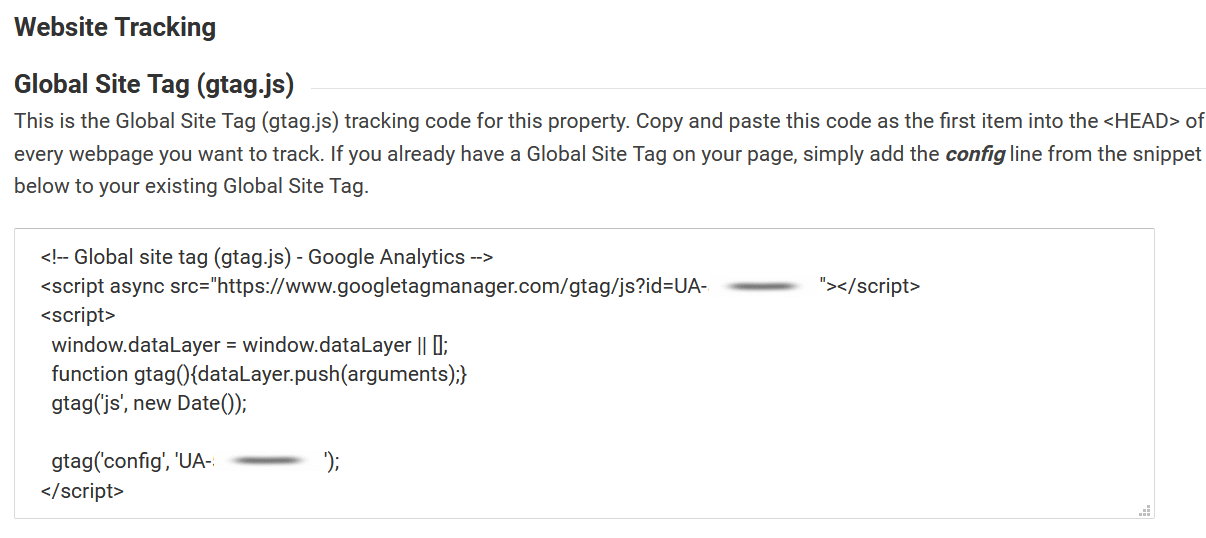 You'll have to add this code to your website header. But do note that this may require coding.
If you're not a developer, then follow our simple tutorial on how to add Google Analytics to your WordPress site.
With analytics now running on your website, the next thing you should know is how to use Google Analytics.
How to Navigate Google Analytics?
When you first start to use Google Analytics, it can be overwhelming. There are a lot of options, reports, and it can be difficult to find information that you need to make business decisions.
But don't worry! To help you out, we'll explain each analytics report. Let's begin…
Google Analytics Home
The first screen you'll see is the Home page when you log in to Google Analytics. Here, you can a quick overview of how your site is performing, as it brings you important reports from different sections in Analytics.
If you have an eCommerce store, the report shows how many users visited your site in the last 7 days (you can change the time as per your preference), how much revenue you made, what was the conversion rate, and how many sessions were created.
Do note that a session is all the activities a user performs on your site within a period of time. It can be anything like a pageview, events, eCommerce transactions, or form submissions.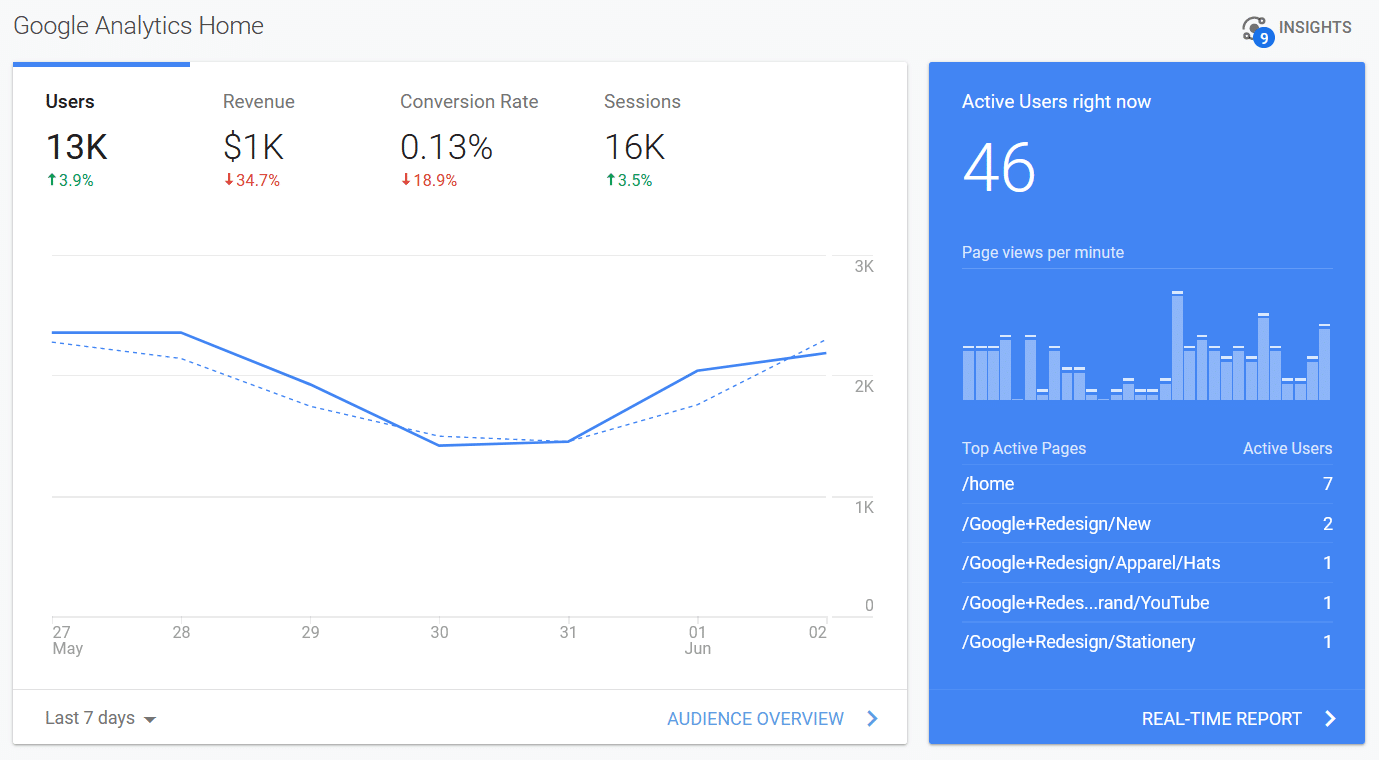 If you have a blog, then you'll see 2 new metrics. The Home report will show users, sessions, bounce rate (people that exited your site without interacting), and session duration (the amount of time a user spends on your site).
You can also see how many people are active right now on your site along with top active pages. This shows your visitors in real-time.
And if you scroll down, you can see more reports like active users, user retention, users by time of day, sessions by country, sessions by device, top pages, goal completion, and more.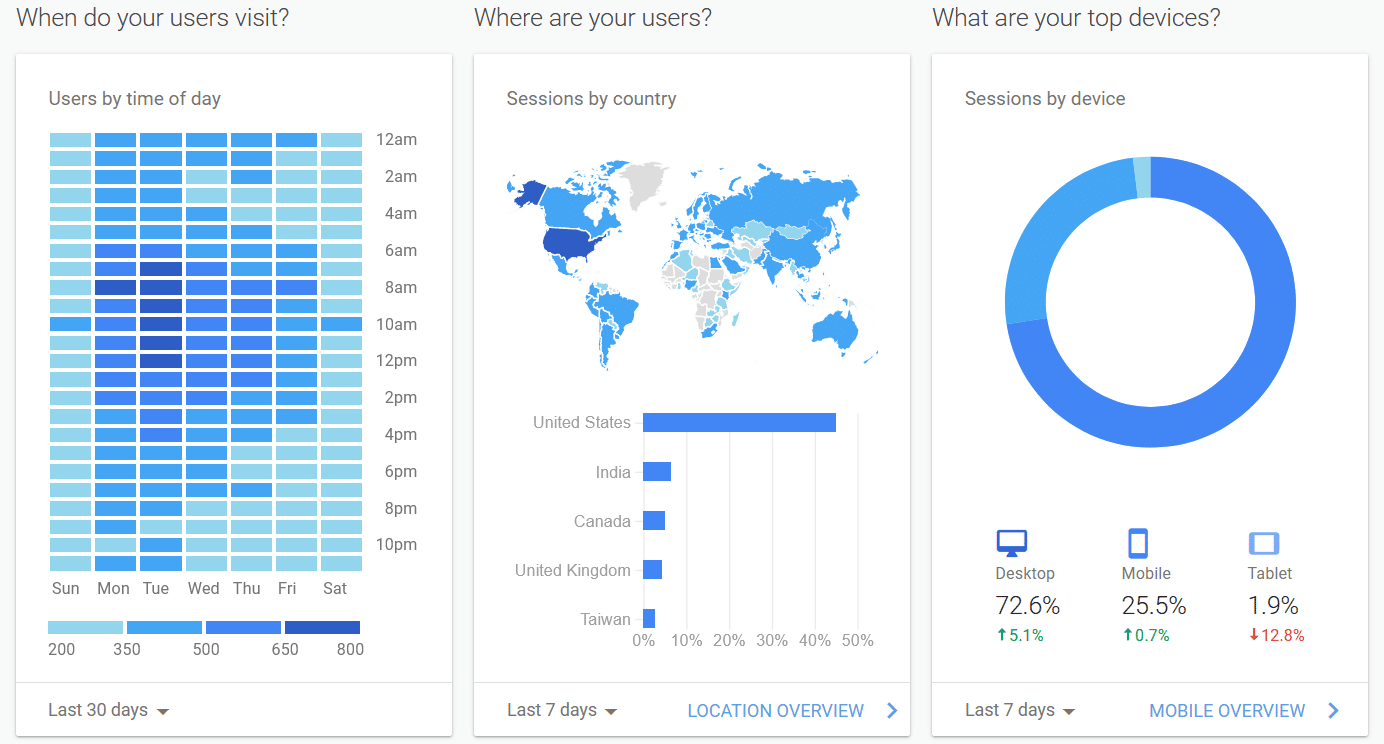 Realtime
Ever wondered how many people are currently on your website, going through your pages? With Google Analytics Realtime report, you can see exactly that.
In Realtime Overview report, you can see active users on site right now. It shows the breakup between mobile and desktop users. You can also see Top Active Pages which your visitors are visiting at that very moment and traffic source.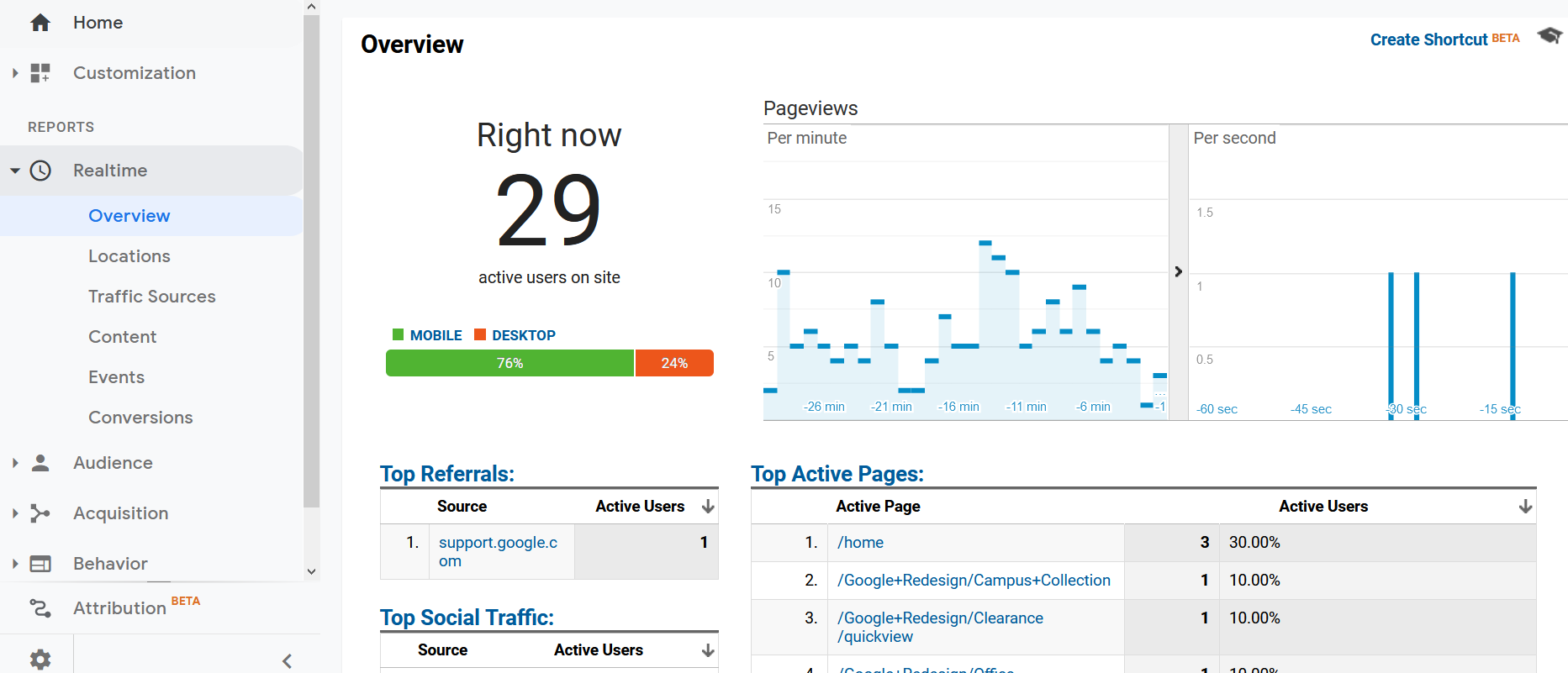 And if you scroll down, you can see which country they're from.
You can dive deep into other reports by accessing them from the options on your left under Realtime. For instance, if you click on Locations, Google Analytics will show you countries where your audience is currently from.
Or you can view Traffic Sources, Content, Events, and Conversions in real-time.
Realtime reports are excellent for measuring the performance of marketing campaigns. For instance, if you're running a summer sale or contest, you can see instant results and see how many people are on your site because of that campaign.
Audience
Now, if you want to learn more about your audience, their demographics, age, or which device they use, then go to the Audience report in Google Analytics.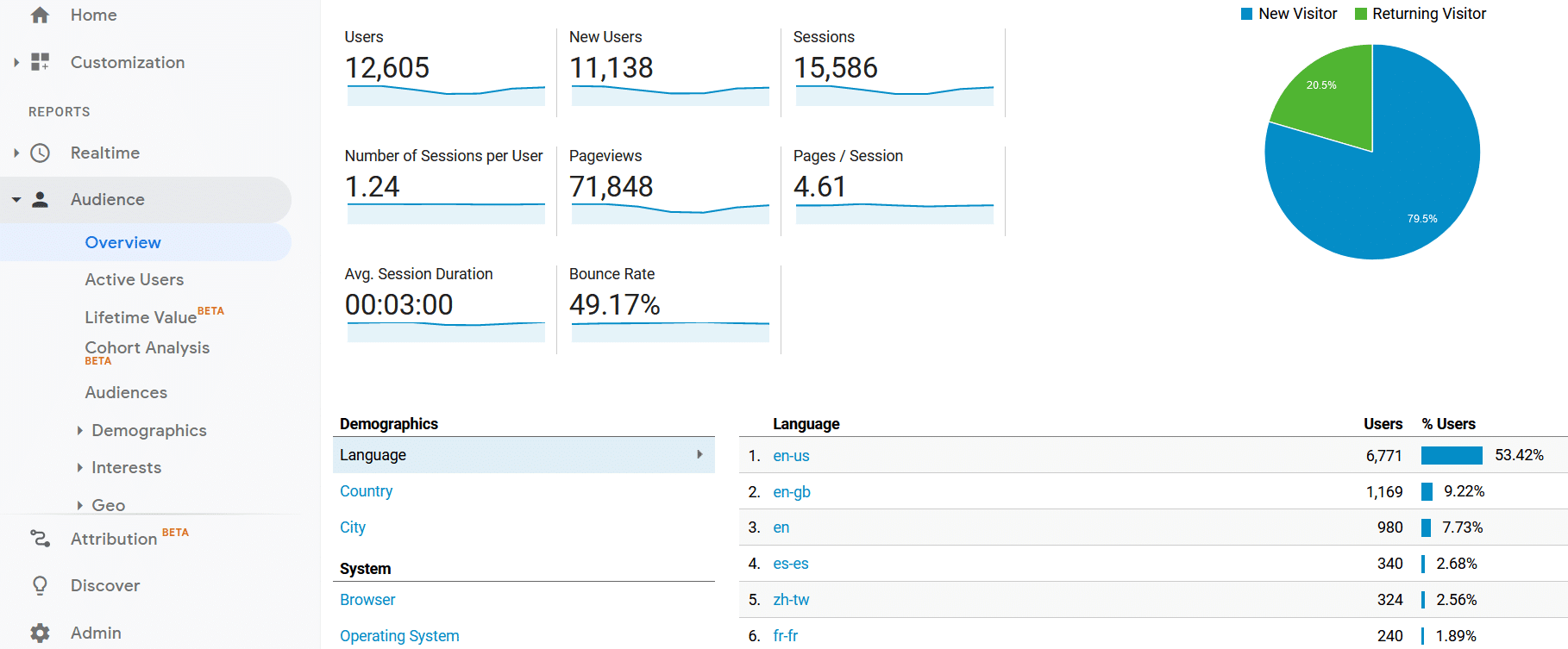 The report is easy to read and helps you get to know your visitors better. For instance, if you click on Demographics under Audience, you can see the age and gender of your visitors. You can then use this data to create personalized campaigns.
And if you want to see which countries send you the most traffic, then you can go to Geo and click on Location. The Geo report also shows you in which language people view your website. With this information, you can translate your content into popular languages and attract a new audience.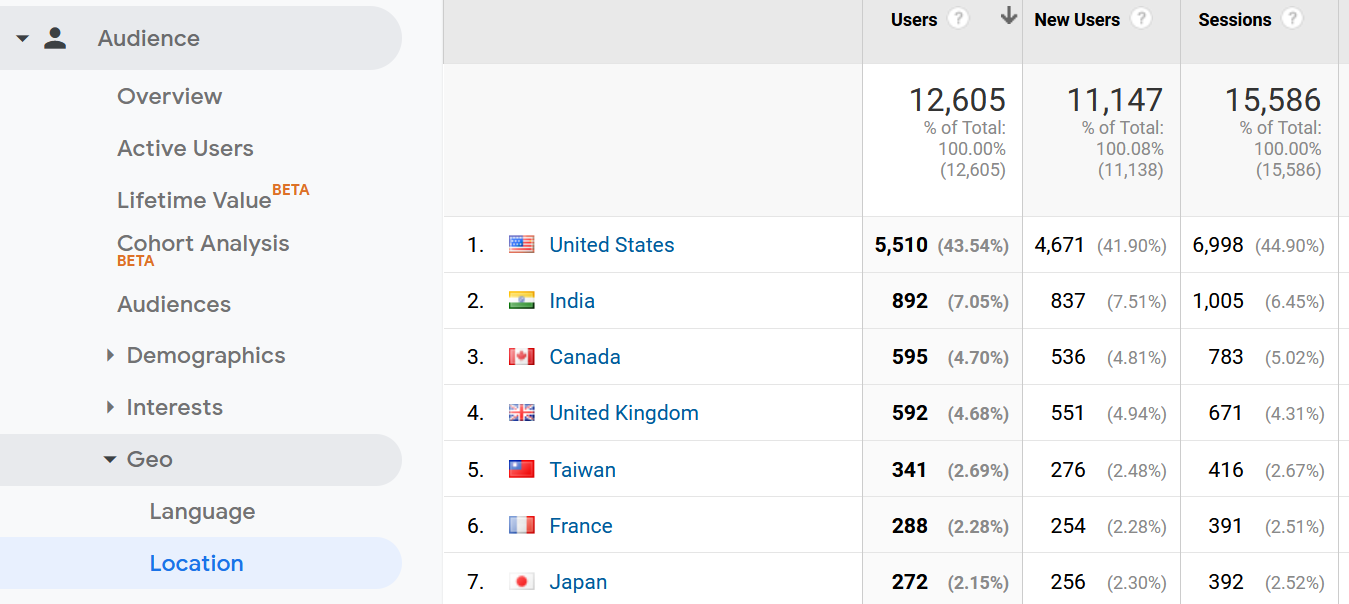 There are more reports under Audience that you can use to get insights about your users. You can go to Interests to see which categories your visitors like. That way you can create content or promote products based on their interests.
And if you want to see how many people return to your site, then you can go to New vs Returning report.
Besides that, you can also view which mobile device, browser, operating system, and network your users use to view your website.
Another important report you can check under Audience is the User Flow report.
Google Analytics User Flow reports show you the path a user takes to complete a particular interaction on your site. Now, these interactions can be anything like signing in, performing a search, or visiting another page.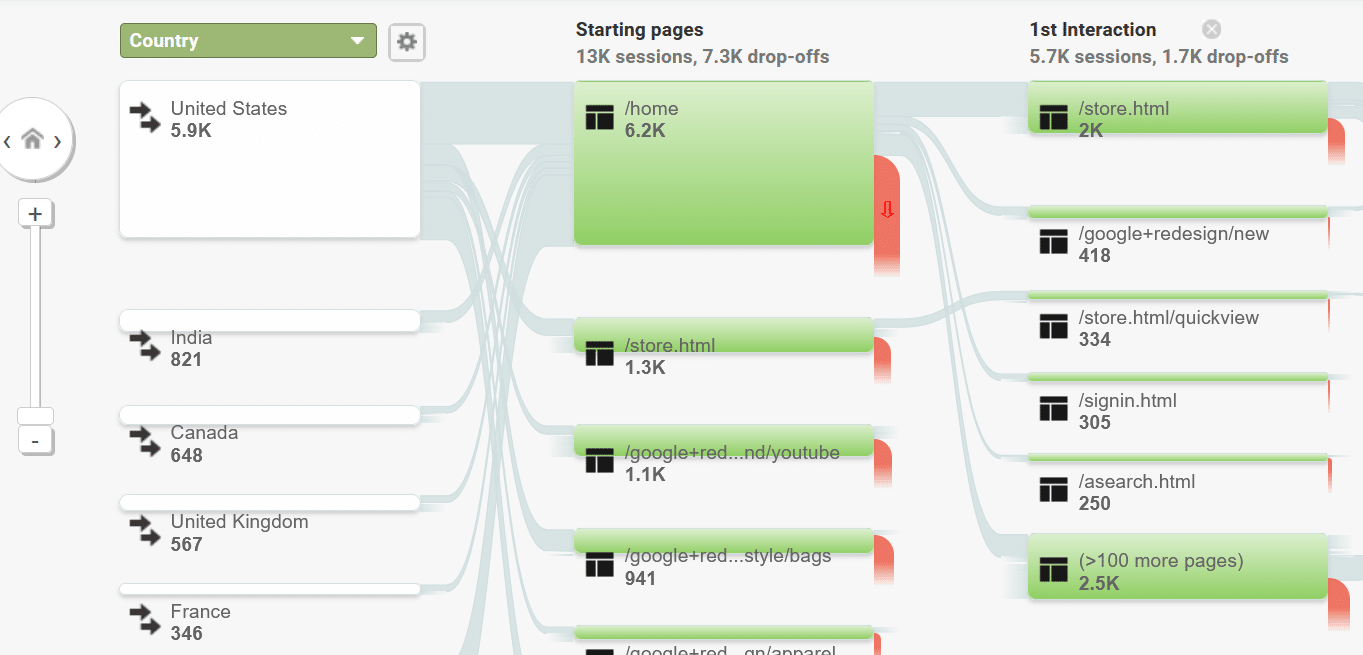 You can use this data to optimize your sales funnel or plan your customer journey to increase conversions.
Acquisition
With the Acquisition report, you can uncover which sources your visitors use to find your website. Google Analytics groups your traffic into different categories:
Organic: These are visitors that access your site through search engines like Google and Bing
Social: When someone visits your site through social channels like Facebook or Twitter, they're categorized under social traffic source
Referral: If a person clicks on a link on any other website or a YouTube video, they come under referral traffic
Direct: This is traffic when a user types the URL of your website in a browser, opens your site through a bookmark, or when Google cannot identify the source of your visitors
Paid Search: It's the traffic from your paid advertising campaigns or pay-per-click (PPC)
Email: When people click on a link in emails and land on your website, they're grouped under email traffic source
Display: If you're part of display ad network, then traffic arriving from these ads will be categorized as display
Affiliates: This is traffic that comes from your affiliate marketing efforts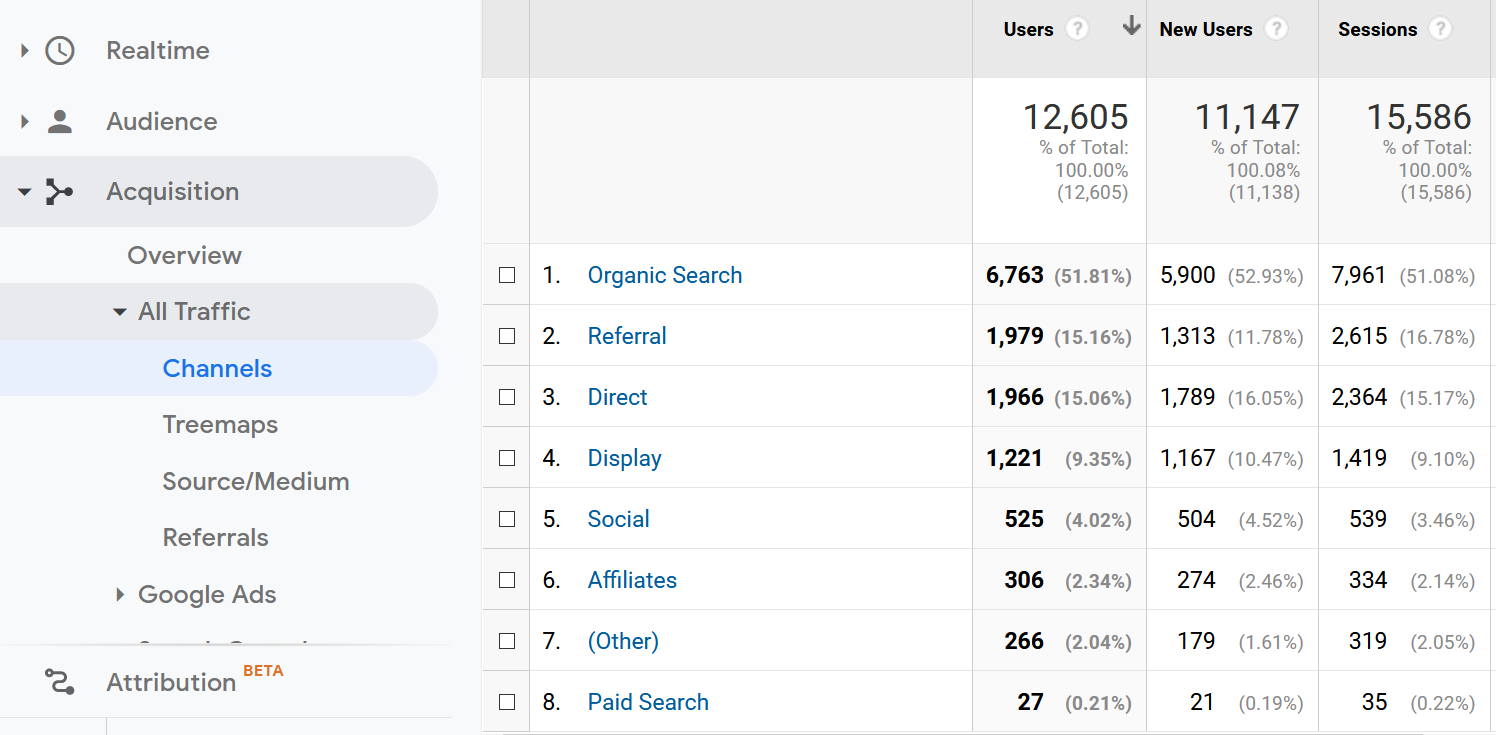 This report is useful for planning your marketing efforts. For instance, you can see which source drives the most traffic, so you can focus on them more.
Like, if you're getting a lot of traffic from organic channels, then you can target more keywords to bring in more visitors. Likewise, you can also see which channels are not performing well, so you can optimize them and try something different to boost your web traffic.
Under Acquisition, you can see more reports. If you're running Google Ads, then you can connect your AdWords account with Google Analytics and display data of your campaigns.
And if you want to get information about which keywords your users search on search engines to look up your site, you can connect Google Search Console with Google Analytics and view this data.
Behavior
After viewing your traffic sources, you can then find out how your content is performing by going to the Behavior report.

Now it's important to understand what these metrics mean. Pageviews are the total pages viewed by users. While Unique Pageviews are the number of pages viewed at least once by a visitor.
Average Time on Page shows how long people stay on your pages. Bounce rate is when a user leaves your website without performing any action like leaving a comment or clicking on another link. And Percentage Exit shows you how often people exit your webpages.
You can dig deep and look at the individual page's performance by going to Site Content under Behavior. Here you can view the Landing Pages report to see which post drives the most traffic.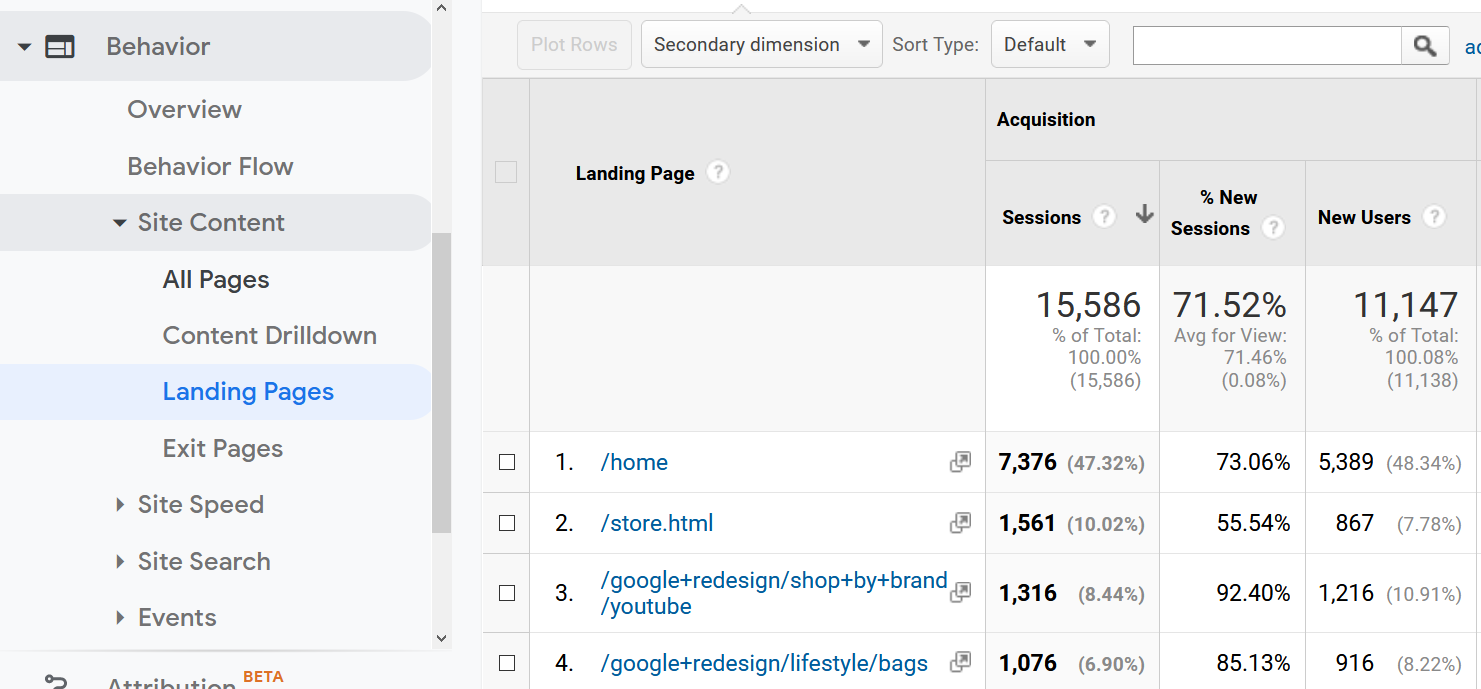 You can also see your top exit pages and see which posts people leave your website. For instance, if you have an eCommerce store, then you'd want the thank you page to have a high exit rate since people would leave after purchasing.
Besides that, there are other reports you can use in Behavior to see how people use your website. Like you can view the Site Speed report to see your webpages load time.
And if you run experiments like split tests using Google Optimize, then you can view their results in Google Analytics under Experiments.
Conversions
Now, if you want to see how many people are converting on your website, then you can find the data in the Conversions report.
But do note that you'll need to perform additional set up to view the information in this section in Google Analytics like setting up goals.
That said, under Conversions, you can see how all your goals performed. Goals can be anything you specify like the purchase of an item, playing a video, or downloading a file.

Not only that, but you can also see your Ecommerce store's performance. For instance, you can see the total revenue generated, conversion rate, average order value, and the number of transactions.
You can find more details in other reports under Ecommerce like shopping behavior, top-performing products, checkout behavior, sales performance, and more.
ExactMetrics – Best Premium Analytics Plugin
Now that you know about different reports of Google Analytics, you can also use ExactMetrics. It's the best premium Analytics WordPress plugin.
ExactMetrics brings your important Google Analytics reports inside your WordPress dashboard. It makes using Analytics very easy. You can even use the plugin to set up Google Analytics without any coding.
Here are the reports offered by ExactMetrics…
Overview
You can view your site's sessions, pageviews, average session duration, and bounce rate in its Overview report. Not only that, but you can also see new vs returning visitors, device breakdown, top 10 countries, top 10 referrals, and top posts/pages.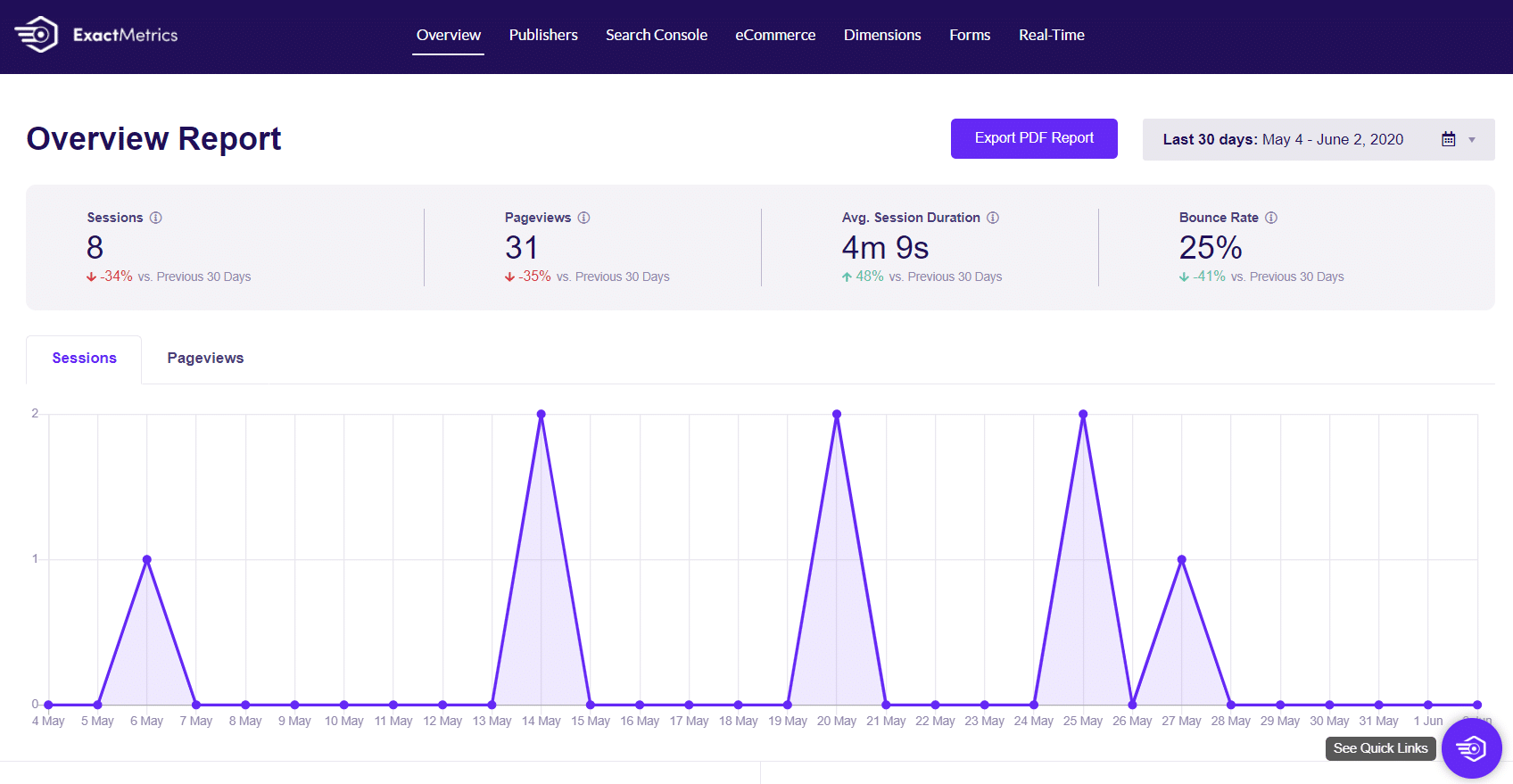 Publishers
The next report you can view in ExactMetrics is of Publishers. Here you can see your top landing pages, top exit pages, outbound links, affiliate links, top download links, average scroll depth, demographics, and more.
The data from this report can help you uncover topics that your visitors like. You can also see which outbound links your visitors click on the most and which are your top affiliate links.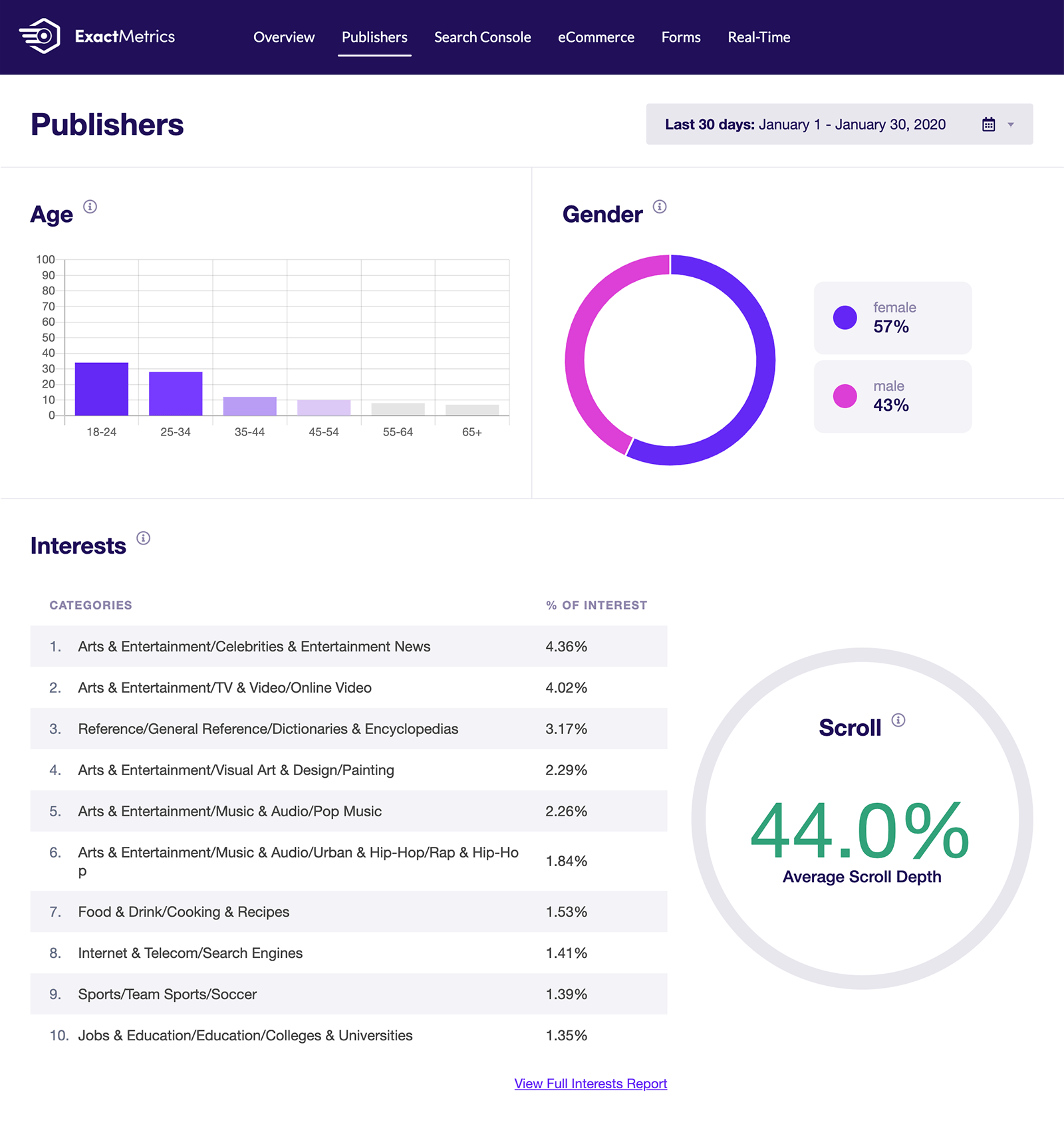 Search Console
Now, if you're wondering which keywords your site ranks on Google, then ExactMetrics Search Console can help you out.
This report is extremely useful if you're trying to bring in more organic traffic and perform SEO (search engine optimization).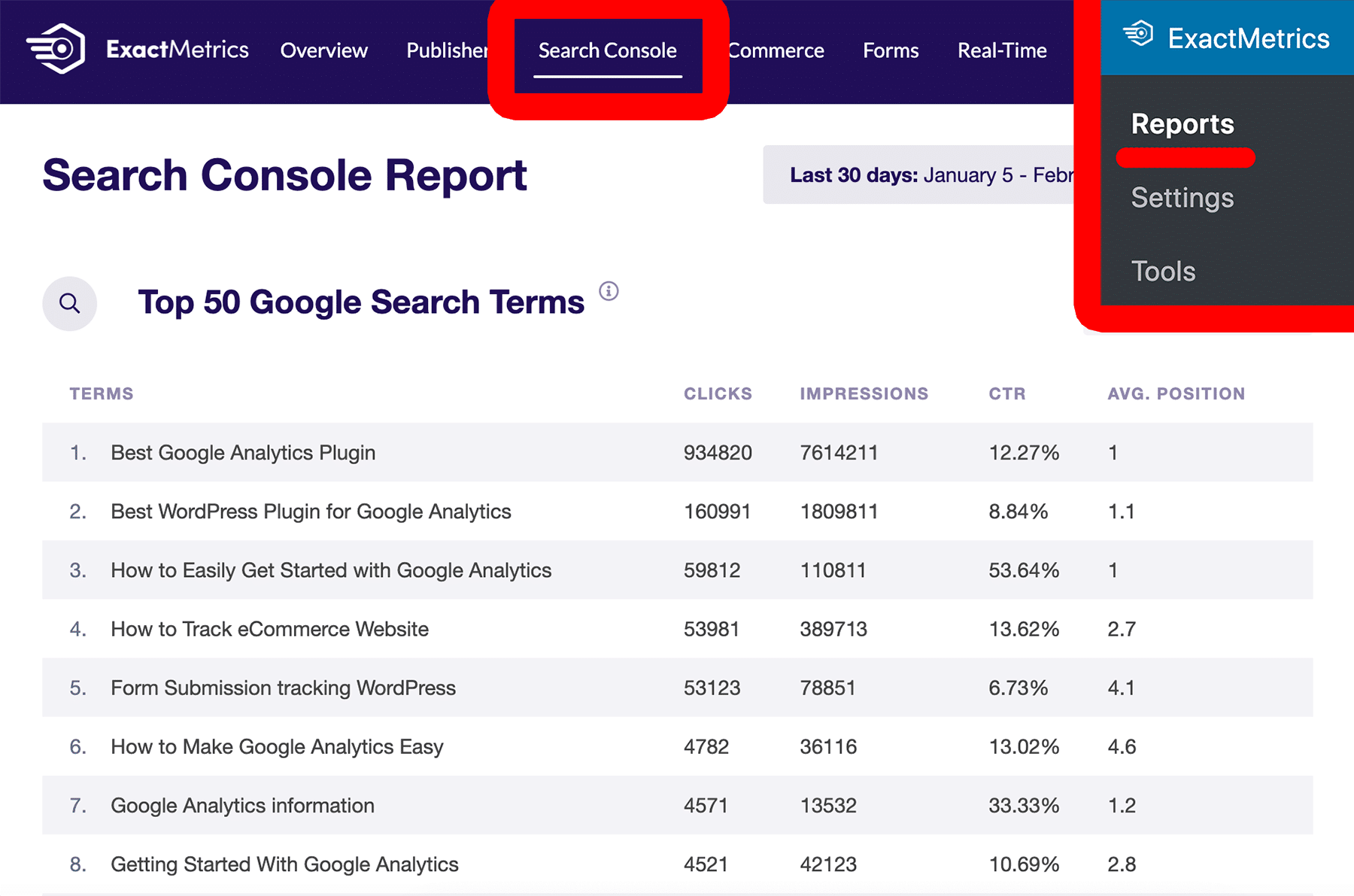 eCommerce
The plugin also helps you configure advanced tracking in just a few clicks. In just a few clicks, you can setup eCommerce tracking.
Then go to its eCommerce report and view your site's conversion rate, total transactions, revenue, and average order value. The report also shows you your highly converting products.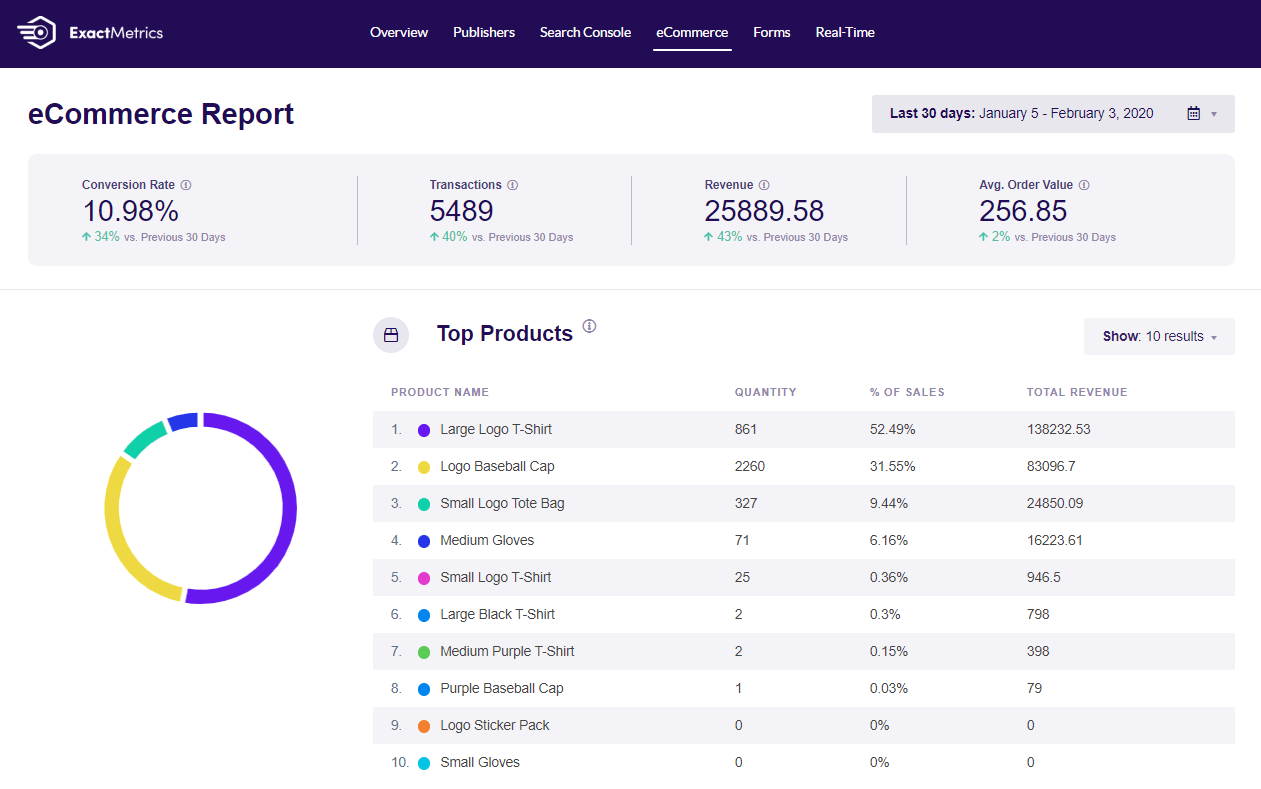 And if you scroll down, you can see top conversion sources, time to purchase, and sessions to purchase.
Forms
Another advanced tracking feature offered by ExactMetrics is form conversions. Google Analytics doesn't track your forms by default.
But with ExactMetrics, you can start to see how well your forms are performing in an instant. No additional set up required!

Dimensions
If you want to track additional performance of your website and it's not available by default in Google Analytics, then you can set up custom dimensions.
For instance, you can track top-performing authors, top categories, top tags, SEO score, and more.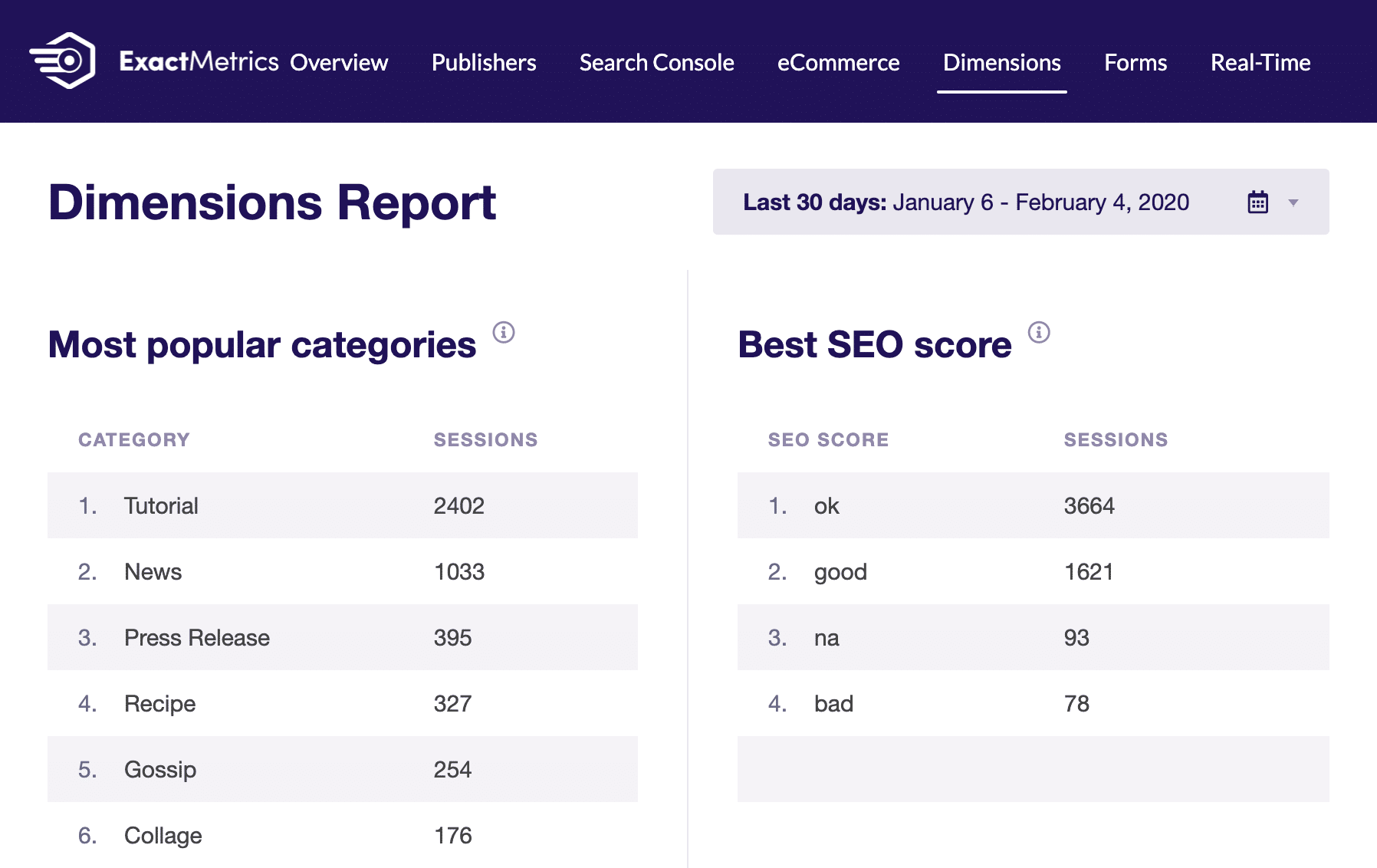 Real-Time
The last report you can view is of real-time in ExactMetrics. It brings your Realtime report from Google Analytics and shows it in your WordPress dashboard.
You can then see instant results of your campaigns without having to leave your website.
And that's it!
We hope you liked our article on how does Google Analytics work. If you found this post helpful, then you can check out our tutorial on how to track Instant Articles in Google Analytics.
And don't forget to follow us on Twitter and Facebook to get to know the latest tutorials on Google Analytics.