If you publish content by multiple authors on your website, do you know which author gets the most views? The most clicks from social media? How about the most conversions?
These are all questions you can answer with a simple tracking setup.
Google Analytics doesn't answer these questions for you out of the box, so there are a couple steps you have to take to turn on author tracking. Luckily, you can do it quickly and easily with ExactMetrics!
In this article, we'll show you how you can track your most important author metrics right in your WordPress dashboard.
Who Should Enable Author Tracking in WordPress?
There are several kinds of sites and publishers that would really benefit from author tracking. A few examples are:
Publishers who pay authors based on pageviews or ad clicks
Publishers who want to keep track of which freelancer is writing the most engaging content
News outlets wanting to review the performance of their reporters and writers
Sites publishing guest posts
Whatever your purpose is for wanting to track authors in Google Analytics and WordPress, you'll be excited to see that the process is actually pretty simple when you use ExactMetrics!
How to Track Authors in WordPress
With ExactMetrics, tracking authors in Google Analytics and WordPress doesn't involve touching code at all. Just follow these simple steps!
If you already have ExactMetrics installed, skip to step 3.
Step 1: Install ExactMetrics
ExactMetrics is the most powerful Google Analytics plugin for WordPress, without the high costs. In addition to the author tracking we're going to be setting up here, you'll get a whole list of features that will help you grow your business with the help of analytics.
So to start, head to the Pricing page and get started with ExactMetrics at the Pro level. Once you complete checkout, download the plugin.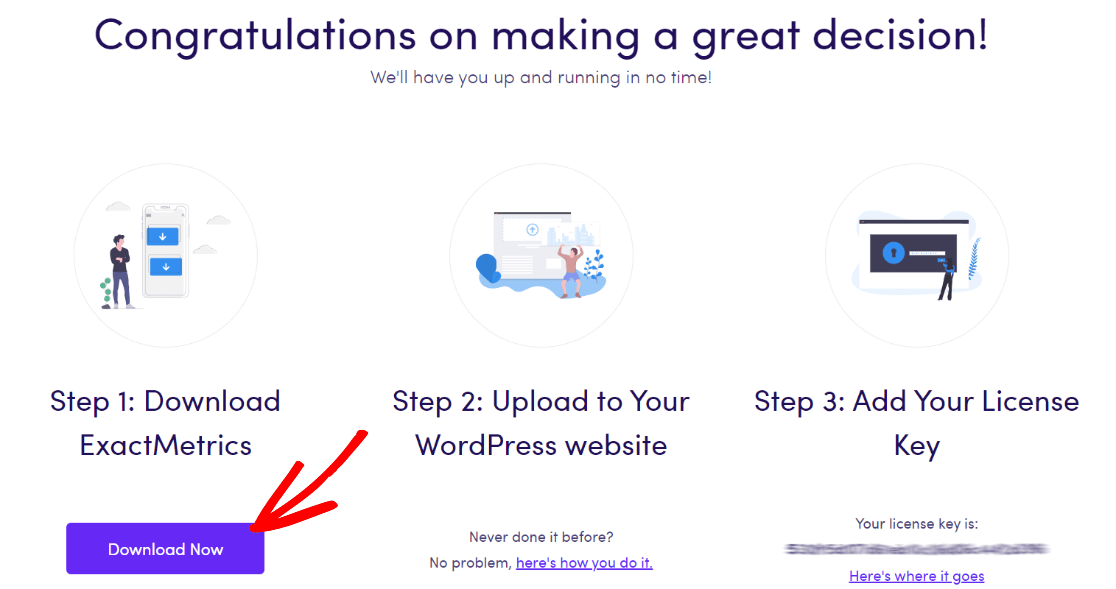 Next, upload it to your website.

Step 2: Add Your License Key and Connect to Google Analytics
Now that you have ExactMetrics installed, you can add your license key and connect your Google Analytics account. To get set up, click on ExactMetrics under your WordPress Dashboard and click the big green "Launch the wizard!" button.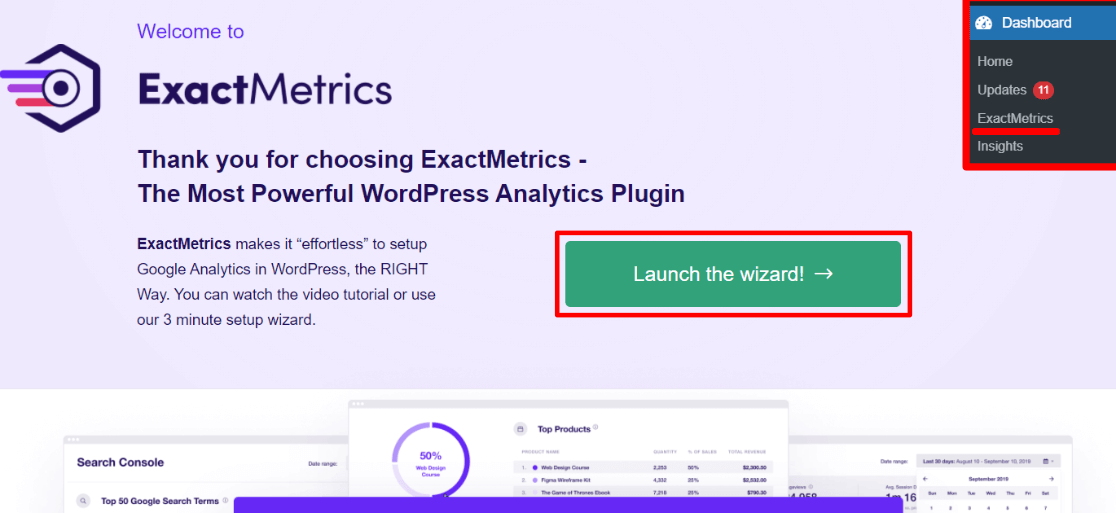 Once you're in the wizard, you'll get to this page where you can add your license key and connect with Google Analytics: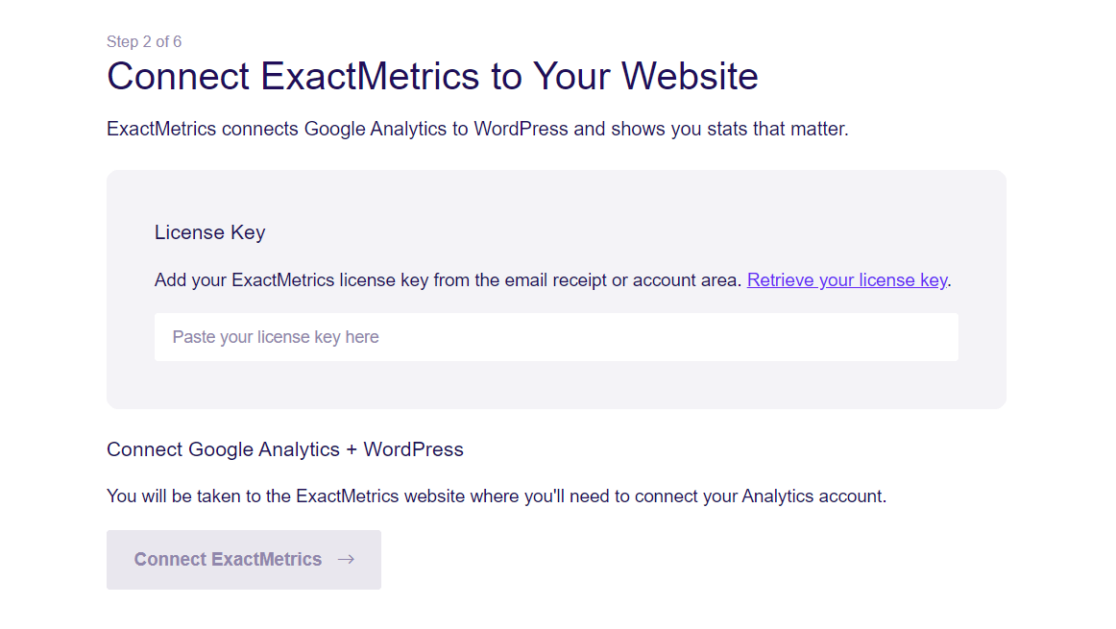 After that, just keep following the setup prompts, answering questions about your business, until setup is complete.
Step 3: Install the Dimensions Addon
Navigate to ExactMetrics » Addons. Find Dimensions and click Install.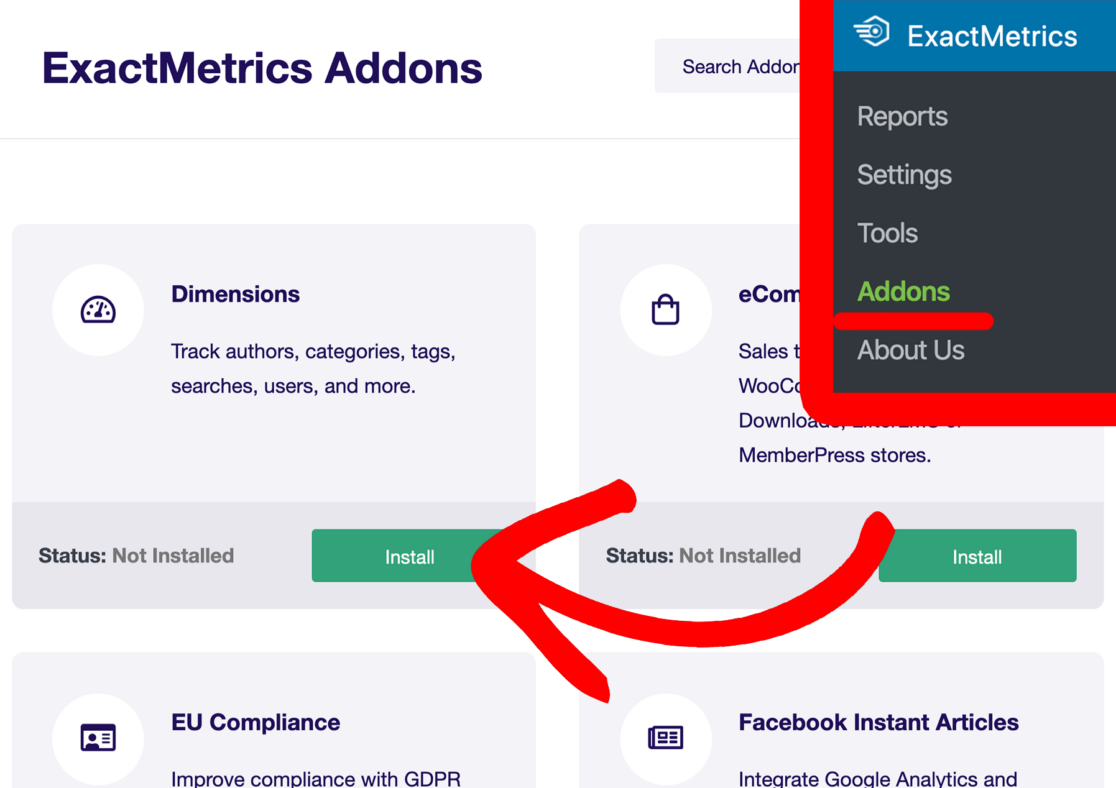 That's it for this step!
Step 4: Turn on Author Tracking in Google Analytics
To set up your custom dimension in Google Analytics, head to the Admin tab, then scroll down in the middle column to find Custom Definitions. When you click it, two options will appear underneath it. Click Custom Dimensions.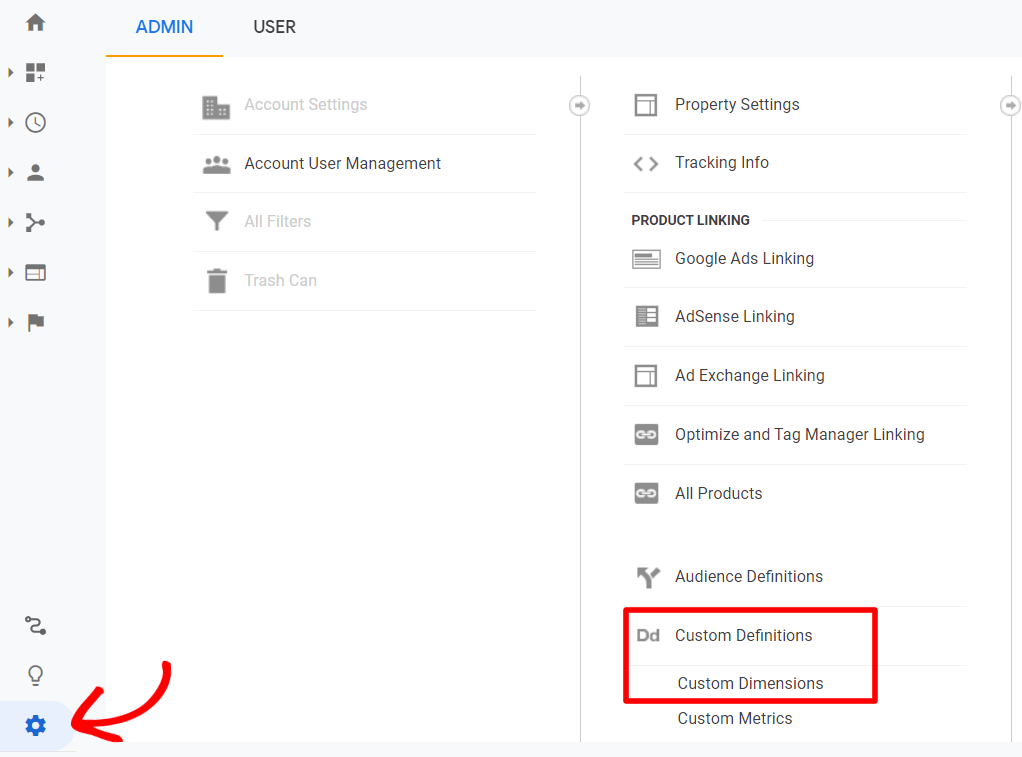 Now, click the red New Custom Dimension button.
Note: If you don't see the button, you don't have the right level of admin access in Google Analytics.
Now, type in "Author" and click the Create button.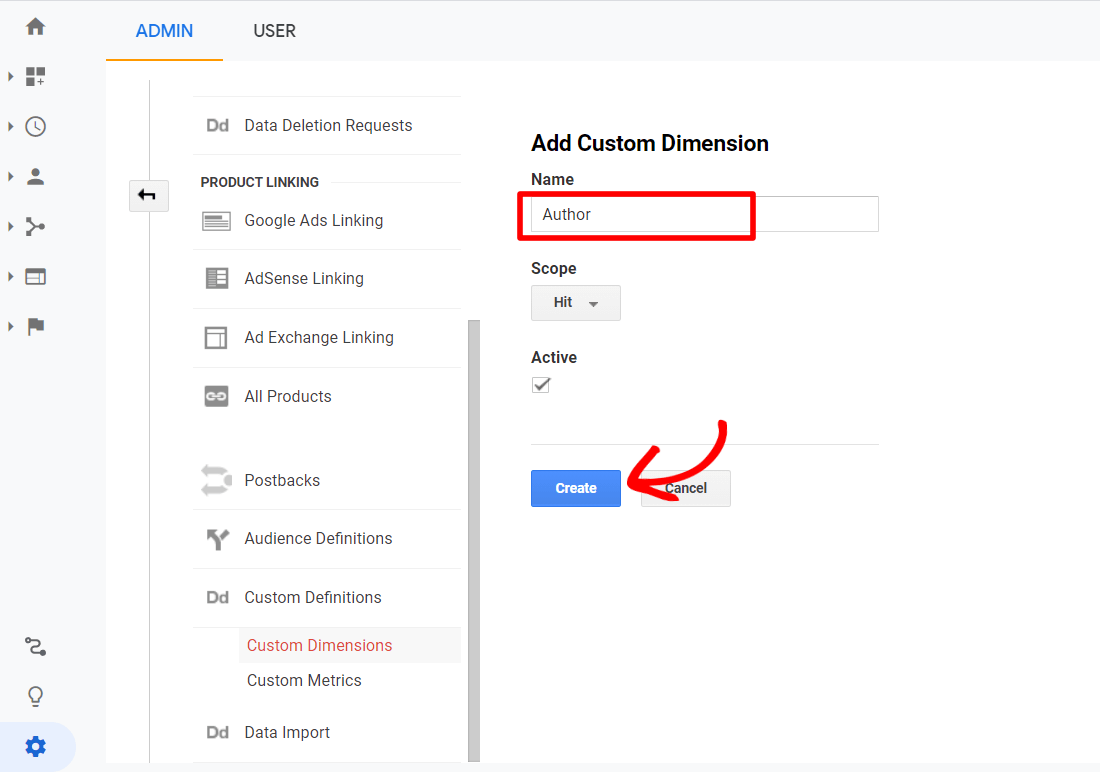 Next, check the index (number) next to your new Author dimension. If this is your first custom dimension, it'll be 1.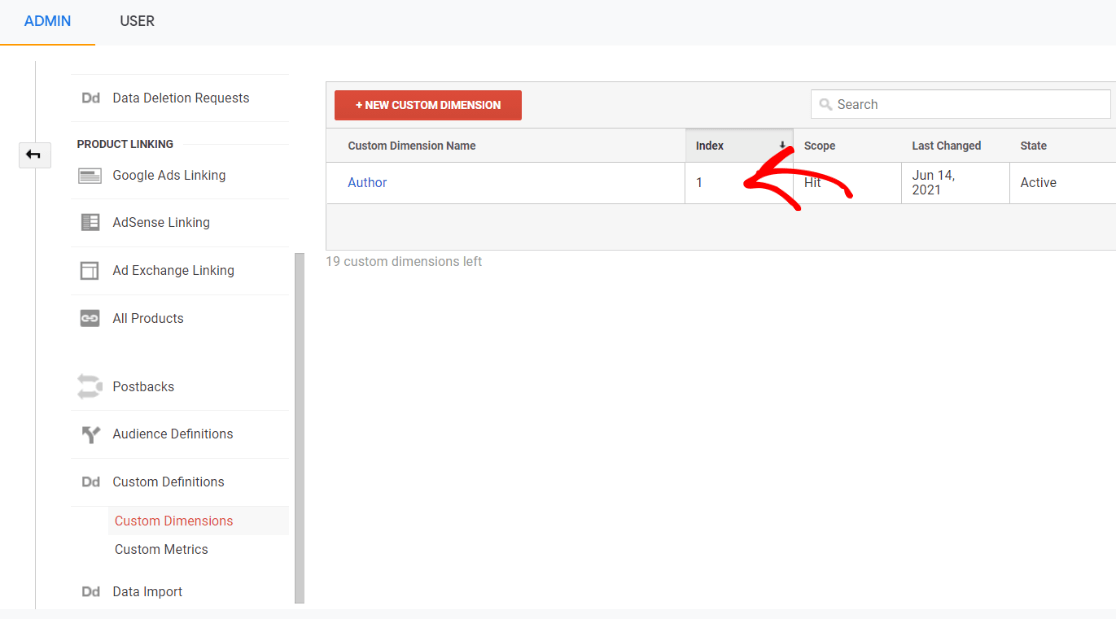 Done! Your custom dimension is created in Google Analytics. Time to tell ExactMetrics what that index number is.
Step 4: Add Your Author Dimension in ExactMetrics
Navigate to ExactMetrics » Settings in your WordPress sidebar, then click on the Conversions tab at the top of the page in your ExactMetrics settings dashboard.
Scroll down to Custom Dimensions.
There, click the Add New Custom Dimension link: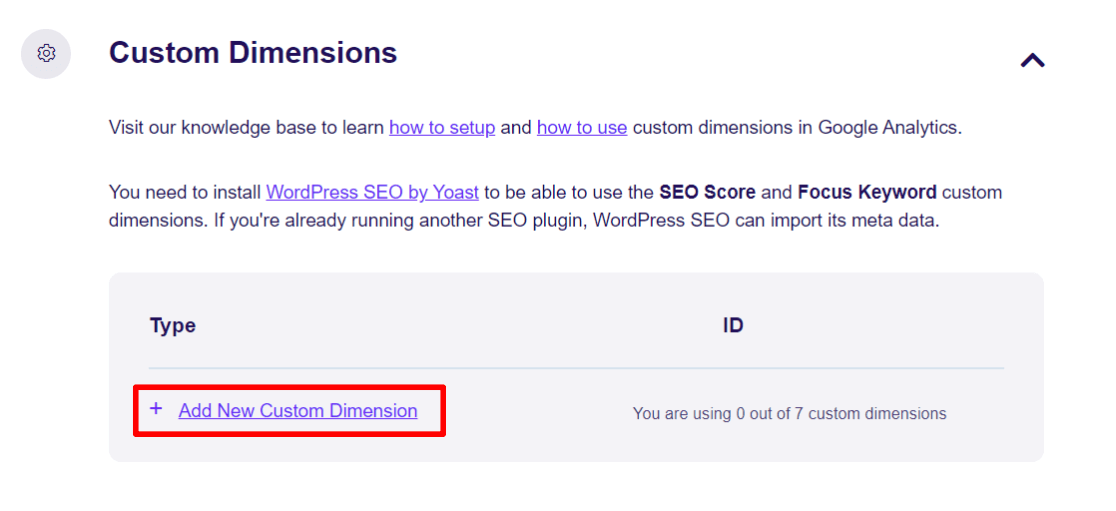 Click the dropdown arrow and choose "Author" from the menu. Update the ID to match what it was in Google Analytics (again, probably 1 if this is your first custom dimension).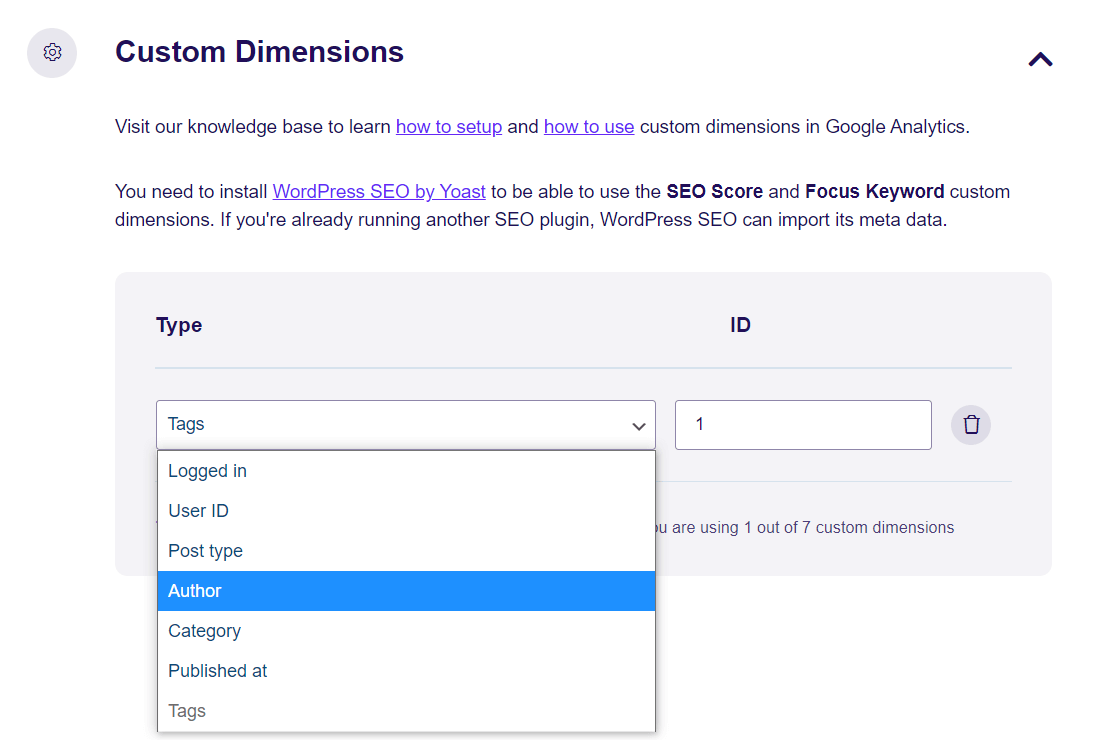 To make sure your dimension is saved, scroll up to the top of the page and click the Save Changes button.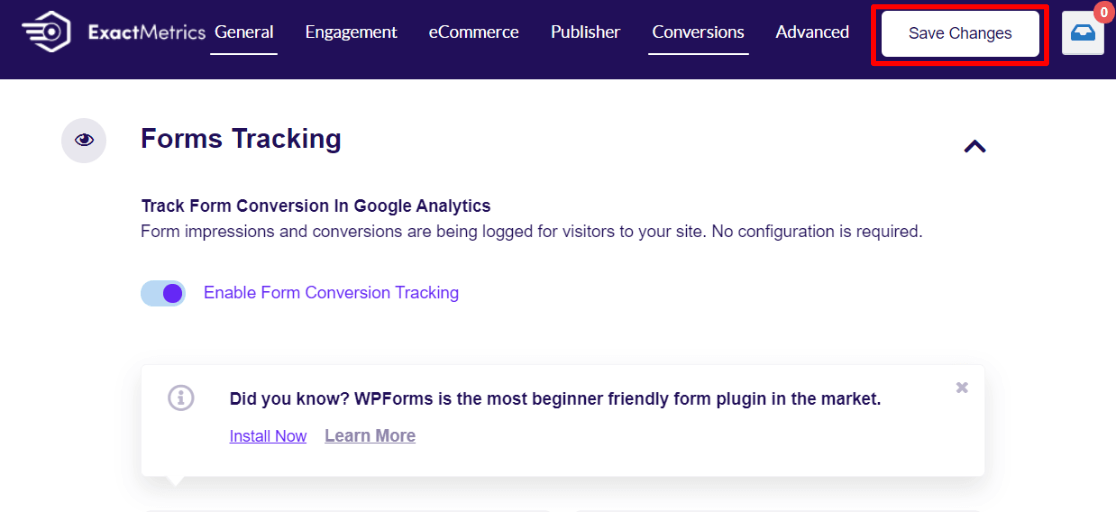 That's it! Your new author dimension will now start tracking in Google Analytics and ExactMetrics.
Where to Find Author Data in WordPress & Google Analytics
It's important to note here that author will start tracking when you set up the dimension, and won't apply to your data that's already collected. So, you'll want to wait a day or more to start accessing the information, depending on how much traffic you get on a daily basis.
In WordPress, go to ExactMetrics » Reports in the sidebar, then the Dimensions tab at the top to access your Most Popular Authors report.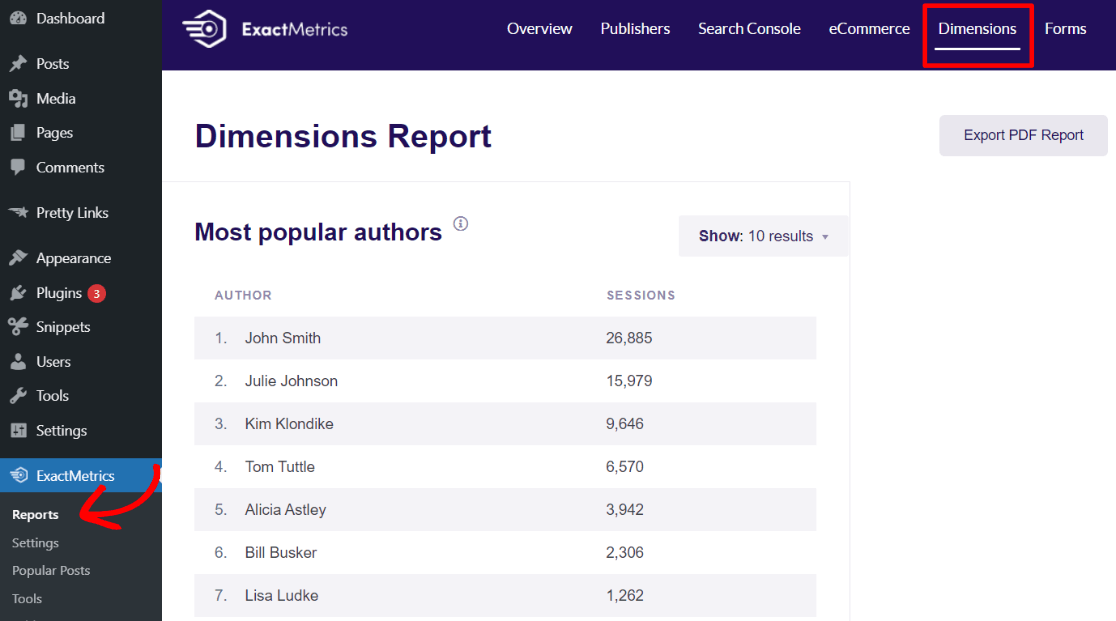 Now, odds are this is just the data you were looking for. If you're looking for more data, though, let's go over how to find it in Google Analytics.
In Google Analytics, navigate to Behavior » Site Content » All Pages report. Once you're there, go to the Secondary dimension dropdown. Start typing Author in the search box and you'll see a green Author box come up. Click it.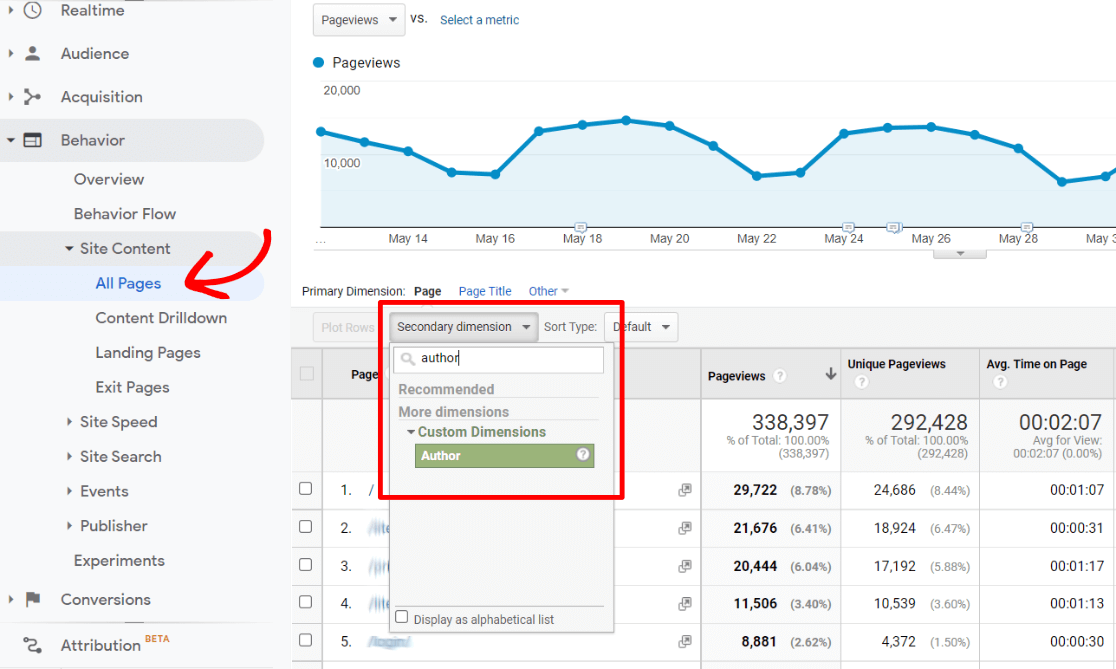 Now, you'll have a report of pages, their authors, and all the usual page metrics:

To look at one author at a time, click the advanced link next to the search bar. Then, you'll see a filter box pop up with Author already selected. Type the author's name into the box that you want to look at.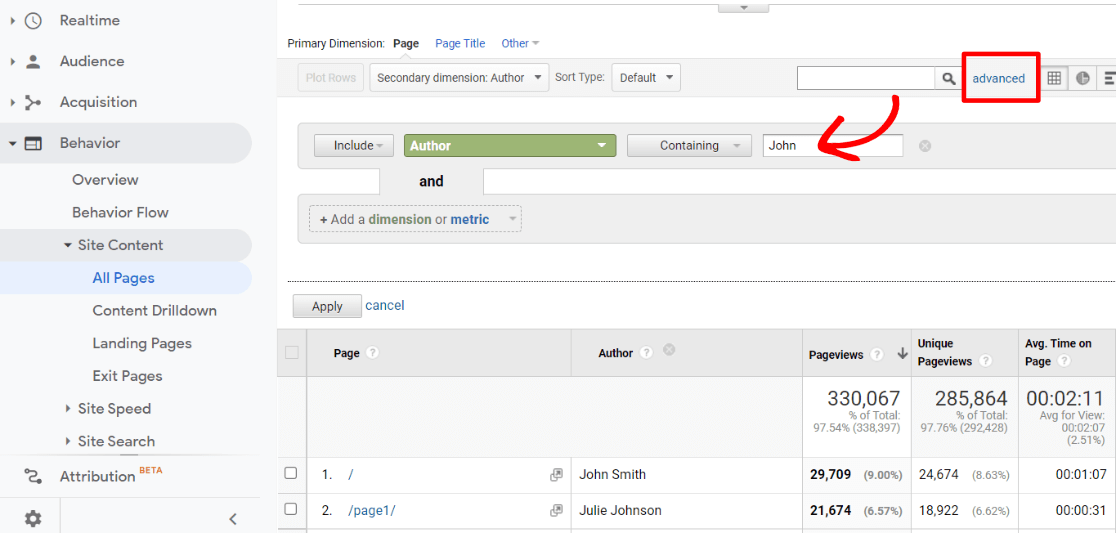 Apply the filter to see your totals for that author.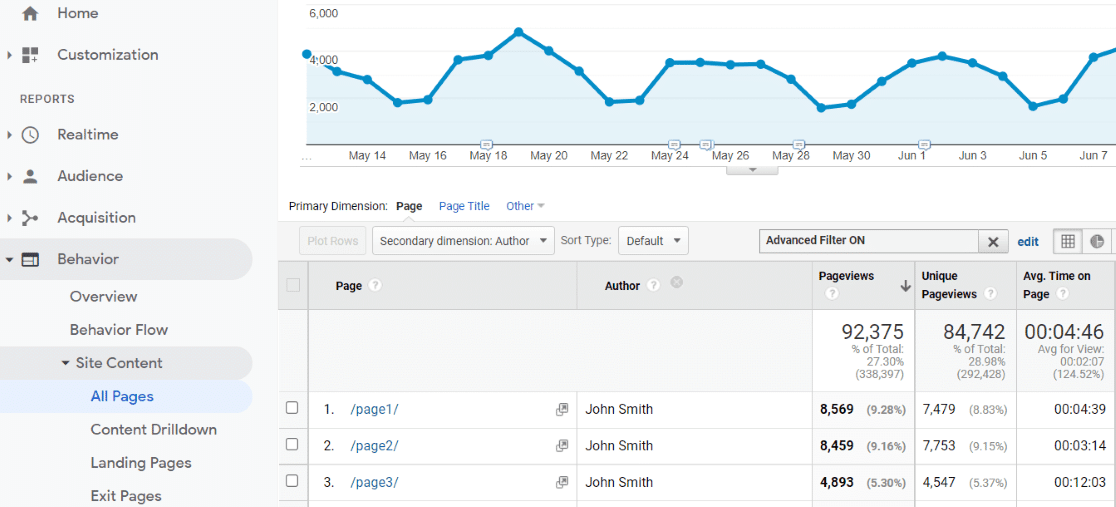 That's it!
If you're a publisher, another thing you'll probably want to track is outbound clicks. To do that, read How to Track Outbound Links in Google Analytics.
We hope you found this tutorial helpful. For more WordPress and Google Analytics tips and tutorials, make sure to follow ExactMetrics on Twitter and Facebook.