If you publish content by multiple authors on your website, do you know which author gets the most views? The most clicks from social media? How about the most conversions? These are all questions you can answer by setting up author tracking in WordPress and Google Analytics.
Google Analytics doesn't track authors for you by default. So, there are a couple of steps you have to take to turn on author tracking. Luckily, there's an easy way to do it that doesn't require any coding.
In this article, we'll show you how you can track your most important author metrics right in your WordPress dashboard as well as where to find author tracking in Google Analytics.
Why Enable Author Tracking on Your Website?
There are lots of reasons to enable author tracking on your site. Here's some of the data author tracking helps you uncover:
Who the most popular authors on your blog are.
How many sessions each author has.
Which authors are keeping visitors on your site with the highest engagement rate.
Which author's posts are driving conversions.
Any website that has multiple writers can benefit from author tracking, but here are a few of the most popular:
Publishers who pay authors based on pageviews or ad clicks
Publishers who want to keep track of which freelancer is writing the most engaging content
News outlets that want to review the performance of their reporters and writers
Sites publishing guest posts
And more…
Whatever your purpose is for wanting to track authors in Google Analytics and WordPress, you'll be excited to see that the process is actually pretty simple when you use ExactMetrics!
Ready to discover the stats for your blog's authors? Let's get started!
How to Set Up Author Tracking in WordPress and Google Analytics
To set up author tracking in WordPress and Google Analytics without a plugin, you'd have to manually edit your tracking code. But with ExactMetrics, tracking authors doesn't involve touching code at all. Just follow these simple steps!
If you already have ExactMetrics installed, skip to step 3.
Step 1: Install ExactMetrics
ExactMetrics is the best premium WordPress Analytics plugin, allowing you to easily set up Google Analytics without editing any code or needing a complicated tool like Google Tag Manager. You get advanced tracking right out of the box with an extremely user-friendly interface and Google Analytics reports right inside your WordPress dashboard.
Plus, you gain access to tons of additional Google Analytics features and advanced tracking capabilities with just a few simple clicks. Elevate your tracking game and get sophisticated analytics without complicated configuration or code.
Here are some of ExactMetrics' most popular features:
To get started on setting up Google Analytics author tracking, head to the pricing page and grab ExactMetrics at the Pro level. Once you complete checkout, download the plugin.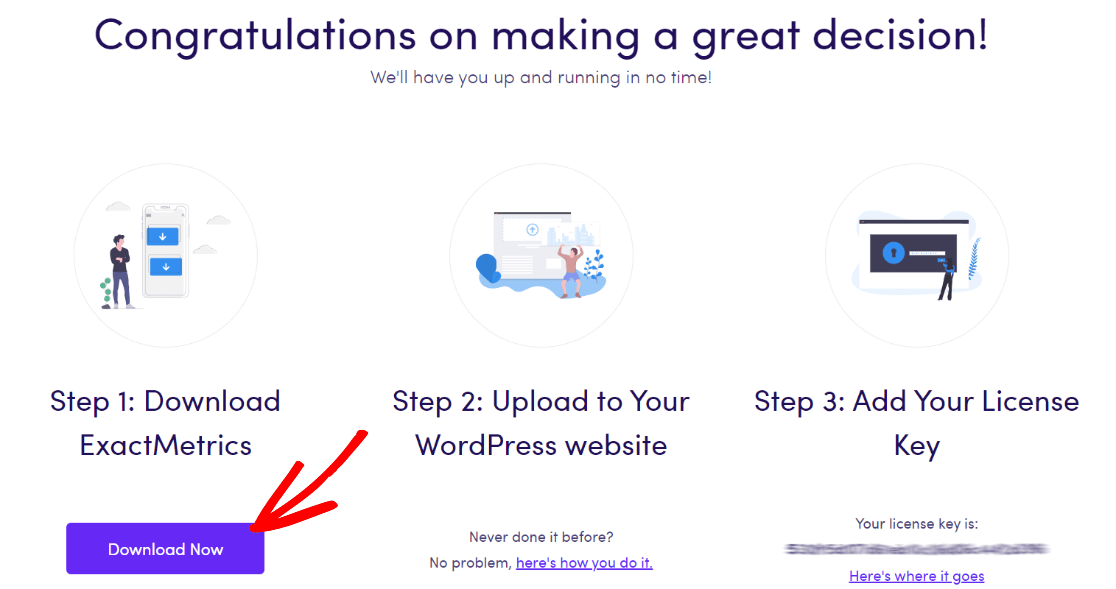 Next, upload it to your website. If you're not familiar with how to install a plugin, here's a detailed tutorial.

Step 2: Connect WordPress to Google Analytics
Now that you have ExactMetrics installed, you can add your license key and connect your Google Analytics account. To get set up, click on ExactMetrics in your WordPress admin menu and click the big green Launch the wizard! button.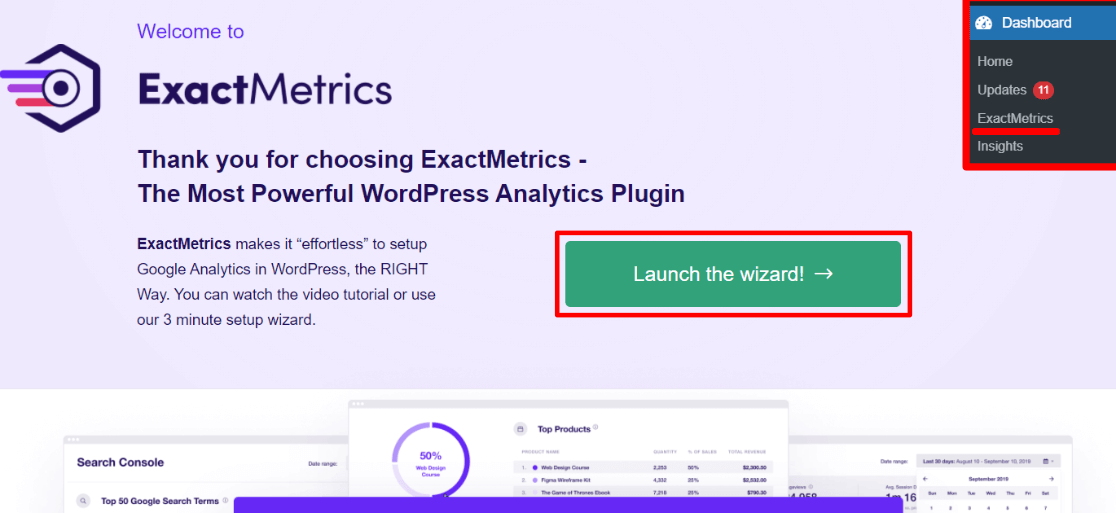 Once you're in the wizard, you'll get to this page where you can add your license key and connect with Google Analytics: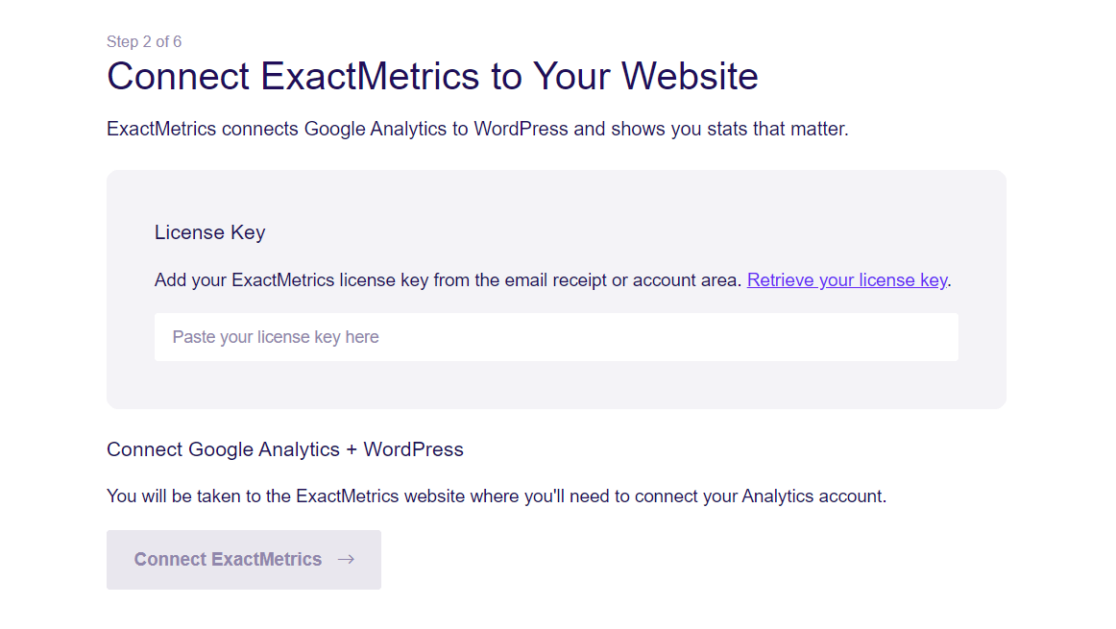 After that, just keep following the setup prompts to connect your site to Google Analytics. If don't have an Analytics account yet or need more detailed instructions, check out How to Add Google Analytics to Your WordPress Site.
Step 3: Install the Dimensions Addon
Once the setup is complete, navigate to ExactMetrics » Addons. Find Dimensions and click Install. The addon will automatically activate on your site.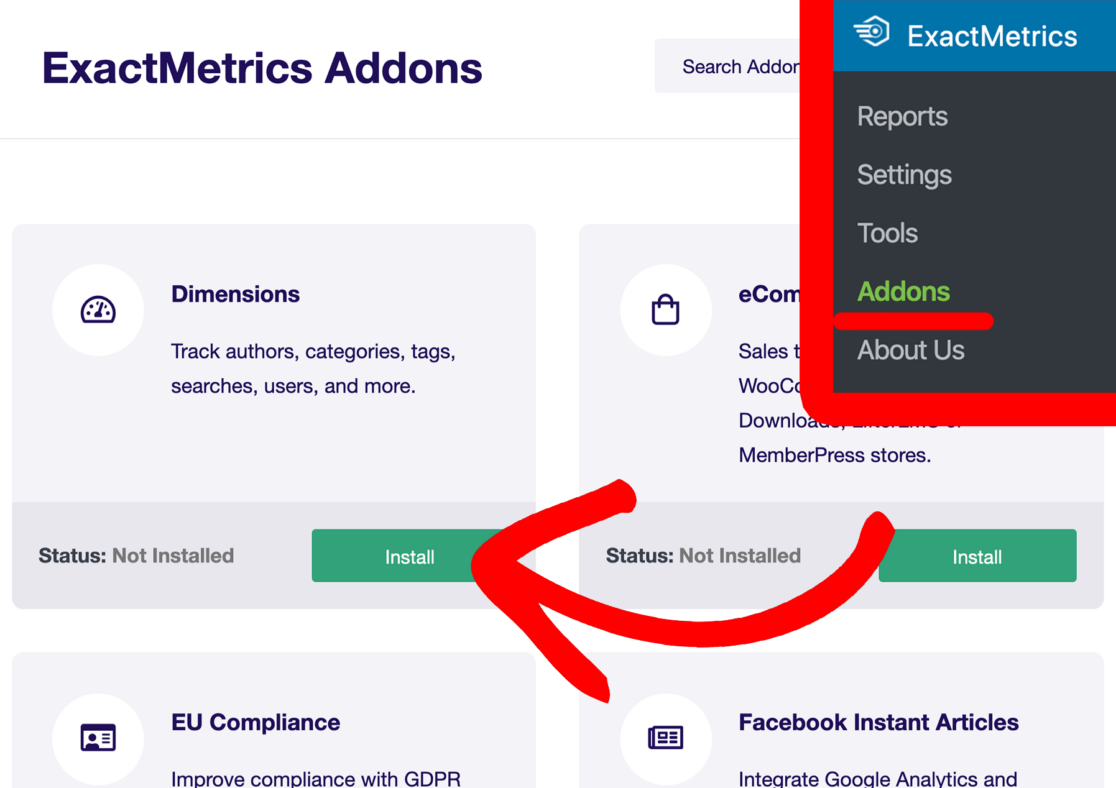 That's it for this step!
Step 4: Add Author Dimension in ExactMetrics
Next, you'll need to navigate to ExactMetrics » Settings in your WordPress sidebar and click on the Conversions tab at the top of the page.
Scroll down to Custom Dimensions. Click the Add New Custom Dimension link: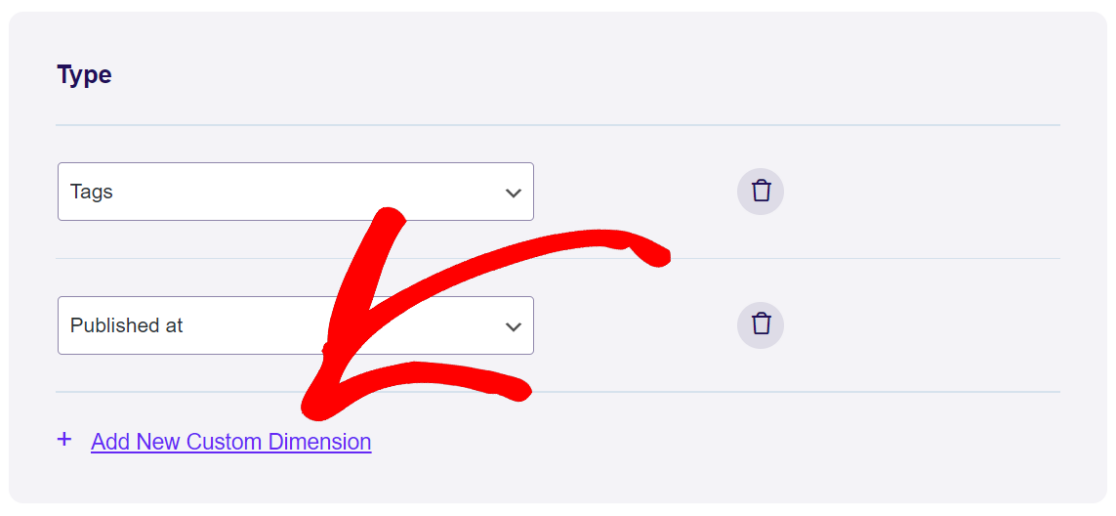 Click the dimension for a drop-down menu where you can choose Author.

To make sure your dimension is saved, scroll up to the top of the page and click the Save Changes button.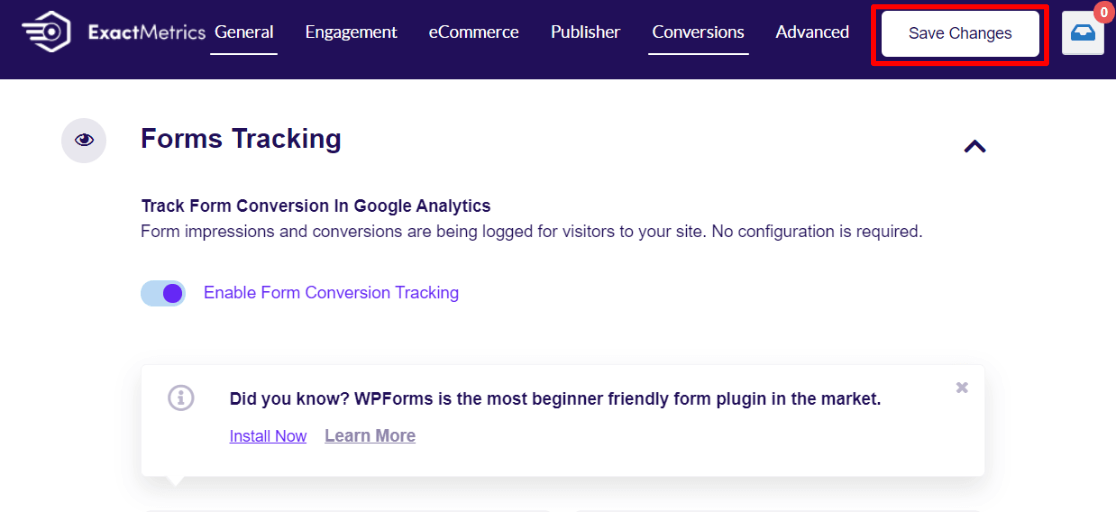 That's it! Your new author dimension will now start tracking in Google Analytics and ExactMetrics.
Where to See Author Tracking in WordPress
It's important to note that tracking will start when you set up the author dimension, so it won't apply to previous time periods. You'll want to wait a day or more to start accessing the information, depending on how much traffic you get on a daily basis.
In WordPress, go to ExactMetrics » Reports in the sidebar. Click the Dimensions tab at the top to access your Most Popular Authors report.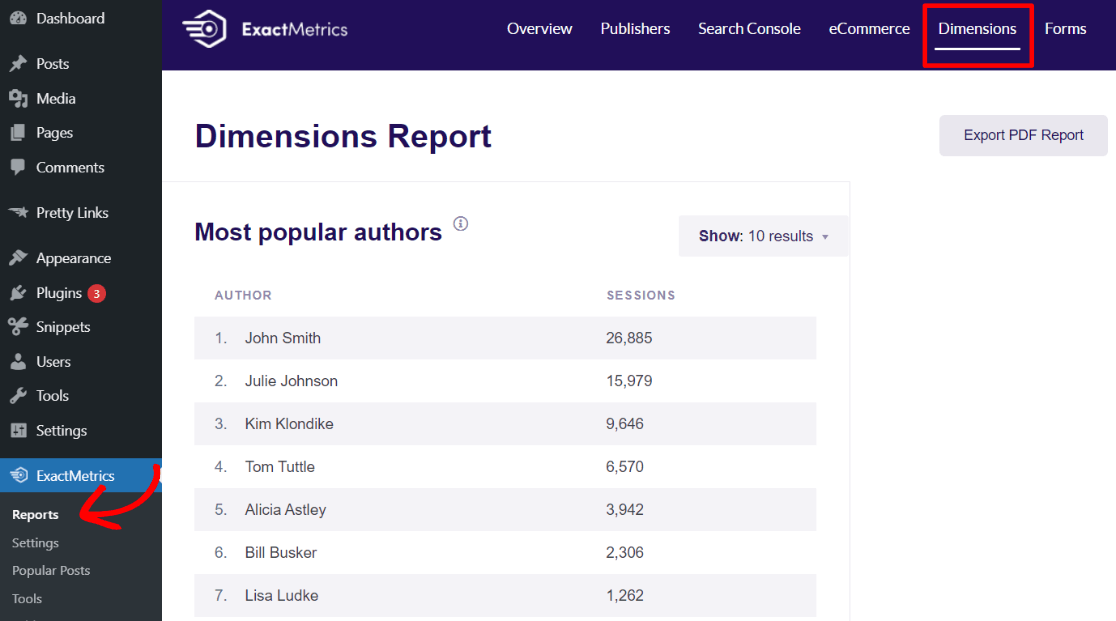 Now, you can see which authors generate the most traffic on your website. Odds are, this is the data you were looking for. But, if you're looking for more data, let's see how to find it in Google Analytics.
How to Track Authors in Google Analytics
Since ExactMetrics automatically set up a custom dimension for you in Google Analytics, you'll be able to use the Author dimension in your custom reports now. Let's see how we can use a custom exploration to track authors in Google Analytics and uncover more data.
First, go to the Explore tab in Google Analytics and click to create a Blank exploration.

Click the + sign next to Dimensions.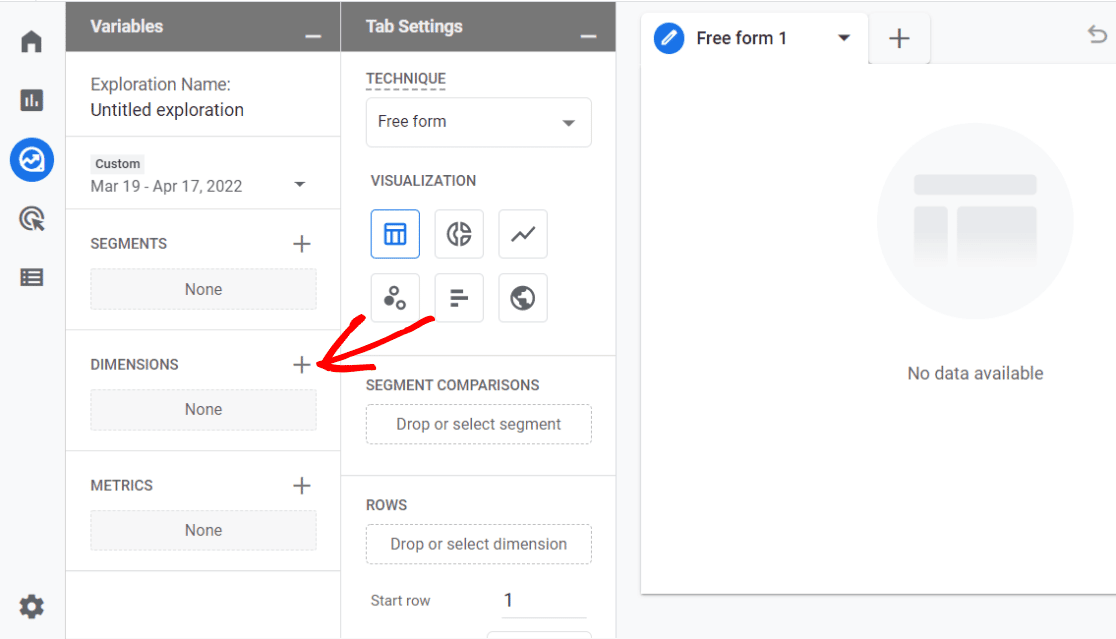 Now you'll want to search for and click to check both Author and Page Title. Press Import when you're done.

Next, do the same thing with the Metrics box and import Views and Conversions. Your report should now look like this: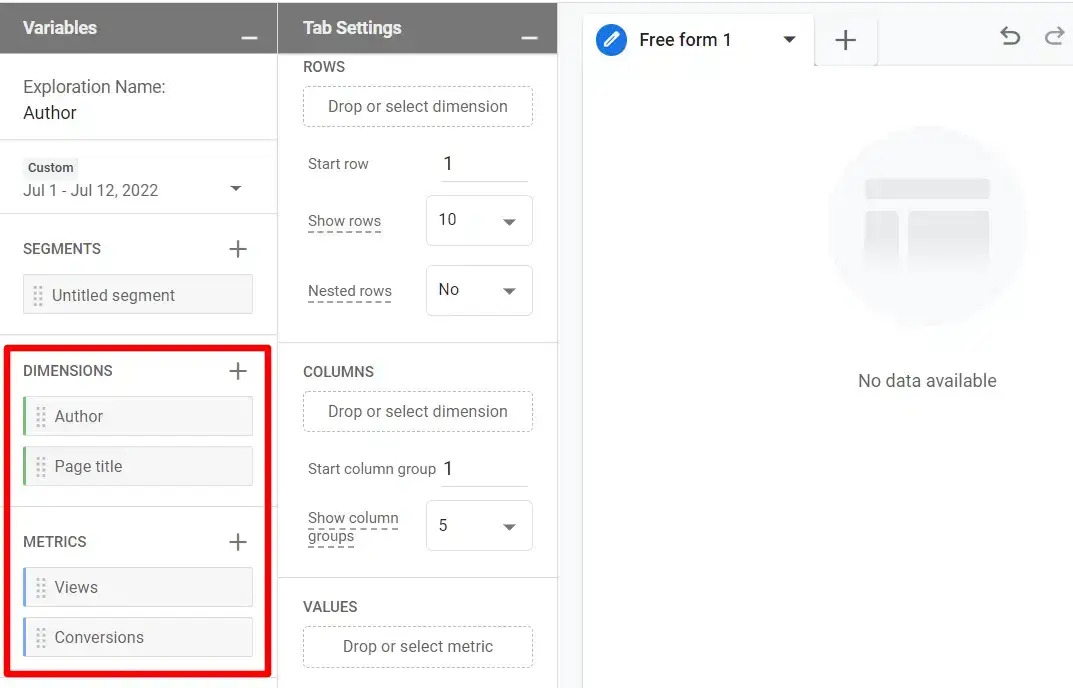 Lastly, drag Authors to the second column under Rows and place Views under the Values box.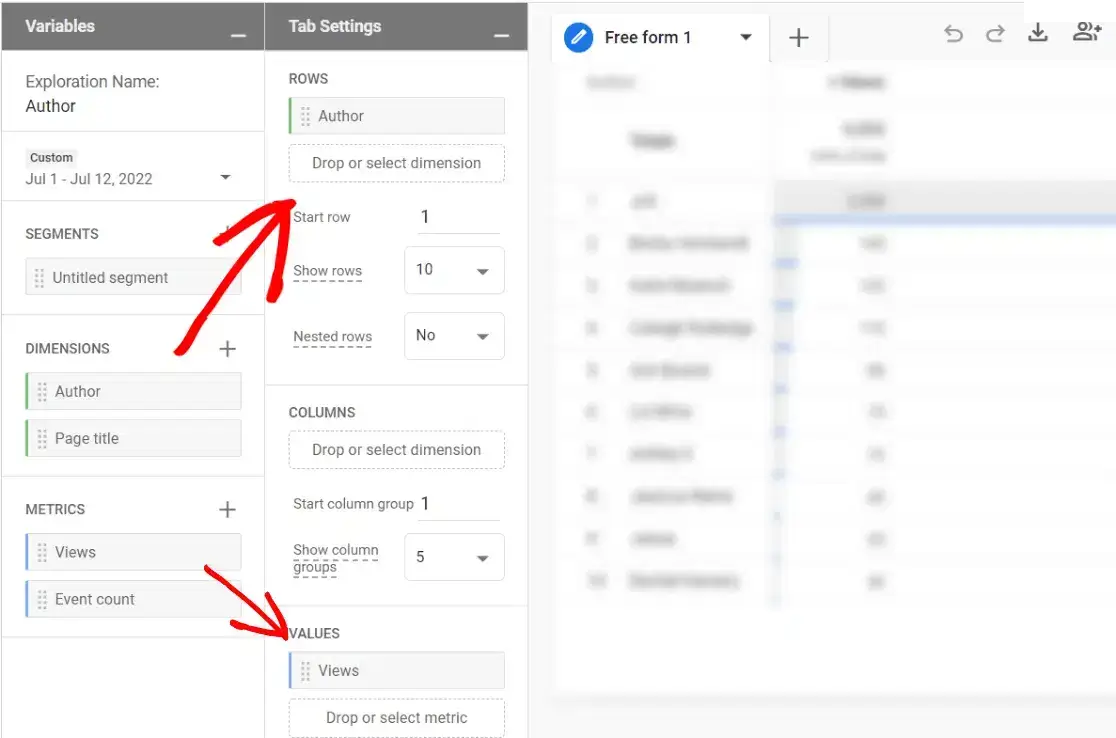 Your report will automatically populate and you can see your authors report sorted by pageviews.

If you want to see each author's pages and how many conversions each of those authors and pages led to, try dragging the Page Title dimension into Rows (select Yes next to Nested rows to put each page title under the author it belongs to) and the Conversions metric into Values.
To learn more about using custom reports in Google Analytics check out How to Create Google Analytics Custom Exploration Reports.
That's it! We hope you enjoyed learning how to set up author tracking in WordPress and Google Analytics.
If you're a publisher, another thing you'll probably want to track is outbound clicks. To do that, read How to Track Outbound Links in Google Analytics.
Not using ExactMetrics yet? What are you waiting for?
Don't forget to follow us on Twitter and Facebook to see all the latest reviews, tips, and Google Analytics tutorials.