Are you wondering how people find your website, which marketing campaigns are performing well, and which channels you should focus on to capture leads? If yes, then you're not alone. The good news is that you can use lead source tracking in Google Analytics to find out!
Whether you run your own business or handle a client's site, it's important to know how to track lead generation. That way, you know how your lead generation campaigns are performing and what you can do better!
In this article, we'll explain how to track lead sources in Google Analytics. And, if you're a WordPress user, we'll show you an easy way to see lead source tracking data right inside WordPress. Before we jump into the tutorial, let's take a look at what lead tracking is and why it's important.
What Is Lead Source Tracking?
Lead source tracking simply refers to tracking which channels and campaigns are bringing in leads. Channels are the different ways that visitors initially find your website, such as social media, organic search, advertisements, referrals, etc.
Why Should I Track Lead Sources?
As business owners and marketers, we're often faced with the challenge to spend our budget wisely and invest in channels that bring the highest lead generation and boost conversions. But, how do you find these channels?
By tracking your lead sources! When you know how many leads each source is bringing in, you can identify which channels to spend on. For instance, let's say you have a food blog and want to know which social channel brings in the most leads.
Through lead source tracking, you can discover that Facebook outperforms other social channels. So, you can allocate your effort and money towards promoting your campaigns on Facebook first.
By tracking leads in Google Analytics, you can see which marketing campaigns are performing well and which ones aren't. That way, you can dig deeper into why certain campaigns aren't performing well and optimize them to do better. Similarly, you can also track lead generation forms on your website to see which one is converting best.
So, are you ready to configure lead tracking for your website?
How to Track Lead Sources in Google Analytics
When it comes to setting up lead source tracking, you should know that Google Analytics won't automatically track all of your sources, campaigns, and form submissions.
To find campaign performance data, track form conversions, and uncover the best channels for lead generation, you'll have to perform additional configuration in Google Analytics, which can be tricky for new users, especially if you're not a coder or an Analytics expert.
Luckily, there's an easier way!
With ExactMetrics, you'll be tracking leads in Google Analytics in no time, without having to touch a single line of code. And the best part is that you'll also be able to conveniently see your lead tracking reports right inside WordPress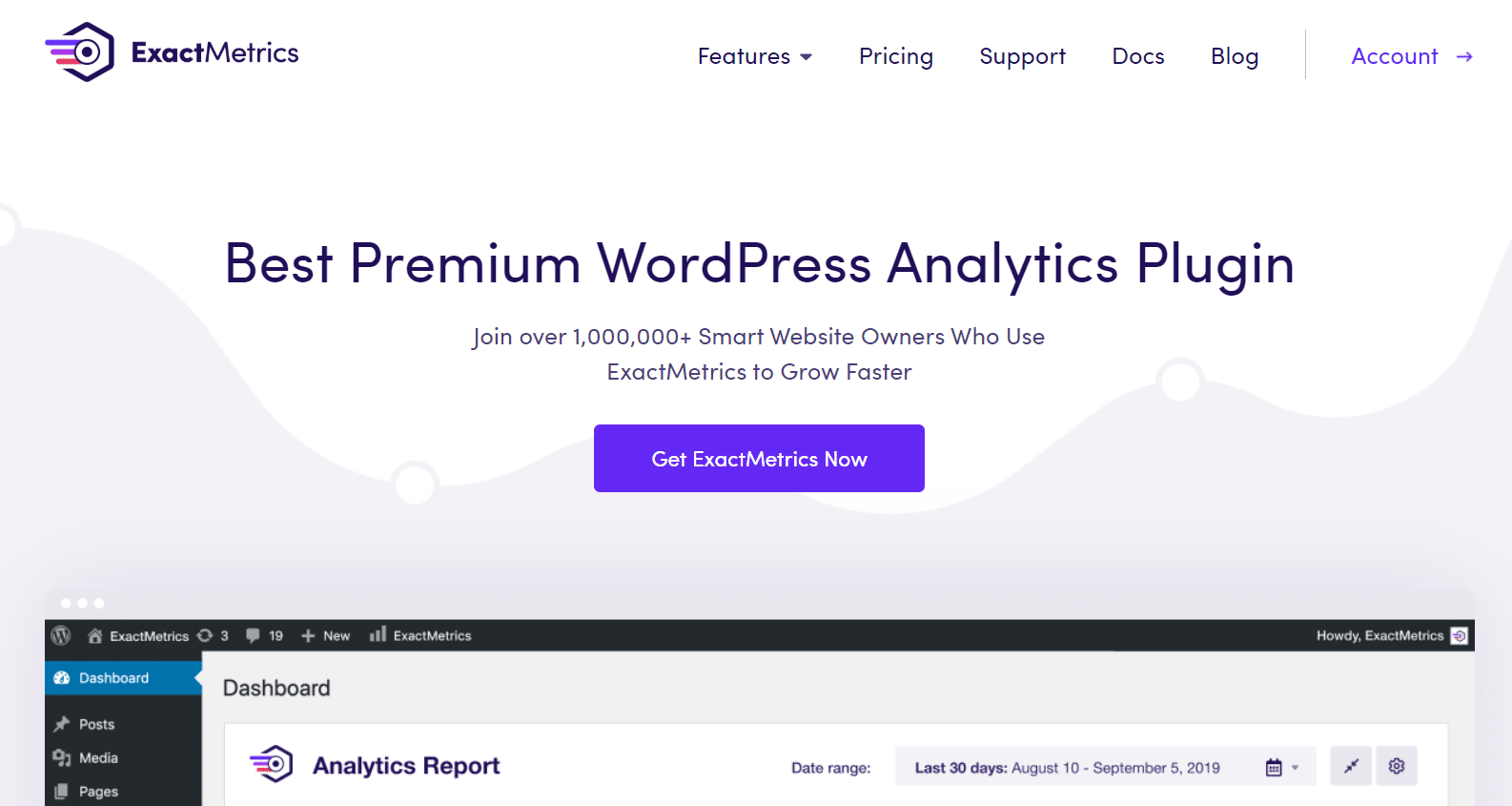 ExactMetrics is the best premium WordPress Analytics plugin, allowing you to easily set up Google Analytics without editing any code or needing a complicated tool like Google Tag Manager. You get advanced tracking right out of the box with an extremely user-friendly interface and Google Analytics reports right inside your WordPress dashboard.
Plus, you gain access to tons of additional Google Analytics features and advanced tracking capabilities with just a few simple clicks. Here are some of ExactMetrics' most popular features:
Install and Activate ExactMetrics
Now, let's learn how to track leads easily with ExactMetrics.
To get started, head to the pricing page and grab the license that works best for you. Do note that to access automatic tracking for lead generation forms, you'll need the Pro license or above. Not using forms? You can still track sources and campaigns with the Plus license or above.
Once you've purchased a license, you'll need to install and activate the plugin on your site and connect it to your Google Analytics account. For a detailed tutorial on how to do that, check out: How to Add Google Analytics to WordPress (Step-by-Step Guide)
Next, just follow along to start tracking your leads in Google Analytics and WordPress.
How to Track Lead Generation Forms
If you have lead generation forms on your website and want to know which one has the most conversions, you can track them with Google Analytics. However, Analytics won't track your form submissions by default, and setting it up can be complicated.
But using ExactMetrics Pro, you can set it up in only a couple of clicks and automatically track all the forms on your WordPress website!
Just head to ExactMetrics » Addons from your WordPress admin and find the one titled Forms. Click Install, and the addon will automatically activate on your site.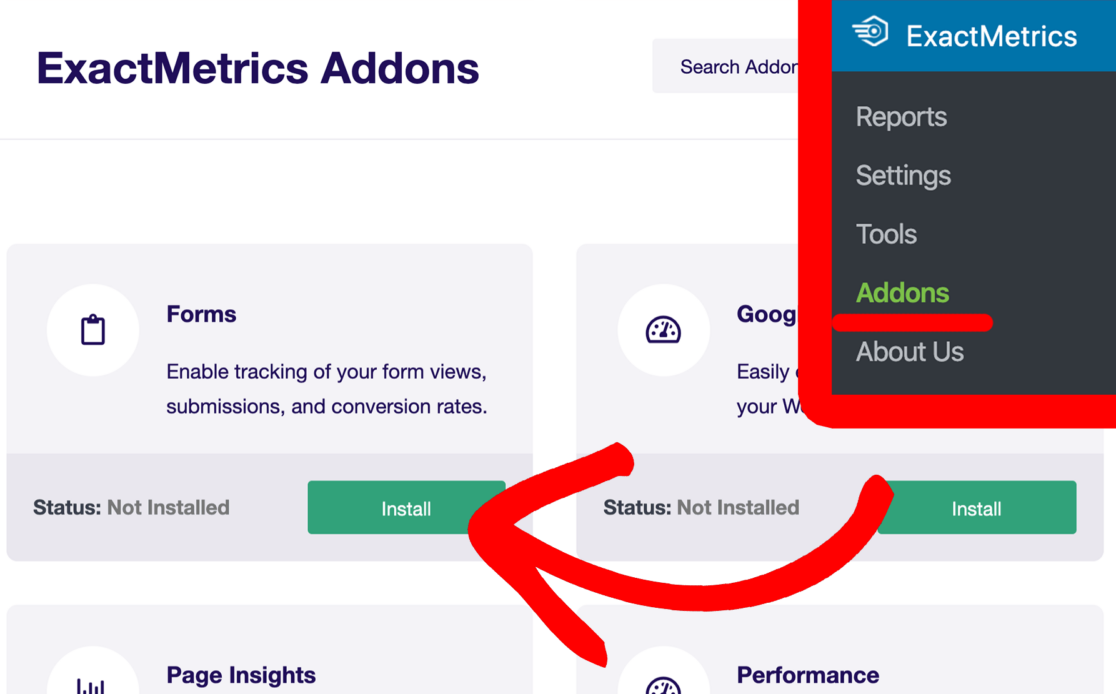 That's it! The plugin will automatically start tracking your forms in Google Analytics. You can then view the report inside your WordPress dashboard to see how your lead generation forms are performing.
Head to ExactMetrics » Reports » Forms. For each form, you can view its impressions, conversions, and conversion rate.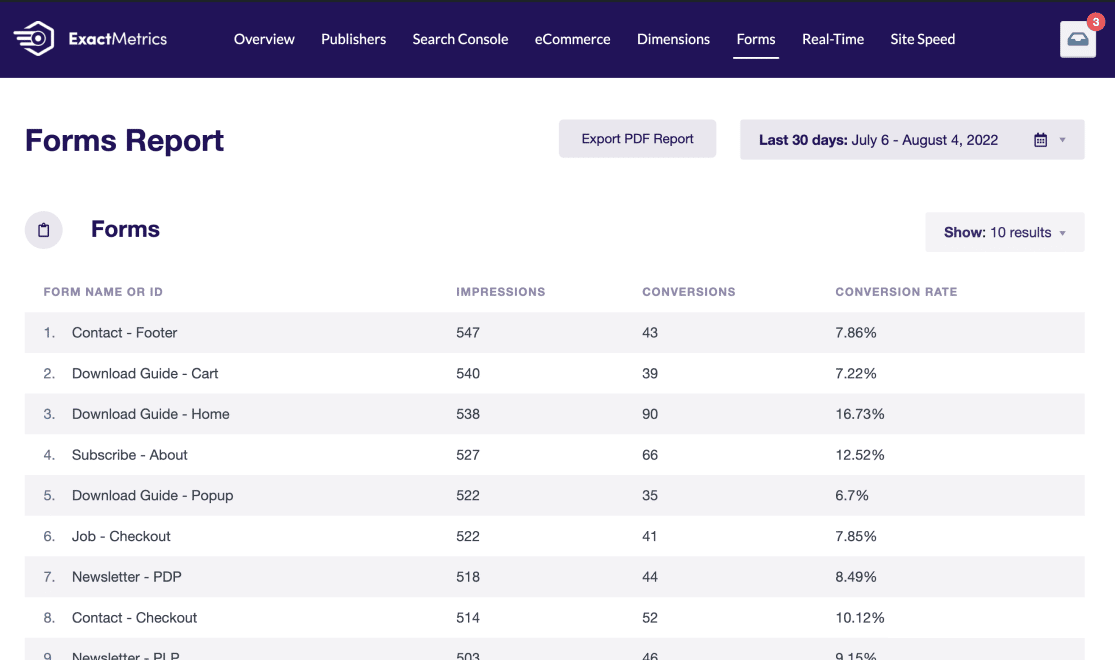 This provides insights into which type of form generates the most leads. Using information from this report, you can promote a top-performing form more on your site and optimize the ones that aren't working as well.
For more on forms tracking and how to see your lead generation report in Google Analytics, check out our tutorial on How to Track Form Submissions in Google Analytics.
How to Track Lead Source Channels
Now that you know how to set up tracking for your lead generation forms, let's see which channels are bringing leads to your site and how well each channel is converting.
In your ExactMetrics Reports, click Traffic » Overview from the top menu. Scroll down and you'll find your Traffic Details report.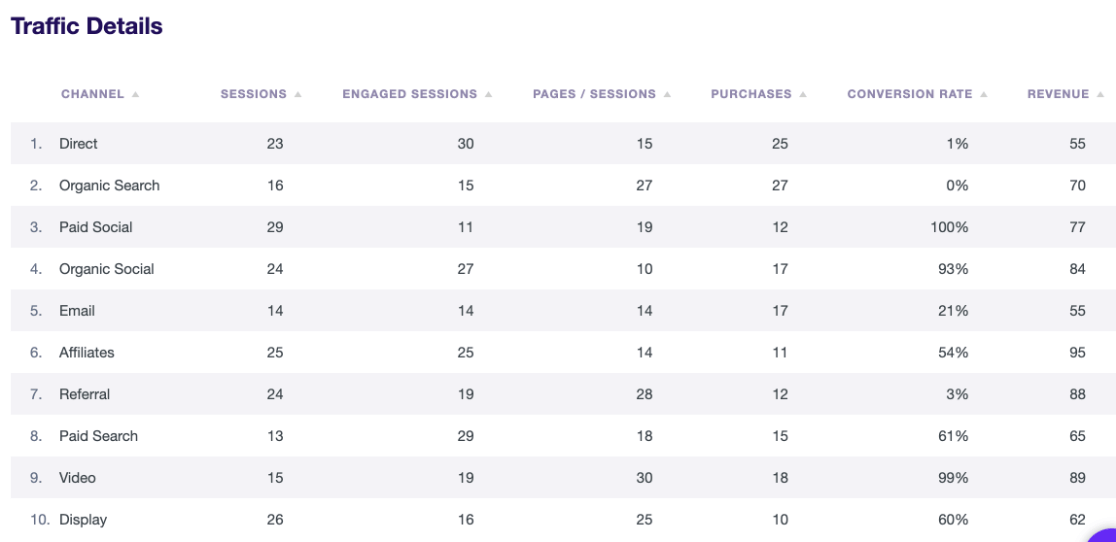 Here, you'll see a list of the different channel sources that visitors use to find your site and important metrics for each. Quickly see which traffic channel is bringing the most leads to your site, how often visitors from different channels are engaged or converting, and more.
Want to find out more about tracking session sources in Google Analytics? Check out How to See Google Analytics Traffic Sources & Medium.
How to Track Lead Generation Campaigns
So, you know to track lead generation sources and form submissions, but what about your marketing campaigns? Let's learn how to track the performance of different marketing campaigns to see which ones are most successful in attracting leads.
To track campaigns, you need to use UTM parameters, which are bits of identifying text that you add to the end of a URL. Then, when you use your custom URLs with UTM parameters for each campaign, Google Analytics can differentiate between multiple campaigns and track them correctly.
How to Use UTM Parameters
To help you out with using UTM parameters, ExactMetrics includes a URL Builder. Start by going to ExactMetrics » Tools » URL Builder. Here, you'll have to enter the following details to build a custom URL: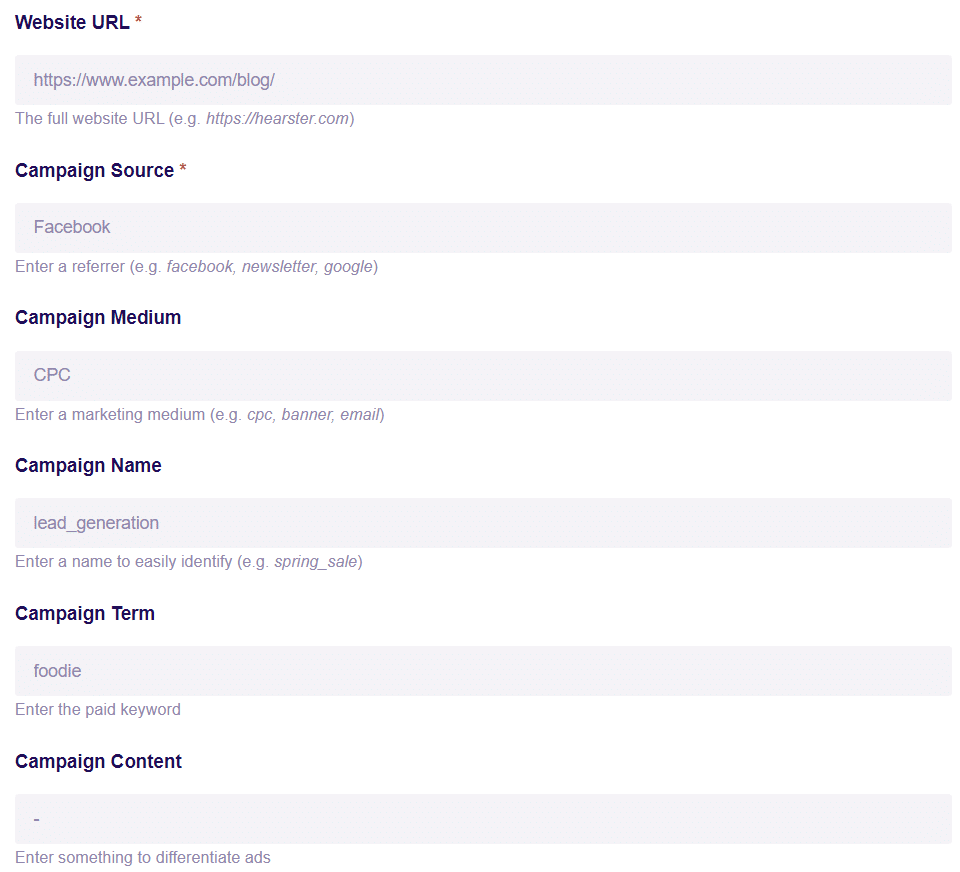 Website URL: This is the URL to your website, a specific landing page, or a banner ad you want to target.
Campaign Source: You can specify the source of your campaigns, like a search engine (Google) or social media (Facebook).
Campaign Medium: Enter the marketing medium you used, such as banner, email, or cost-per-click (CPC)
Campaign Name: Give your campaign a name in this field
Campaign Term (Optional): If you're running paid advertisements, you can enter specific keywords to see which search terms drove the most leads.
Campaign Content (Optional): This is useful if you're split testing ads or any other element with the same link, as it helps to differentiate between the two variants, such as two CTA (call-to-action) links in the same email message.
After entering these details, the tool will give you a custom URL that you can then copy and use in your campaigns. That way, you can see exactly which campaigns are driving leads to your website.

How to View Campaign Data in WordPress
Next, you can find and track the performance of your campaigns inside ExactMetrics' campaigns report. Head to ExactMetrics » Reports, in the top menu, click Traffic » Campaigns.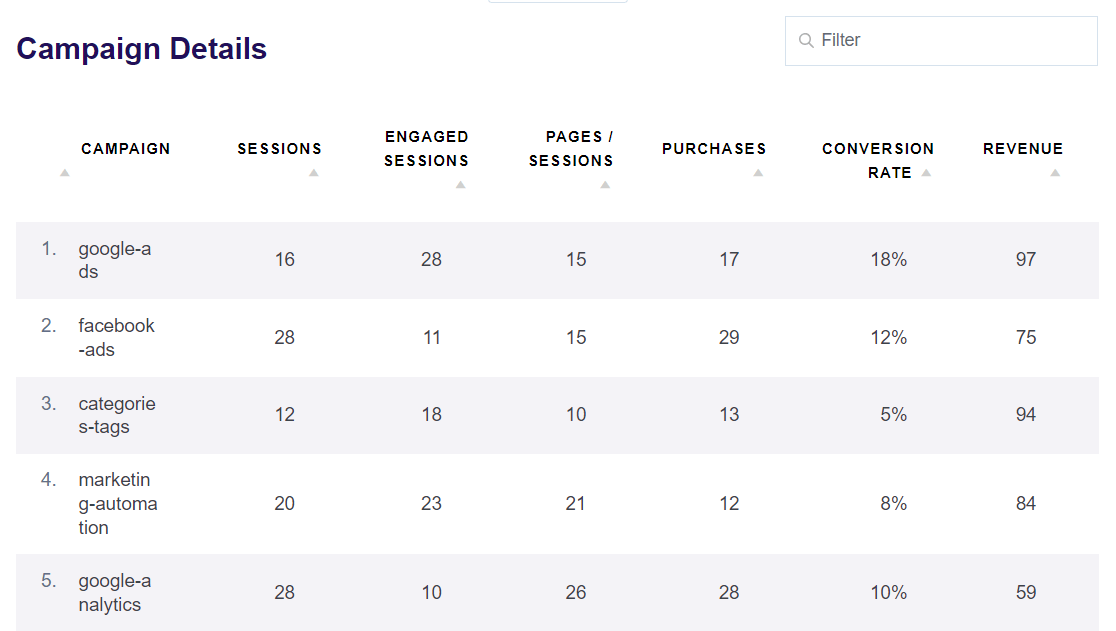 Here you can easily see your campaigns along with key metrics including Sessions, Engaged Sessions, and Conversion Rate. Quickly see which campaigns are bringing in the most leads, which ones are converting visitors and more.
How to See Lead Sources in Google Analytics
Want to find lead sources and campaigns in your Google Analytics reports?
You can view the performance of each of your campaigns in Analytics by going to Reports » Acquisition » Traffic Acquisition. Scroll down and change the drop-down menu in the table to Session campaign.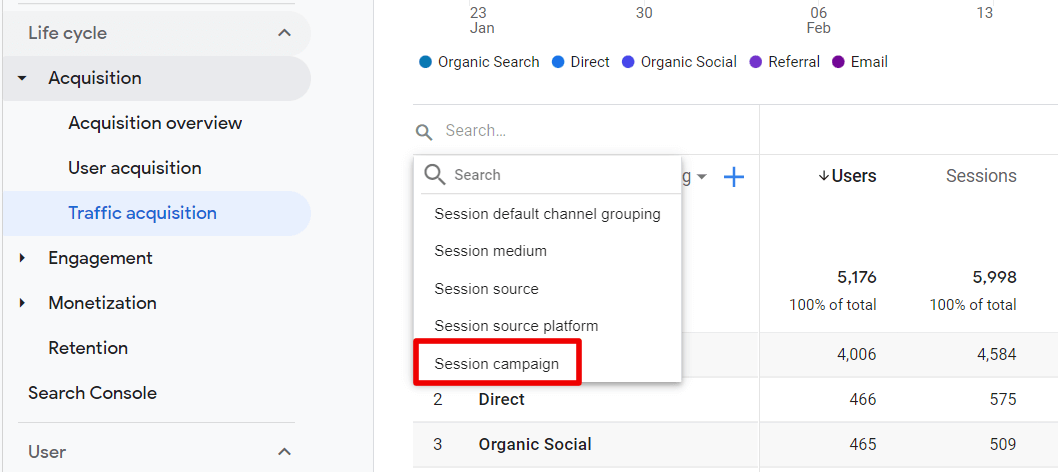 Now, you can see all your campaigns listed. If you'd like to see the source and medium for each campaign, click the + sign and select Session source/medium under Traffic Source.
Then, you'll see the source and medium alongside each campaign.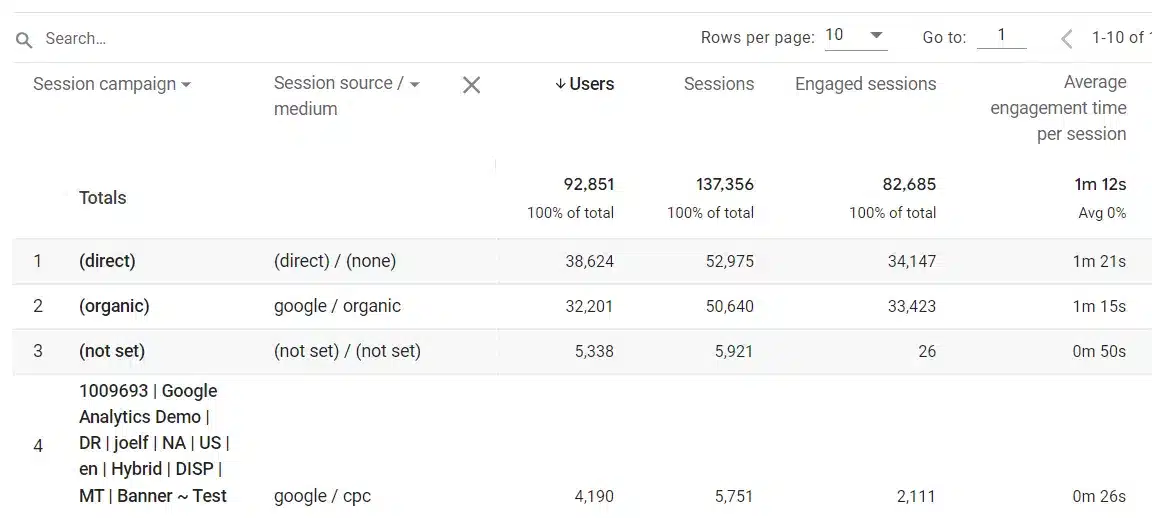 Your full campaigns report along with session source and medium gives you a lot of metrics to help optimize your lead generation strategy. Are most of your leads coming from organic searches in Google? In that case, you may want to focus your efforts on Google Ads campaigns, making sure your SEO is on point, and optimizing your articles for conversions.
And that's all, folks!
You can now easily see which lead sources are worth pursuing and investing in. That way, you can focus on specific channels and design optimized campaigns to capture more leads.
We hope you enjoyed our article on how to use lead source tracking in Google Analytics. You can also check out another interesting read on How to Find Exit Pages in Google Analytics.
Not using ExactMetrics yet? What are you waiting for?
Don't forget to follow us on Twitter and Facebook to get to know the latest guides on Google Analytics and WordPress.